20 Bright and Airy Bedrooms with Skylights
Let the sun's light fill in your bedrooms with a skylight.
We all want to have a comfortable and beautiful bedroom. Of course, there are many ways to achieve that. Adding comfy sheets is one way to do it but we can also achieve a relaxing bedroom through the color scheme we choose and by letting natural light into the space. Yes, you can do that by adding a skylight or some windows. With that, we have gathered some images of bedrooms with skylights since we have observed that there are a number of bedrooms that has this feature especially those with vaulted ceiling or those that are located on the attic.
If you wonder what a skylight is, it is simply a window that is being installed on the roof or the ceiling. Of course, it invited natural light into the space wherever this kind of window is installed. Like what we mentioned, it is common in attic spaces where the area is directly under the roof. This window tends to diffuse or reflect the light from the sky bringing some natural aura into the bedroom. Come take a look at the bedrooms we have collated with various styles and themes.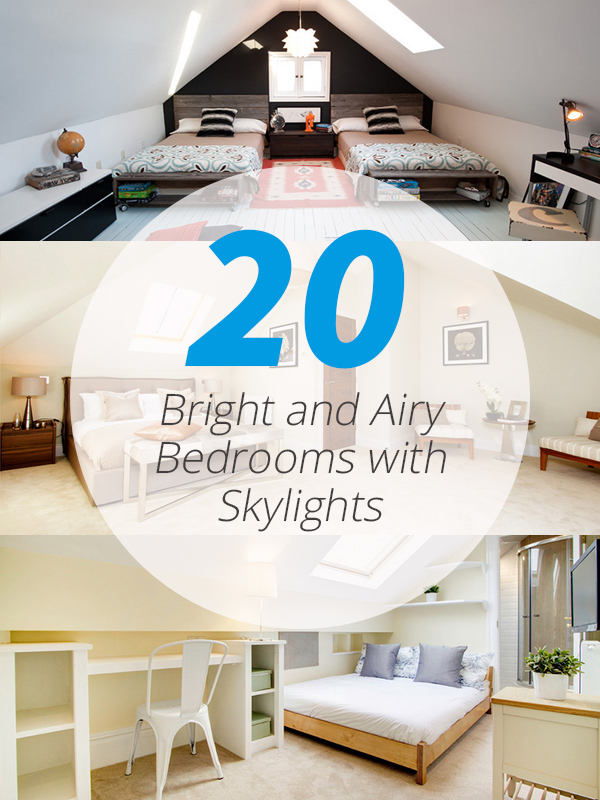 1. 321 Portobello Road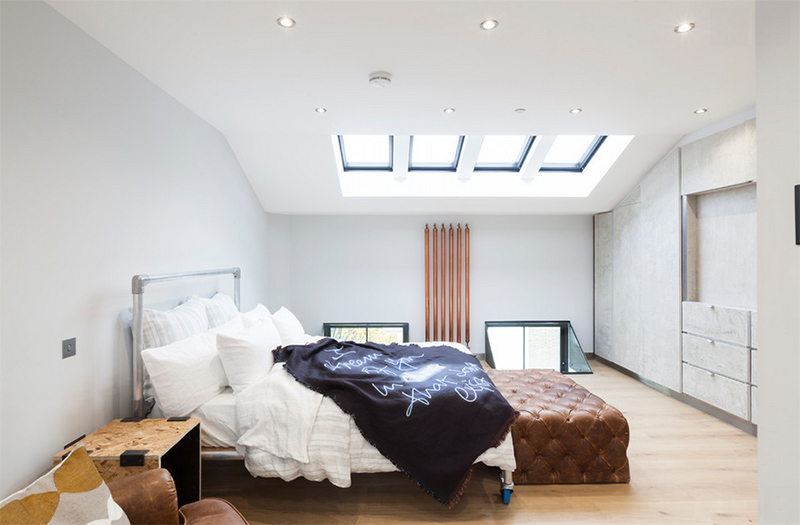 A top floor of an apartment has a bedroom with a skylight. It has round lights recessed on the ceiling that adds more light to the space. What I find lovely here is that black blanket with white writings. The bench on the foot of the bed has a pretty tufted design.
2. 1960's House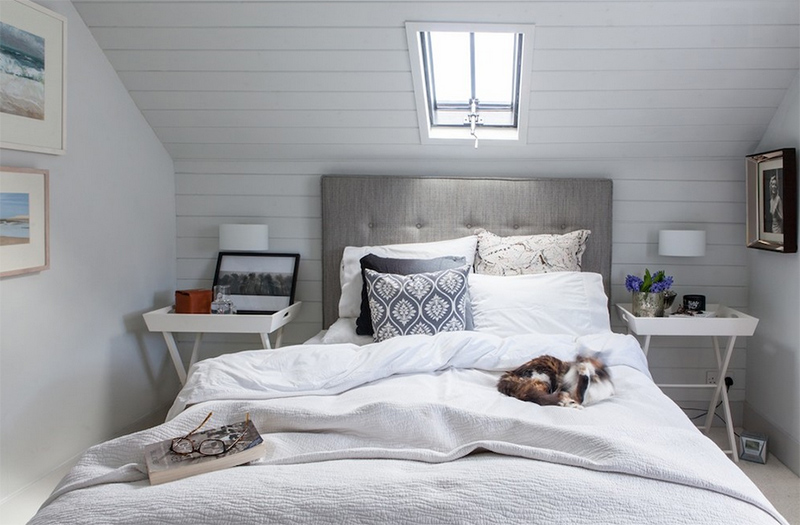 Unassuming yet elegant, this bedroom has a clean lined headboard which is a great piece for this modern bedroom. I like the combination of fabrics used in this space and how the light from the window goes into the bed.
3. Loft Rooms
Put clean white cotton bedding on your bedroom that will boost the look of your space and make it appears even more comfortable. This bedroom has a transitional style with two skylights that add brightness to the space.
4. Chiswick 1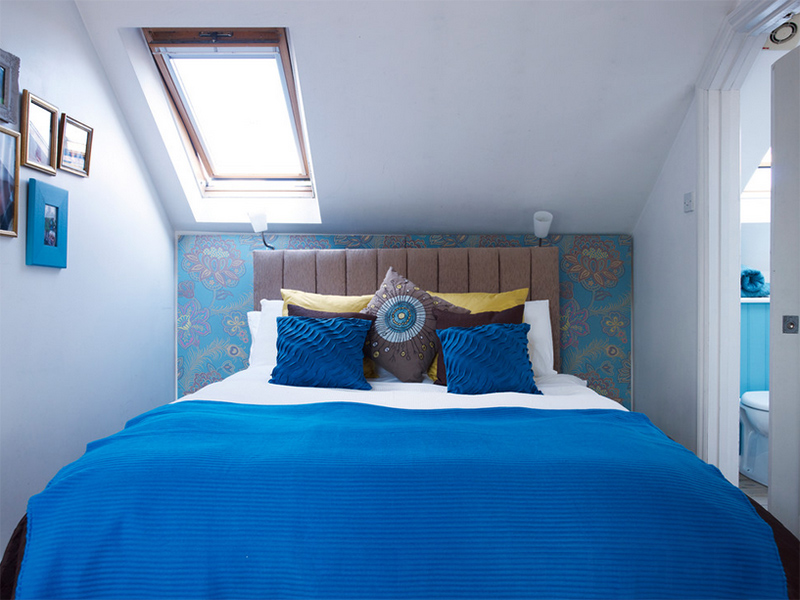 The floral wallpaper highlights the plain light brown headboard. I like it that the colors of the pillows were taken from the wallpaper. And that throw pillow in the center looks stunning too. A wall gallery is installed on the other side of the wall.
5. Rustic Kids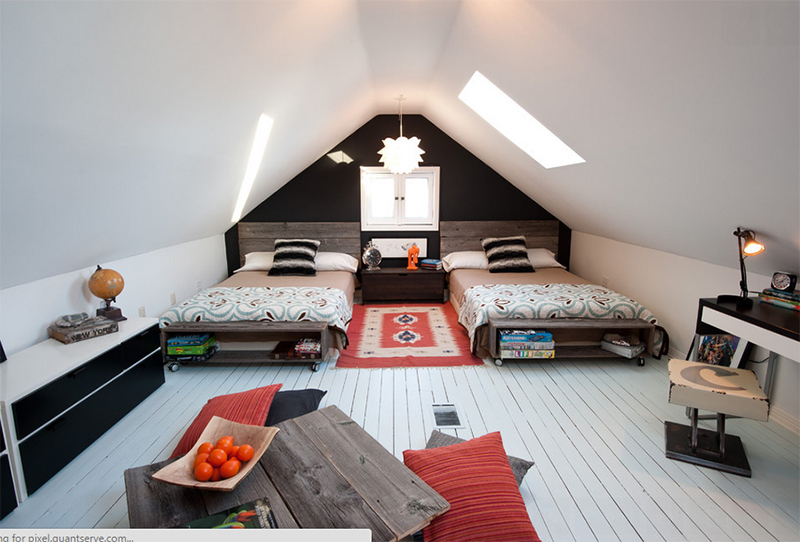 A modern rustic bedroom combines the beauty of wood and sleek elements and patterns. The color scheme is lovely too with some pretty floral patterns on the bed and a striped pillow case. A Knappa pendant lamp bring more charm to this bedroom.
6. Luxury woodwork in Essex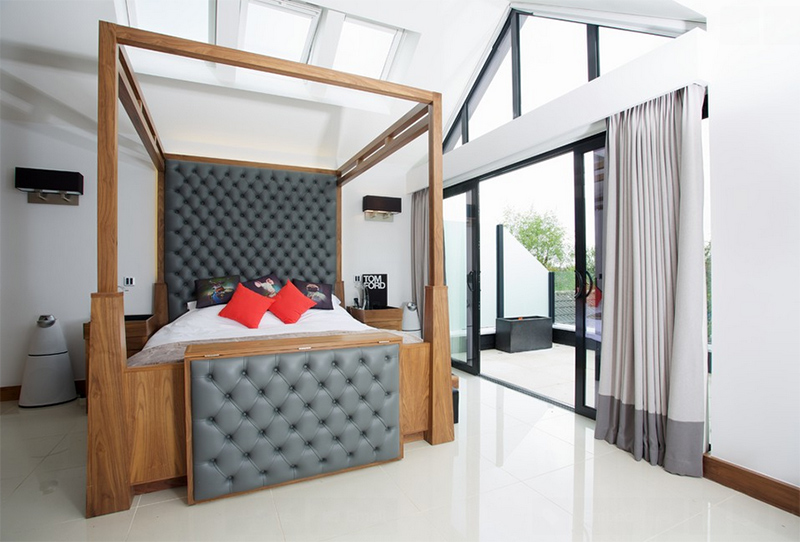 This four poster bed has tufted headboard and footing which is also a storage area. Notice that the throw pillow covers are printed photos with a red pillow as an accent. For sure, this area will be flooded with natural light because aside from the skylight, it also opens to a balcony.
7. The Master Bedroom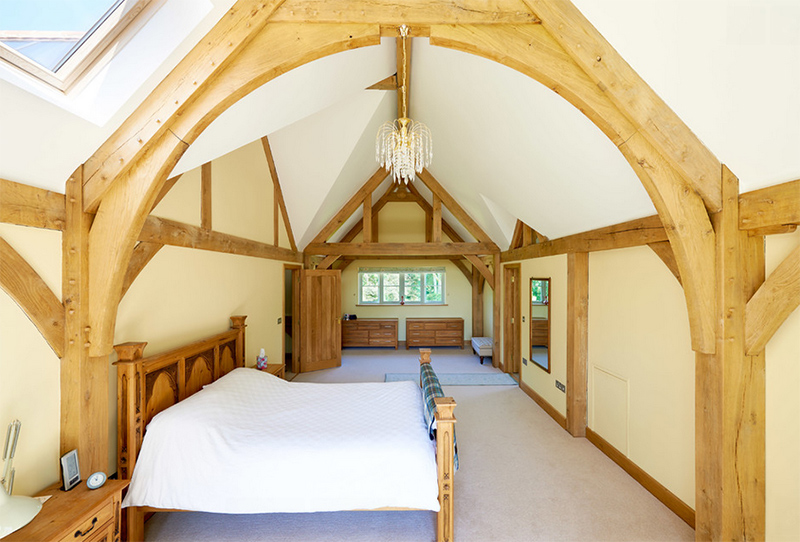 I love the look of the exposed trusses in this bedroom and its cathedral ceiling. Since the ceiling is high, it is just right to add skylights and a stunning pendant too. This proves that even a farmhouse style bedroom can actually look pretty!
8. Elsie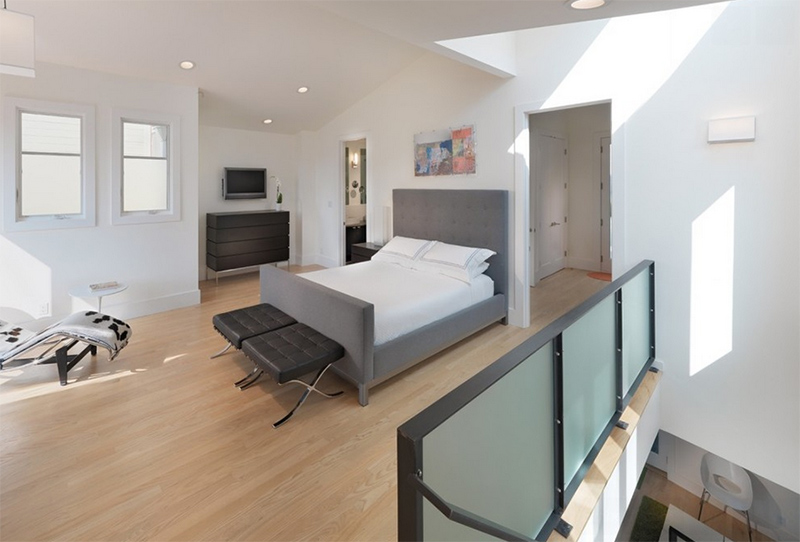 A gray and white modern bedroom is located in the mezzanine with a skylight on one side. I can imagine some plants creeping out to this skylight window! Obviously, there is another window on one side that provides light to that cowhide lounge chair.
9. Mid-century Home Renovation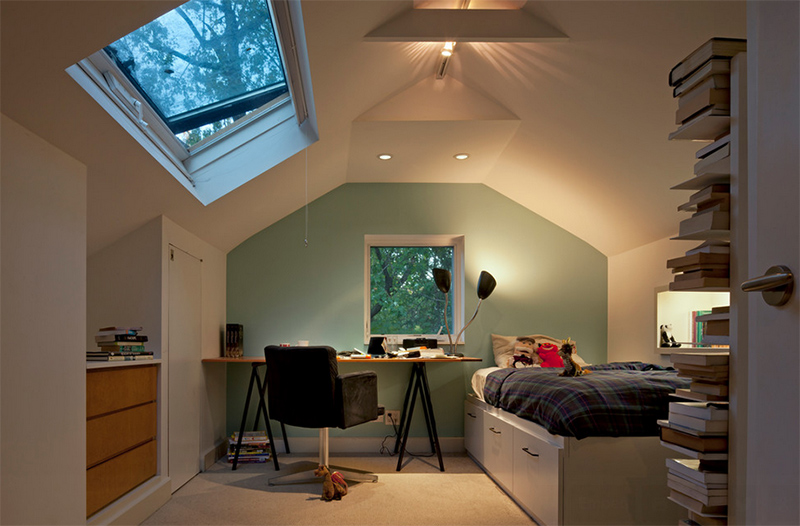 This bedroom may be small but it has its own working area and even a bookshelf on one side of the wall too. The vaulted ceiling isn't a hindrance to arrive to a beautiful bedroom design.
10. Loft Conversions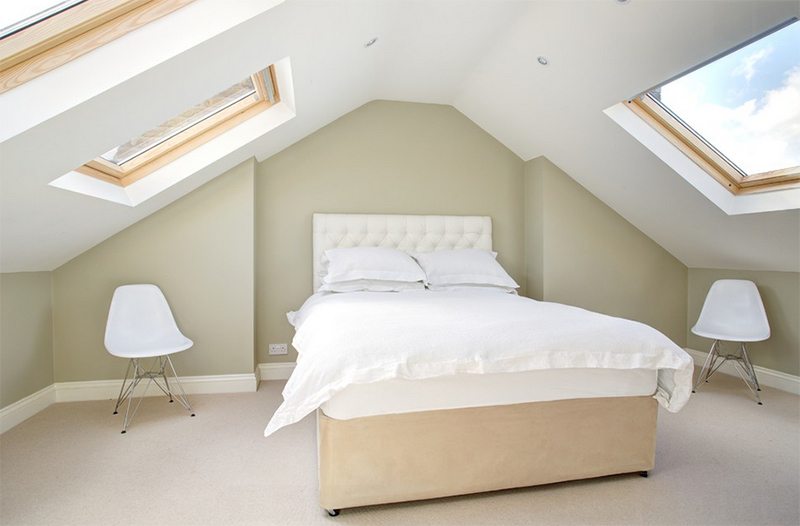 Isn't this a breathtaking minimalist bedroom? It sure is! What I like here is the tufted white headboard as well as the windows that bring in natural light to the space. Despite being small, it is very functional!
11. 77 Glebe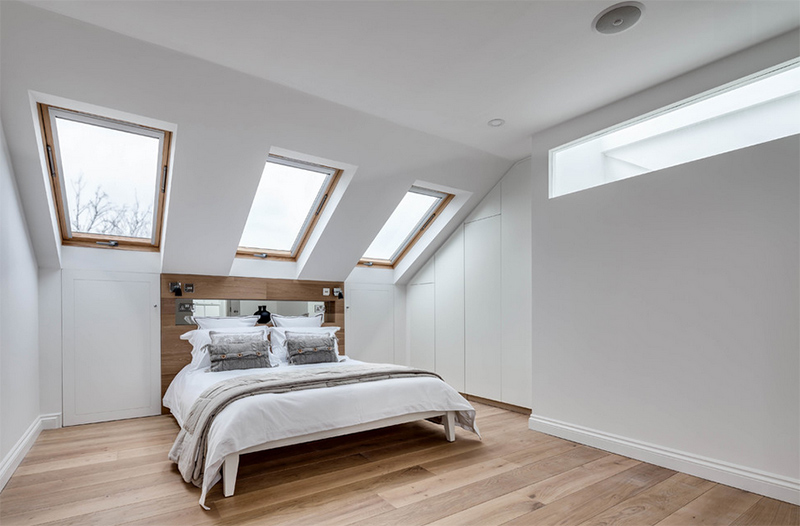 Three skylight windows are added to this bedroom. A wooden headboard with a rectangular void contains some lovely display. Notice that the minimal design of the bedroom is retained in the space.
12. Interiors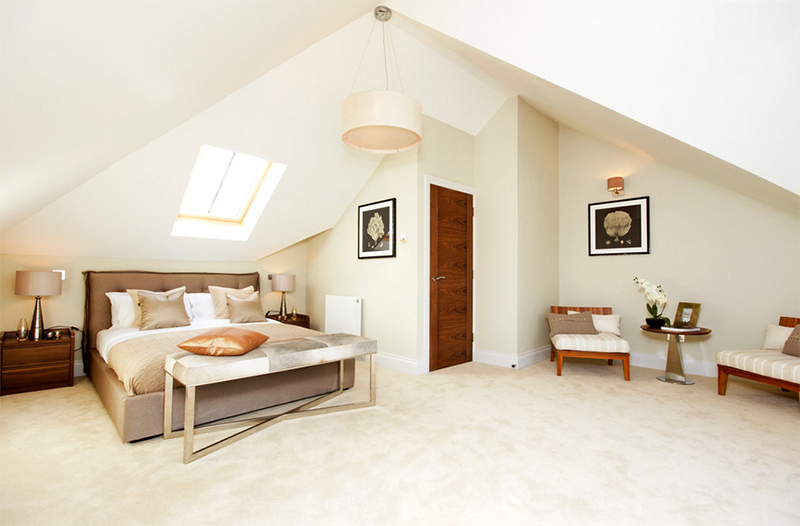 Isn't this an interesting ceiling design? In the center is a drum shaped chandelier which is the focal point of the bedroom. The colors are gorgeous too. One good way to use the space just near the door is to add some chairs and a table into it.
13. Fire Lane Retreat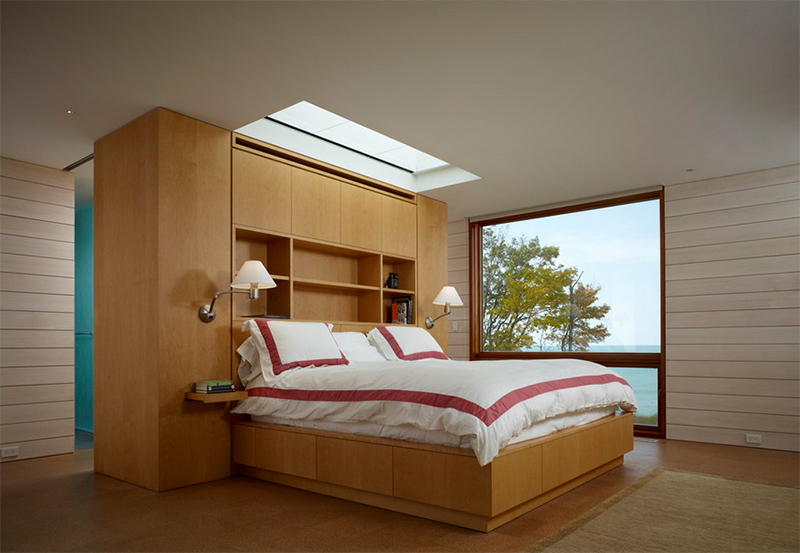 Anyone would be impressed with the woodwork of the cabinet that also functions as a headboard and where the wall sconces/ reading lamps are installed. It is also a bookshelf too and it is the bed as well.
14. Quarry Street House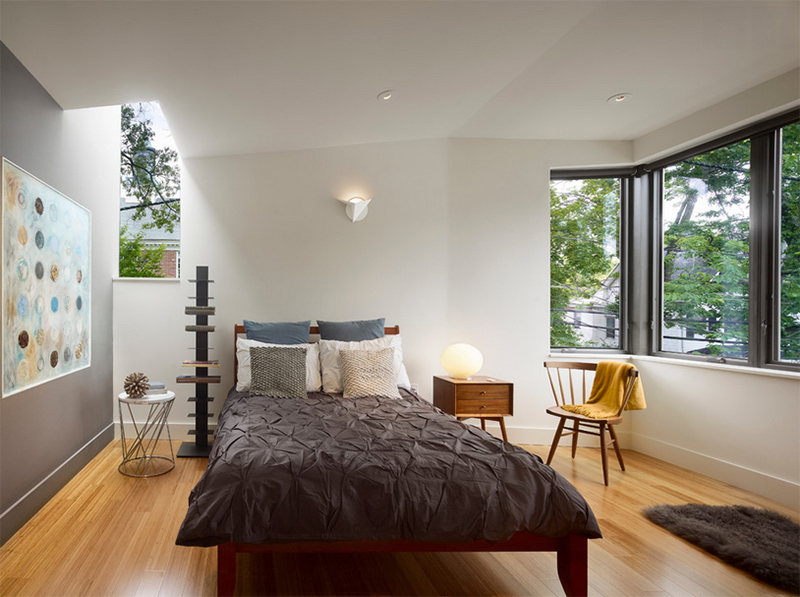 A modern bedroom has sleek furniture with interesting designs. The wall lights are pretty modern feature in this bedroom as well as the bookstand too. Natural light gets into the bedroom through a cut on the ceiling.
15. Putney, Loft Conversion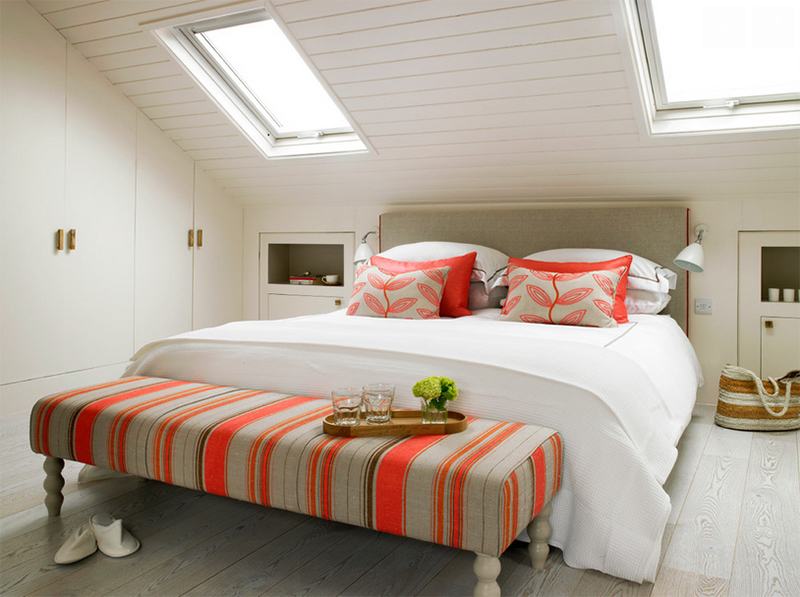 The colors of this bedroom are nice isn't it? I like the striped bench too with orange, brown and gray. The ceiling has wooden sidings that added texture to the area.
16. Blackout Blinds in Sensual Metallic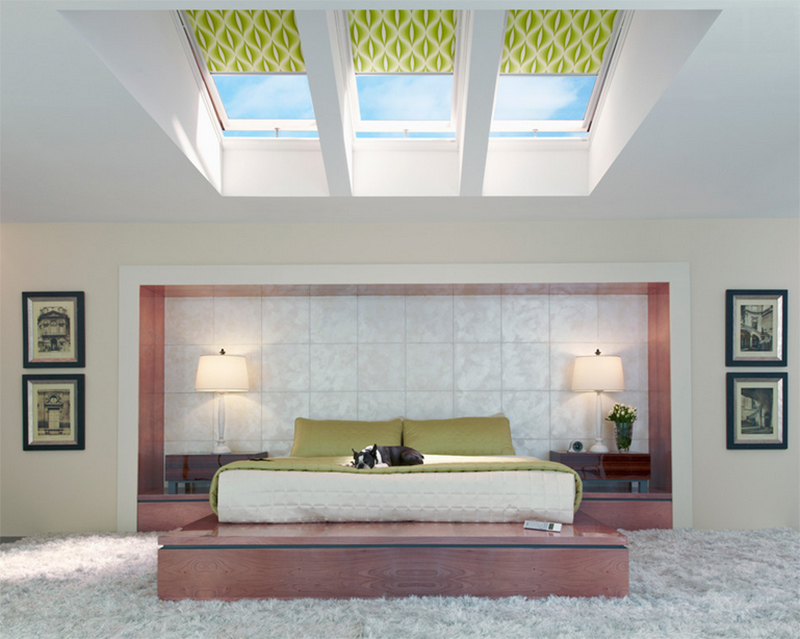 A solar skylight with metallic blackout shade with a pretty print could be a lovely option for your bedroom especially if it has a design as sophisticated as this.
17. Garage Turned to Loft Residence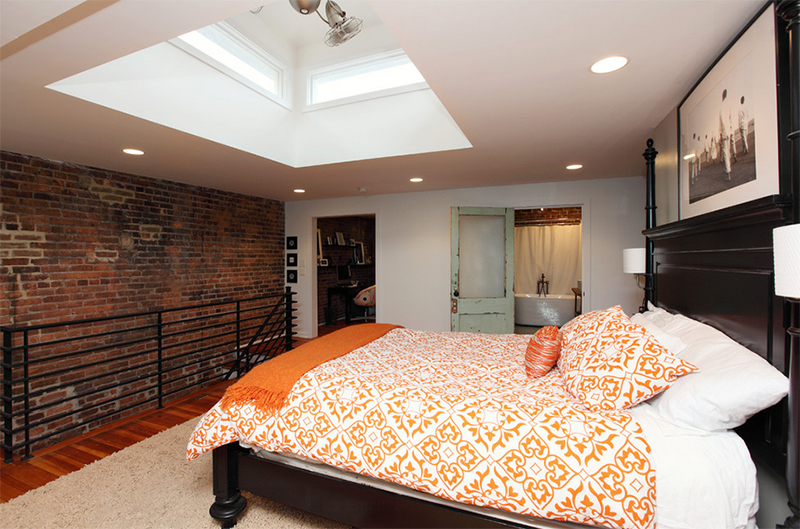 This bedroom has an industrial design paired with a modern look. Love the orange beddings as well as that brick wall. The variety of textures in this bedroom is indeed gorgeous!
18. Harbor Beach Mediterranean Transitional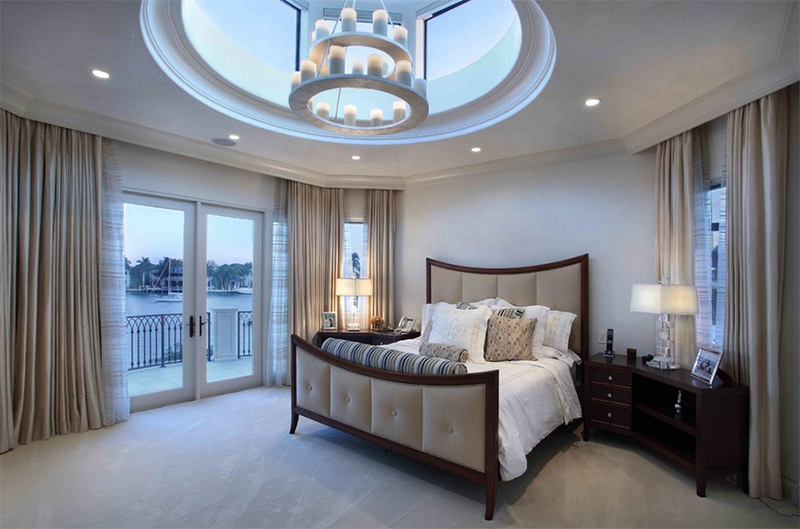 This bedroom has a skylight to see the stars at night. The bed area is raised from the seating area and juice bar. It has a motorized shade that closes the skylight off for morning sleep ins. There is also a side night stand tables that are dark wood and curved to match the shape of the room.
19. Student House Development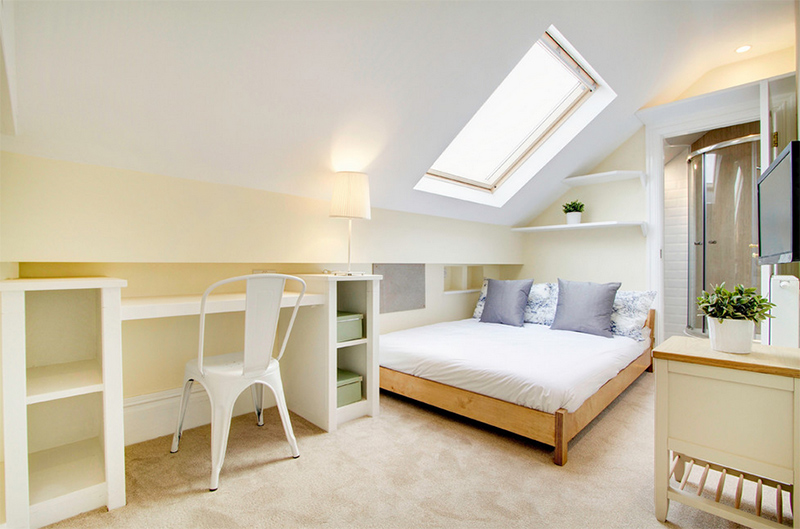 This is indeed a perfect space for a student! Aside from the bed, it has enough shelves and storage areas as well as a study area too. And the colors it used is relaxing.
20. Attic Master Suite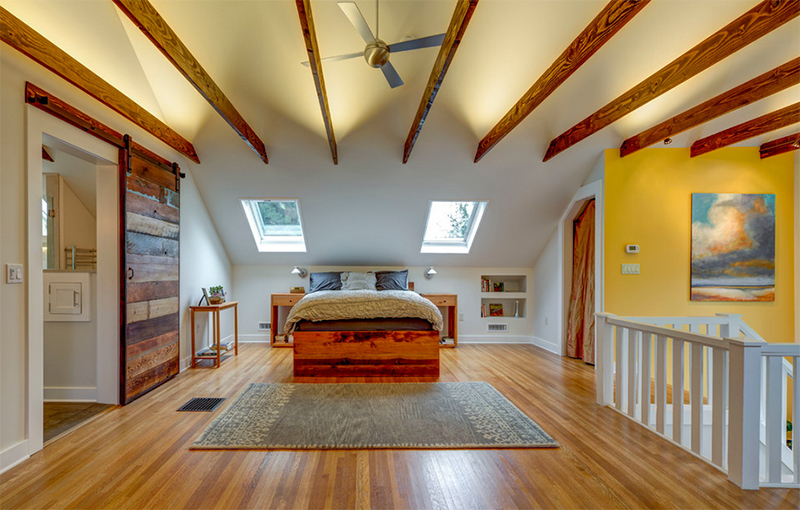 A dusty attic in a historic house in Portland, Oregon was renovated and remodeled into a beautiful modern space. Natural materials were used in the bedroom with vivid pops of color.
It really looks better when an area is being flooded with natural light through windows or a skylight. We have seen that in the images we have collated above. Most of them have vaulted or cathedral ceiling and they all looked beautiful. There are more creative ways of adding a skylight too which we have seen in some bedrooms. Others even have a motorized blackout shield. Now, will you tell me if you have thought of adding a skylight to your bedroom? Well, for sure, the bedrooms above have inspired you to get one especially that we have seen how beautiful the space looked like with natural light all over it!