20 Charming Indian Home Decoration in the Bedroom
India is a very fascinating country in all its glory – people are interesting, art and Architecture, fashion and design and pretty much all the she-bang! Today we have a list that focuses more on the decors and furniture that is usually seen and visible in an Indian-inspired bedroom; slightly Mediterranean and a whole lot of Asian!
Deeply rooted in the country's culture and history, Indian interior design features rich textiles and furniture, often handmade using traditional methods. Transport yourself to this exotic country and get Indian design ideas for your home. With that idea inculcated in our heads by now, let us go ahead and check out the stunning designs we have collated for you guys for the Indian home decorations located in the bedroom!
1. Brandi Powers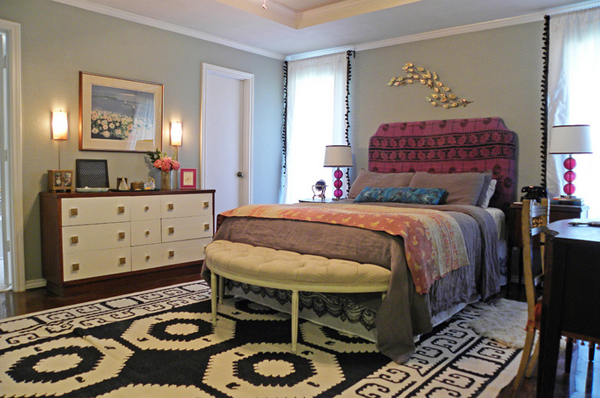 The master bedroom boasts a bold mix of luxurious ethnic prints, antique furniture and modern accents. Brandi was inspired to purchase the gold leaf sculpture above the bed after seeing this photo by Domicile Interior Design.
2. Cavender Master Bedroom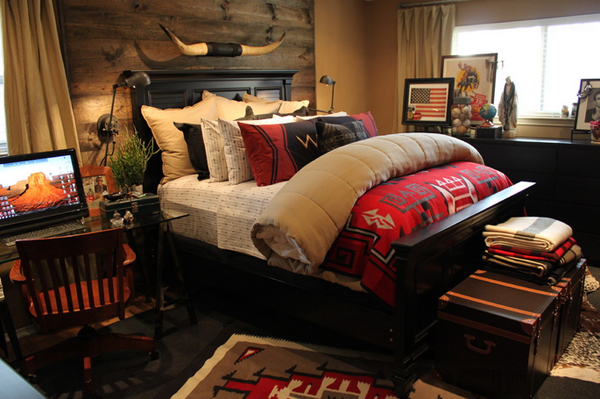 Western nods to cottage as well, as in this bedroom, with its layers of pillows and stacks of blankets.
3. Country Cosmopolitan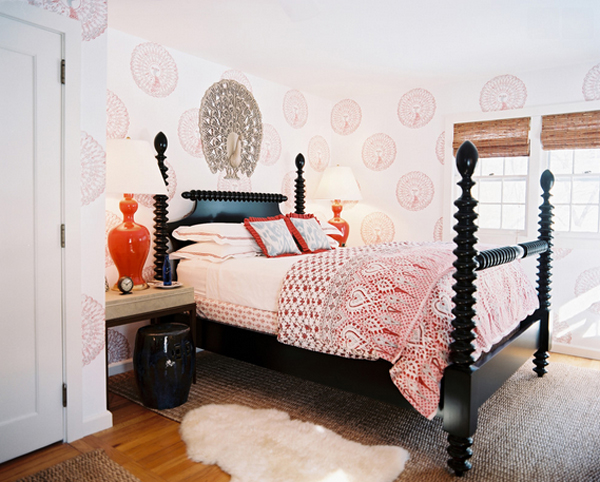 Add a small rug next to your bed. There's nothing worse than dragging yourself from underneath your warm covers and having to step onto a cold floor. Add a soft area rug, like this sheepskin throw, so that you'll look forward to that first fuzzy step out of bed.
4. D'ette Cole Eclectic Bedroom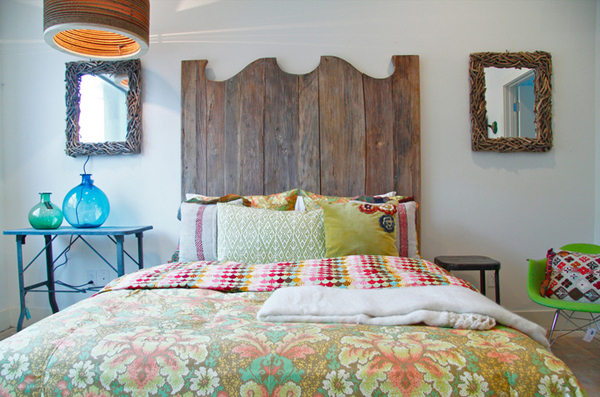 Guest bedroom decor idea – like the mismatched colors and items.
5. Eclectic Ranch House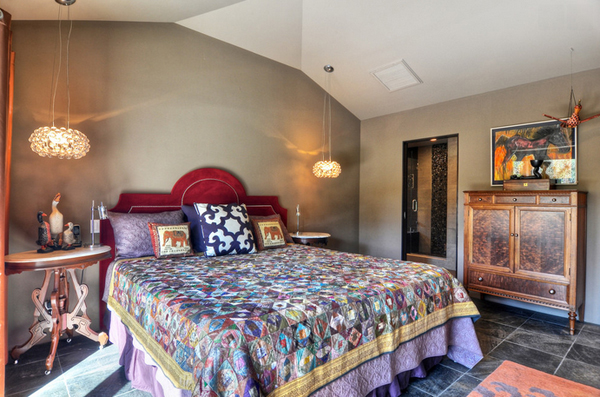 Bed with upholstered red velvet headboard and bedding from India combined with American antique furniture. Artwork and accessories are from all around the world. Antique Indian quilt as striking accent piece.
6. False Creek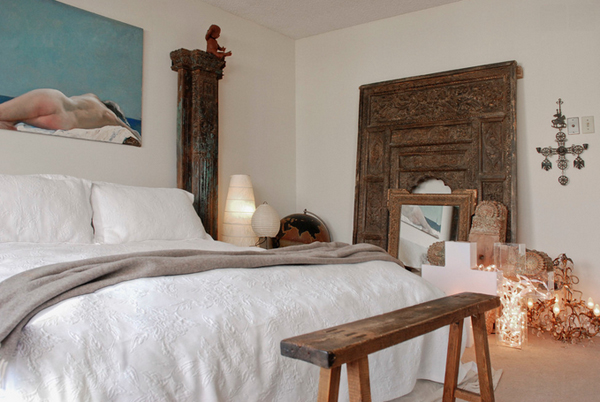 Some of the couple's collected crosses are scattered throughout the bedroom. The large white cross is by New Zealand designer Catherine David. The wood bench was brought back from a trip to France, and the wood pillars on either side of the bed are from India.
7. Hindi Master Bedroom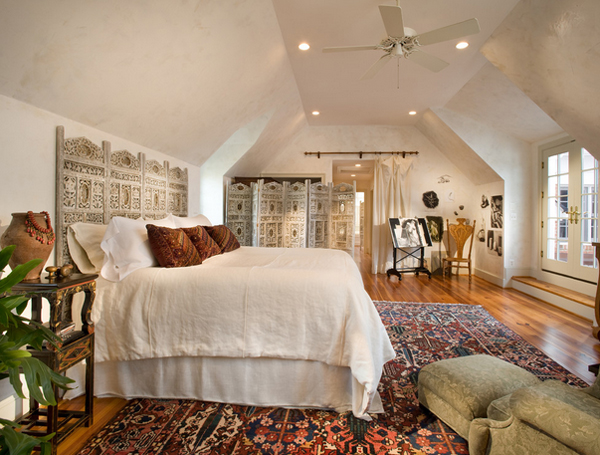 Artfully eclectic, this room celebrates the handmade and textural. Layers of burnished plaster offset antique brick, smooth heart pine floors, custom sconces and hand carved screens.
8. Indian Bedroom Furniture Elegant Style Design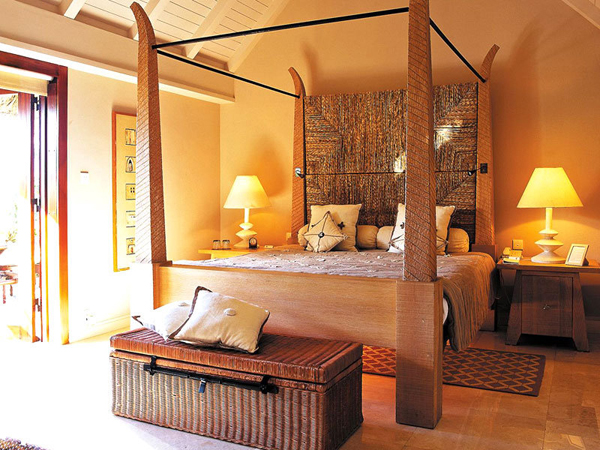 This is one fabulous bed with an awesome body and head board!
9. Indian Low Pillar Bedroom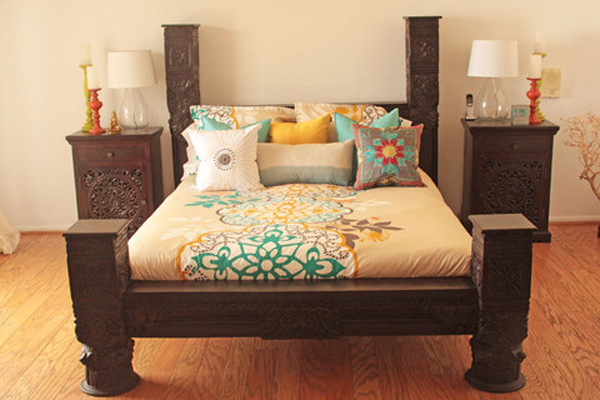 Low Pillar bed made in India made out of Sheesham wood and hand-carved with intricate floral details. Pillars are inspired by Rajasthanian castles located in the north of India.
10. Indian Master Bedroom: San Mateo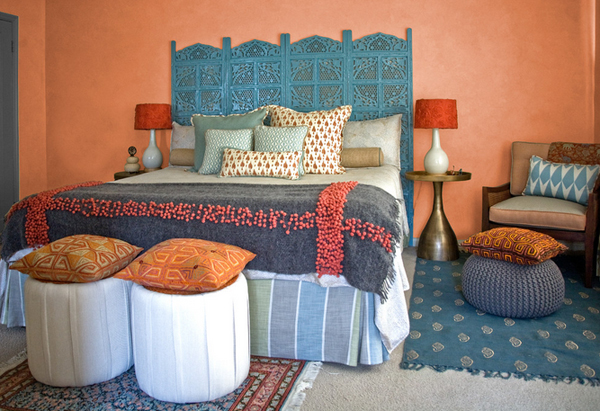 Inspired by the colors in a blanket brought back from a ?trip to India, this Master Bedroom was redesigned with a contemporary take on classic Indian colors and textiles. The warm tones brighten, while the cool colors ground the overall design.
11. La Jolla Residence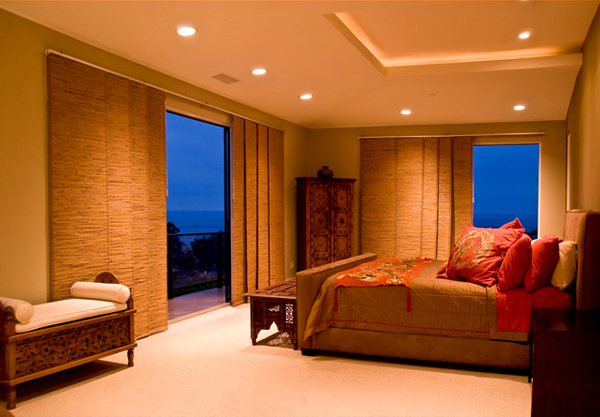 Here the panel track has been left exposed to reveal its simplicity. The panels can be very lightweight, in which case sliding them out of the way is easy. The material of these resembles bamboo or woven wood, which is commonly used in Roman shades.
12. Las Vegas Guest Bedroom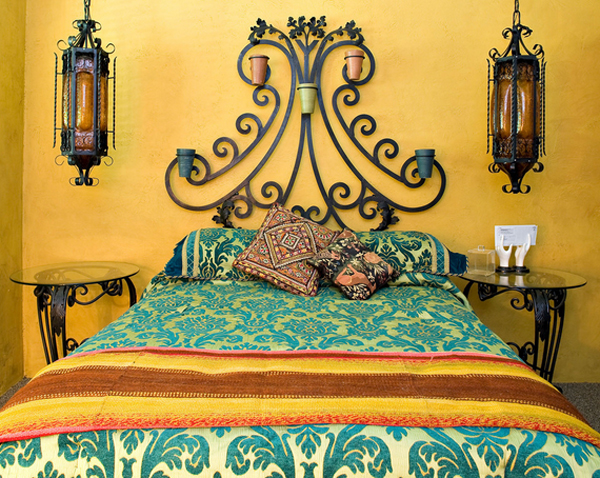 The damask iron headboard is totally lovely! I want one for my bed too!
13. Maltman Project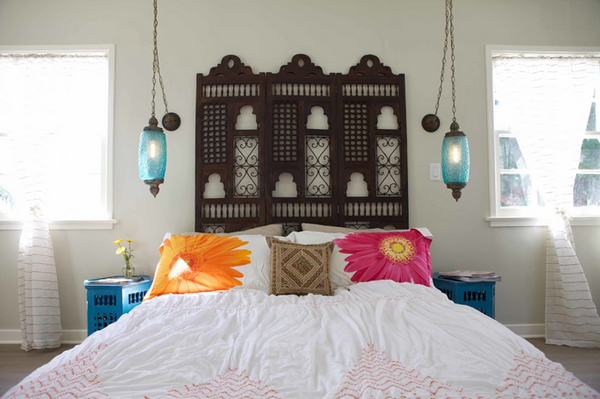 Transport yourself to another world after a long day with a headboard representing places you've traveled to – or hope to visit someday.
14. New York City Bedroom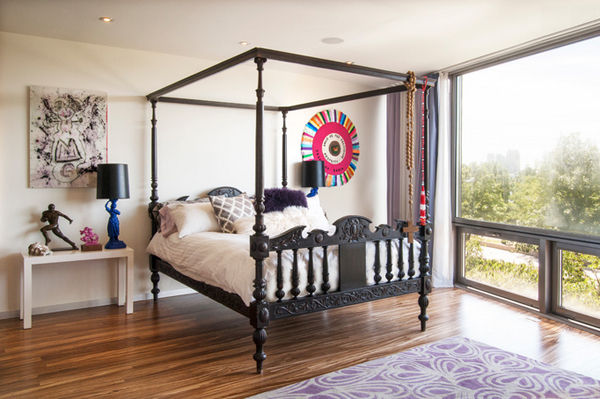 With grand proportions and intricate carving, the antique Indian bed frame is the centerpiece of the master bedroom.
15. Phoenix Transitional Home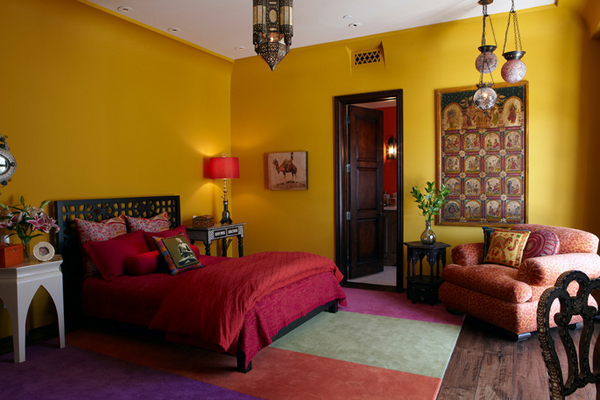 Love these vibrant colors of yellow and reds that works for this Phoenix bedroom!
16. Union Square West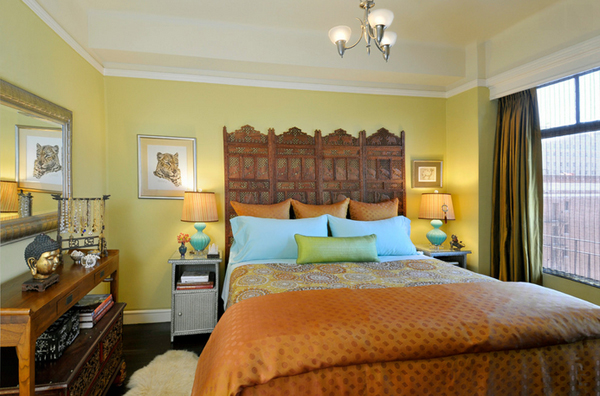 Bold choice to use the screen as a headboard – but totally stunning!
17. United States Indian Bedroom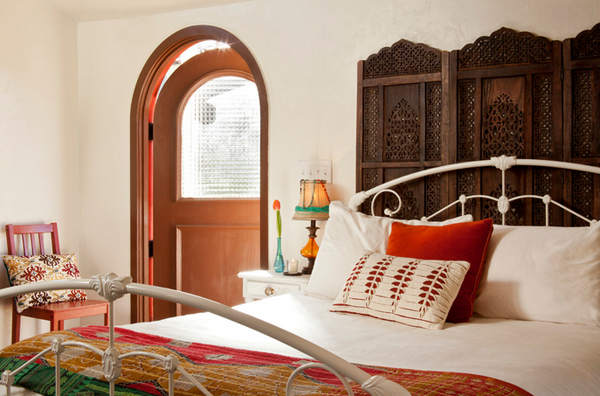 The divider by the head board is super beautiful – it contrasts with the bed and surely works well.
18. Charlotte Asian Bedroom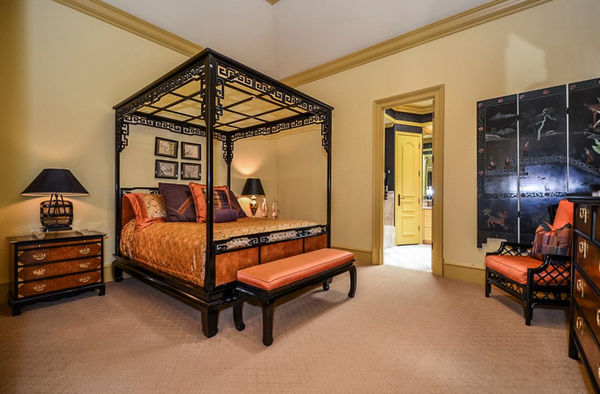 Screens is one major decor that we see in most of the photos in this list. They are just so pretty and functional all at the same time.
19. Enchanted Oaks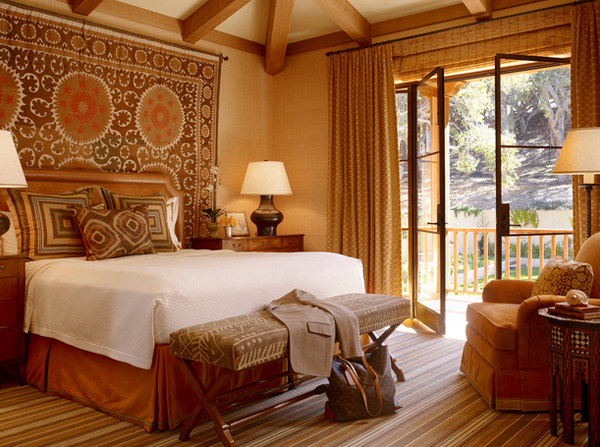 There is always a place for a bench. My favorite place is in front of a bed, where it can be seating or hold clothes. Visually, I just love the way a bench anchors the bed. That same bench will work wonderfully in an entry or behind a sofa. It can also work as a coffee table, which is a bonus if you have a small space.
20. Hawaii Bedroom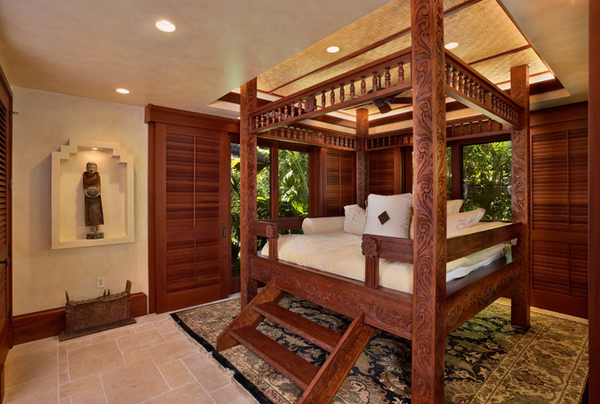 How do you find this bed? Bedrooms in Hawaii sure is interesting and pretty awesome!
The beds are totally incredible in each of the photo – especially the designs of the head boards chosen for each one; I'm pretty sure that you have noticed the screens or dividers that were seen in some of the photos too – they are just so interesting and full of grandeur. They may actually be simple for others, but the culture and history you see in them are just beyond the beds and decors you see and purchase in home depots. Here is another list about the Astounding King Bedrooms in 20 Stunning Designs that are superb ideas too! Check them out!