20 Fun Pink And Green Bedroom Designs
Love pink and green? Here are beautiful bedroom design ideas with that combination!
Pink and green has always been my personal favorite. I love everything pink and green! It is also a favorite among young girls. It brings back so many childhood memories but mostly it reminds me of spring. The fresh, invigorating green leaves and the softness of pink flowers atop. This color combination is another nature's creation that we can see and appreciate. Aside from the fact that this lovely color combination is very spring-like, it also brings us preppy and retro vibes of the 70's. Something that can bring interest and appeal to our home interiors.
The use of pink and green scheme in home interior is not really common in most homes. It is because of its bold and striking characteristics that others may find overwhelming at times. However, when the right shades of this pair are used skillfully in your home, it can add a lot of feminine touch and calming charm. Which is what we mostly want in our bedrooms. These may be the reasons we usually see this kind of color combination in bedroom interiors and less in living room or dining room. Mostly it is seen in young girls' bedroom interiors. Its chic and fun appeal bring youthful vibe to any room making it fitting for young princesses and teens alike. Adults may also use this color scheme to add feminine touch to a rather masculine room. To see more of this beautiful mix, check out our list of 20 Fun Pink and Green Bedroom Designs! You might just get new ideas on how to incorporate this beautiful color combo in your own bedroom.
1. Pink And Green Bedroom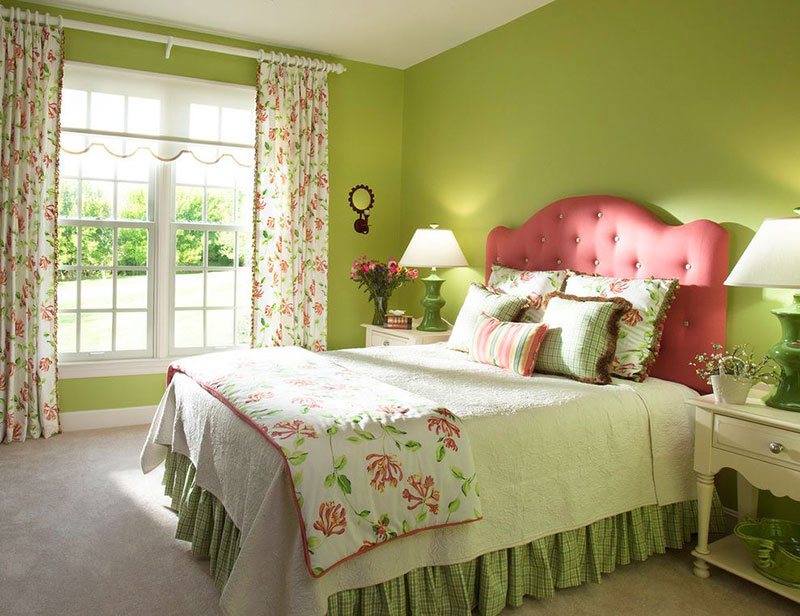 The lime green walls of this traditional bedroom design is so soothing and welcoming. It makes a perfect backdrop for the coral-pink headboard accent. The curtains, pillowcases, throw and beddings with the green lamps are all beautifully coordinated.
2. Bedroom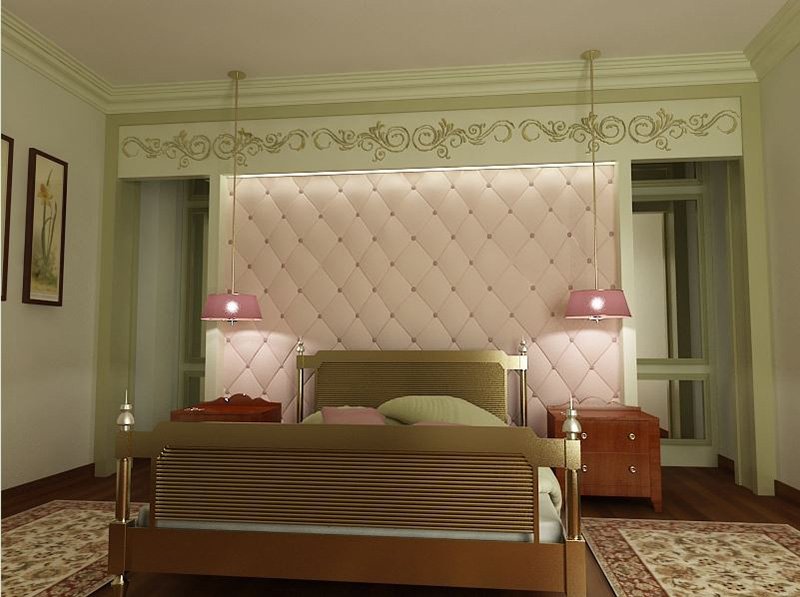 The light green shade on the walls is perfect for adult bedrooms. It gives out a refreshing and calming appeal while keeping it light and easy. The soft pink focal wall and hanging lamps add a romantic touch that softens the rich wood gracing on the floor and furniture.
3. Katie Rosenfeld Interiors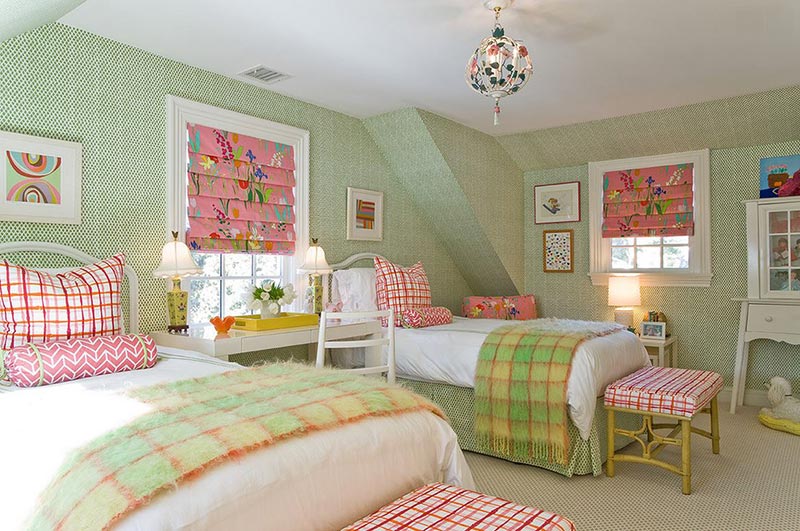 I love the green wallpaper in this preppy room! Its pattern creates an invigorating feel. The vintage roman shade in pink with its colorful prints add fun and retro vibe. The mix of different patterns and textures in this lovely room is not overpowering and the softness of green and pink color scheme used, also helped in keeping the whole room, fun, chic and relaxing.
4. Polka Dots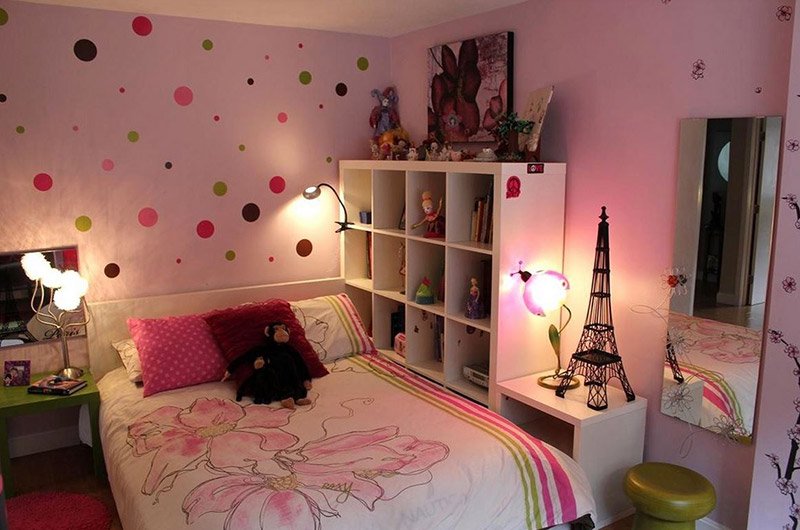 A fun way to add interest and statement to your focal wall is the use of polka dots. Placing different sizes of circles in different colors, preferably bolder than the color on your wall, is sure to bring a playful punch to your space.
5. House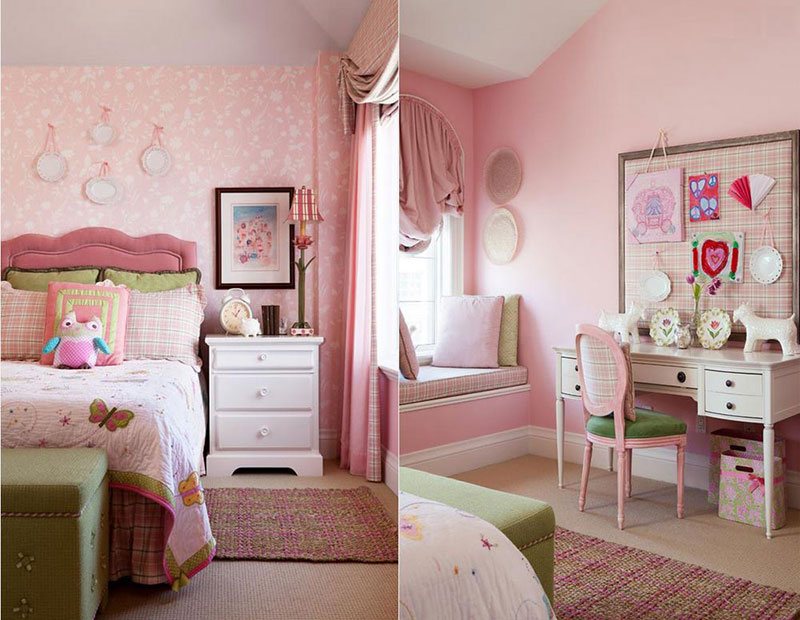 I love the strong feminine feel in this room! The sweet and softness of the pink pastel covering the whole place makes it calming and inviting. The hints of green on the pillows, area rug, chest, chair, lamp and some decor create a sense of balance in the whole pink scheme. This room will definitely grow with your child.
6. Little Girl's Bedroom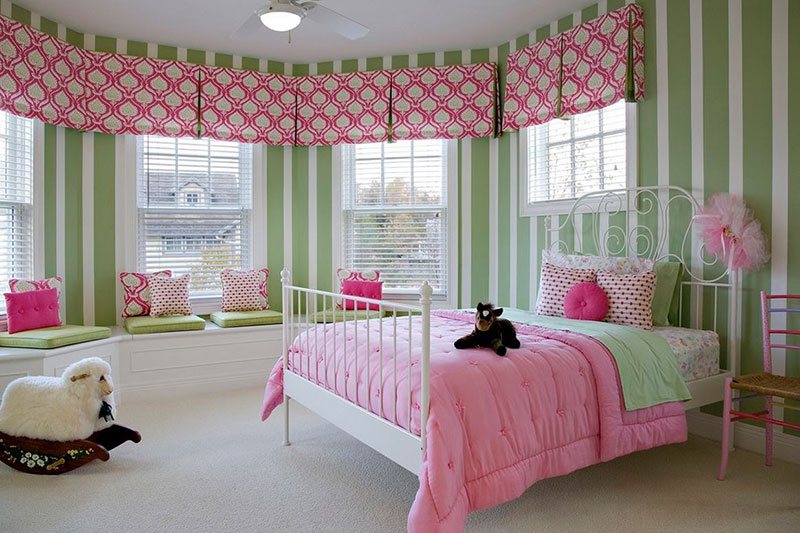 The pink and green complementary colors work really well for a girl's bedroom. The stripes wall in green and white is not too girly at all, making it perfect for your growing princess, unless of course she changes her preferred colors. The touch of vibrant pink on the bold patterns on box pleated valance, throw pillows and chair create a fun yet delicate accents keeping the youthful vibe.
7. Modern Italian Kids Bedroom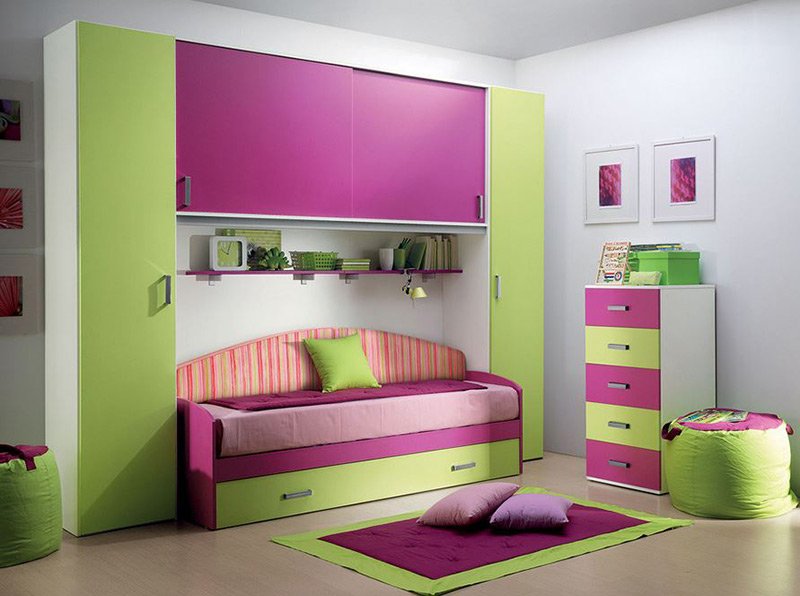 This is a great way to save space while having a lot of storage. This furniture set is a stylish solution for small bedroom spaces. The lime green and raspberry pink create a vibrant combination that sets a modern tone in this fun bedroom design.
8. Sarah Greenman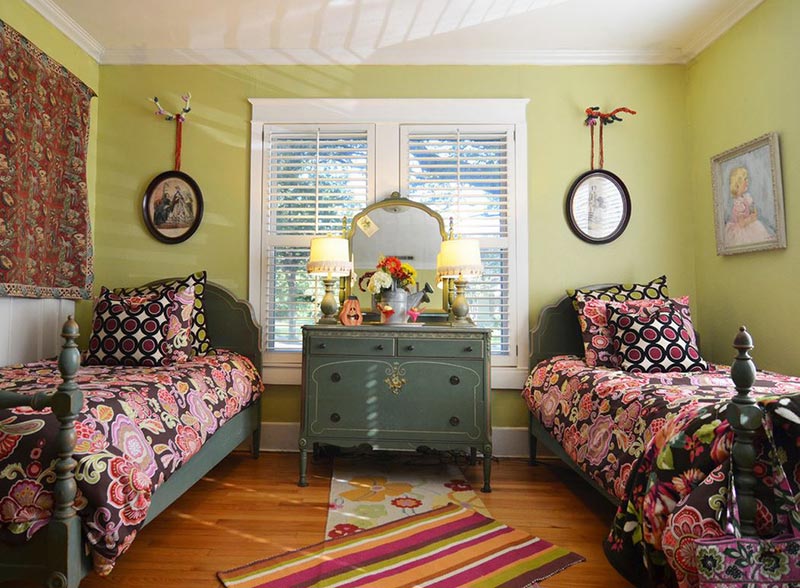 Bold and fun prints on the beddings, playful mix of intricate patterns, and beautiful vintage bedroom furniture envelope in a lighter shade of sage green create a perfect, relaxing retro bedroom.
9. Logik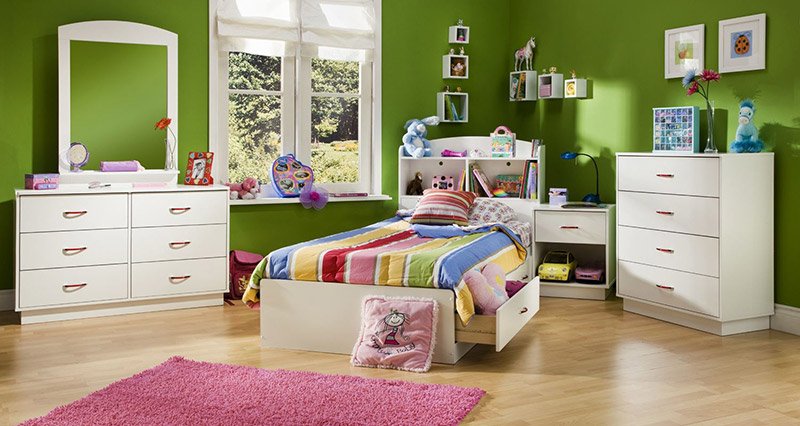 The vibrant lime green on the walls create a striking interest in this room. The pop of pink in pastel on the area rug and other bedroom accessories make this contemporary room dainty but never boring.
10. Mainline Traditional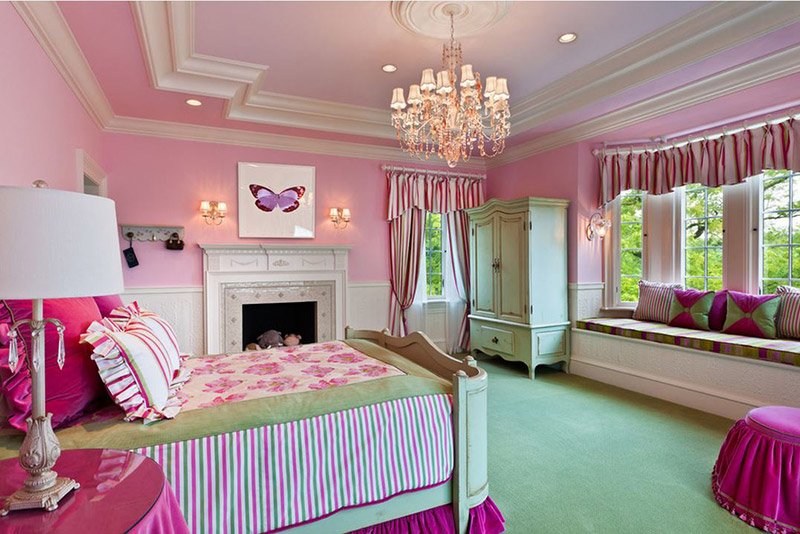 So classy and elegant! The use of a brighter and bolder color make this room standout. While the whole room is covered in soft pink shade, Fuchsia bring the glam and exciting look while the pop of mint green on the furniture, carpet, beddings and pillows keep it calming and dreamy.
11. Canon & Company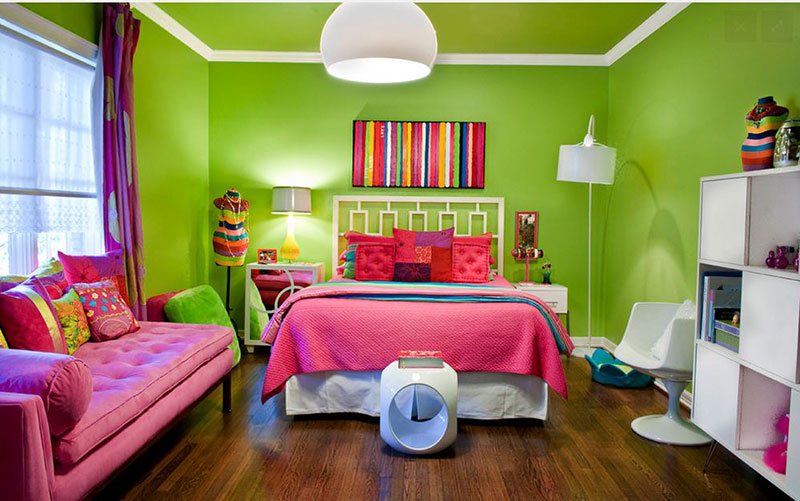 The mix of intense colors of neon green, hot pink and purple create a fashionable and festive modern bedroom design. The use of white breaks the bright and bold colors dominating the space, giving balance and a relaxing atmosphere.
12. Bedroom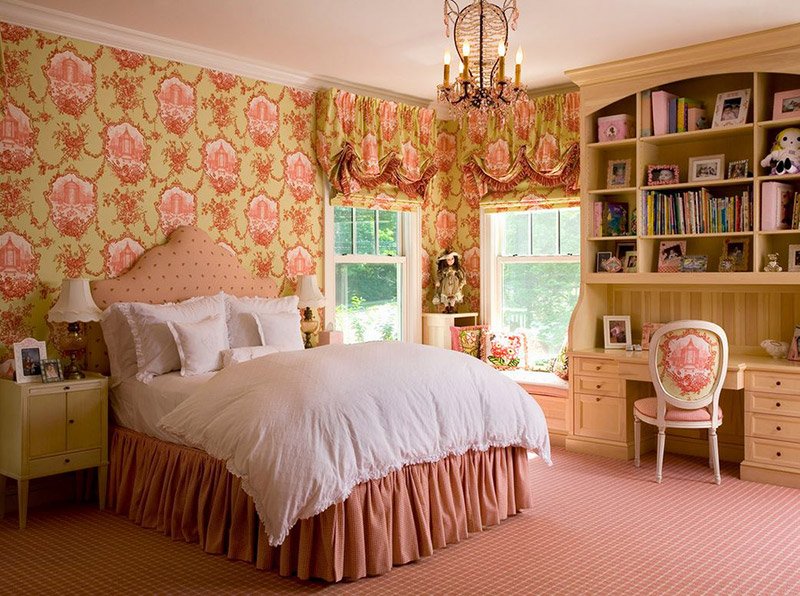 The mix of muted pink and green in this French bedroom design is beautifully done. The use of toile on the walls and balloon shades and on the back of the chair create a harmonious look. The plaid pink carpet uses the same shade of pink to that of the bed and its bed skirt creating one look while the white bedding accentuates the toile backdrop further.
13. Connie Cooper Designs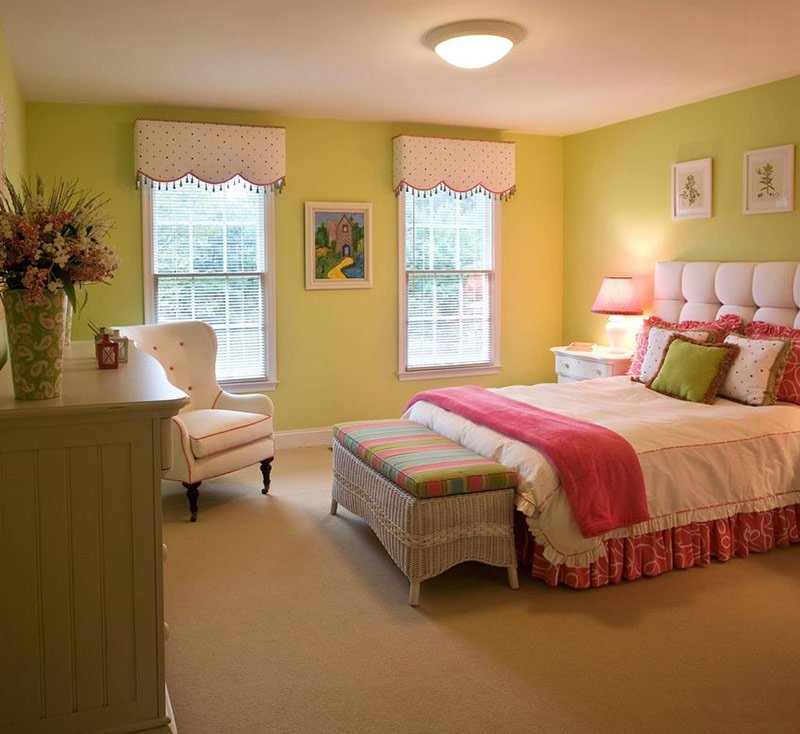 Muted lime green can be soothing and can be ideal in adult bedrooms too. The pops of pink on the scalloped cornices matches the seat, creating harmony. The colorful bench creates interest to the whole room without looking out of place. I love the delicate and charming look of this room!
14. CHIC Redesign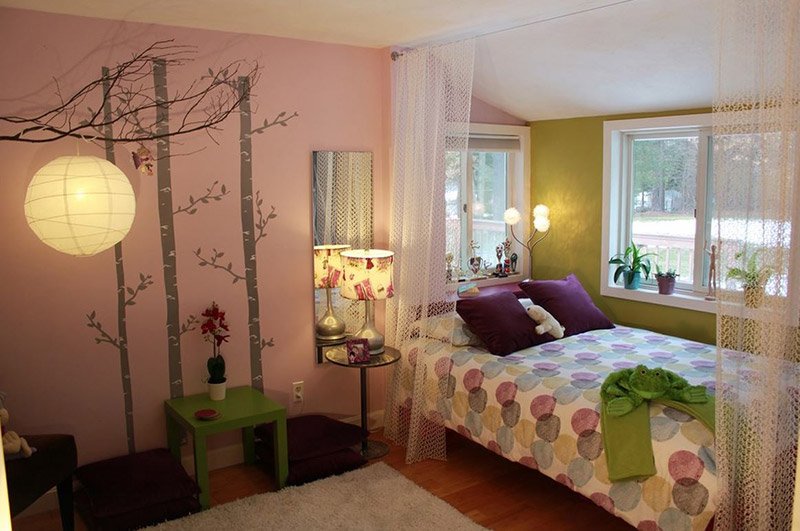 The gray trees wall decal look whimsical against the pink pastel wall. The branch floor lamp adds to the whimsy feel while the green wall on the other side create a cheerful division with the help of the lace curtains that make it look a lot cozier.
15. Cindy E Barganier Interiors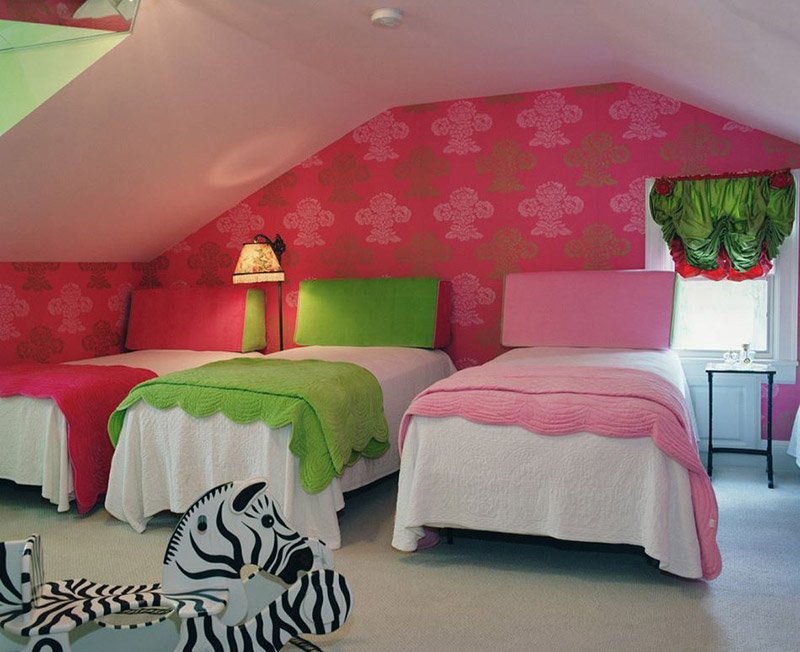 The bold patterns on the wallpaper bring interest and intrigue to this space. The colors seen on the walls tie up all the colors seen on the headboards, bed spreads and other decor in this attic bedroom, creating harmony to the overall look.
16. Sweetheart Bedroom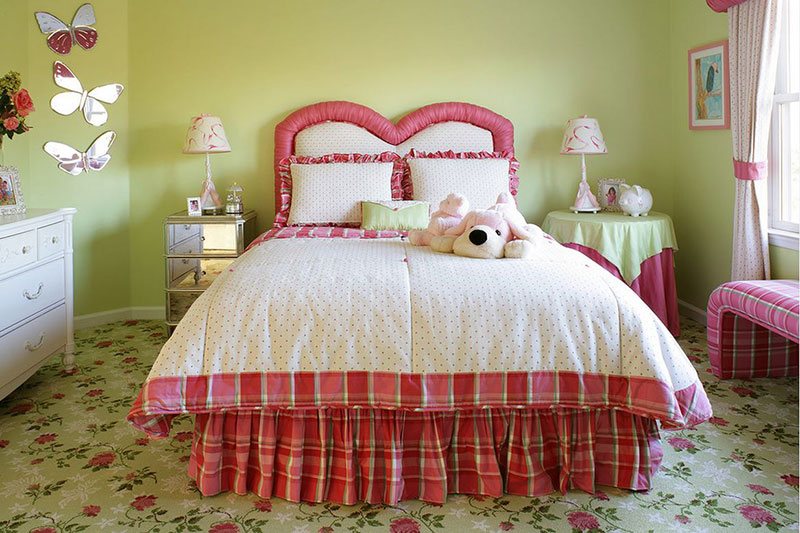 This darling space reminds me of sweet spring. The richly feminine ambiance in this room is made possible by the different mix of lovely patterns and texture in lime green and pink. If you want to know where the inspiration came from? The enchanting Victorian rose-patterned wool carpet is to blame.
17. Jeffers Design Group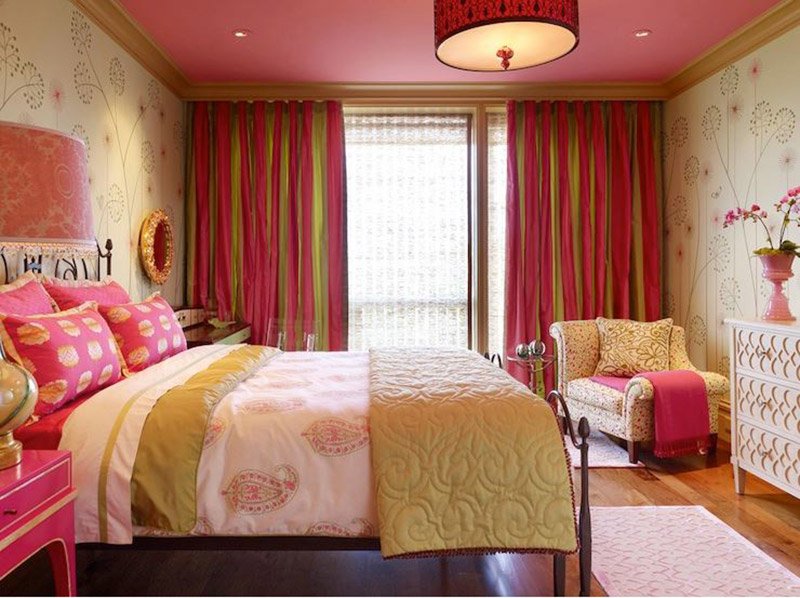 For those who are quite afraid to cover their walls with pink or green but still like to incorporate it to their space, using it on the curtains or beddings is the best solution to your worries. It is temporary and you can change it whenever you feel like it.
18. Lucy And Company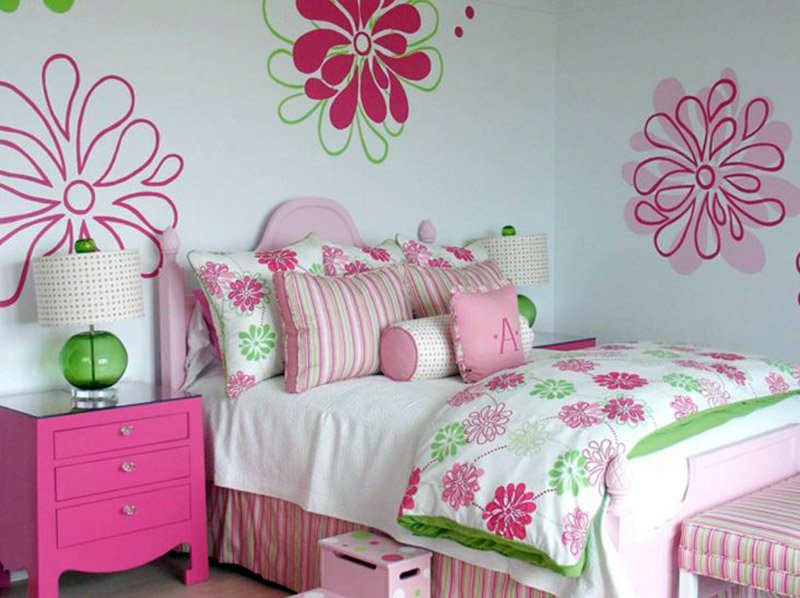 Fun, bold patterns painted on a neutral wall in vibrant pink and green colors create interest and playful vibe in a room. Having a matching patterns and colors on the rest of the furnishings will keep the scheme pulled together.
19. Phoebe Howard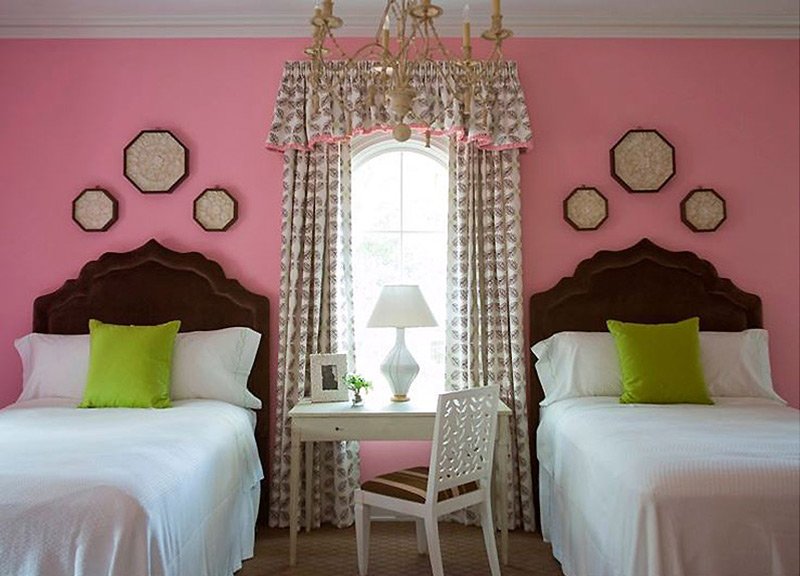 This bedroom design is a combination of a classy traditional and contemporary elegance. Keeping everything in balance on both sides. Adding those striking green apple velvet throw pillows on both beds create a bold punch in this space.
20. Dulce Pink Upholstered Bed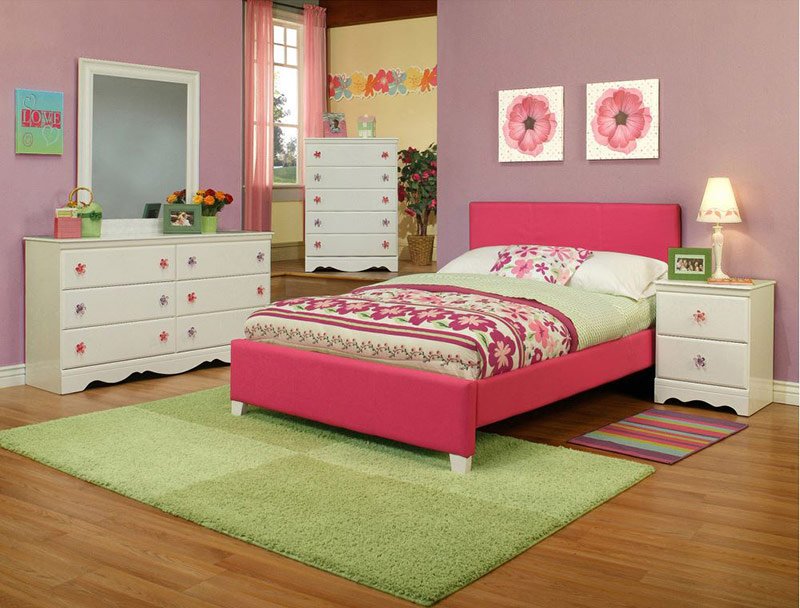 So chic and elegant! This bedroom space is full of youthful vibe and charming appeal perfect for your little modern princess. The use of muted pink, green and yellow is great for children's room!
Pink and green are great combo! These two colors complement each other. It makes each individual color standout when paired. It may not be commonly seen in most homes but when these two colors are used together, it makes an extraordinary impact. The muted shades are great for a romantic and calming atmosphere. The more vibrant and intense versions of these hues are perfect for a bold and striking punch. Which is mostly in accents or creating focal points. Mixing different patterns in different shades of this color combination can create different moods and look that is never overpowering when done right. For those who does not want to commit in using this colors for a long time, you could just use it on the curtains, beddings, or in your vase. Pink flowers and green leaves when placed in a vase in a strategic location can go a long way. It can bring a romantic flair and add feminine touch to neutral walls or surroundings. Or you could just use these colors as simple touches, like on your lamp, chandelier, accent chair or furniture that can bring character and whimsy to the whole space. I hope you like my list of pink and green bedroom designs.