15 Visually Pleasant Yellow and Grey Bedroom Designs
A bedroom, despite being a private place, deserves one's attention if we speak of design and decoration. Well, most of the time, a bedroom would get more designing because the homeowner wants it to look pleasant and feel comfortable for him when he decides to rest and sleep. One way of adding zest to a bedroom is through the combination of colors. There are so many color combinations available and we will show you one today.
Yellow and grey when used together looks light, easy and warm for the eyes. It creates a cozy aura and a sophisticated interior. We were also amazed on how lovely a yellow and grey bedroom turned out to be. We are happy to share this list with you so you can also judge if the combination is perfect for you or not. Take a look at 15 visually pleasant yellow and grey bedroom designs.
Michelle's Master Bedroom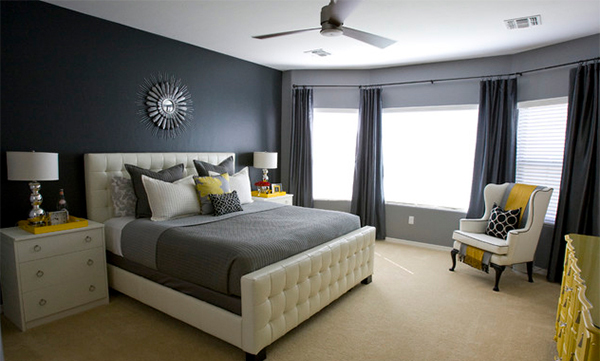 East St. Bed from Z Gallerie is placed on the center of this bedroom. The bed looked even more beautiful with a Plaza Slate Bed Linens from Crate and Barrel. An Evening Hush wall color lets the bed pop out from the entire bedroom.
Retirement Retreat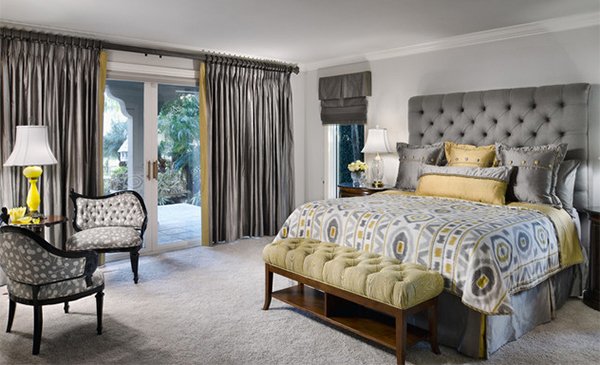 Tufted headboard in grey creates a stunning statement for this bedroom. Yellow accent colors add a lighter touch to it.
Contemporary Bedroom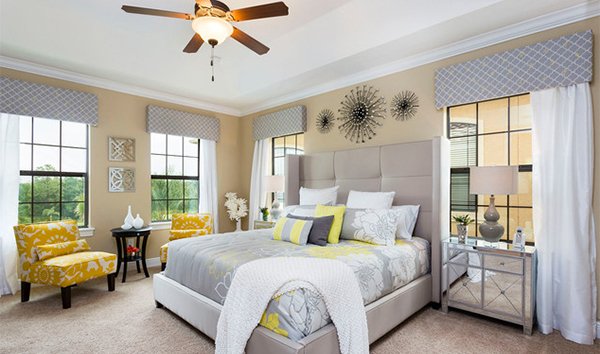 We love the wall decorations and the canopy for the windows but what made this bedroom pop is the Madison Park Brianna Comforter Set for the bed and the yellow seats.
Hawthorn Woods Columbia Bedroom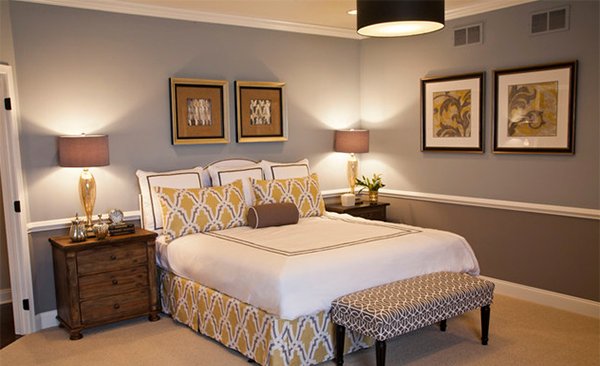 Wooden side tables with drawers add a rustic touch to this bedroom of yellow and grey. The patterns in the bench and the bed give a busy look to this minimal bedroom.
Peaceful Yellow and Gray Bedroom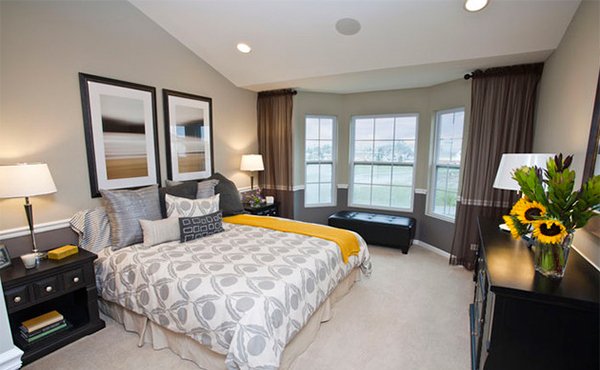 Two-tone walls and curtains liven up this bedroom with subtle yellow touches. The framed art resembled the natural hues used in the interior.
Great Neighborhood Homes Transitional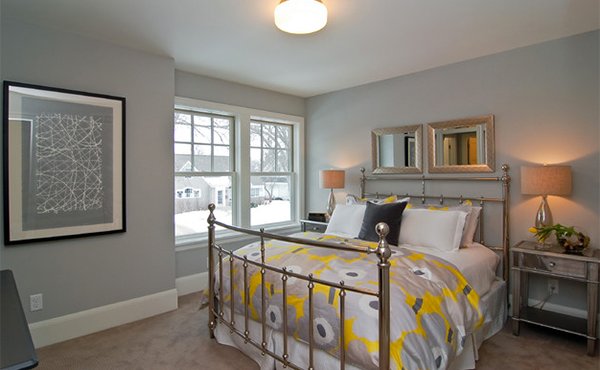 Using large grey flowers in yellow background for the bed cover make this bedroom one spectacular place to be in. Mirrors were placed on the headboard which gives us an idea on how to treat headboards uniquely.
Mill Valley Estate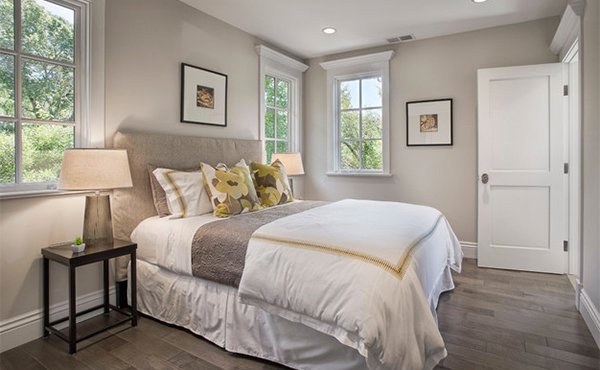 The wall color of the bedroom is Edgecomb Gray HC-173 while the flooring is a Marquis Handscraped engineered wood, prefinished in Metallic Charcoal color. Isn't this a lovely bedroom?
Dania Eclectic Bedroom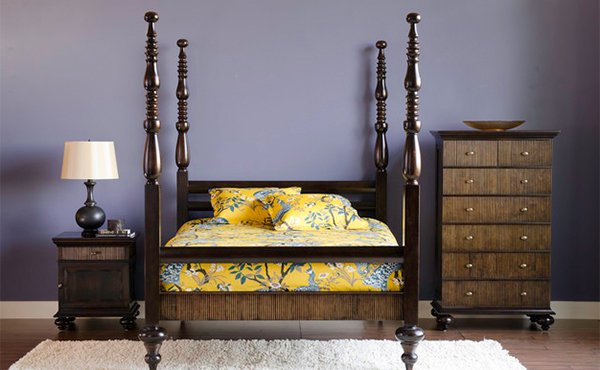 Caryon 4 poster bed gives a traditional touch the bedroom. The duvet print is a fabric by Dwell Studio called Vintage Plumes that creates a burst of color for this eclectic space.
Master Bedroom2
Decorative mirrors are used for the headboard area whose shape seemingly resembles the print of the bed's fabric.
Isabella Master Bedroom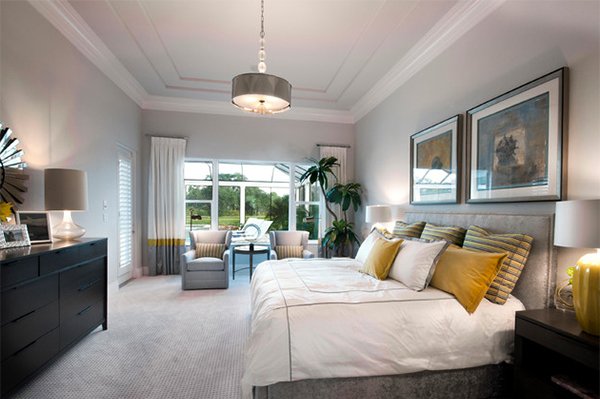 A lovely yellow and grey bedroom that also uses stripe patterns. The drum chandler is a total stunner!
Rustic Retreat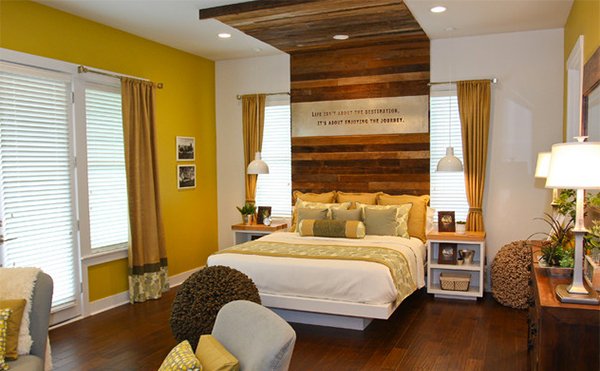 Wooden panel for this canopy bed bring in a rustic touch to this modern bedroom with yellow and white walls.
Avatar Homes Model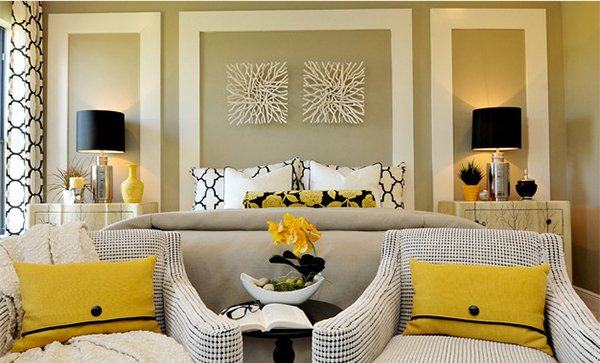 This one is a master bedroom designed by Masterpiece Design Group. Apart from the pretty combination of colors, the wall art from Z Gallerie called Naples Bowl adds to its appeal.
Master Bedroom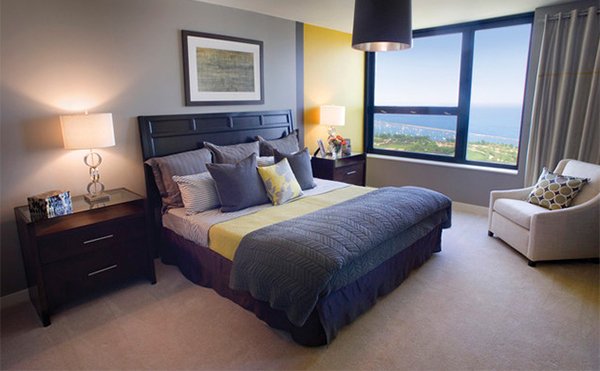 Notice the homey feel of this bedroom with varying tones of grey and the use of yellow as accent color.
Hilltop House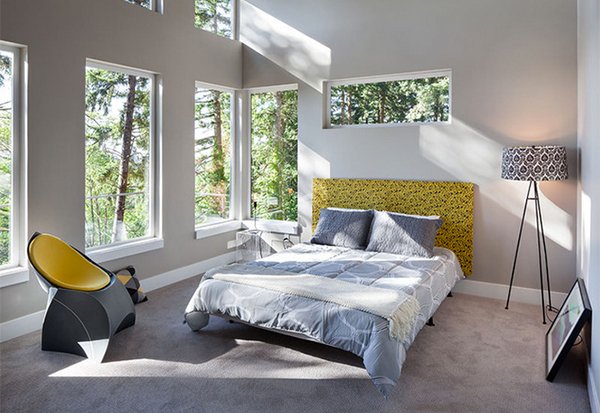 A nice grey tone is used for the wall. The addition of a yellow headboard printed in black looks gorgeous! The windows of this bedroom are fixed but the area is located near an outdoor balcony.
Newport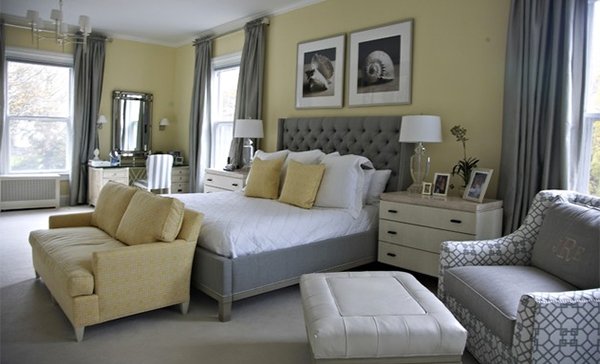 Western Flax by Benjamin Moore wall color. We got this bed from Vanguard- the Michael Weiss Collection!
Who would expect that a combination of yellow and grey colors could create a cozy bedroom? Sophistication can be attained merely by combining the right colors. You can even experiment with the colors to pair with. Or you can also stick with a monochromatic look but it would always be lovely if you add some accent colors to an interior. You can even do a bedroom makeover even when on a budget.