20 Captivating Bedrooms With Floral Wallpaper Designs
Floral designs are like breath of fresh air in our modern interior designs. With today's fast-paced lifestyle, getting a glimpse of nature can help improve our emotional health. In choosing floral designs for your wallpaper it does not only enhance your interiors but it also helps the owner fight from stress. Flowers or floral designs can trigger happy thoughts and pleasant disposition.
Placing a floral wallpaper design in your bedroom is great, especially if you want to wake up in good and happy mood. It gives your bedroom a classic and welcoming appeal. It makes an ordinary space beautiful and elegant. Its enchanting nature creates charm and intimacy. I love floral designs, may it be on fabrics, dresses, furnishings or wall coverings. I always find floral-inspired designs to be fascinating and adorable! It is just so feminine! I cannot get enough of it! So if you are like me who loves floral designs or simply looking around for an inspiration. These 20 Captivating Bedrooms With Floral Wallpaper Designs will sure to entice you.
1. Petal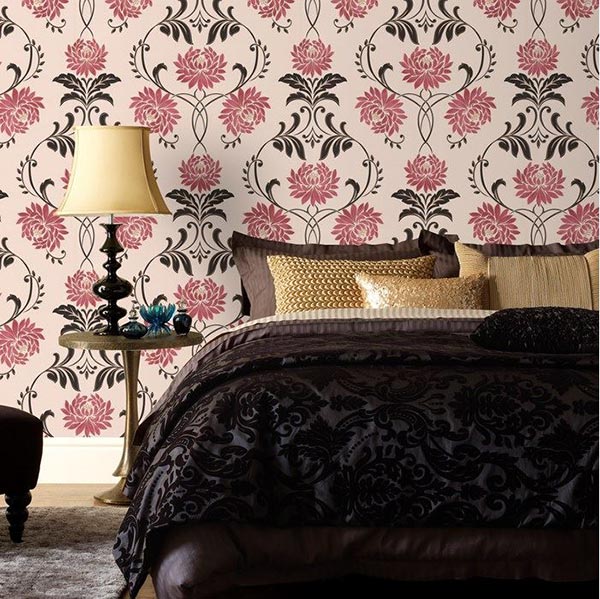 The stunning wallpaper design is based on Chrysanthemum, a traditional oriental design. It will work as a charming statement on any master suite or woman's bedroom.
2. Brown And Blue
A classic brown and blue floral pattern adds drama to this elegant, girl's bedroom design.
3. Modern Floral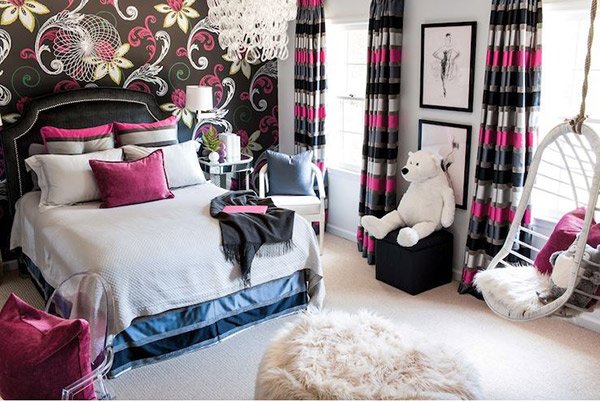 This fabulous girl's bedroom is made even more glam with the pink and black modern floral wallpaper taking the center stage.
4. Blue Blossom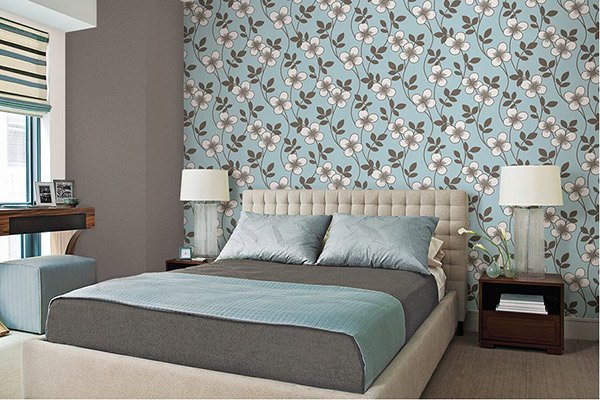 This pretty blossom in white with pastel blue backdrop makes any room chic and relaxing.
5. Portier Clover Bedroom Floral Wallpaper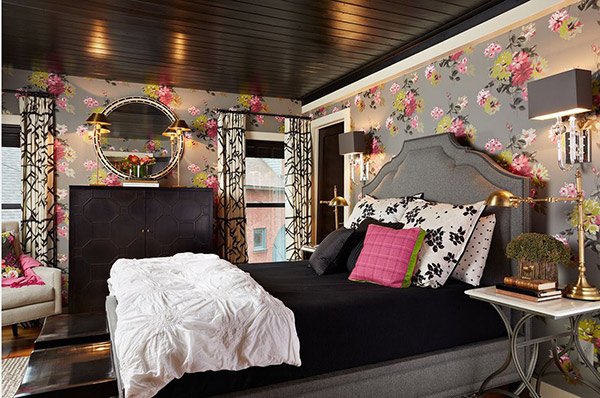 This elegantly painted floral bouquets in rich berry pinks and metallic gold with lime green highlights on gray wallpaper is such a beauty that brings luxe and class to this room.
6. Hollywood Glamour Meets Modern Floral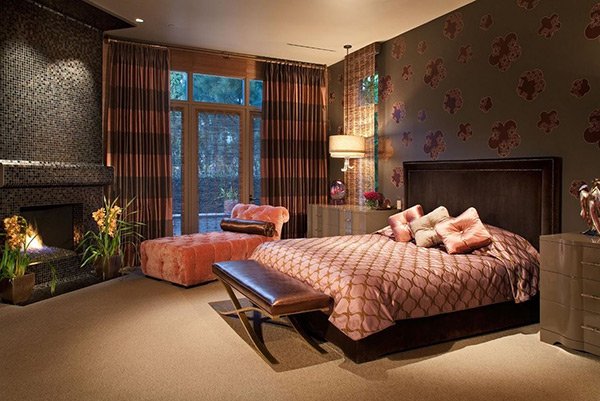 I love the feature wall and how it creates a mod vibe and dramatic feel in this Hollywood-glamour-inspired bedroom design!
7. Romantic French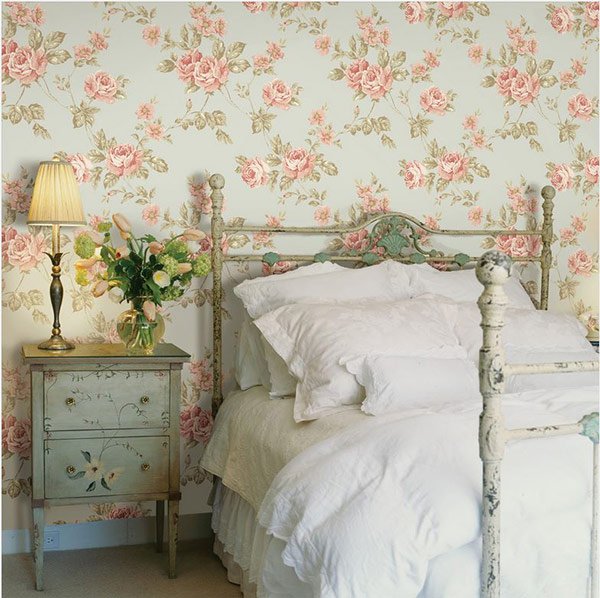 This chic country bedroom style is made perfectly romantic with this pretty-as-a-picture French floral wallpaper.
8. Contrasting Bedroom Patterns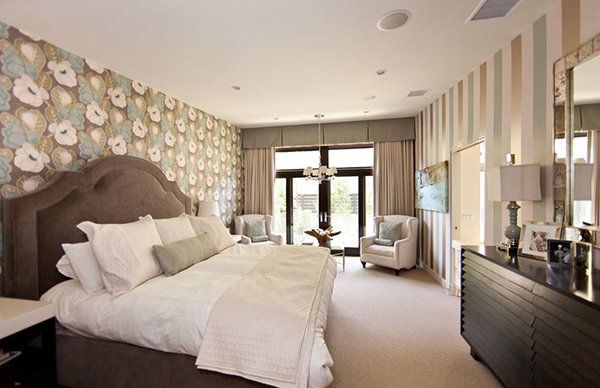 Here is an interesting combination of patterns that you could try in your bedroom to keep it from getting boring. A floral wallpaper on the accent wall and stripes on the other. Keep the same color scheme on both walls to avoid it from looking busy and just enough to be playful and restful at the same time.
9. Two Rooms In One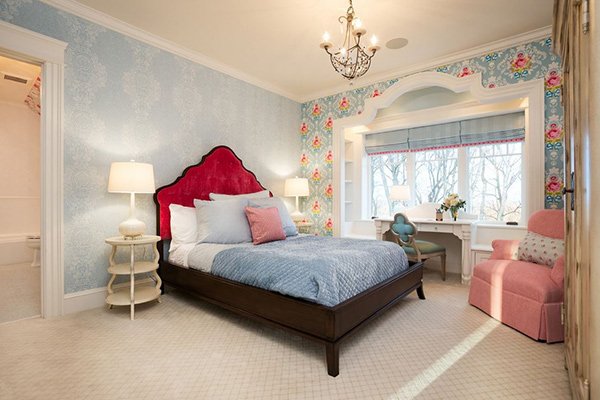 To create an instant division in a bedroom use a different wallpaper from the rest of the walls in the room. A vibrant-bold-floral wallpaper is sure to define a particular spot in your bedroom.
10. Fresh and Light
This Laura Ashley floral wallpaper that continues to the curtains creates a fresh and light appeal.
11. Dahlia Bursts Bedroom Flower Wallpaper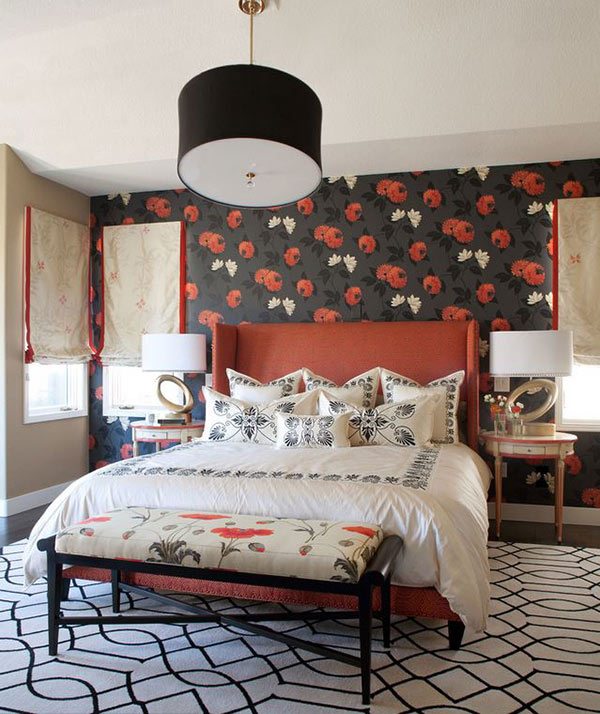 Sumptuous textures, patterns and vibrant Dahlia bursts on the focal wall give this room its global contemporary feel.
12. Soft Contemporary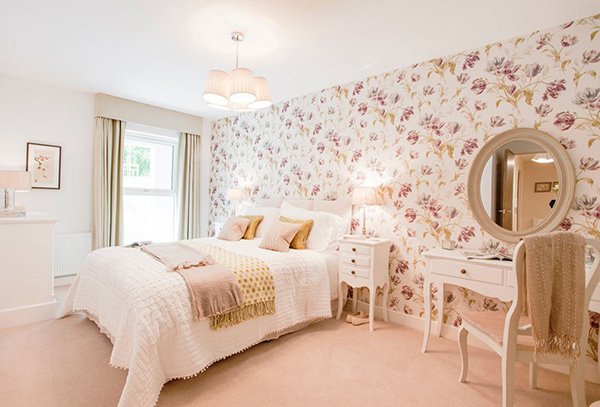 Soft tones on the featured-floral-wallpapered-wall creates a calming and soothing contemporary feel to this traditional bedroom.
13. Cozy All Around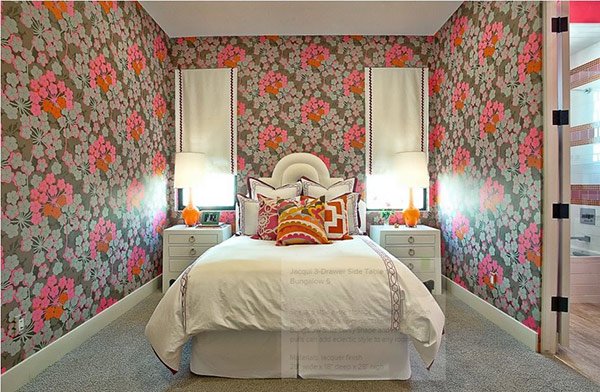 Pink, orange and gray floral wallpaper wrapped around the whole small bedroom makes it more intimate and dramatic.
14. De Lacey Pink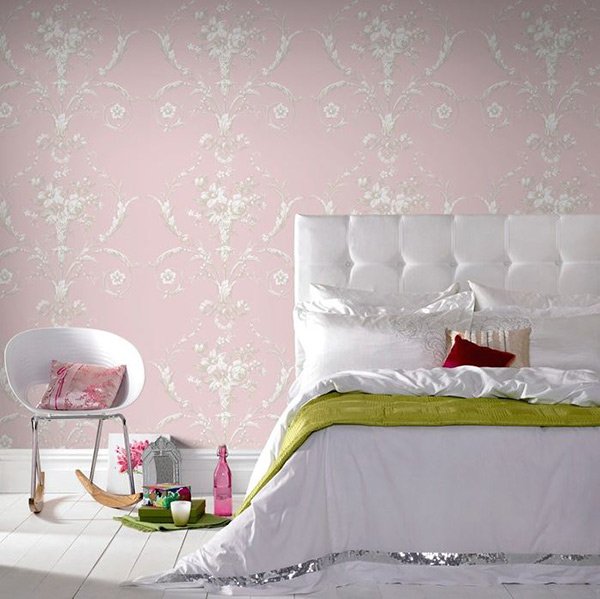 This delicate floral wallpaper in soft pink backdrop brings sweetness and elegance to any bedroom.
15. Playful Feminine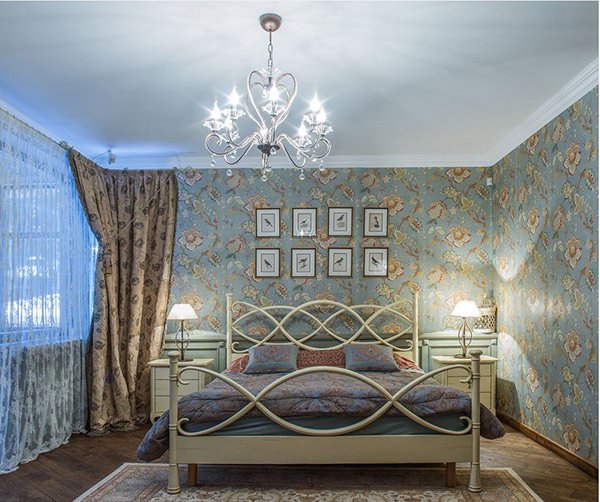 Playful, bold floral wallpaper in muted blue makes this bedroom inviting but never boring.
16. Lily Pad
The trail of beautiful flowers in red and green wallpaper makes this shabby chic bedroom lively and exciting.
17. Ornamental Flowers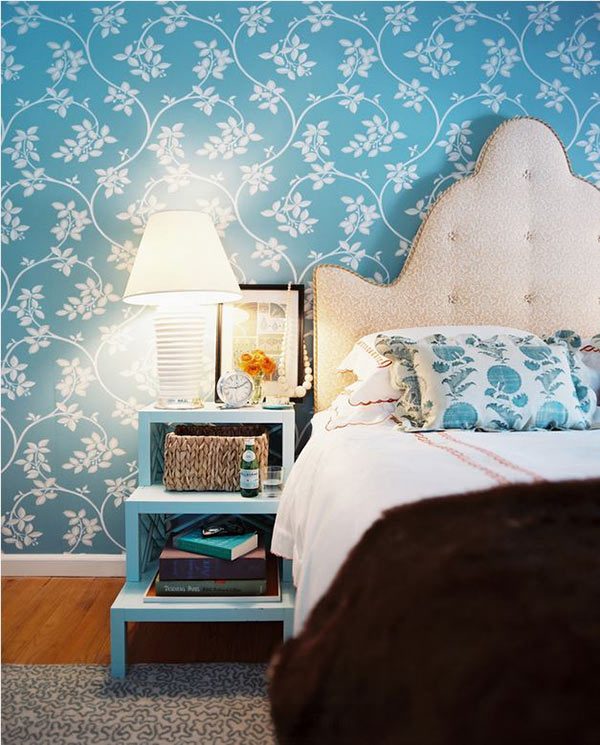 Pretty ornamental flowers inspired wallpaper in turquoise gives a modern touch to a space.
18. Black And White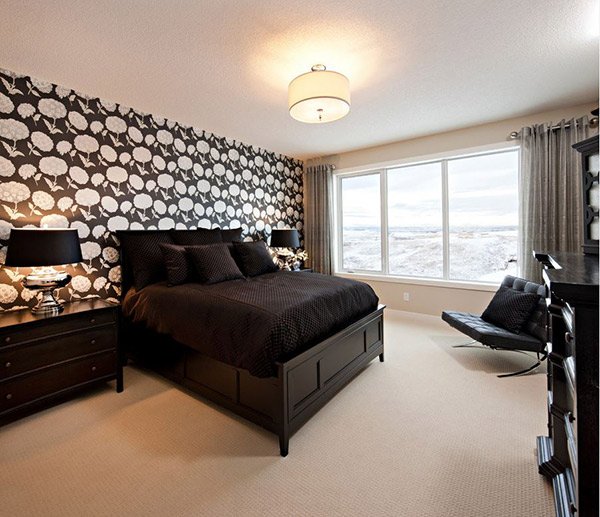 Bold white floral pattern atop black backdrop makes a striking accent wall that is sure to bring drama and interest to a traditional bedroom.
19. Sweet Floral Bedroom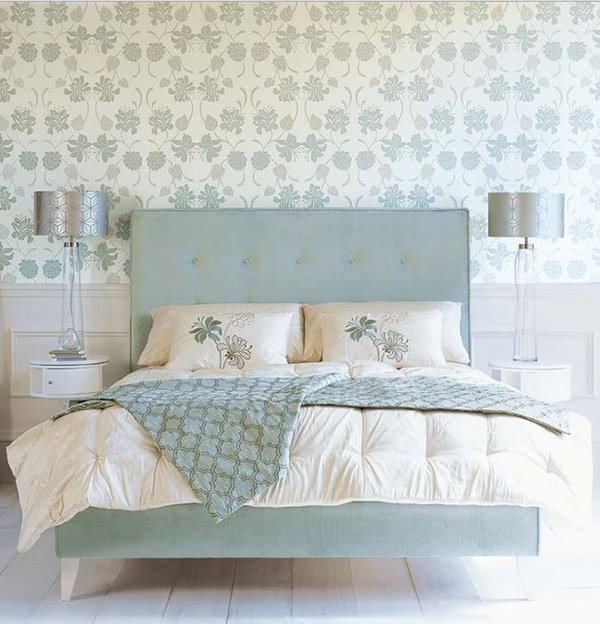 Pastel turquoise and silver gray floral wallpaper in cream shimmer finish will sure to bring tranquility and dainty flair to your bedroom.
20. Jangala Rose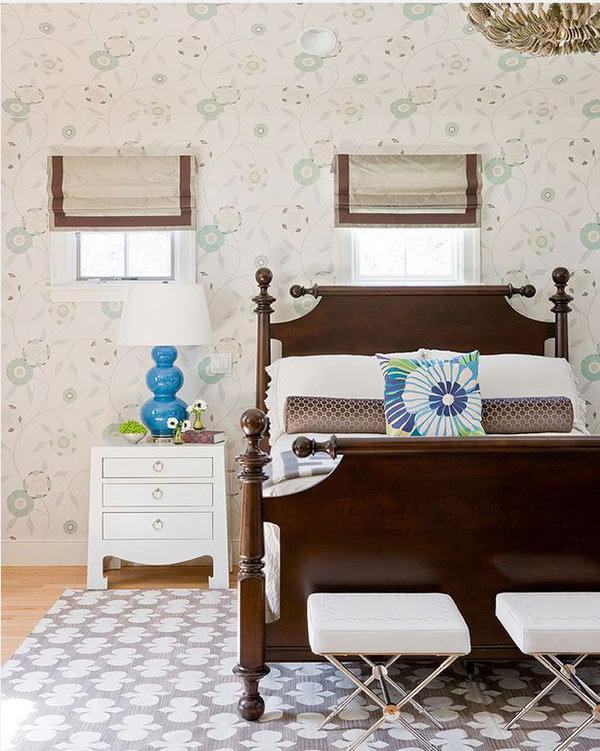 This Jangala Rose wallpaper by Osborne and Little is a fresh and fun way to give your bedroom walls an up-to-the-minute look. Keeping your bedroom walls all elegant and dainty is easy with floral wallpapers. You can choose from a variety of colors and patterns that will sure to fit your personality or at least your bedroom's mood. Adding bold floral wallpapers on your walls will add a modern touch while staying safe with the soft tones or pastels bring elegant, chic and classic flair. I personally love feminine touch in bedrooms. It does not only create a romantic atmosphere, it also adds charm and coziness to a restful retreat. I hope you enjoyed looking at these 20 Charming Bedrooms With Wallpaper Designs because I sure had a wonderful time imagining it as my own.