20 Bold Bedrooms in Blue, Red and White Colors
Because blue, red and white isn't just for the Fourth of July!
Remember the list we made for you showcasing interiors that are decorated with flags? Well, the flag has blue, red and white colors in it. Some of the interiors actually took the inspiration of their color palette from the flag. But you can actually use this combination even without adding a flag or even if it isn't the Fourth of July. Do you agree? Of course, you do especially if you will see the list we have made for you today.
Primary colors red and blue are actually good friends especially when there is white in between. Aside from the American flag, we can also see the use of these colors in many different items too including home decorations and accessories. So, today, we have decided to make you a list of bedrooms that used blue, red and white. While creating the list, I have observed that this color scheme is commonly used for bedrooms with beach or nautical theme and also for kid's bedroom, particularly for boys. Intrigued? Come take a look at this list we have collated for you!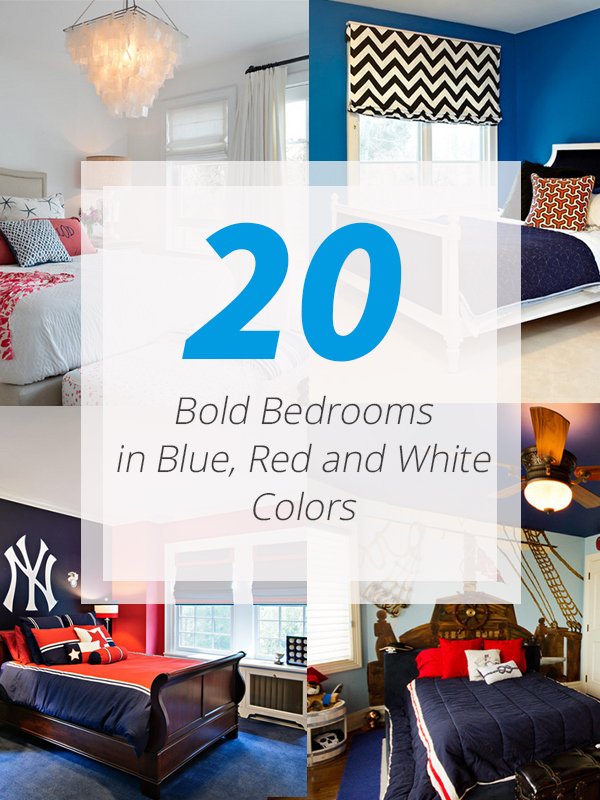 1. Weekapaug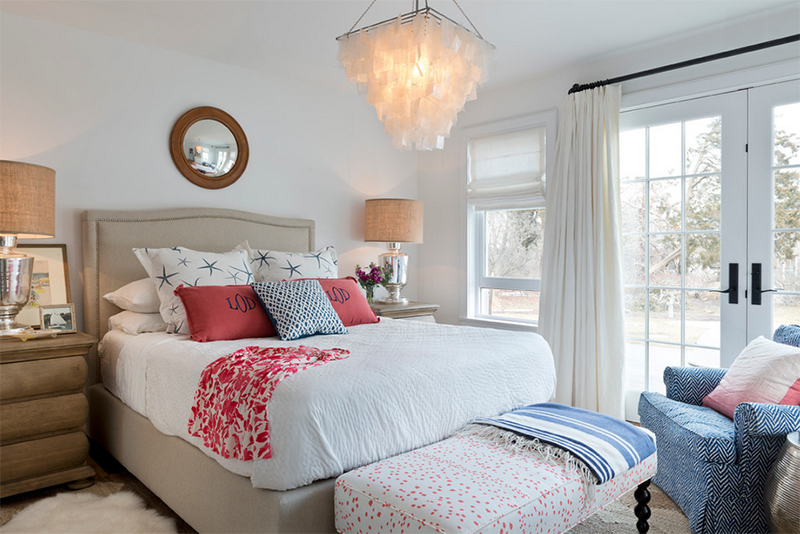 A bedroom with a beach themed but was able to pull off a combination of red, white and blue. Don't you love that pendant light? It actually looks something we can DIY!
2. Dover Shores
Aside from the bench, the throw pillows have different patterns too. Isn't this a very spacious bedroom? It sure is and I like that it isn't crowded with furniture and decors despite the available space.
3. William T Baker Houses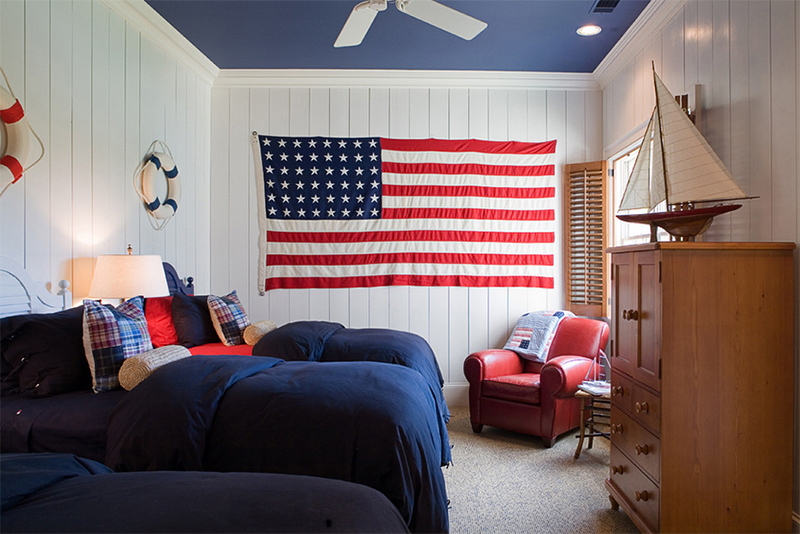 I am sure you have seen this bedroom before from a previous list but we can't help adding it this round-up because it does bear the colors we need and yes, the flag is there where the colors are taken from.
4. Bedrooms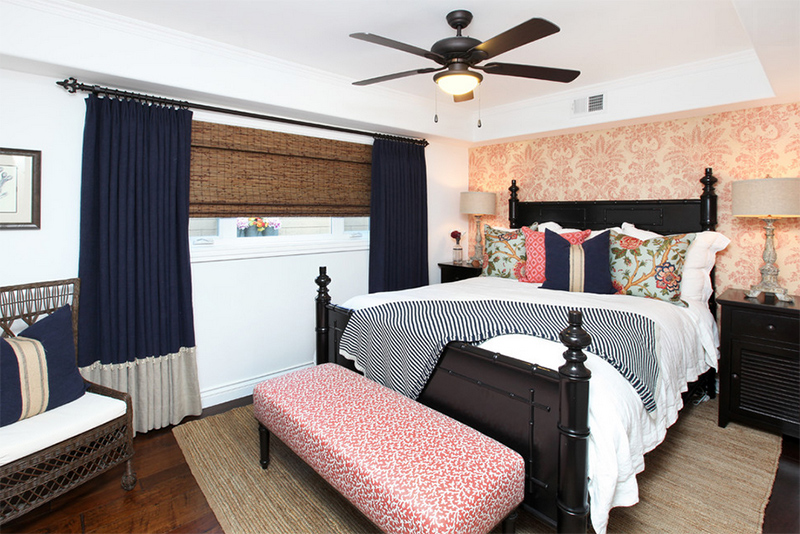 I love that bench! And yes, you would love the colors used here too. Printed floral throws were brought in adding lighter touches to this tropical bedroom. It was a good idea to use flora wallpaper too!
5. French Country Meets Southern Farmhouse Style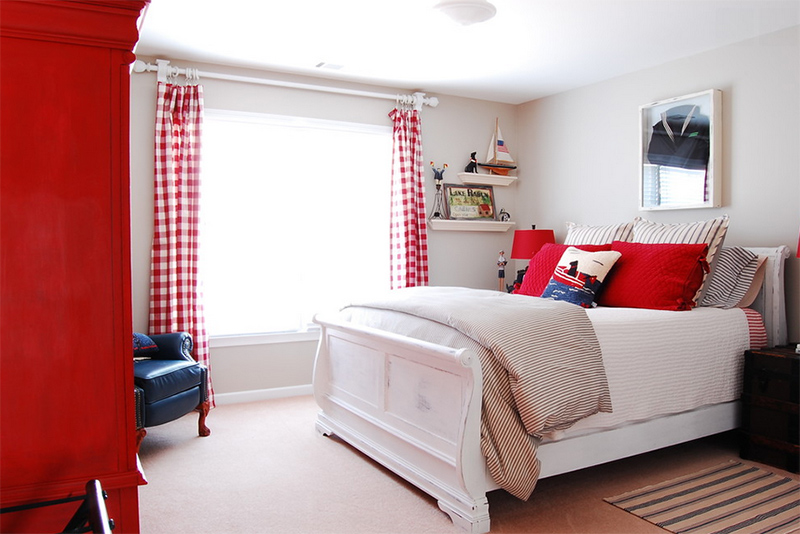 A mix of red and blue items are seen here. I didn't know that a checkered fabric would work well for a curtain! Maybe for this one it was a good idea because of its farmhouse style. But it has some nautical touches too as we can see in the decors.
6. Beach House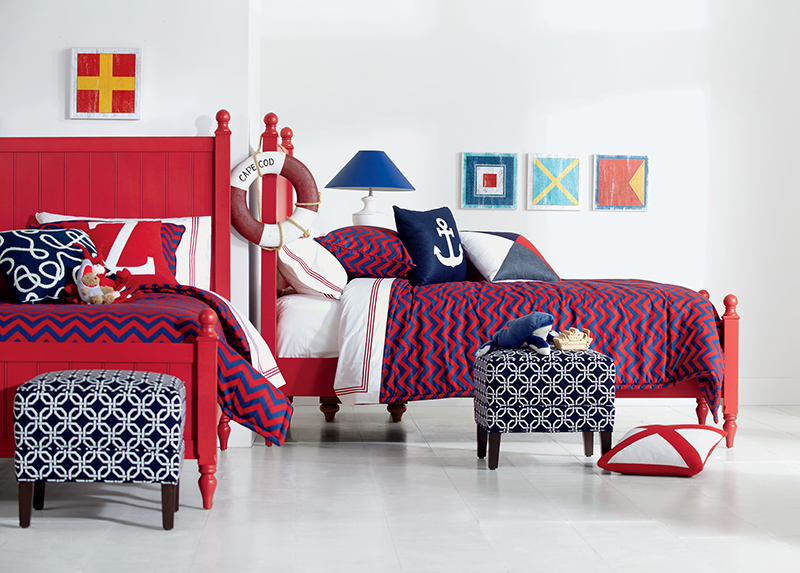 What can be cuter than this bedroom? I so love all the patterns we can see here from the ottoman to the chevron duvet! It also has that nautical theme too. This could also be a good idea for arranging the bed when it has a shape like this one. Love how they put together all the colors!
7. Cape Cod Lake Dream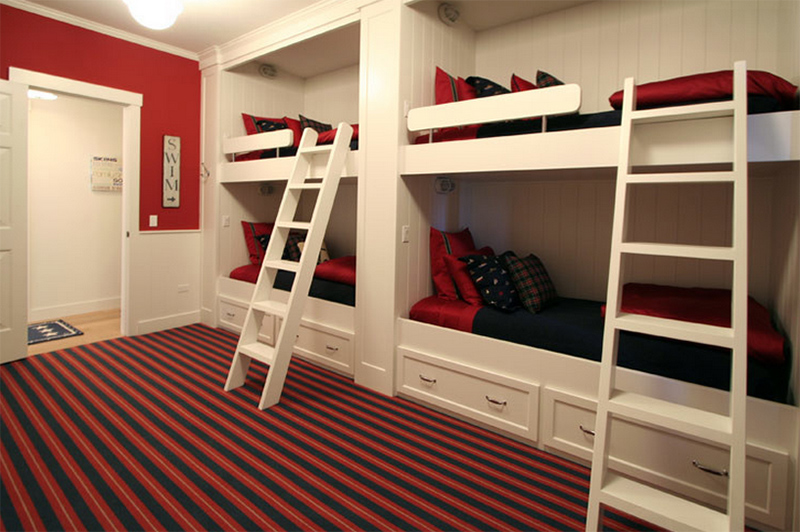 A beach style bedroom for kids. Now this sure is a space-saving design of beds that are near the wall. Two sets of double-deckers would be a nice way to provide more play area in this bedroom. Note the drawers under the bed too!
8. Smith Residence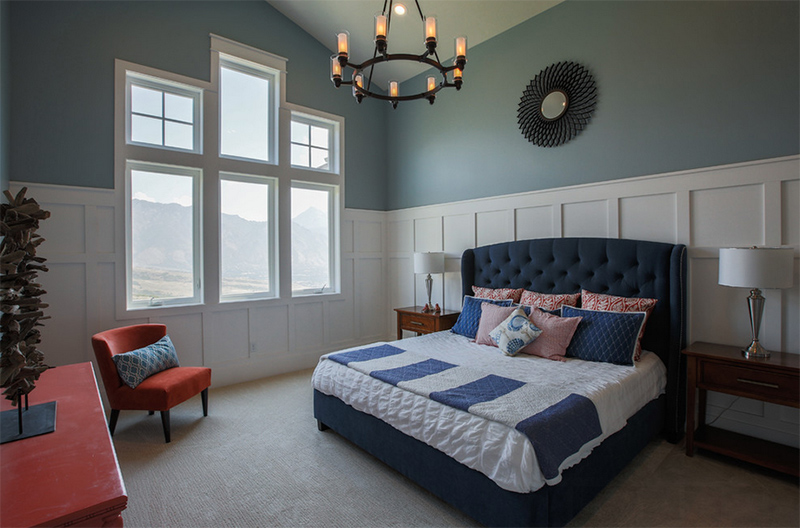 A transitional bedroom that has a pretty mix of patterns! That is a gorgeous bed too with tufted headboard. Instead of leaving the wall blank, this one added a sunburst mirror just above the headboard and yes, it has a rustic style chandelier too. Such a fusion of styles indeed!
9. Sugar Lane Horse Barn
This contemporary bedroom used more white in it with added blue and red accents. You can also do it this way if you want that white will prevail. It will still look great even if you do not use the accents all throughout the space. Well, that is why it's called an "accent"!
10. Red, White and Blue Boy's Bedroom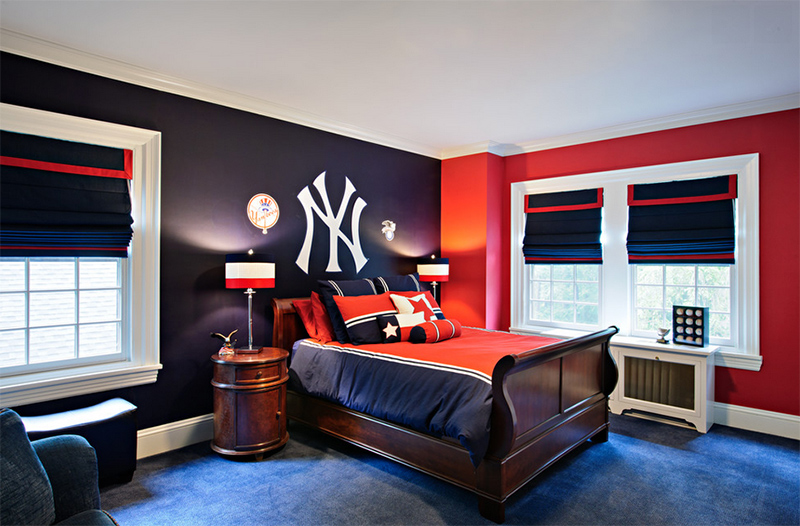 Yankee themed teenager's bedroom featuring red, white and blue color way. I like it that the bedroom doesn't look dark despite using navy blue for the walls and blue for the carpet. It does look very sophisticated too because of the wooden sleigh bed and round bedside table.
11. The Little Sailor's Room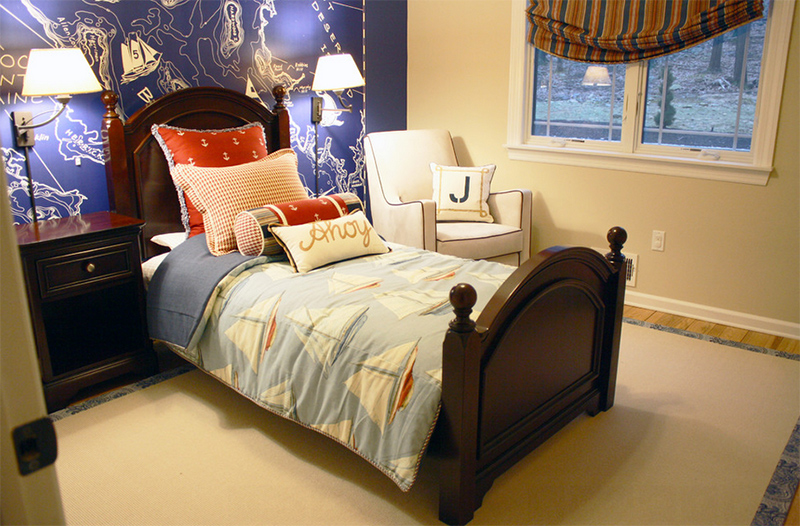 This nautical themed bedroom sure is perfect for the little sailor who is moving into his first "big boy" room! Don't you love that wallpaper of a sailor's map? And the red pillow accents are beautiful too.
12. Beach Houses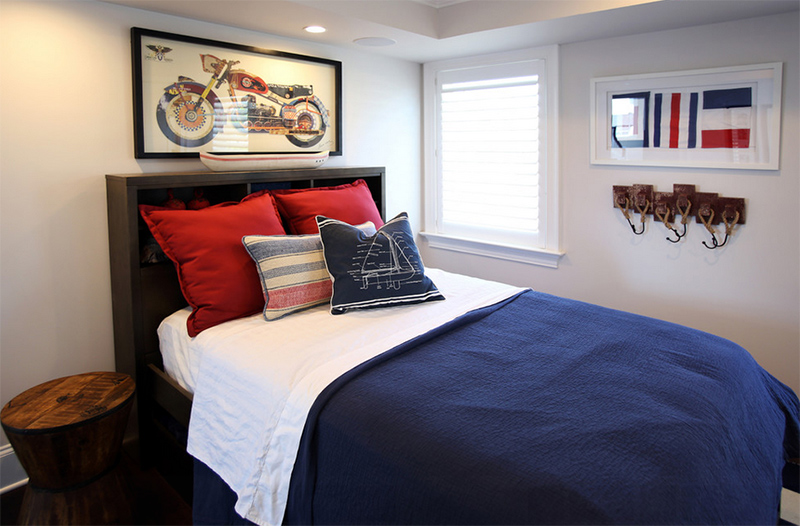 Another beach themed bedroom that is obviously for a young man because of that motorcycle wall wart and the simple plain colors of the bedding set. The hooks on the wall has an interesting design that is perfect for the theme of the bedroom.
13. Modern White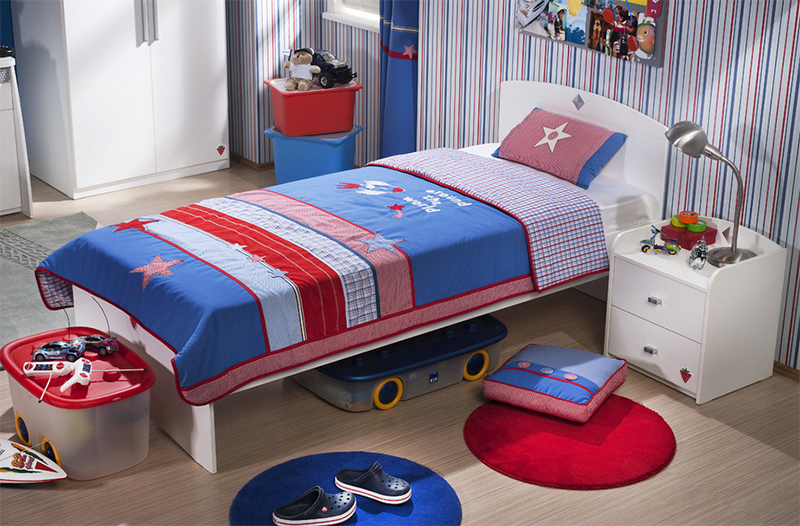 Contemporary design meets industrial strength in this colorful bedroom set in red, white and blue. The white furniture used here has aluminum accents. Bedding has plaid accents, stars and rocket ships. This sure is a bedroom any little man would love to own!
14. Kids Bedroom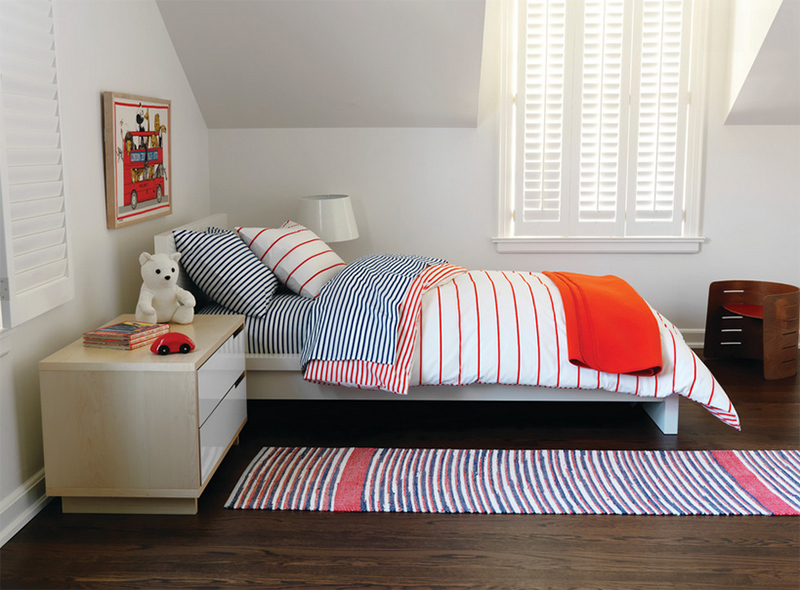 I honestly love this bedroom because of its simplicity and the thin red and blue stripes we can see everywhere! If you want to use these colors but don't want to overdo it, this one is a good idea!
15. Modern Bedroom Kids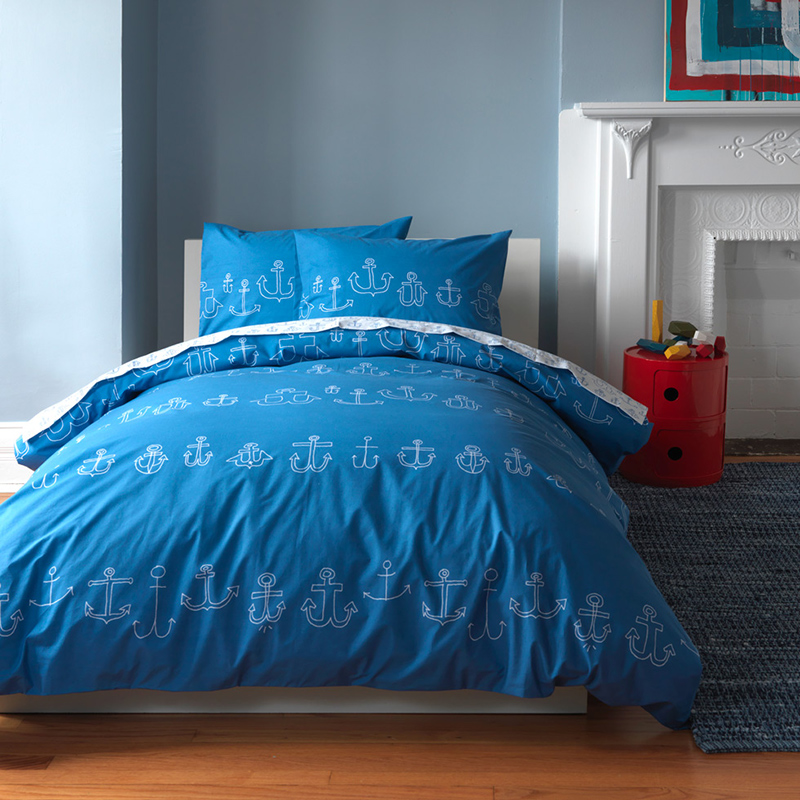 Aside from the nautical themed duvet set with anchors printed on it, there are some items in the bedroom bearing red colors. Take a look at the wall decor too with red, blue and white colors. It does look simple but beautiful!
16. Marblehead Residence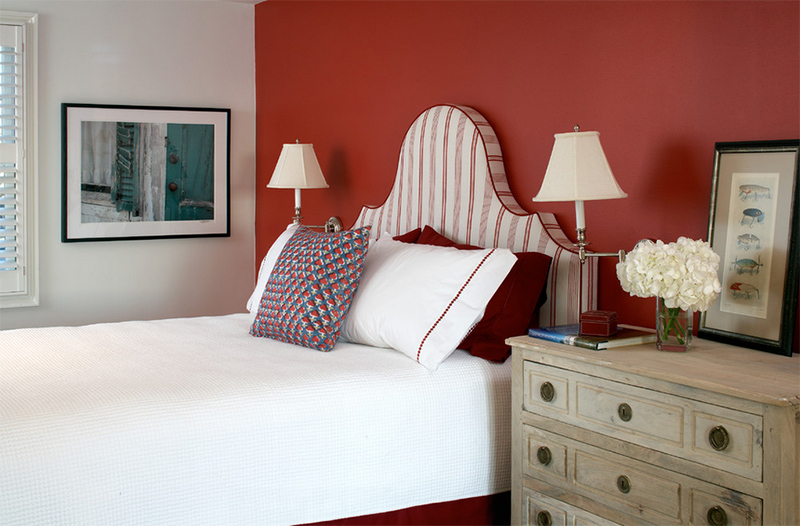 An elegant red hue was used for the wall in this bedroom. Note the subtle blue touches on the throw pillow too. A striped red and white headboard is also a good feature in this bedroom.
17. Cottage Style Model Home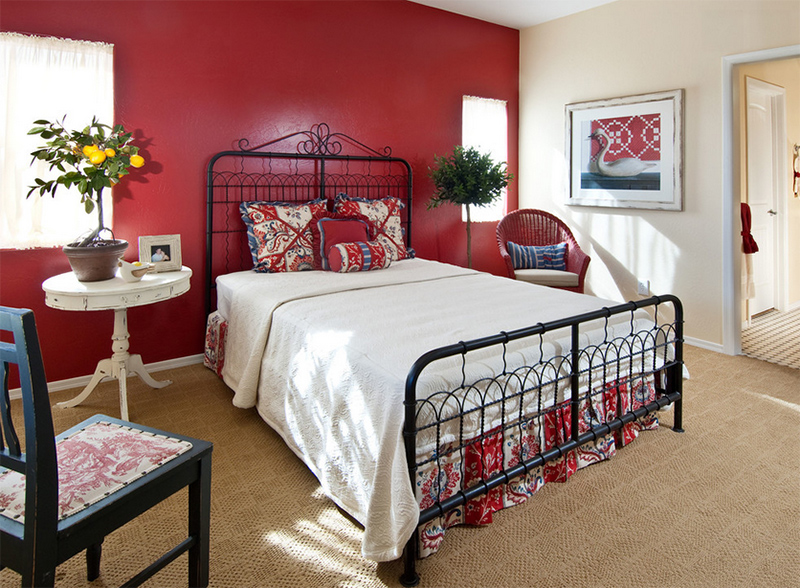 Isn't this a cute bedroom? I so love the combination of cottage and rustic design! And yes, the floral patterns have blue, red and white colors in it too! I also like the idea of adding plants in the bedroom and a lemon tree? Whoa! I wonder if the plants here are authentic.
18. Jill Sorensen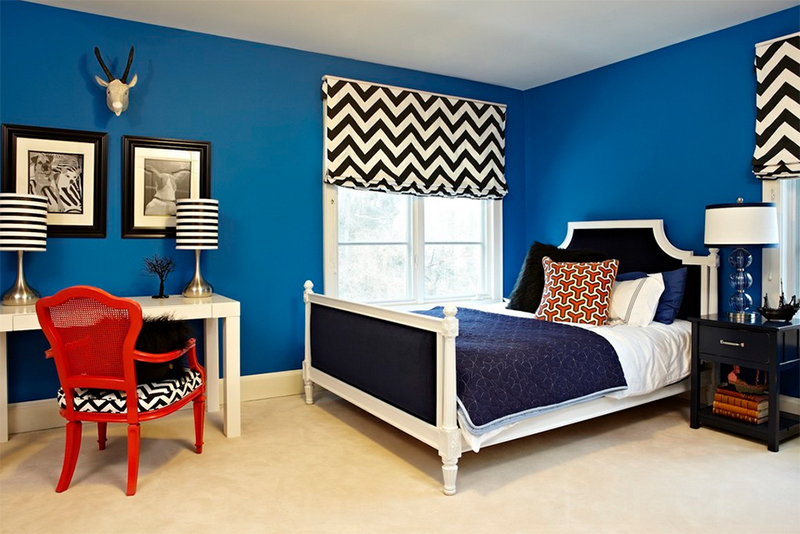 Love the black and white chevron and stripe patterns in this bedroom! And yes, blue is used for the walls here as well as for the bed. Yet it has added red accents too from the chair to the throw pillow.
19. San Anselmo
Lovely eclectic bedroom! Notice the variety of patterns used here from the bed to the window treatments! So nice isn't it? Well, not all of us would like a bedroom that looks busy like this one but this also goes to show that playing with patterns and colors also work well.
20. Young Traditional Home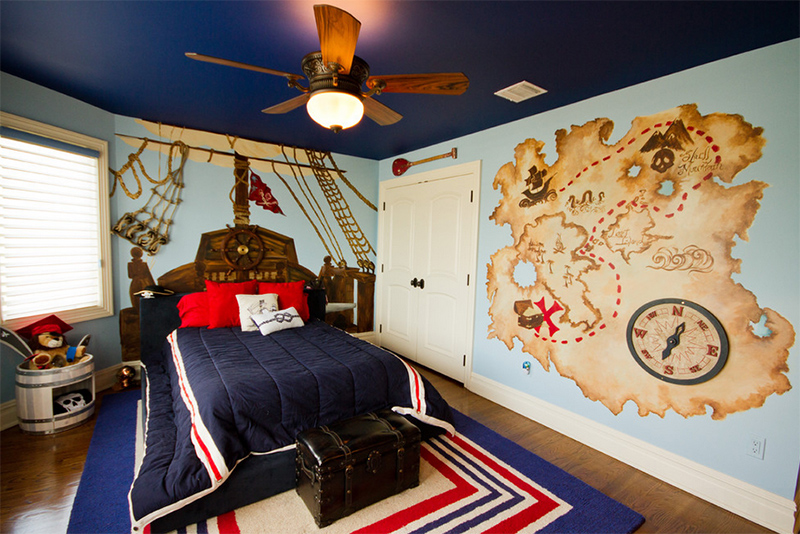 Ahoy! A pirate themed bedroom that has very artistic and creative wall murals! That bedside table is something I am digging! Beautifully made indeed! I am sure that the owner of this bedroom is always thrilled to go to bed- well, maybe for a while. Lol!
Yes, you can actually use the combination of blue, red and white anytime you want. It doesn't need to be the Fourth of July to pull off this combination! I actually think that this is a lovely play of colors especially that some people think that blue and red would not look good together when used in the bedroom. But with the images of the bedrooms above, I am sure you already know that the combination sure is pleasing! Can you tell me which of the bedrooms above appeal to you the most?