20 Ravishing Black Drapes for the Bedroom
I know that you have seen quite a few lists we have created here in Home Design Lover about stunning draperies you can use for your bedroom – today is another day like those days; we will be showing you a couple of bedroom designs that showcase the use of black drapes for their windows. Most of the windows used in contemporary room are floor-to-ceiling windows, so using these drapes makes the rooms more higher than it actually is.
Below is a list of complete glamour and sophistication – we will be presenting you with 20 Ravishing Black Drapes for the Bedroom! The bedrooms that you will be seeing are mostly black and white bedrooms that cater to the class and fabulous that you would want your bedrooms to have. Take a look at the bedrooms below and tell us what you think!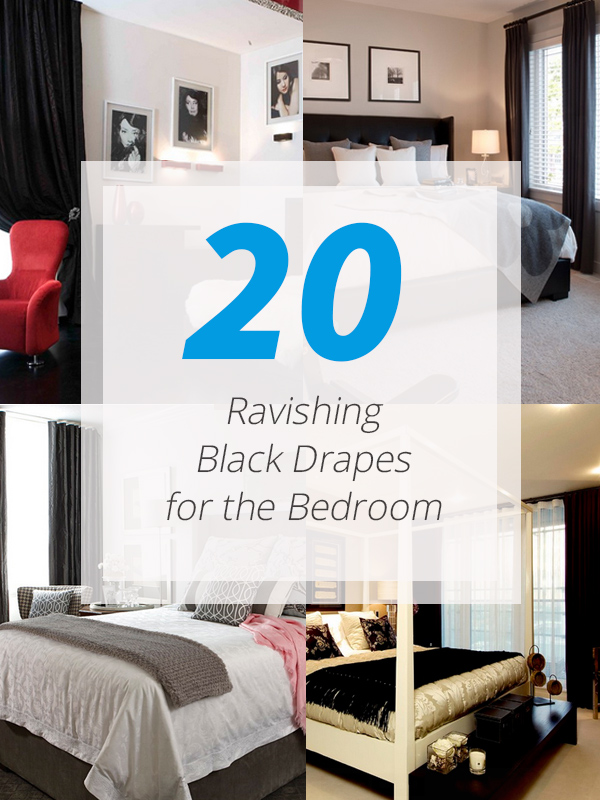 1. Chestnut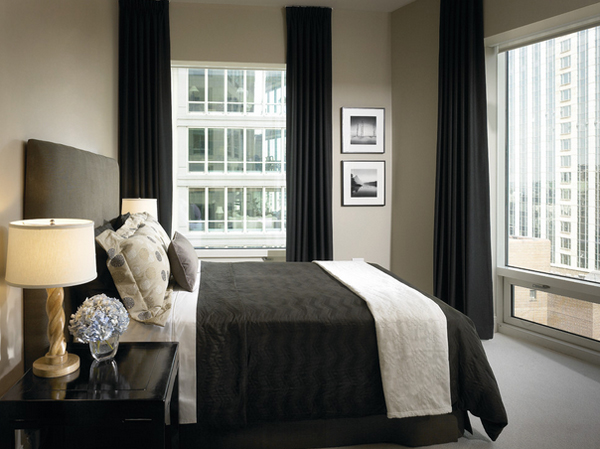 Do you live or want to live in a condo? This black and white bedroom is one typical arrangement done in condos with smaller spaces than others. Even if this bedroom looks a bit smaller, it still sure possess glam!
2. Des Sommets Nun's Island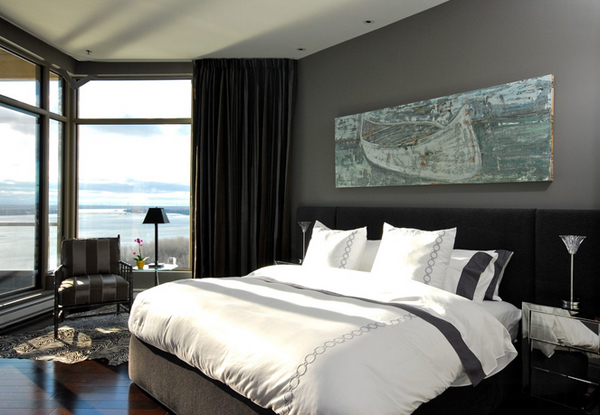 A black and white bedroom set up in Nun's island. With that stunning view, I don't think you'll need drapes!
3. Aubergine Palais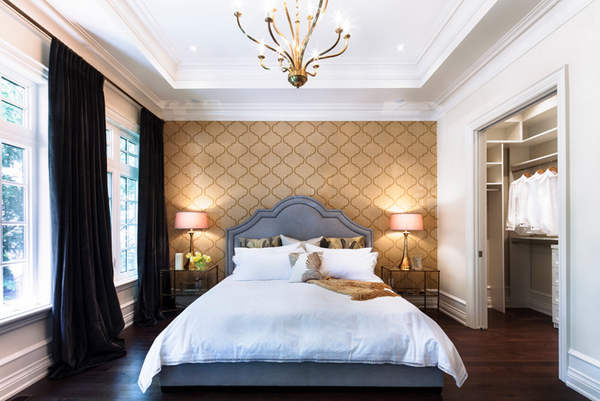 A grandiose bedroom with awesome wallpapered wall and one chunk of bed! Totally dream about getting this bedroom for myself!
4. Azerbaijan Red Bedroom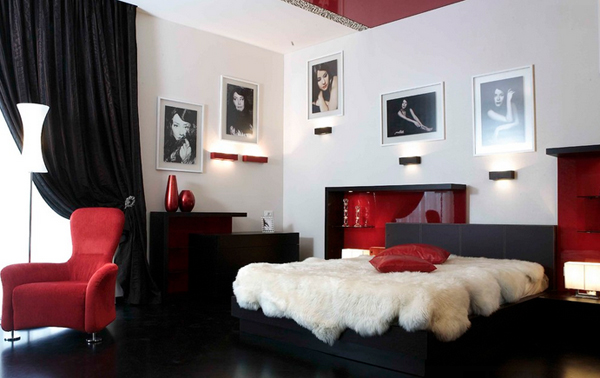 Black, white and red! Great color combination for a contemporary designed bedroom like this! The ratio of colors used in this bedroom is superb and fun!
5. Beatriz Miami Lakes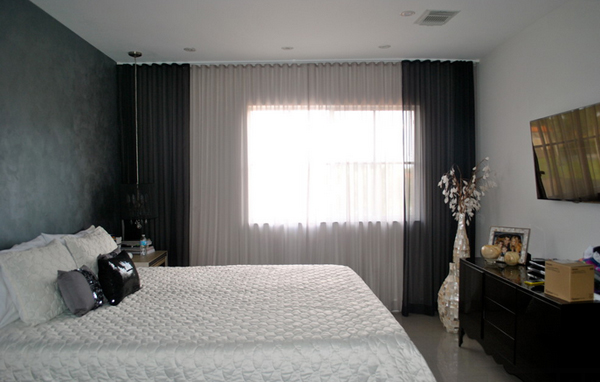 White morning drapes paired with black night drapes – not practical at times but is a very useful way of using and decorating with drapes and curtains.
6. Calgary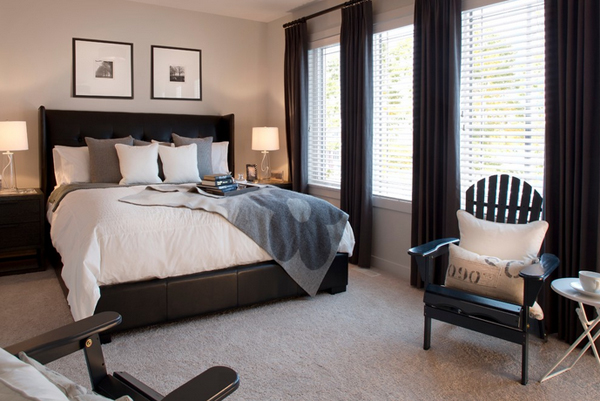 Note the wooden chairs seen in this bedroom? They sure looks like outdoor chairs but added to this bedroom, they look quite homey. They match the bed and the drapes too!
7. Canada Master Bedroom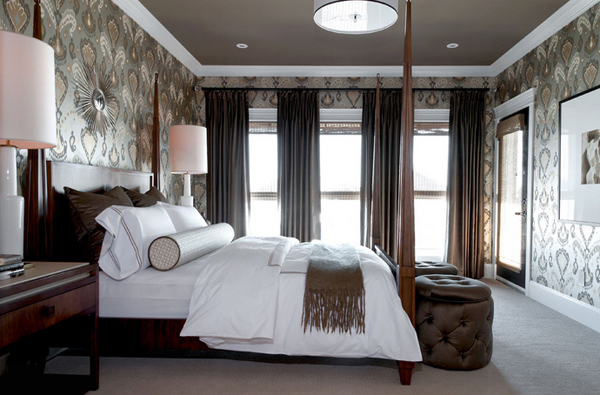 The wallpaper used in this bedroom is quite interesting; it contrasts with the plain fabrics on the drapes and the beddings and it sure works!
8. Home of Manon and Ruud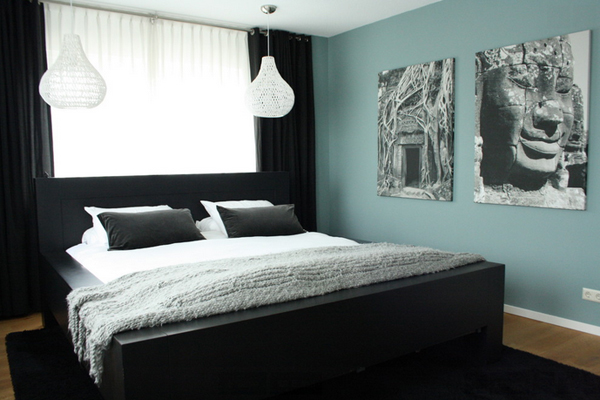 Simple starter bedroom with black, white and bluish grey color combination. Adding interesting pictures like seen above may mean that the owner likes to travel.
9. London Master Bedroom
A simple canopy bed in beige complements the glamorous lighting used in this bedroom. The designers sure knows how to play with the lightings, don't they?
10. Modern and Moody Nostalgia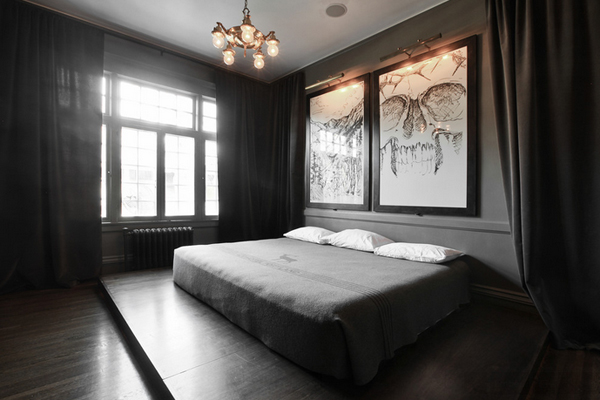 This bedroom sure looks dark, well, with how the designers named this place makes you think already of deep, dark secrets.
11. New York Master Bedroom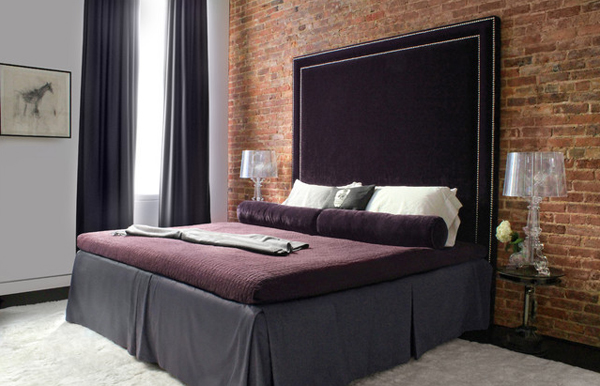 Brick wall accentuating this loft-feel bedroom and awesome furniture and decor, what more can you ask for?
12. The Metz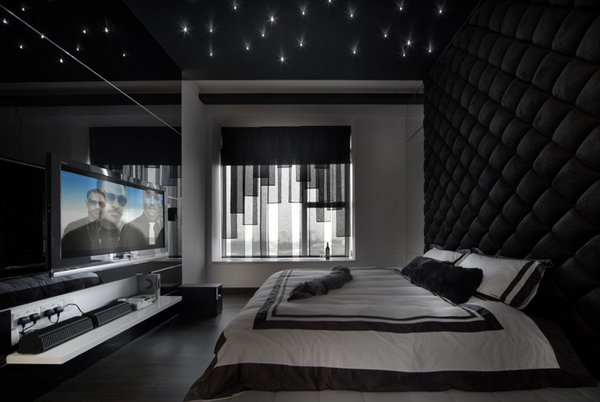 I love the idea of a tufted wall that looks like the headboard of the bed – pretty awesome! The ceiling looks interesting too!
13. Timeless Elegance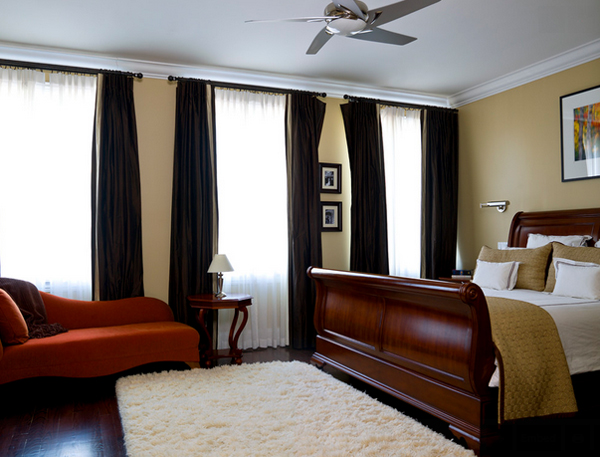 This bedroom sure looks simple and homey for me – with its name tagged as timeless elegance, need I say more?
14. Toronto Traditional Bedroom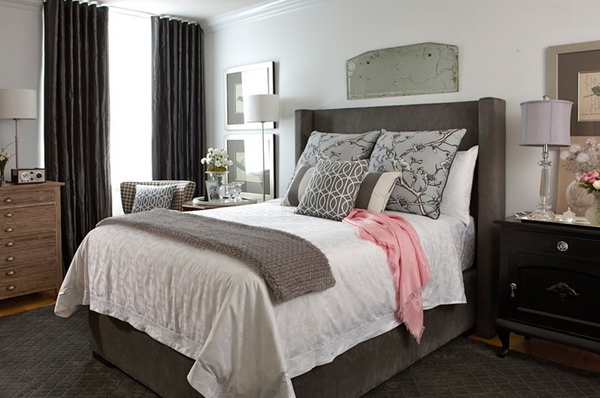 I like the bed in this space, it seems stiff but the color seems calming and fresh – just like the drapes in the window.
15. Wall Street Contemporary Bedroom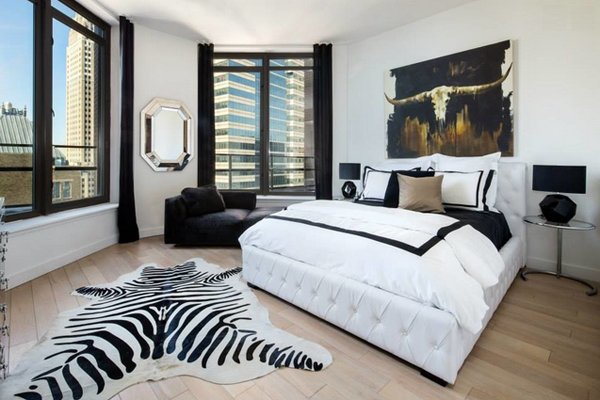 This bedroom sure looks cool with that picture on the wall and the carpet on the floor! To think this bedroom looks like it is owned by a young bachelor! Interesting choices right?
16. Windermere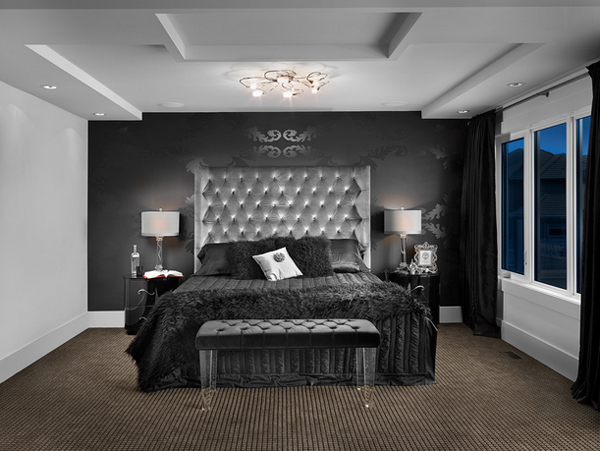 Seeing this bedroom, I remember Beyonce singing, "sweet dreams, oh beautiful nightmare.." This is one bedroom to beat!
17. Loft Condo on the Water
According to the site where I got this picture, the window treatment was made especially to complement the chaise.
18. London Contemporary Bedroom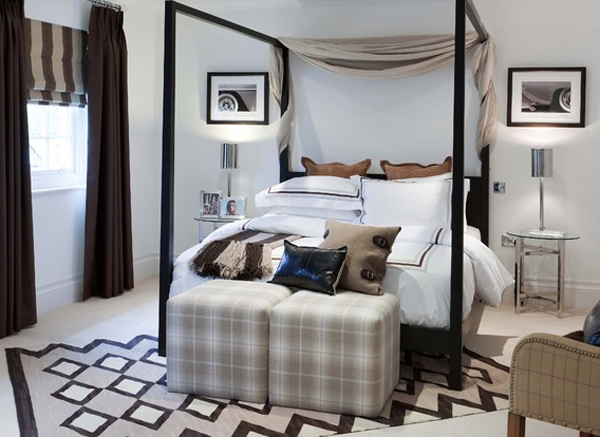 I actually love the canopy bed in this bedroom. The wooden canopy of this bed seem to complement with the dark drapes used here.
19. Residential Church Conversion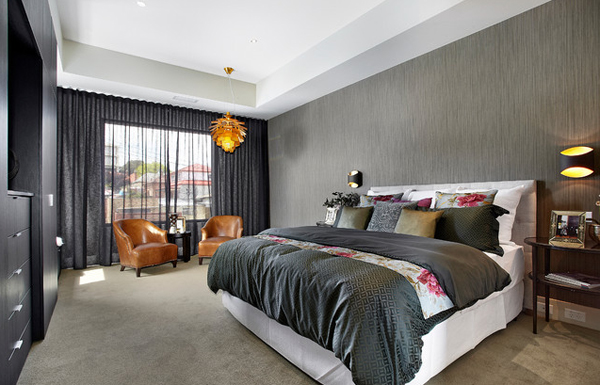 Notice the lovely pendant on the far end of the bedroom? It is pretty right? It stands out against the black drapes!
20. Roth Condo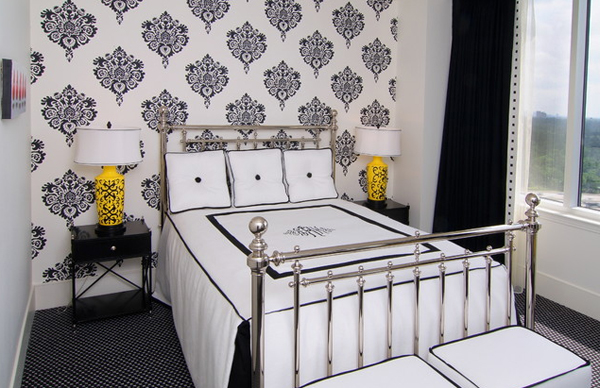 I love the prints on the wall behind the head board – the print is beautiful and classy. This black and white bedroom is made prettier by the yellow lamps!
Window treatment may somehow seem an additional expense in making your homes prettier and comfortable – but we all know that curtains, drapes, Roman shades or whatever window treatment out there can both be intended for beauty and function. Check out the 25 Awesome Printed Drapes for the Bedroom and tell us what you think about them!