18 Ideas for Blue Contemporary Bedrooms
If blue is your favorite color, then you will certainly like this list of bedrooms we have today. Aside from being blue, the bedroom designs that you are about to see have contemporary design styles. You can observe how each space vary in style which actually depends on how the owners of these bedrooms wanted to decorate their own private haven. After all, a bedroom is a private place where one can be himself.
Today, we will show you this list of blue contemporary bedrooms. Expect that the shade and tone of blue varies in each bedroom. Take note of how each tone affects the ambiance of the entire bedroom like a light blue bedroom looks lively and fun while a dark blue bedroom looks more private and formal. Now, take a look at what we have collated for you guys!
Draw The Line Design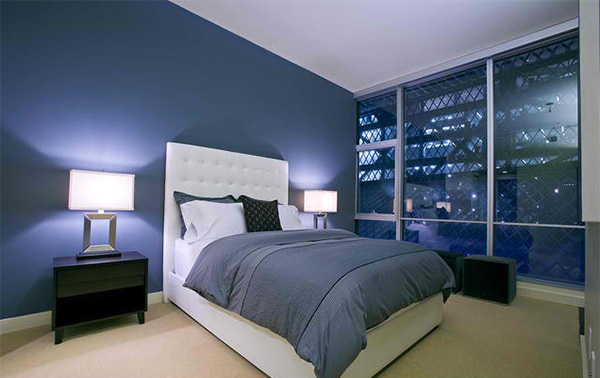 A contemporary bedroom that has a minimal design. The combination of white and black with blue is lovely.
Tribeca Penthouse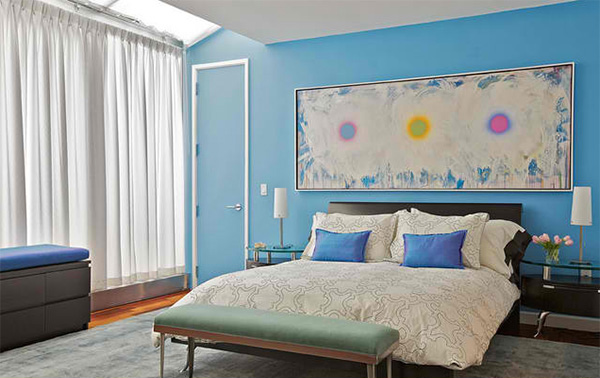 Sprinkles of blue adorn the room in the upholstered bench, pillows and cushions. The wall art above the black headboard is very attractive!
Contemporary Bedroom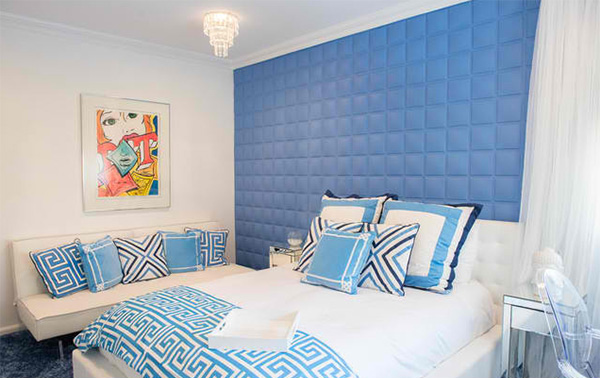 The bedding is from Jonathan Adlers Happy Chic collection combining different patterns in blue. We love the upholstered walls too!
Mt. Desert Island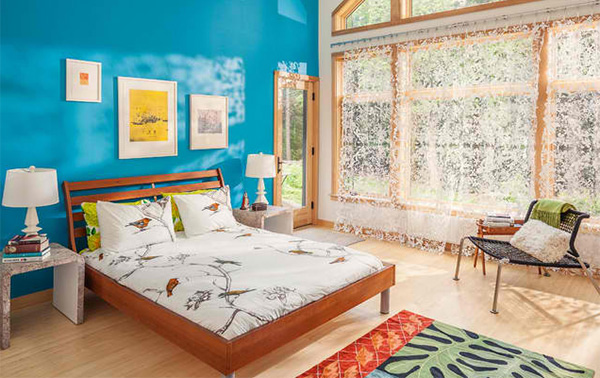 We love the look of this bedroom. It looks fresh and very relaxing. The duvet with bird prints is from Dwell Studios.
O'Keefe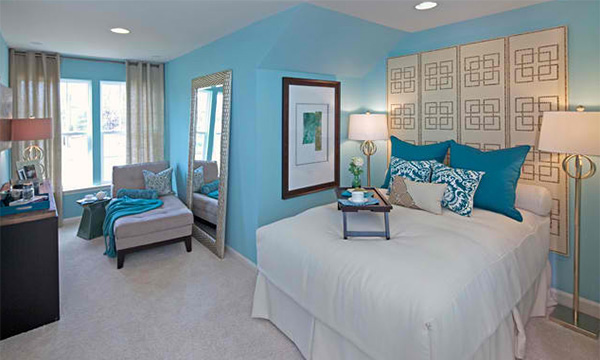 Playful and sophisticated combining color, clean lines, large-scale patterns and classic furniture styles.
Noe Valley fun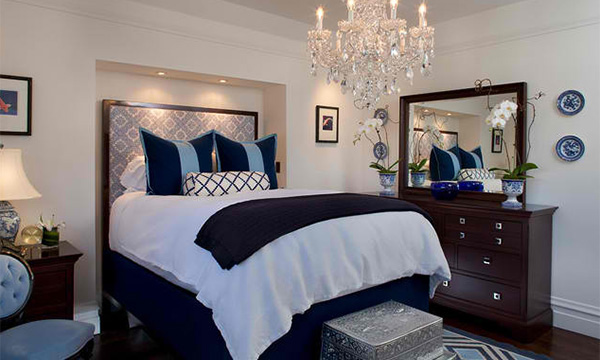 The bed is fabulous but the chandelier made all the difference. This style of Chandelier is known as the Maria Theresa, so named after Queen Maria Theresa of Germany.
Fort Morgan Beach Home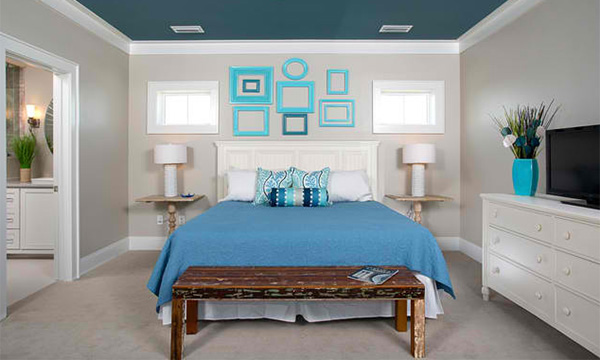 Those frames on the all are super cute! This bedroom has a blue ceiling that is deeper teal looking super crisp framed by the white ceiling trim.
Teenage Girl's Room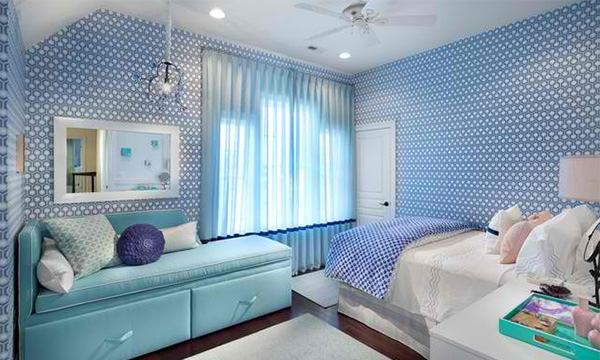 Aside from the bed, a long bench was added with storage areas below it so that if a friend comes to sleepover, the teenage girl could accommodate here. Nice bedroom, right?
Bright, Modern Bedroom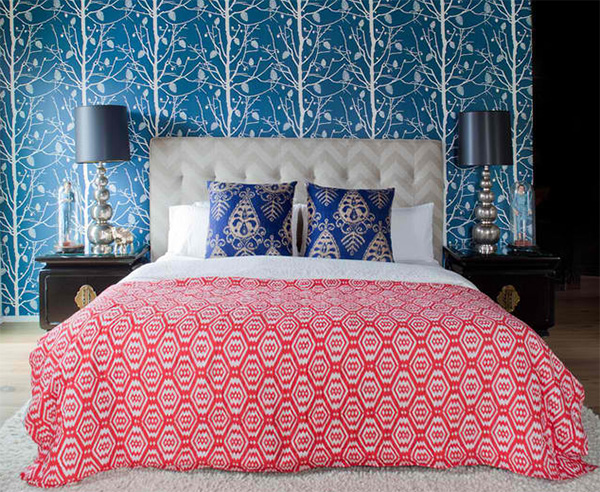 Catch a glimpse of a mix of bold, but sophisticated patterns from the wall to the cover. You can actually see patterns everywhere! Adding a pink duvet to this blue bedroom is a great idea as it adds fun into the space.
Pacific Textures – Phoenix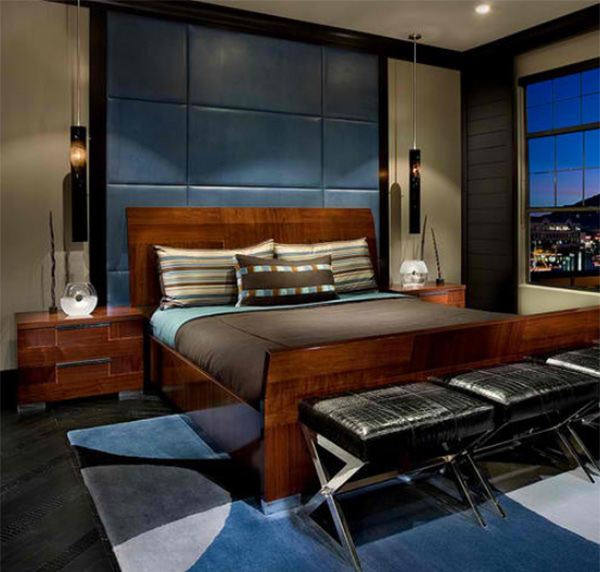 A bedroom for a luxury downtown condo wherein most of the items were custom designed and fabricated while others were ordered through industry showrooms.
Miami-Master Bedroom A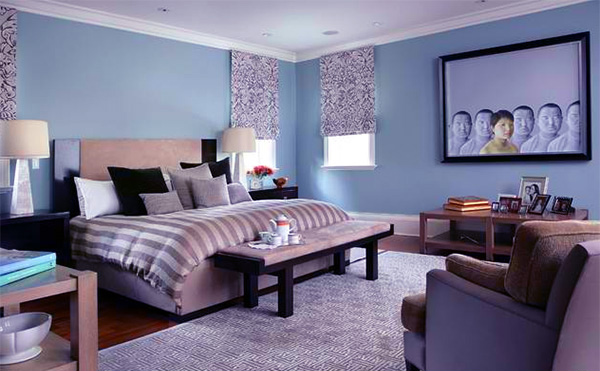 The rug in this bedroom with blue walls is hemp and silk. The kind of weird painting was part of the client's collection of artworks from modern Chinese artists.
Colorful Bedroom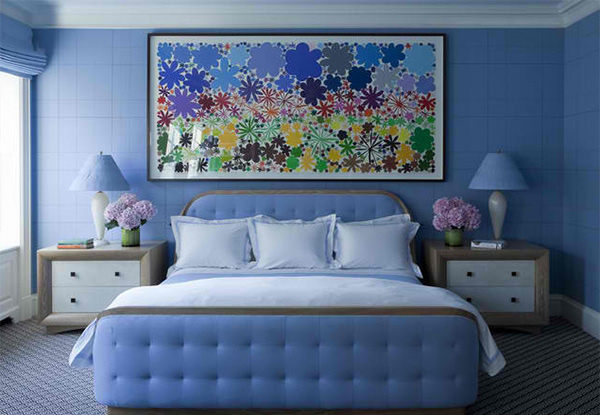 That wall art is indeed colorful and breaks the monotony of blue in this gorgeous bedroom. The carpet is Diamond Baratta line at Stark Carpet.
Kennington Water Tower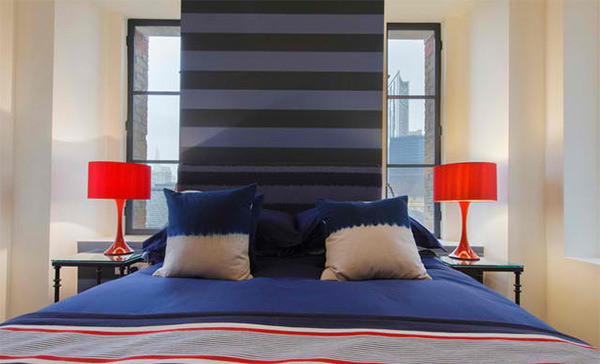 Striped headboard and covers with pops of red and give it a nautical feel.
Meat Packing Duplex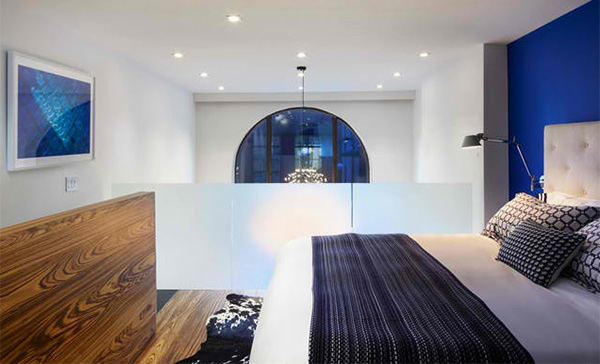 A blue bedroom that seems to be located in the mezzanine. Note the play of patterns combined together in dark blue for the pillows and blanket.
Downtown Minneapolis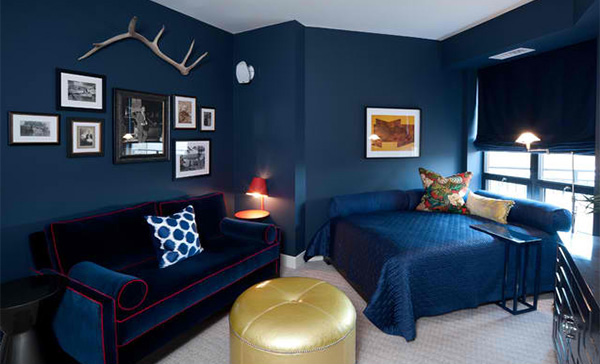 Now that is indeed a blue bedroom! Everything is in blue! But we think this is a bit dark especially that the space is small. If not for the windows, this room will really be dark.
Renovation Admirals Cove Condo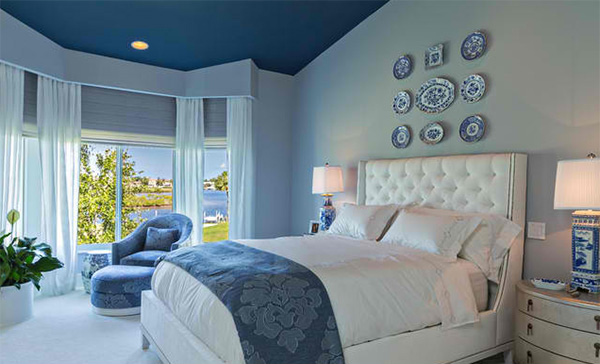 Who said you cannot use plates as wall decor in the bedroom? Well, you can just like this bedroom in blue and white!
400 Downd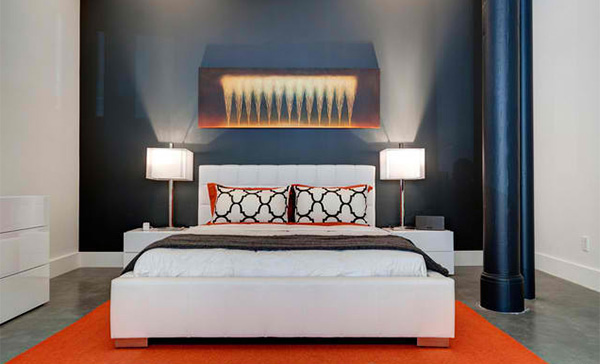 One gorgeous contemporary bedroom that has a subtle luxurious appeal from its blue walls and pillars to its patterned pillow, wall art and table lamps.
Terrapin Residence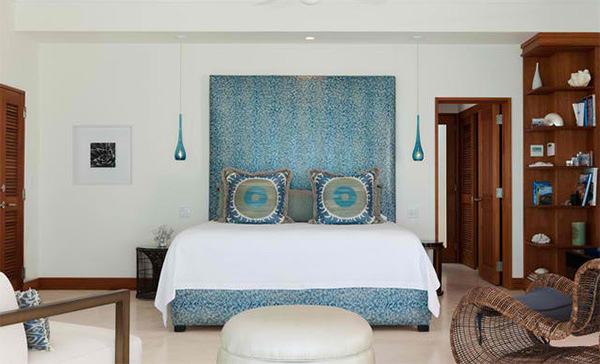 The pillow fabric for this bedroom is from Donghia. Look at how the patterns work well together using different tones of blue! Those pendant lights on the sides look like droplets and are very cute!
We are sure blue lovers are in all smiles today because this is quite a list of blue contemporary bedrooms! Have picked a favorite? Well, we have lots of favorites! If you are currently designing your bedroom, pick some designs above and then try to spot which certain elements in the design you love most and apply that in your own bedroom. Doing that will give you the best bedroom ever! You can also combine blue with a different color like gold. A blue and gold bedroom turns out fabulous!