15 Gorgeous Blue and Gold Bedroom Designs Fit for Royalty
Honestly speaking, when we think about blue and gold, we remember the Christmas trimmings we have at home. Why not? It's usually the time of year we have this oh-so-cool-themes about blue Christmas or something of a golden-inspired ensemble because of the entire glimmer and the shine. But today, what we have in stored for you guys are bedrooms with a hint of those teeny-tiny trimmings we can only remember during Christmas.
The list we have below is about 15 Gorgeous Blue and Gold Bedroom Designs that may give us quite a recall regarding Christmas or all those winter holidays. The designs range from classic to contemporary to the traditional designs our friend designers have created to remind us of how beautiful Christmas is when you strategically place it inside your bedroom. Here are the photos.
21 Oriole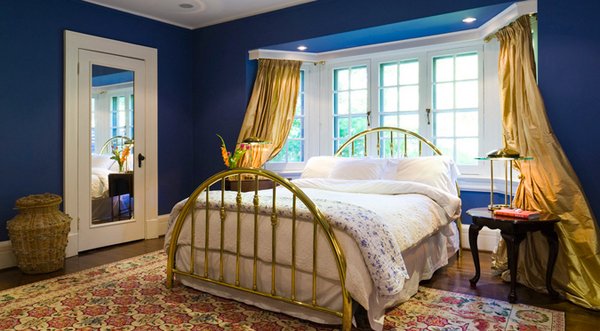 21 Oriole is a 1920's home in downtown Toronto that was modernized and upgraded within the existing footprint of the home to provide a more efficient and usable family living quarters.
Balliet Master Bedroom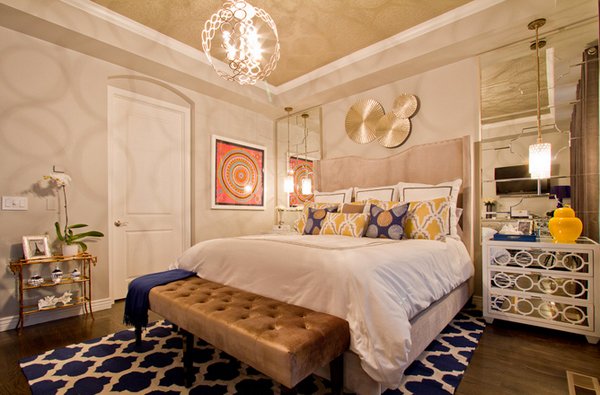 This room is definitely a stunning one – we love the rug, the nightstand, thee decor and especially the lighting fixture!
Builder's Dream Home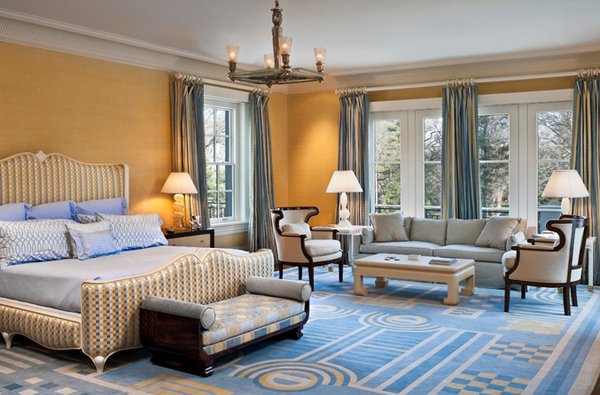 The color scheme for this Philadelphia bedroom is just remarkable. The space is huge both for rest and play.
Orlando Traditional Bedroom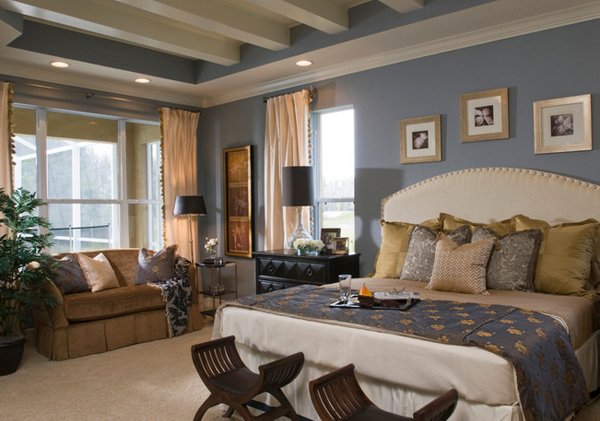 Blue and warm gold combo made this room more homey and rich. The choices for the decors and furniture are simple but pretty.
Soho Loft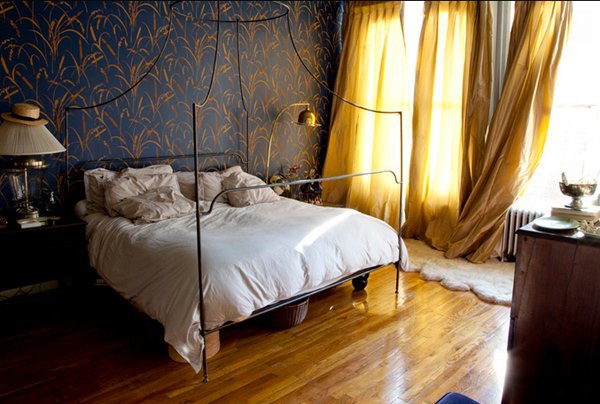 Imagine this bedroom without the campaign bed. The bed acts as an elegant anchor that adds structure to the space.
Aubergine Palais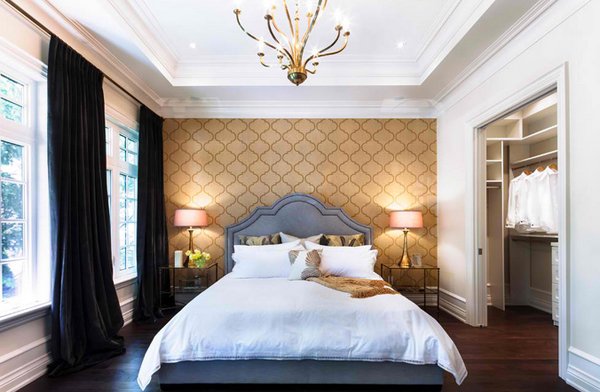 This bedroom is tailored, formal, and elegant. For a look that's less formal, more eclectic and edgier, look for quatrefoil prints that incorporate at least three colors.
Boston Bedroom
With their highly decorative look, balloon roman shades complement traditional home decor beautifully, but are not ideal for everyday use and should be outside mounted. Inverted box pleats at the top open to soft scalloping at the bottom, similar to the look of relaxed roman shades.
Emerald Bay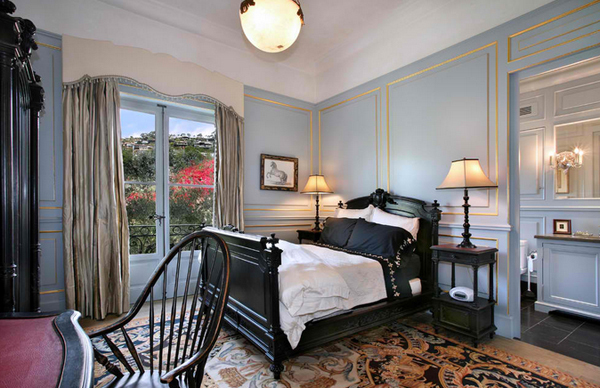 The bed in itself is lovely; this was provided by the clients according to the designers. But note the gold linings on the wall that complemented the blue walls perfectly.
LA Traditional Glamour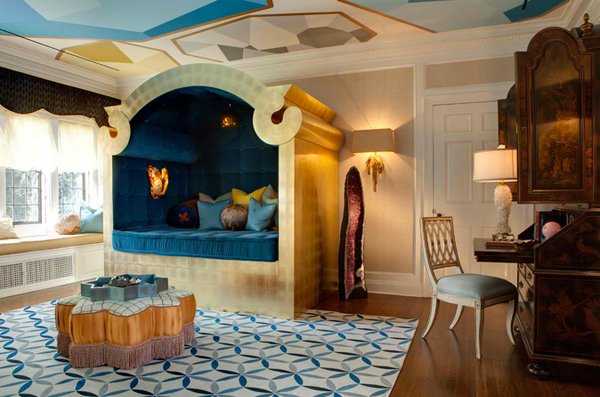 If you are inside this wonderful bedroom, you might catch yourself saying, "Will someone please peel me a grape?"
Lani Zervas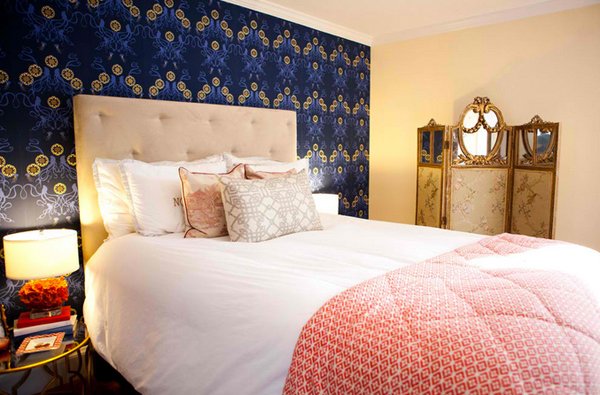 The upstairs master bedroom boasts dramatic deep blue nautical wallpaper decorated with squid, octopuses and jellyfish. A French gold screen adds a feminine touch.
Rezen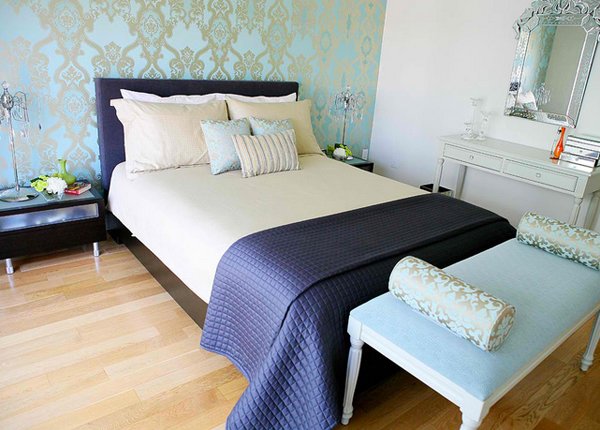 This is a beautiful room. We love the mix of traditional/classic and contemporary elements added to it.
Contemporary Blue with Gold Bedroom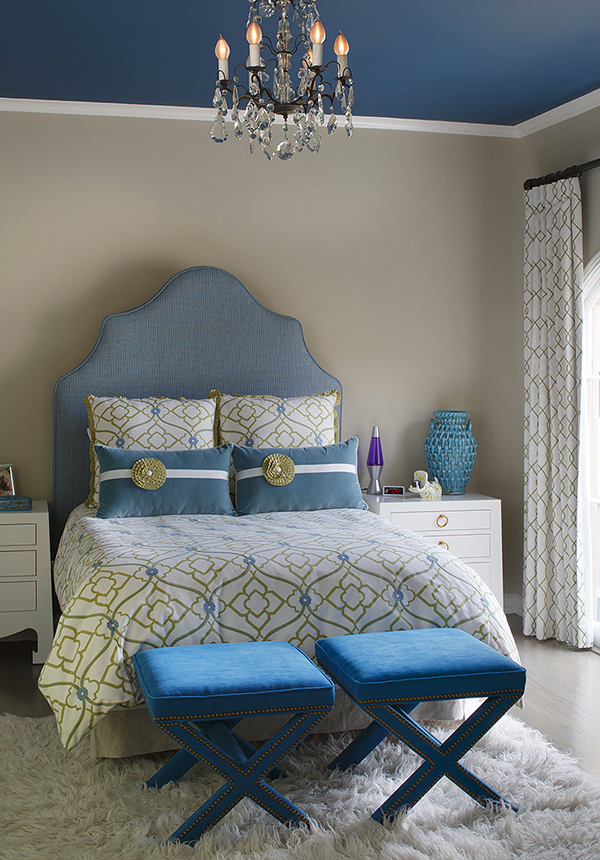 The headboard of this stunning bed says it all. We love the different shades of blue that were used in this space. The gold trimmings added beauty to it.
Emily Henderson Master Bedroom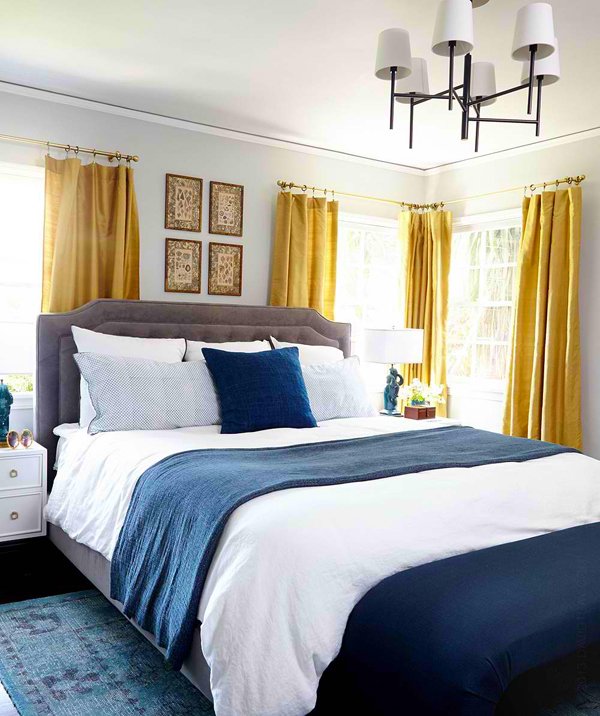 This regal bedroom makes a royal statement thanks to soothing pale blue walls, and gold accents galore. Gold is carried throughout the room via the curtains.
Victorian Bedroom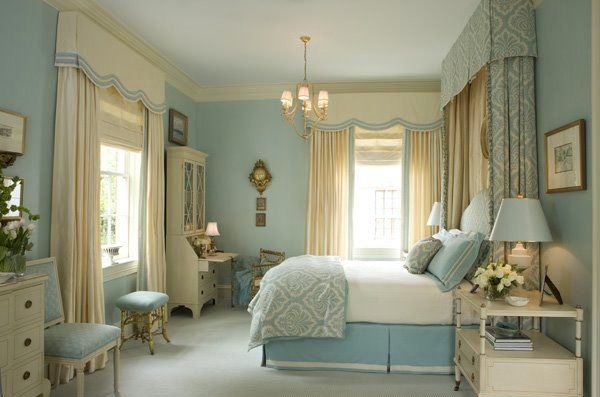 This bedroom is comfortable and light with its transitionally-modern look. Furnishings have clean, soft lines, the window treatments are breezy and the bedding, lighting and accessories are fresh and soothing. The colors are mainly neutral with hints of deeper gold and platinum, which are set off by a warm blue throughout.
Contemporary Bedroom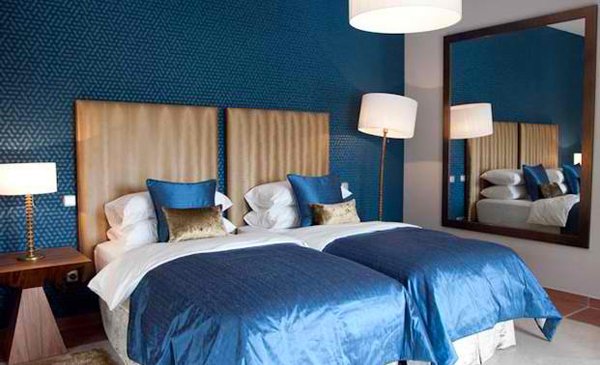 Playing with color is the neatest thing you have got to try once it involves beautifying a tiny low bedchamber.
So, that was definitely an interesting list, don't you agree? The 15 Gorgeous Blue and Gold Bedroom Designs may be a collaboration of some sort which we can associate with the Extravagantly Beautiful Tuscan Style Bedrooms because with these bedroom designs, we can remember holidays and pretty much all types of vacations. The color palettes are all pretty and distinct – we just love them! Hope you liked the lists above.