25 Fancy White Chairs in the Bedroom
White chairs may have a huge impact to the look of your bedroom while adding additional seating.
White is a basic color that can go well with anything – in home and furniture design, decoration and furnishing. Today, we will be showing you a couple of photos that showcase bedroom arrangements that has a white chair, a sofa or a sectional. If you will notice and might very well know, white goes well with anything – here, you will see pictures of bedrooms in different colors and design that look best with the white chairs.
For the most part, we will see that most of the chairs in this list is simple – yet fancy; why did I say that? Because even when they are in white, you will see how much prettier the bedrooms were when the chairs were there. Some of their designs might be too plain for you, but imagine another chair in a different color and how do you think does the space look and feel like? Tell us what you think about the spaces below on the comments box.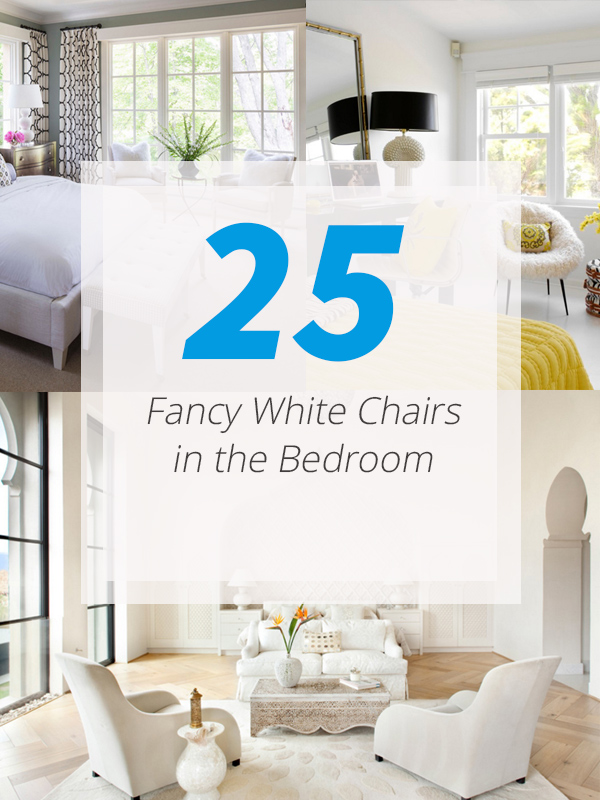 1. A Master Bedroom in White and Coral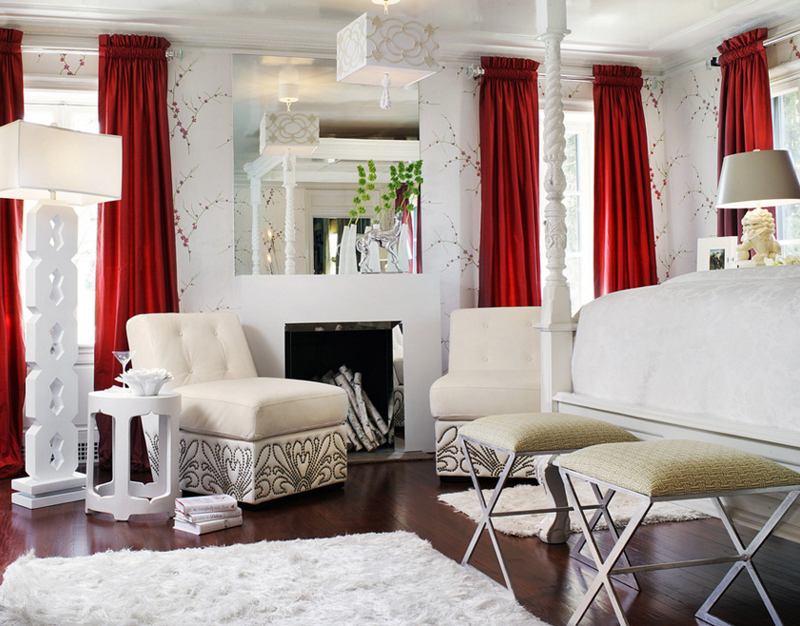 This sure is one fascinating bedroom that is highlighted by the prints on the walls, the chairs and even in the pendant light; plus the red curtains. I am really amazed with the cushion of the bed and the design of the lamp and bed post – what do you think?
2. An Updated Classic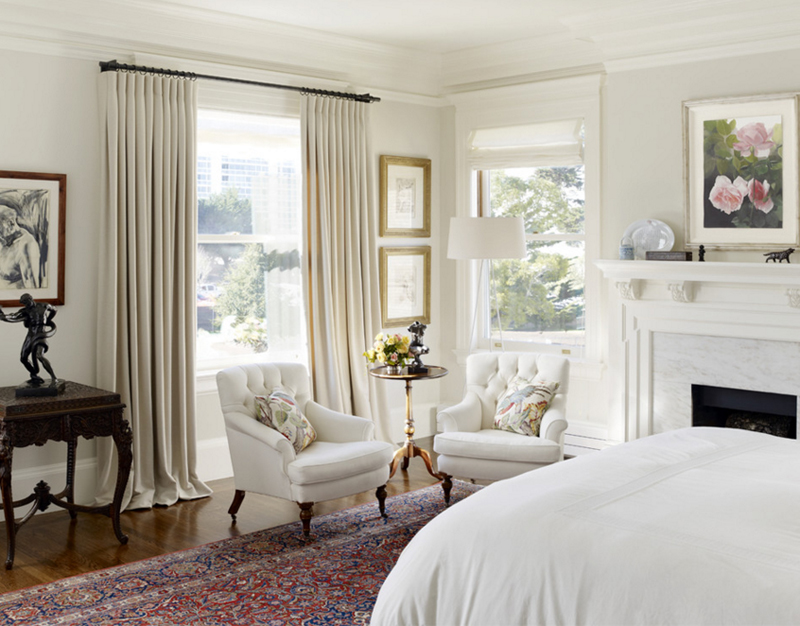 Another white bedroom with white tufted arm chairs by the window. Aside from the large windows, paintings on the wall add more artsy-ness to this room. I personally like the cute coffee table in between the chairs.
3. A Prefab Modern Farmhouse Rises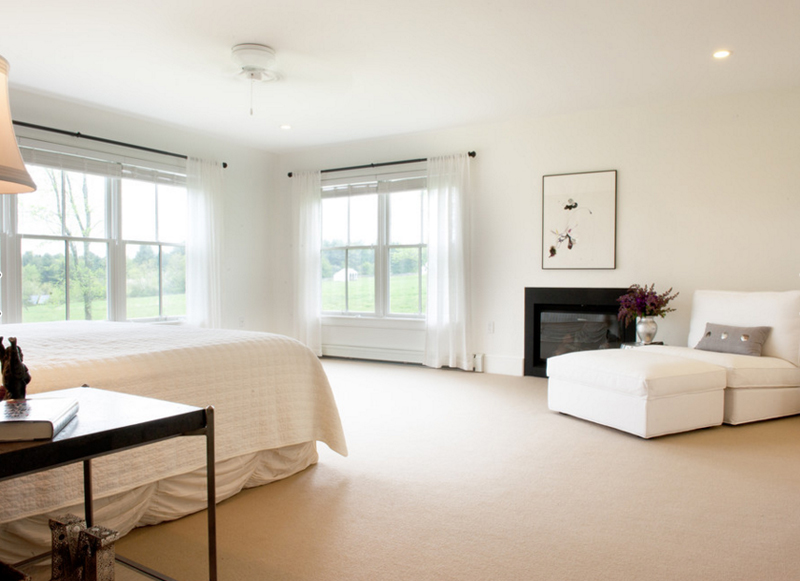 One large room with the basic needs – a bed, a night stand, a fireplace and one comfy chair that you can always opt to choose when you want to chill out and read something before finally going to sleep. From the looks of this chair and foot rest, you can also let someone sleep in it.
4. Balboa Peninsula Residence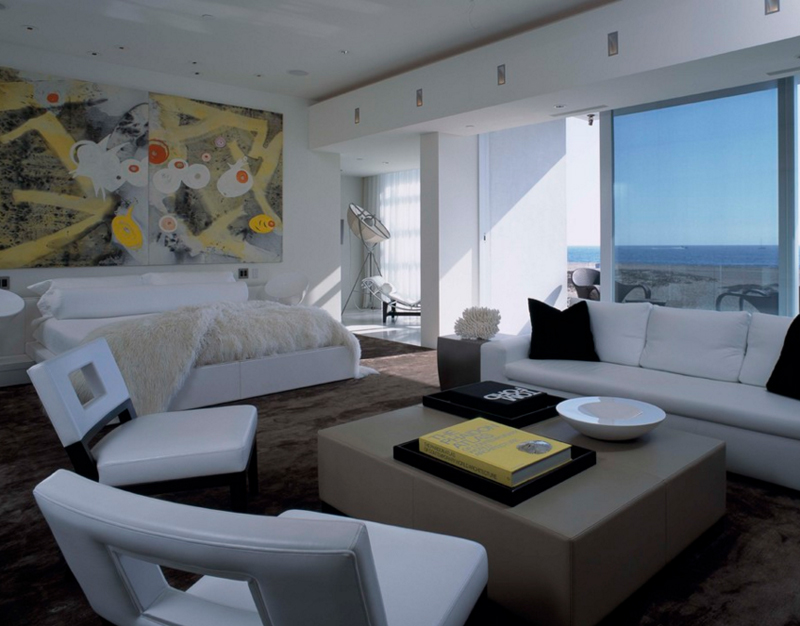 The bed in this bedroom sure looks comfortable – like to the point of allowing yourself to get drowned while sleeping. Haha! Having the seating area at the foot of the bed means that the owner of this bedroom or home actually wants people to come and hang out with them because of the large number of people it can actually accommodate.
5. Beach Style Bedroom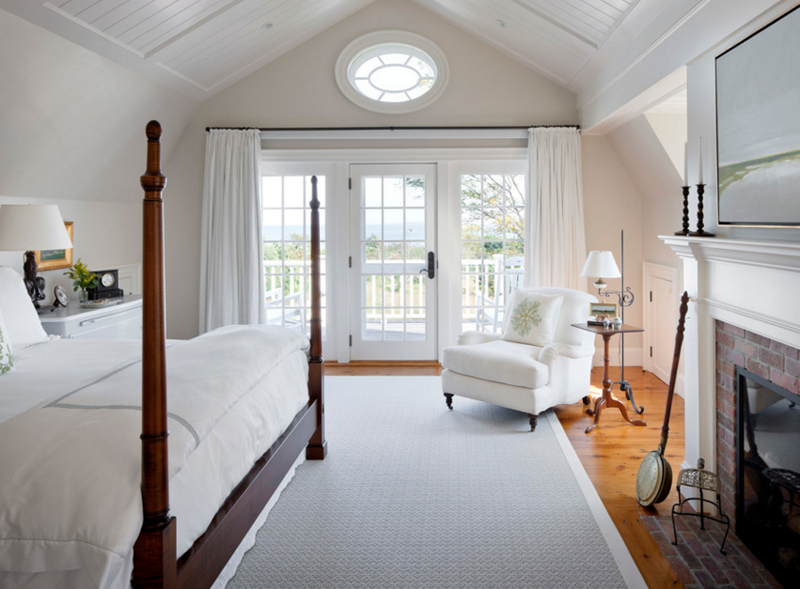 This bedroom looks rather traditional than contemporary but it sure looks as comfortable as any well-designed bedroom. Having a small patio also adds beauty to this bedroom because you know you can always open up the windows to welcome the morning air and enjoy the view.
6. Contemporary Bedroom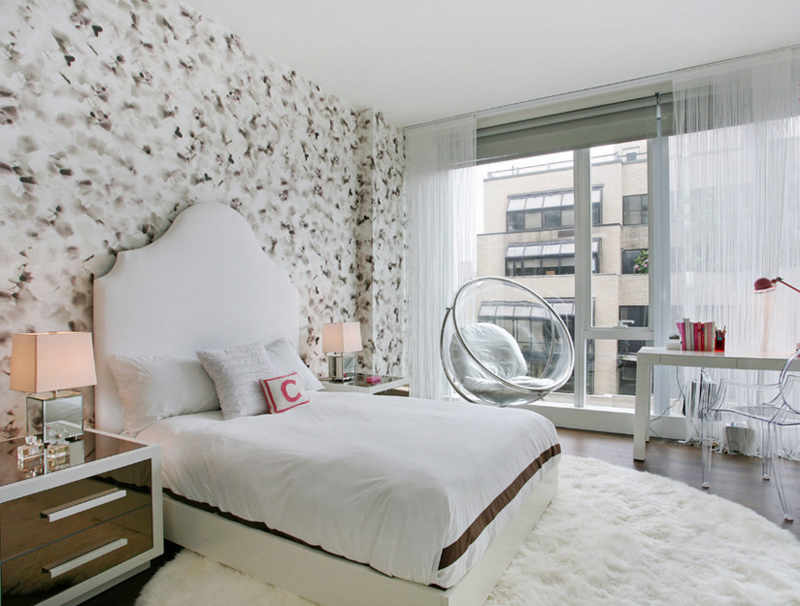 Ghost chairs like this one in this bedroom – only that this is in an egg design – complements well with the entire space. The bed, the night stands and the small office table on the side completes the look of a working girl's dream bedroom.
7. Finback 4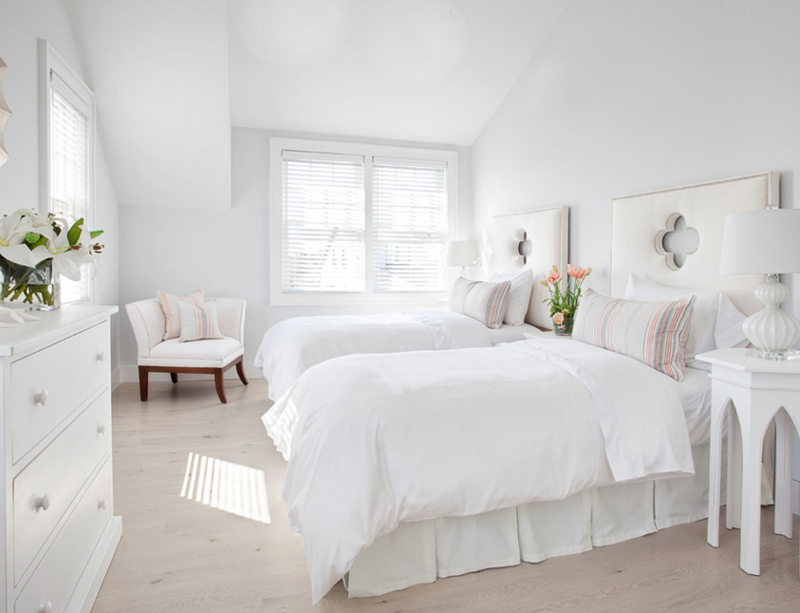 Having a twin sister means enjoying bedroom designs like this one that actually has two twin sized beds and enjoying each other's company. Although of course bedroom designs' like this one does not mean it is only used or done when the client has twin children but, you get my point, right?
8. Jackson Contemporary Bedroom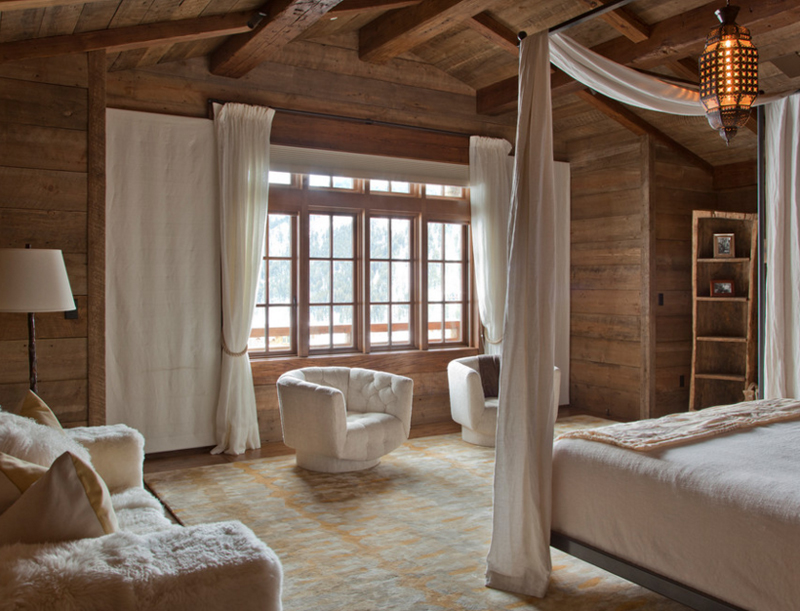 From the looks of this bedroom, I would like to guess that this actually a cabin home – made from hard wood and natural materials; note how much browns is available in home designs like this one and using white for the linens to the carpets and even in the furniture adds glam to it.
9. Jamestown Residence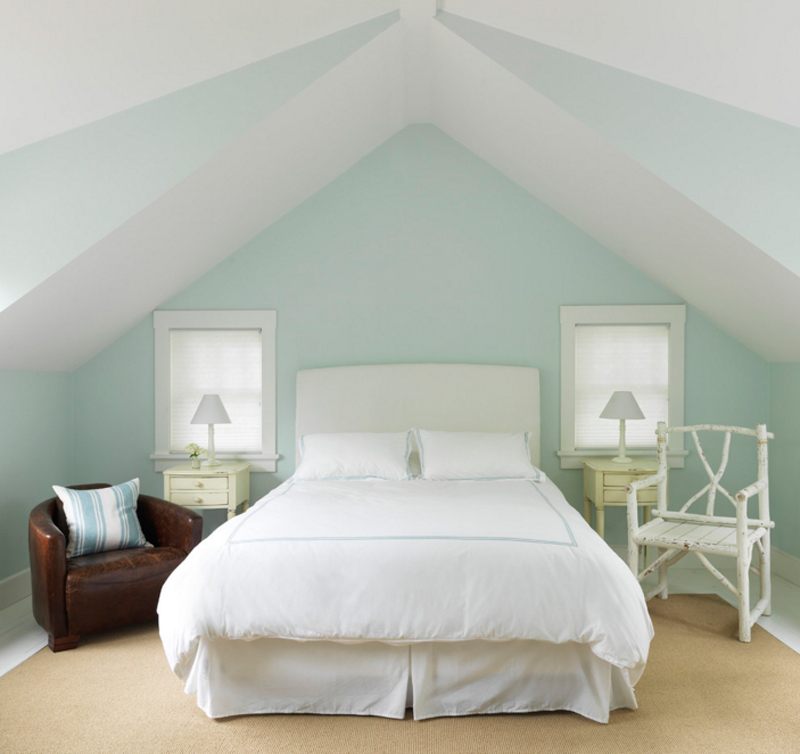 The color of this bedroom is just fascinating – it looks really calming and really fancy too. You can see that the space looks small and even practical because they just added a bed, nightstands and two chairs – pretty simple and sweet.
10. Locust Hills Drive Residence 2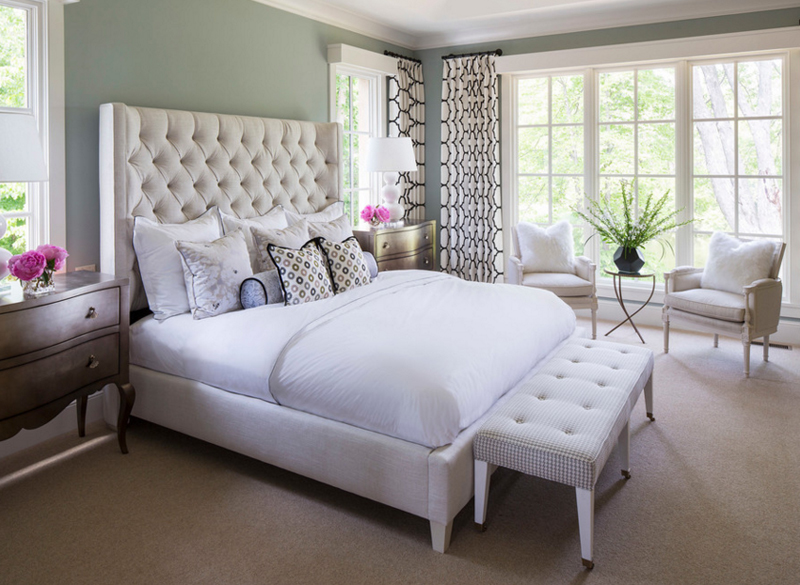 This is one glorious bedroom – from the choice of bed, pillows and linens to the seat at the foot of the bed to the arm chairs by the large windows. The color palette chosen in this bedroom is quite exquisite I might add.
11. Luxe Model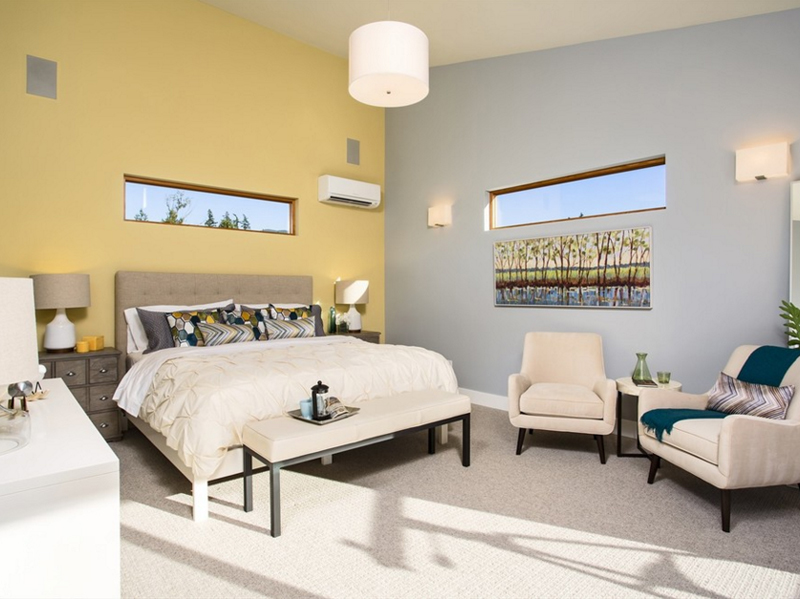 Walls with different wall colors sure plays off well as in this bedroom. If I am not mistaken, the small openings in the walls are small sort-of-skylights that allow light inside the bedroom – which is always a good thing right? The matching arm chairs and bed complements well with the room color.
12. Master Bedroom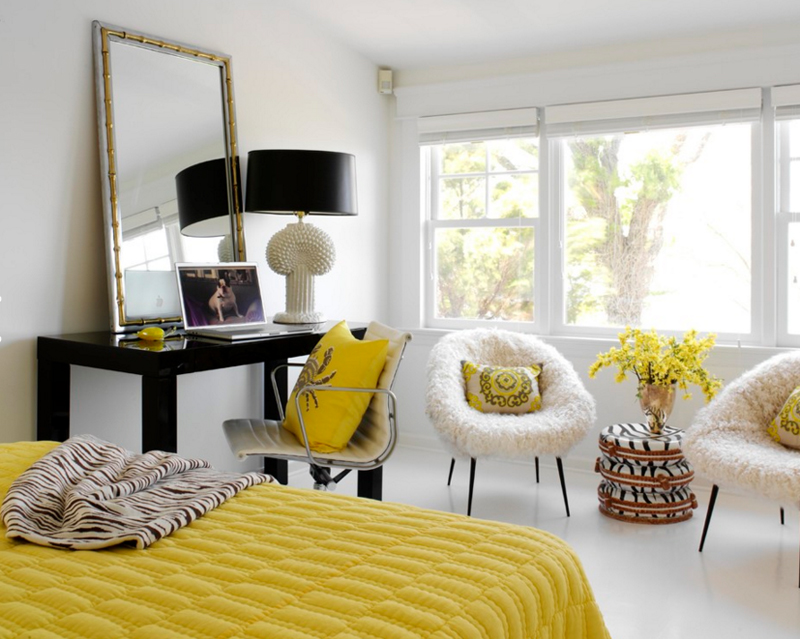 This is like my favorite Tara Seawright bedroom – the white and yellow color combination is not just playful but really zesty too! Adding a hint of black here and there created a really friendly and accommodating bedroom.
13. Mediterranean Bedroom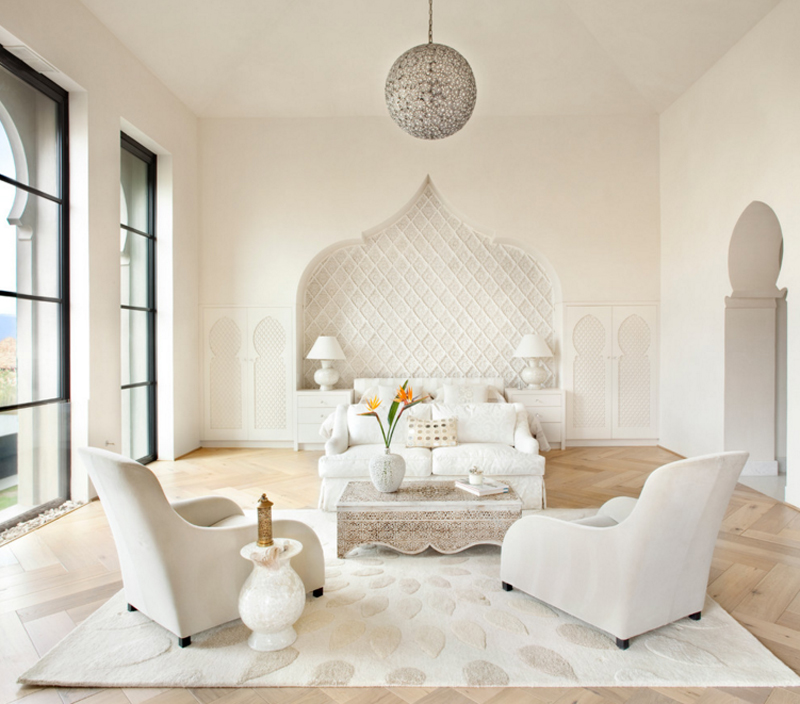 This Mediterranean bedroom is really pretty too – I mean the entire bedroom photos in this list is pretty too, but for a white bedroom – this one is quite a charmer. What do you think? The details on the cuts on the wall is quite reminiscent of the Aladdin.
14. Notting Hill Townhouse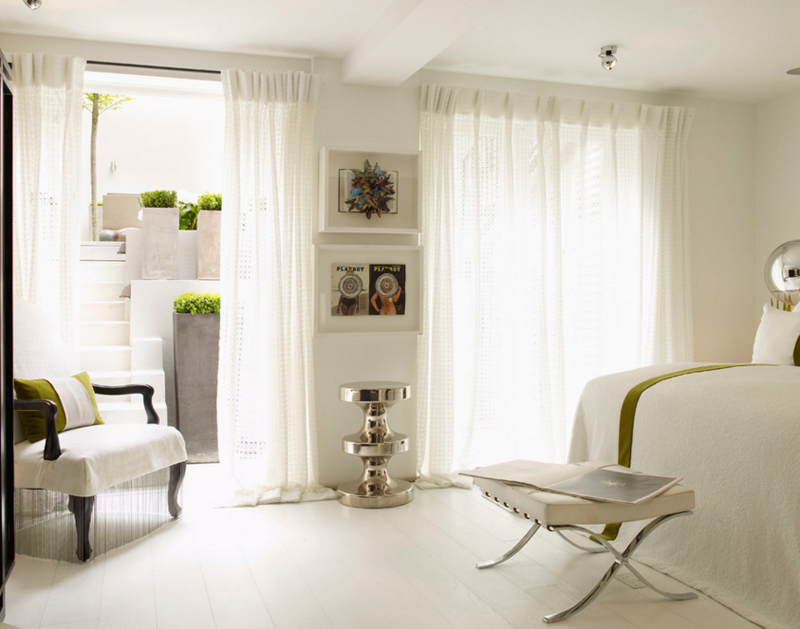 How do you like the small metallic stool-like table by the door that looks like the pawn in chess? A metallic feature like that sure ad modernity to spaces and while this bedroom is white metallic stuff just makes it classier and prettier too! Am I right?
15. One Island
What an interesting ceiling work! From that feature, we can see that the window in itself is unique too! For spaces like this, we can expect that they really have the best furniture, furnishing and decor. What do you think?
16. Texas Chic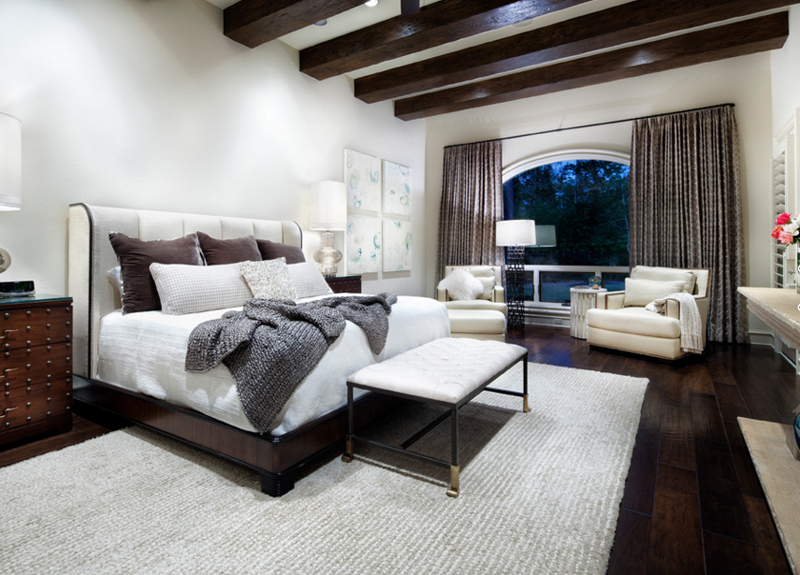 I always wanted a large bed for my bedroom, but I fear that it would mean being too attached to it – I might never leave it! Haha. The coffee-colored floor is my favorite in this picture and the large windows.
17. Town House in Kensington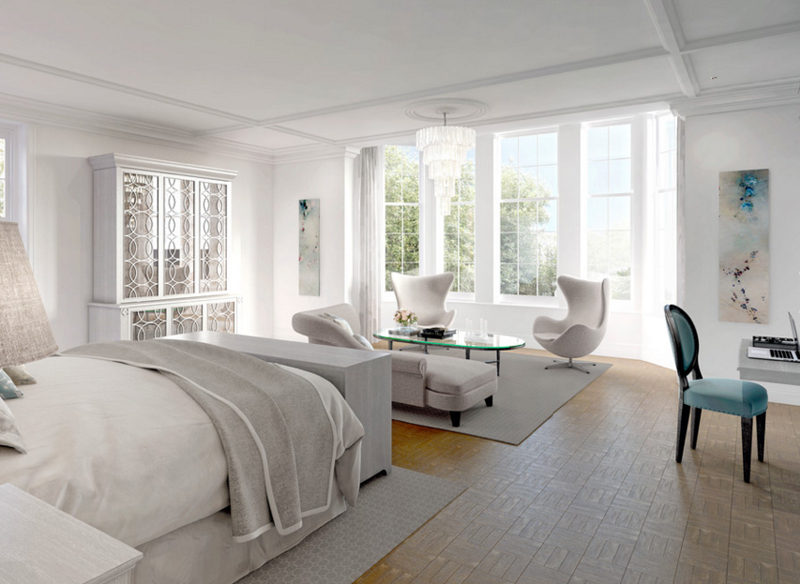 See that mini living area by the window? Those chairs are one of my favorite chair designs because it looks great in the living room or the bedroom and it can also look great in the office! Although I think this bedroom needs a little more color, I still think this is one gorgeous bedroom!
18. West London Penthouse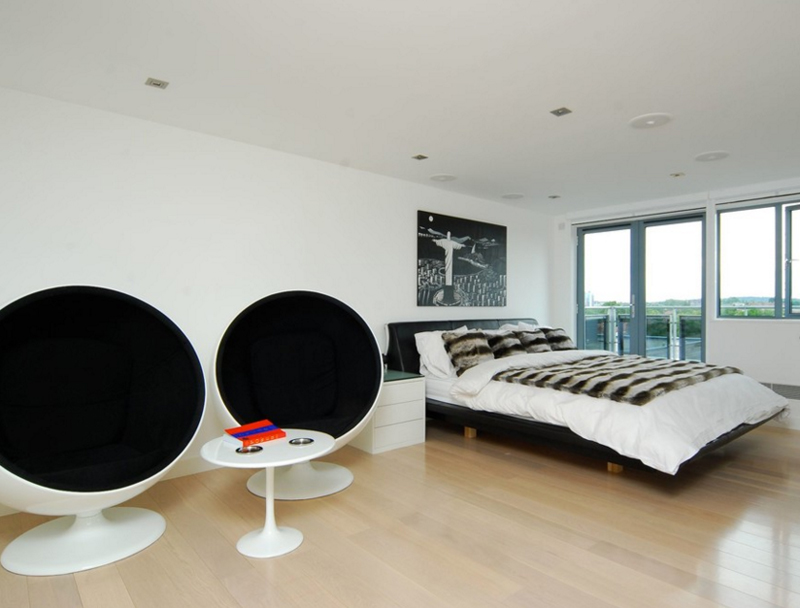 Feeling a bit into modern or futuristic chair design for your bedroom? Check out the chairs in this space that might just be your choice for that futuristic chair you have in mind. The black and white combo of this chair and table set is really gorgeous!
19. Barksdale Residence Bedroom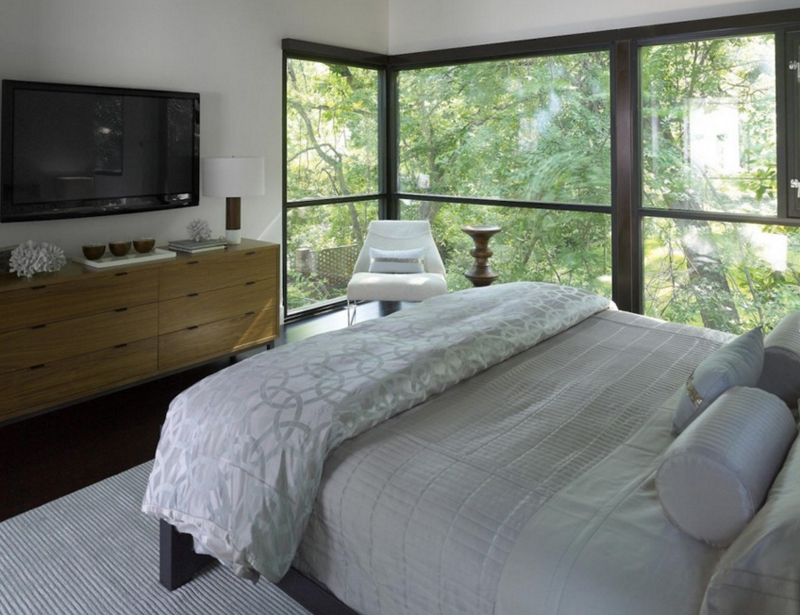 What a lovely view! Having windows this large especially when you have an awesome view is like having sprinkles to your vanilla ice cream! The white chair by the window contrasts its cute side table.
20. Chesapeake Bay House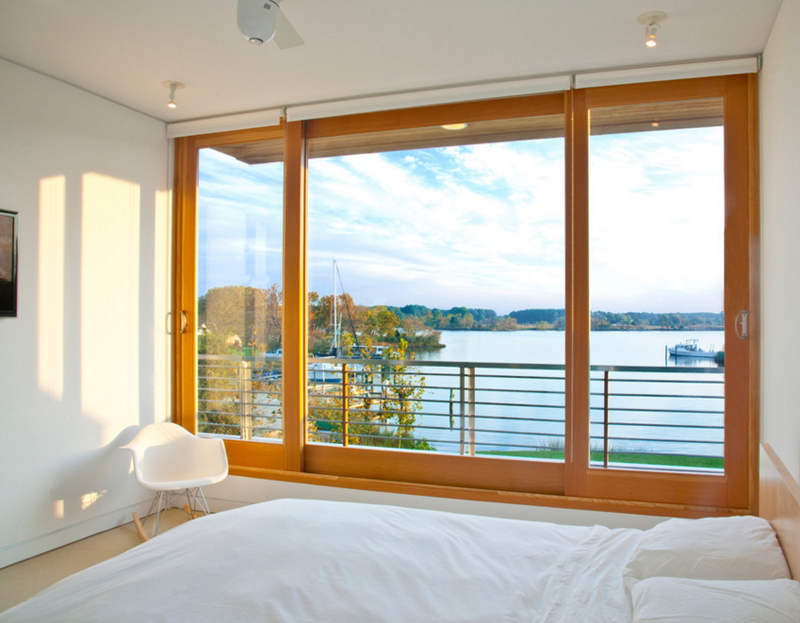 Another bedroom with an entire wall for a window! Plus that view – I can imagine what I will give up just to have this view and this room! Haha. Of course, that will mean I would have to work hard to have one.
21. Green Cube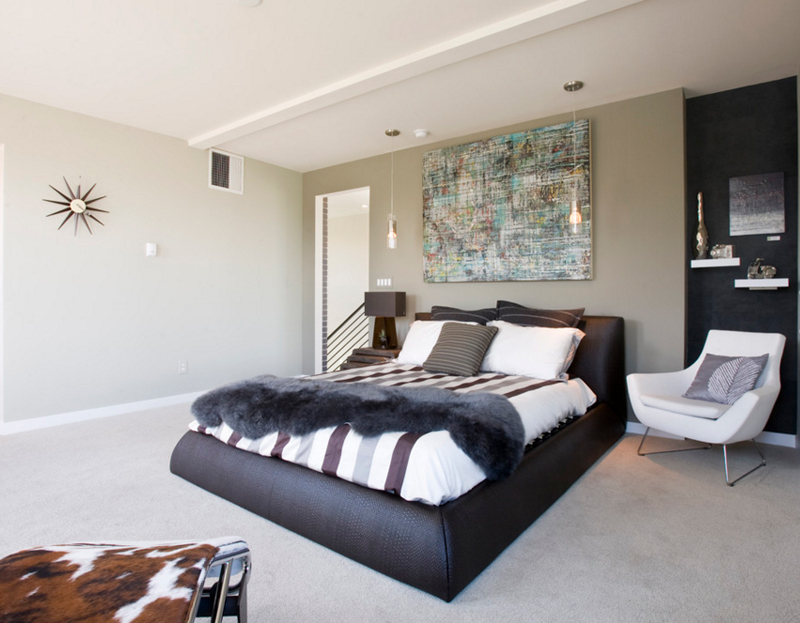 This is one minimalist space – the designer and most likely the owner stuck to the essentials – a bed, a chair, a night stand and a clock. I love the animal furs in this space plus the painting above the bed – pretty cool and interesting. What do you think?
22. Hillcrest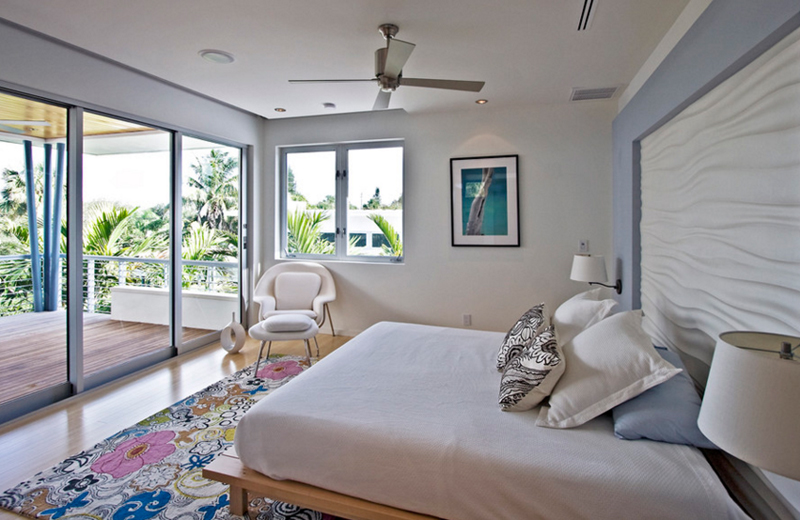 Oh I love the head board design of this bed! The waves remind me of the beach and the blues remind me of the sky! Oh this bedroom is just divine!
23. Long Island Watersedge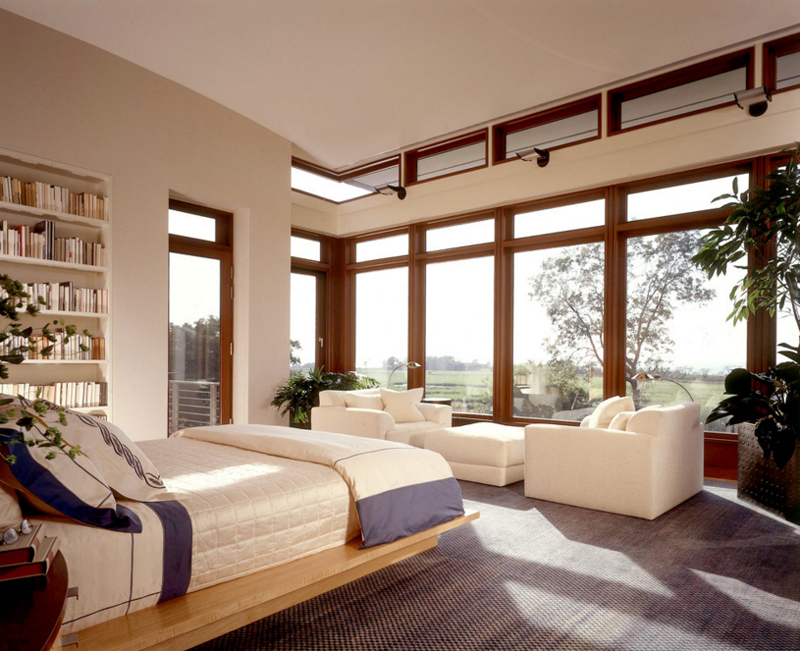 This bedroom seem Asian to me – I am not being racist or whatsoever (esp. that racism it attributed to people); with the materials used inside the bedroom to the aura that this space have – I think this bedroom is awesome!
24. Mercer Street Residence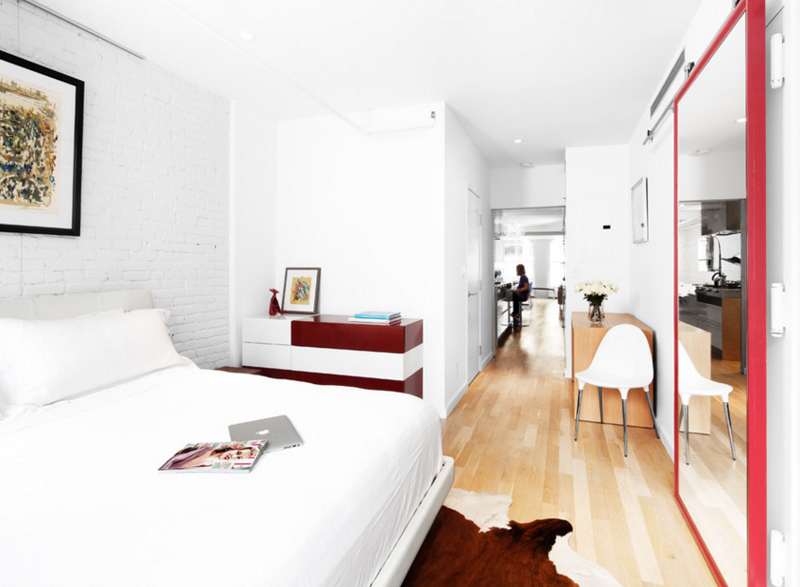 Notice the sliding mirror in front of the bed? Pretty awesome, right? It may seem vanity but all at the same time it serves as an interior design feature that allows you or other people to see more space into the place where the mirror was added.
25. University Place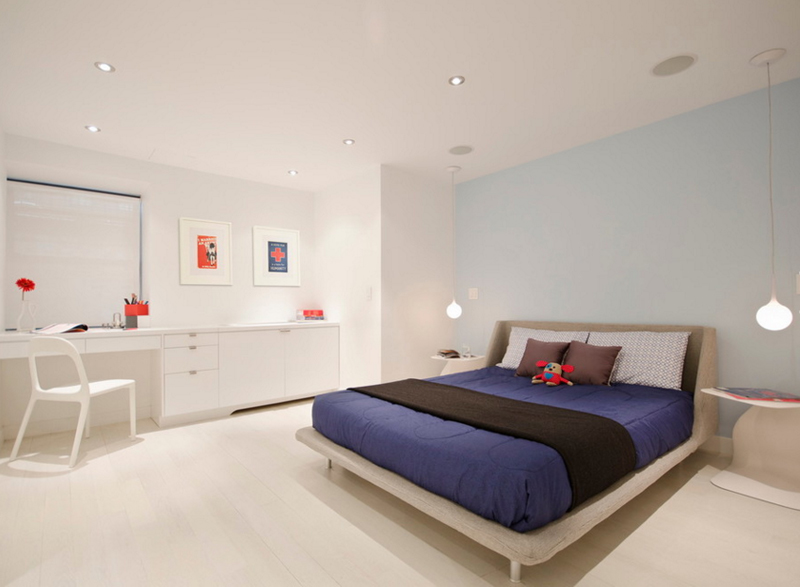 See that small chair in there? Pretty common and simple, right? Most times, chairs like this one is not as preferred as other arm chairs for the bedroom, but believe it or not – sometimes, function is more essential than beauty.
This list of 25 Fancy White Chairs in the Bedroom is a list that we have created to match the living rooms with beautiful white chairs which we think did justice to the spaces! Think for a moment and tell me if you agree that the chairs in both the lists are just fabulous! They may come in different designs, material and sizes but they sure made the spaces as awesome as they should!