15 Stunning Bedrooms with Swing Chairs
In our fast-paced day to day life, there are moments when we just want to sit down and let ourselves think – be able to let go of the things we have been thinking for a while or something that might have been bothering us; these are moments when we want a place where we can do this, somewhere close to home, somewhere we do not really have to go far.
Today, we will be showing you 15 Stunning Bedrooms with Swing Chairs that will remind you of a place that you love but can be found in the confines of your home! The designs come in different motifs that will match the needs for your kids or teenagers an even for yourselves. Let us go ahead and check them out one by one; have fun!
City Projects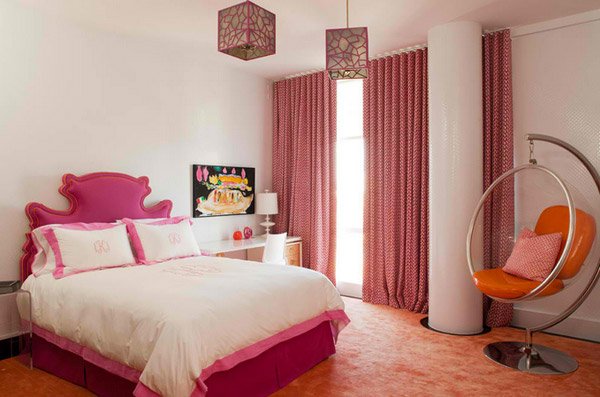 Don't we just love seeing bedrooms with a unique conversational piece? If it was your bedroom, you can brag about it, or if it is owned by one of your friends, you can't help but ask where we can get one for ourselves! The hanging bubble chair is the best conversational item we can see in this bedroom.
Corona Del Mar
This Orange County traditional bedroom which was designed by Spinnaker Development is one hit for the ladies! The color is fun and somehow represented by floral which makes this room really feminine.
Country Club Project Remodel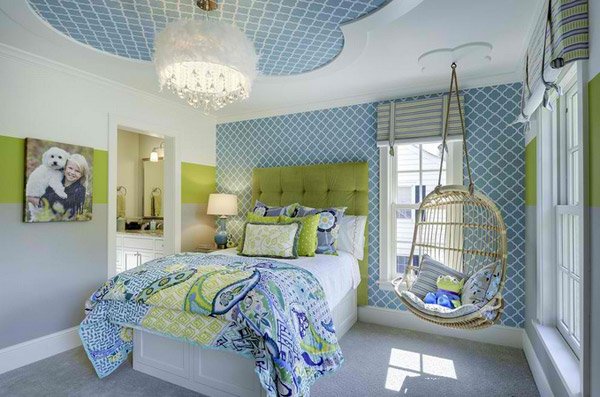 Look at the fun prints that is present in this bedroom. The designer made blue and apple green as the main colors; this bedroom is accented by a rattan swing chair that complements all that is inside the bedroom – we just love it!
Huntington Beach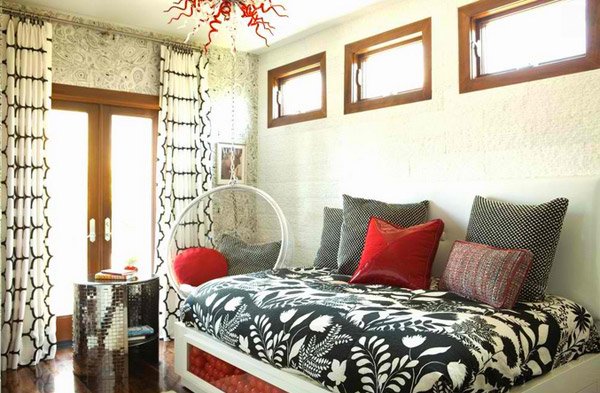 Reflection is a big part of disco style, and this round mirrored table adds just enough glamour. The hanging Ball Chair is a disco-licious choice as well.
Minneapolis Addition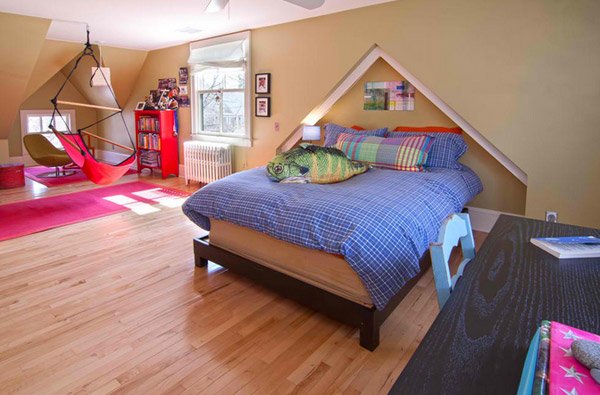 Sensitive addition and 3rd story remodel for Lowry Hill historic house. Seamlessly tied old with the new providing a contemporary twist with a ultra-modern master bath with tons of natural light.
New York Bedroom
This room was designed especially for a very dramatic young lady. It's a combination of 60's style and Princess Glam. The feature wall was hand painted and inspired by vintage geometric prints.
North Peak Residence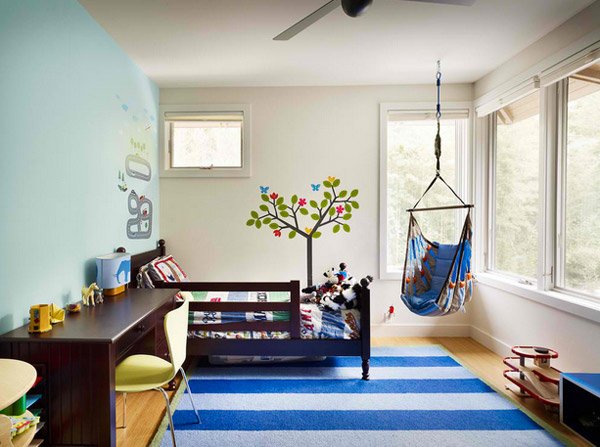 This hanging hammock completes the look for this Austin bedroom. It matches the blue and grey area carpet that makes the simple walls stand out!
Haba Piratos Swing Seat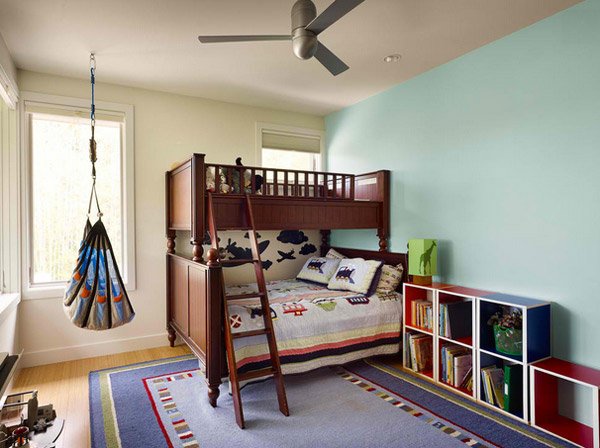 The extra thick upholstery of this hanging chair makes this room extra funky. With fun but non-intrusive colors, this sturdy seat with an all-in-one seat belt puts a new spin on reading corner. If you have a kid, may never get them out this one.
San Francisco Eclectic Bedroom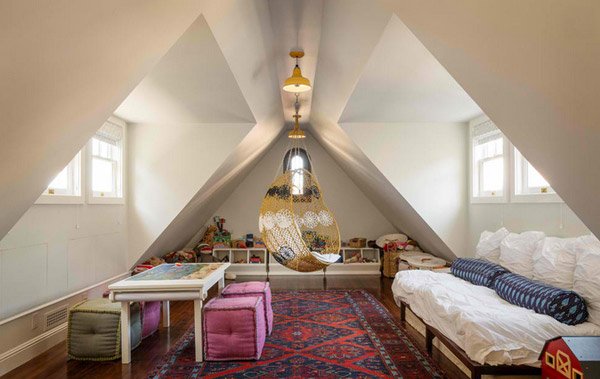 If you have an attic, we are guessing that you'd love this San Francisco bedroom. Equipped with fun and funky cute things and a lovely bed and swinging chair; this space is definitely heaven sent.
South Miami Townhouse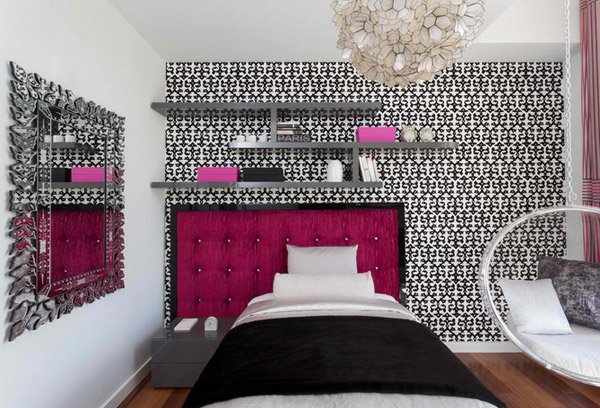 More raspberry, this time paired with black and white. The combination makes for a stunningly elegant and modern bedroom.
Twin Girls Bedroom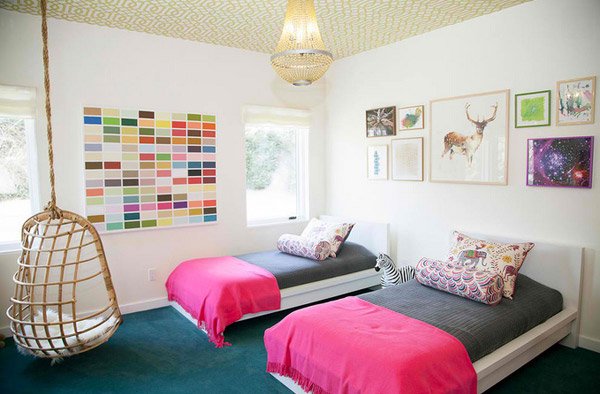 Having a twin sister, this bedroom is one of our favorites! The colors are divine and the rattan hanging chair is just cherry to the cream! We love it all the more because of the fun framed pictures and the white walls.
Upper West Side Waterfront Apartment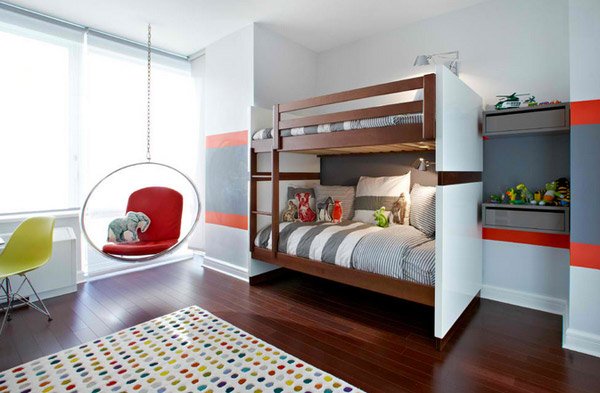 This little boy's room has a grey, red and chartreuse theme. Bunk beds, fun wool dotted rug, and hanging bubble chair with red leather upholstery. Eames desk chair. Grey lacquered nightstands for both floors of the bunked also serve as toy storage. Bunk beds each have their own reading lamp.
Black Bedroom with Rattan Hanging Chair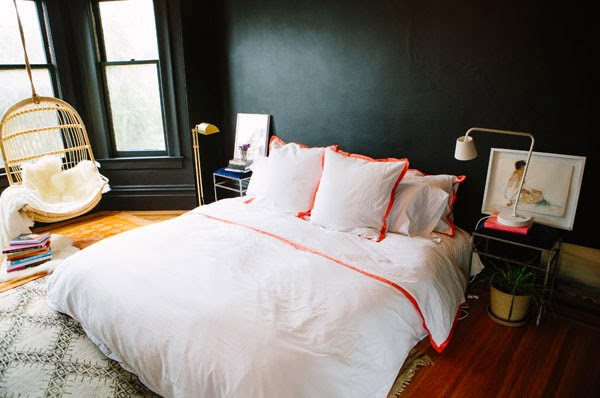 When my friend saw this bedroom photo, she realized how pretty it is and said to herself how much it would mean to her if we can recreate this space for her. Although not impossible, we know that it will indeed take a while for us to find the hanging chair.
Hanging Chair Bedroom Pillow Feather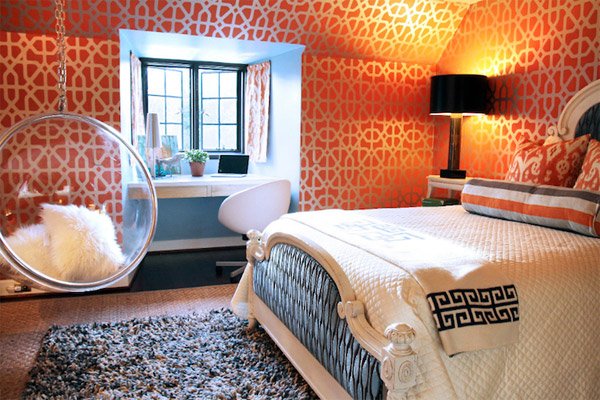 Hanging chair will be great to be placed in the bedroom as well as in the outdoor. Hanging chair for bedroom will let you get more opportunity to enjoy your leisure time while laying your back on above the ground chair. This kind of chair is very appropriate for the bedroom since it can be used for enhancing the beauty of your room as well.
Main Bedroom with Deck Full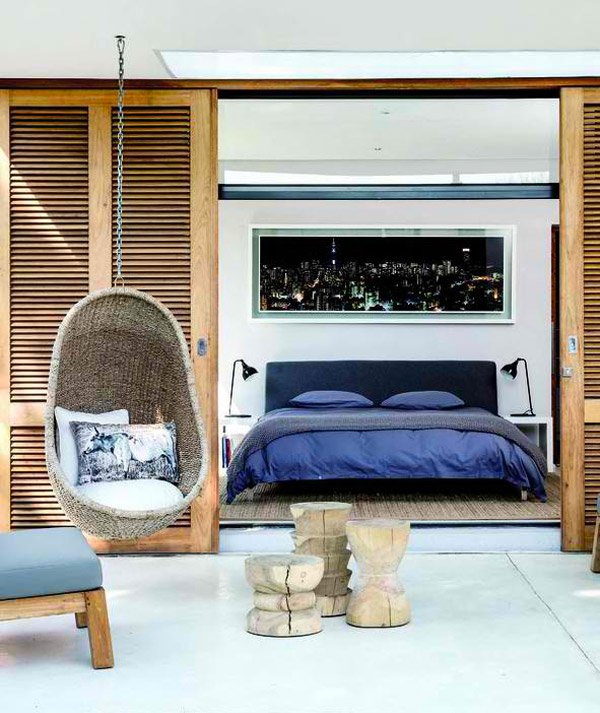 Korina Holley
As an architect, Korina knew that finding a Parkhurst 'golden-oldie' to renovate according to their needs and tastes would add impetus to her burgeoning career as an independent architect.
Not only do swing chairs serve a useful purpose, they are glamorous, stylish and create a definite 'WOW' factor in any home and who can resist the allure of sitting in a hanging chair? With more colors, patterns and materials than ever before, there is a finish and style to suit any design scheme. The biggest challenge is choosing one – Macrame, Wicker, Perspex, Bamboo, even Basalt. Hope you had fun in checking the 15 Stunning Bedrooms with Swing Chairs and look out for the 15 Chic and Hot Pink Bedroom Designs we have listed before.