20 Beautiful Bedrooms with Stairs
Here are staircase design inspirations for bedrooms that you'll surely love .
There are tons of bedrooms that we have featured in Home Design Lover and you'd maybe think that this list is another list about lofts because of the stairs, but in reality – there are really some bedrooms that have stairs in them for different reasons and you should check out the photos below for you to determine them.
The next photos would reveal different sizes of bedrooms that have different reasons for adding the stairs. Although for the most part, these bedrooms have these stairs because of function, some seem to be added for both decorative and functional purposes too. You better check them out and see for yourselves.
1. Hyde Park Gardens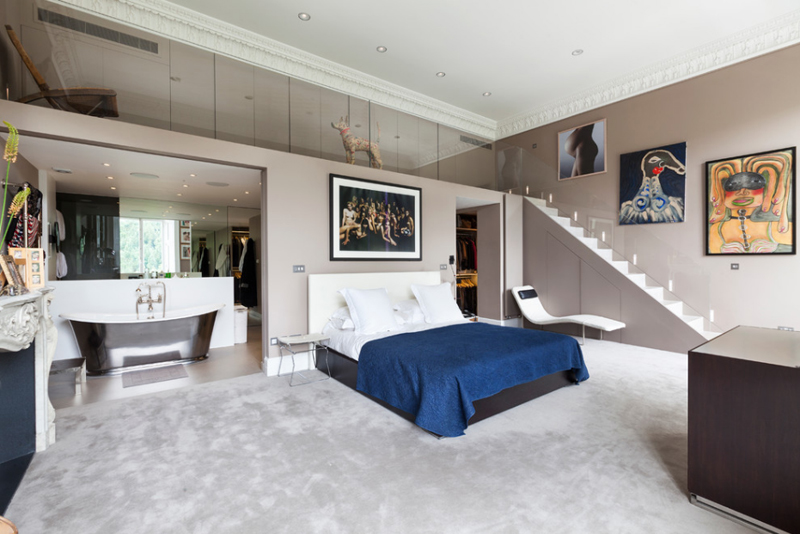 This is one beautiful bedroom with some of the prettiest things I would actually want for my own bedroom, and I think that you'd do the same too. The bed is simply gorgeous, the silver tub seen on the left side of the photo sure looks wonderful and the lounge chair on the side of the stairs is quite interesting. What do you think about this one though?
2. Modern Vermont Guest House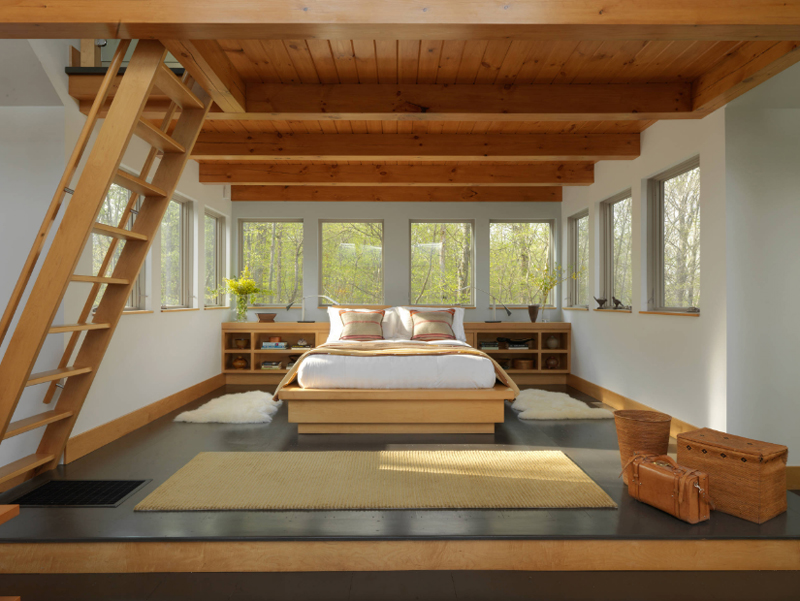 Is it possible that there is another bedroom above this bedroom that we are looking at now? If there is, this could be one of the coolest spaces in this list! The wood and concrete combination is just beautiful and because the colors actually contrast, we see how perfect the space actually looks like.
3. NW3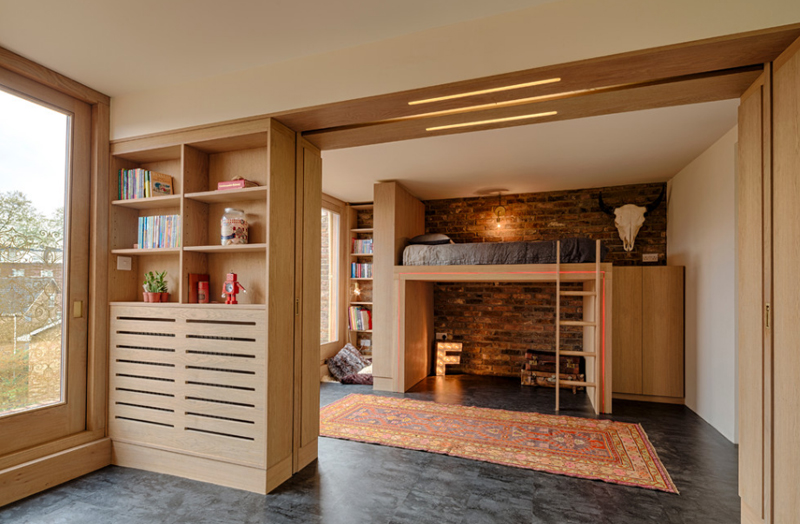 This bedroom could pass for a loft but since it actually is not, I think we could just categorize this bedroom as something owned by a teenager and it sure is just fascinating. Saw that F underneath the bed? That stands for fascinating – and it sure is! Notice that this bedroom is quite large and has minimal things in it!
4. Oakland Renovation 2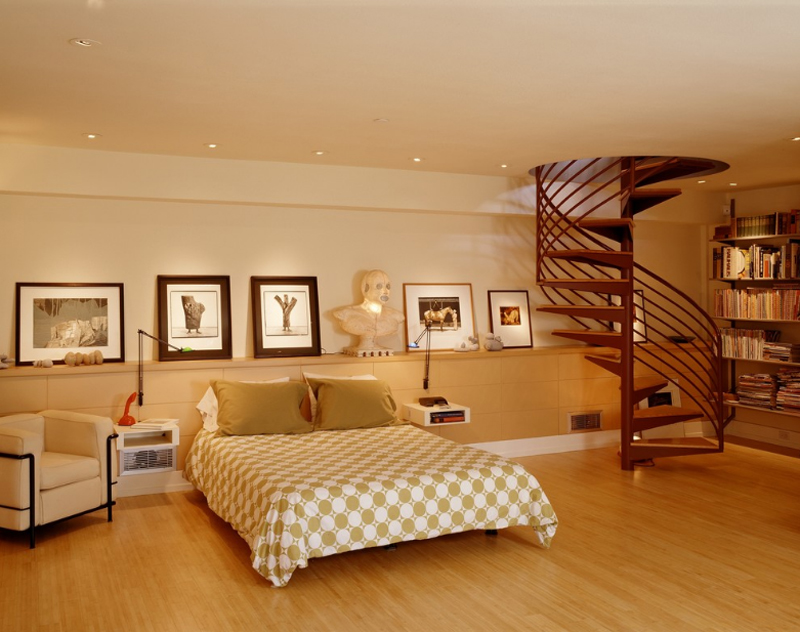 The stairs in this bedroom sure looks cool and neat! It's not every day really that people opt for circular stairs especially if the users are older people. If this bedroom is in a basement, I think the user of this space wouldn't necessarily go out a lot since it's more fun staying indoors, right?
5. Seattle Traditional Bedroom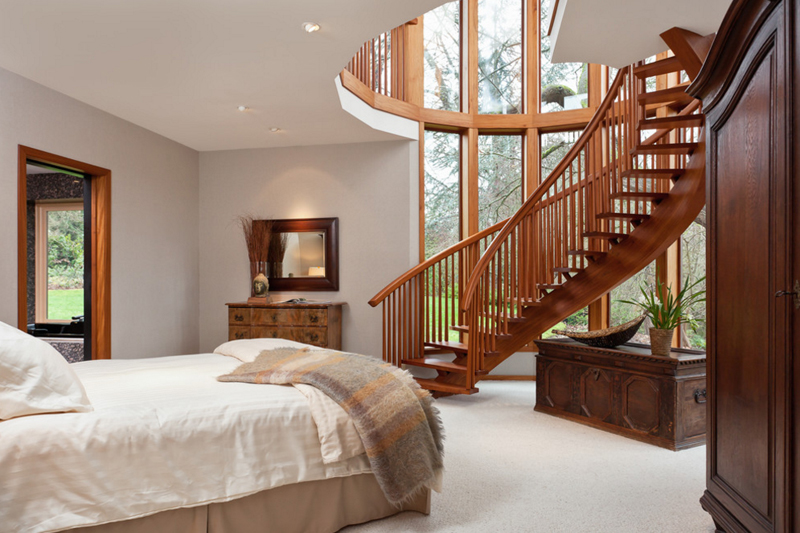 The beautiful wooden stairs in this bedroom sure looks fancy and sophisticated. Underground bedrooms are really charming since they have this secluded look and feel that some people actually prefer. The use of wood in this home makes it look fancier than when steel is more prevalent.
6. The Captain's House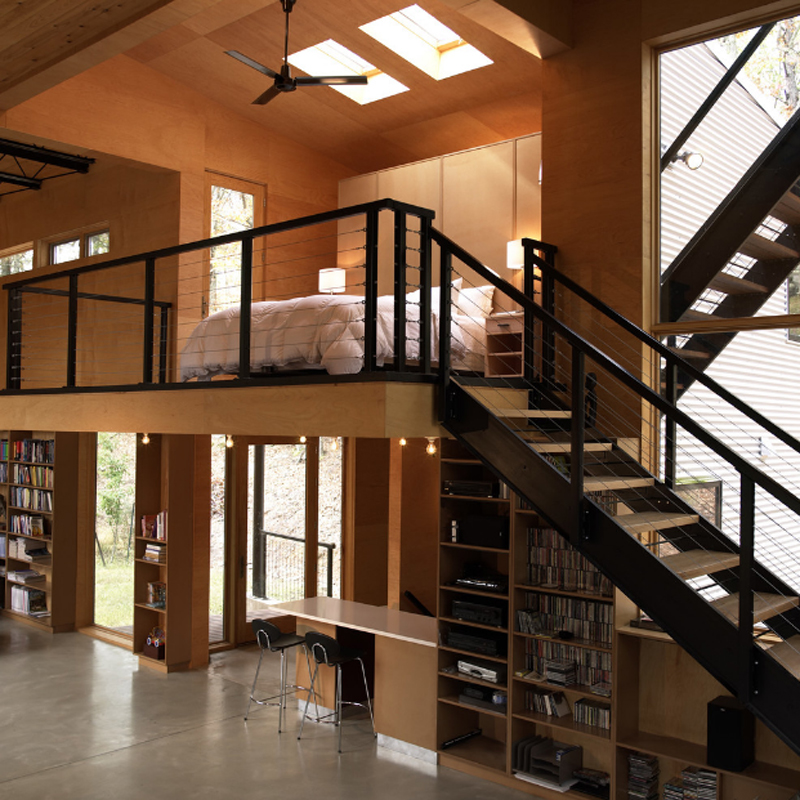 If this is a Captain's house, I think they made sure to really make it as comfortable as it possibly can and make sure that it has some resemblance to where the owner actually worked. I do not know as to what the main reason for that but then I think that it's actually nice and really thoughtful that you have a reminiscent feel to it.
7. Waite Street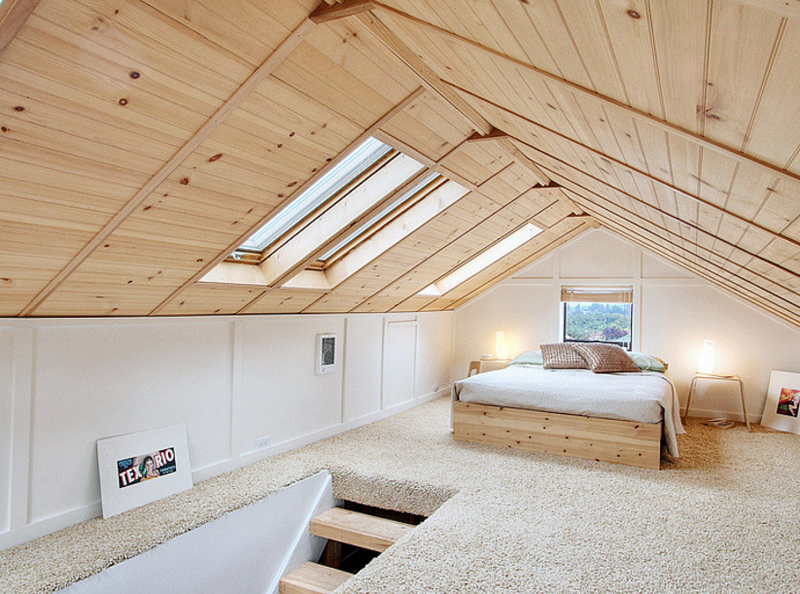 So, seeing the ceiling of this bedroom, we have an idea that it is in fact in an attic and well, if this how all attics would look like – horror movies would lose a lot of money! The material used on the ceiling, the bed frame and the stairs sure are pretty – yes, because it's new and well, this bedroom just looks really stunning and perfect!
8. West Silver Lake Project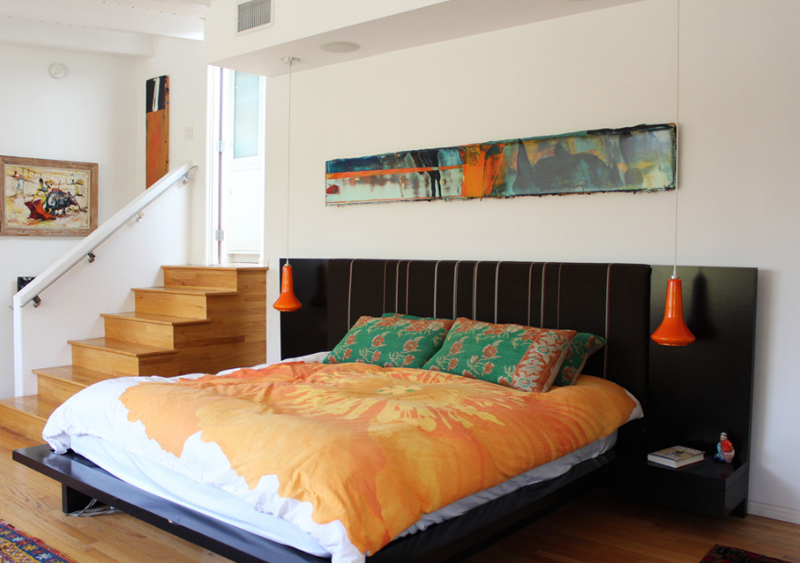 The bed frame that we see in here is quite neat and I think that it actually looks real neat and pretty, especially that they used colorful and printed linens and pillow covers; using matchy drop pendants completed the look and it sure is amazing!
9. Black Rock Residence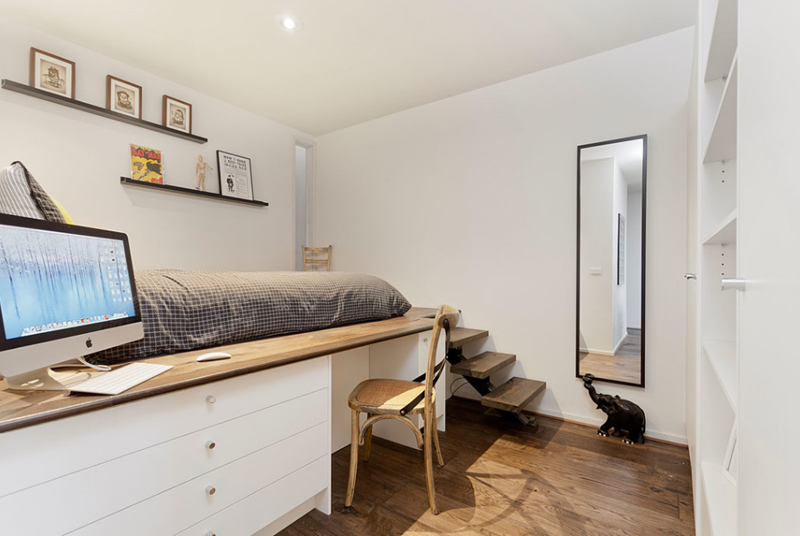 Well, this could be one of my favorite photos on this list because of the way this bed is actually positioned. If you lived in a small space and you needed more things or more space – you can always create something like this – a table and bed base all in one. They added steps to actually lead you to the bed and it looks totally awesome!
10. Armande Interieurs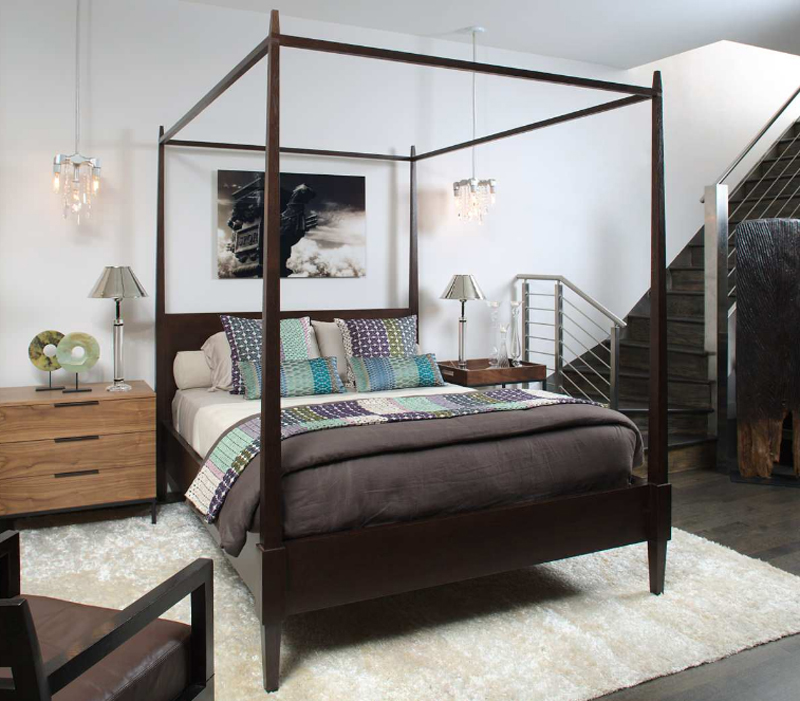 This set up is basically done to sell the bed – when you check out the designer's site, you'd see a couple of spaces in the same set except that they are showcasing different beds or other furniture. What I like about this bed is the four-poster that could allow you to add linens and create a princess like effect to it.
11. Cale Street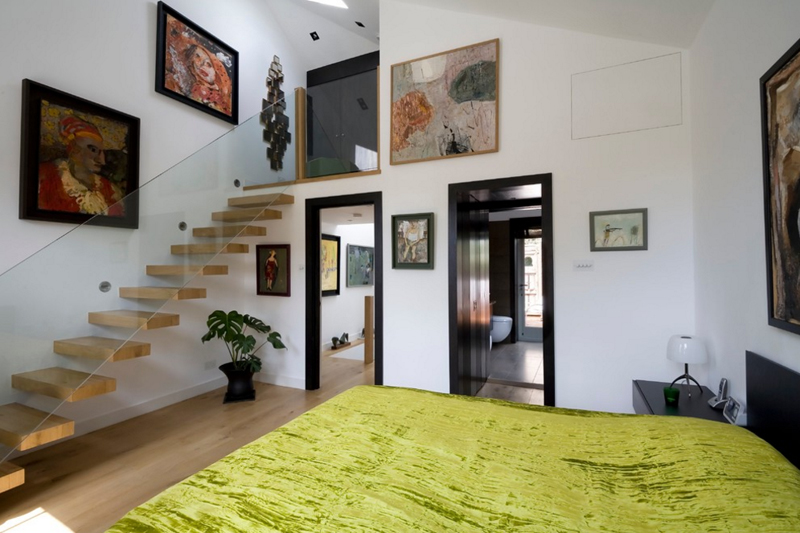 I love the floating effect of the stairs in this bedroom. I find bedrooms interesting especially when they have spaces that connect them to everything else in the house; this bedroom for example is connected to the bathroom, the living area I suppose and so now, I am interested as to knowing what could be above that gorgeous stairs!
12. East Village Studio
When I first saw this photo, I know that this is something I would love as a teen – I mean, I love it now, how much more when I was younger right? This space seems great if you want to have your own space and have enough privacy especially when you want to just sleep in the entire day.
13. Cotuit Bay Residence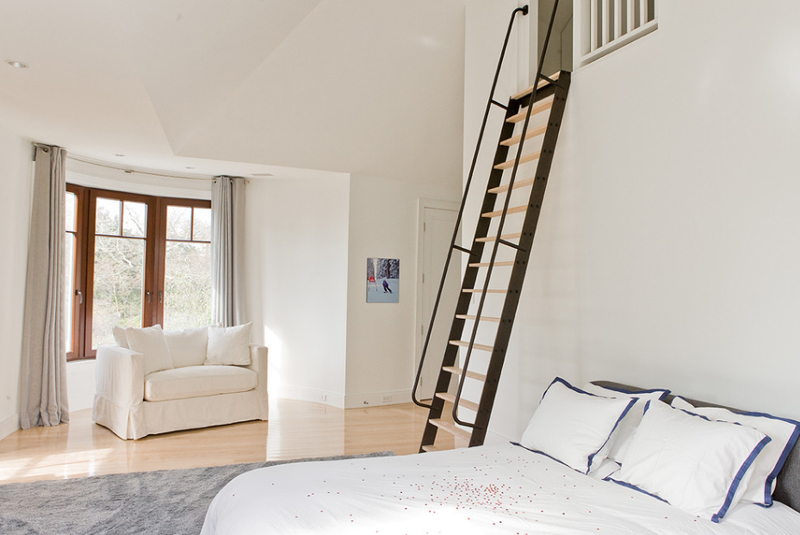 The stairs on this bedroom sure looks real nice and similar to that of a boat or a ship; especially for bunk beds. The white bedroom sure looks real fancy and luxurious – I find the stairs quite off, but since it contrasts with the color present here, I think it still looks good.
14. McKelvey Residence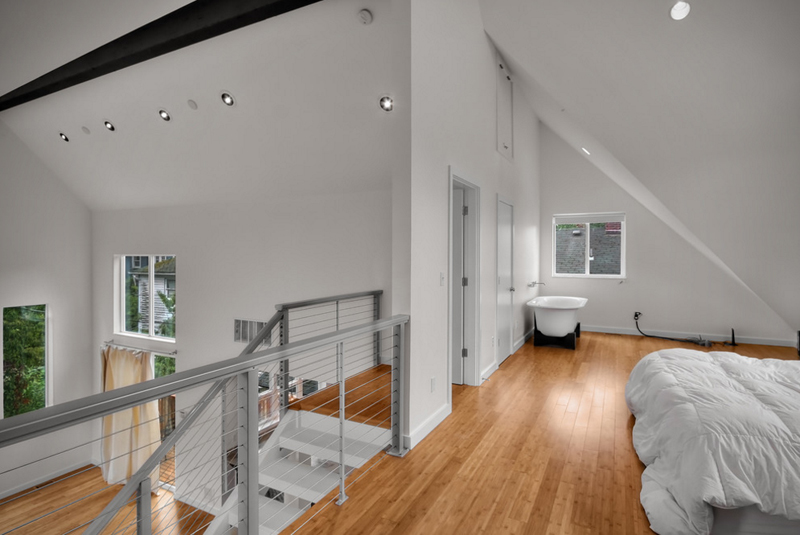 This is definitely a loft time bedroom and I think that spaces like this is great for yuppies or people fresh from college and decided to get a wonderful space to live in away from their parents. The openness of loft type homes is sometimes not favorable for parents but then again, spaces like this have their advantages and disadvantages.
15. Penthouse Residence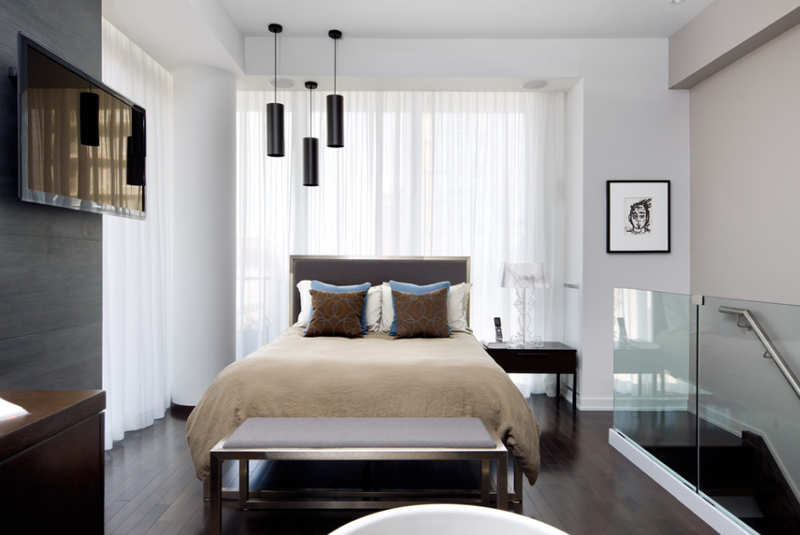 Aren't you curious as to where stairs actually lead? The bathroom could actually be below the bedroom and I think it looks cute and ideal especially if you have a minimal space for the sleeping area. The bed sure looks comforting and pretty much relaxing – the color scheme is pretty simple but really sweet too!
16. Detached Studio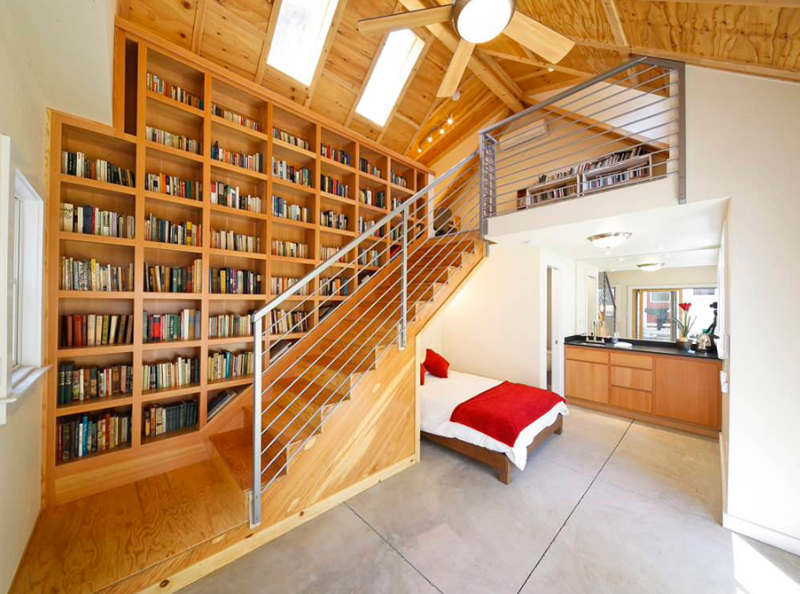 The way that this bedroom photo was taken is kind of distorted for me and I think that this is definitely a loft type bedroom. The sleeping area looks quite congested because it was located underneath the stairs but the fact that this bedroom has stairs that connect to a space where there are tons of books seem perfect for me!
17. West Melbourne Refurbishment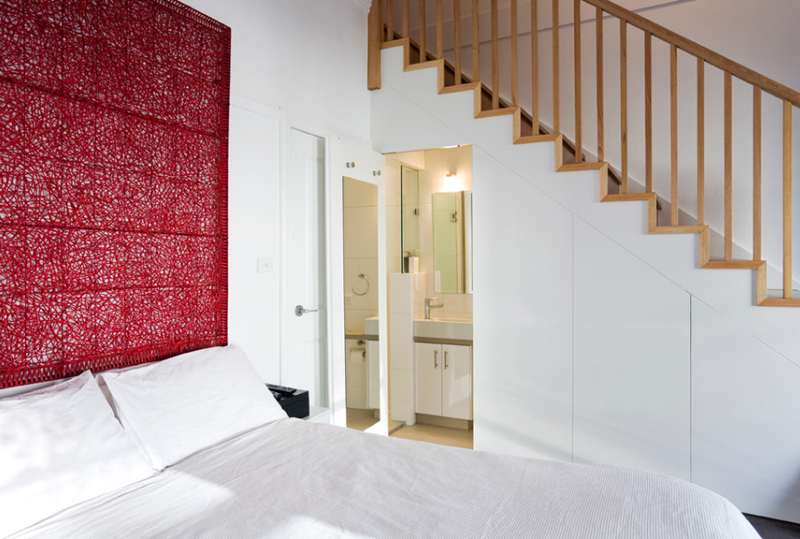 Now, with this bedroom, I am interested where the stairs actually go. Does this mean that this bedroom could be located in a basement or something? That could be a possibility and I think that this bedroom looks extremely neat and cozy to sleep in every night.
18. Sunny Flat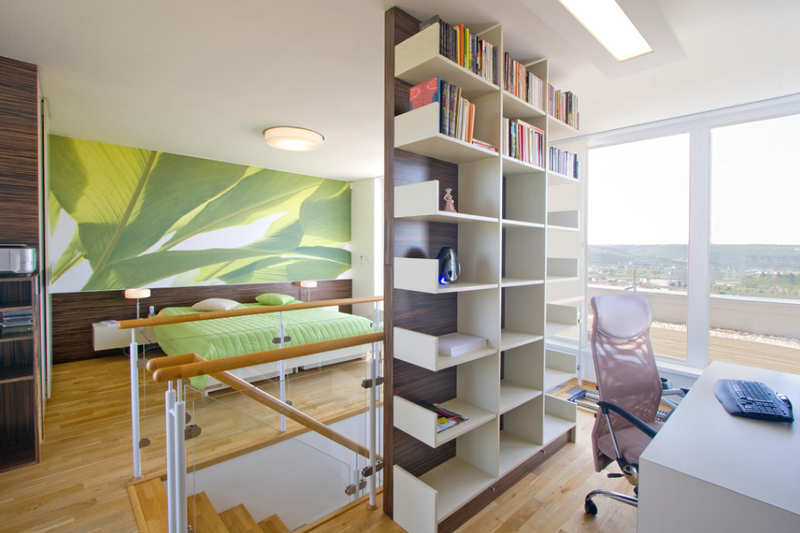 This bedroom is in fact one large space with a sleeping area where the bed is and a work space where the table and chair are, along with the cabinet where the books are displayed. I like the color combination of this bedroom especially on the sleeping area because of how calming and relaxing the colors are.
19. Reade Street Loft Renovation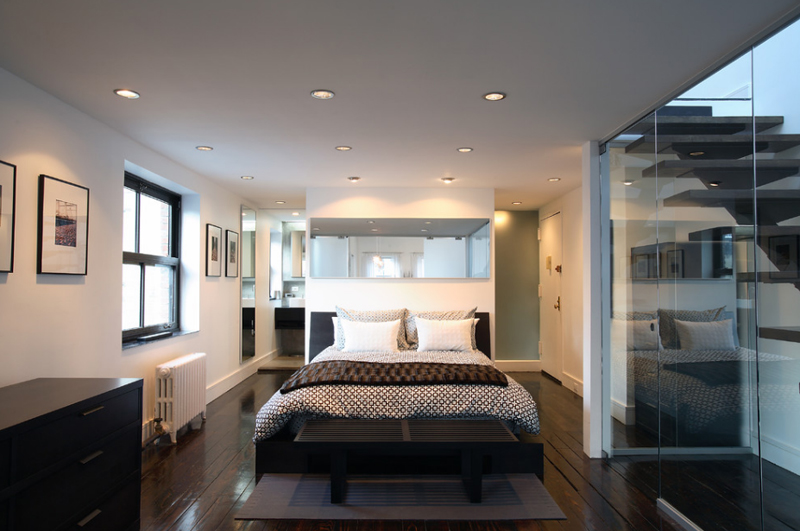 This sure looks like one large bedroom with the simplest things inside the space. It just has the bed and a drawer and some type of old air conditioning and that's pretty much it. One thing about bedrooms like this one is the fact that it is decorated with the most important things that the space and the owner needs and that's about it.
20. Fire Island A-Frame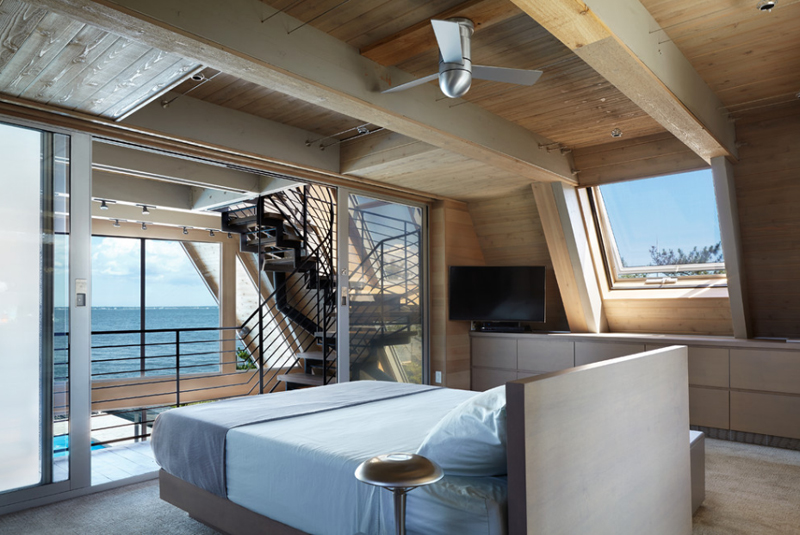 The last space in this list is one island home with a stunning look and charm to it. If you notice that this bedroom is basically made from wood frames which makes it real fancy but still maintaining that homey feel especially that it is in an island. The stairs is pretty much outside the bedroom but is basically still for the purpose of the bedroom and the house in general.
What can you say about the 20 Beautiful Bedrooms with Stairs? They're gorgeous spaces that have the best furniture and decorations and because of the additional stairs – whatever the main purpose was, they surely stood out as more interesting spaces. These spaces are probably some of the best bedrooms with stairs that are not really lofts – although there could be two or more bedrooms that are. If you would like, you can also check the 15 Classy and Comfortable Loft Bedrooms because they're awesome and way too cool not to actually check out! More spaces like these to come in Home Design Lover!