20 Easy Ideas To Decorate Your Master Bedroom
The master bedroom is usually the biggest room in a home. Since it has a bigger space, sometimes, it is the room we are having trouble revamping with. Most of the time, we easily get overwhelmed by the thought of having to move a huge furniture or simply the foresight of having to lose a huge amount of money during the revamping process. These are all factors that can somehow hold us up from making beautiful changes to our master suites. Leaving us confined to what is originally set and helpless. Sounds tragic to me.
Revamping your master bedroom should not be a stressful job at all. It should be an enjoyable and a therapeutic activity that will leave you a happy mind and a more relaxing retreat. The best part is, it should not be as expensive as you think. You only need inspiration, pile of imagination and a pint of creative juices to create a master bedroom anew. You do not have to repaint your master bedroom unless you really wanted to and of course you have a budget for it. You can combine and play with colors by simply dressing up your bedroom furniture. You will be amazed by how you could instantly make different moods and styles with these 20 Creative Ideas To Decorate Your Master Bedroom that I gathered for you. Scroll down to see stunning master bedroom photos from incredibly awesome designers to get you started.
1. Gray and Purple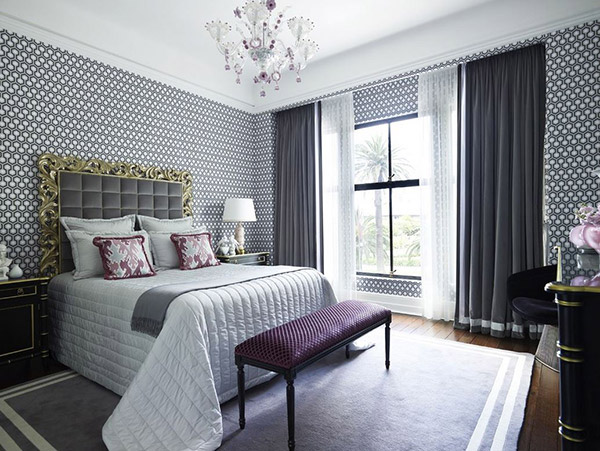 An easy yet stylish way to give your master suite a refreshing atmosphere is to add pops of color. In this master bedroom design, the geometrical wallpaper of gray that grace all over the room is accentuated by the pops of purple making it luxurious yet invigorating.
2. Bedroom Seating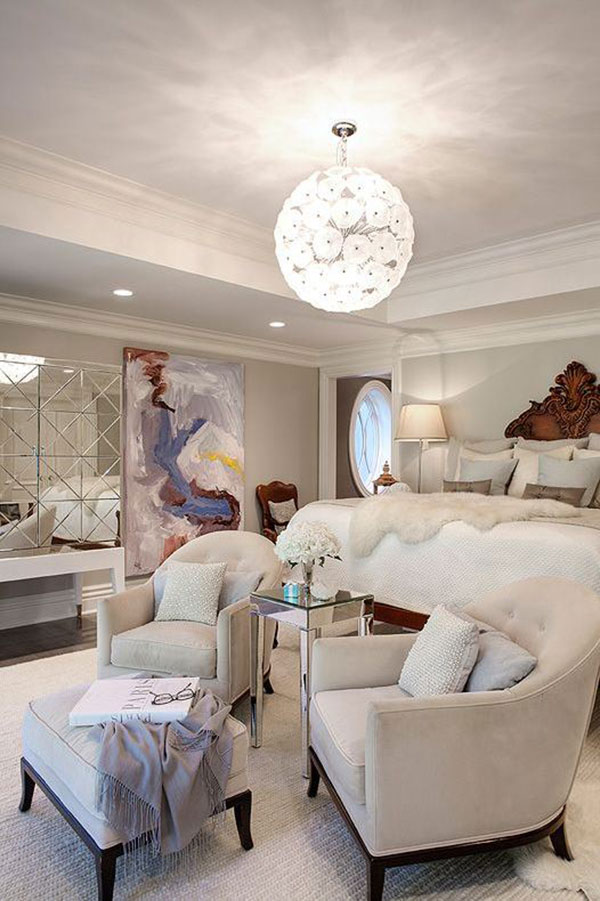 Comfy, cushion seats can easily add coziness and warmth to your master bedroom. If you are working on a budget, pull one from your living room and toss in some pretty throw pillows and your master bedroom will be snugly in a heartbeat.
3. Get Rid Of The Mess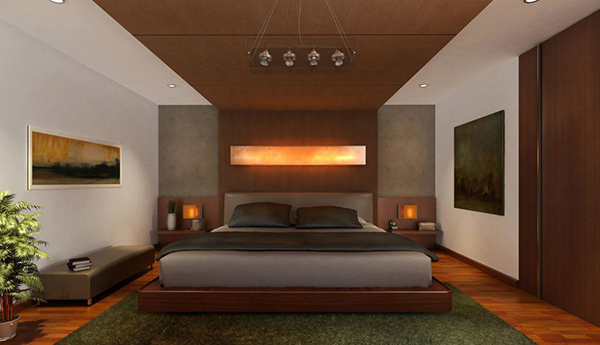 Let's admit it, there are so many master bedrooms that are cluttered and disorganized, particularly if you have a baby or kids that occasionally find time to mess around your sacred retreat. It is easy to put off decorating it, but make time to get rid of the mess and organize your things. Put away furniture or decors that you are tired of and keep what you both love. You will be surprised at how your master bedroom can be more relaxing and inviting once it is neat and clean.
4. Show-off Your Ceiling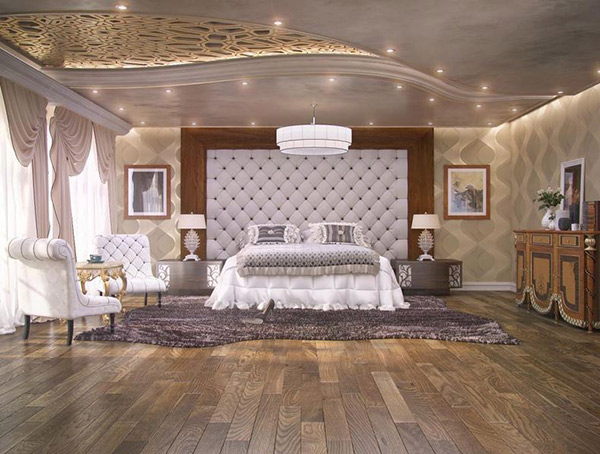 Do you have unique and stylish ceiling design? Show it off by keeping your master bedroom walls, furnishings, and decors subtle and neutral. The inset lightings on the ceiling, highlights the magnificent design above.
5. Pillow Arrangement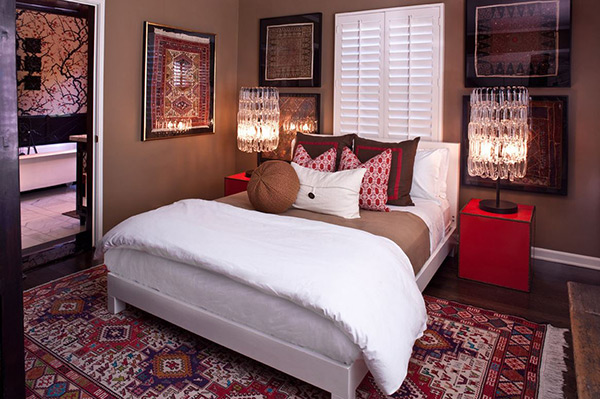 A perfect pillow arrangement in your master bedroom will create an instant hotel-like feel. You do not have to play it safe by making sure everything matches. It is important though, to make sure that the colors you are going to use for your pillows coordinate with the color scheme in your entire room.
6. Sweet Blossom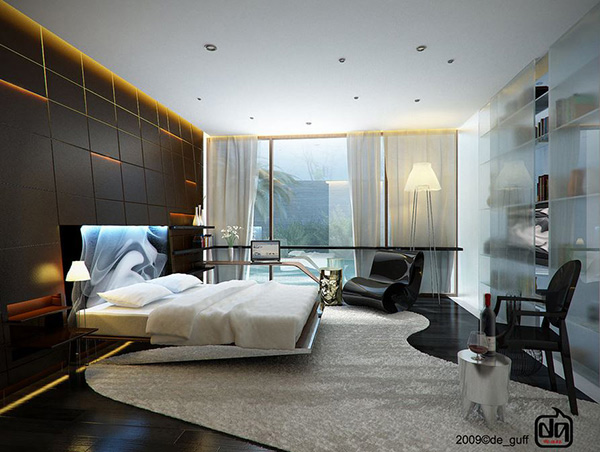 Spice up your master suite with fresh flowers. It will add an inviting and intimate feel to your master bedroom turning your bedroom into an instant escape from reality.
7. Right Brightness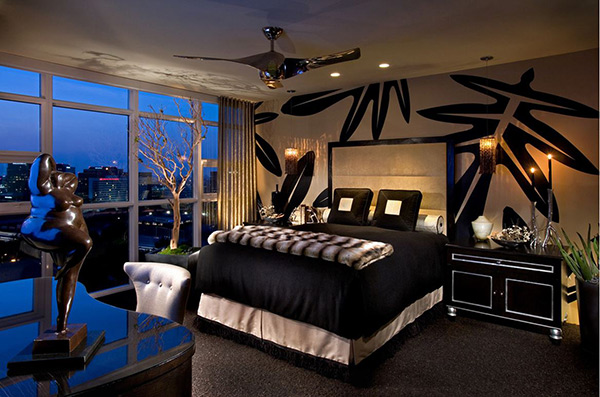 I love the wall sconces in this master bedroom! It gives the feeling of warmth and coziness. The overhead lighting does not overwhelm the sconces. For a more relaxing ambiance install dimmers so you can adjust the brightness accordingly.
8. Open Up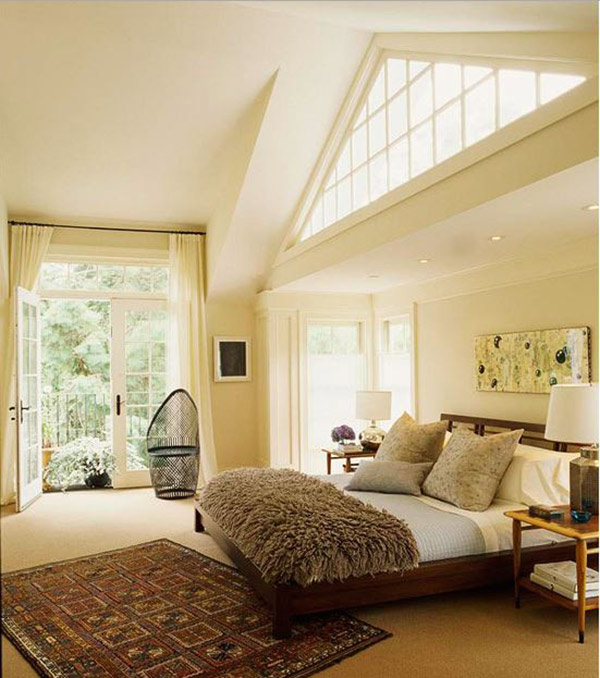 If you have an oversized apex window like this one, show it off! Choose the right window treatment that will complement it. Enjoy not only the view outside, but the fresh air and the natural light that will make up for a more restful master bedroom.
9. Add Glamour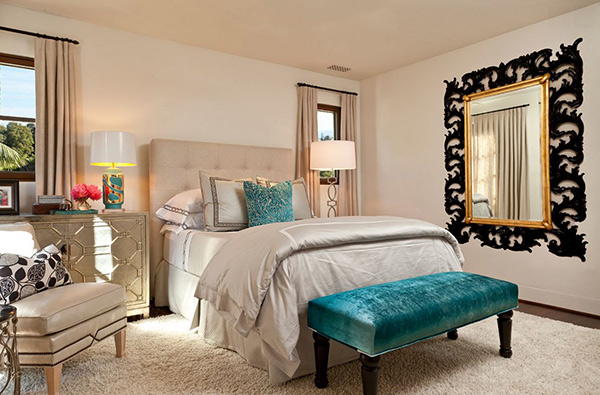 Grab sophisticated accent pieces to your master bedroom to bring glamour and charm. I love how the colors and texture in this design go together and create that luxurious yet inviting mood.
10. Pattern Consistency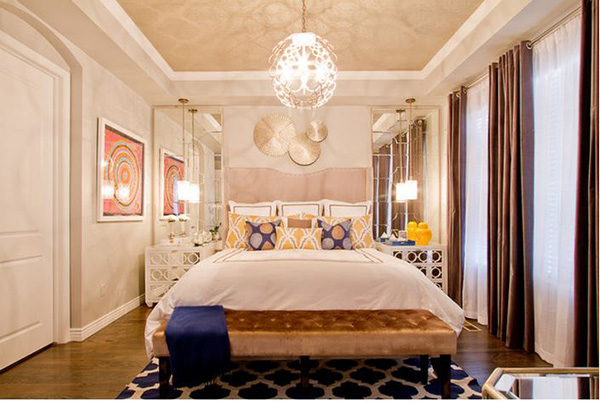 The consistency of pattern that is seen from the throw pillows and throughout the space creates an interest. The yellow-purple color scheme gives the regal feel in this classy retreat.
11. Tropical Oasis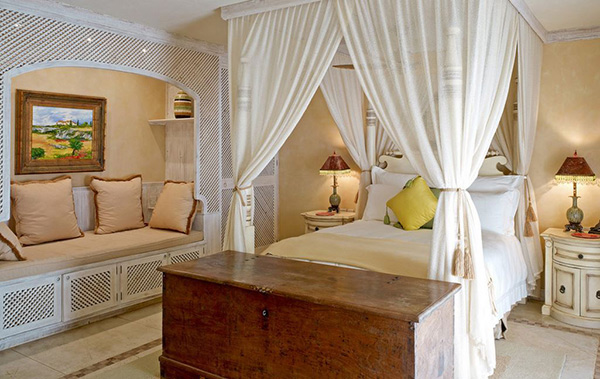 Create a sweet escape for you and your beloved by adding canopy to your bed. Its romantic charm can take you away on a tropical vacation in an instant.
12. Bedroom Classic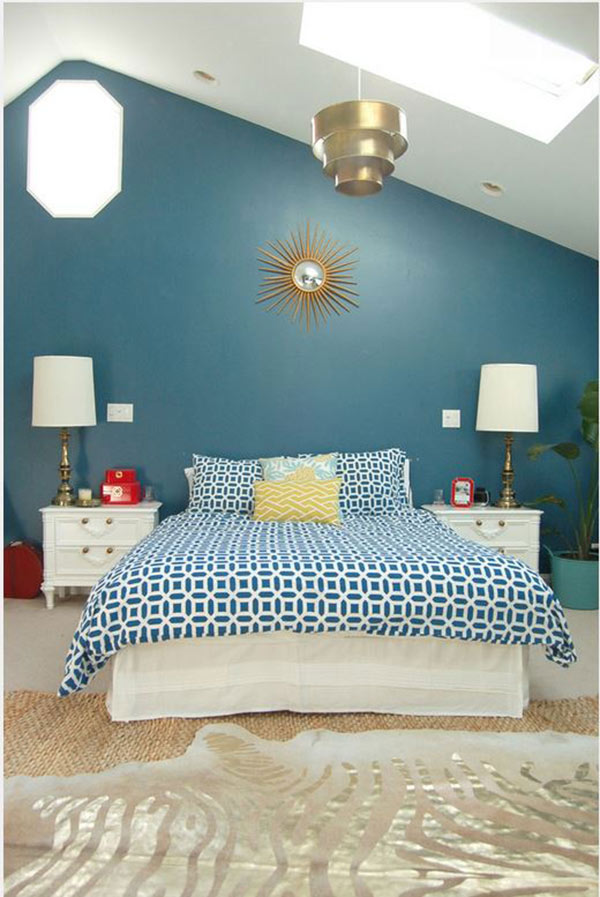 Nothing beats the classic colors of blue and white. It is simple and easy on the eyes and very soothing. The hint of gold, yellow and combination of different textures balance the whole scheme.
13. Mirror Match
Mirrors installed on the right places will give you continuity, drama and an illusion of a bigger space. The wall mirrors on both sides of the bed give that larger feel in the space. The mirrored dresser on either side with its matching, gorgeous table lamps makes a traditional bedroom feel luxuriously dramatic.
14. Play With Frames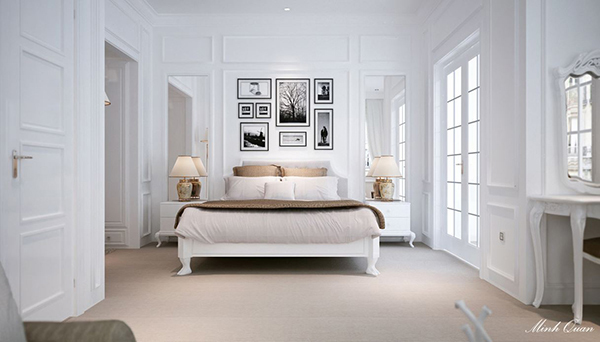 Do not leave that space behind your bed empty. If you cannot afford to get those huge painting to fill the space, get your picture frames and hang it there. Make use of your most romantic photos and not the photos of your whole family. Your master bedroom should be private and evoke intimacy, leave the family photos in your living room or other rooms in your home. It will not only fill the large space on your wall, it will also serve as a reminder of your love story.
15. No Match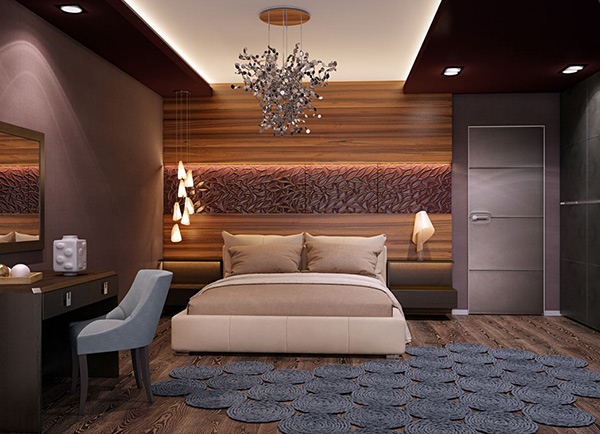 Who says different decors will not work? If your husband does not agree with a feminine lighting on his side of the bed, get what kind of lighting he like. It will not only free you from stress, it will also make an eclectic appeal that both of you will sure to love.
16. Earth Colors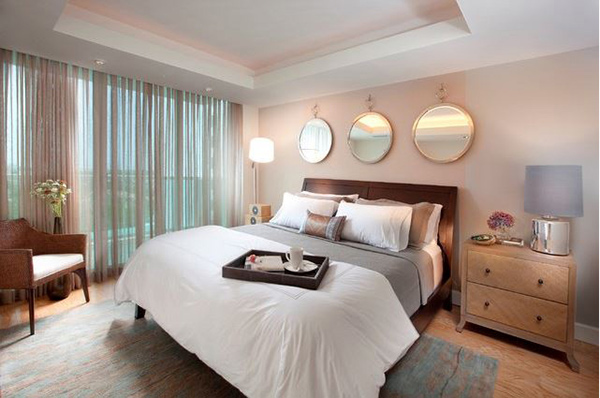 Earth colors are the most soothing and relaxing for any bedroom. You can pull this off by choosing neutral colors for your beddings, wall treatment and decors. In this master bedroom design the soft blue color on the carpet breaks the all browns and white scheme making your contemporary bedroom feel serene yet interesting.
17. Stick Your Words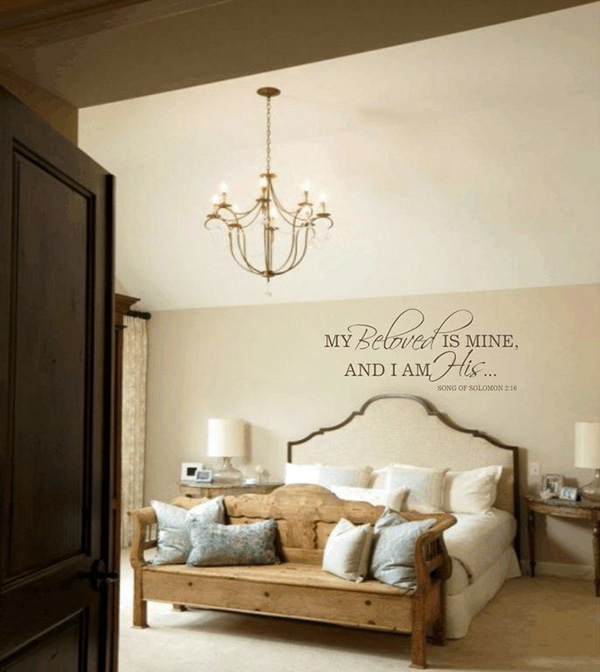 A great way to express your in your master bedroom is by sticking your vow to your accent wall creating an instant headboard. You may use decals or you may paint it yourself. It can be a great way to bond and get artistic while remembering the sweetest words you will live by forever.
18. Mix And Match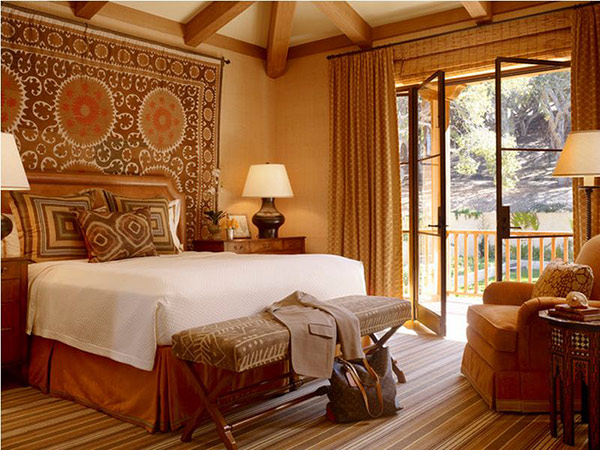 There are no rules in decorating your bedroom. Use different textures, patterns and decors for as long as it will give you peace of mind and a restful ambiance. It will have an eclectic feel that is never boring.
19. Go Classic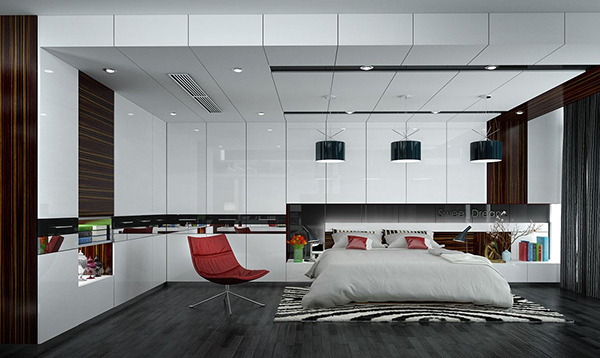 Got the classic white master bedroom design? Your ordinary white master bedroom will give you a fresh-modern-feel just by adding black and red pops to it.
20. Country Love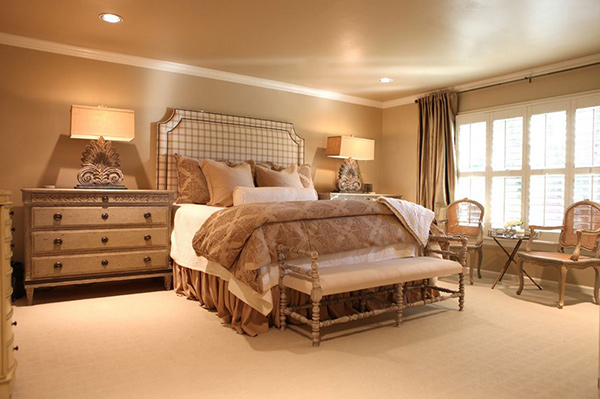 Nowadays, getting a country look and feel for your bedroom is easy. If you have antiques or old dressers, chairs or other ornaments, you can use that to create a French country ambiance in your master bedroom. You may need to repaint it with whatever color you like or leave it as it is. A country flair is always charming and homey.
Redecorating your master bedroom is always fun and for me it is another chance to bond with my husband. It is about compromise and learning to love each others' differences. After all, your master bedroom is all about the two of you. A simple rearrangement of bedroom furniture or merely dressing up your bed creates an instant change in mood. So make it lively, more relaxing or a lot more intimate to keep that fire burning. I hope that my list of 20 Easy Ideas To Decorate Your Master Bedroom bring light to you.