22 Gorgeous Bedrooms with Glass Sliding Doors
Using glass sliding doors for the bedroom will make it look more spacious.
Sliding doors are one of the few things that helps home owners and designers alike to save space; while some people do not even recognize that sliding doors can save them the space that they need, designers help them think about it by suggesting or incorporating it in their designs.
To give you more concrete idea as to how sliding doors are actually able to save our homes with tons of room for movement, you should go ahead and check out the list that we have below – the list about 22 Gorgeous Bedrooms with Glass Sliding Doors. Each bedroom is pretty in itself, but imagine if the doors in here weren't sliding doors – tell us what you think and let us go ahead and check the list out.
1. Abbots Way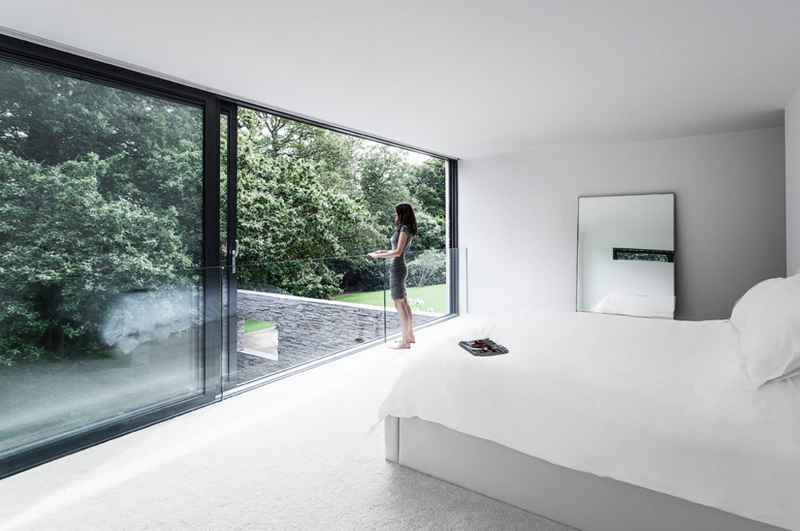 First on this list is this wonderfully white, large bedroom from AR Design Studio Ltd. This is one very minimalist bedroom – we barely see just the bed in here – but with a lovely view like this one – I think you'd not need anything else while you're in here.
2. Bachelor Pad in Elliott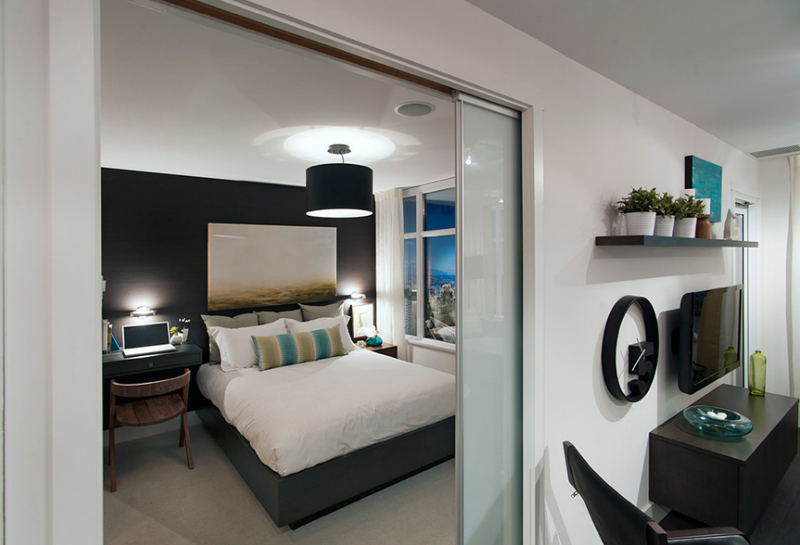 Check out this bedroom that has a sliding door that connects it directly to the living space. This is one example of how much space you can actually save from using a normal swing door – this sliding door may cost you more than a panel door, but I think you and I could agree that a glass sliding door looks rather prettier.
3. Badger Mountain House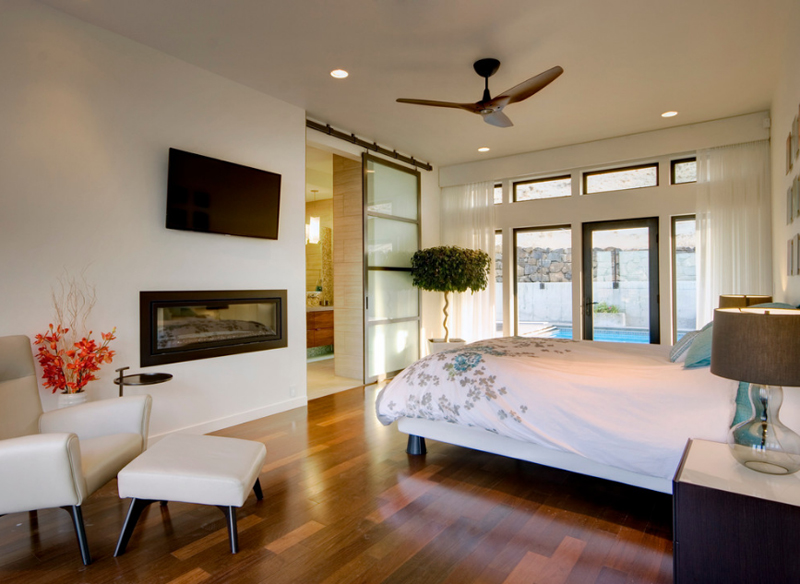 If you think about it, bedrooms with panel doors usually don't have plants on their sides because the door might hit it on the other side and then you (home owner) on the other – so, I guess it's time to get one of those sliding doors you've been eyeing!
4. Binary House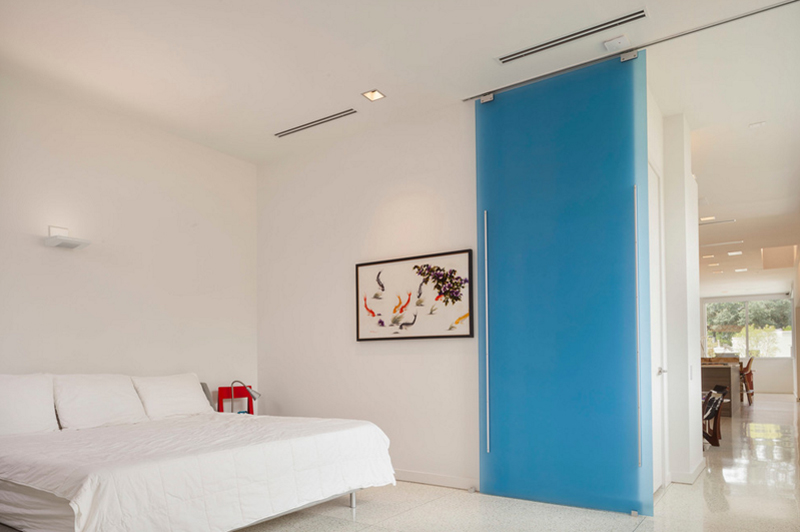 This blue colored glass sliding doors extremely pretty! Especially that this bedroom is basically everything white – I think it's smart to get one of these doors that come in your favorite color. Of course you have to ask if they produce them in your fave color of if they can.
5. Brooktree Road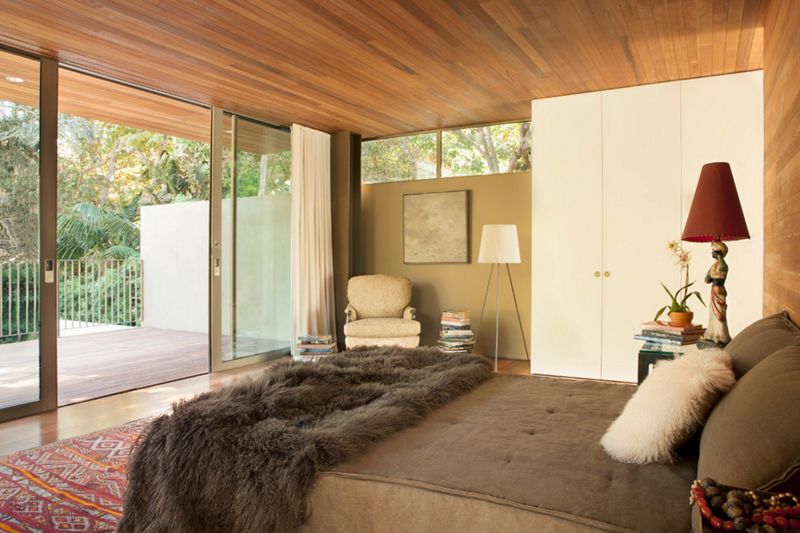 I love how this place is practically made of wood but it has a glass sliding door! The thought of it opening to the balcony just makes it more charming. Check out the fur decor on the bed – I guess you would always want one if you have this photo in your mood boards.
6. Bunny Run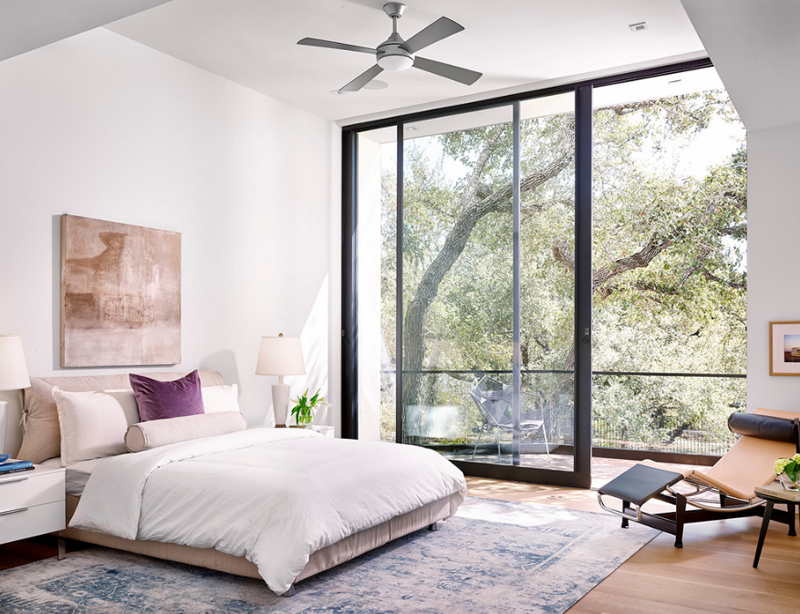 I thing that this is the second time that I saw this bedroom photo and I am totally in awe that the designer really created a floor to ceiling sliding door – I mean, people usually opt for the standard-sized door but still have a glass wall – but this time, they surely went out of the box.
7. Butterfly Beach Villa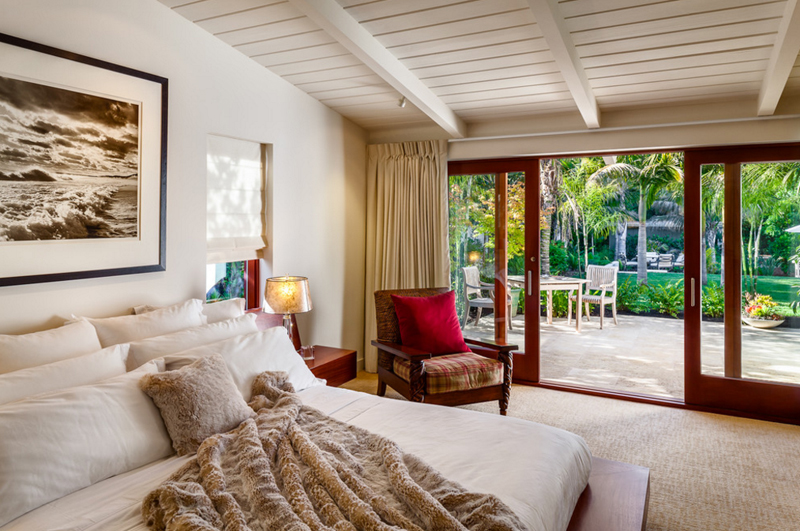 Just reading the name of this home sure is inspiring – how much more that they made this bedroom villa really charming and comfortable? They picked the best building materials, furniture and decorations to create a stunning place like this one.
8. Cole Retreat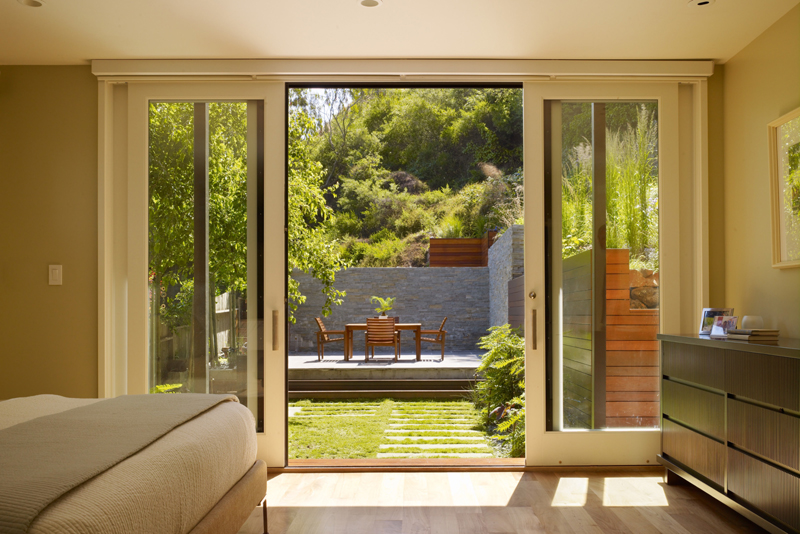 Having a door that opens to a garden is one thing but it's having your door actually open to a beautiful garden is another thing! This home is definitely a retreat anyone would love to have. The gorgeous bedroom with a gorgeous outdoor! Stunning!
9. Fox Hollow Residence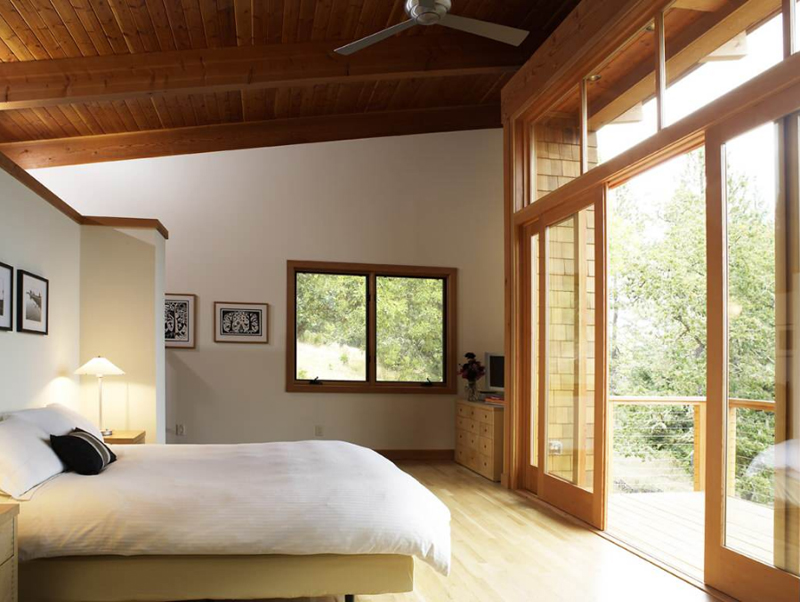 This bedroom is looking rather fabulous! It can really seem so simple, but with a clean, sophisticated look as this one, I think anyone who would be seeing this space might just end up real jealous of the home owner because this is just stunning!
10. Hinge House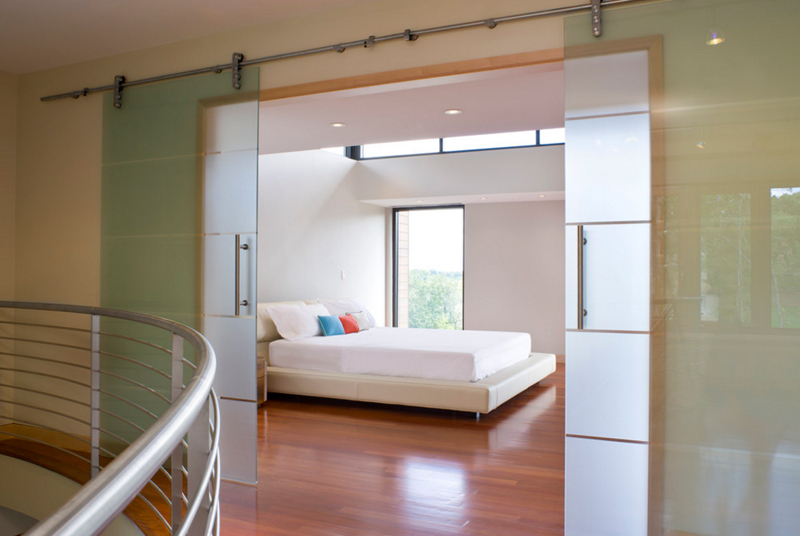 Believe it or not, I think if glass sliding doors are not expensive, everyone would actually use it – aside from glass being a wonderful material, I think just the thought of having a glass door seems like a cool thing to have in your house; of course, you can always opt for your main door to be glass and not your bedroom necessarily.
11. Lighthouse 65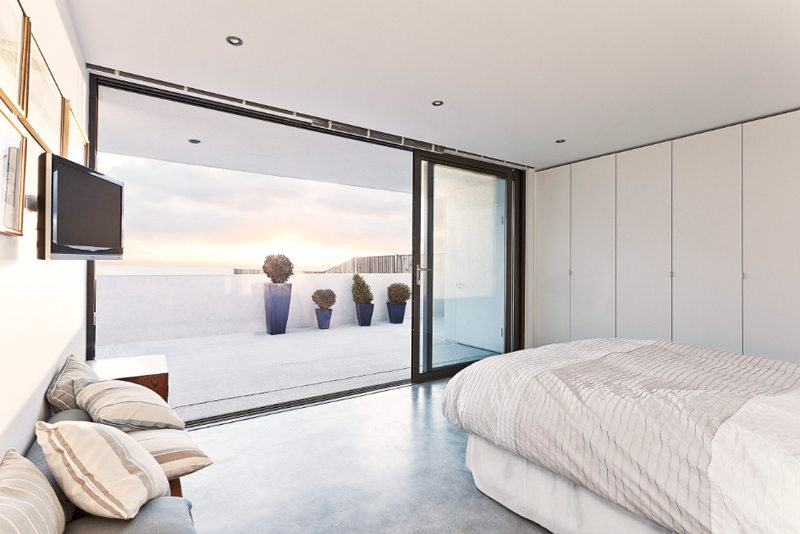 Fascination for spaces like this one is just something I don't think I would ever get tired of – white spaces with furniture and decorations and wonderful view of the outside world – I guess people would always fall for this one because they're so inviting.
12. Retaining Wall House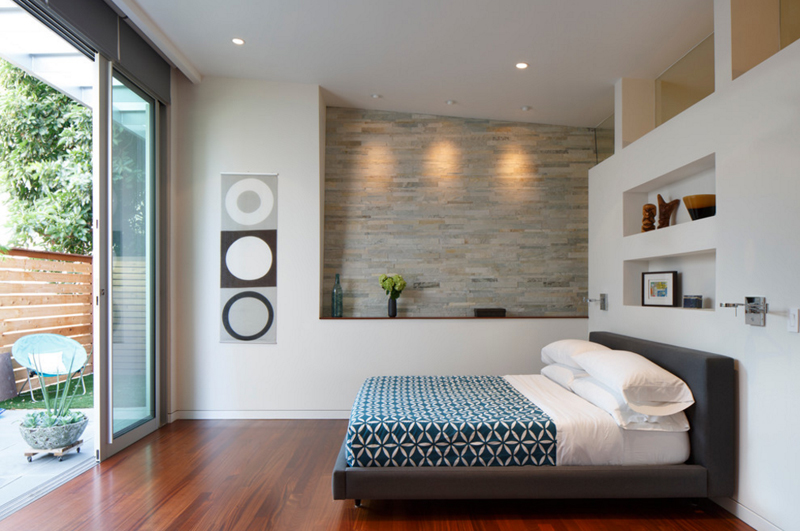 Look at all the floor space that this bedroom has because of the space they were able to save by using a sliding door! Aside from having this fantastic flooring, this bedroom has a cool bed and wonderful cubbies above the head board.
13. Shelley Street Elwood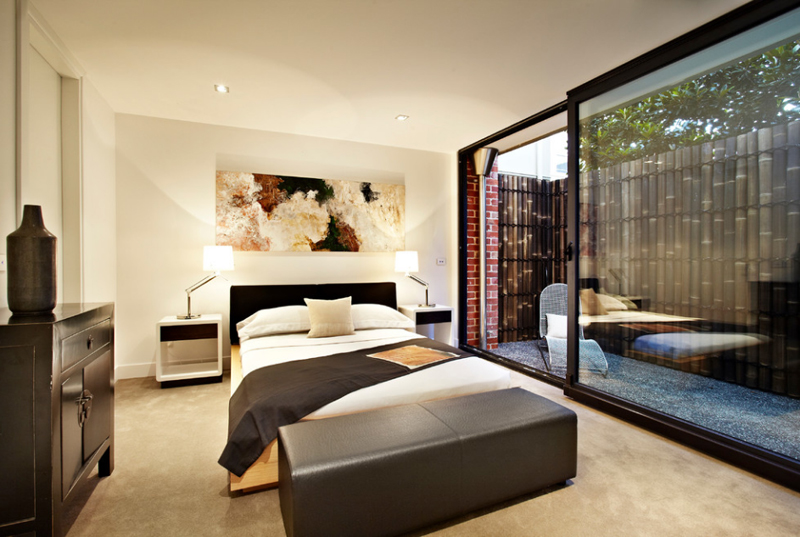 I think that the bamboo "gate" that the balcony has is quite fascinating – this house has a contemporary bedroom and when you check out the balcony you see a bamboo gate – what about that? A surprise you wouldn't really expect, but I think it's a nice thing they did here.
14. Sheung Wan Loft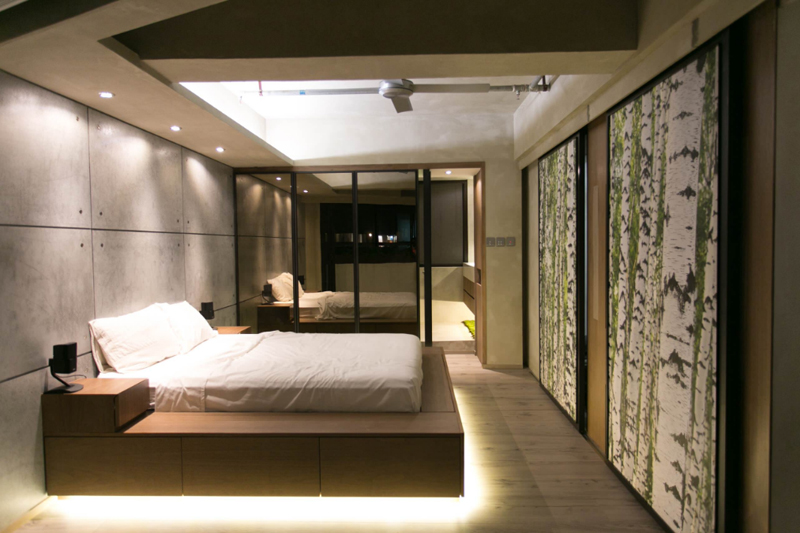 Aside from the fact that this space has two sliding door – one for the bathroom and the one for the balcony – can you tell that this is a Hong Kong loft? I think that the bamboo-inspired panels on the door did not give it away! I think you couldn't have guessed that this space is abroad!
15. South End Loft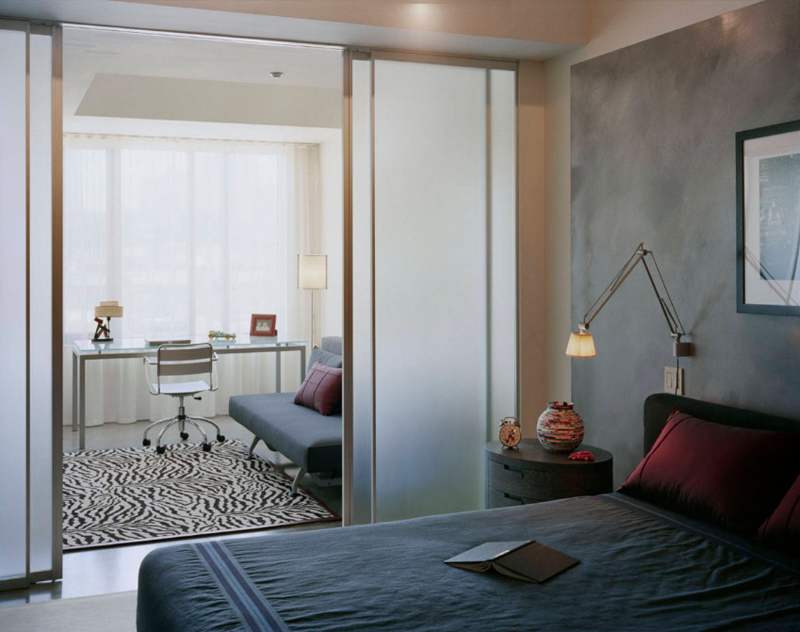 This bedroom design sure hits home – and I totally love it. Being able to actually work from home is cool and having a wall to separate work and rest is something that anyone would love to have. The sliding door is awesome – the furniture is awesome; I think I might just have found my favorite in this list!
16. Spruson Street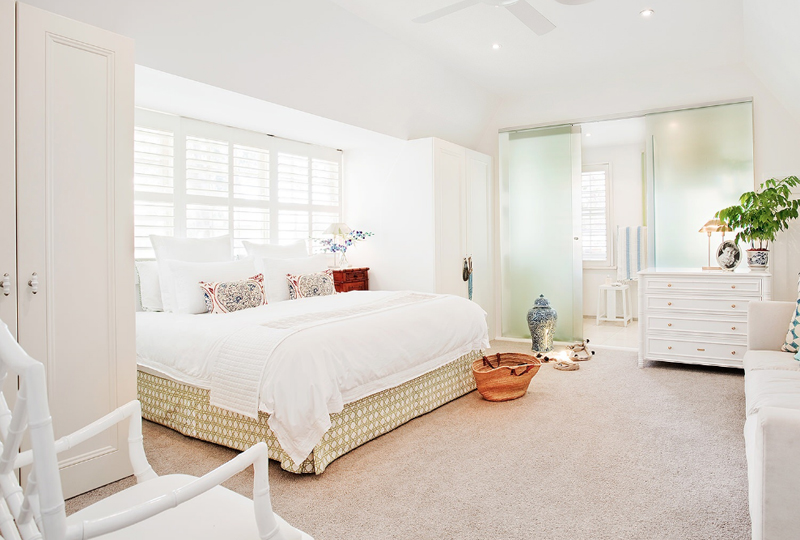 With a gorgeous bedroom like this one! I don't mind having panel doors for the bathroom! I love how comfortable and in-place everything in bedroom seem. The drawers by the door, the plants on it, even the bag on the floor, this bedroom is just divine!
17. 29th Street Apartment, NYC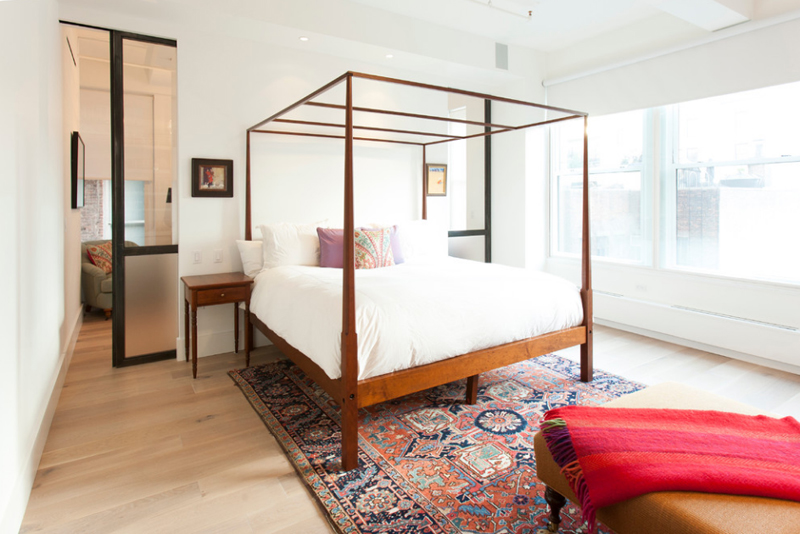 You might think that this is another apartment in New York – well, I guess so – but notice how large this place is, and how much you could actually do with this place because of the space that it has! Homes like these ones are the beginning of dream spaces there is.
18. The Jacobsen
Think about how cool this bedroom is! I think that the space is very minimal – yes, but look at how much they have to sacrifice to make sure that this bedroom has the most comfortable bed! The sliding doors on each side are pretty cool and fun!
19. The Treehouse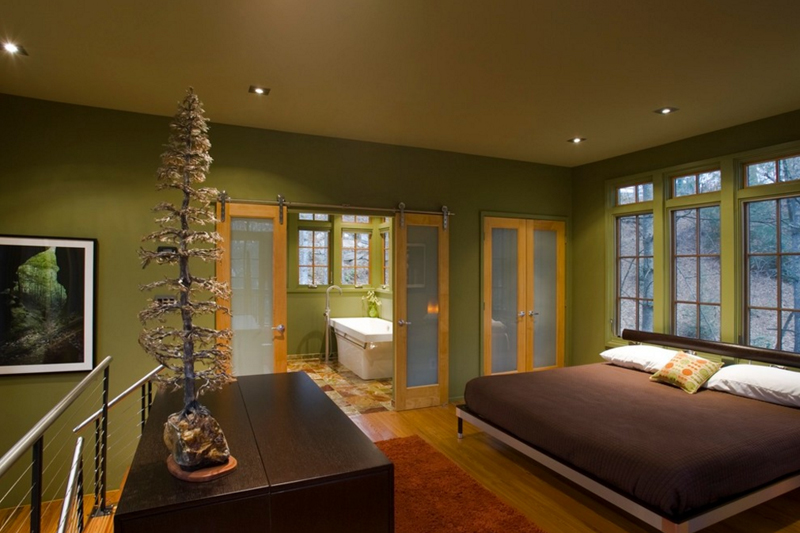 Well, this is a wonderful bedroom – the bed is large and sure looking really inviting, it has a large space that also connects to the bathroom and a closet and goes and has a wonderful view of the outdoors! Winter is coming, guys! See what I did there?
20. Wain Road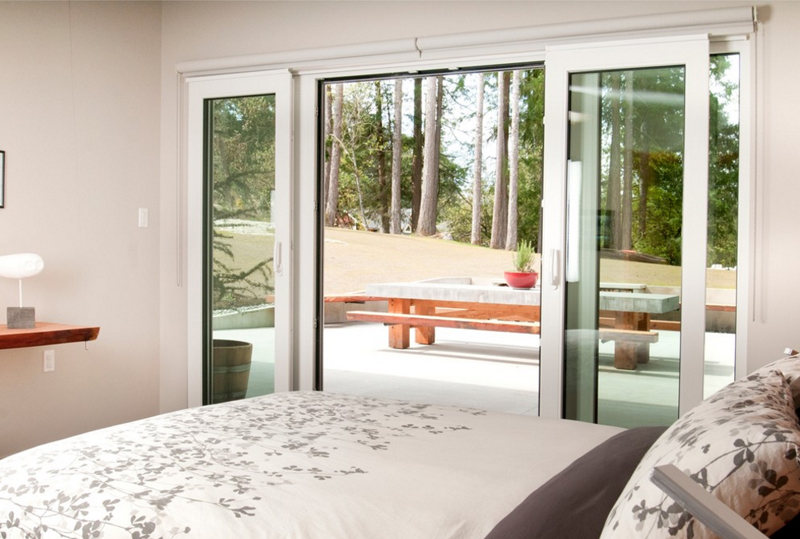 Here is a lovely bedroom from NZ Builders! Can you see the complementing feels between the calming outdoors and indoors? I know I did. The use of subtle colors inside the bedroom did not over power or over compensate for anything too much or too less for the home owners to enjoy.
21. Wave House
If you have a view of the sea or the beach – I don't think that you'll ever consider panel doors to cover the view! Having a minimal bedroom is a great thing considering we always want to go home to a wonderful bed and a calm surrounding right? Well, aside from the beach and the bed – I think this space is totally perfect!
22. West Village Duplex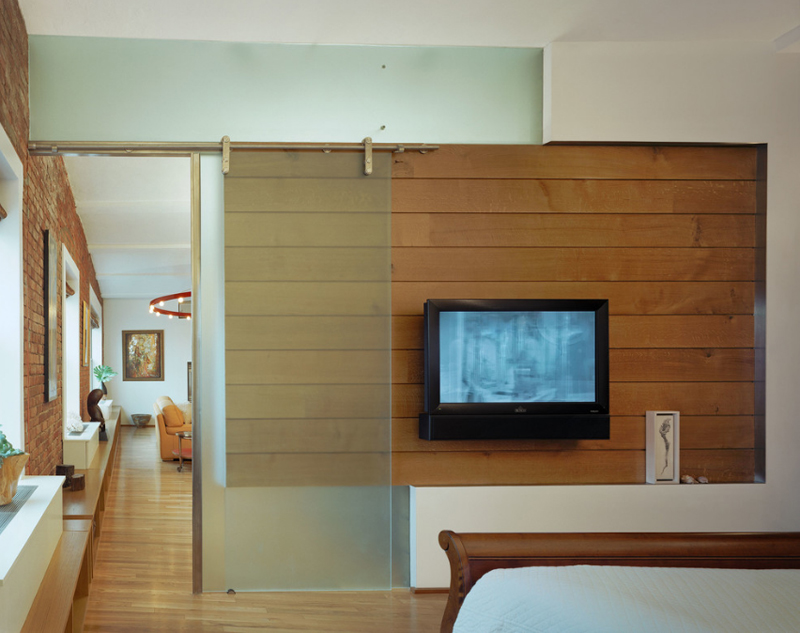 To cap off this list is a charming duplex bedroom from Frazin. Remember the blue glass sliding door? If I am not mistaken, this one here is made from the same material and it totally complements the wooden panels on the wall.
Well, what about that list of 22 Gorgeous Bedrooms with Glass Sliding Doors? I stand by my word that I think people should consider getting sliding doors for those next door upgrades that you'd be doing – there are more designs and materials you can use and it would still be great! Also, check out the 15 Sliding Glass Doors Design! Pretty fun ones in there.