20 Cute Wall Decals and Murals for Kids Bedroom
Kid's bedroom is one of the rooms in a house that should be effectively decorated with beautiful stuffs. Kids are very imaginative that's why you should turn their room into a magical space. They are very fascinated with bright colors and gives good interpretation with very cool pictures just like animals, fairies, flowers and many more. Most especially if is it for little girls, girls would always have a higher sense of fashion than boys. Decorating your kid's bedroom is never too hard with the use of wall decal or the so called wall stickers, or wall murals which can never be peeled off easily.
Wall decals and murals are a great way to give any rooms a wow factor, especially for kids since it has a greater impact into their eyes and imagination. Walls decals can be easily installed and removed without damaging the walls. It is not hard to use though were you just stick in to the walls and you can create a unique design inside a room that surely your little kids would love to. Walls decal comes from different sizes, designs, colors and styles which you can choose from and according to the design you wanted to achieve.
1. Tree Pattern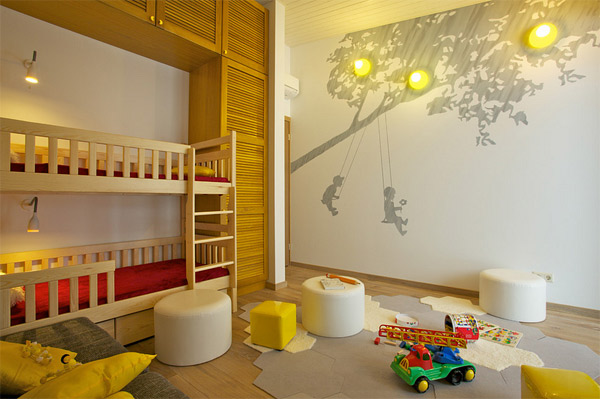 This is very cool! It makes you experience childhood.
2. Tree and Birds Wall Decal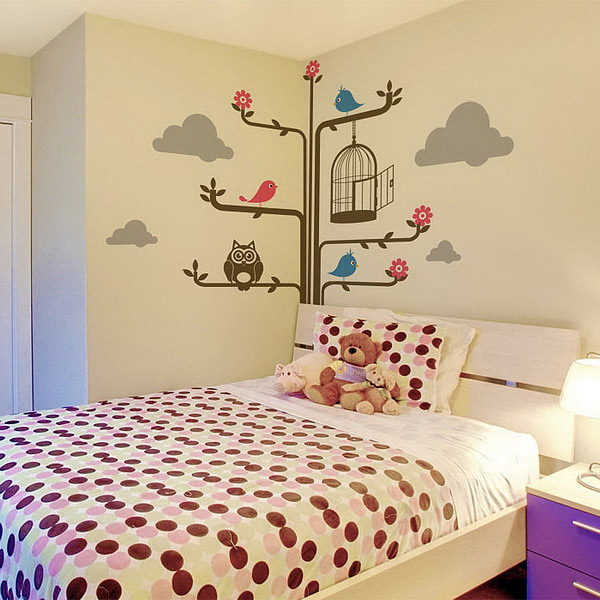 Trees and birds just bring a sweet and cool atmosphere for a kid's bedroom.
3. Winnie the Pooh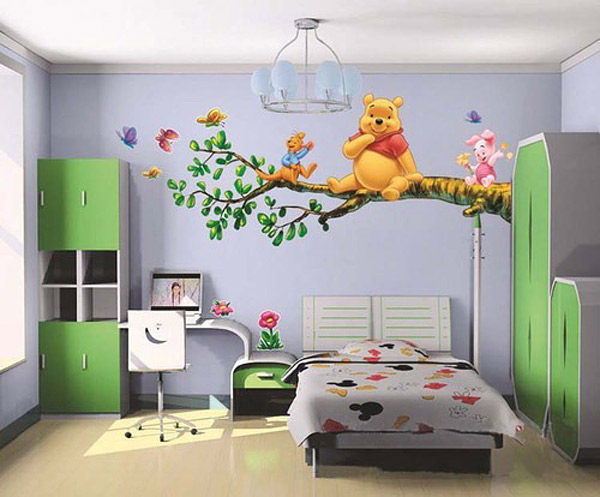 Who would not adore Winnie the Pooh? Every kid I guess would want this cute character to be in their room.
4. Monkey Wall Decal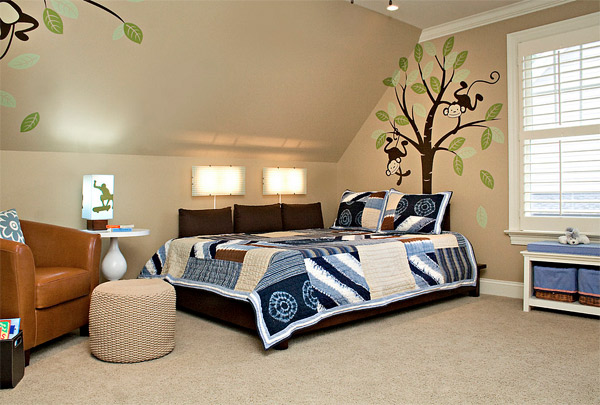 The nature feel is experience with the trees and the monkeys.
5. Airplane Decal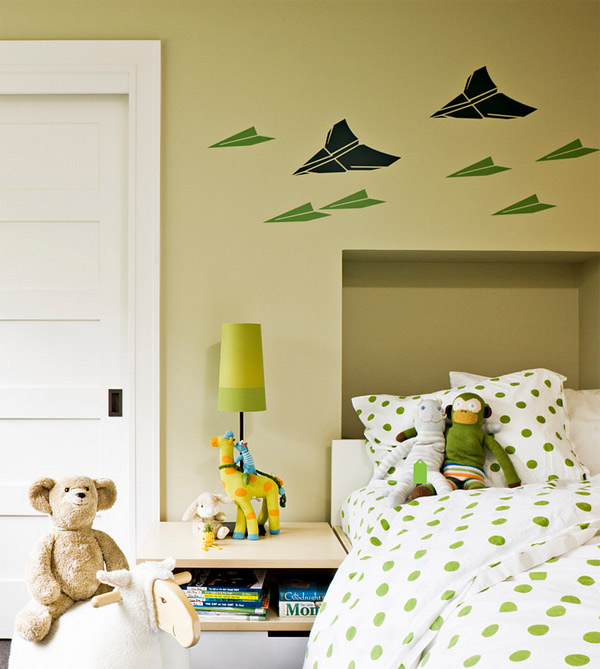 Young pilot it is! Maybe your kids would dream to be a pilot someday.
6. Birds Decal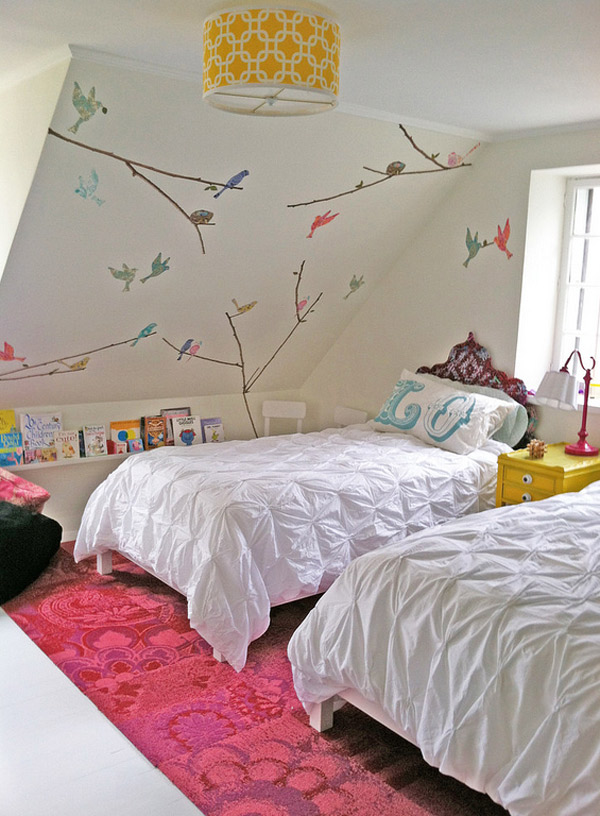 Make your white walls be lively, making your kids enjoy gazing unto this chirping birds.
7. Striped Decal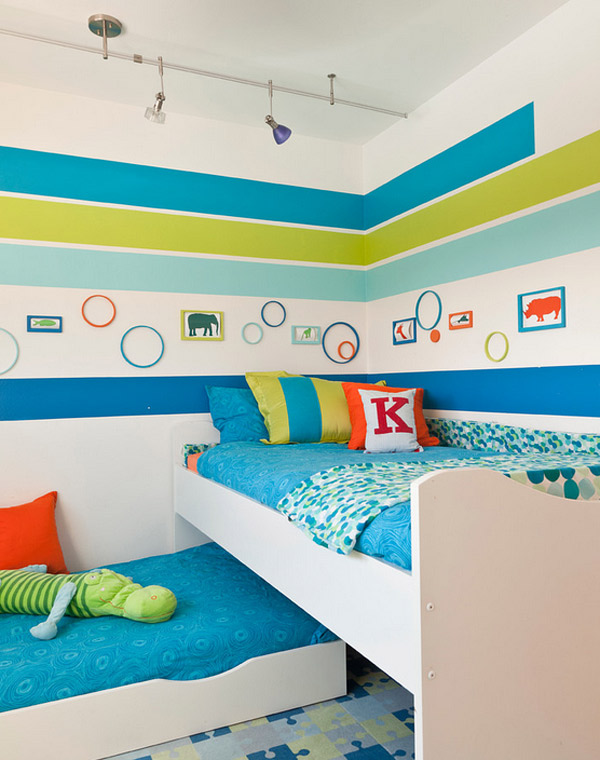 Colorful bedrooms would be very encouraging for kids.
8. Aerospace Theme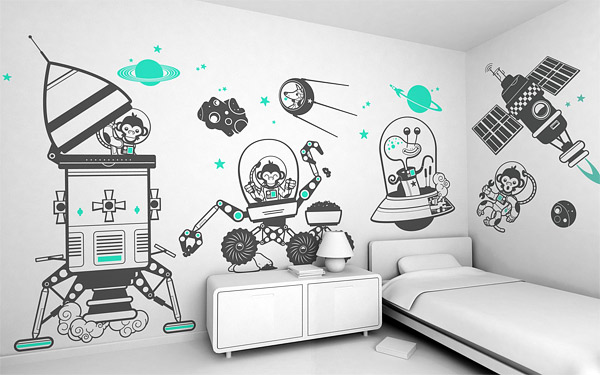 Your little boys might dream to be in space and wanted to become an astronaut in the future.
9. Hello Kitty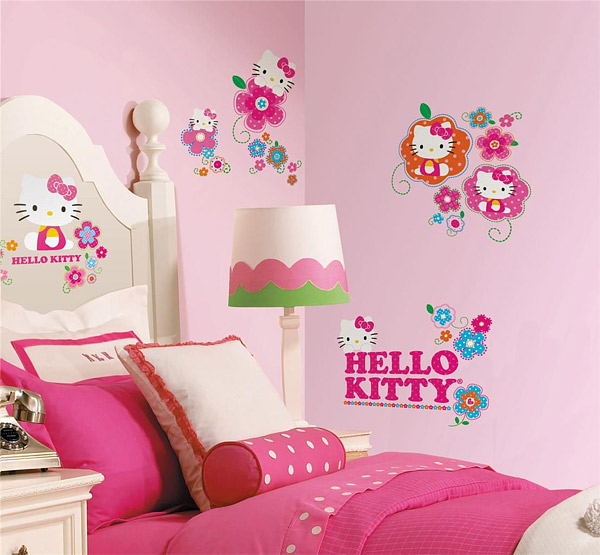 Since little girls dearly love color pink, luckily hello kitty has this color.
10. Map on Wall Decal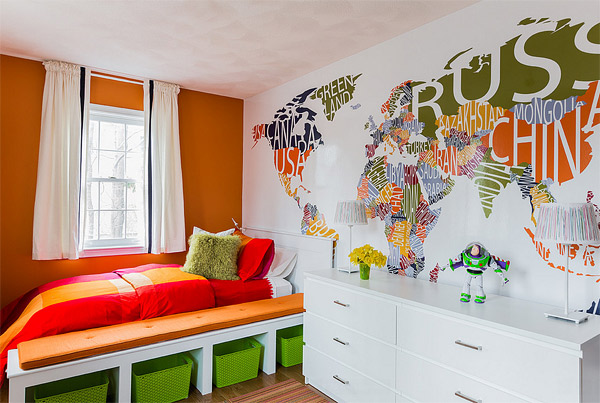 Introduce your kids to the world. Map on the wall is a great idea.
11. Dream Skater Decal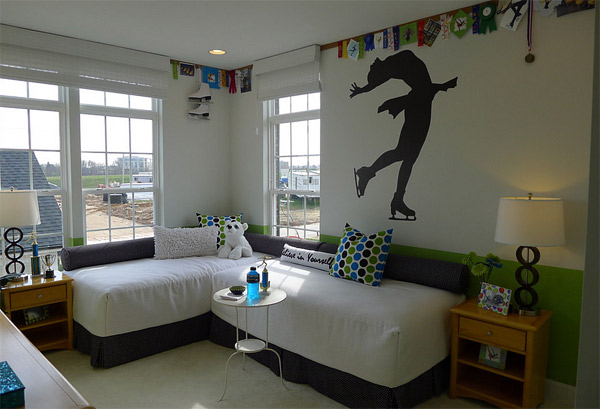 Perfect for your little kids who are skaters. Hang those medals to show their achievements.
12. Twigs and Branches Decal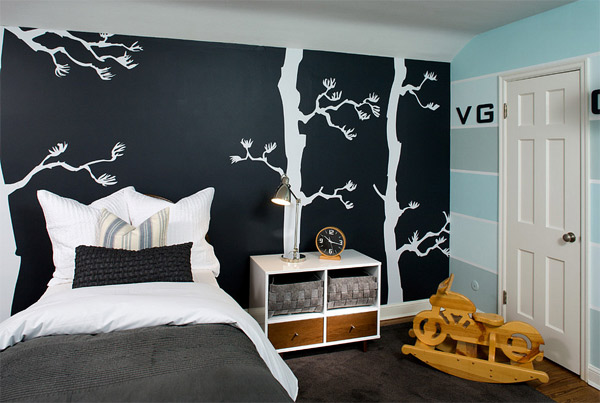 Incorporate nature into your children's room by putting twigs and branches unto the black walls.
13. Colorful Butterflies Decal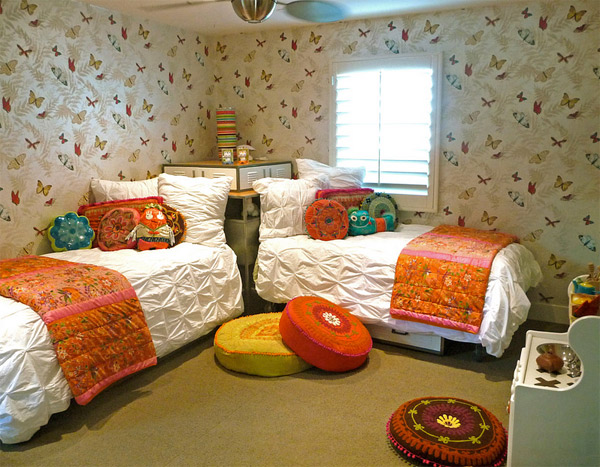 Think of beautiful add-on on those boring wallpaper, those colorful butterflies are just perfect for those shimmering wallpapers.
14. Blossoming Tree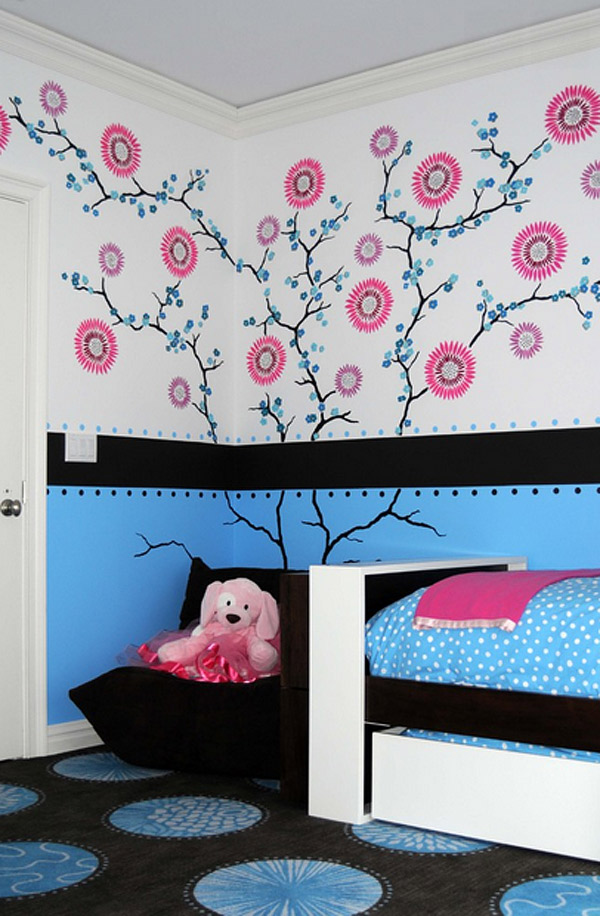 It's like the flowers are being embroidered in the wall, it appears to be beautiful for a girls bedroom.
15. Pixar Cars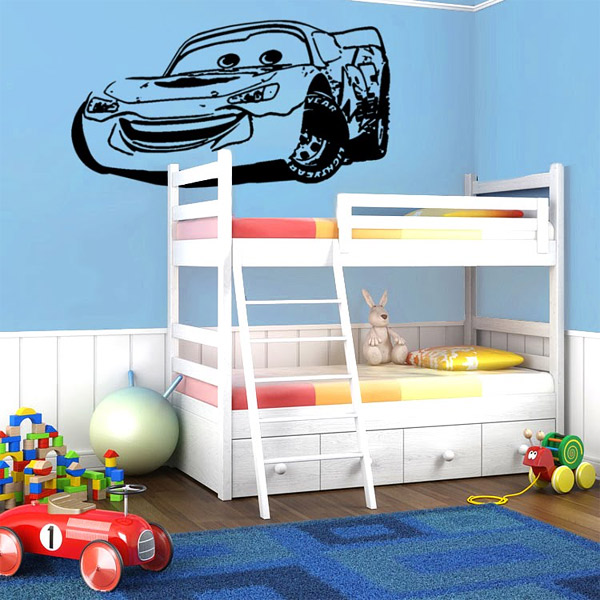 Cars are for big boys! For now, it can be a cool wall decal for a little boy's room.
16. Dinosaur World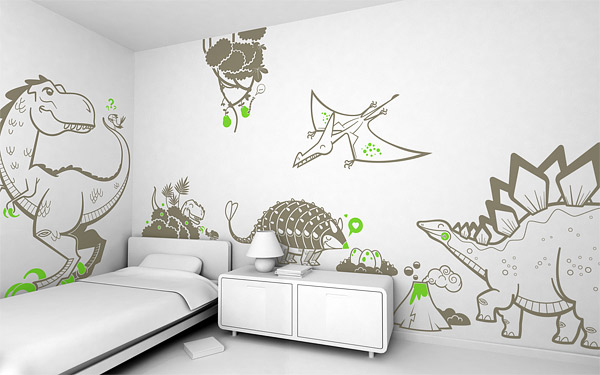 Cool little boys would love this; they can imagine that they are fighting these big creatures.
17. Hanging Plants Decal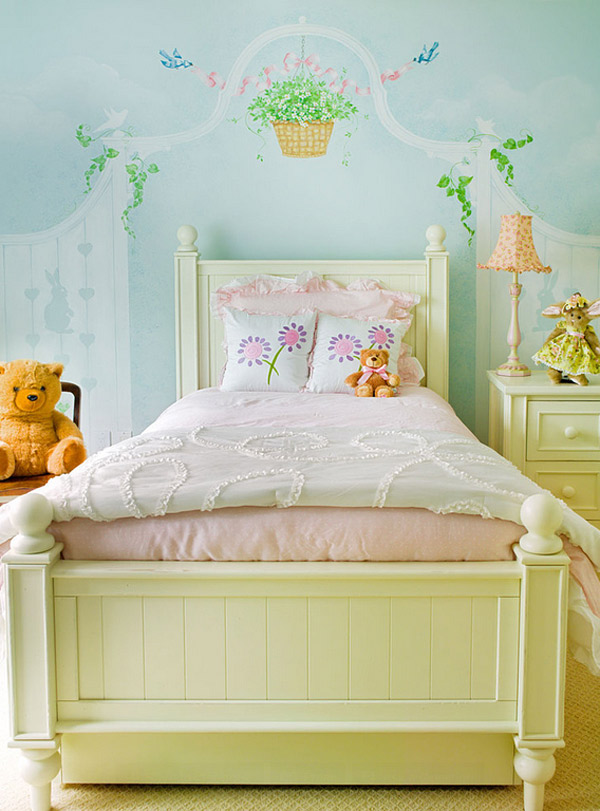 It's like the bed is in the garden with plenty of beautiful hanging plants and green vines.
18. Simple Stars
It's like, your little kids will experience heaven in their own rooms with an idea of sparkling stars.
19. Hang a Mirror Decal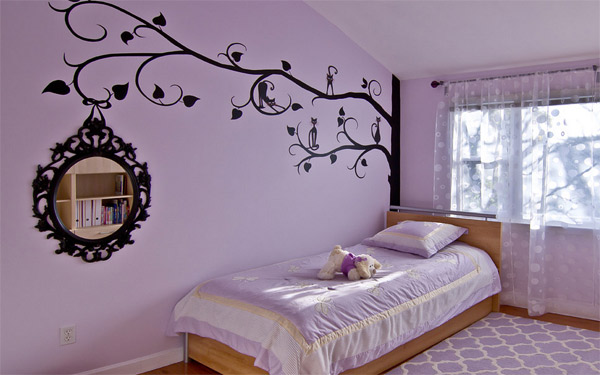 What a brilliant idea, isn't it? Creating an illusion that mirror is hanging in those crawling twigs.
20. Jungle Decal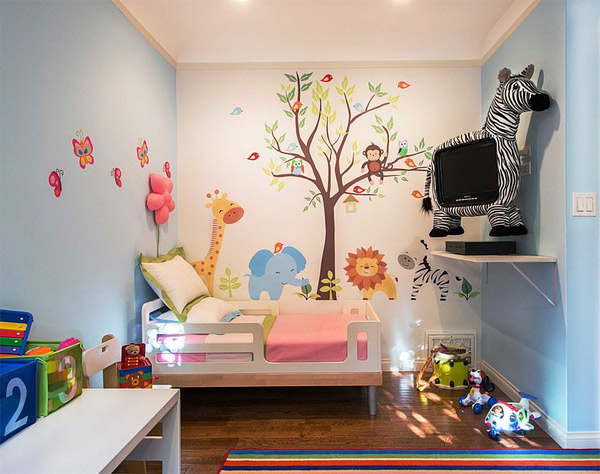 Jungle inspired room, don't threaten your kids with a beast like figure of animals; either way choose baby animals instead.
See how cool it is when your kids got to experience a room like this; just remember not to over decorate it. But of course wall decals are not only specialized for kid's bedroom, it can be used all over your house as long as it would look good for the area. You can also try to put some wall decals for dining areas to make it more look attractive during meals.