20 Beautiful Black Accent Walls in Different Bedrooms
A black accent wall can also work well in the bedroom too!
You might be wondering or thinking about a possible way to re-decorate or re-design your bedroom and one way you might want to consider is putting up an accent wall. Basically, an accent wall is a wall with a solid color that will complete a thematic design or a color motif in the room. An accent wall may also contain various designs or colors that will accentuate the whole look of a space.
Here are 20 black accent walls that you might want to copy in the bedroom you are thinking about re-decorating. These accent walls add a whole oomph factor in your bedroom. In addition, the design or the whole look of the bedroom might give you more great ideas to add to your list. Let us check out the bedroom photos below together.
1. Kenig Residence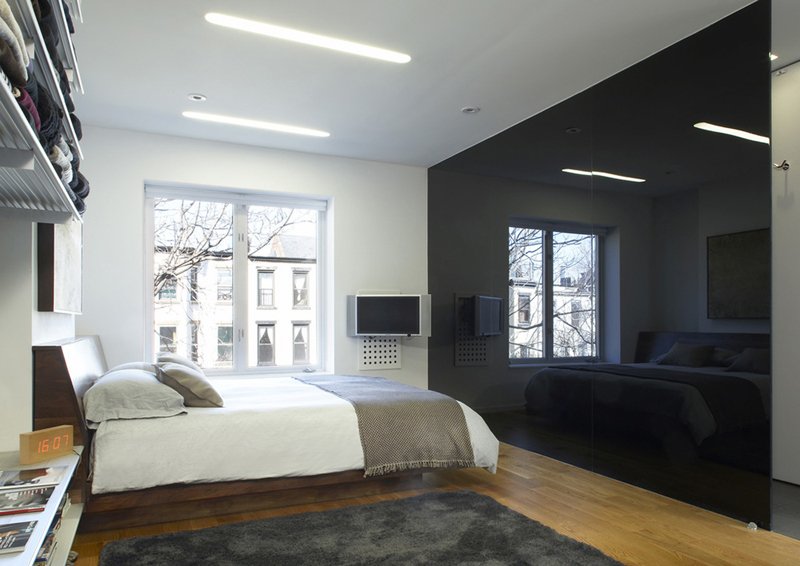 This accent wall is not totally flushed to the wall and it is one whole big wall that has a reflection quality. Some might not prefer an accent wall in front of them but the black wall matches several decors and designs in this bedroom.
2. Green St Loft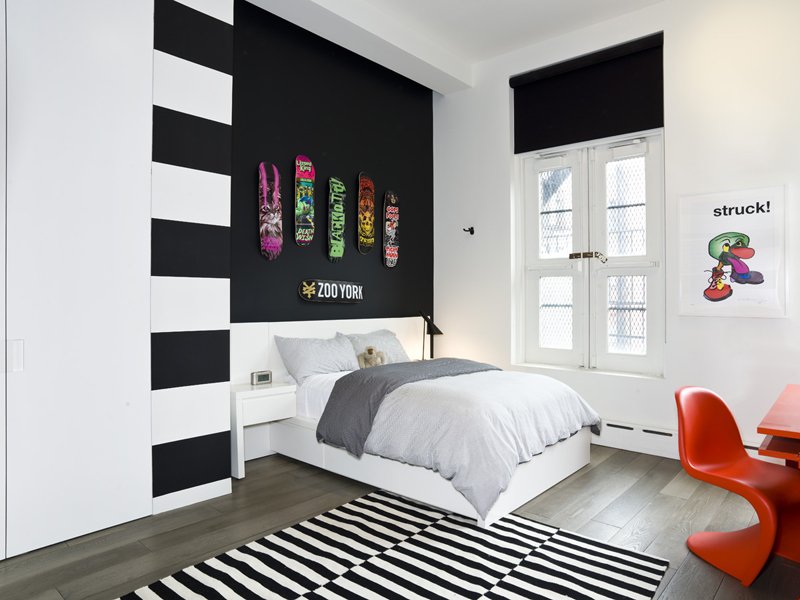 This is a cute idea for an accent wall. The black wall matches the black-and-white wall design as well as the carpet. Another great idea is to put things you like up on that wall and it will surely pop out nicely. Just make sure it will not fall off and hit you right in the face.
3. Lucida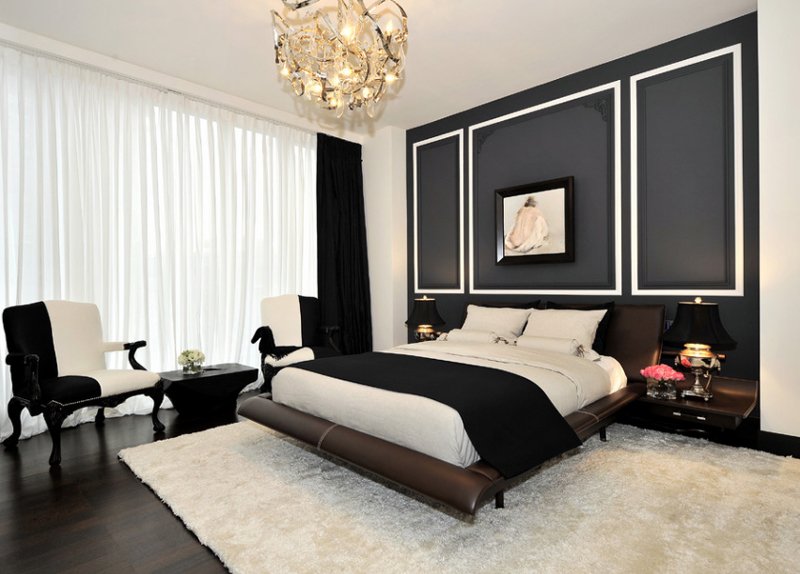 The black wall with white frame accents totally completes the whole look this bedroom wants to achieve. The black and white color motif is a really regal color choice for a bedroom like in this one.
4. Airy Netherlands Home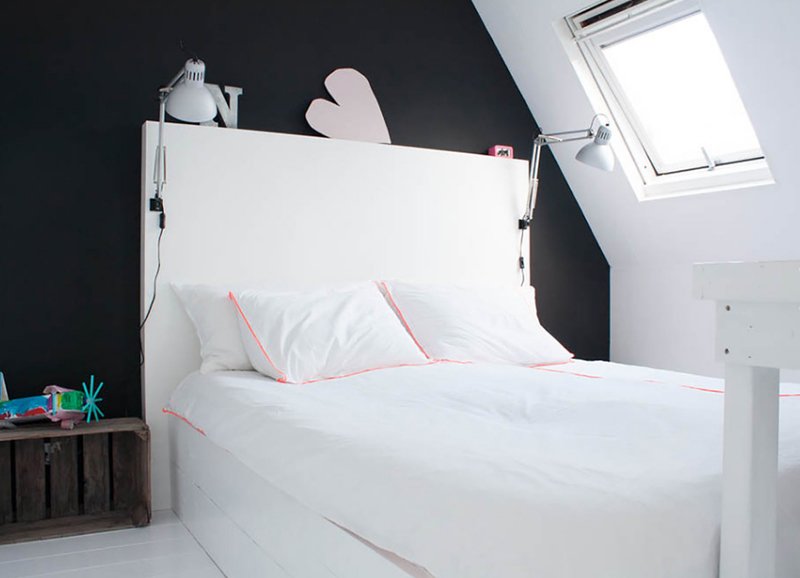 A beautiful black and white bedroom in the attic which I think is just so cute! The minimal decorations seen in here are something that makes this space quite prettier even when it is 'just' black and white. Of course, I have seen a lot of bedrooms in black and white that are totally stunning as it is.
5. St George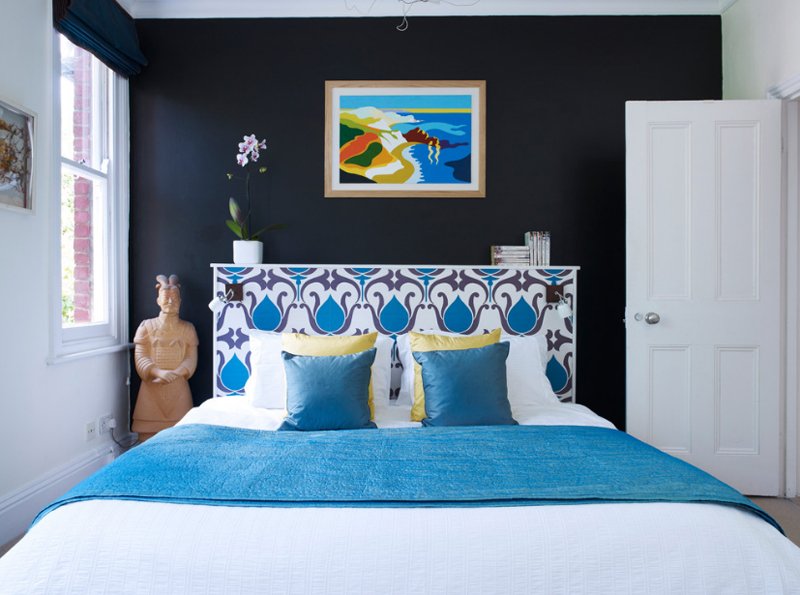 The color combinations in this bedroom are simple and yet it looks really elegant. The blue accents on the bed go nicely with the detail that the painting offers. The painting's color as well as the bed accents is emphasized thanks to the wall.
6. Stylish Apartment Living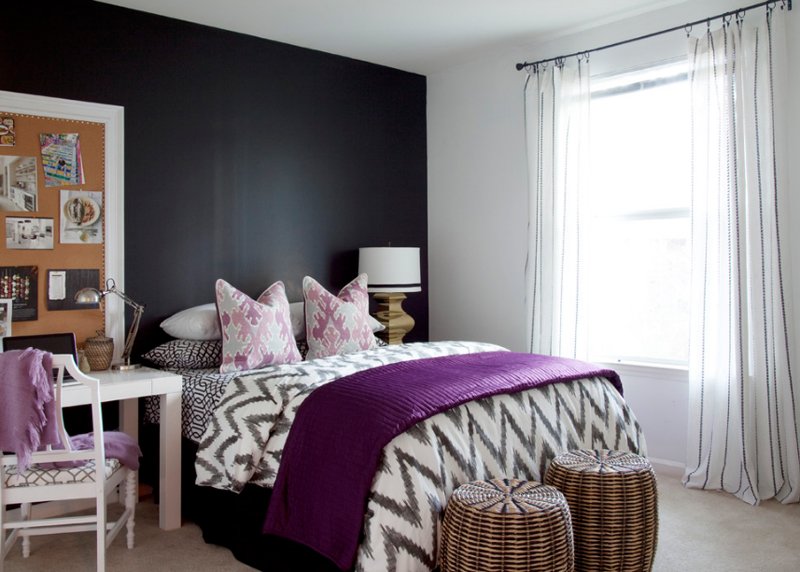 The lightness offered by the windows and curtains go well in contrast to the big, black accent wall. The choice of prints for the pillows and bed sheets are also in contrast to the solid colors. I like how a native material is present in this bedroom – I am talking about the ottoman looking rattan at the foot of the bed.
7. The Castaway III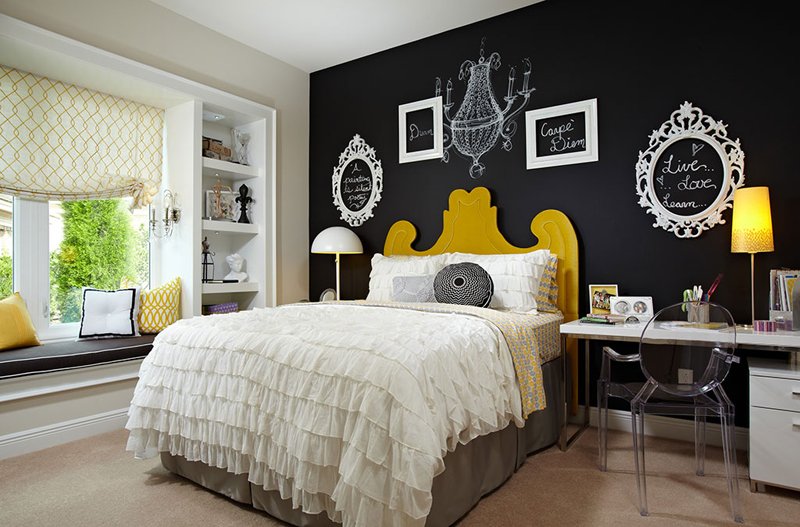 Here is a dainty bedroom fit for a princess. The black, white, and golden yellow theme is a beautiful combination. The white frames on the black wall are definitely a lovely thing to behold. This is indeed a very pretty room.
8. Bethany Hall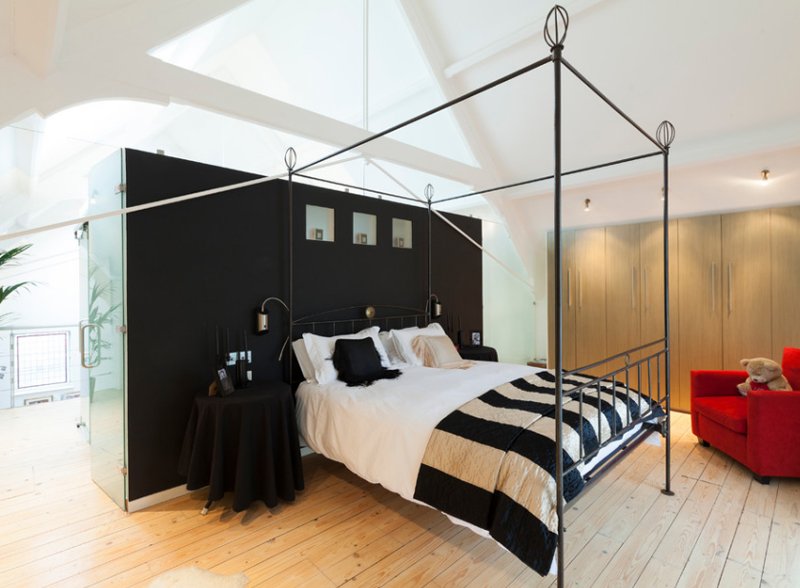 The black accent wall actually seems to have a whole other purpose behind it but nonetheless, the solid black goes nicely with the motif chosen for this bedroom. Seeing the frames and prints on the accent wall reminded me of a cafe in our city with similar decor style on their walls. This method is quite a popular theme in cafe and coffee shops.
9. Division Street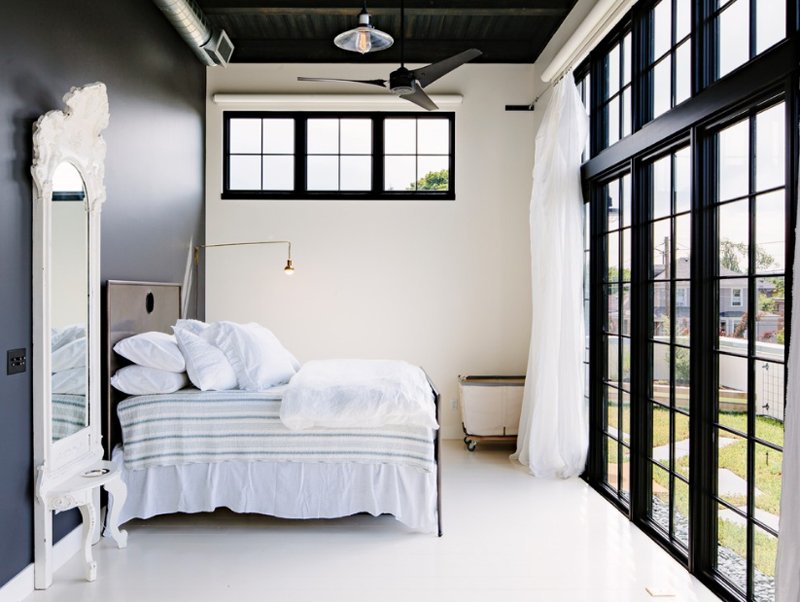 This bedroom has a good view and the wide windows have those black window frames for nicely with the black wall and of course, it contrasts nicely with the white-framed mirror and the white pillows and sheets as well as the white wall, curtains, and floors. Very spacious looking indeed.
10. Condo at Bellagio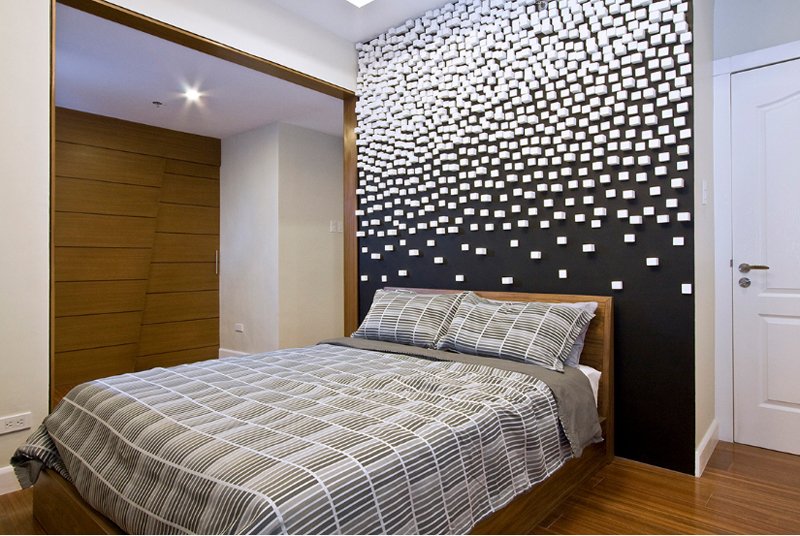 Here is a unique bedroom with geometric patterns from the accent wall decor and even the bed sheet and pillow cases. The accent wall's design has a certain galactic effect for a stars-in-the-sky look.
11. Art House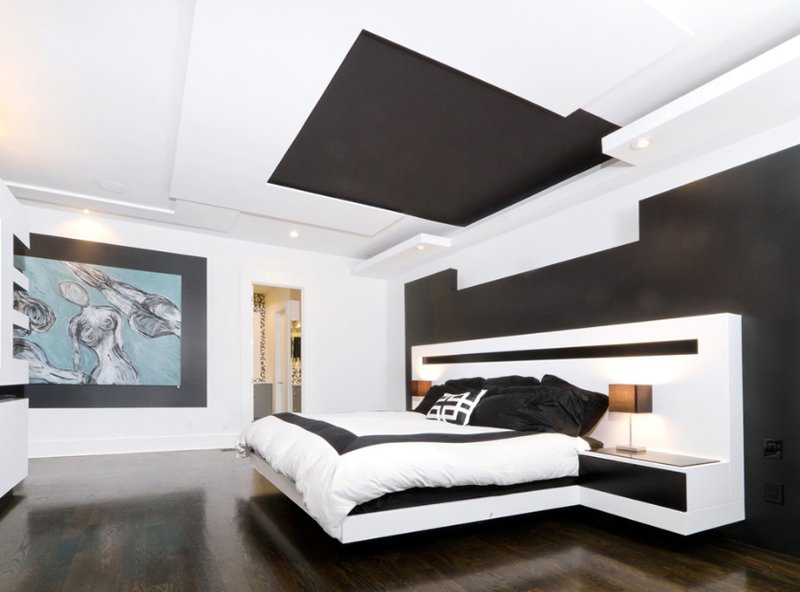 The accent wall in this bedroom is in its usual place – behind the bed! I like how they actually added a black dash on the ceiling too! Plus, this bedroom has good color combination.
12. Altadore II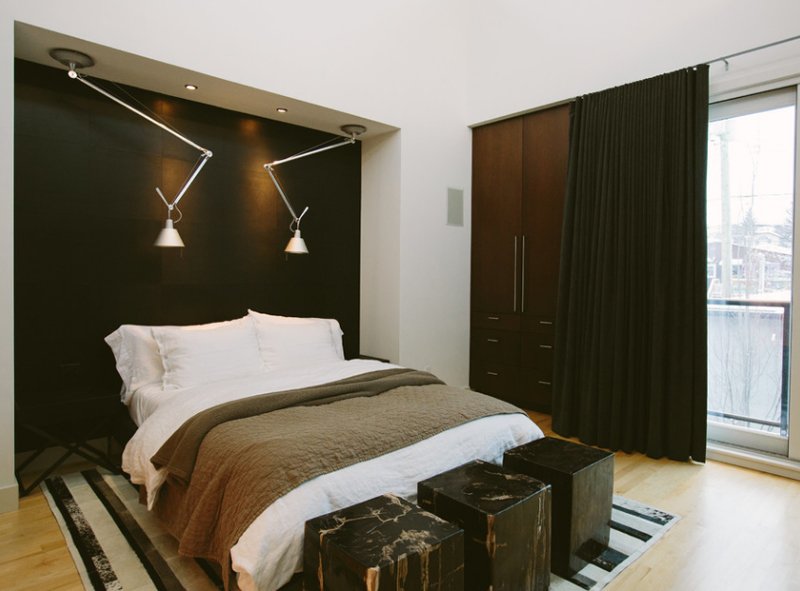 I like everything in this bedroom except maybe for the bed itself. I like how a small bedroom could actually look as neat as this one because you actually realize how neat one space can be even when it is in black and white. I also find the interesting ottoman-like chairs at the end of the bed.
13. Bondi House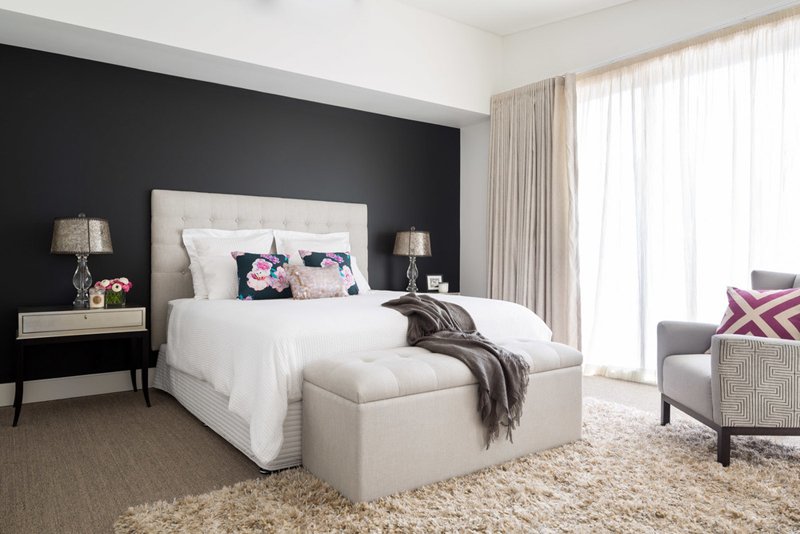 This room is very spacious and the black accent walls look beautiful against the white colors of the bed and the light curtains and the storage bench at the end of the bed.
14. Karma House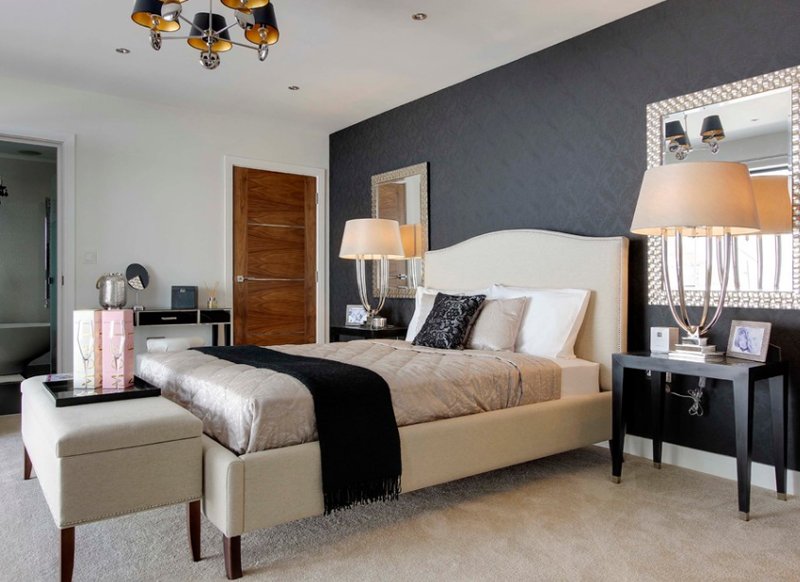 When I came across this bedroom photo, I got carried away by the design of the wallpaper used as the accent wall. It isn't so clear as to the details of the wallpaper but I think that it's one of the classic wallpaper designs there is and I think that it's just so fab! The contrast of the walls and the furniture in here is quite pronounced.
15. Samara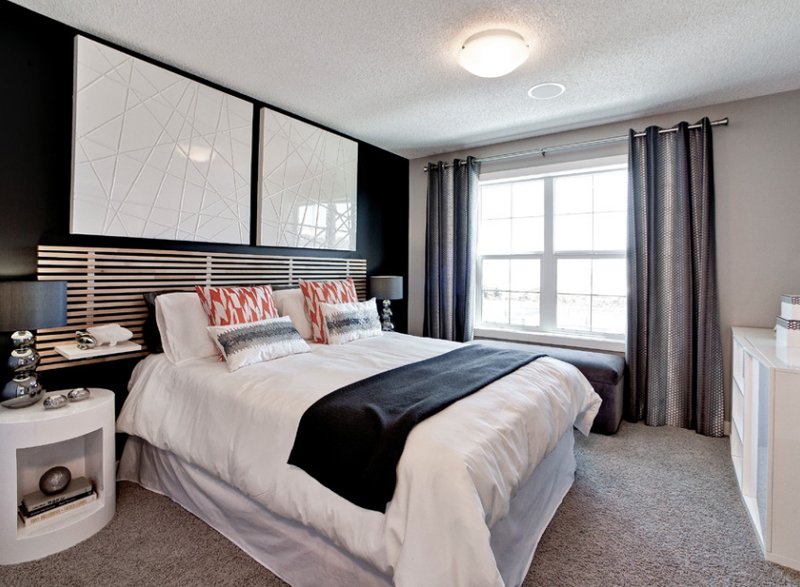 This room is not so spacious but the black accent wall looks beautiful against the white colored frames that serves as decorative features above the bed. The black and white combo is a classic and I would assume that people still pick this as a favorite color combo to create and achieve a classic look for a contemporary space and age.
16. Pure White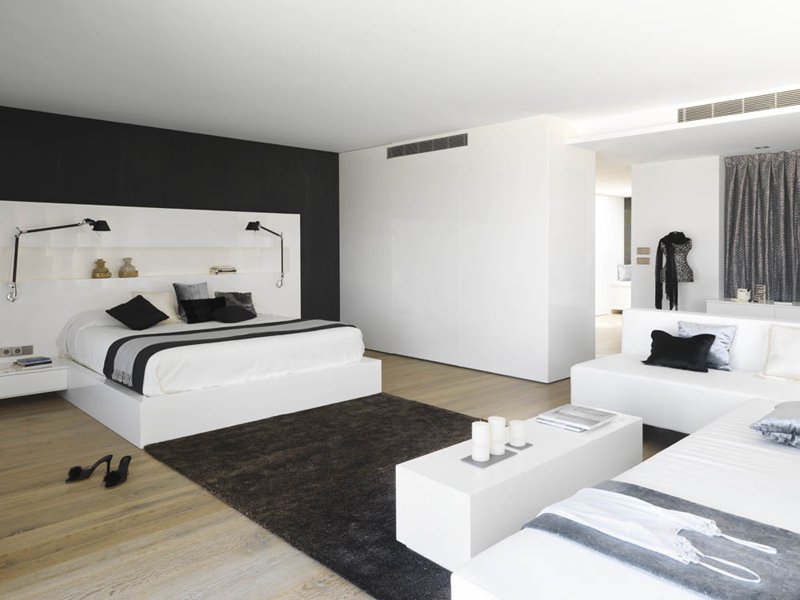 From the name of this project you'd know that aside from having tons of white in it, there would be a couple of black things in here too. Note the black accent wall, the black carpet and the black pillows seen in here.
17. The House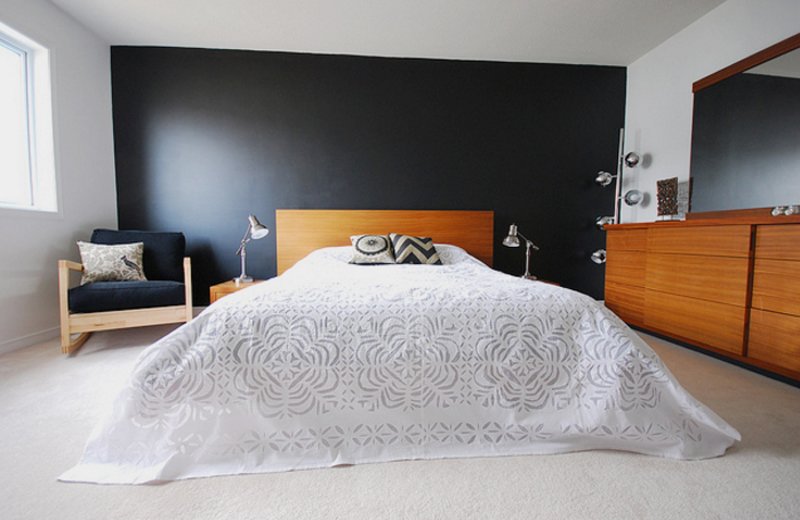 Talk about a minimalist bedroom! This bed basically has a bed, a chair, night stands with a drawer on the side and a large mirror on it. From this angle, I think this bed is not only big but also long. Of course this bed is most likely a standard sized bed and I love the bed sheet used on it! How about you?
18. Sunset Plaza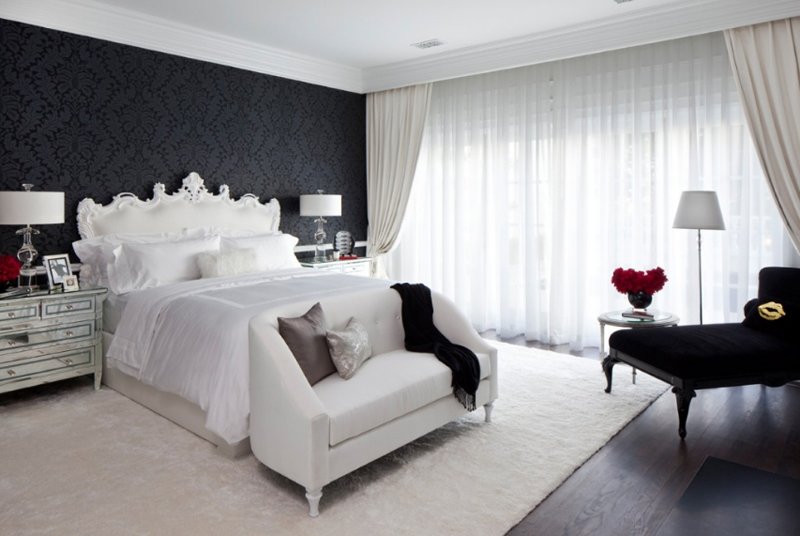 One of the prettiest bedrooms in this bunch. I think that this classic bedroom is one gorgeous piece of art – from the wallpaper details, the choice of furniture and those stunning drapes! Tell me this isn't a Princess bedroom?
19. My Home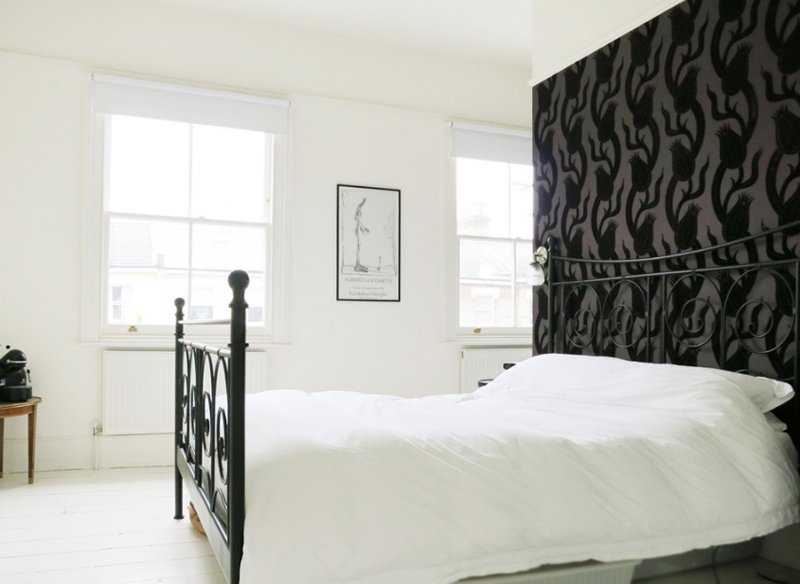 Well, talk about printed walls and wallpapers! Here is one stunning example of how you can actually make use of a black wall! Turn it into the prettiest thing inside your bedroom! Aside from the fact that this bedroom has a comfortable looking bed, I think that what brought this bedroom together is the wall itself!
20. Traditional-Modern Bedroom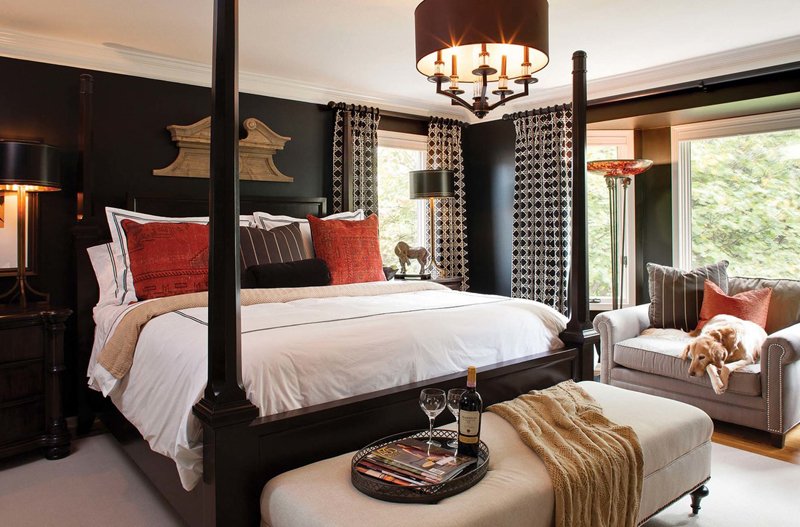 Well, let us take a good look at this traditional-modern bedroom! I wish that this space actually a more realistic and legit name rather than Traditional-Modern Bedroom but I think that's what it is. I think everything in here is large (or maybe it's actually just the way the photo was taken), and I think it's what makes it comfortable and interesting.
And there you have it guys! A list we have done about 20 Beautiful Black Accent Walls in Different Bedrooms and a perfect pair to the old list that we've made about how to actually work your black walls! I think this would be helpful for everyone, so check that one out guys! More lists to come, you guys!