Teepees in the Bedroom! 26 Kids Bedrooms with an Adventurous Camping Feel
Want an exciting item in your kid's bedroom? Try adding a teepee!
If there is one part of the house where we can be playful and could experiment in design and decors, it is the kid's bedroom. You can add some fun things inside it as long as your kids want one in their space. There are so many exciting things to do with a kid's bedroom. Some would add creative designs of beds like a carriage, a tree house and others. Then beautiful decors can also be installed on the walls or you can get novelty items to add in the space.
One exciting and fun item to add in a kid's bedroom is a teepee. It is actually very easy to make with four poles and a fabric. You can also buy one that is ready-made from stores. I have always loved teepees but when I saw these bedrooms with teepees, it made me feel even more excited. I have collated bedrooms with different designs both for boys and girls. What is common to all of them? They all have teepees! Scroll down and be treated with beautiful teepees in the bedrooms.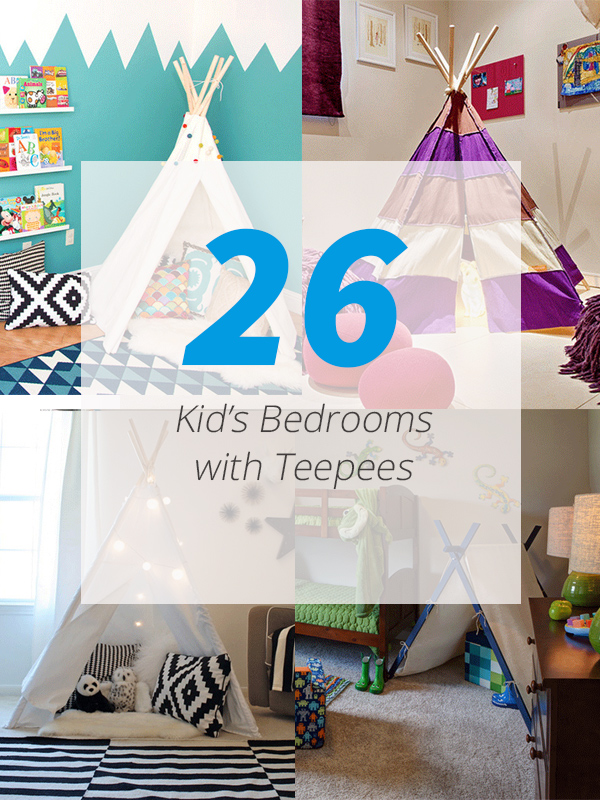 1. Eagle Hills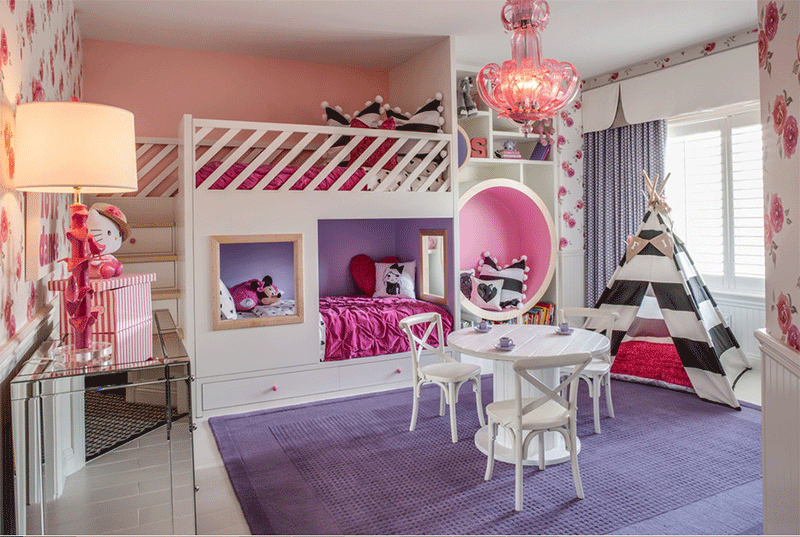 A pretty bedroom in pink and purple with black and white accents! It has striped teepee with a bow! How cute is that?
2. Family of Five Live Clutter-free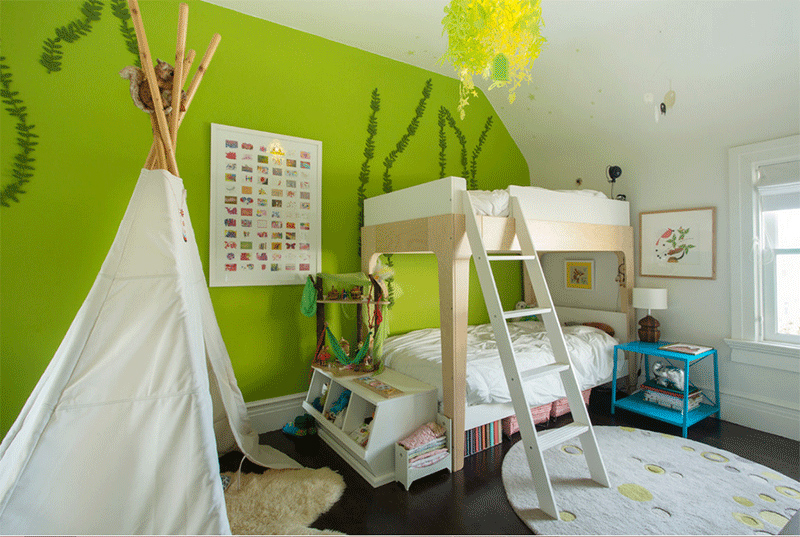 A forest themed bedroom for boys with a green wall and a teepee made from bamboo. This will make your kids feel very excited!
3. Ascot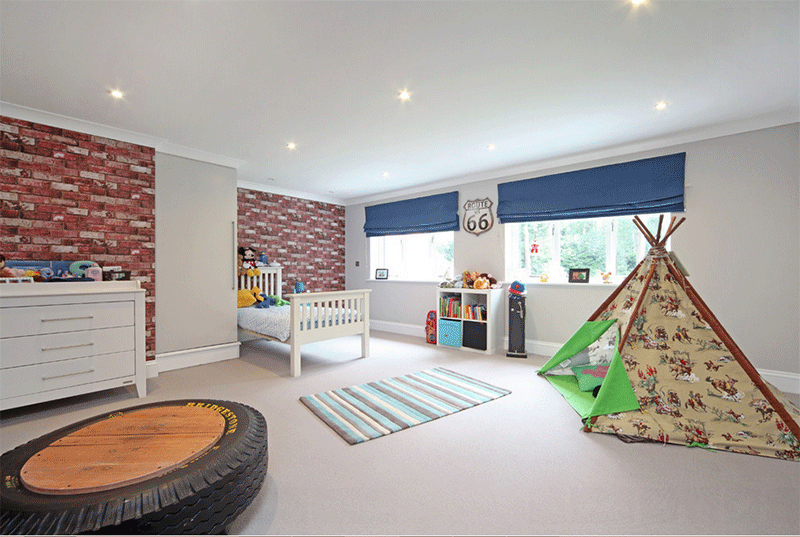 A larger teepee is added in this bedroom but aside from that, what looked exciting in the space are the brick walls and the ottoman tire.
4. Riverside Drive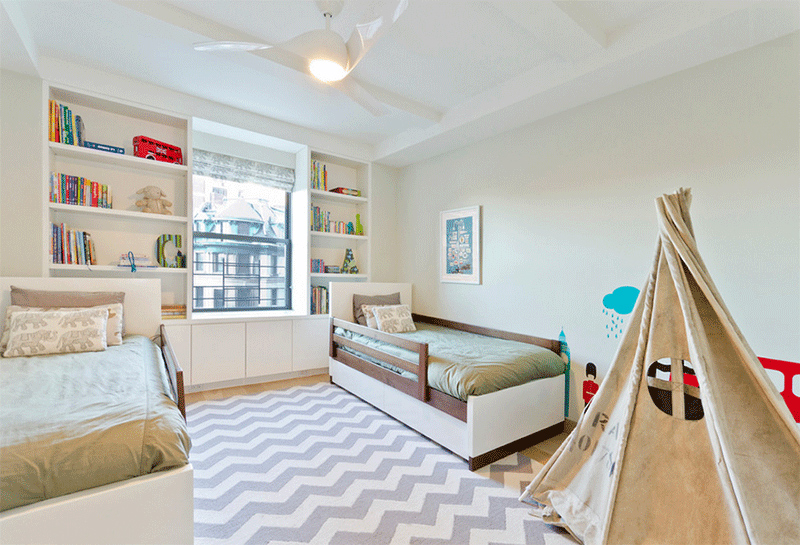 A bedroom that is obviously for boys. It has a chevron carpet that added life to the space. And yes, there is a teepee that looks like it is occupied by soldiers.
5. Tyler & Crispin Deneault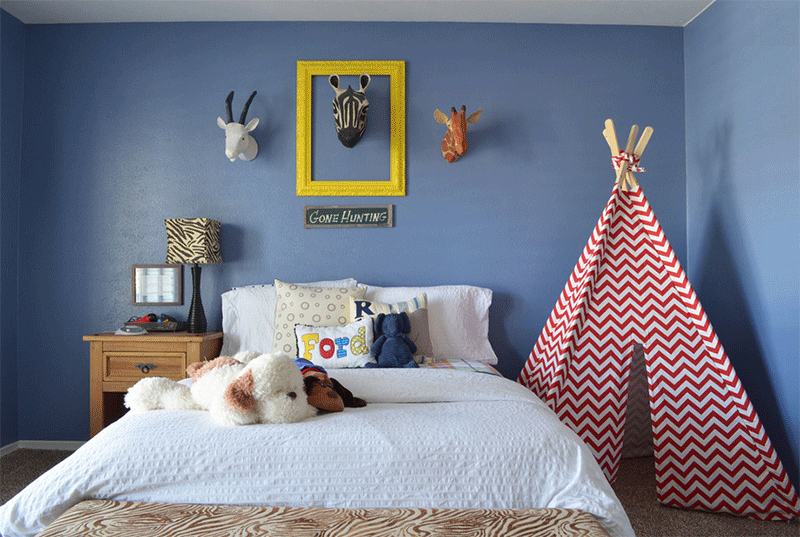 A cute bedroom with animal heads on the wall and a red and white teepee. So many patterns are in here!
6. Atherton Estate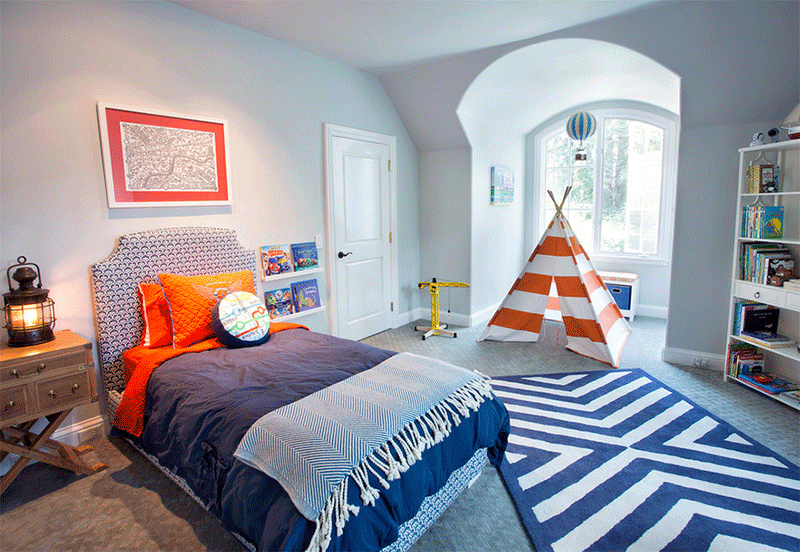 A modern bedroom for a boy that has different patterns and a combination of blue and orange. Nice design! It is fun to experiment with colors in the bedroom.
7. Tiny Totem Children's Room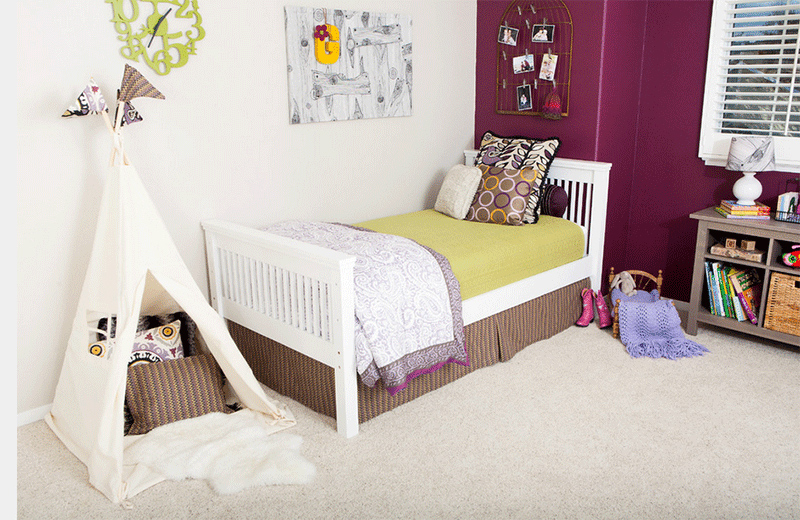 This one has a purple accent wall and some geometric patterns in it. The teepee here has a window in it.
8. Grand Interiors Room Set 1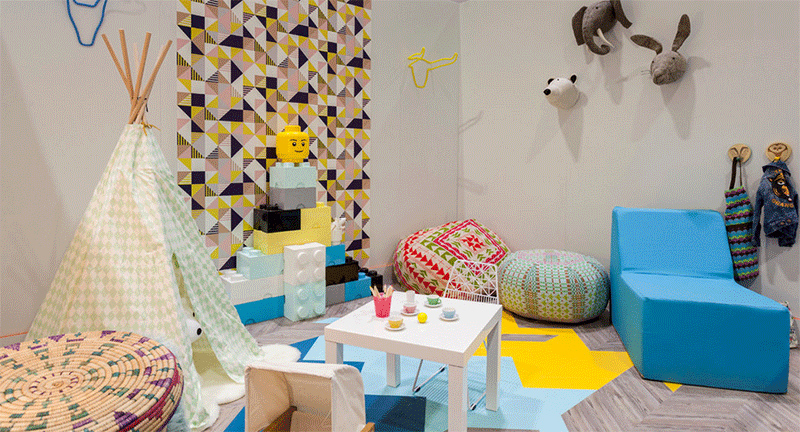 We talked about patterns in the previous bedrooms. This one has a lot of patterns in it with a giant Lego!
9. Cremorne Residence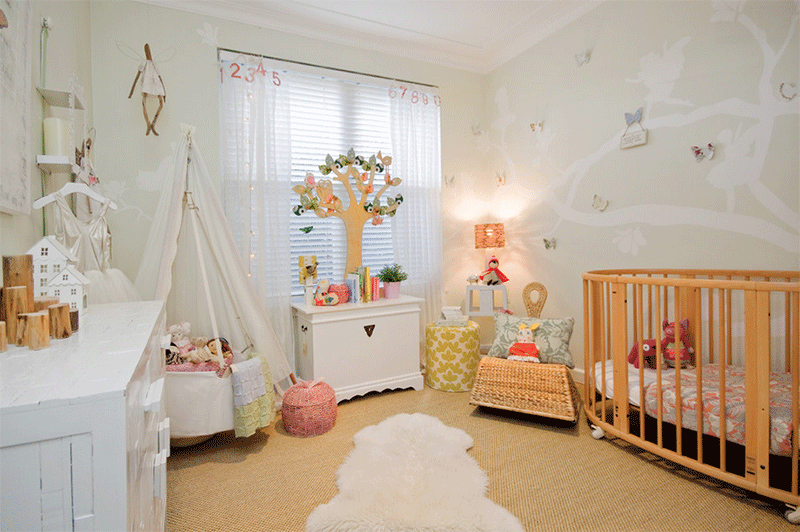 A whimsical bedroom with white colors and wooden features. There are so many cute items in here.
10. Victorian Villa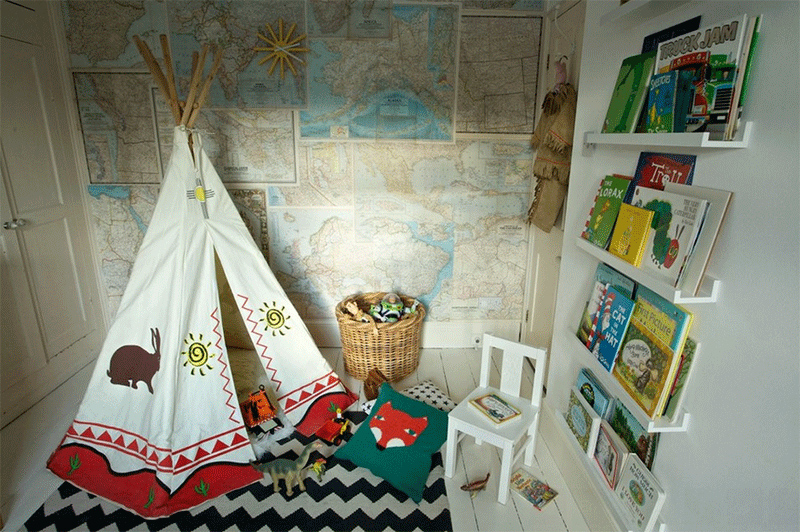 If you want to allocate a reading space in the bedroom, you can add wall shelves and a teepee. Imagine reading a book inside the teepee! That would be so exciting!
11. reThink Modern Glamour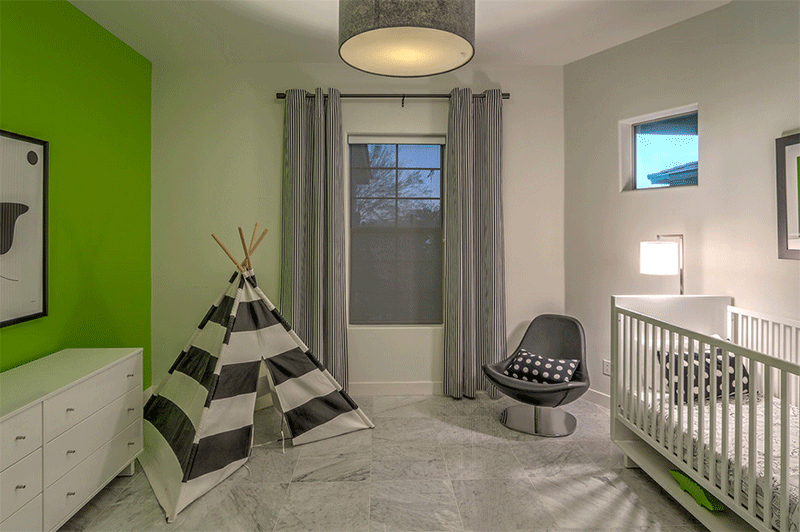 A green and gray modern bedroom design for that little bundle of joy! Well, once the baby started walking and crawling, I'd guess the teepee would be his favorite spot.
12. Mountains of Fun Playroom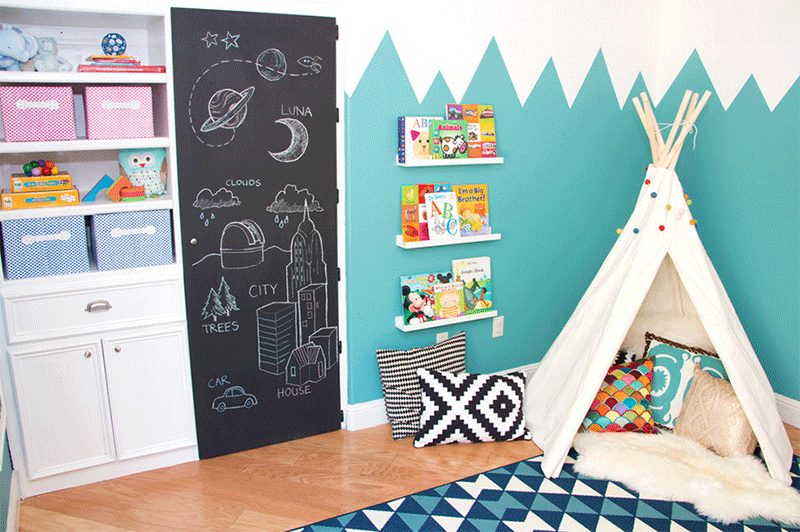 The back of the door has chalkboard paint where your kids can be creative with drawings an sketches and of course, there is that teepee where the kids can read their fave book.
13. Camping Themed Kids Bedroom Lifestyle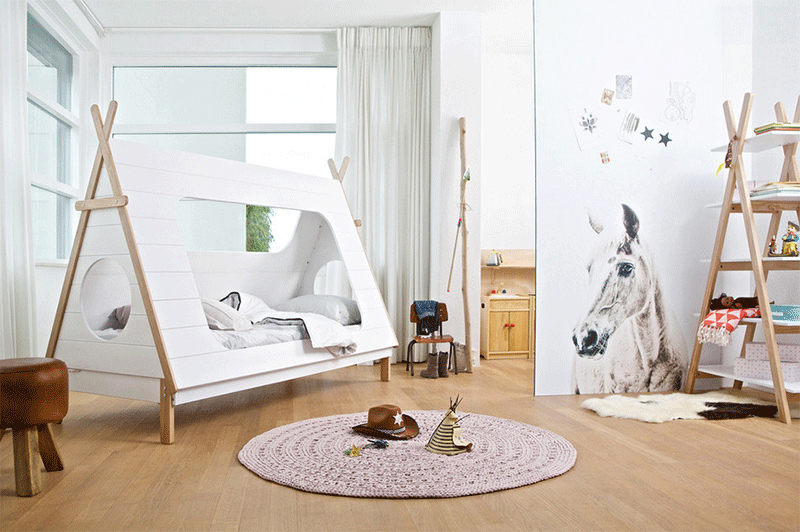 You can also use a bed with a teepee shape. This bedroom is fit for a boy. A horse wall mural is added on the wall.
14. Rockin' Toddler Boy's Room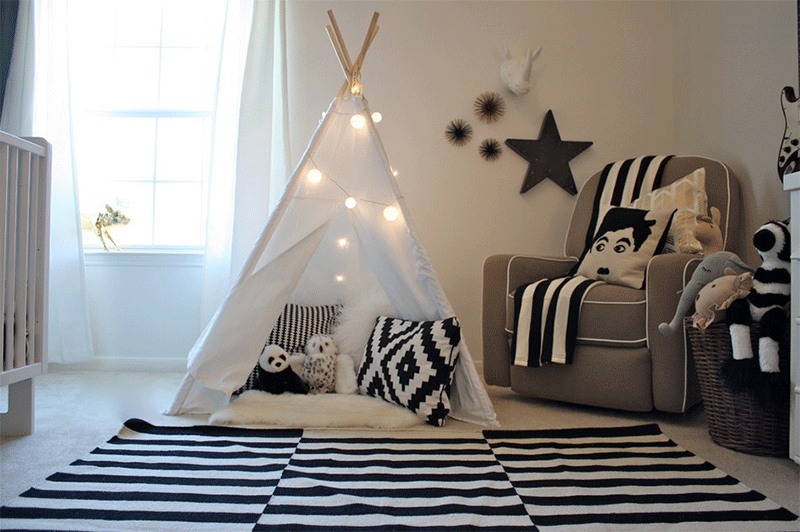 To make the teepee look more exciting, add some lights just like this one! This one has black and white colors on it with modern patterns.
15. Anthem Country Club Nursery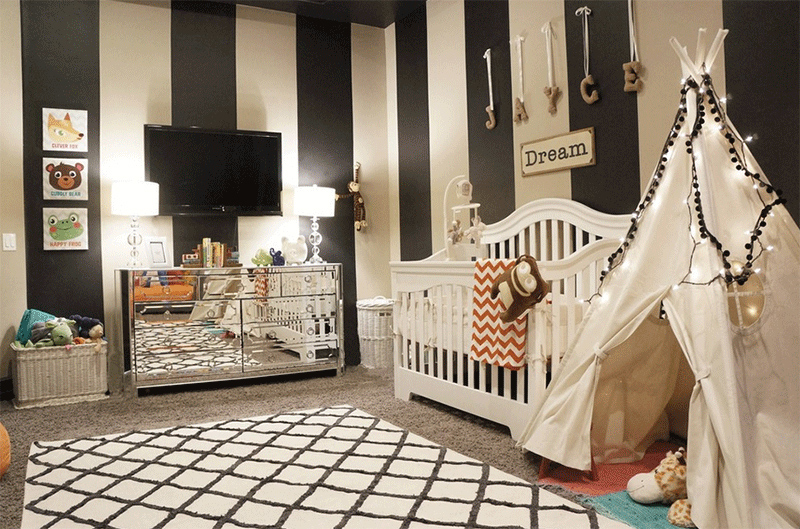 Isn't this a cute bedroom? It has patterns on the walls and just everywhere. The mirrored drawers add a luxurious detail to the bedroom. The teepee here was decorated with pompoms.
16. Happy Camper Boy's Bedroom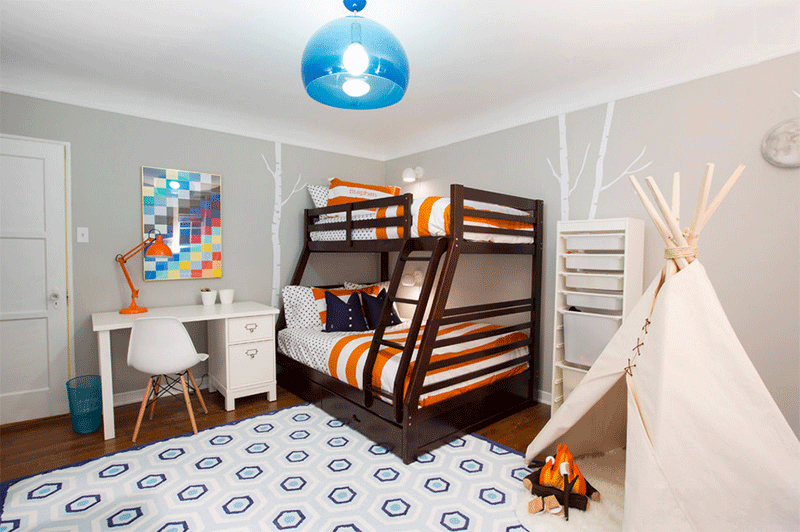 This modern bedroom is made for boys. Aside from the tent, what I love here is the fire and marshmallows!
17. Kid's Room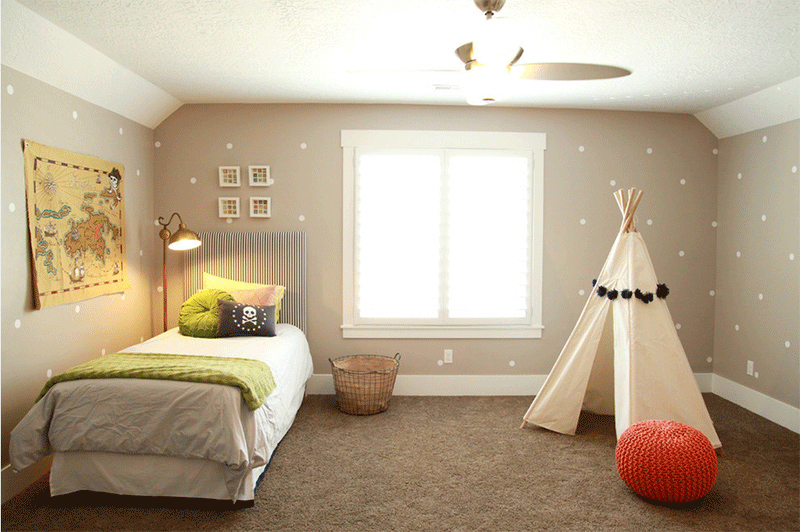 This bedroom has a teepee decorated with larger pom poms. The pompoms can be made using yarn. This has a pirate them which we can see in the pillows and the map on the wall.
18. Rolling Wood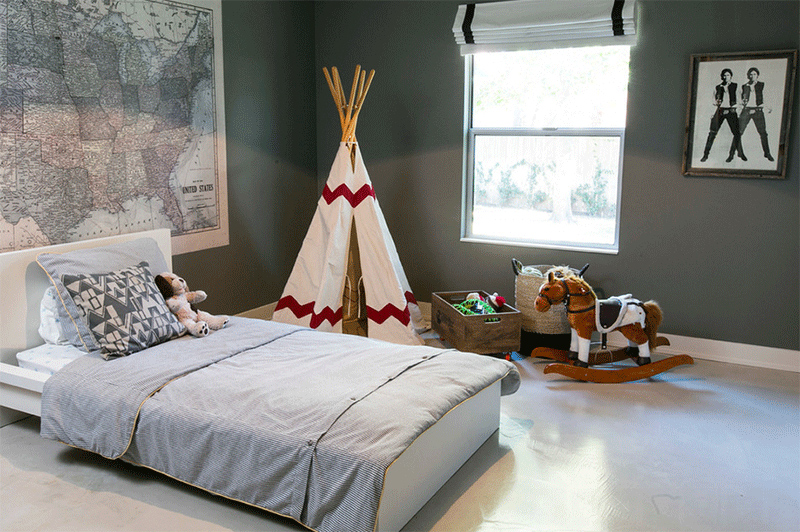 A map is used as a backdrop of the bed with gray colors for the bed. A white teepee with red design is one of the highlights of the bedroom.
19. Major Remodel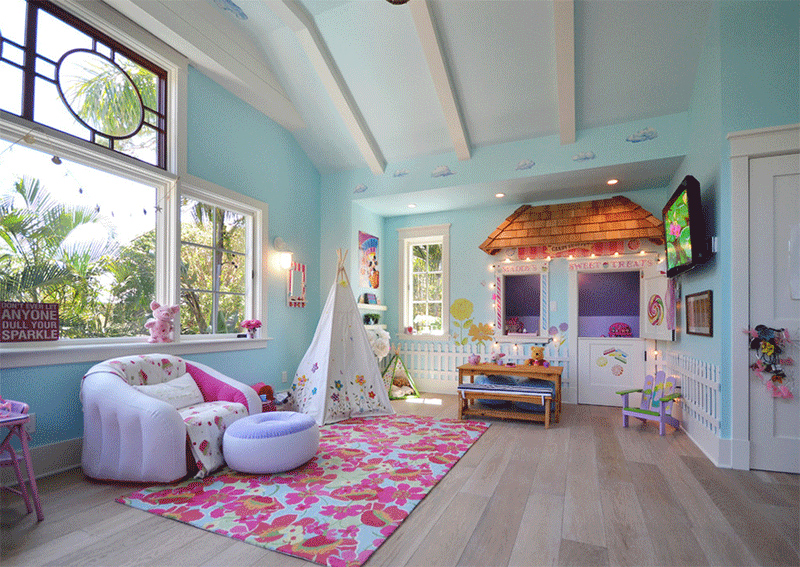 This bedroom is full of fun! Aside from the teepee, it has its own play house too and a television mounted on the wall. I like the flowers all around the space.
20. Kids' Room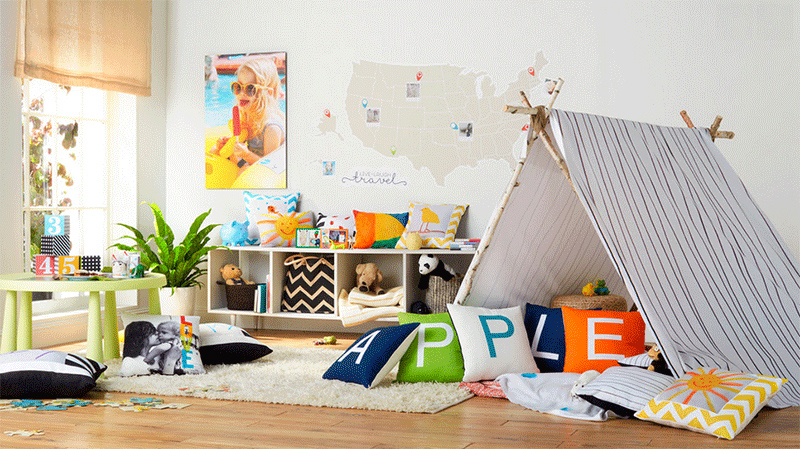 Personalized pillows can be used to spell out words and names like what we can see in this bedroom. This whimsical space has many artistic decors too.
21. Kids Bedrooms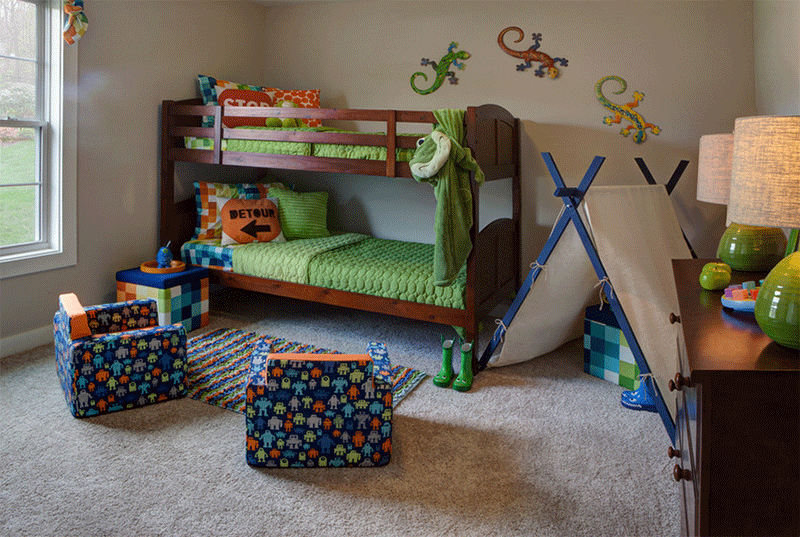 A boy's bedroom with a double Decker bed with green covers. The patterns and colors here are indeed for boys. Look at the lizards on the wall!
22. Hear Me Roar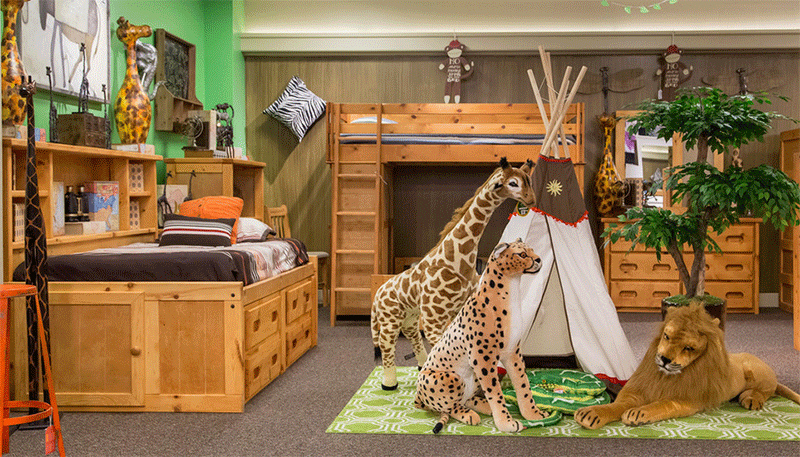 Your kid will feel like they are in a real forest with all the animals and trees here. This spacious bedroom is a good spot for playing.
23. Interior OOD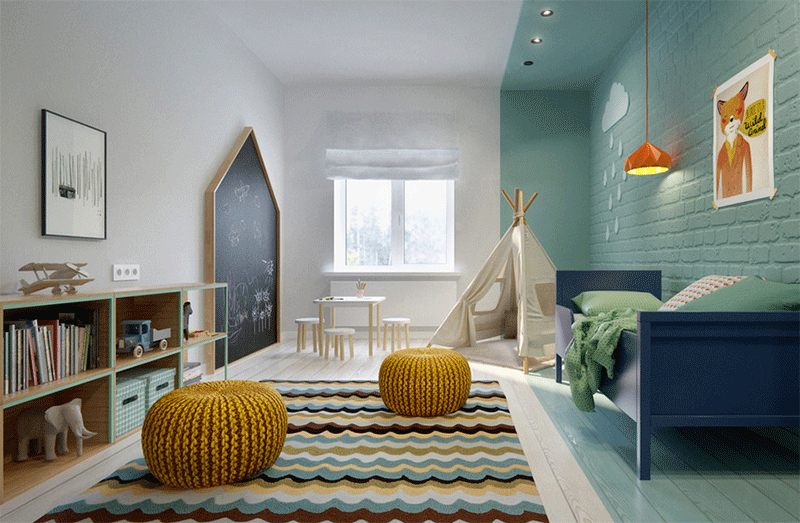 A bedroom with a modern design that has a brick wall accent. Look at the cloud with rainfall- it is a nice idea for a wall decor DIY. And yes, it has a teepee too!
24. Family Home – St John's Wood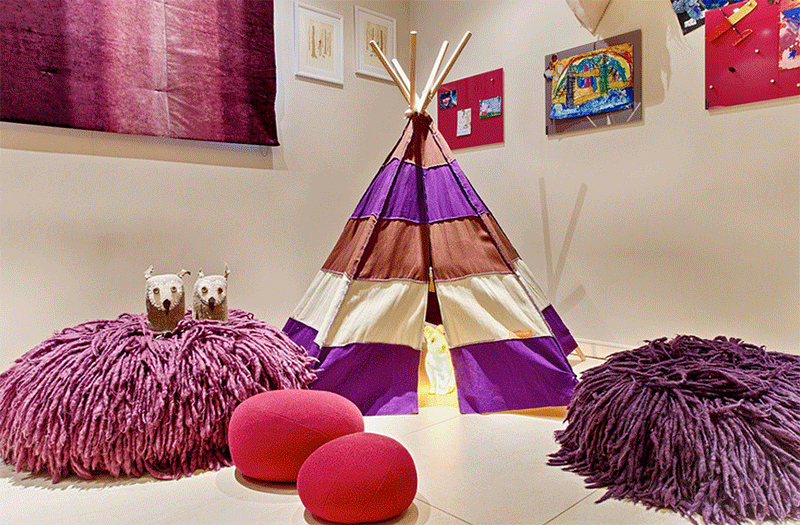 You can also make a teepee with different colors by sewing fabrics together. Beautiful, right?
25. A Posh & Poppy Kids Bedroom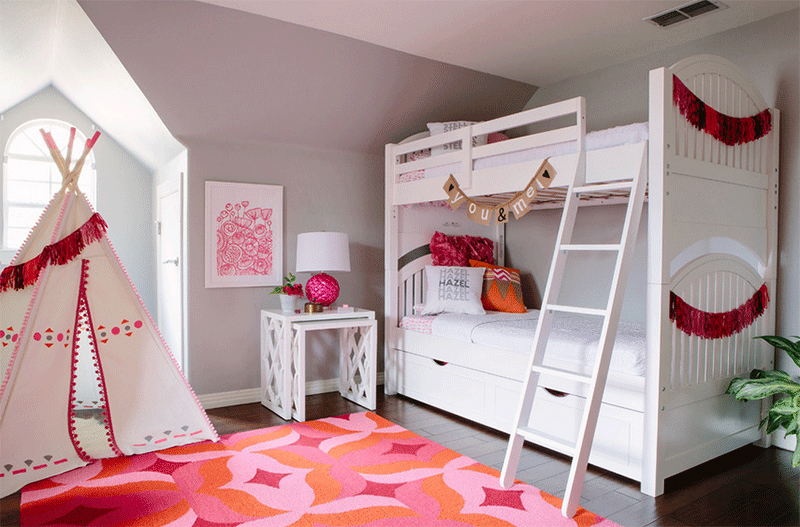 This is a cute teepee with all its pink prints and decors. It just fits to the bedroom for two little girls.
26. Discover Plan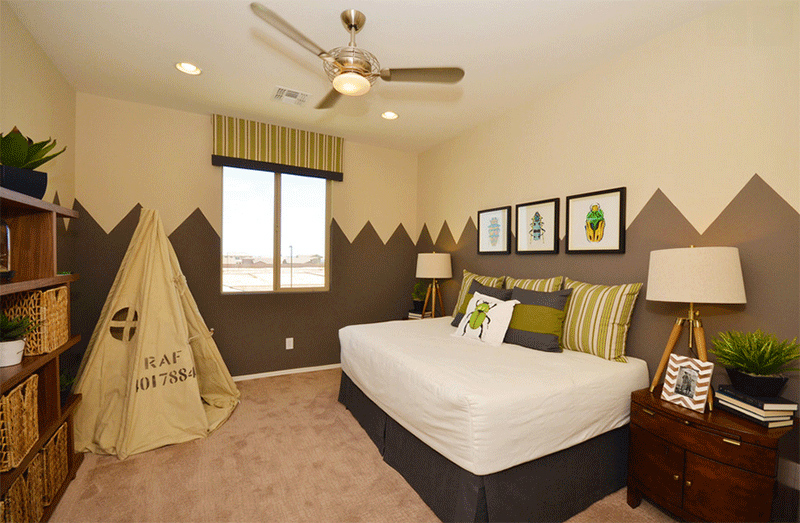 When it is time to wake up, it could also be the perfect time to play in the teepee! This bedroom has insect decors.
I know you love each and every bedroom above. I loved them all too! After seeing these teepees, I felt like making one for our bedroom. I can't blame you if you feel that urge too! Those teepees are indeed cute! The images above shows us that we can indeed add fun items in the bedroom if we want to as long as it fits to the design of the space and if your kids want one. Can you tell me which of the above bedrooms is your favorite?
Bonus Video: Creating Treehouse Bed for Kids