20 Ways to Let Your Bedroom Bloom in Style With Florals
Who doesn't love flowers? We all do because of their beautiful and fresh look as well as the scents that come from them. Not just little girls love flowers but even adults too. There is really something amazing about flowers that make us fall in love with it. That is why one of the most used decors and patterns in the house are flowers or shall I say floral decorations.
Since it is Spring in some parts of the world, I thought of creating a list of bedrooms that showcased lovely ways in using flowers and floral patterns. There are many bedrooms that use this especially for the curtains and bed covers. They look really lovely! See it for yourself in the images below!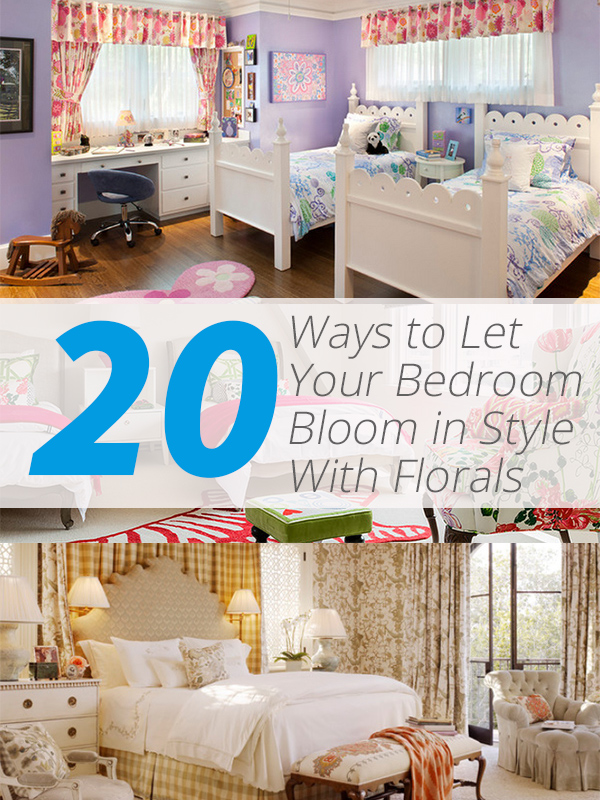 1. Wispers Park Show Home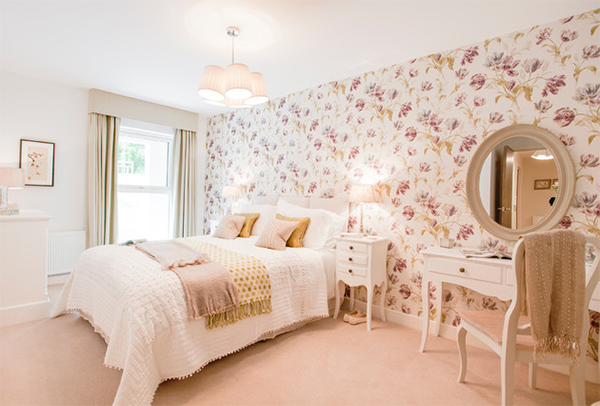 This master bedroom feature a floral wallpaper, linen curtains, upholstered headboard and white painted furniture. Pretty wallpapers!
2. Hunting Lodge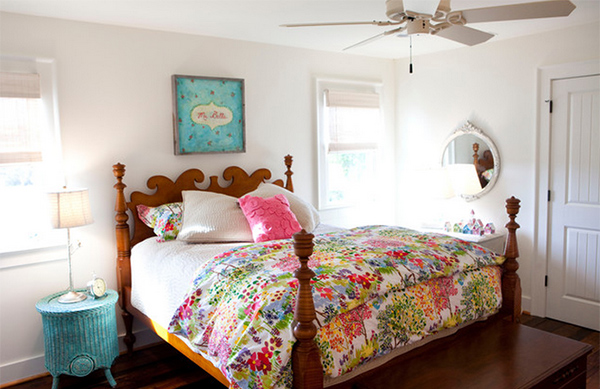 You can also add a floral bedding like this with colorful flower prints.
3. Lakewood Boulevard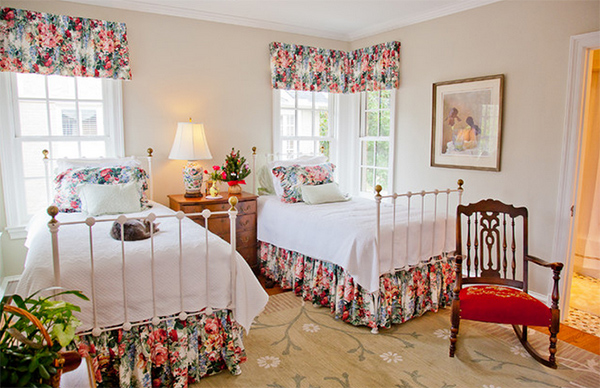 Aside from the bed skirts, flowers were also used for the curtains and pillows as well.
4. Ramble House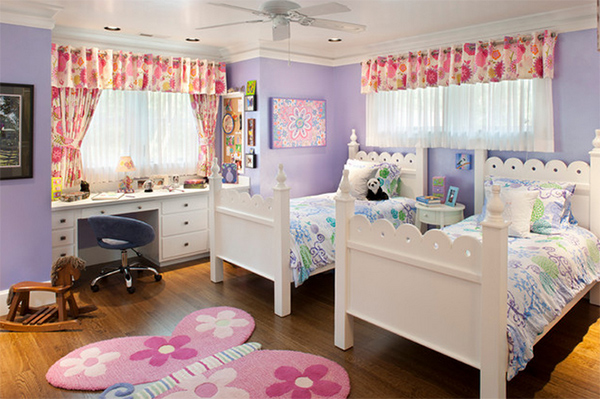 Isn't this a charming bedroom? There are pretty pastel flowers everywhere and a cut butterfly area rug!
5. Manhasset Colonial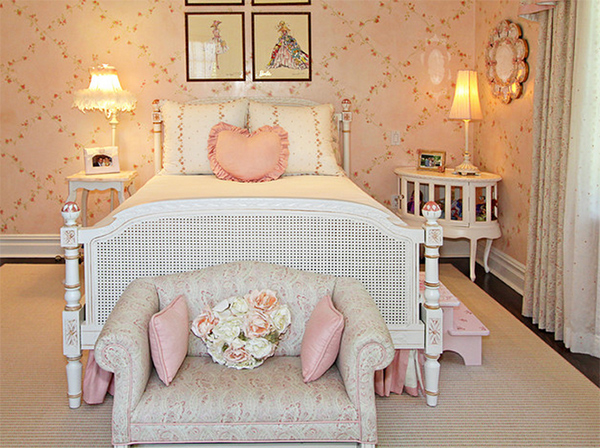 A Little Princess bedroom with venetian plaster walls painted in soft pink with green ivy trellis design.
6. Laurie Rabe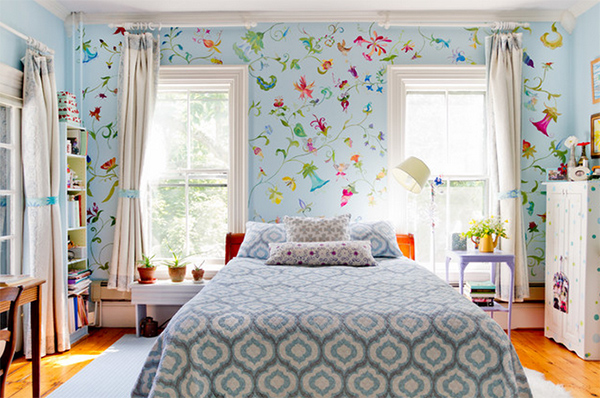 Aside from the gorgeous floral wallpaper, the bedding is stunning too!
7. European Country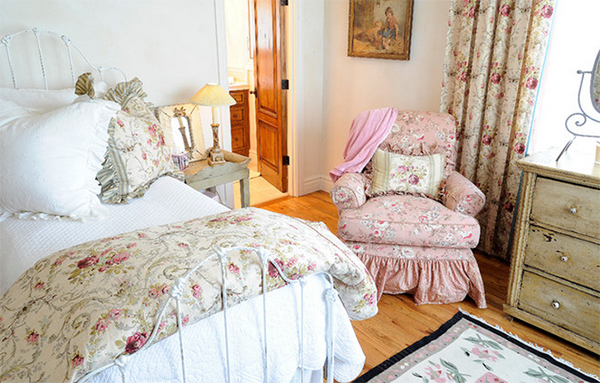 The duvet, pillow, curtains, carpet and even the chair are all in floral prints!
8. Holiday House Hamptons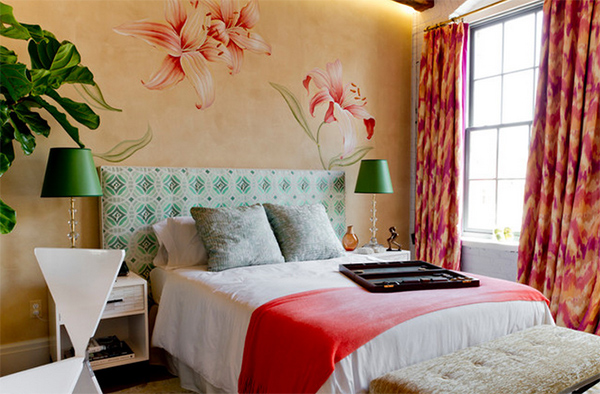 A subtle addition of flowers in through a wall mural will turn the space into something really lovely!
9. Bedroom – Window Treatments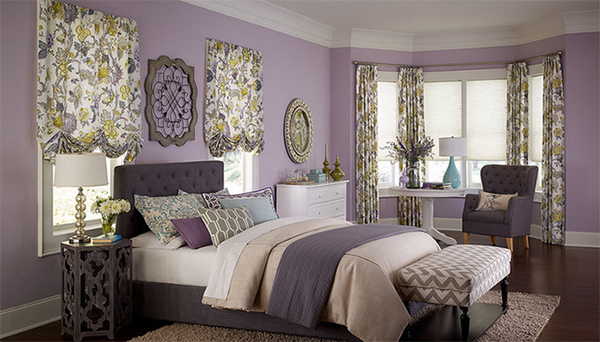 A purple bedroom with flowers in the curtain. Other patterns look good in this space too.
10. Bedroom Portfolio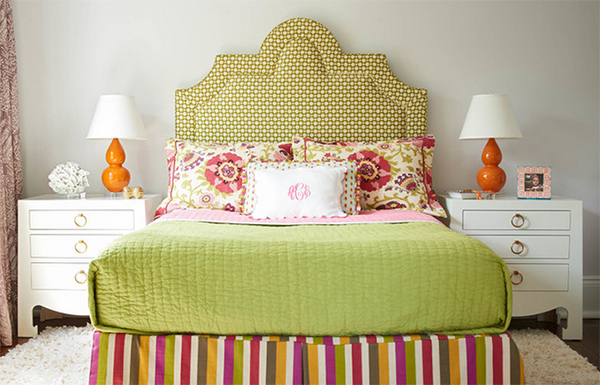 Simply adding a floral printed pillow paired with other patterns will look amazing especially if the colors complements with each other.
11. Granddaughter's Bedroom and Bath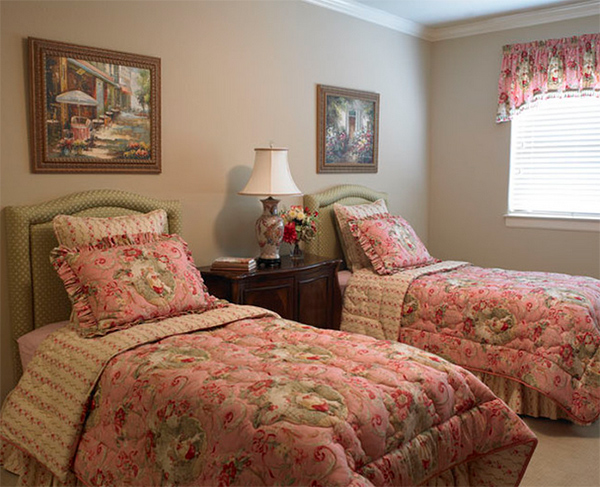 This bedroom features layered bedding, old fashioned oil paintings and a dainty valance all contribute to a very sweet room for two little girls.
12. The Salter II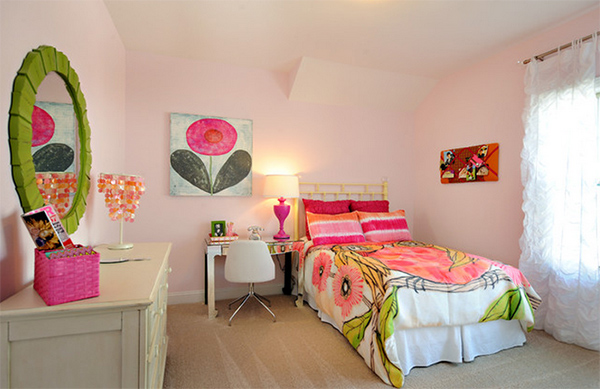 A modern bedroom with modern floral style. I love the colors here!
13. Bedrooms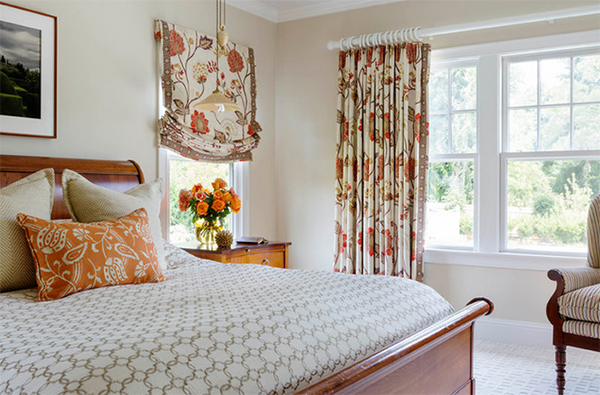 A charming traditional space with flowers on the curtains.
14. Cape Cod Fun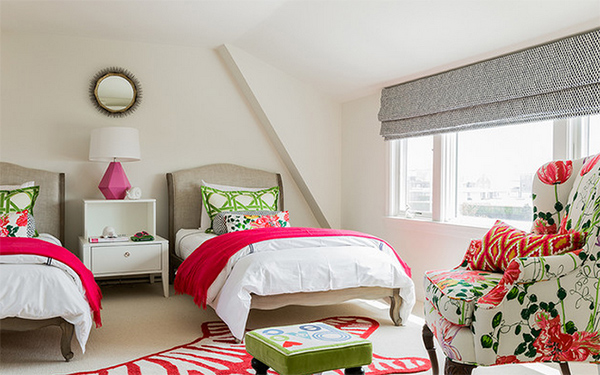 I love that floral chair! The look was extended by using the same print on the pillow.
15. Girls Bedroom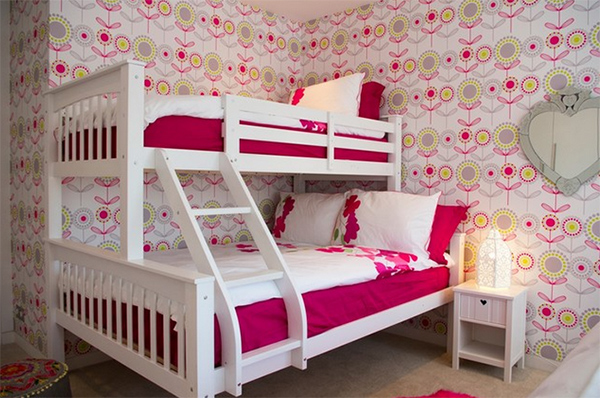 Colorful girls bedroom with bunk bed and flower wallpaper as background.
16. Enchanted Oaks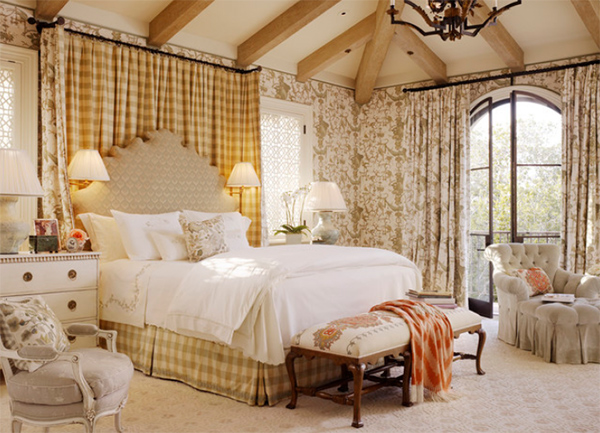 Another traditional space with flowers on the wall and on the curtains. The trick in using different patterns is using them in the same colors.
17. Hurtado´s girls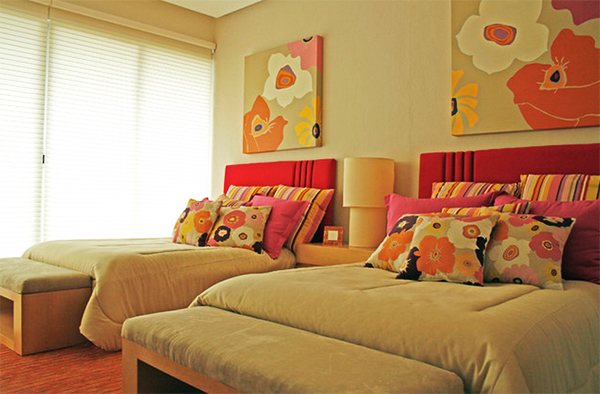 For this modern bedroom, the wall art and the throw pillows match!
18. St. Paul Carriage House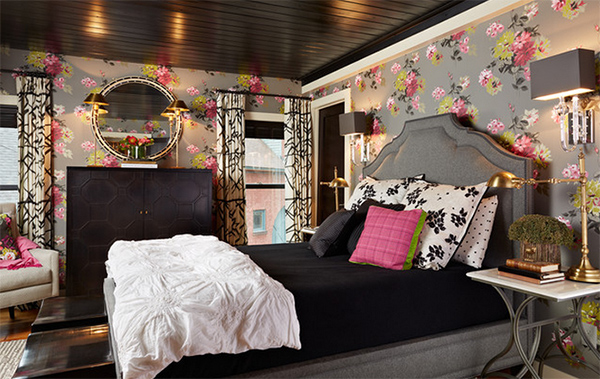 I love the look of this bedroom! Flowers are everywhere without overdoing it!
19. Commonwealth Avenue Luxury Residence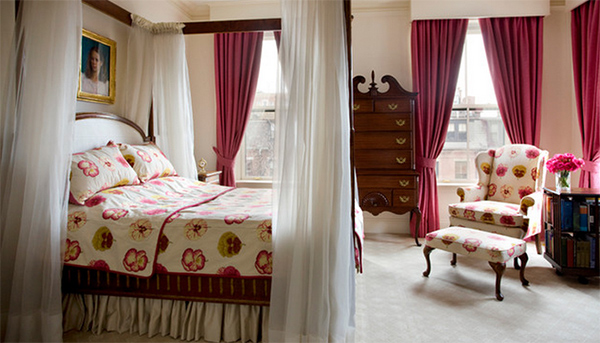 Same floral prints are used for the beddings and the chair. Pretty!
20. Bridge Street Residence Bedroom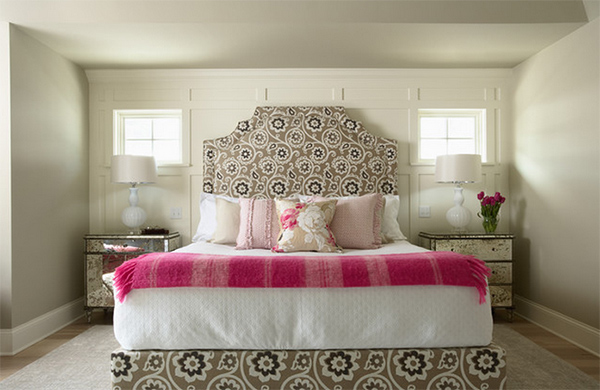 I love the fusion of styles in this bedroom. The color and design of the bed looks really nice with flowers.
You can really make your bedroom bloom in style by adding florals into it. There are more than one ways to use floral patterns and to use flowers as decorations. I can say the bedrooms above all look good! It is really just a matter of creativity. So, you have to be creative in order to get a beautiful bedroom design and decoration with florals! Now your own private space will get the feel of Spring!