25 Modern Kids Bedroom Designs Perfect for Both Girls and Boys
These beautiful modern bedrooms for kids will surely blow you away!
These days, it became a trend to totally dress up a bedroom depending on a theme or the favorite color of the owner. This especially happens for kid's bedrooms because parents always want to give their kids every single good thing they could. And one good way of showing them that they are special is through their bedrooms look like.
Modern design is the trend these days with sleek aesthetics, focusing on function. We have seen kid's bedrooms that really look special with unique designs and features but you can also do it too with a modern bedroom. Or you can stick to a simple design which they can use even when they grow into a teenager. What we are going to show you today are modern kids bedroom designs that are perfect for both girls and boys. Yes, either a girl or a boy could use these bedrooms. Let us take a look at them below.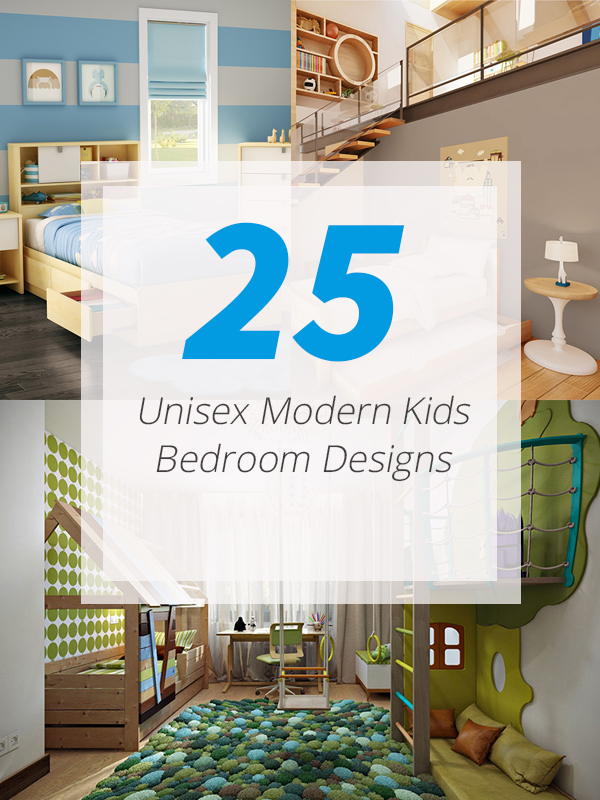 1. Kids room. House in Kiev, UA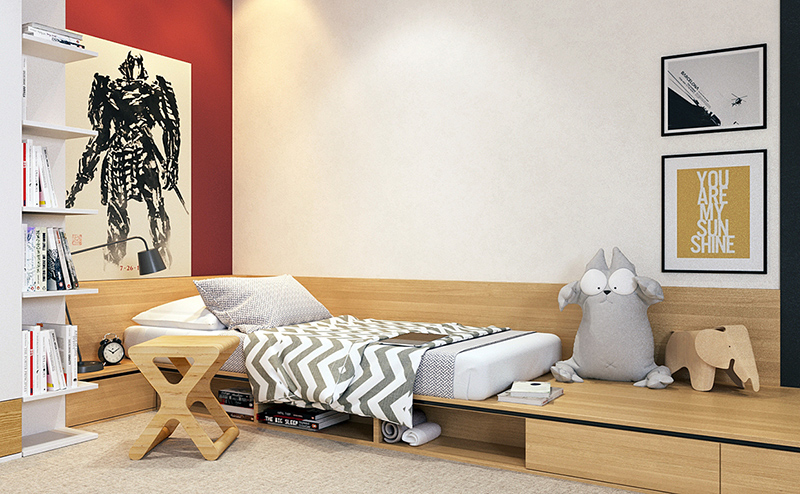 A bedroom that has many wooden features in it and you can see that it used modern patterns too. Just update the decors if a girl is using it. It is also nice that there is storage under the bed.
2. Art Deco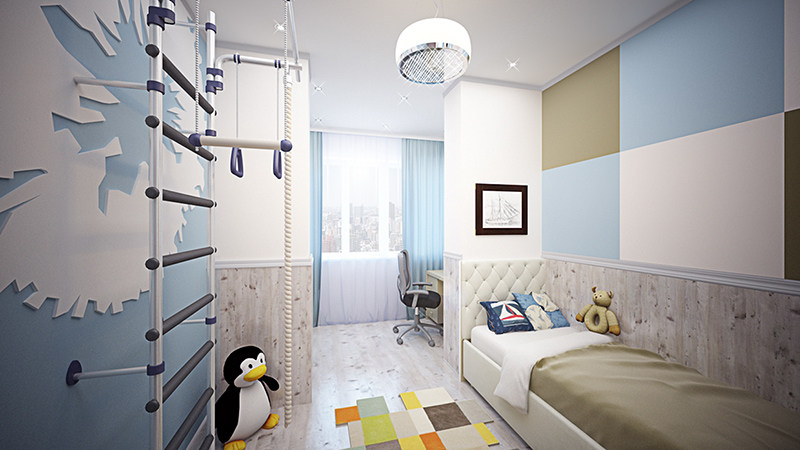 A snow themed bedroom because of that white ice-like wall feature and notice the colors it used as well. You can see that it has many fun elements inside it and it also has its own study area.
3. Krakow Pokoje Dzieciece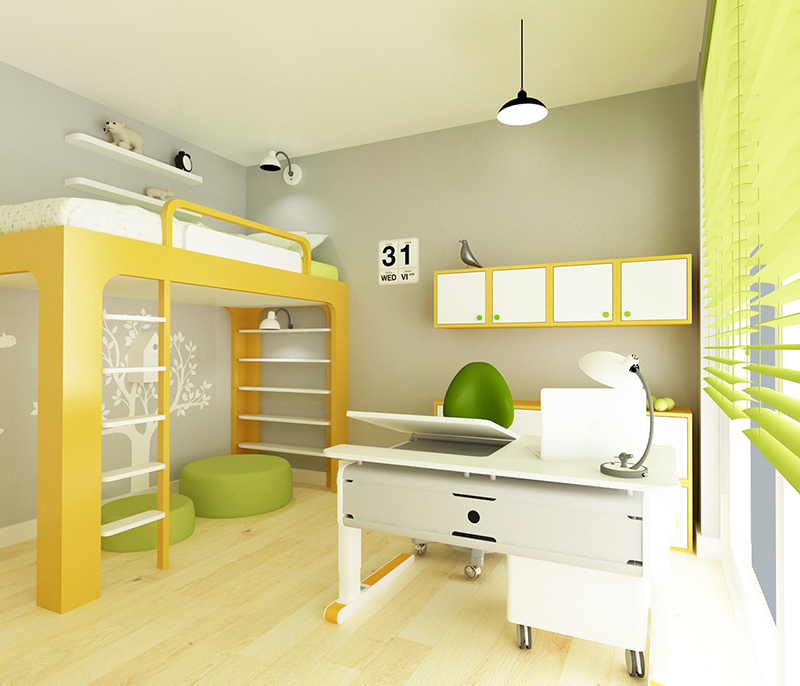 A loft bed is used for this bedroom so that there is still enough space for the kids to play under it. I like the colors used here as well as that tree mural with a bird house on it.
4. Kids Bed Room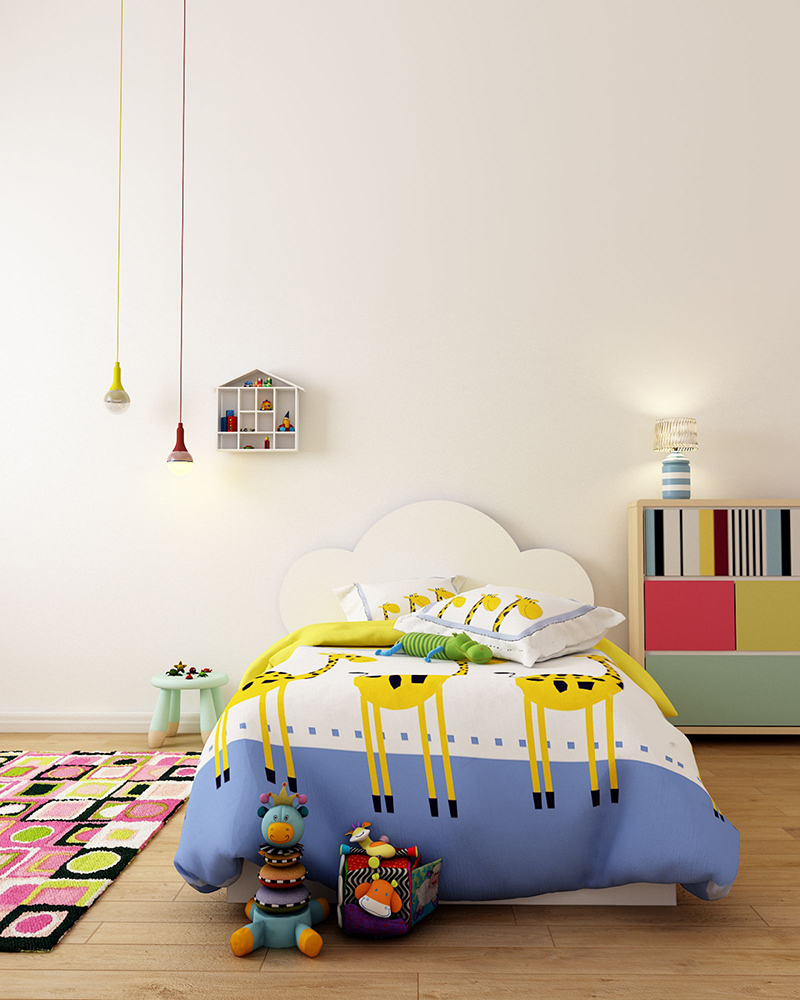 Well, it may be a bit trippy to see a cloud-shaped headboard but it does work well for this bedroom with lovely animal covers. It may look simple but it sure is beautiful.
5. Tree House Bedroom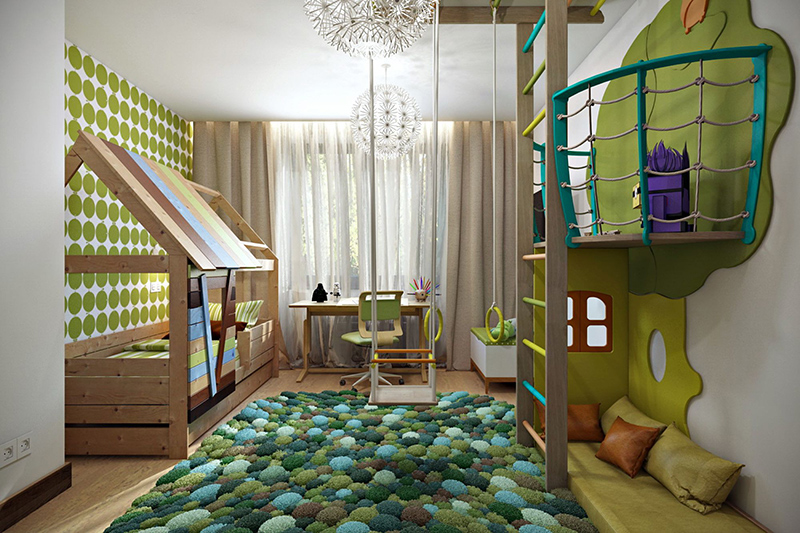 Even if it has a modern design, this tree house themed bedroom totally nailed it with the pallet inspired bed, a tree house bench and even a swing!
6. Music Kids Bedroom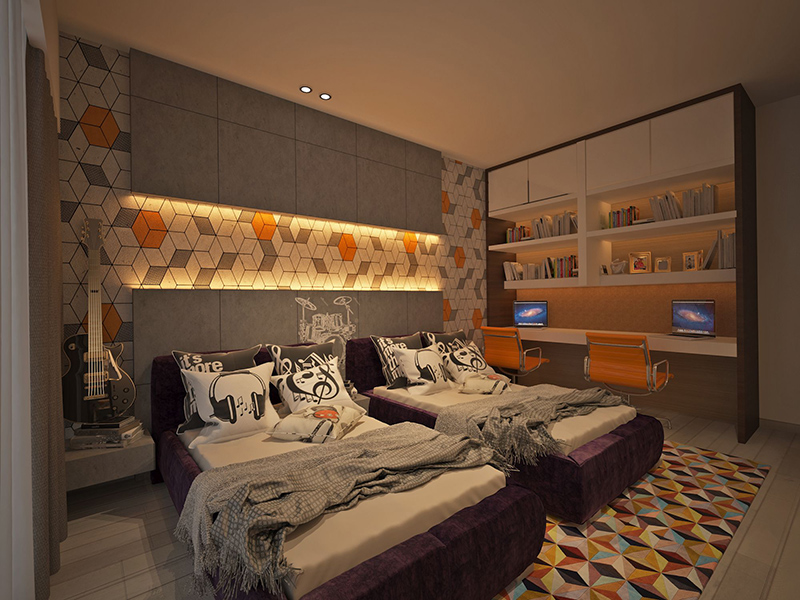 For kids who love music, this would be a perfect modern bedroom for them. It used geometric patterns for the wall and for the flooring.
7. Karma Storage Mate's Customizable Bedroom Set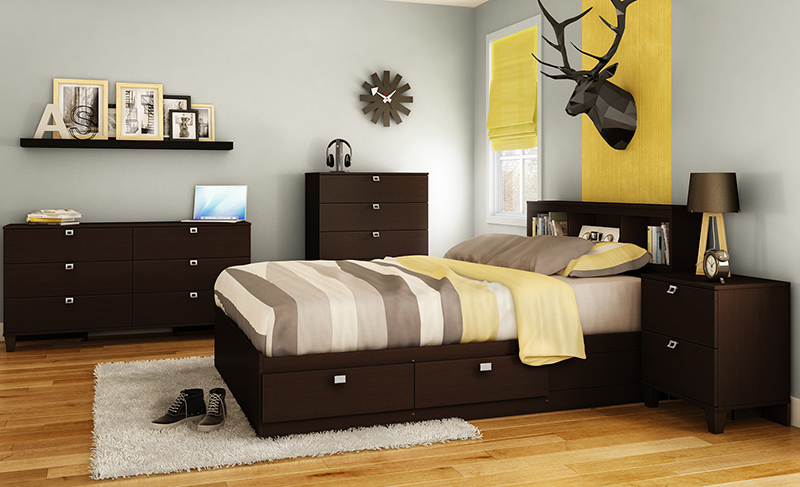 What attracted me in this space is that black faceted deer head on the wall against a yellow paint. I so like its color combination!
8. Italian Kids Bedroom VV Composition G001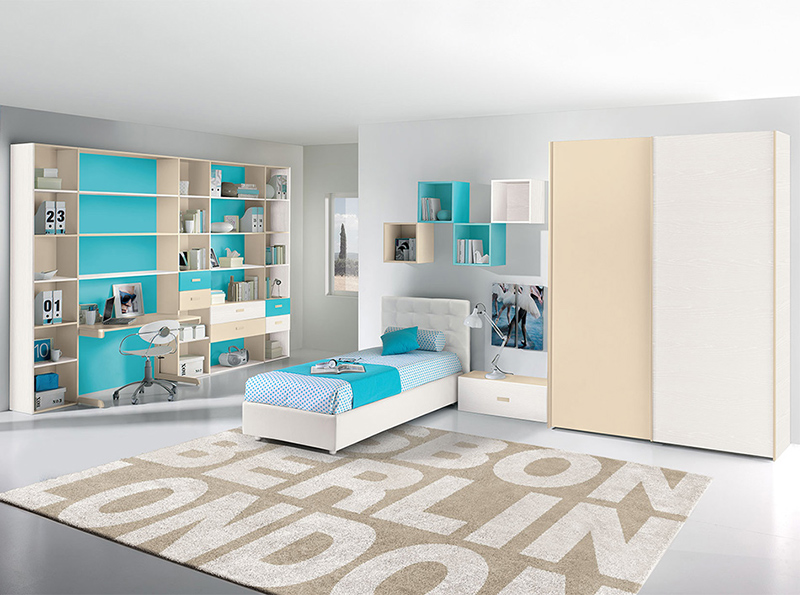 A subtle approach for a travel themed space using cool colors of blue and white. It has many storage areas in it perfect for your kid's books and collections.
9. Little Monsters Twin Storage Mate's Customizable Bedroom Set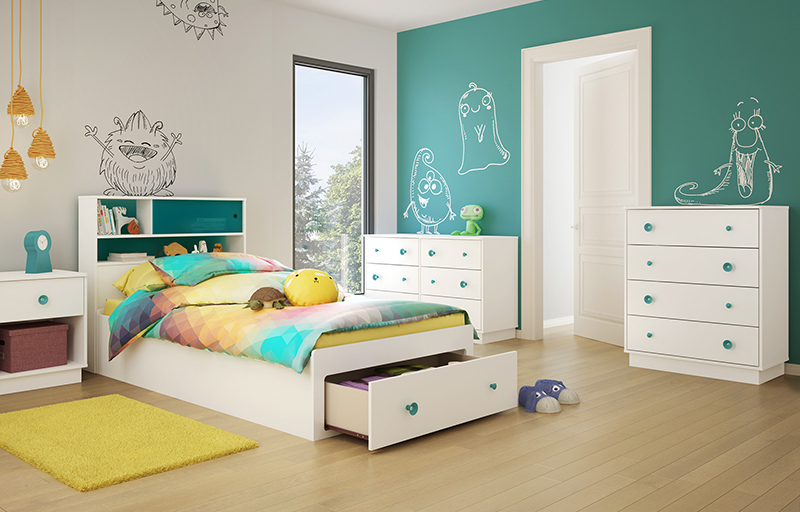 What cute monsters on the wall! A neat bedroom with drawer storage under the bed and a colorful duvet set.
10. Italian Kids Bedroom VV Composition G003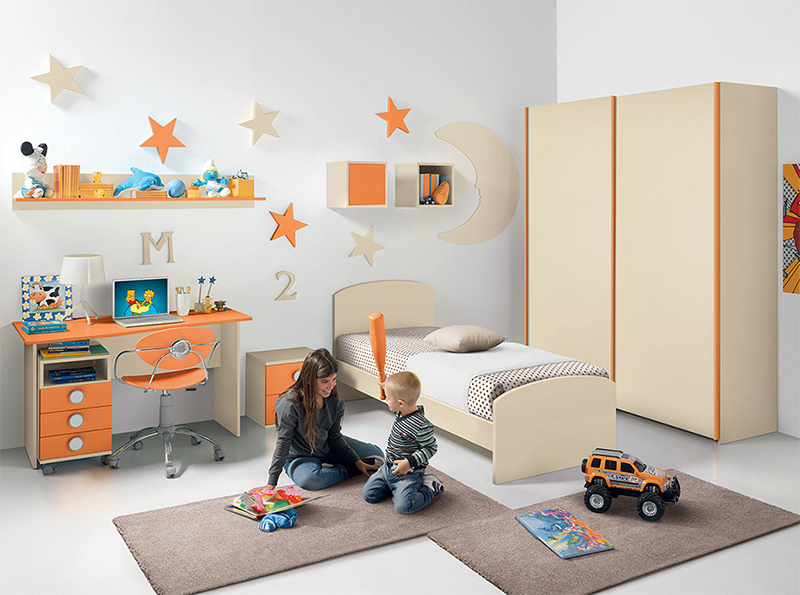 Stars and a moon are seen in this bedroom with orange and cream combinations. Well, obviously, both girls and boys can use this space.
11. Whimsical Kids room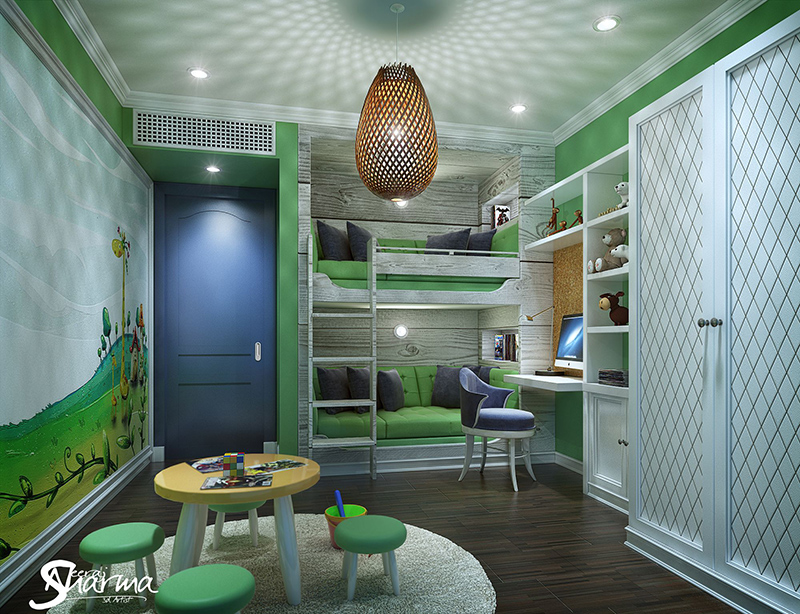 A whimsical kids bedroom design with wooden texture on the bunk bed, a nice wall mural and a play area.
12. VV Kids Composition G007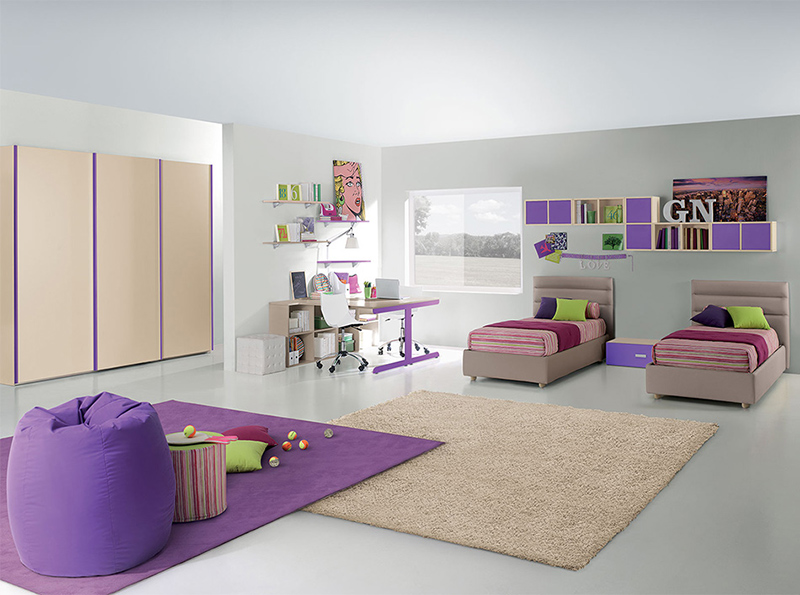 A spacious bedroom with a cute color scheme doesn't only have a large space for playing but it also has a study area for two.
13. Kids room / Interior view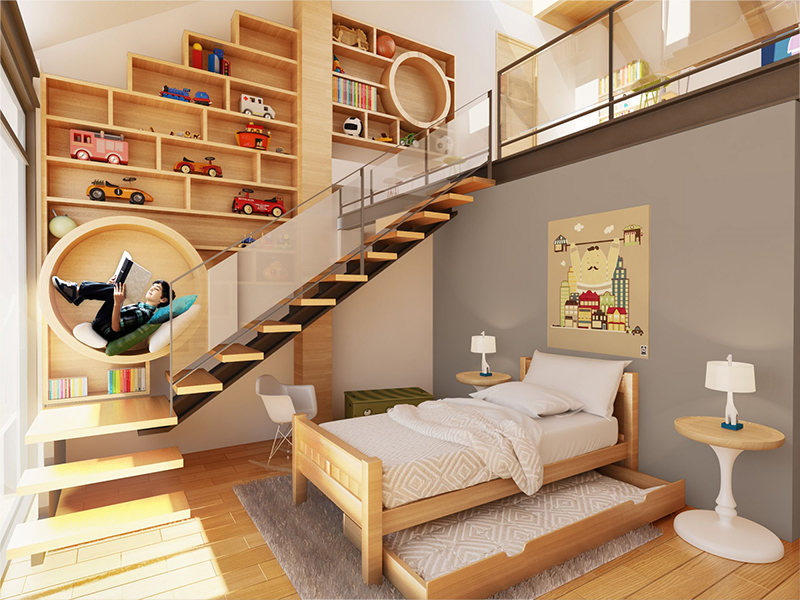 This looks fun, right? Aside from the reading space on the wall, I like how it has a pullout bed under it. The layout of this bedroom is really nice especially that wall of shelves.
14. Kid's Room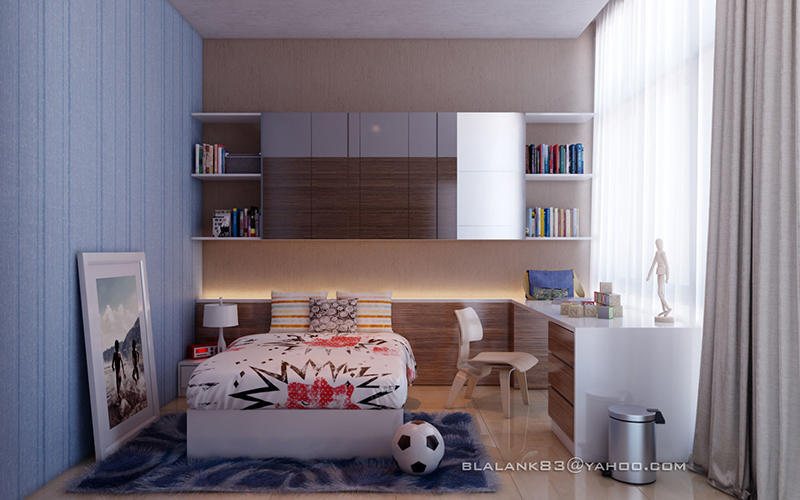 A modern funky bedroom in blue, white and wood. You can see some burst of colors from the bed covers and the space is flooded with natural light because of the sheer white curtains.
15. C129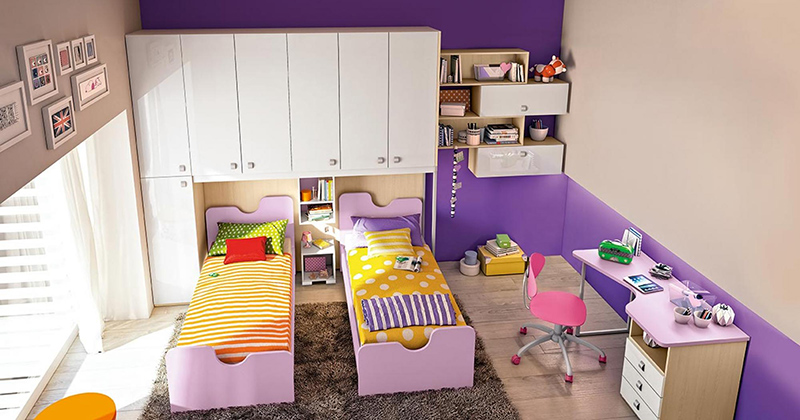 Isn't this a nice bedroom with various patterns put together and lots of storage spaces? It sure looks really amazing!
16. VV Kids Composition G041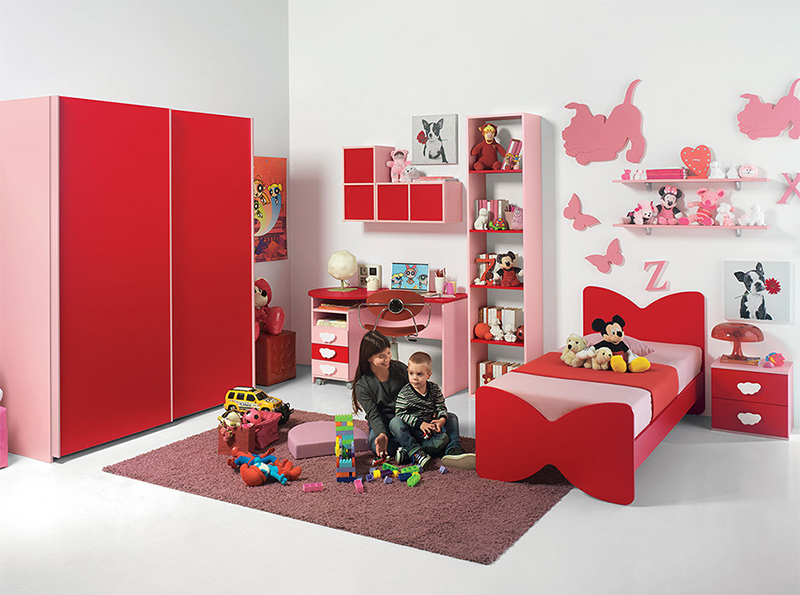 Different animal forms are seen in the wall of this pink and red bedroom. And it still has space for playing and even for doing homework too.
17. Kid's Bedroom Furniture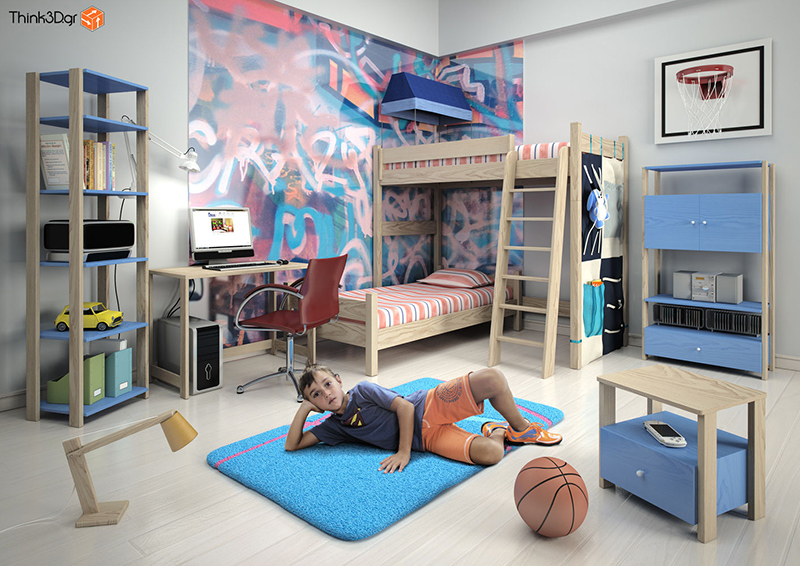 Blue colors are combined with wooden features in this bedroom with a bunk bed. There is also a basketball ring on the wall for an indoor play time! And yes, even girls would love a bedroom like this.
18. VV Kids S015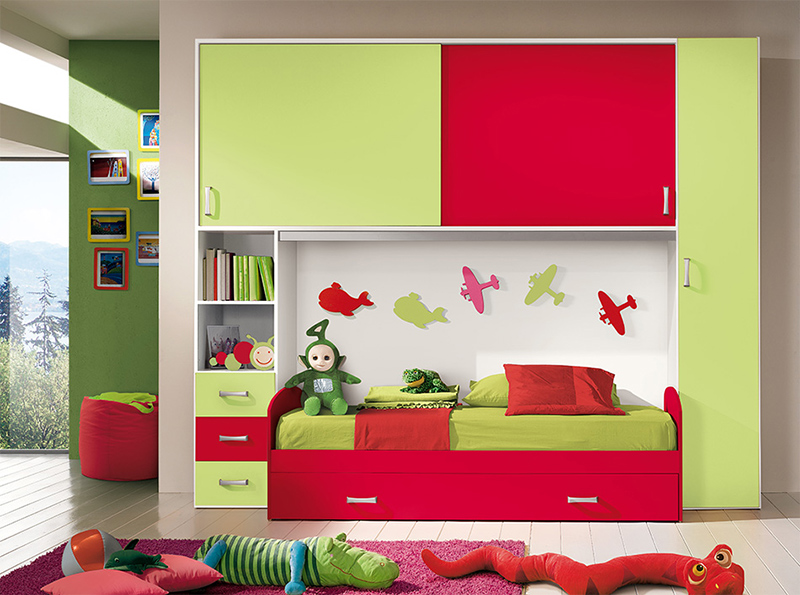 Those decors on the wall are so cute and the combination of apple green and red is so nice for the eyes.
19. C133 Azzurro Lineare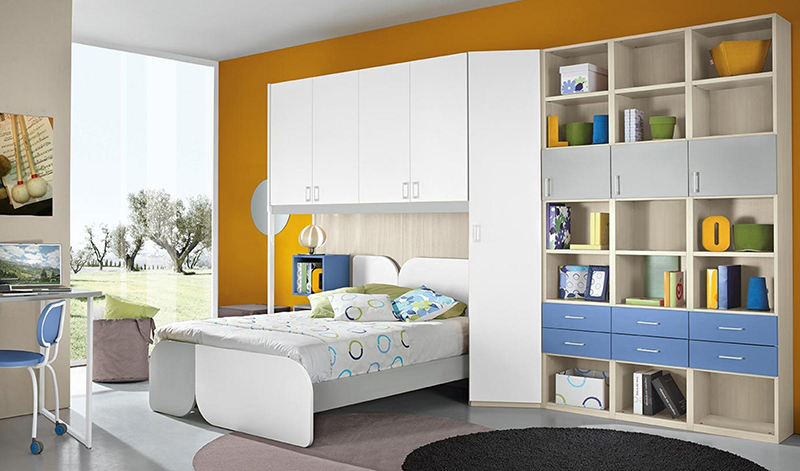 There is a tall floor-to-ceiling window in this bedroom that used a combination of blue, white and gray. It sure is a stunning space no matter how simple its design is.
20. VV Kids Composition G078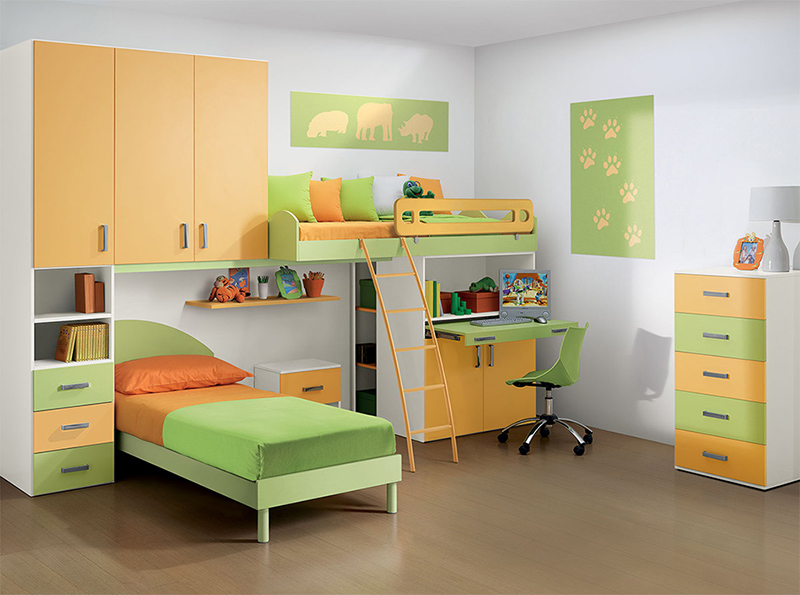 Cute, right? This one is actually animal themed but it didn't over do the decors. I like the idea of having a desk under the bed.
21. C111 Bianco Lineare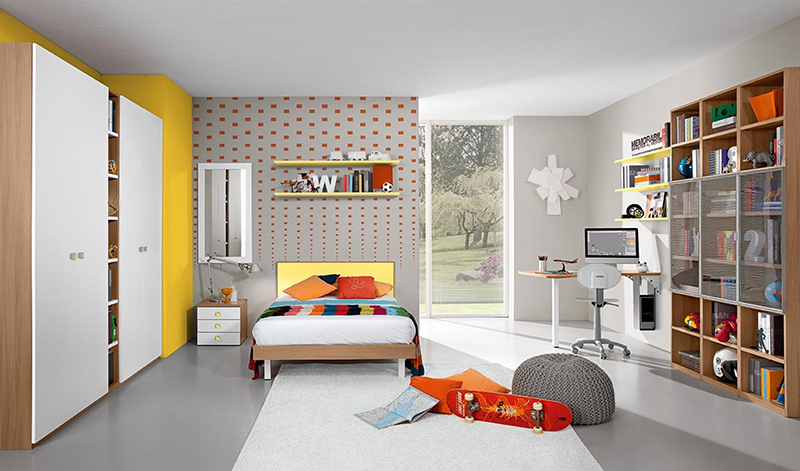 The simple patterns on the wall look nice and the yellow colors on it bring more appeal to the space combined with gray. This one also has a tall bookshelf as well.
22. Kids Room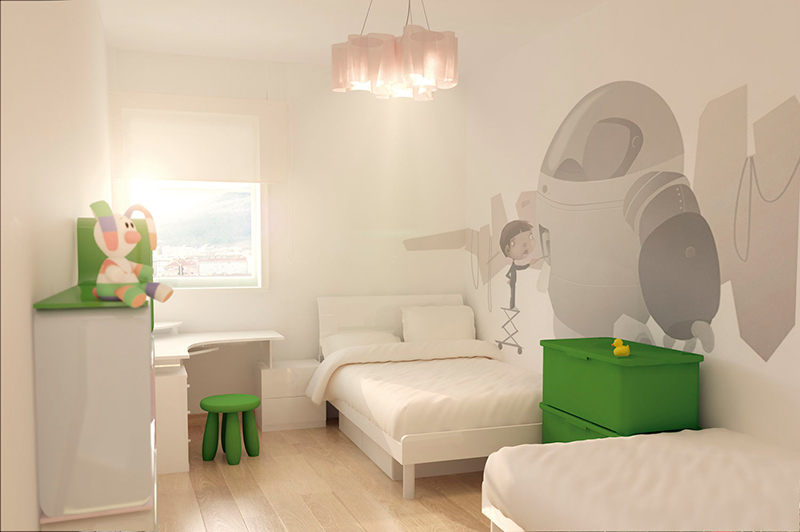 Just a simple bedroom design with a few green accents. What I like here the most is the wall decal that tells us a story.
23. Cookie Twin Storage Mate's Customizable Bedroom Set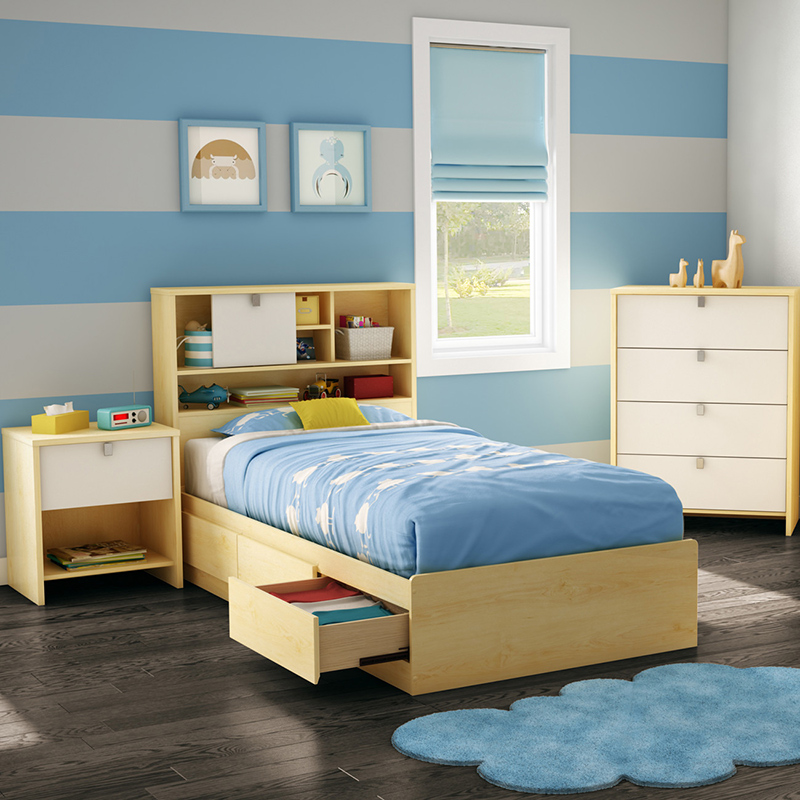 Isn't this a cute bedroom with animal decors? I like how light wood looks combined with light blue and white. And it has a small picture window with a shade as well.
24. Simple Kids room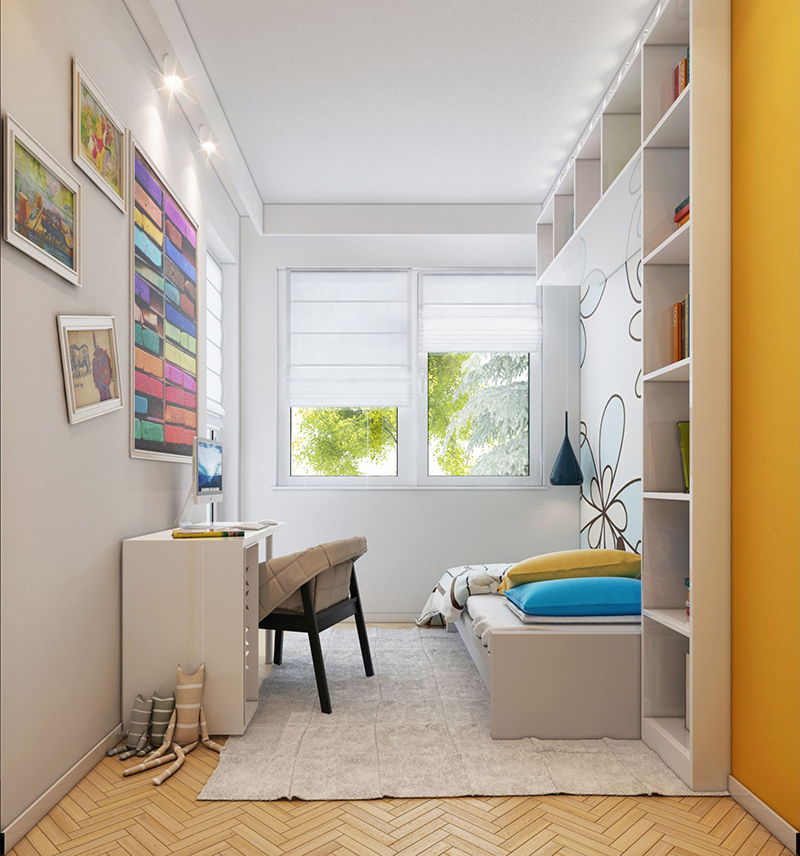 This may just be a small bedroom but it does look really nice and cozy with wall shelves and a beautiful wallpaper. Of course, if a boy will use this, just update the wallpaper.
25. VV Kids S002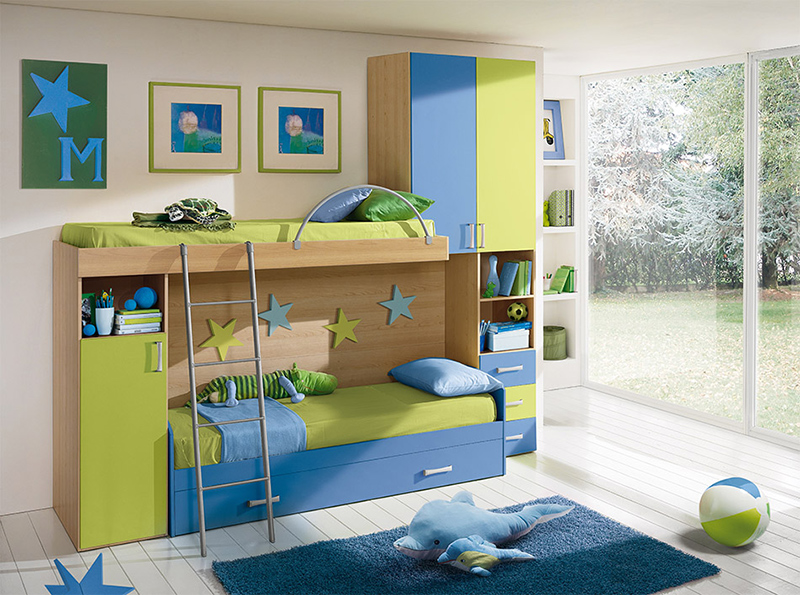 Want a starry bedroom for our kids? Then this would be perfect for a modern approach of the space. I like how the storage areas are being added in here.
I am sure that your kids will feel excited upon seeing all these lovely bedrooms because that is how my daughter feels after seeing this list. What is nice about the bedrooms above is that it can be used by both girls and boys. Just update the decors so that will fit the likes of your children. So, did you like something from this list? If you did, let us know which one you loved the most!