20 Chic and Beautiful Girls Bedroom Ideas For Toddlers
Whew! Time flies so fast, isn't it? One day, you were just thinking of creating the best design for your baby's nursery, now your little darling is walking and doing things by herself. The nursery that you made does not seem fitting for a toddler who is so full of energy and enthusiasm to do things all at once, anymore. Now is the time to rethink and perhaps, change her nursery to a toddler's room. A room that encourages playtime and having fun as it is soothing and restful when bedtime is up.
Your little girl's room should be comfortable without getting boring. It should exudes her personality and interests. It should create an opportunity for her to be creative and have fun, and serene enough to get ample of rest and sleep that she needs. If you need more inspiration and ideas, check these 20 Girls Bedroom Ideas For Toddlers to give you a spark on your daughter's new bedroom design.
1. Timeless Black And White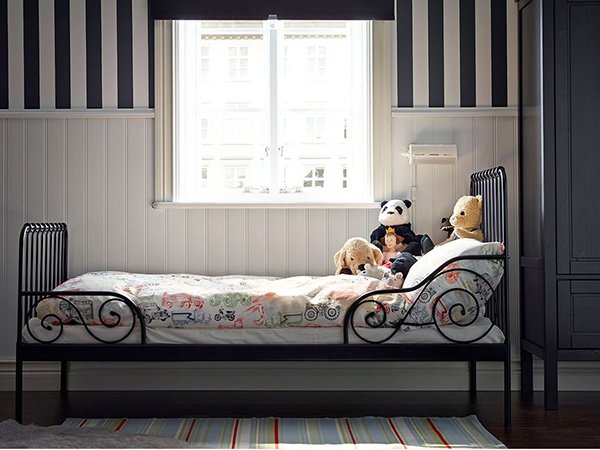 Toddler girls bedrooms do not have to be covered in pastels or striking colors always. A more sophisticated approach is to use the classic hue of black and white, and geometric patterns. In this nursery, using stripes of black on white walls creates a playful vibe that echoes to the bed slated style and white mattress. Bold patterns and cheerful colors were added to quilt, pillow cases and area rug for instant interest and theme, that way you can easily change it when your child's tastes changes.
2. Toddler To Teen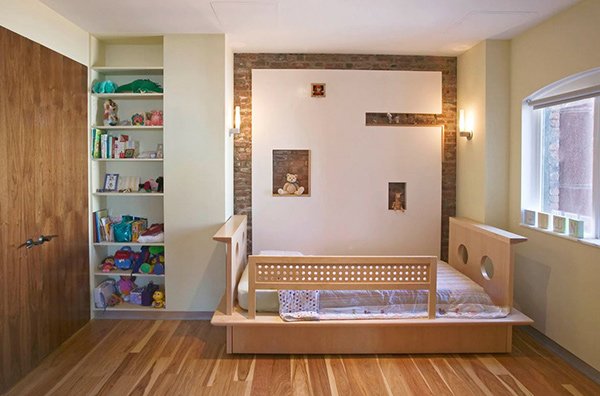 If you have a crib that can transform into a full bed, you just got lucky! While prettifying her bedroom is important, so as spending your money wisely. Getting a full bed for your little girl will likely to be used throughout her teens, so invest in furniture that can last for a long time rather than a passing trend.
3. Garden Gate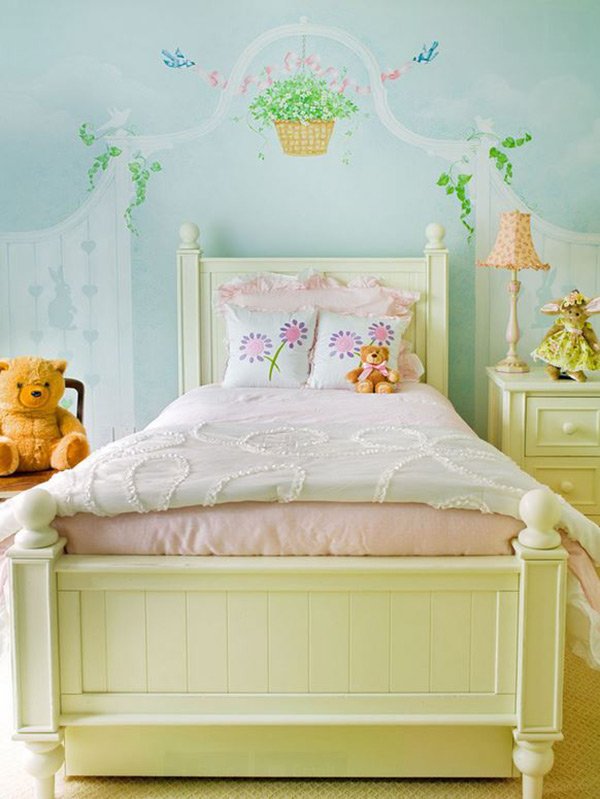 A garden themed bedroom for your little sweetheart is a fun and whimsical way to design her room with. Start with a garden gate wall mural in soft, muted colors for a soothing tone. Add French-inspired furnishings or accent items for a beautiful, girly appeal.
4. Soft And Stylish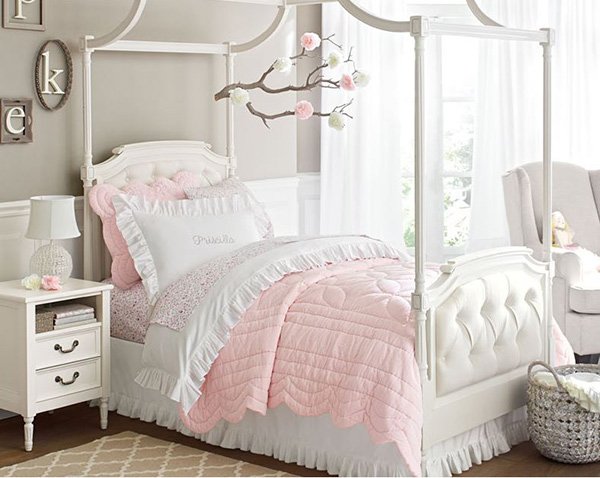 Gray and white walls, blends perfectly with muted pink and white accents. A homemade branch mobile fits beautifully on the featured wall just right above the headboard creating whimsy and interest. The four-poster bed with its white and pink layers of patterns and ruffle sheeting bring elegance and comfort.
5. More Storage, More Fun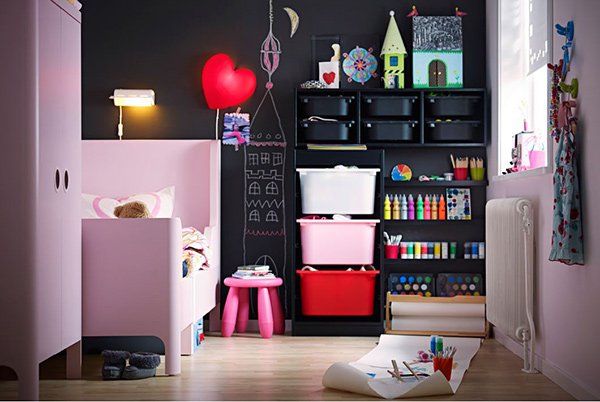 Leave the floor for playtime and more creative activities. Use wall-mounted ledges and rails to store art supplies and toys. It will not only keep her room clean, it can also serve as a colorful display. Choose colorful bin baskets to add fun and playful element in the room. An accent wall treated with blackboard paint doubles as a place to draw is a perfect treat for those little artistic hands.
6. Sweet Pink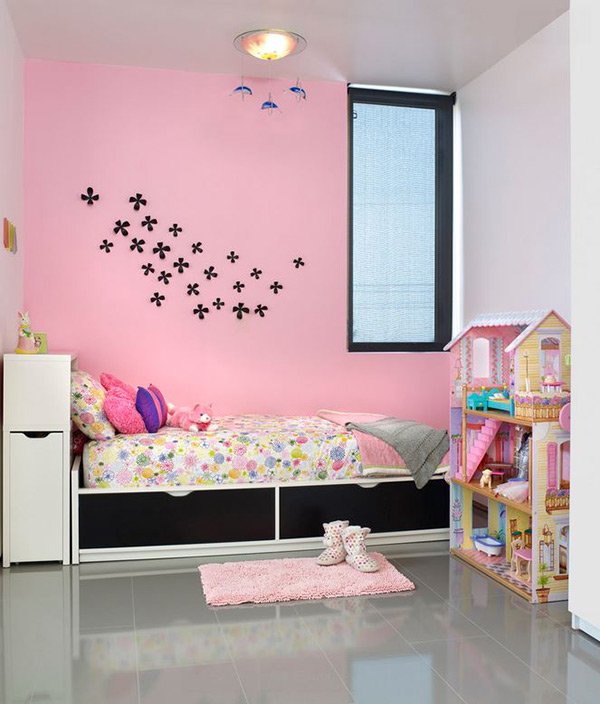 This sweet, muted pink is a go-to color for girls' of all ages. Give it an elegant twist by adding a 3D floral wall decals, which are graphic rather than flowery for a twist of modern whimsy.
7. Playtime Equals Bedtime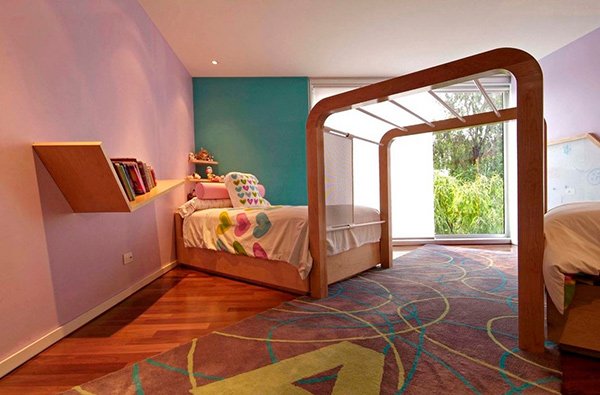 Let your little girls love bedtime as they do with playtime by giving them the chance to enjoy a playground-like environment whatever the weather may be in their own rooms. Custom beds will give you the ability to create a wonderful furniture suited for your active child, like these custom beds with monkey bar. Addition of pastel hues on the walls and playful patterns and colors on rug and beddings will help add to the atmosphere, while warm lighting brings a restful vibe.
8. Twinkle, Twinkle Little Star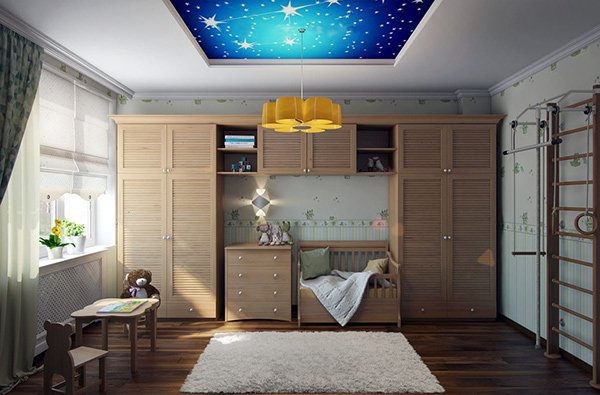 Do not underestimate the impact of a beautiful ceiling treatment and hand paint job. A deep-blue night sky with lots of stars on the ceiling is appealing to your toddler's senses. It is a serene accent that will help your little one to use her imagination and loosen up when bedtime is near.
9. Blast Of Colors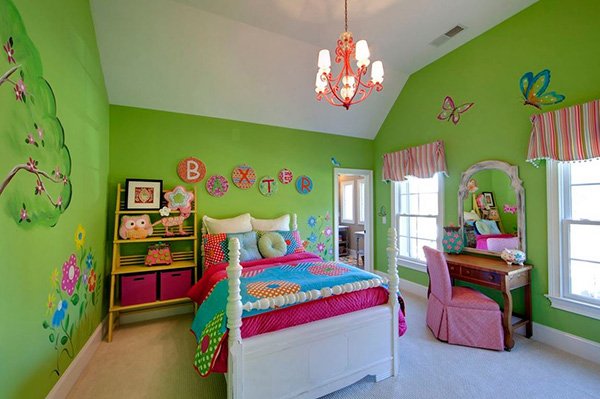 A blast of intense colors give off an eclectic flair, while layers of different patterns and textures bring personality and style to a room. Repeat a pattern or hues all throughout the room for a cohesive look that is fun but not overwhelming.
10. Soft Browns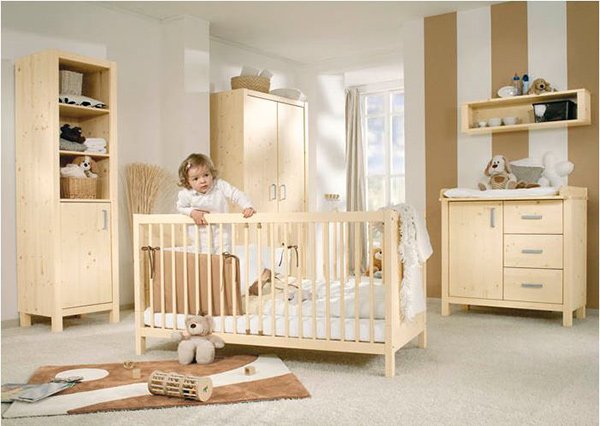 For an elegant and sophisticated look, consider using neutrals in muted hue. In this bedroom design the warm and soothing soft browns were used on wall in stripes. Using light woodsy tone on furniture makes a perfect tranquil accent in the room. Consider good carpeting too, to cushion your speedy toddler's fall.
11. Baby Animals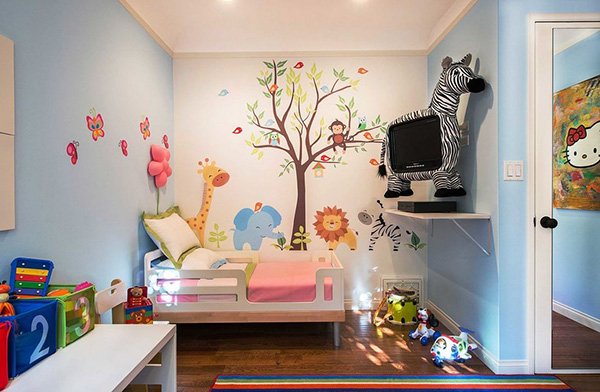 For your little miss explorer, a jungle animal themed room is right for her. Use light colors on the walls for a solid-color background and choose playful animal wall decals in decorating. Showcase her stuffed animals as part of the decor and other animal prints accessories for some pretty accent in the room.
12. Vintage Elegance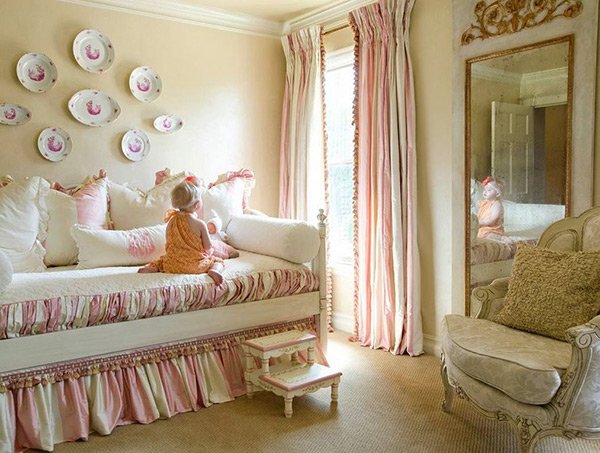 If your little doll share the same interests with you when it comes to classic tastes and vintage finds, consider giving her a shabby-chic room design. Start by using beige for the wall color, gold trim for accent and a touch of luxury, and a color-scheme of pink and light gold for the drapes, pillows and bed skirts for girly and elegant appeal.
13. Fabulous Wallpaper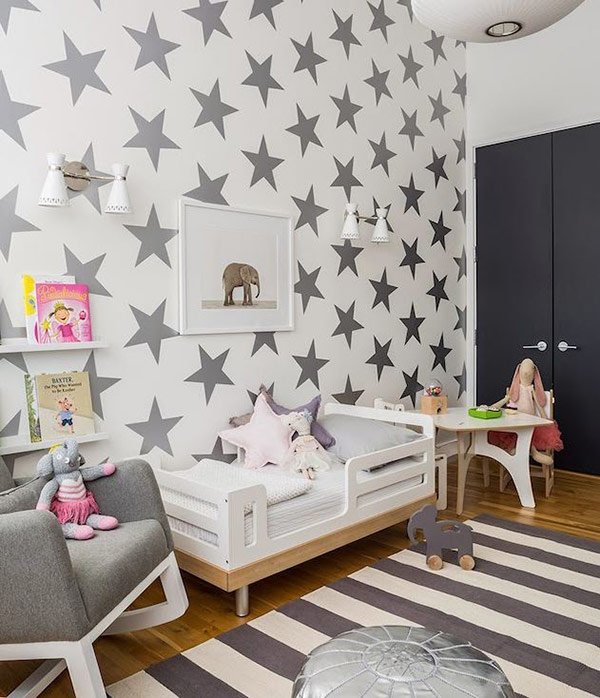 Create a fabulous room for your trendy little one with white and gray color scheme. Consider sticking to this modern color combination that will grow with your child. The white and gray star wallpaper and stripes area rug bring a fun and whimsy glamour in this room, while the white furniture keeps the modern vibe.
14. Paper World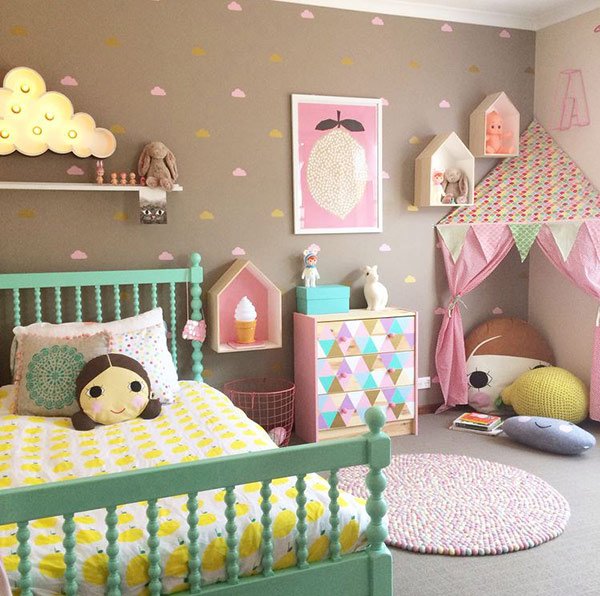 This is another fun theme to do in your toddler's room. A paper world-theme brings in a world full of imaginings and colors. The use of sherbet green, pink and yellow pastel in different playful patterns create an exciting, youthful personality.
15. Tea Party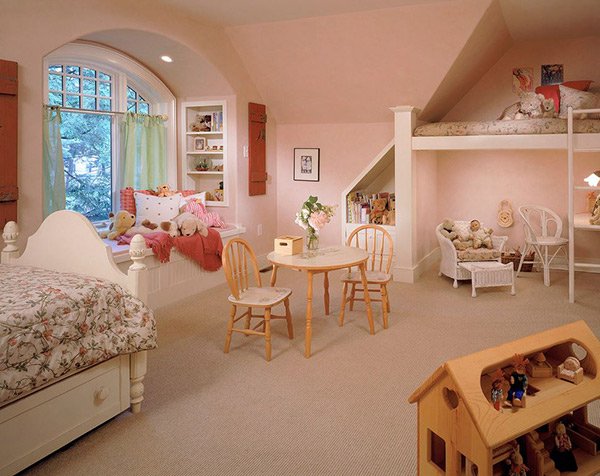 A tea-party inspired bedroom design for your little girl is a great way to hone her social skills. In this bedroom design, a lot of space were used to encourage playtime by hosting tea parties, having fun by the window seat or read fun stories under the loft bed. This dainty, spacious room is sure to capture your little toddler's heart.
16. Doll House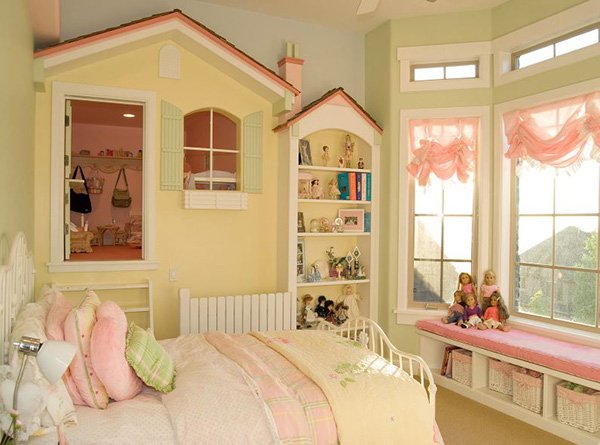 For a little girl who loves dolls, a dollhouse-themed bedroom design is suited for her. Consider using muted mint green, pastel yellow and pink for the color scheme. A custom built playhouse is a wonderful treat but if you are working on a budget consider on sticking to the color scheme, mix of subtle patterns on the furnishings and add touches of dollhouse elements on the decor or use her doll collection for a more personal appeal.
17. Fun In Traditional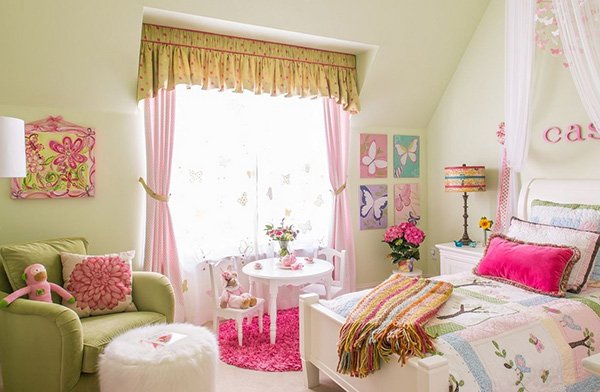 A foundation of light-block color offers a lot of opportunity to add more colors and bold patterns on the accessories and furnishings. Take a cue at how this room gets a cohesive look despite of the unexpected mix of bright colors and patterns.
18. Campout Anytime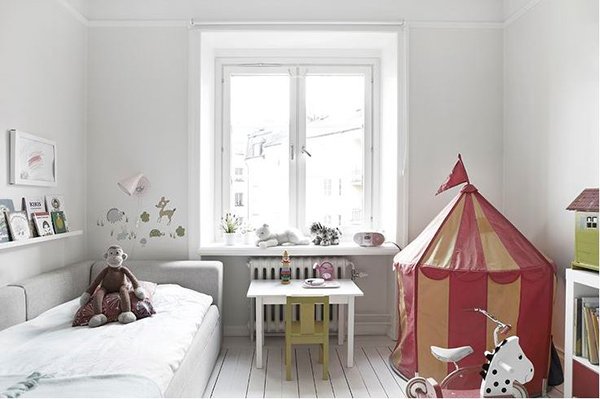 Make it happen for your little girl, going to the circus or camping out anytime she like whatever the weather is, in her own bedroom. Install a small tent so she can snuggle up for role playing time or it can double as a reading place for her. A colorful tent is a plus, it will make an instant focal point in the room and it will also encourage her creativity and imagination during playtime.
19. Whimsical Purple
A fantasy room for your little tot is sure to fire up her imagination. In these bedroom design the surreal ceiling creates a feel of fantasy and the tone on tone works well. The geometric patterned carpet creates a grassy ground feel, and the wall mural evoke a magical world filled with beautiful calla lilies. This room is calming and full of whimsy elegance.
20. No Pink Princess' Room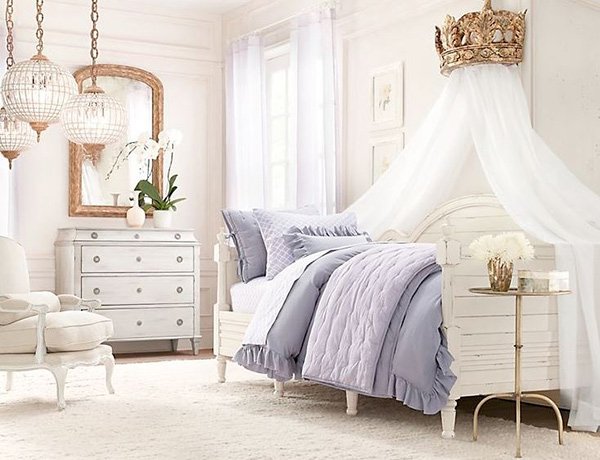 Give your princess-themed room a dramatic and sophisticated look with this color scheme. A pop of purple bring glam and elegance while the antique furnishings and decor brings luxury and personality to the room.
Giving your little girl her own room that reflects her personality is fun and enjoyable. As fun and enjoyable it is, it also needs a lot of dedication and effort. Comfort should be the priority and the rest should follow. Make sure that the room for your little toddler is comfortable and fun at the same time. It should excite her imagination and encourage her creativity as it is inviting and restful. So go on, find a motif or theme to get you started. Look for something she loves and things that interests her. Choose a color scheme. Neutral background can give a lot of room for bold and cheerful colors while intense or striking colors for the ceiling or walls, means a subtle or less patterns and bright colors on accessories. Lastly, choose furniture that will grow with your child. It is more practical and it can save you a lot. Have fun designing with these girls bedroom ideas for toddlers!