20 Modern Bedroom With Fireplace Designs
Are you getting tired of looking at your boring room? Do you want to create an extraordinary appeal to your all-sleek- modern bedroom? Do you want to add something different? An addition may be that will make your room a lot more exciting and fun? Or perhaps, you are thinking of fusing some unexpected touches that will make it cozier and more intimate? Whatever outcome you may want to achieve with your modern bedroom interior, adding a fireplace in your most private room will definitely give you an ambiance you have never seen or felt before.
View our 20 Modern Bedroom with Fireplace Designs to see how a historical structure fits in a modern design. Let these modern fireplace designs set your own bedroom aglow in such a snugly ambiance. You will love all the photos we gathered for you! It will certainly spark an idea or inspiration for those who would love to cop this kind of interior style.
Master Bedroom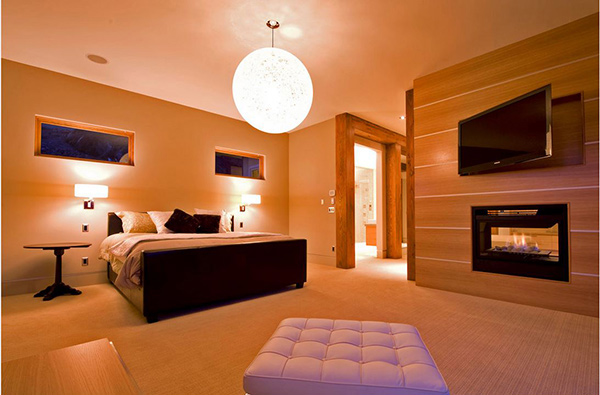 Who would not love the cozy light that graces across this room? An inset fireplace creates an unexpected touch to this modern bedroom design.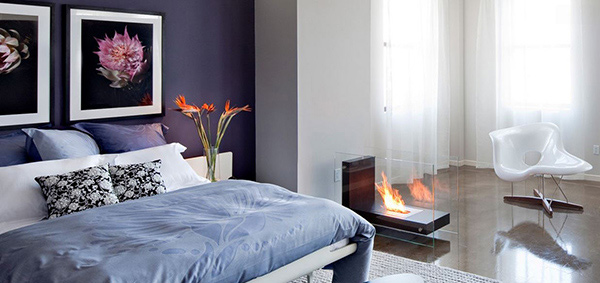 The color scheme that was used in this bedroom design is fabulous and inviting. The L-shape fireplace on the corner next to the bed added warmth to the space.
Modern Is Modern Again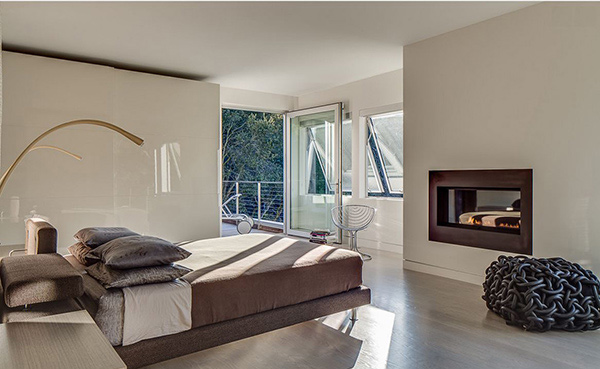 We love the minimalist approach used in this bedroom design. It is sleek and sophisticated at the same time.
Greenwich Village Townhouse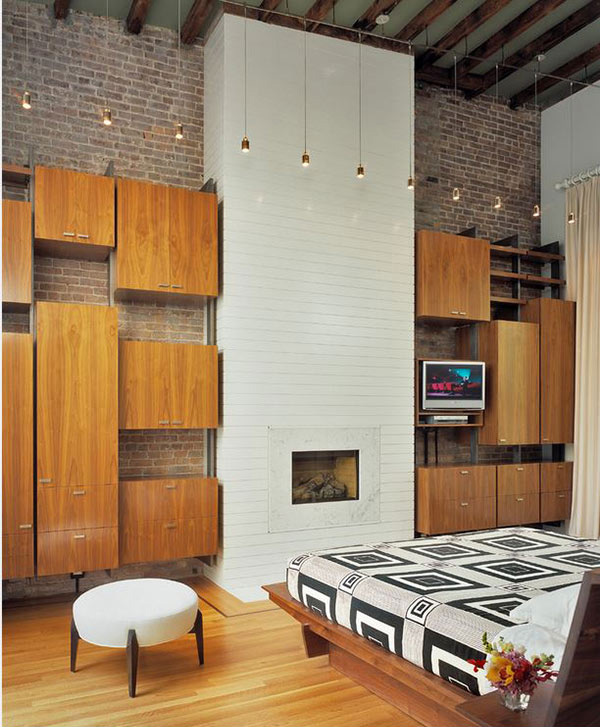 Adjustable cabinet system is a great idea for bedrooms with limited space. It is easy on the eyes and on this design, a stylish way to accentuate the inset fireplace with white wall.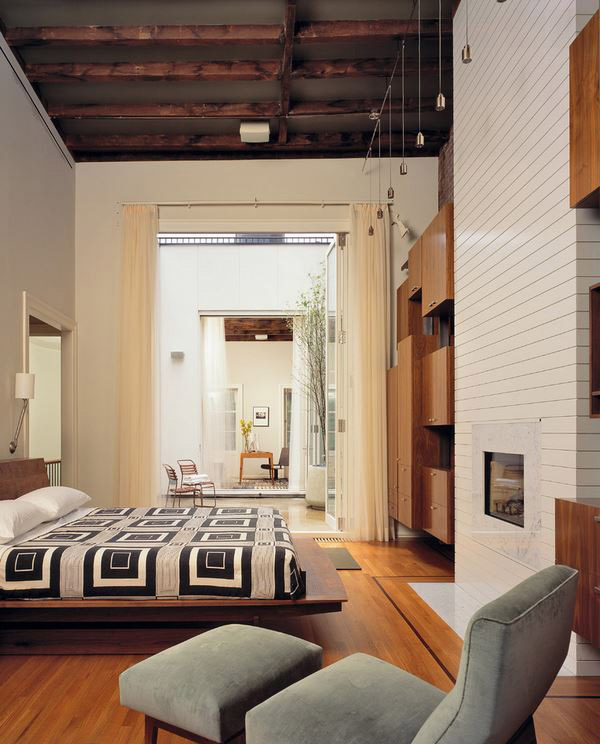 This is another view of the beautiful modern-rustic-industrial bedroom design in Greenwich Village Townhouse.
Filler House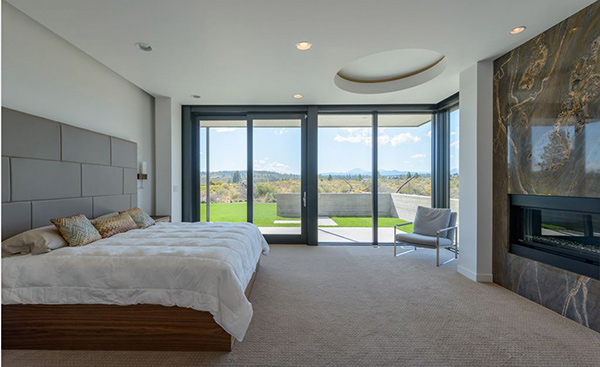 So simple, yet so liberating! The onyx featured wall together with the fireplace created a relaxing atmosphere that balances the whole bedroom design.
Modern Bedroom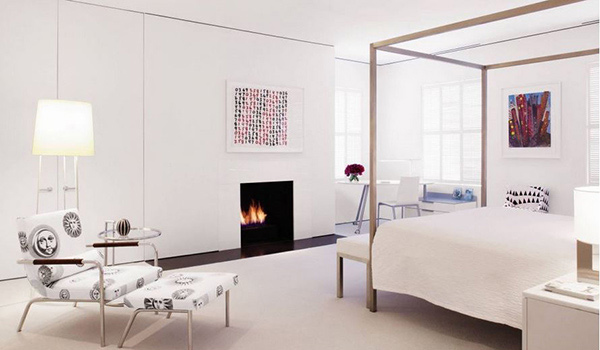 A fireplace in an almost-all-white modern bedroom design set an instant warm and relaxing mood.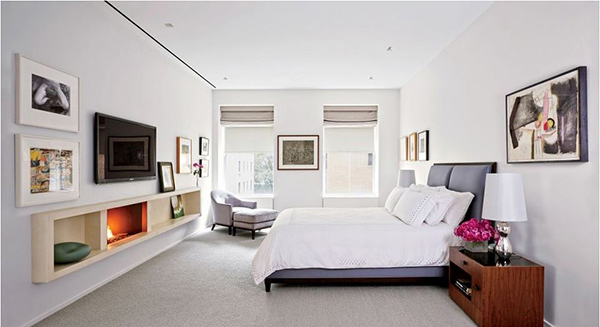 White is the usual color in a modern interior and in this design, the white walls accentuate the big gorgeous bed. The minimalist fireplace framed with limestone shelving evokes a warm and intimate atmosphere.
Modern Breckenridge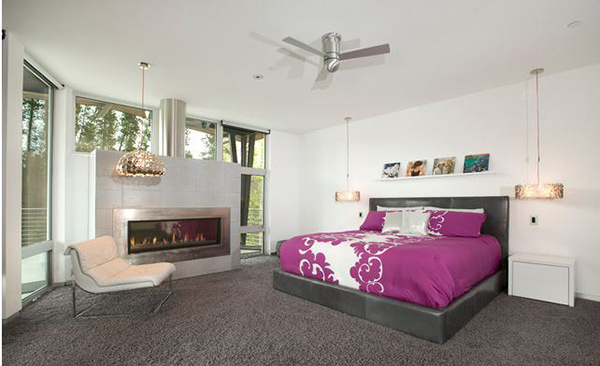 The modern fireplace takes the center stage in this modern bedroom design. An instant feel of comfort welcomes you in this room.
Modern Bed in Fireplace
Now this is what you call a Zen-modern bedroom design! From the neutral color scheme, to the textures and subtle patterns, the whole scene creates a serene retreat! Not only that, the coolest thing in this bedroom design is that the beautiful linear gas fireplace, recessed TV, lighting, audio and motorized window coverings are all controlled with a remote.
Russian Hill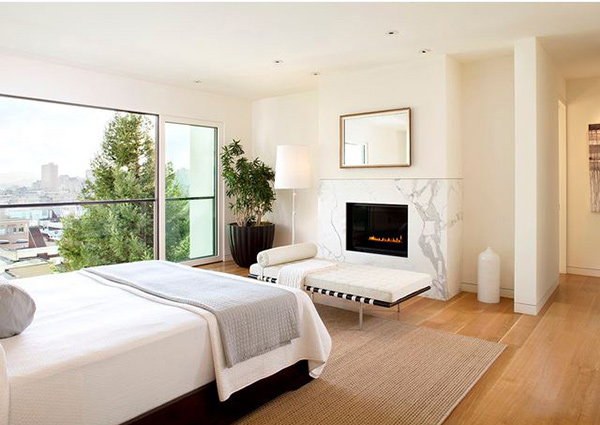 A calm space is what you will get from this modern bedroom design. Use a huge mirror instead of installing a television above that gorgeous marble fireplace and it will still look modern and stylish.
Huum Project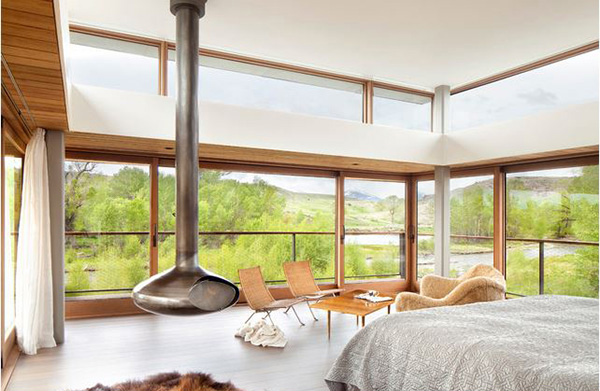 Get that extraordinary feel in your bedroom with a fire orb. It does make an interesting focal point for any space in your house.
Boiler Residence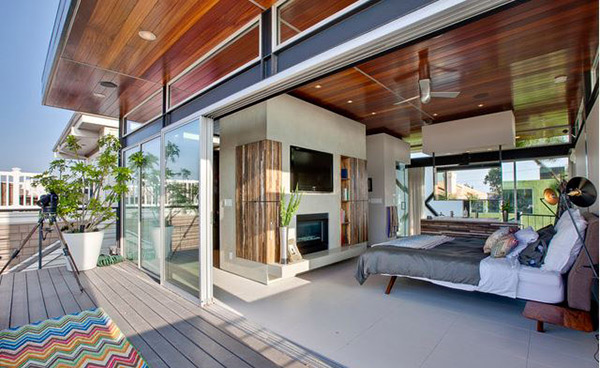 For those who love outdoors, nature or open space, this design is right for you!
Nob Hill Penthouse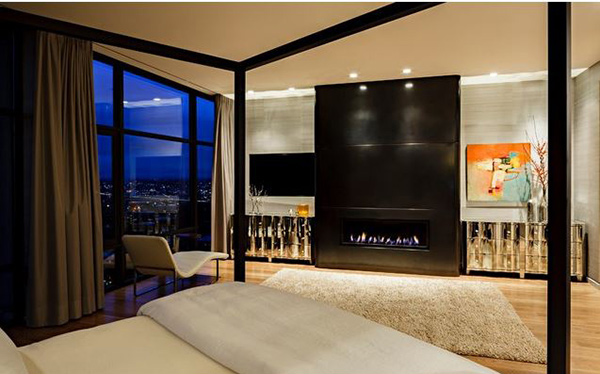 This modern bedroom design looks so luxurious and elegant. The glittering wall covering softens the steel-covered fireplace and create an absolute grand ambiance.
Toro Canyon Residence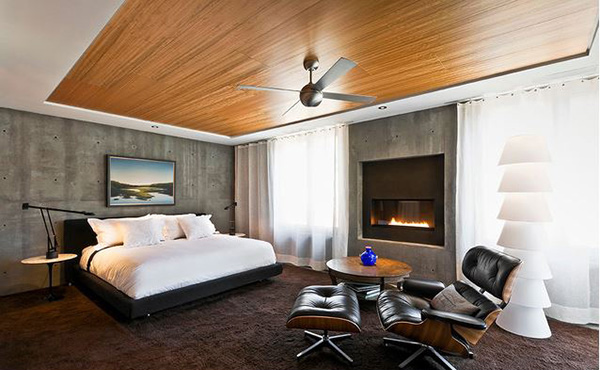 Need a masculine bedroom design with a minimalist fireplace to take the attention? This bedroom design is for you!
Stephenson Design Collective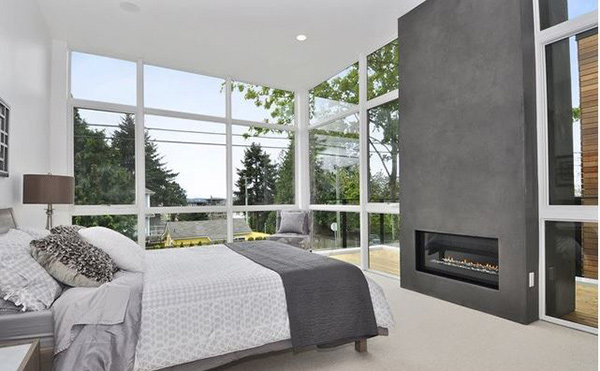 The featured wall in which that beautiful fireplace was built, is accentuated by the glass walls around it. The fireplace creates a soothing effect in this modern bedroom design.
Hillside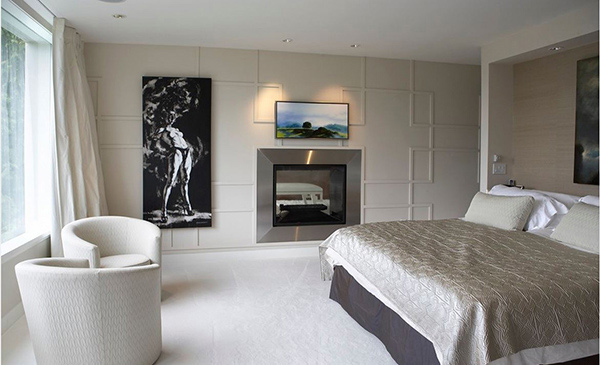 We love the textured wall that gives emphasis to the sleek fireplace and makes this modern bedroom design hip yet dreamy.
Oh Domino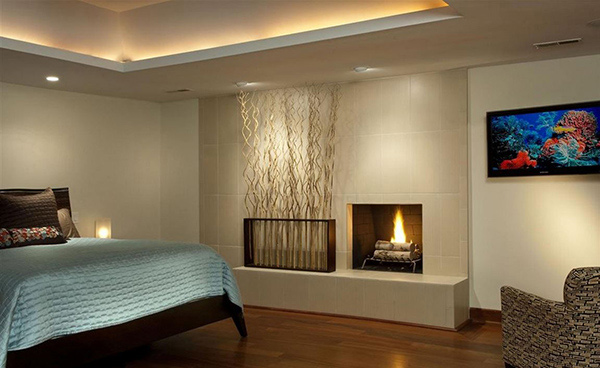 A beautiful color scheme is used in this dainty modern bedroom design. The fireplace is a wonderful addition to the layout as it makes this room a lot cozier than it already is.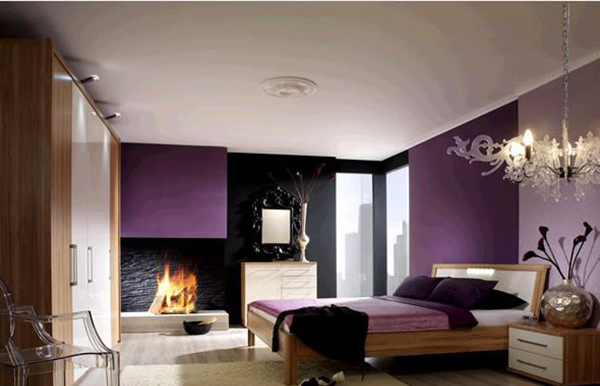 Purple and black make a dashing interior. A stylish fireplace sets off this dramatic modern bedroom design.
Val-Royal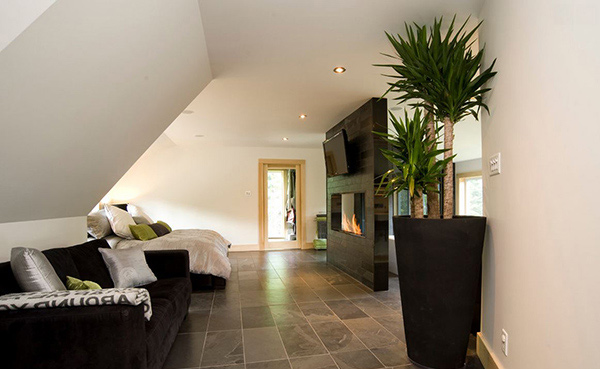 Are you thinking of creating a peculiar division in your bedroom? Get your cue from this awesome modern bedroom design.
Reimert Residence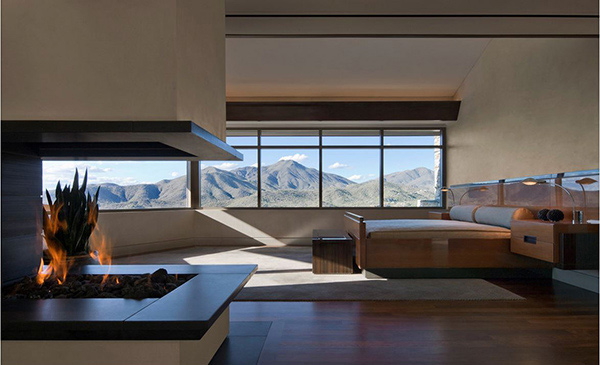 Master bedroom is so inviting with its three-sided open fireplace and textured bronze panels and concrete hearth and mantle.
We bet you enjoyed our featured bedroom article for today. The 20 Modern Bedroom With Fireplace Designs is a sure treat for those who appreciate modern architecture. Adding a fireplace to your bedroom will not only make your room grand but it will also radiate a cozy and inviting feel. There a lot of amazing modern styles to choose from. Go on and make your bedroom instant snugly while keeping it hip and stylish.