15 Vibrant Purple Bedroom Ideas
Purple is a vibrant, versatile color and is one of the hottest colors in today's fashion. It gains its popularity in the modern world through clothing and now in interior designs. A lot of artists love this magnificent color and that is why we have something new for your eyes to feast today.
Purple is a color of mystery, luxury and elegance. So in today's article we are going to show you 15 Purple Bedroom Ideas ranging from the bright, bold hues to the sweet, calming pastel. You will see how purple can be used in the bedroom for a couple, his or her, tweens, and teens or even for kids. So come on and browse through our amazing list of Purple Bedroom Ideas!
Purple Love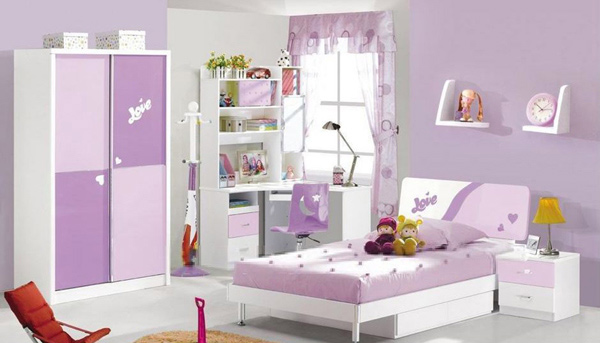 This purple bedroom design is good for a limited space. Use the lighter hue of purple like lilac so you can make your room look bigger and cozy at the same time.
Purple Dream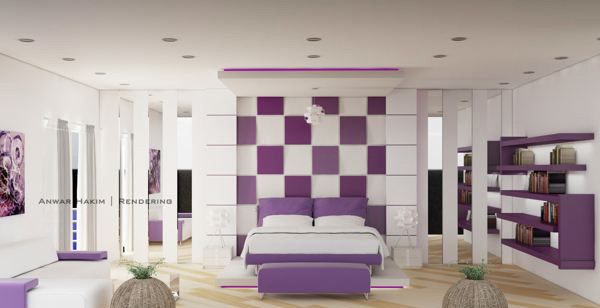 Create a purple accent wall like this design. If you are the kind of person who cannot stand to see all of your walls painted in purple, then this idea will definitely work for you. Pops of purple on these otherwise white interiors is such a beauty.
Welle Spectrum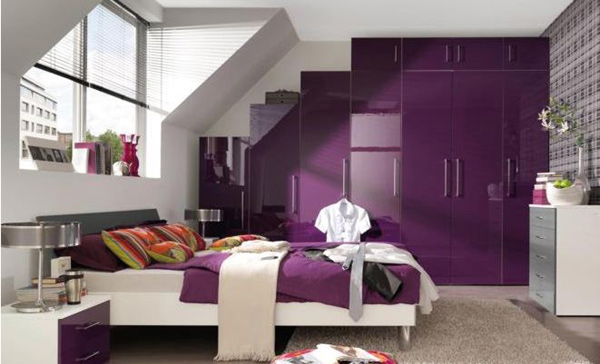 Create an eclectic appeal by going on a contemporary setting with a stunning high gloss purple wardrobe and clean white modern furniture and match it with colorful accessories.
Purple Wallpaper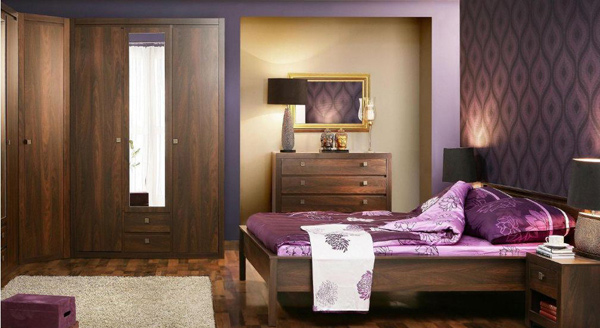 Add depth and glam to your contemporary bedroom by adding beautifully-patterned wallpaper as your wall accent and putting mirror and accessories in browns and gold.
Verve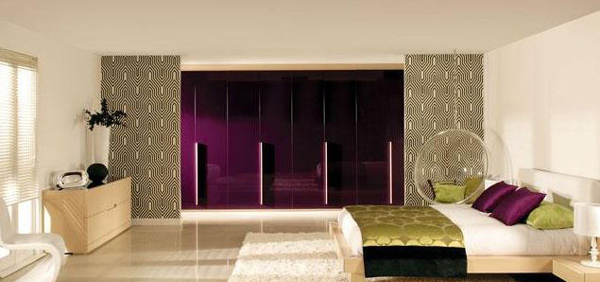 This bedroom design is perfect for a teenage boy who has an eye for a retro style. Green and purple blended perfectly and is punctuated by black decors and geometrical-patterned wallpaper.
Classic Purple Bedroom Set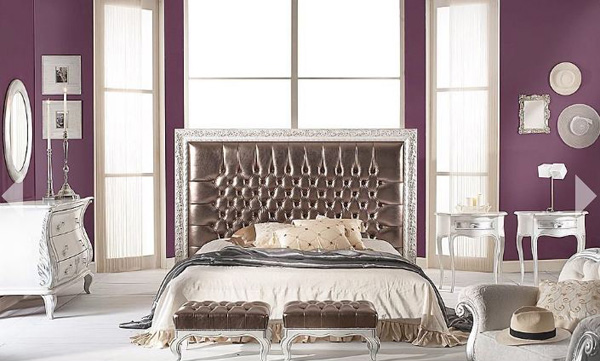 A simple yet elegant bedroom design for a tween or even teenage girls who are up for glamour! The interiors are painted with purple and matched with classic silver-white furniture and decors.
Anamone Flower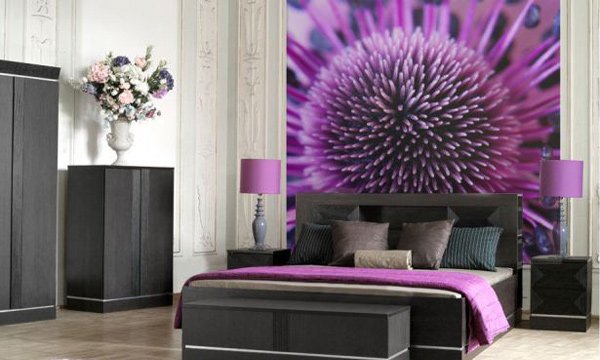 Adding purple faux flowers for a décor are a lovely move in making your interiors come to life. Going overboard with something like a floral wall mural is even a bolder move that will definitely make your bedroom standout.
Glamorous Master Bedroom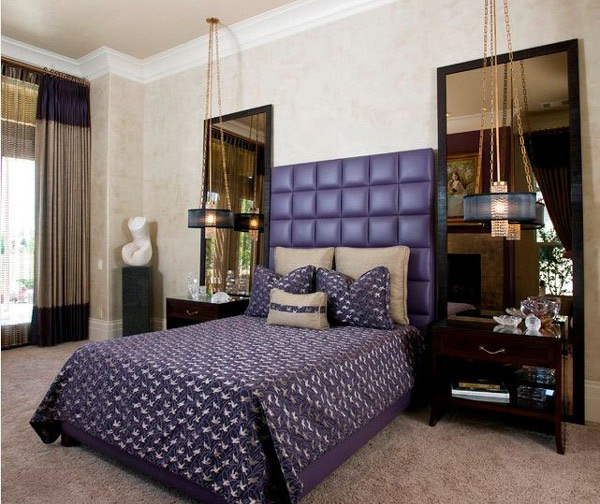 Use rich shade of purple with black and gold accents and your bedroom will be full of drama, luxury and edge.
Pixel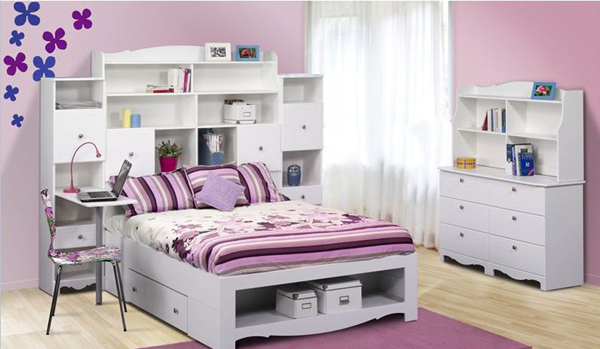 Your little girl will sure love this color-scheme. The soft purple tint is so inviting and romantic, perfect for your dreamy princess.
The Parc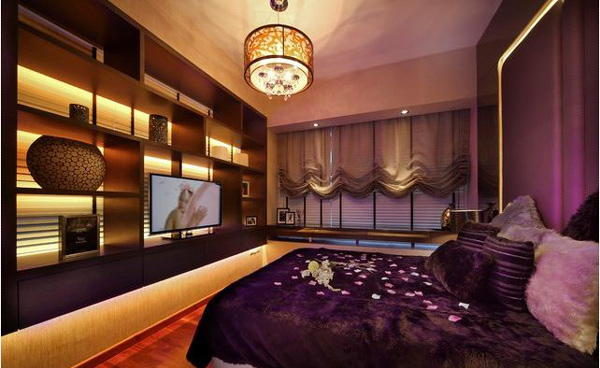 Create a luxurious and romantic escape from your busy life by adding purple velvet all over the place and matching it with classic decors that will make you feel regal.
Kids Spaces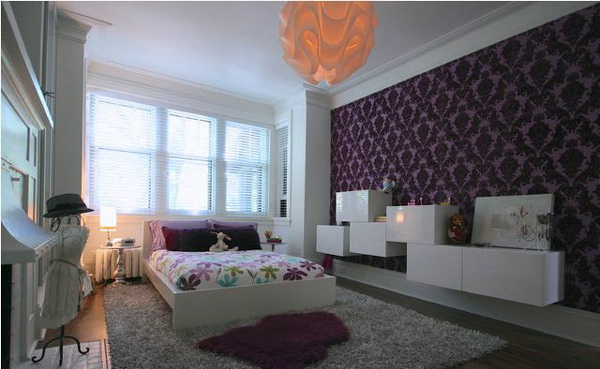 Use purple damask wallpaper for your focal wall. It will give drama and texture suited for a diva.
Barcelona Loft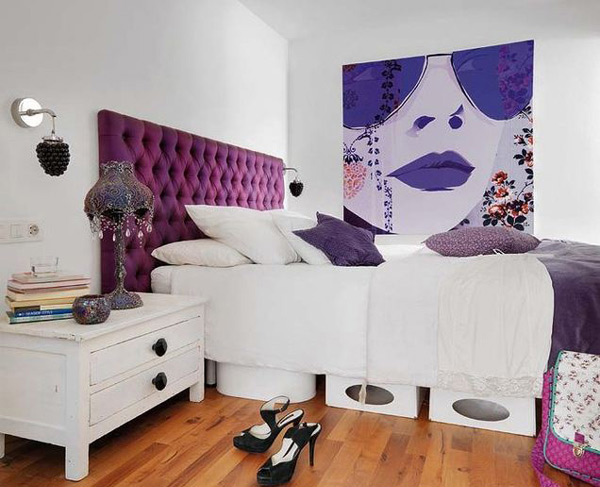 The plum tufted headboard amplifies the glamour in this already glam-up retro bedroom design. The pop art poster in a bluer purple hue makes a good statement in this room.
Diotti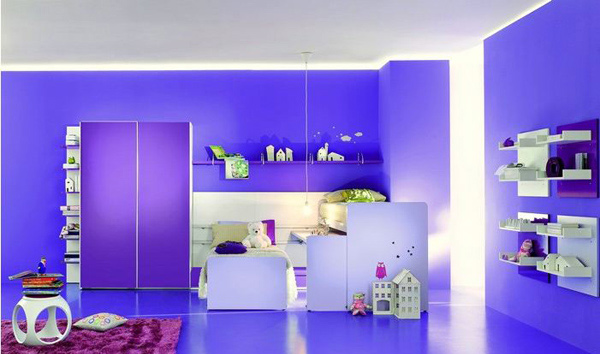 The lavish purple in this child's bedroom design is so soothing and calming.
Corona del Mar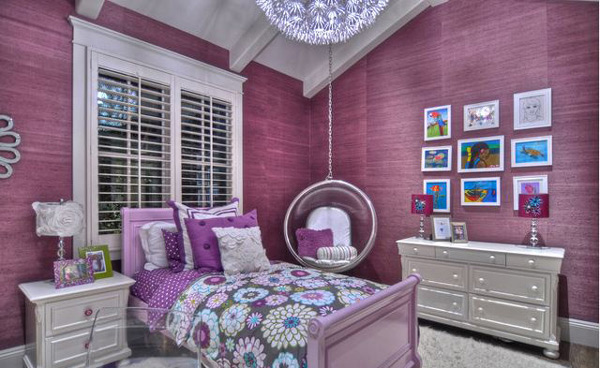 Notice the color scheme that works beautifully with all the glamorous accessories in this teen bedroom design.
Leather Bed 623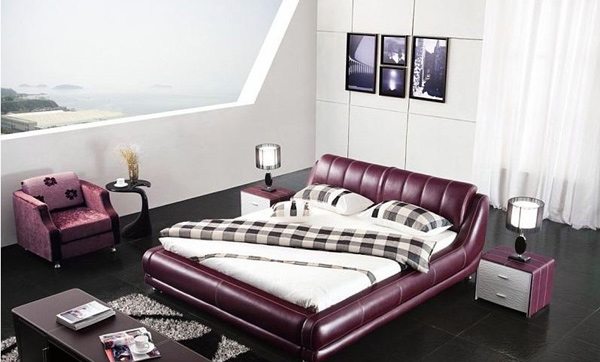 Make use of your furniture to make a stunning decorative statement. Purple furniture can make your modern minimalist room pop with fancy.
Choosing purple for your bedroom design is classy. It brings drama, elegance and glamour to any interiors. May it be a simple addition of sumptuous purple beddings, or a pair of lamp, it can truly create a magical difference. Hope you were able to get more insights and inspirations with our list of 15 Purple Bedroom Ideas! Want more purple bedrooms? Check out Purple Bedroom Designs.