20 Double-Sided Fireplace in the Bedroom
Look at how stunning it is to have a double-sided fireplace in the bedroom.
A fireplace can be added not just in the living area but also in other areas of the house. Anywhere you add it, it could bring warmth to the place as well as add appeal to it. There are different kinds of fireplace designs and styles. What we are going to feature today are double-sided fireplaces in the bedroom. Using this kind of fireplace could give warmth and light to two sides of the area. This would be best for bedrooms that has its own master suite, desk, makeup table, sitting area and others.
So we are going to show you today a list of beautiful bedrooms that have double-sided fireplaces. They come in various styles from traditional ones to contemporary ones and they all look nice in a unique way especially that each one has a different design for a fireplace. So, if you are planning to add this kind of fireplace to your home, here are some inspiring images of bedrooms for you.
1. Contemporary Residence #3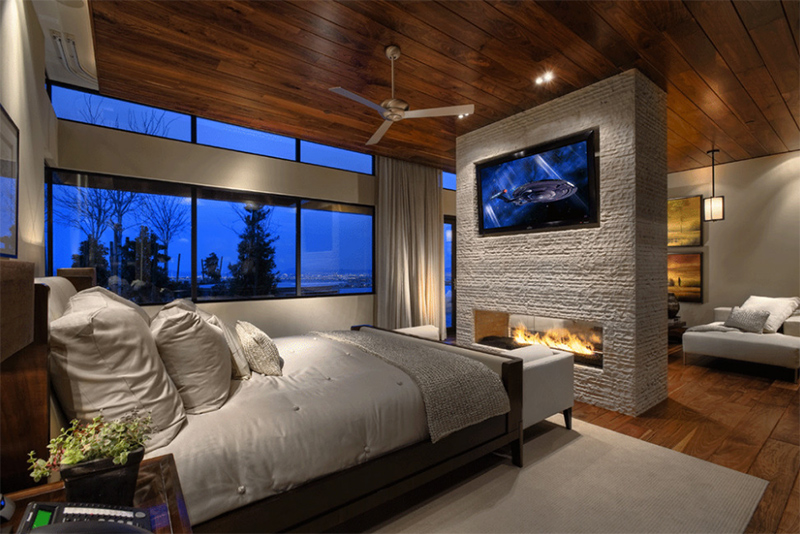 This fireplace has white concrete finish on it and its texture compliments with the wooden ceiling and flooring.
2. 1516 Harold St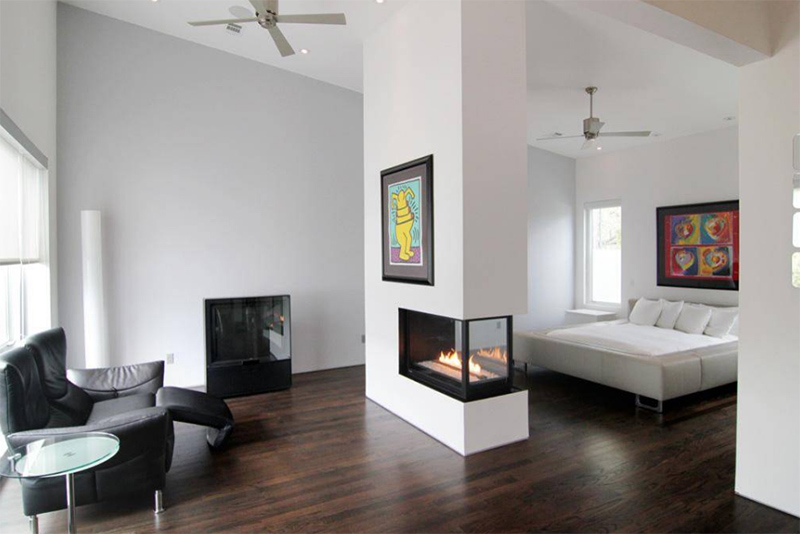 For a neat modern bedroom, a fireplace like this looks perfect containing a fireplace with a black frame. To break the white color is the wooden flooring and the black furniture.
3. DC Ranch #617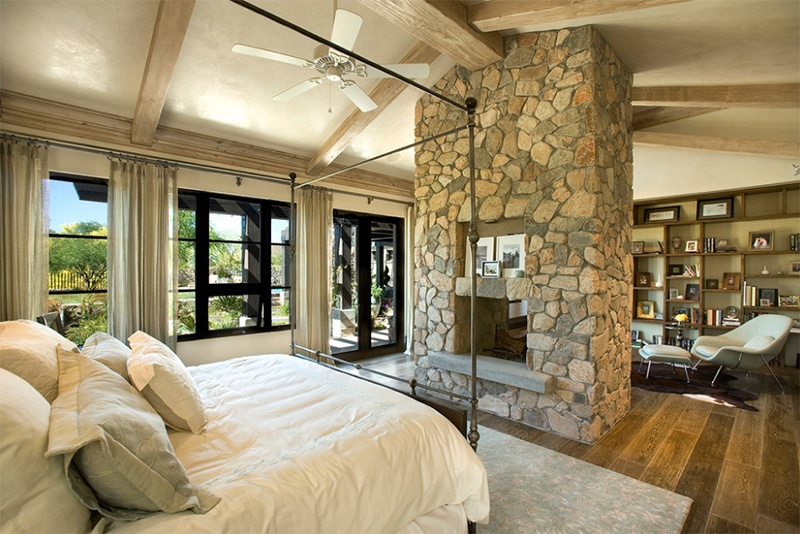 A ranch style bedroom has a stone fireplace that opens up to the bed and the reading area.
4. Modern Bedroom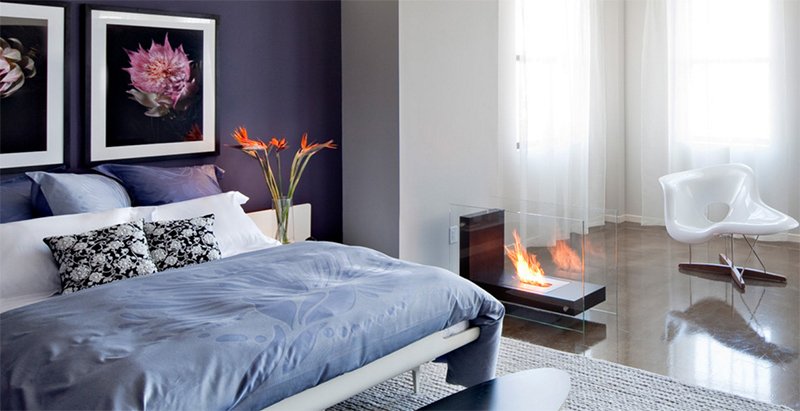 A gorgeous modern bedroom that features a glass fireplace that also has a beautiful design which adds to the appeal of the space.
5. Progress Lighting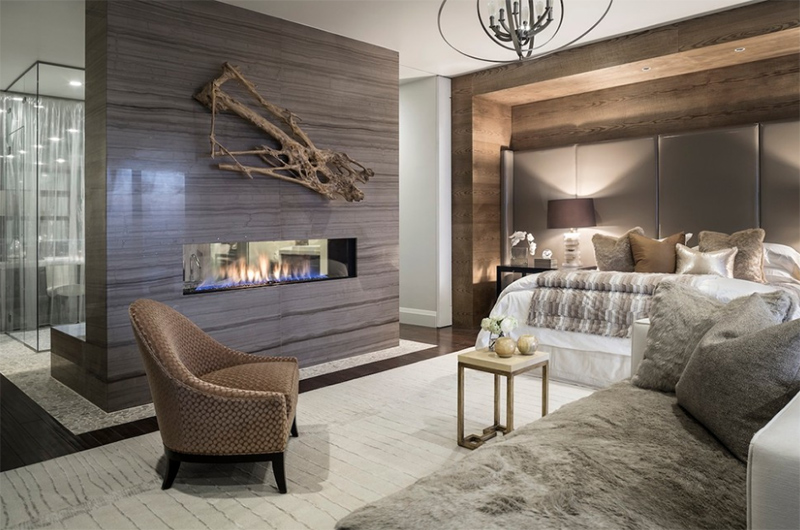 At the back of the fireplace is an area that is boxed in glass. You can see that this bedroom looks very elegant all over including the bed and the sofa.
6. 867 Galloway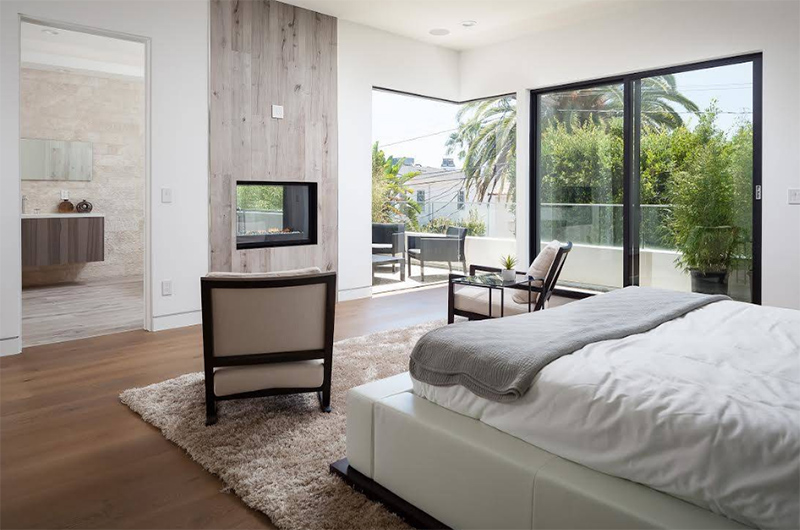 A sophisticated bedroom that features a double-sided fireplace built-in the wall of the bathroom. Aside from that, the bedroom also opens up to a balcony.
7. Modern Farmhouse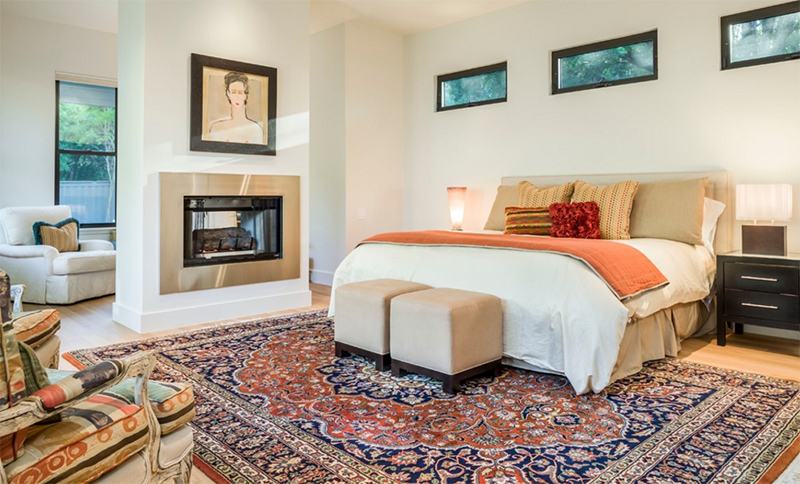 Even a modern farmhouse themed bedroom looks nice with this kind of fireplace. What I noticed here is the intricate details on the area rug and the fabric prints.
8. Minimalist Mountainside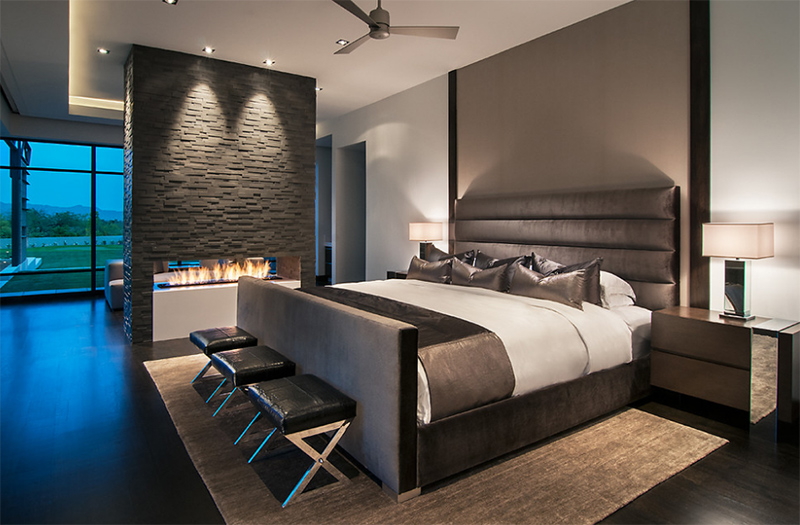 Another stunning modern bedroom with a gray fireplace. On the other side of the modern fireplace is a seating area that faces the window wherein one can get a good view of the outdoor area.
9. Reed Residence II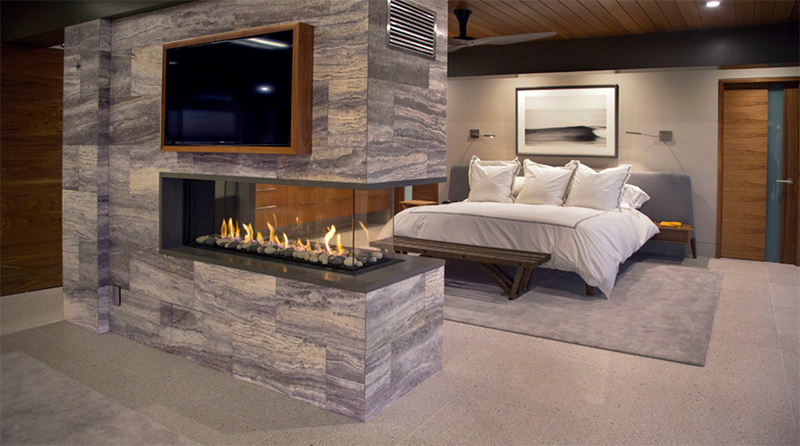 Aside from holding the fireplace, this huge marble finished wall also bears the television which can be accessed on one side.
10. Walker – Modern Build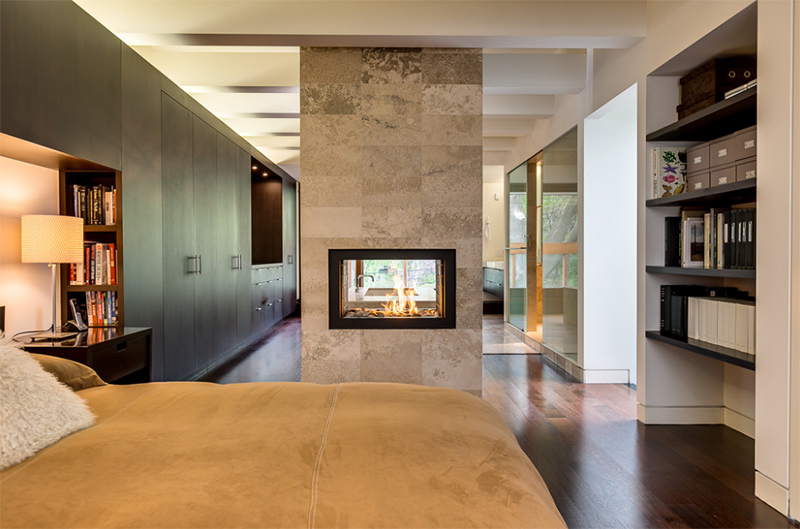 This bedroom has a wall of storage spaces with drawers, cabinets and all. Apparently, this is a spacious bedroom and it appears that there is still much to see on the other side.
11. Borell Street Melbourne Victoria Australia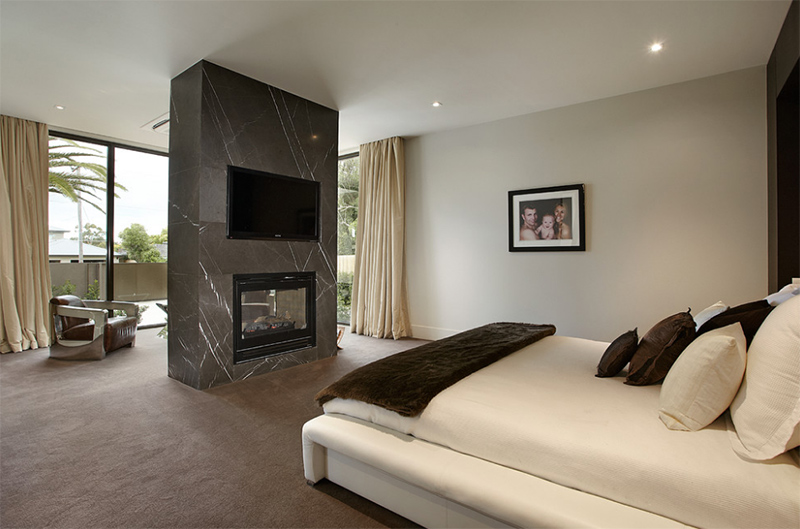 Isn't this a lovely space? It sure is especially that the floor is all covered with carpet.
12. Point Dume Residence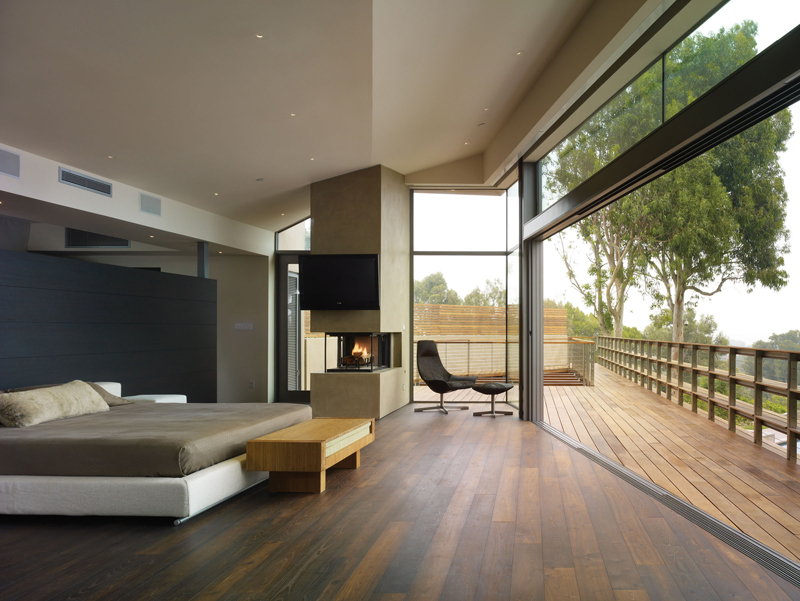 Love the combination of materials in this bedroom and we can also notice how the fireplace brings a warm and cozy appeal to the space. And because of the glass windows, we can see the beauty outdoors.
13. Coal Harbour Pent House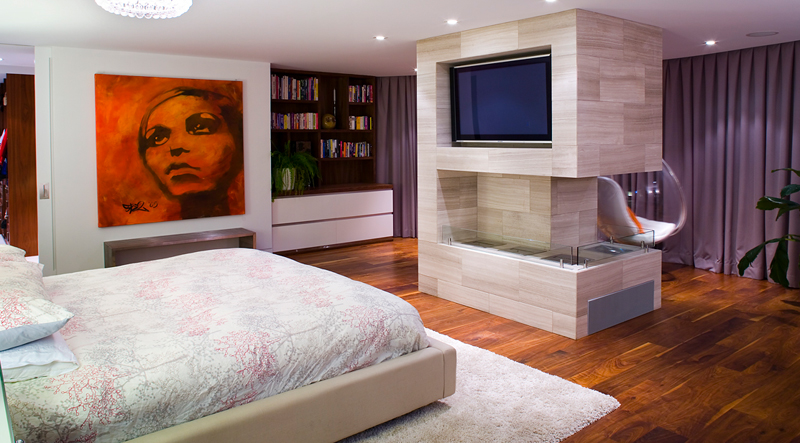 The fireplace here looks really modern and you can spot a transparent egg chair on the other side. It is also interesting to see a lovely painting in here.
14. The Grayson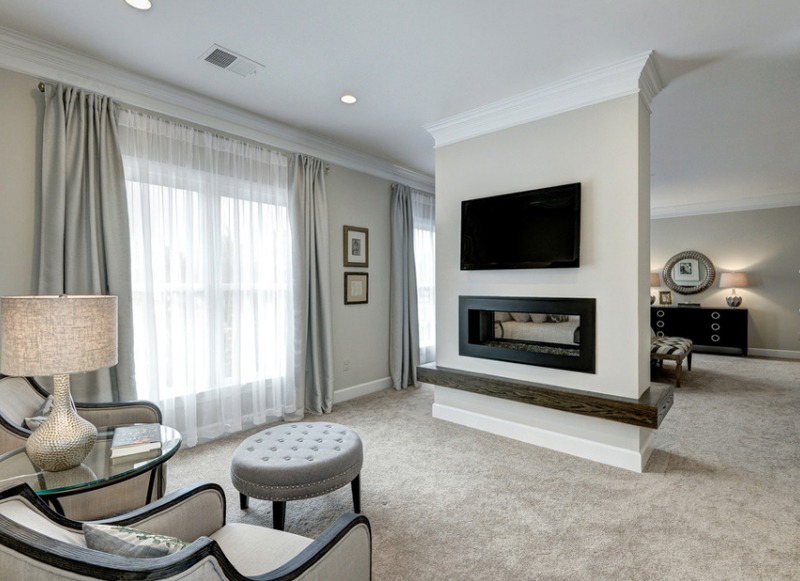 A sophisticated bedroom with an Italian touch in it. Although it has tall windows around it, it is covered with drapes featuring a sheer one and a gray thicker curtain to provide privacy in the bedroom.
15. Chen Residence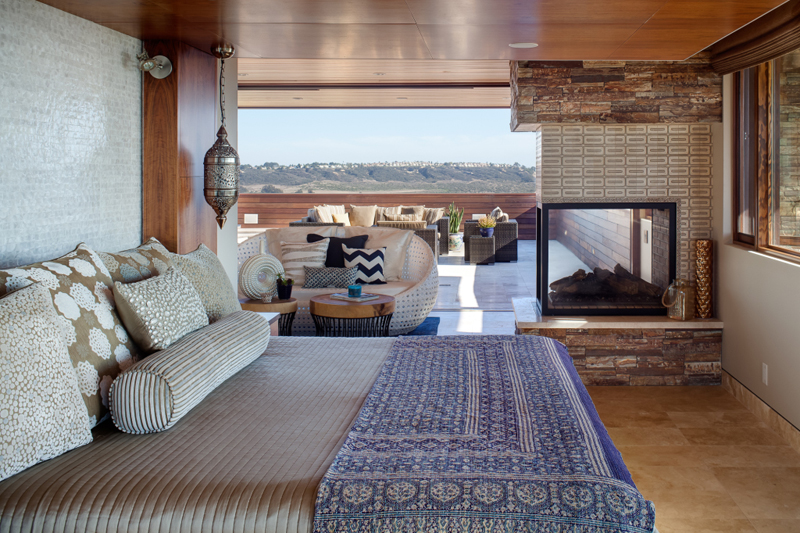 First thing I noticed in this bedroom is the stunning view of the mountains and that attractive and relaxing outdoor space. But of course, who would miss staring at that lovely fireplace with a combination of two different finishes?
16. Malibu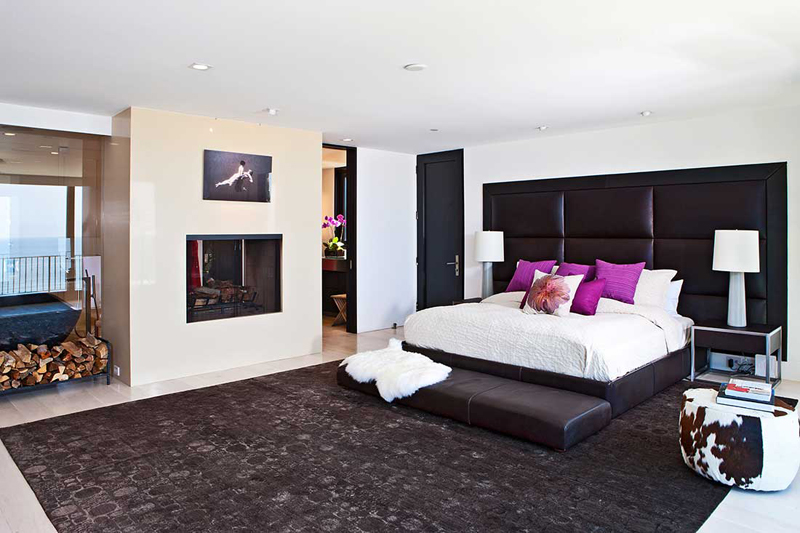 Isn't this a pretty bedroom? I love the purple accents on the bed with a huge leather headboard. You can also see that it has a cowhide ottoman and a neat modern fireplace.
17. Modern American Farmhouse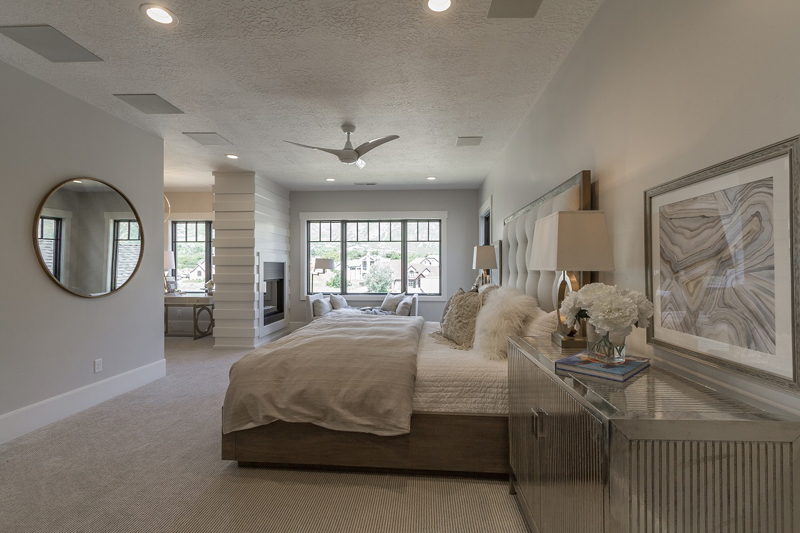 Despite its simple colors, this bedroom looks really stunning and I know the fireplace is a but far but you can see how it is also used a partition for the area.
18. South Calgary West Coast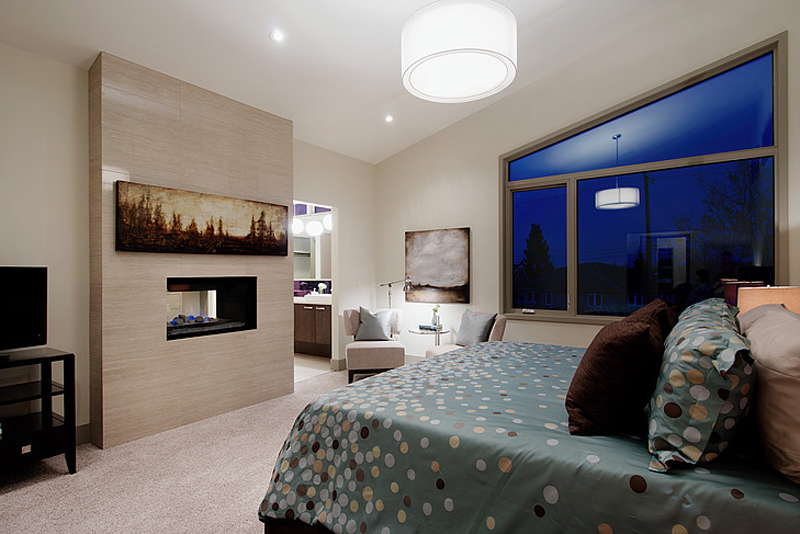 A classy contemporary bedroom with lovely polkas on the bed cover that bring a fun and modern vibe into the space. Behind the fireplace is a vanity and maybe even a bathroom.
19. Eco-Entertainment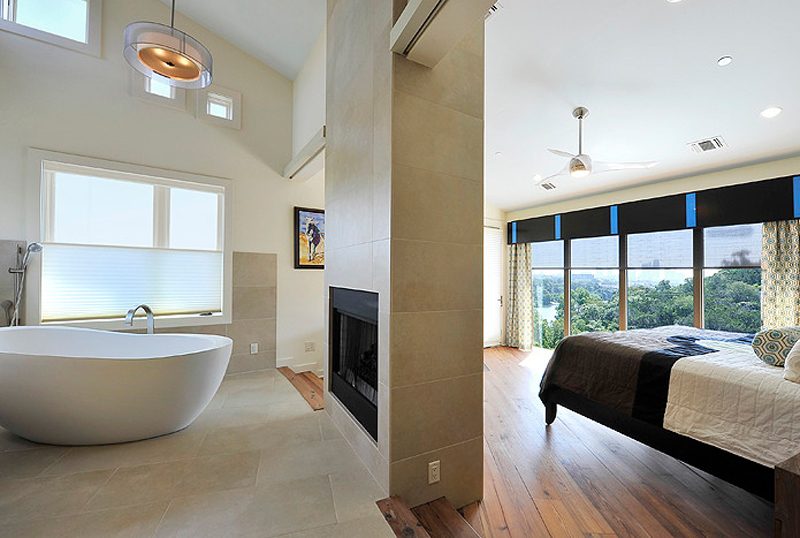 An elevated bath is featured in this bedroom and is being defined with a tall fireplace. It looks really nice with a layout like this right?
20. Crane House Sonoma Coast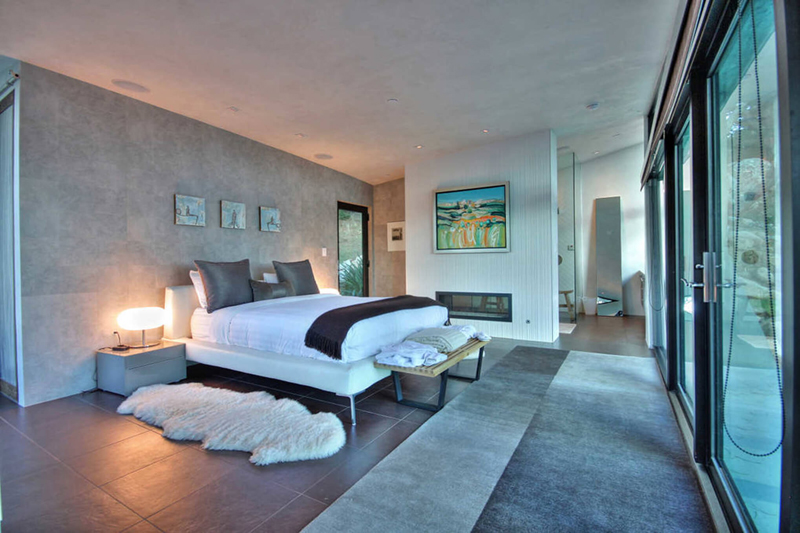 It is a nice idea to add a fireplace not just to bring warmth to two spaces but also for privacy purposes. And this bedroom looks very stunning too with grays and whites around it.
So, what can you say? All these bedrooms are indeed beautiful and you can see how each one used a double-sided fireplace in a different way. This will give you ideas on its placing and its design as well. You have seen that using this kind of fireplace will work well even in the bedroom whatever is the style of your space. Aside from a double-sided fireplace, you can also opt to use a different type of fireplace as well.