20 Bedroom Color Ideas
Of course, color is one of the most important factors in creating a beautiful bedroom. May it be for remodeling, a makeover or creating a design; choosing the right colors should be given full attention. As what we have told you in our previous articles, colors can drive a big effect on emotions, perception and interaction. Since, this is bedroom that we are talking about let us give it a special consideration as it deserves.
Bedroom is a place where we sleep, a sanctuary where we retreat to when we are weary, tired from our daily routine or sick. It is the place where we want to be alone, read our favorite novel or just hang around. It is a place where we should feel the most comfortable. And for these reasons it is just fair to give our bedrooms the best design that we would delight from. We should pick the design and colors that we will get peace of mind and not chaos. A bedroom design that will encourage tranquility and not another headache that adds up from our hectic daily lives. You see, having a well-decorated and well-colored room is a luxury and we would like you to have that. So browse through our gallery of 20 Bedroom Color Ideas to look for colors that will appeal to your senses and will give you the peace of mind you deserve.
Japan Pink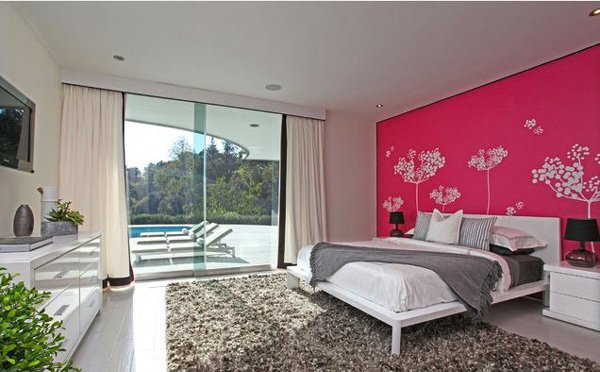 This sizzling pink bedroom color is not quite exclusive for little girls alone. This Japanese-inspired bedroom used pink as a masculine color to represent cherry tree's pink blossom for Japanese warriors who fell in battle in the prime of their lives. The soft grays here soften the hot pink accent wall to create a balance.
Glittering Gray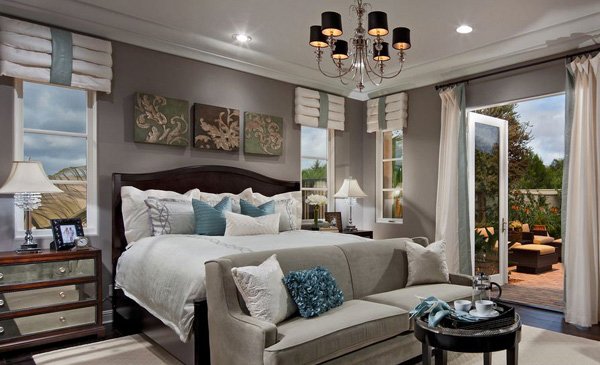 Gray can be a cold color for a bedroom but if paired with the right accent colors like metallic-tone- blue and sage green and glittering accessories it could make your room stunning and relaxing like this one.
White Ash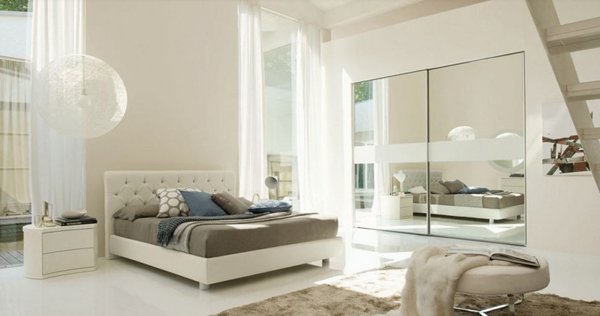 So you want it light and airy; why not go for a white interior escapade? A white room is like a glimpse of heaven, pure and very calming. Using hints of other colors like pale colors or neutrals can also be a very nice accent.
Yellow Retreat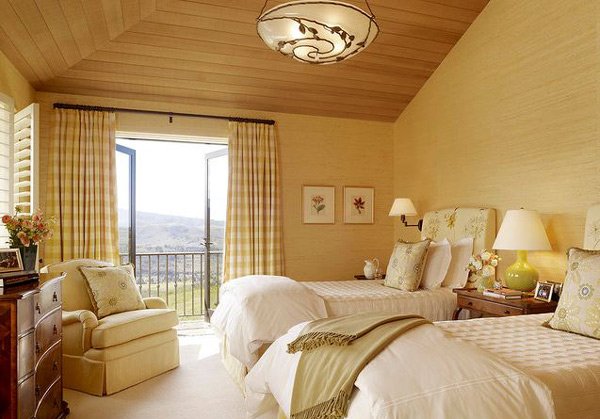 This is the right shade of yellow that is not-so-sunny but calming and is best for bedrooms. It blends perfectly with the color of the ceiling and the accessories used in this bedroom design.
Earthy Brown and Pink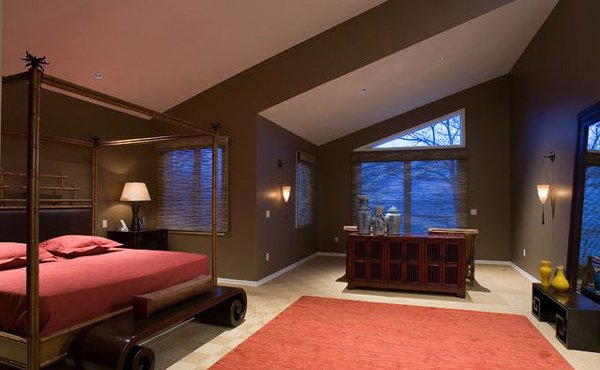 Make your large space feel snuggly with this earthy brown color for your interiors and a dash of pink for an accent. The color scheme is quite surprising yet the result is fabulous! Also, for big space you could choose a theme to create a harmony across the room by using unique furniture and accessories like for this bedroom design, the owner used Greek pieces to tie the whole scheme together.
Black and White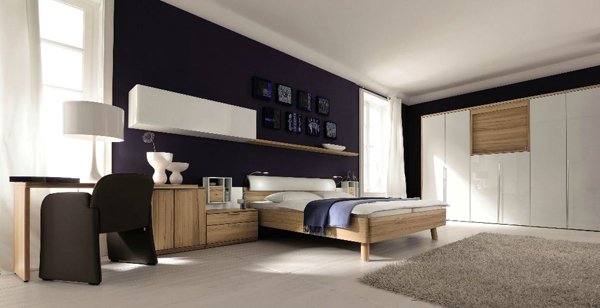 Not your ordinary black and white bedroom design! This bedroom design has managed to cover its walls with black all over and yet turns out to be airy and bright. Thanks to the white floor, furniture and window treatments. Black doesn't seem so dark after all.
Relaxing Indigo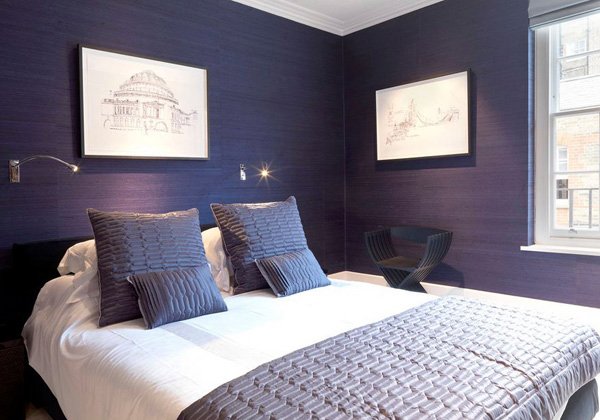 Indigo is a bold color that can work as neutral. Working with this color is no fuss at all, all you need to do is to keep the bedding and other accessories simple and light and you have a distressing bedroom design that is rich and sophisticated.
Silver Glamour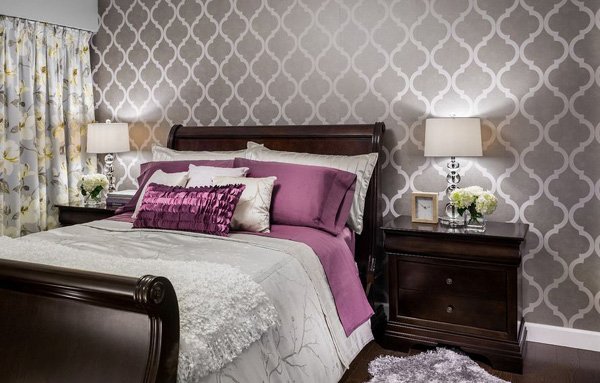 This silver-gray bedroom is all about romance and elegance. The texture and patterns on the wallpaper make a perfect match with the right amount of purple creating a glamorous ambiance.
Pale Blue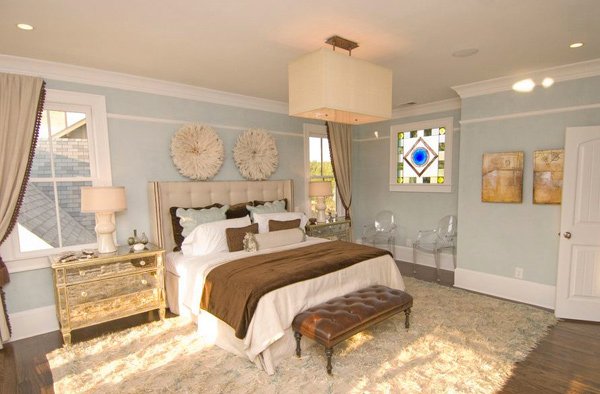 Pale blue is not only good for kids' bedroom. It can also be used in a master bedroom and create a country-feel of coziness. In this bedroom design the pale blue interior is teamed with cream and brown creating a soothing atmosphere with both feminine and masculine touches.
Beige and Pink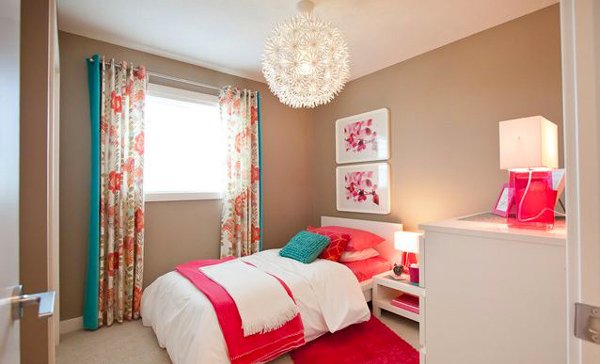 Beige is a neutral color and is light which means it can work as neutral like white and is good for small rooms. This bedroom is nothing but boring without the vibrant pink and turquoise accents. So when using beige for your interiors, make sure to add interesting colors to keep your room from getting dull.
Sage Green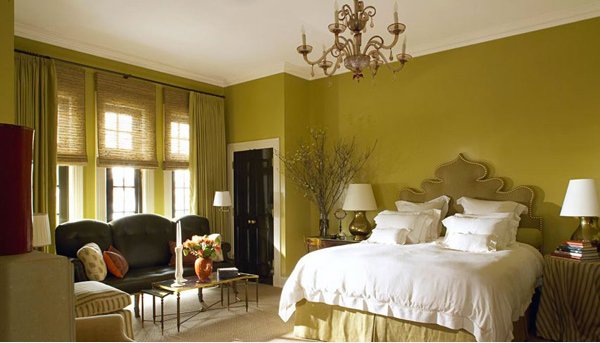 You cannot go wrong with sage green if you want to have a relaxing retreat for a bedroom. This nature's color is so soothing and inviting that is sure to give you peace of mind.
Orange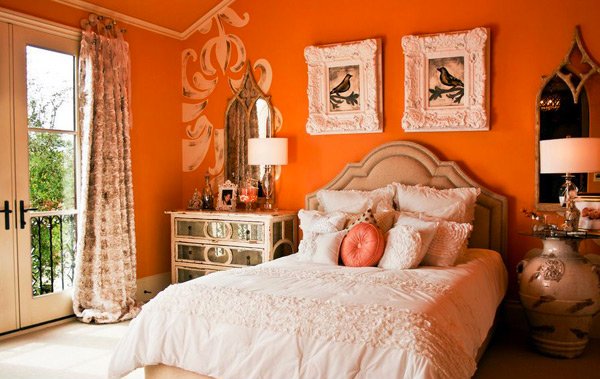 Orange is not a typical color in a bedroom. It is warm and can be very bold and energizing. So to keep the room from coming too strong, keep the accessories simple and light. In this bedroom design textures and patterns soften the entire scheme.
Caramel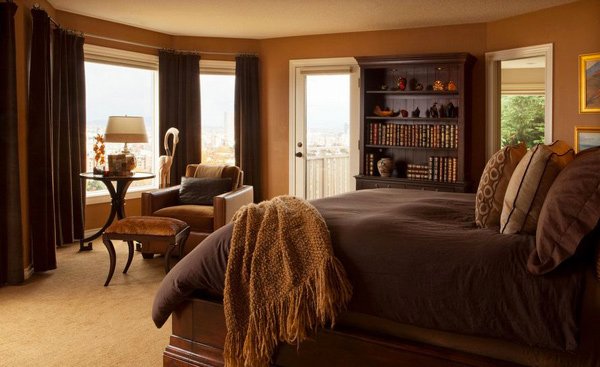 You can cozy up your master bedroom with these warm tones of caramel, chocolate and contrasting ivory.
Black And Gold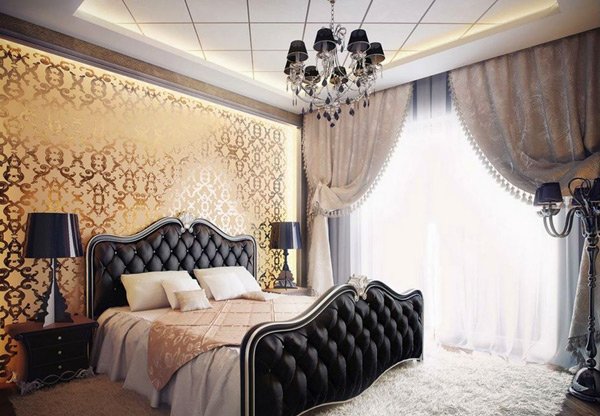 If you want to have a Hollywood-like boudoir, choose black and gold. These color combination adds drama and glamour, while the textures and patterns will make the room cozy.
Blue and Green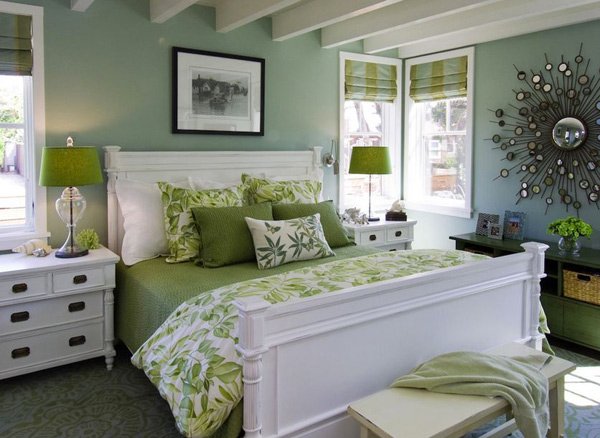 Blue and green are nature's colors that reflect sky and water. This color combination is relaxing and inviting and is suited for a slumber space.
White and Silver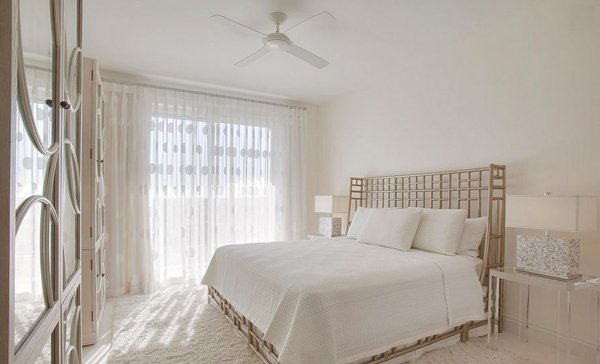 The all-white scheme is so soothing, the shag rug gives a great soft texture and the silver accent provides a glint of glamour in this lovely bedroom design.
Purple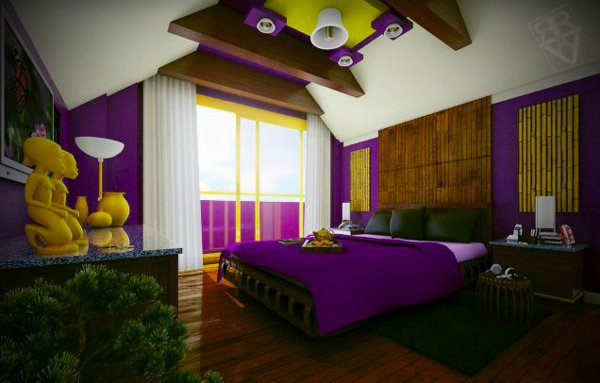 If you are looking for a bold hue to create a one-of-a-kind bedroom design purple is the color for you.
Monochromatic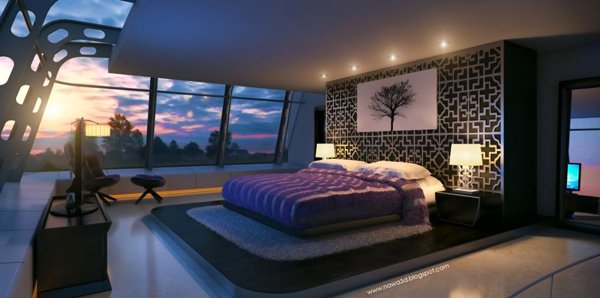 This geometric-inspired space works well with monochromatic scheme. Its modern patterns and texture provide a cozy feel to this room.
Pretty Lilac
Lilac is a great color for a girl's room. This color elicits femininity and youthful flair.
Tropical Red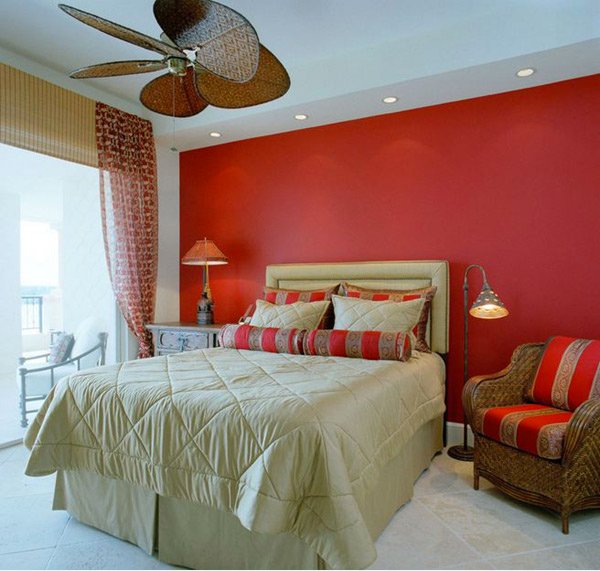 Red can be a great wall accent. In this bedroom design, the clean lines, furniture, antique chiseled stone floors with sari fabrics matched the red wall accent creating a one-of-a-kind tropical bedroom style.
We hope this collection of 20 Bedroom Color Ideas help you assess yourselves on which color palette you can be most comfortable with. Great bedroom designs start from choosing the right color. Choosing the color scheme you like and what makes you most comfortable is the most important thing you should consider. Also, make sure that whatever color combination you pick will match every single detail in your bedroom.