23 Simple Yet Sophisticated Transitional Bedroom Designs
Have you seen how transitional bedrooms look like? Here's a list for some inspiration.
There are many ways to decorate and design the bedroom. There are also many styles and motifs to choose from which means, your space can indeed look unique because aside from choosing a style, you will also be adding some decors in it that reflects your personality and likes. We have featured so many bedroom designs already and for sure, you still like to see more because we never get enough of bedroom interior design ideas that we can use to update our existing bedrooms or for our new homes.
Today, we are going to show you a roundup of bedrooms with the transitional style. This style is considered as the marriage of traditional and contemporary finishes, furniture, materials and fabrics equating to a classic, timeless design. Mostly, it makes use of furniture lines that are simple yet sophisticated, featuring either straight lines or rounded profiles. When it comes to colors, it would use dark brown or a neutral balance of taupe, tan and vanilla. It also plays with textures with simple yet beautiful decors. Scroll down and take a look at the transitional bedrooms we have gathered for your inspiration.
1. Studio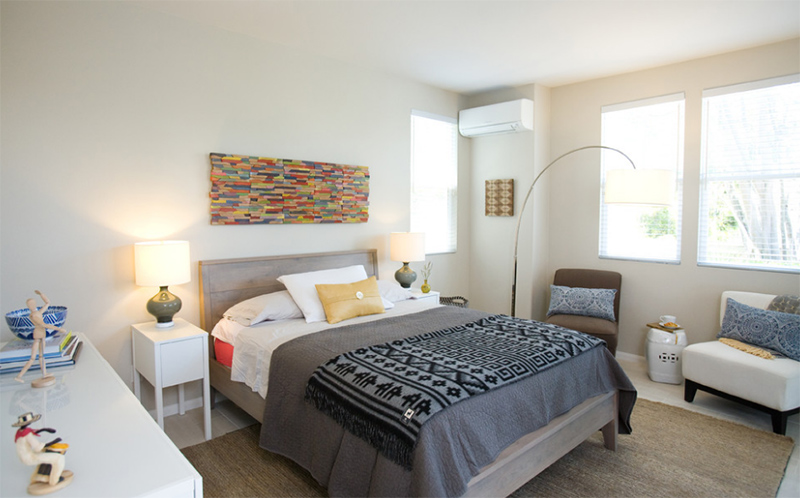 What I like in this bedroom is the different patterned fabrics added in the area from the wall decor to the throw pillows.
2. Santa Monica Beach Bungalow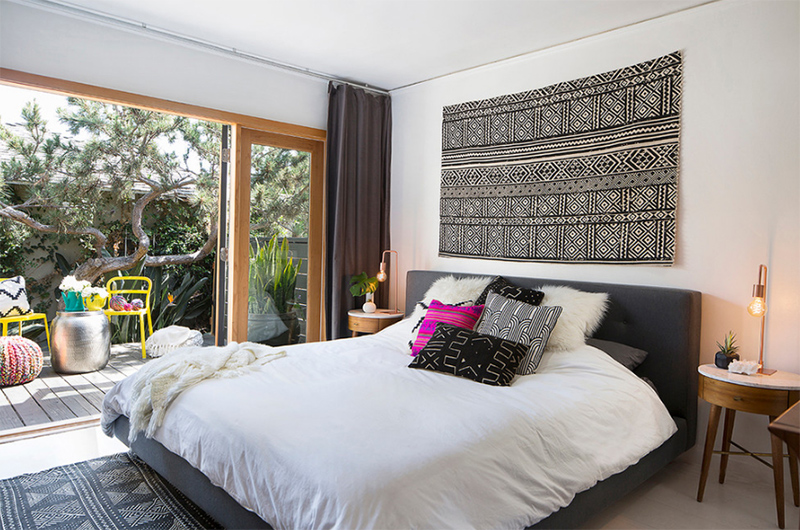 It would be nice to have a garden linked to the bedroom, right? Apart from that garden, I also like the patterns used in here like the ones on the wall and the area rug.
3. 2014 POH in American Fork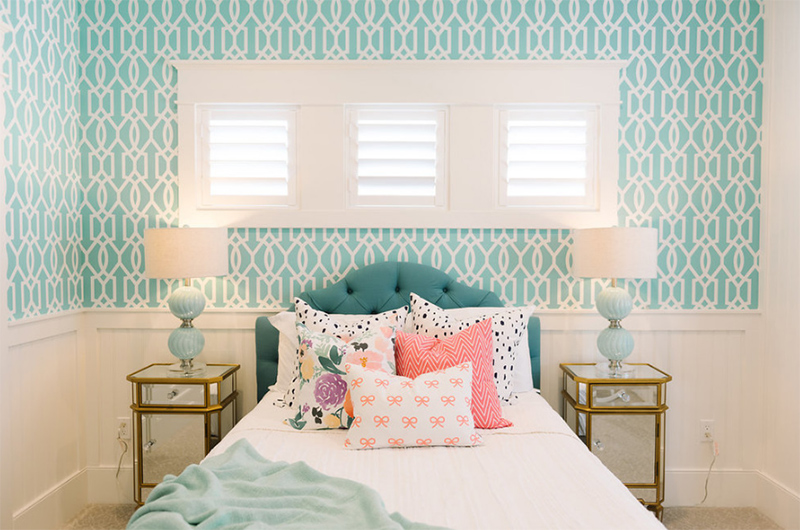 Although most transitional spaces use tans or vanilla colors, this one has many pastel colors in it which actually made it look even more stunning especially those throw pillows.
4. Wisconsin Lake Retreat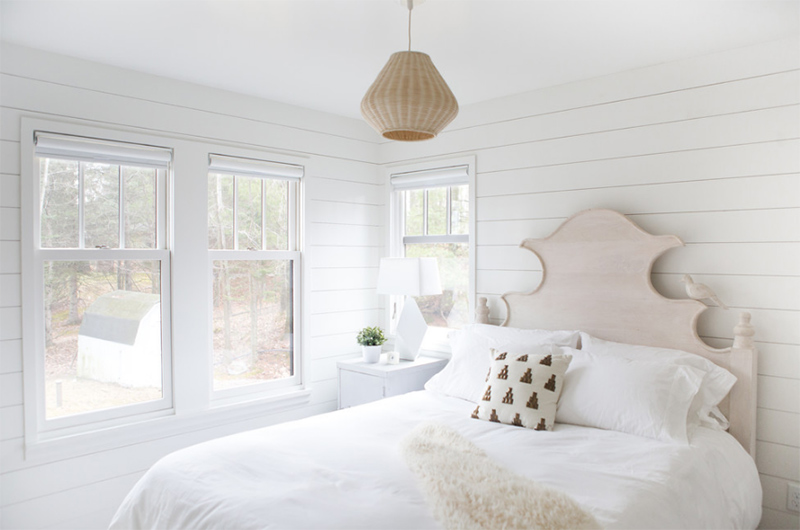 A white bedroom looks really bright but it has some light brown accent on it as well.
5. Oakland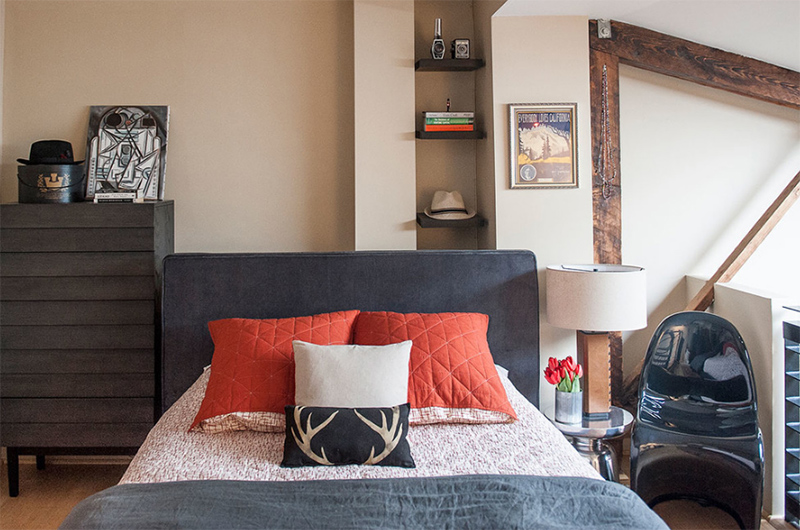 You can get that contemporary vibe from this bedroom with gray colors and some pops of red.
6. Contemporary Bay Area Residence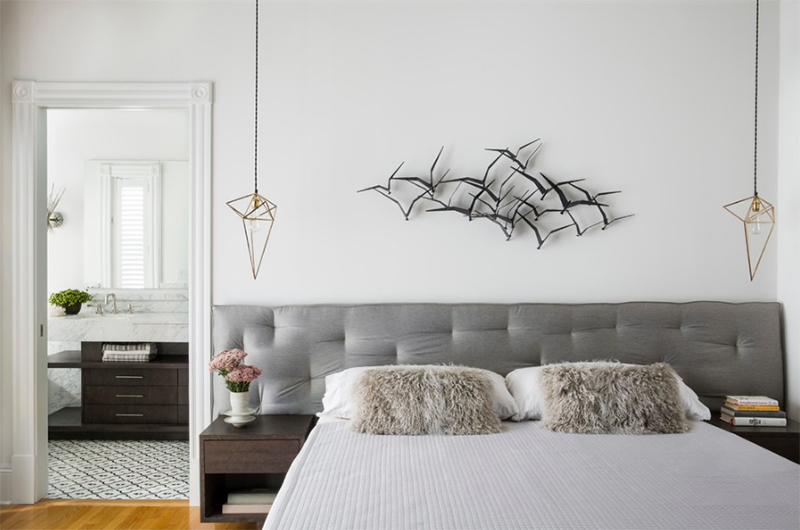 Who wouldn't like the wall decors used in this bedroom? It is just simple but it looks very creative.
7. Minnesota Residence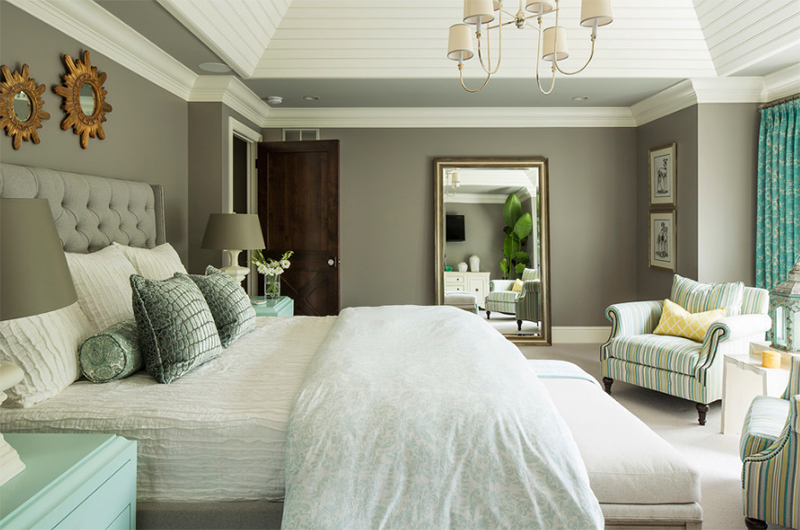 A great way to brighten up a bedroom is with painted nightstands. This bedroom has a calming environment with its neutral wall colors and bedding. In order to bring more life to the space, two upholstered lounge chairs were added as well as aqua nightstands.
8. Madison Avenue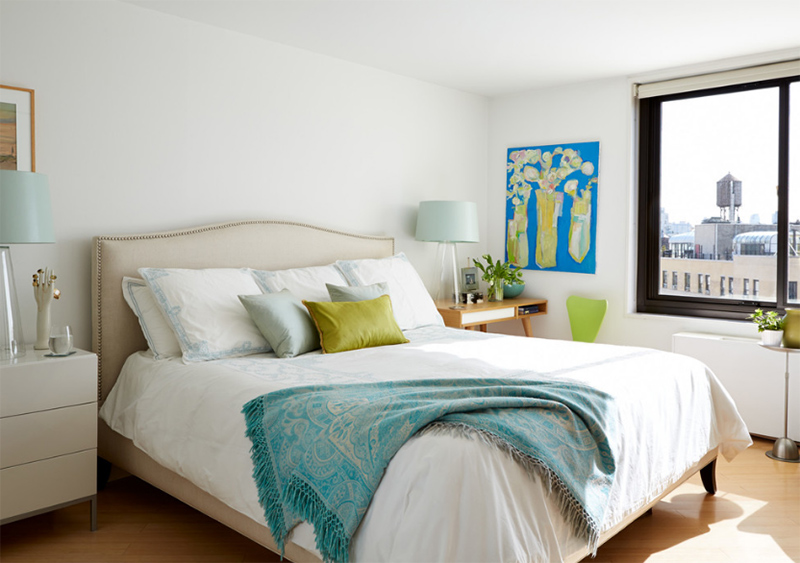 A simple bedroom with some pops of green. What adds brightness to the area is the glass window.
9. Newport Beach Transitional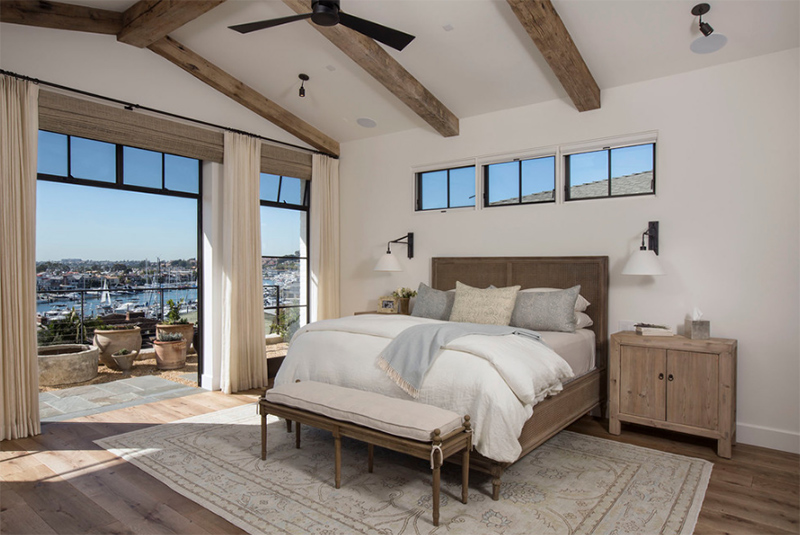 This transitional bedroom has some beach themed touches too and it does overlook to a beach! The wooden elements here has a huge impact to the space.
10. Santa Maria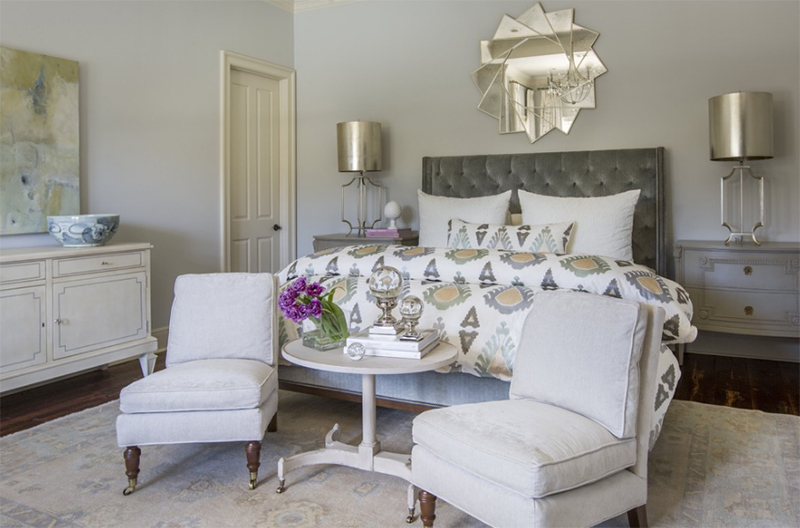 The focal point of this bedroom is that glass sunburst decor above the bed. Aside from the gray headboard, two light gray chairs also added some soft appeal to the area.
11. Locust Hills Drive Residence 2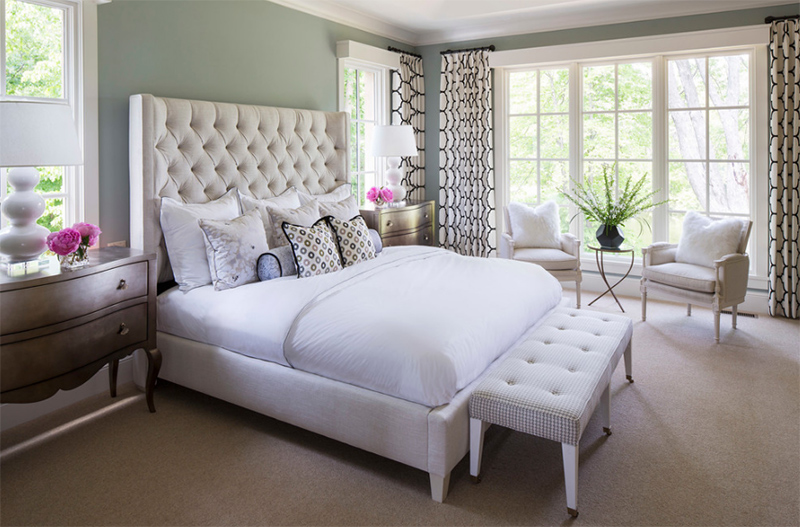 The patterns from the curtains added a cheerful and creative vibe to this white bedroom that has tall French windows.
12. Sherman Oaks T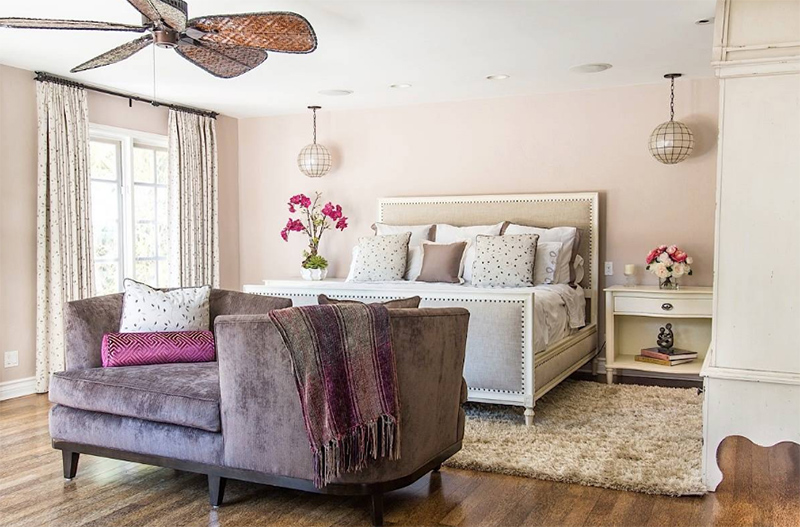 That chaise lounge is a chic accent to this bedroom. I also love that shaggy area rug used under the bed.
13. Bedrooms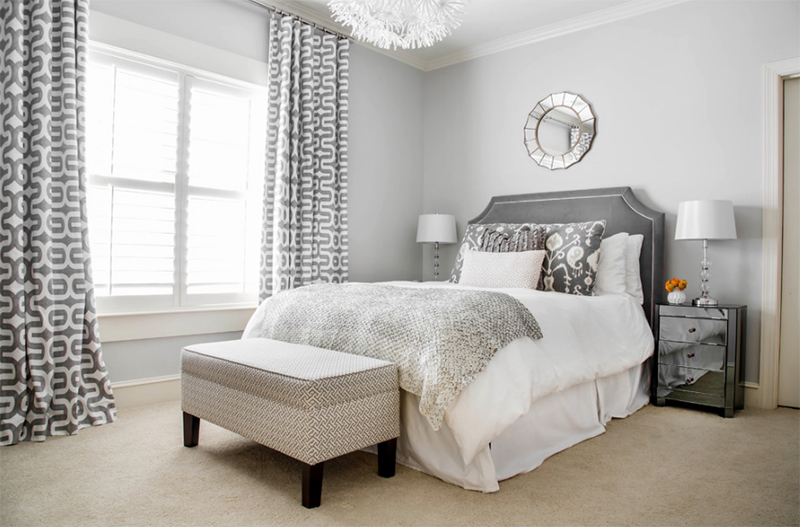 If you love the color gray, you will surely like this bedroom that used different fabrics for the curtains and throw pillows.
14. Paddington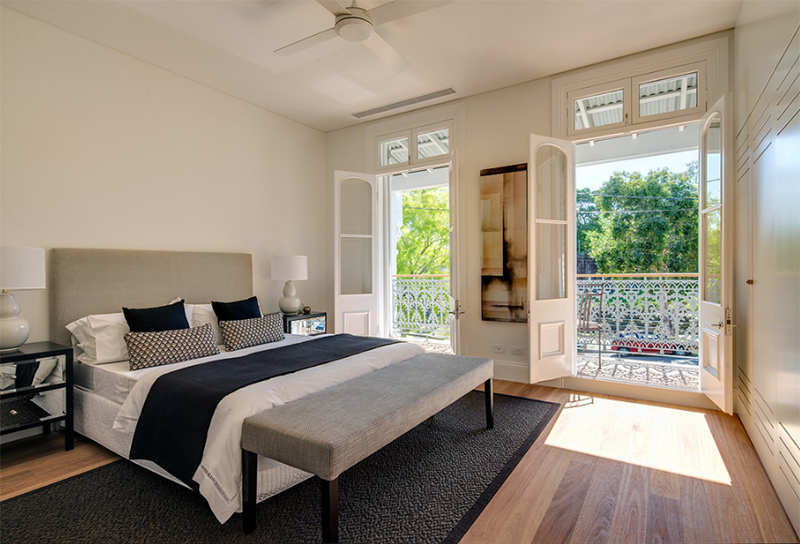 This bedroom leads to a balcony with intricate railings. The dark gray and blue colors used here looks really nice.
15. Utah Valley Parade of Homes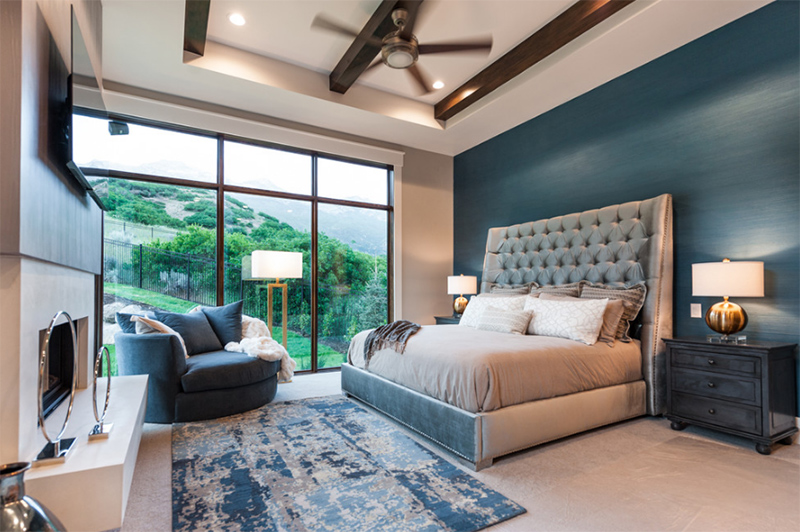 I like how they decorated this bedroom. Even if they added a grunge looking area rug, the space still looks sophisticated.
16. St. Pete Beach Retreat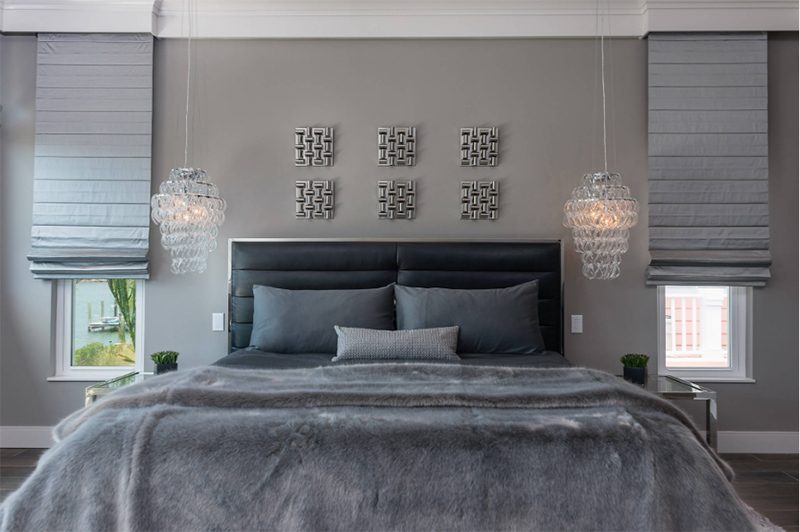 Such an elegant bedroom with gray and silver colors in it. On both sides of the bed are glass pendant lights that look like grapes.
17. Madison Avenue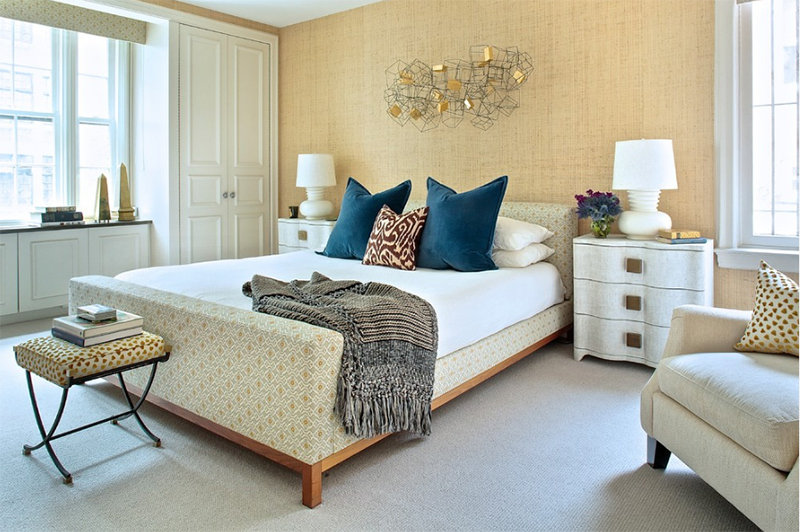 That wall sculpture above the headboard is very beautiful and it brings a creative touch to this simple carpeted bedroom.
18. Palisades Home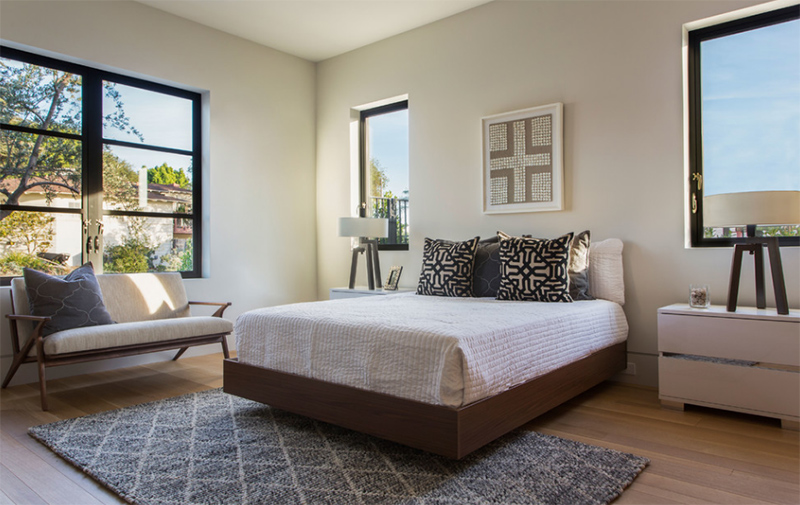 Like the other bedrooms in this list, this one also used various patterns as well from the pillows to the area rug.
19. Hedges Lane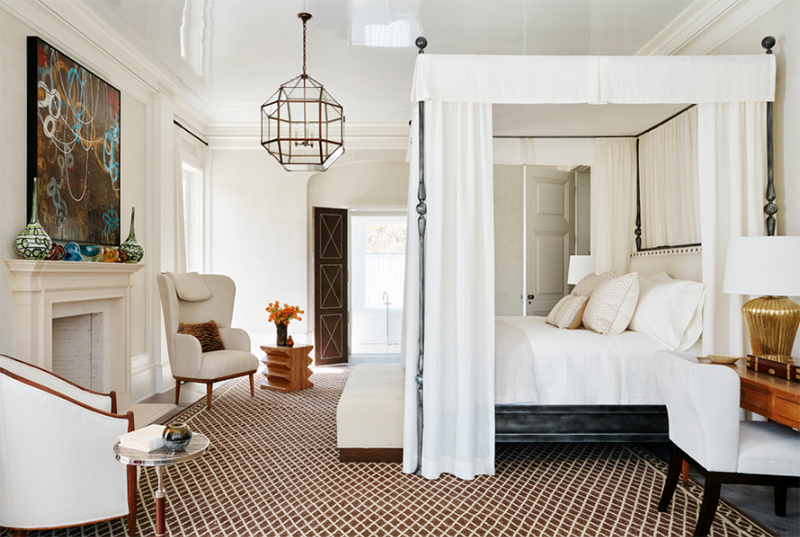 Well this one has patterns on the carpet which will draw your eyes to the canopy bed which looks like owned by a princess.
20. Soho Loft – NYC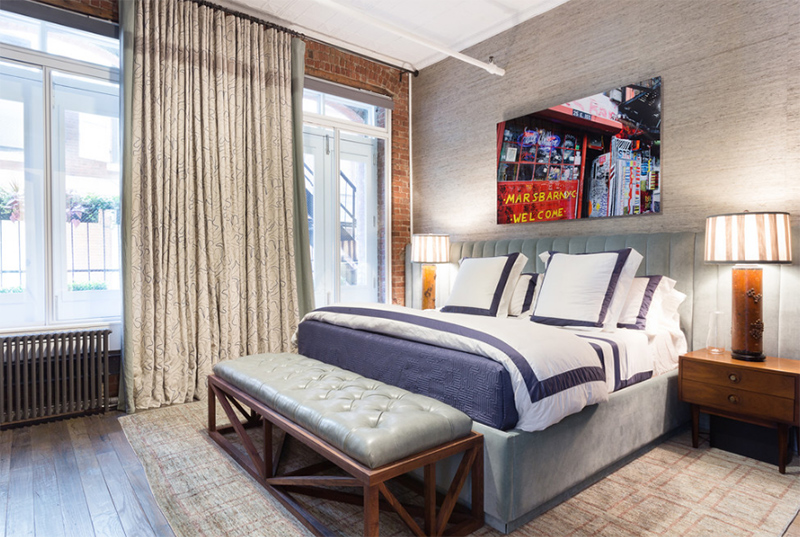 Because of that wall decor, you can get that urban feel in this bedroom especially that on one side of the wall it has brick stones.
21. Hartford – Daybreak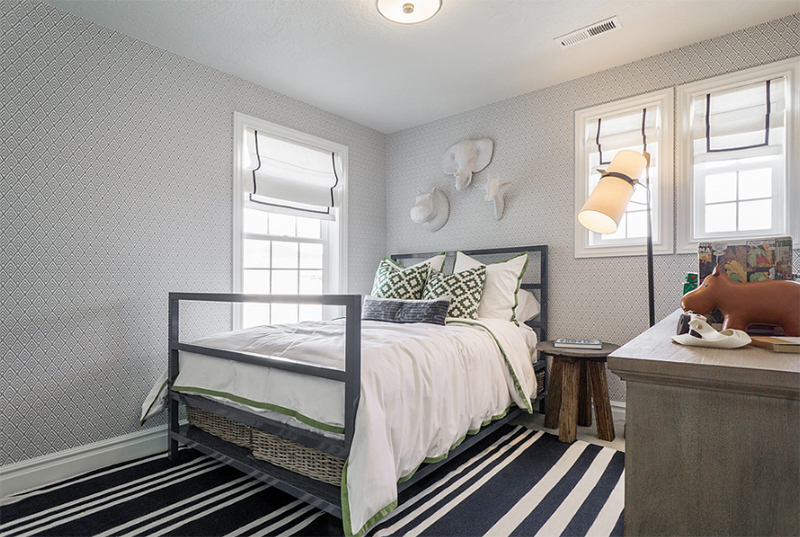 Such a relaxing bedroom, right? Don't you love the simplicity of the design and colors used in here? But overall, it looks very beautiful.
22. Landale St.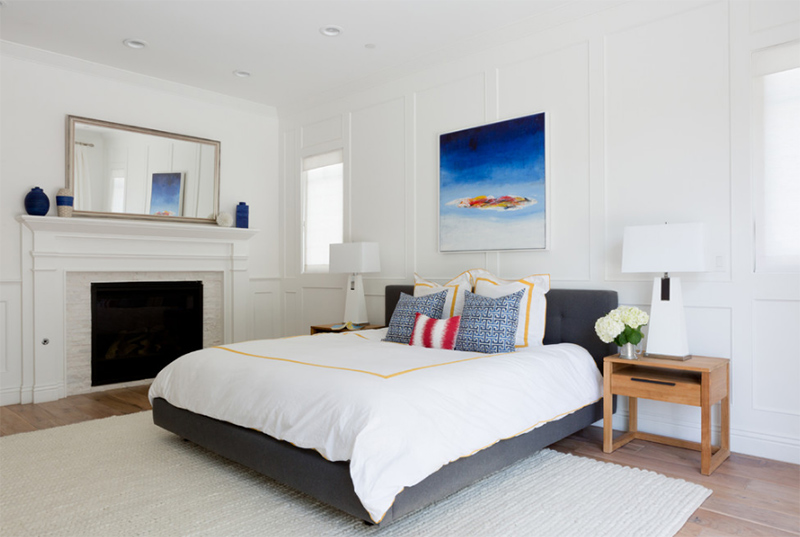 What added life to the area is that wall decor which breaks the monotony of white on the wall.
23. Corner Life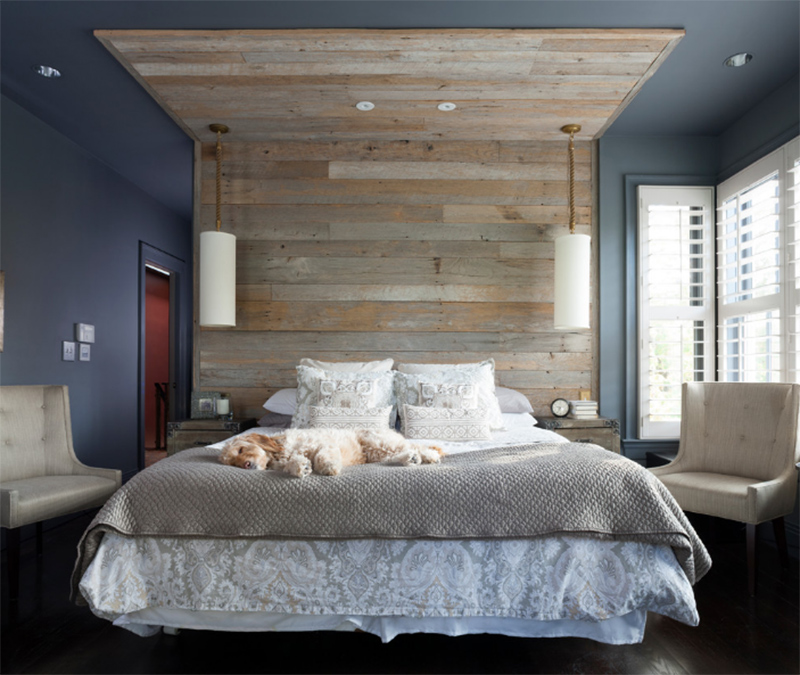 This bed sis under a wooden pallet canopy adding a contemporary feel to the area.
Don't you just love the above bedrooms? For sure you like them because like what we mentioned in the introduction, they are simple yet sophisticated. It is being a minimalist while adding some interesting decors and beautiful furniture into it. And yes, some may use striking color accents but you can notice how muted colors or neutral colors are being used in most of the bedrooms above. Now can you tell me, do you like this kind of interior? Would you try to use this style for your bedroom too?