15 Extravagantly Beautiful Tuscan Style Bedrooms
The goal in decorating a bedroom with Tuscan feel is basically two things – simple and uncluttered. It might come confusing especially that even the fabrics used are fancy and pretty much printed of all sorts. But of course, designers keep in mind minimalism as much as possible. There are people who choose to decorate their bedrooms in the Tuscan style, because it can easily add warmth and can transform any room into a romantic and comfortable place to rest and relax.
You will notice in the next photos of 15 Extravagantly Beautiful Tuscan Style Bedrooms that the color palette is of earth tones like ochre, beige and even rust. This is because one key element in a Tuscan design is the color palette. You will also see lots of wood, brick and even marble; window treatments which usually is from floor-to-ceiling and has details of lace or even tassels. Before we describe every other bedroom in this list, let us go ahead and check them out!
111 Cypress Walk Santa Rosa Beach, FL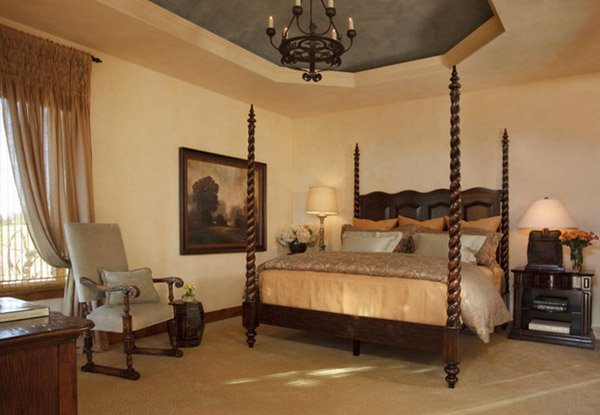 Nothing could be more perfect than chairs like this for a beach style dining area. And take a look at the chandelier! Isn't it very charming?
Carmel Valley Estate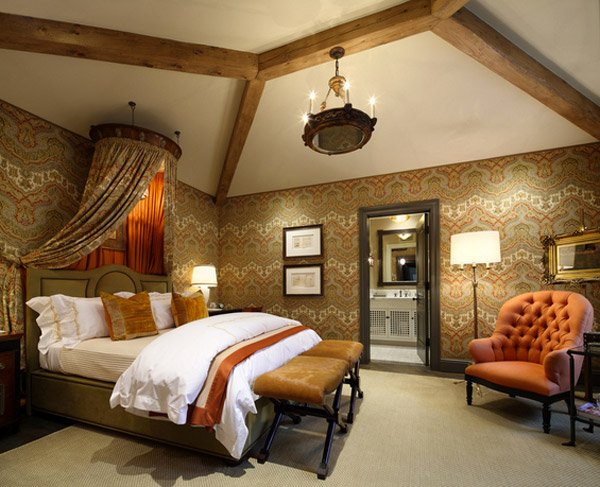 This is a guest bedroom from a rural Italian Estate which show off a beautiful choice of wallpaper that complement well with the color and design of the bed, pillows and the drapes above the bed.
Desert Tuscan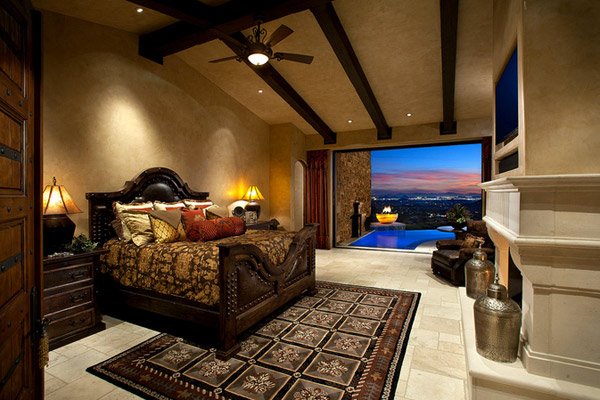 This Phoenix bedroom does not only look so serene and relaxing – but gives you a bit of extravagance in one space. The materials and furniture in this bedroom is awesome; not to mention the flat TV above a modern fireplace and the patio.
Golden Bear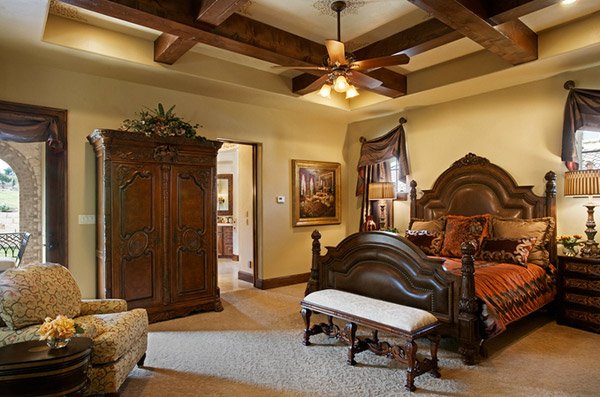 Exposed ceiling work, dark chocolate furniture and lovely walls – if we were to live in this home with this bedroom, maybe we'll never leave!
Houston Tuscan Villa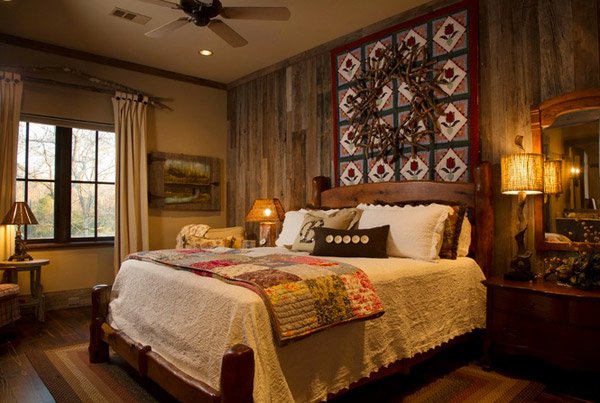 We like the finish and material used on the wall by the headboard. It's a beautiful accent wall that goes with the flooring and complements the simple walls and simple bed.
La Quinta Golf Bungalows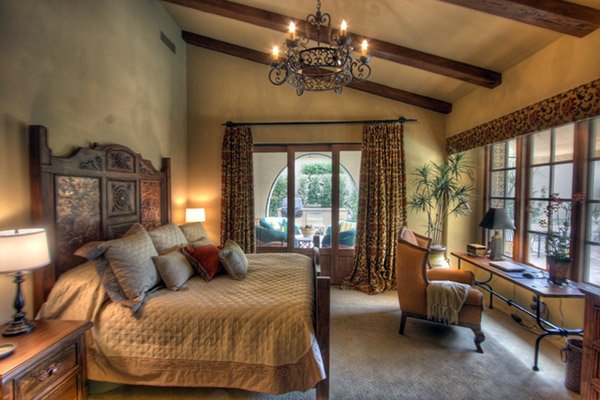 We absolutely love this bedroom, the decorating is impeccable! A bit of yellow for the walls contrast the printed yellow and browns for the curtains. Note the beautifully crafted headboard.
Ladera Ranch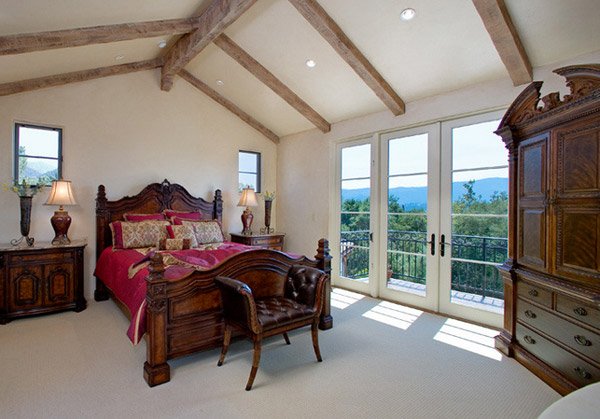 This Los Angeles ranch seems a bit contemporary already but the thought of them using Tuscan-inspired furniture created a whole new feel to this bedroom. This room is even lucky to have a great view of the outdoors.
Miami Mediterranean Dream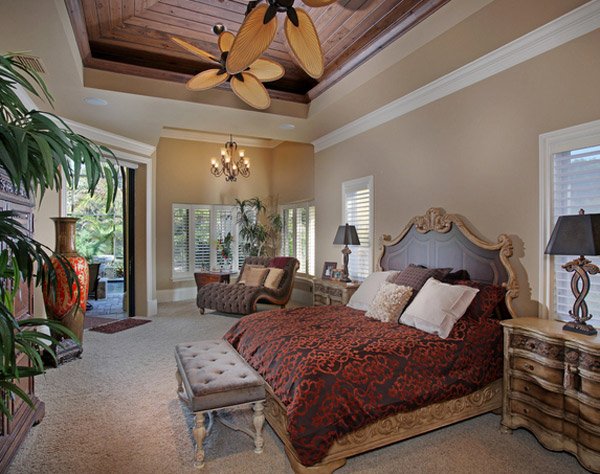 Stare at the lovely fabric used for the beddings – we love it! Even using a bit of Asian for the ceiling fans captured the lovely aura that this Miami bedroom has to offer.
Pebble Beach Country Estate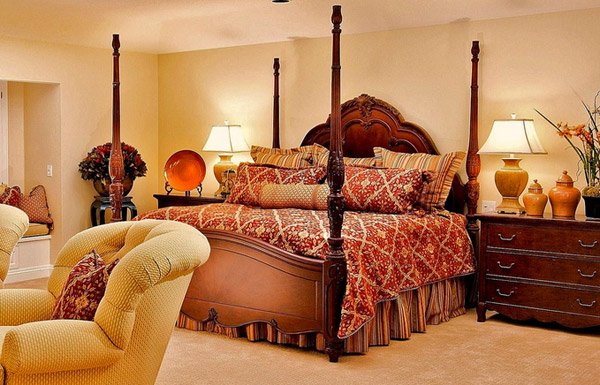 This master bedroom in Pebble Beach may seem minimalist but the look and feel is definitely clean, warm and pretty much comfortable.
San Francisco Mediterranean Bedroom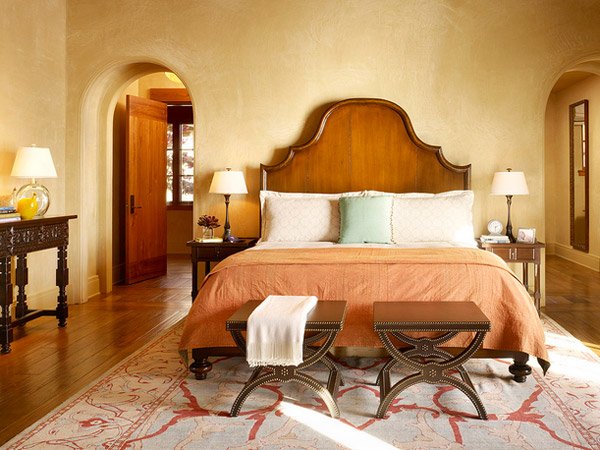 This bed is just stunning! It comes with a headboard but not a footboard; the chairs on the end of the bed are lovely. The plain walls complement the bed and the floors well.
Shore Oaks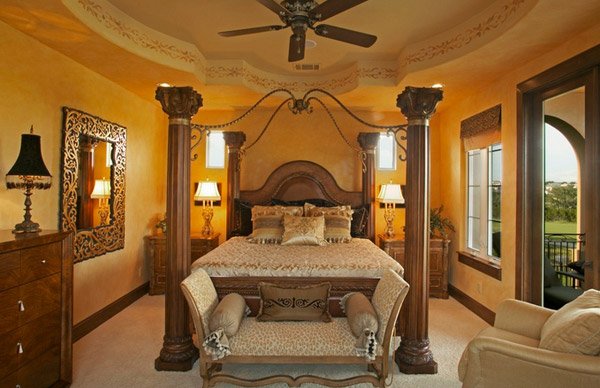 Tell us something we don't know about this stunning bedroom! It's definitely warm and cozy; with classy furniture and decor – anyone would love to be here!
Tuscan Villa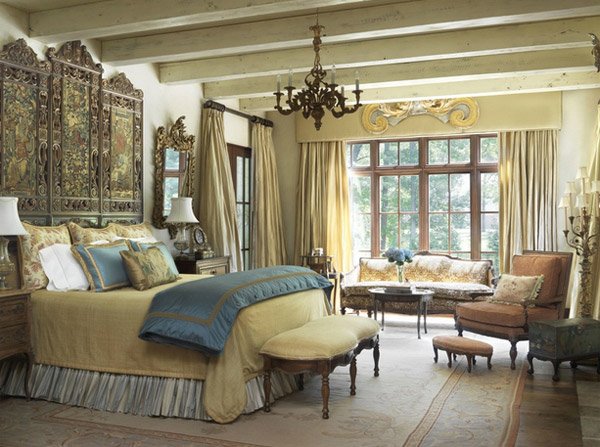 Words can't explain how much we love the headboard in this bedroom! It looks a bit Asian but definitely from some Tuscan region. The decorations are fancy and even somewhat vintage. We just love it!
Tuscan Vineyard Estate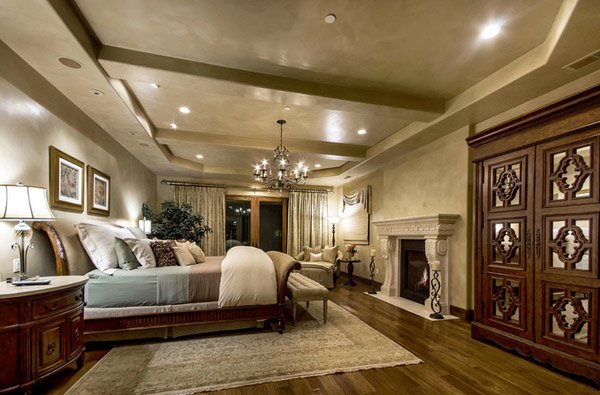 The walls appear to have a technique on them referred to as smooth fresco which we've seen displayed at Sherwin Williams. It's super amazing and complements well with the bed and the other furniture.
Unique Mediterranean Bedroom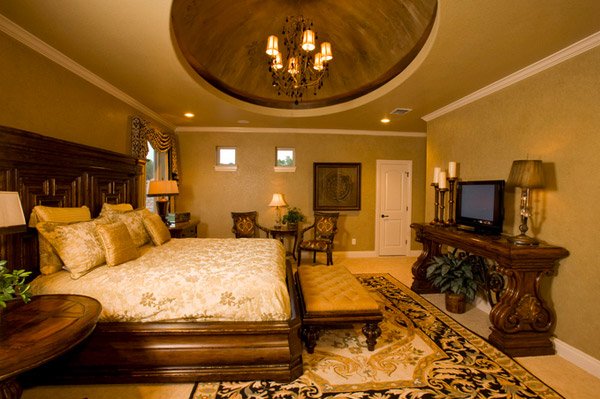 Here is yet another bedroom that showcases a beautiful ceiling. The bed and the carpet sure complement the plain walls and not to mention that we see lovely furniture all around.
Wine Country Spanish Estate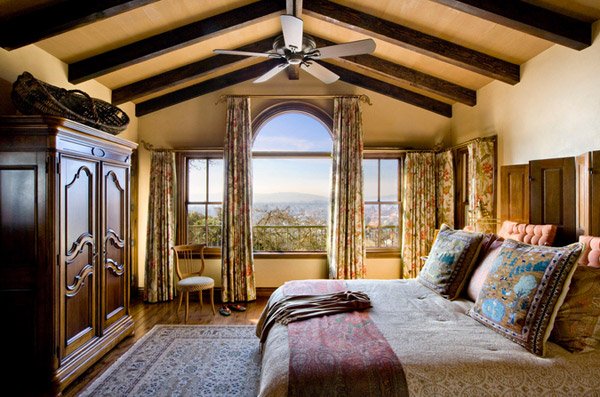 This bedroom may be one small space but we think this is one of the best bedrooms in this list. It's simple, homey, cozy and definitely stunning! We love the wardrobe that even reminds us of C. S. Lewis' fantasy novel.
It may seem hard to even consider decorating your bedroom a bit Tuscan, but if you search the internet about Tuscan bedrooms, you will be amazed how much it should be an option! You get to have simple walls but fancy bed frames and wonderfully made headboards, pick out a classy nightstand and have wonderful windows! What more can you actually ask for? Like the 15 Extravagantly Beautiful Tuscan Style Bedrooms, we hope you'd look at the Tuscan living room designs we also have collected way back. Check them out!