20 Beautiful Bedrooms with Blue and Yellow Accents
If you're like me and have been teaching kids; maybe your kids, cousins or nephews and nieces with art stuff, you might have suggested color combinations to them – not the whole combo with hard core painting, but I'm pretty sure that you've seen how blue and yellow go well together.
Today, we have a list to show you about how cool this color combination works. Below is a list of 20 Beautiful Bedrooms with Blue and Yellow Accents that range from traditional to contemporary to even a bit of eclectic bedroom designs that will definitely show you the different takes of designers and decorators to this specific color combo, take a closer look.
1. Bachelor Gulch Residence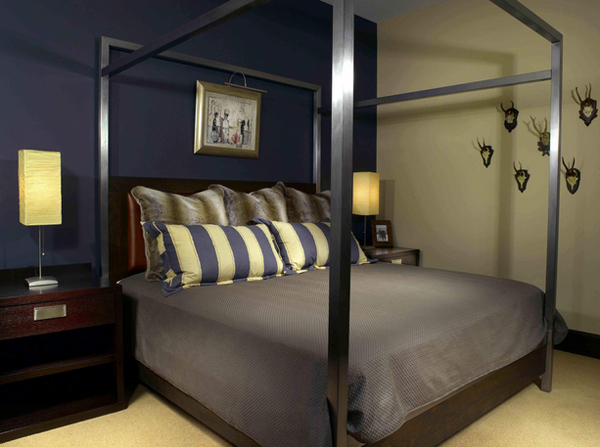 The blue wall against the beige wall is smart and looks really clean.
2. Builder's Dream Home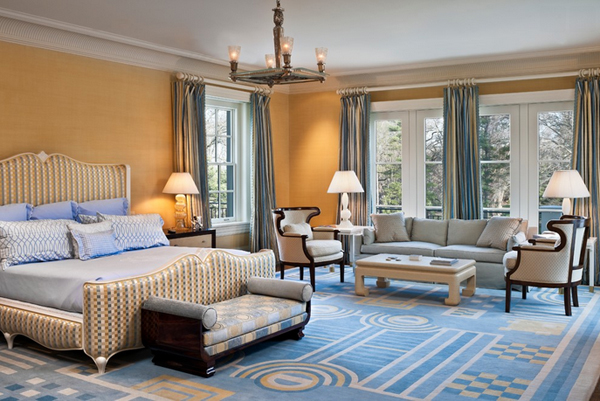 I love how roomy and spacious this Philadelphia room is and the position of everything!
3. Charlotte Spring Home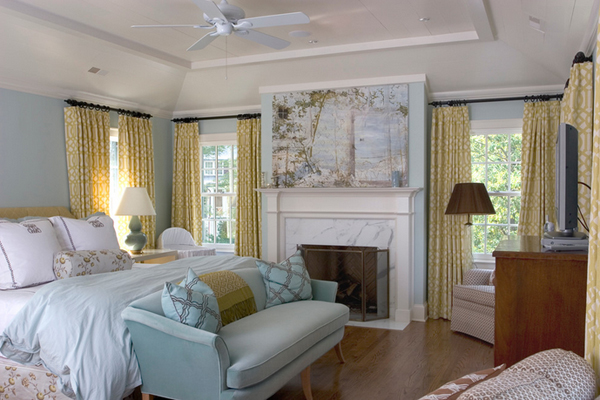 The bedroom layout of this Charlotte bedroom is simple but the bulky items inside it makes it a little cramped.
4. Colorful Hollywood Bungalow
The child's room was envisioned by the young lady of the house, complete with a bed fit for a queen, topped off with a gold crown canopy we found at the Paris flea market.
5. Downtown Montreal Loft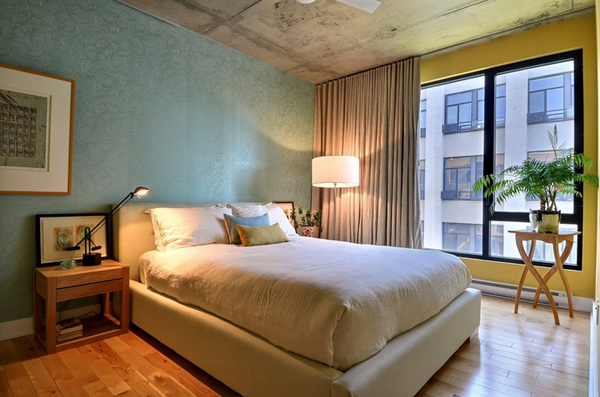 A very pretty wallpaper combined with soft colored fabrics and soft yellow paint makes for a very relaxing bedroom.
6. Eastern Shore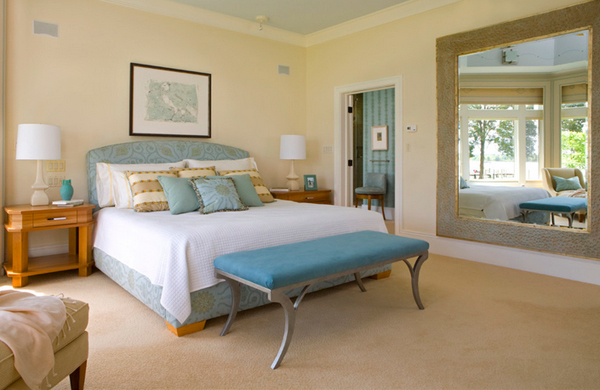 In a spot with a lot of pillows, remember not to get too overzealous with the fringe. One or two well-chosen pillows is enough!
7. Egan House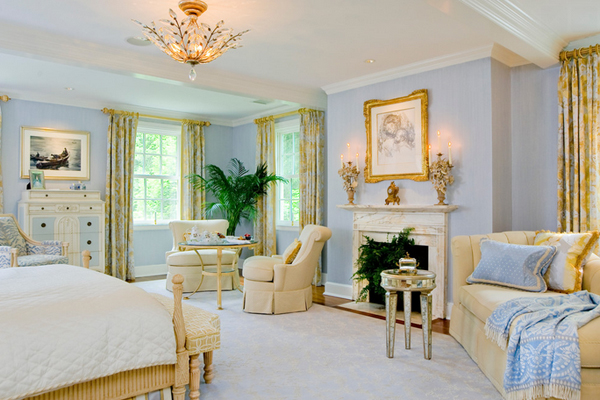 The light color of the blue in this Baltimore bedroom makes this room airy and really pretty.
8. French Country Master Suite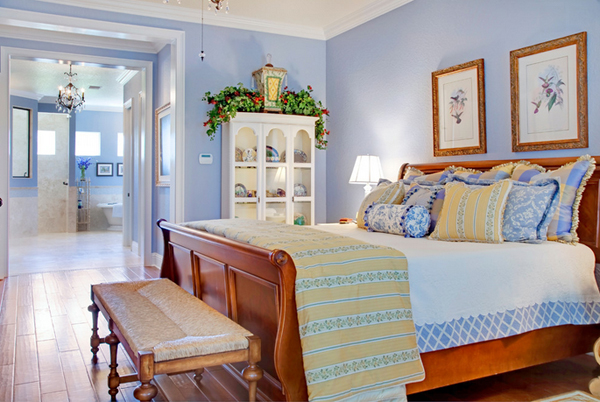 This Mediterranean-traditional Orlando bedroom has a homey feel to it. The fabrics used in the bed and the pillows is so lovely.
9. Gulf Shore Blvd Coastal Project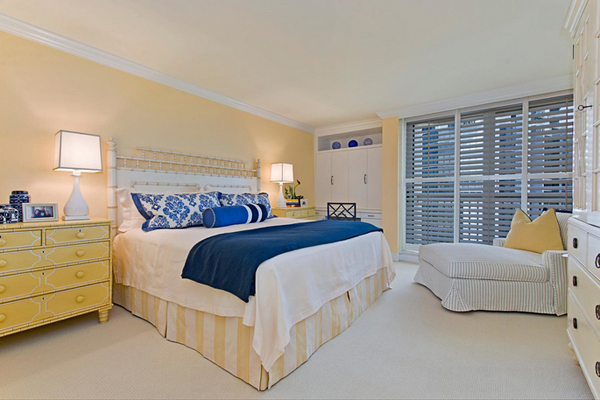 Have you noticed the headboard and the night stand? They are just designed to perfection!
10. Hampstead Heath Apartment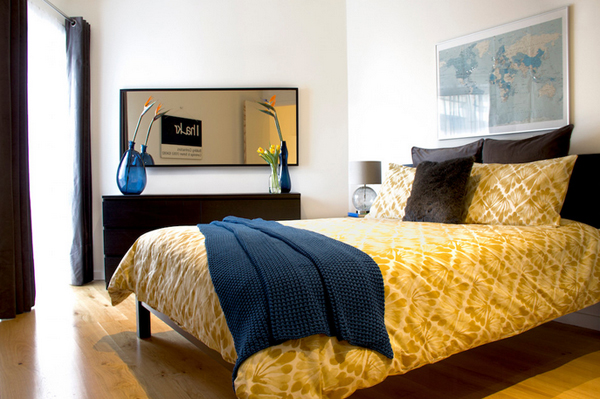 In the bedroom Taylor went for something different than the living space. "I wanted to make it feel more masculine by using darker wood," he says. "The client already had the map, and this became the basis for this room's blue, yellow and grey color scheme, which works so nicely with the dark wood."
11. Historic Seaside Town, Rhode Island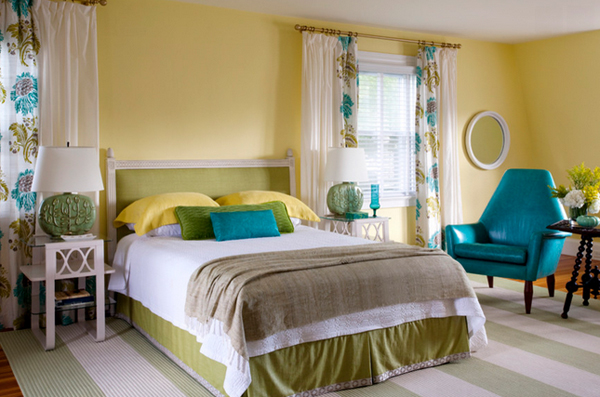 The master bedroom is a large room; the wide-stripe rug has a boldness that almost creates a room within a room. The chair is a custom piece based on a mid-century armchair. It sits alongside other furniture that's more country Swedish.
12. Luxe Model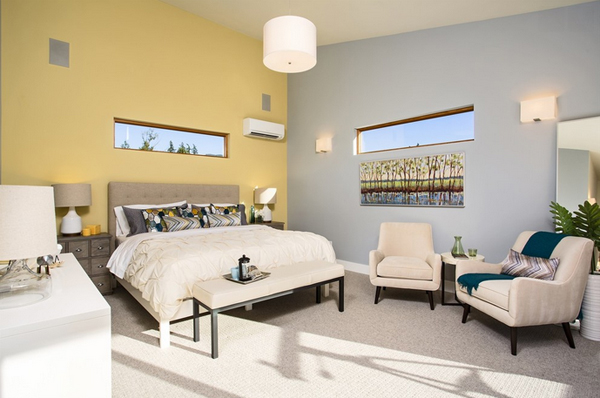 Look at how the shape of picture echoes shape of window! It's totally cool, right?
13. Maplewood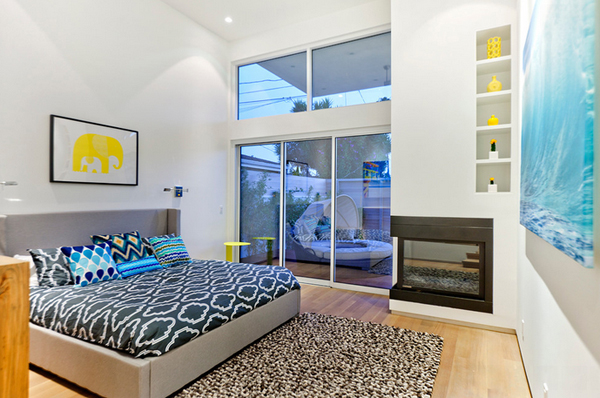 Aside from the yellow elephant on the wall and the yellow decorations on the side cabinet is just stunning! The other blue painting opposite the yellow elephant is just divine!
14. Merilane Avenue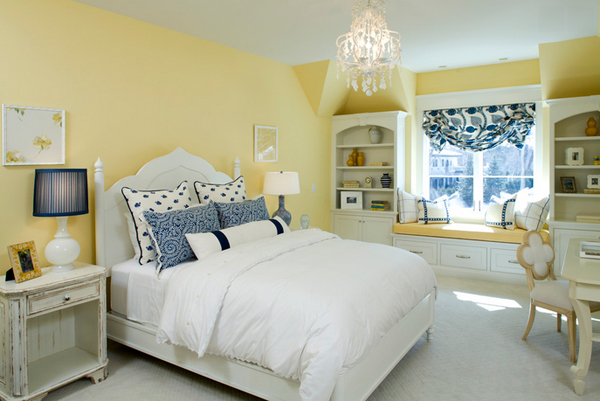 The designers used a variety of stones, millwork, wallpaper, and faux finishes to compliment the large spaces & natural light. Looks pretty great!
15. Mt. Desert Island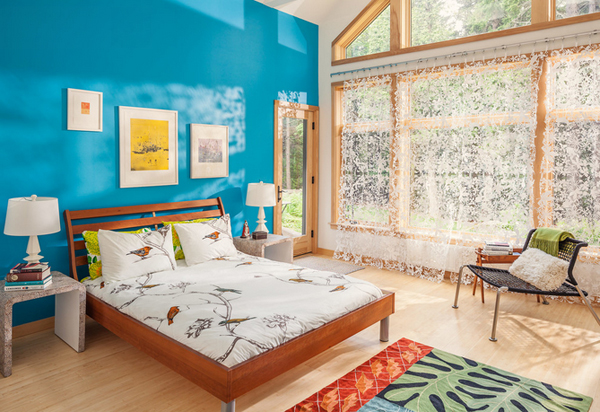 When using a bright, bold paint color in a bedroom, I tend to limit it to a single accent wall. The headboard wall usually makes a nice focal point in the space, so that's a good choice for receiving the eye-catching color.
16. Nantucket, MA Residence
We see some interesting things inside this bedroom like the sunburst mirror and the fish portrait.
17. Southampton Retreat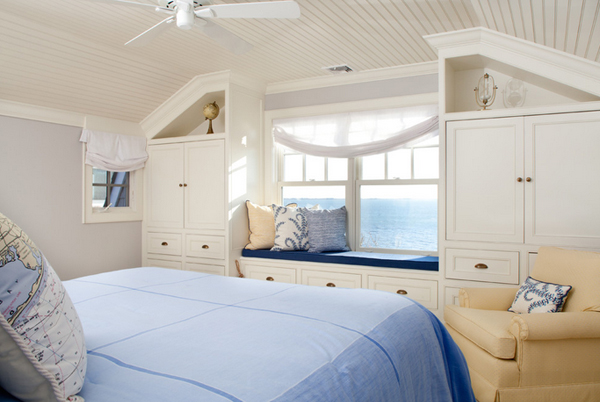 Look at the interesting thing they did with the cabinet works!
18. Spring Lane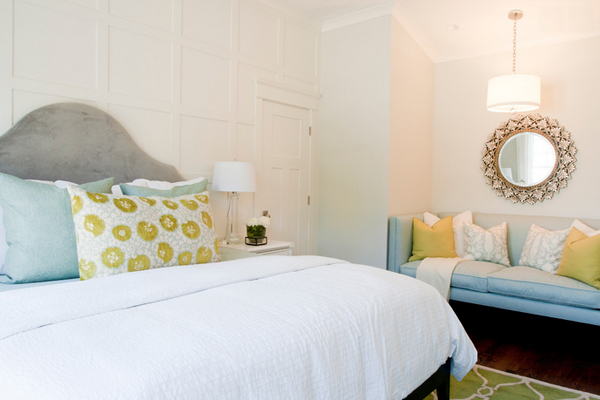 I like the yellows mixed in with the blues and grey headboard!
19. Woodvalley House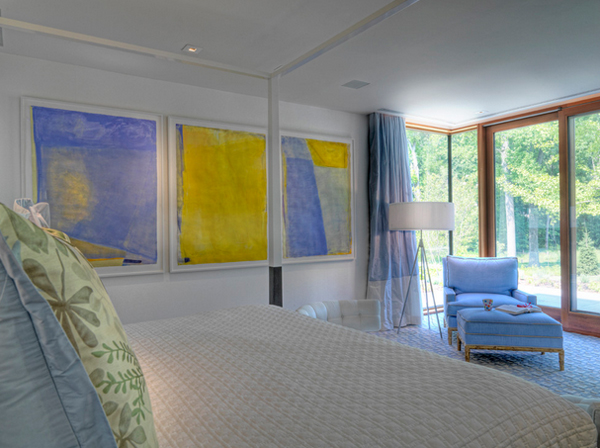 The walls are covered with a durable white nylon with silver colored threads incorporated into the fabric. Their subtle shine makes the space glow. Custom window treatments and bed linens complete the luxurious look.
20. Blue Summer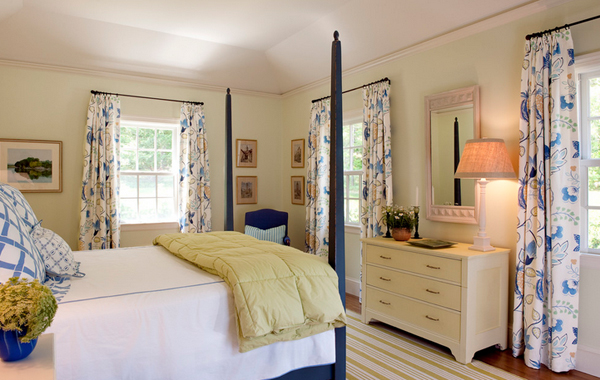 After all your work, you've earned the right to a little nap in your luxuriously outfitted nest. Sweet dreams!
The inspiration that comes out of your system when you see specific things bring about an awesome rush just like when I saw this list of cool bedroom designs with blue and yellow as accents to them. If you think that this list is pretty super, you would also love to see more lively and bright colors in the bedroom that will surely bring you to a different place in terms of art and design. I hope this list inspired you to bits! More to come with Home Design Lover!