20 Red and Green Bedroom Accents For A Festive Feel
Hesitant to put together red and green? Don't be! Here are ideas to help you get a bedroom with these colors.
When it comes to choosing colors for the bedroom, most of us would pick neutral colors because this is very relaxing. Aside from that, it is also a safe way to use neutrals so we will be given more freedom to pair it with other shades too whether it's light or dark. Some homeowners would really insist on adding their favorite colors to their interior and we cannot blame them if that is what they want. Hence, designers and decorators should see to it that they are able to add the homeowner's favorites without ruining the interior's appeal.
Today, we are going to show you some bedrooms of different themes and style. But what are common in them are their red and green accents. Well, the holidays just ended and for sure we have seen a lot of green and red during these days because it is the colors of Christmas. But holidays or not, these colors can still look great together. Others may think that it is so heavy for the eyes but for sure after you will see this list, you will change your mind about it. Here are 20 red and green bedroom accents for your inspiration.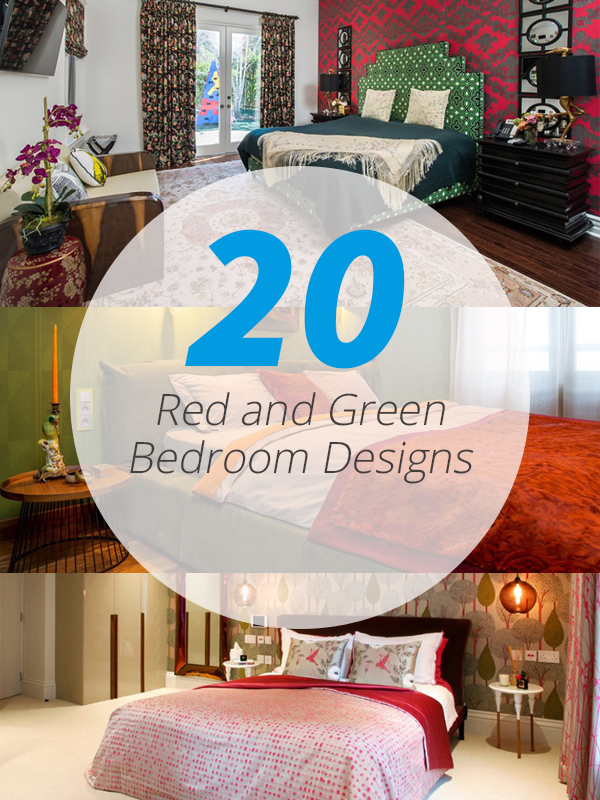 1. Ali Hamilton Interiors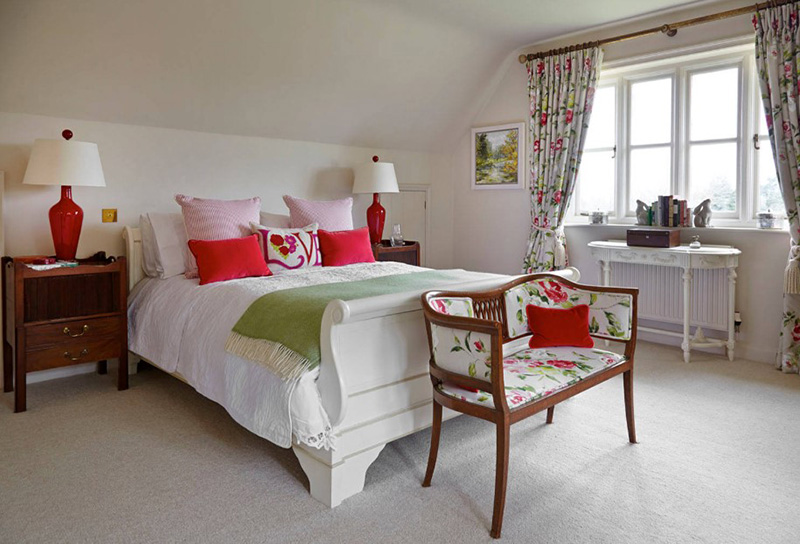 Just a simple bedroom with white walls but you can see how nice it turned out with the floral fabrics in it as well as touches of red and green around the space.
2. Pearl Beach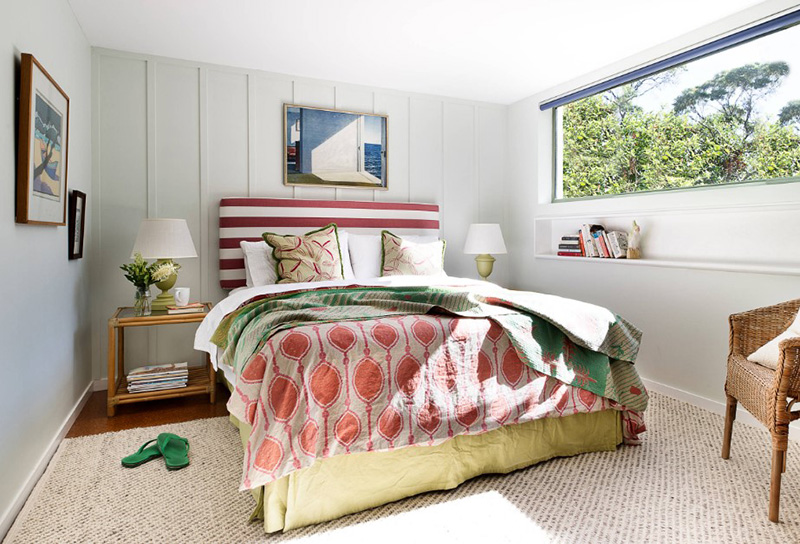 Red and green are used together here. A green valance for the bed added drama to the bedroom. The red bedside stools and the silver/ dark bedside lamps also brought more appeal to the area.
3. Eclectic Bedroom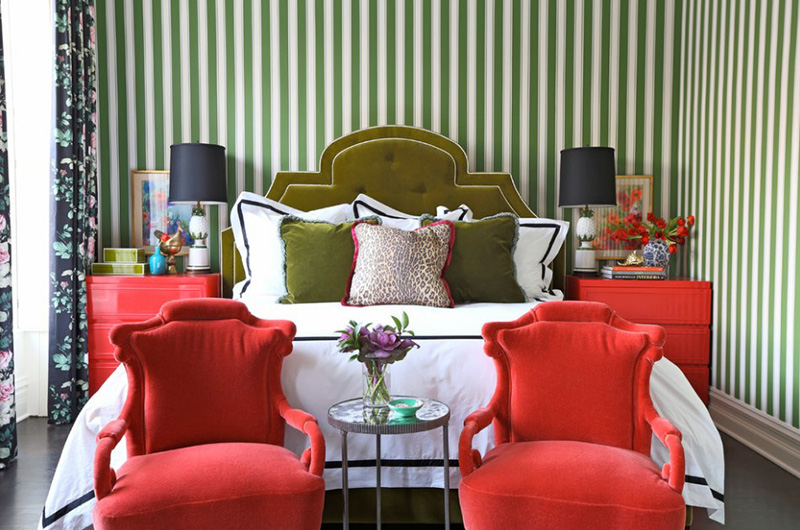 By calling in a neutral color, the space was moderated as it used red and green. Everything was broken up with the white colors.
4. Split Oaks Farm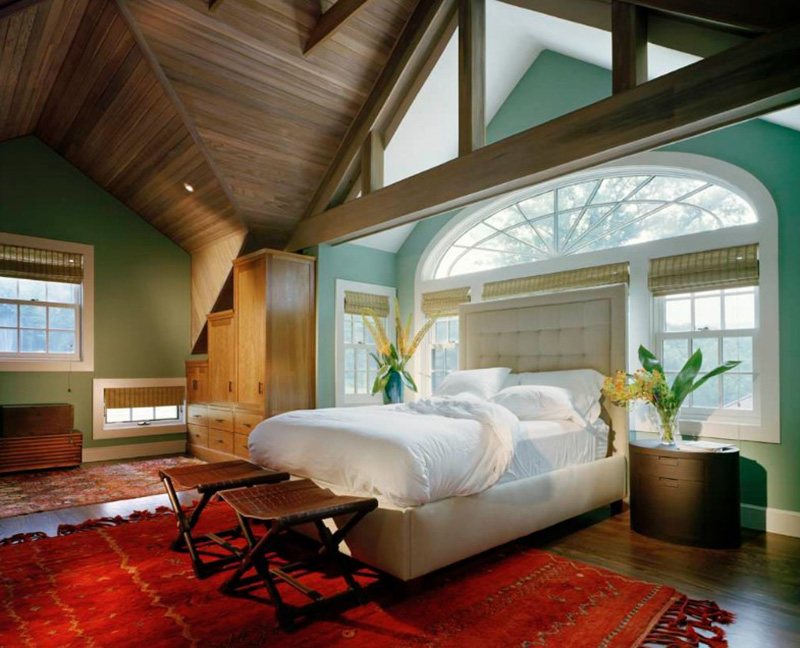 The exposed wood paneling combined with the red and teal looks lovely in this bedroom. The hardwood floors look great in here along with the green wall accent and red carpet.
5. Great Neck Home Renovation
This traditional master bedroom has a bright warm color palette which makes it very relaxing. Even if it used various patterns here, it still looks beautiful.
6. Vanderbilt Beach Renovation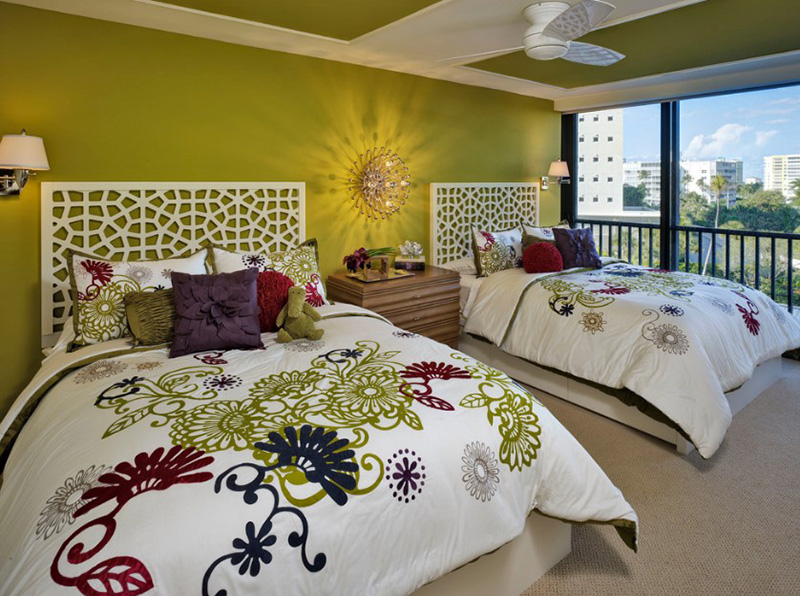 Aside from the green wall and carpet, there are red and blue accents in here from the bedding set. The shade from the light makes the room look warmth and balance with the green wall.
7. 259 Red Cedar Miramar Beach, FL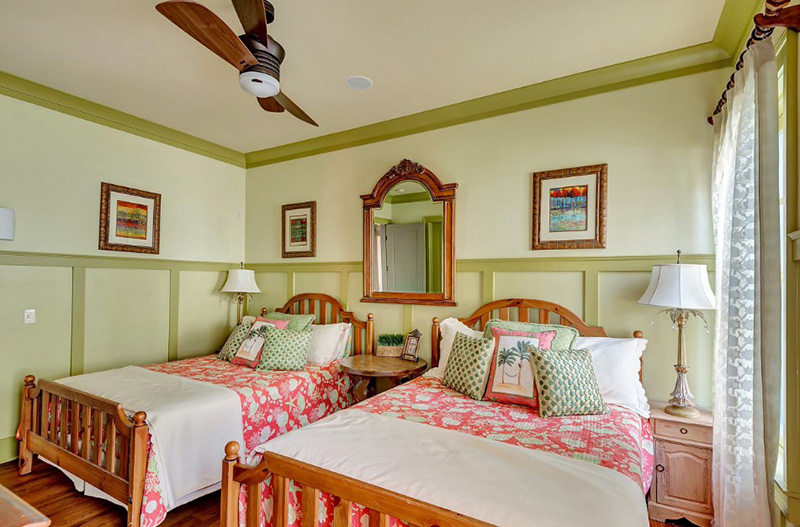 The color palette of bright red and celadon green in this coastal home perfectly goes well with wood. Also featured here is a medium tone hardwood floors.
8. Bellagio Place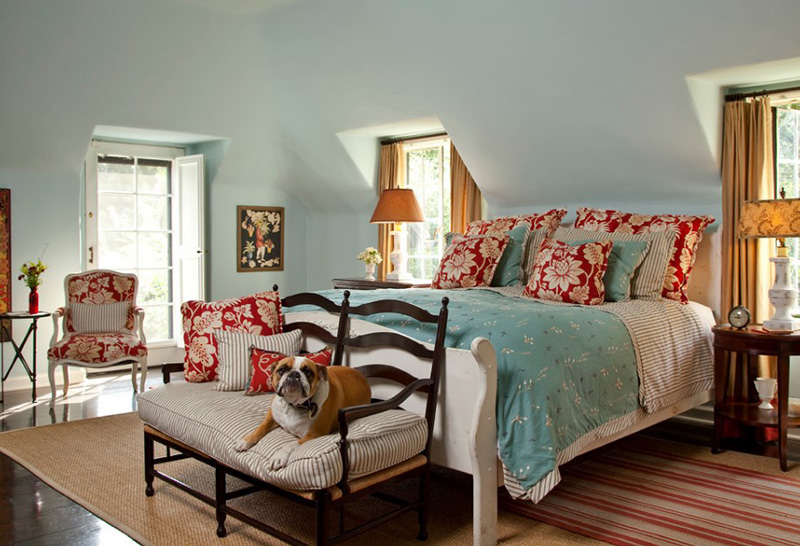 Tomato red paired with green works like magic in this bedroom. Aside from that the floral prints on the pillows, the green covers add to the elegance of the bedroom.
9. Mid-Century Modern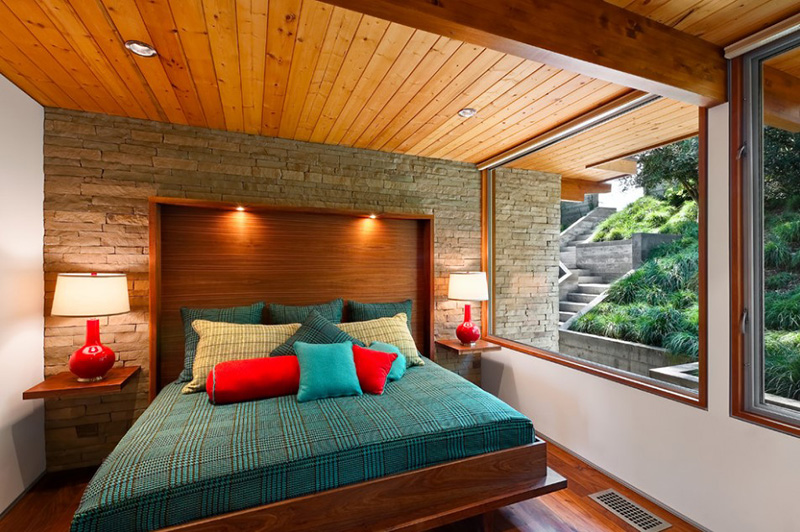 This 1950's mid-century modern hillside home has a natural appeal from the brick walls and the wooden ceiling. And of course, the green covers and red accents here bring more style to the space.
10. Virginia-Highland Whole House Renovation & Addition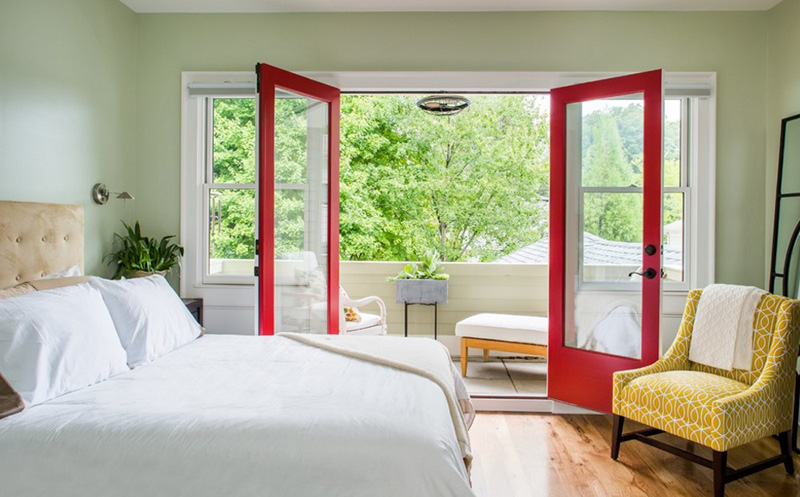 A transitional master bedroom design with light green walls, light hardwood floors and a red door that leads to the sunny balcony.
11. Marine South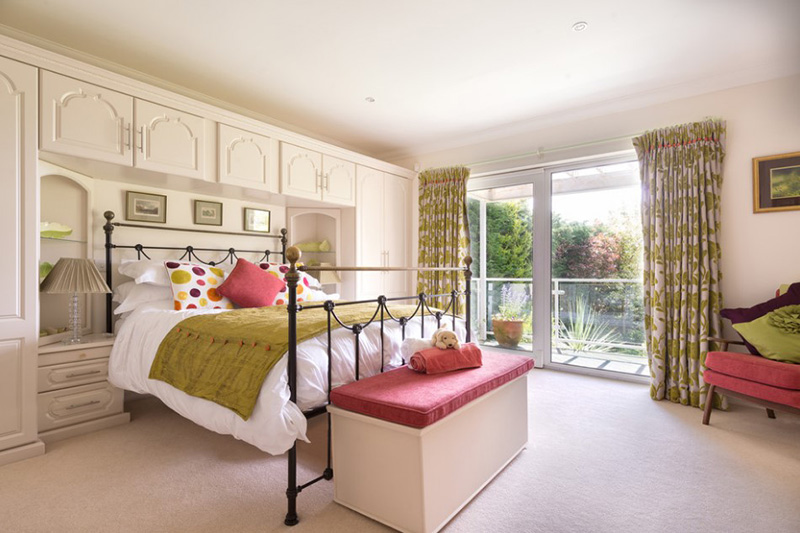 A bedroom with a combination of contemporary and classical style. From this private space, one can get a lovely panoramic sea and coastal views.
12. Mediterranean Coastal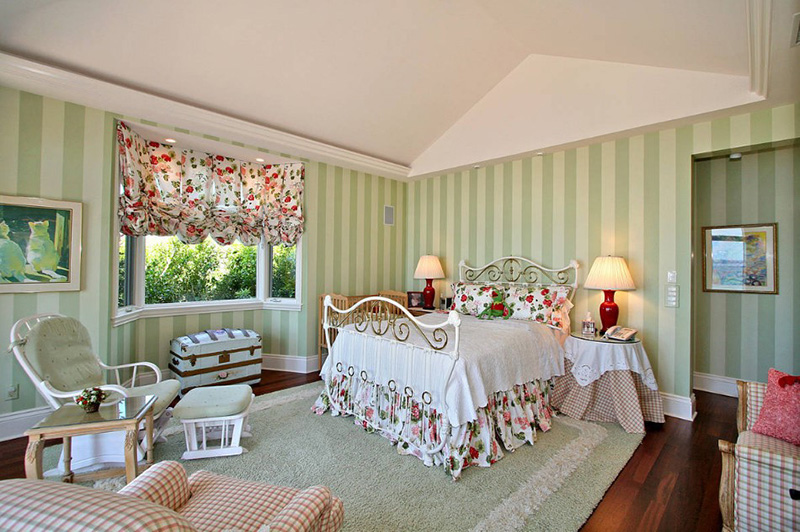 A timeless bedroom remodels with striped green walls and floral elements in the curtains and the bed. One item that I like here is the classic chest near the window.
13. Contemporary Bedroom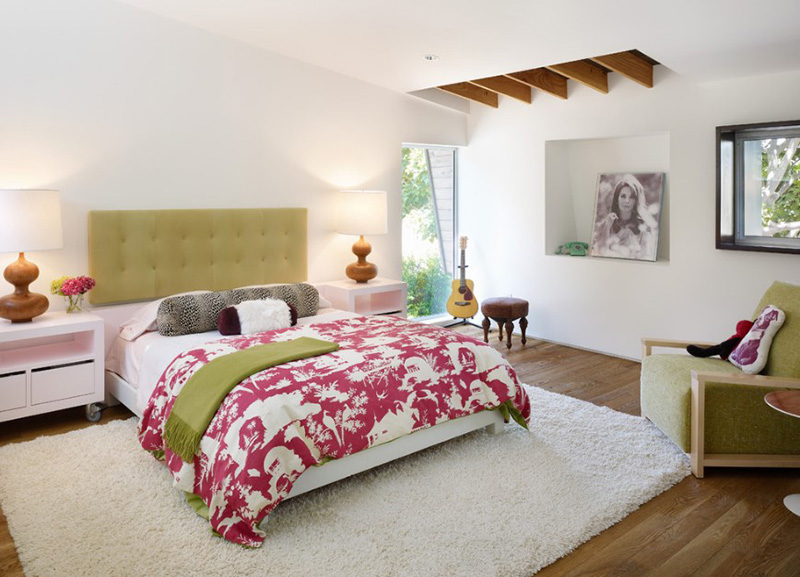 Isn't this a pleasing bedroom? Seen here are complementary colors that create a dramatic look in the neat space. It used moss green and candy-apple red together.
14. Miami Interior Designers – Hollywood Regency in Sunny Isles, FL
Although red is used on the walls, you can also see green accents in it. But aside from that, the grandiose white leather tufted headboard wall brings a luxurious appeal to the bedroom.
15. Farmhouse Bedroom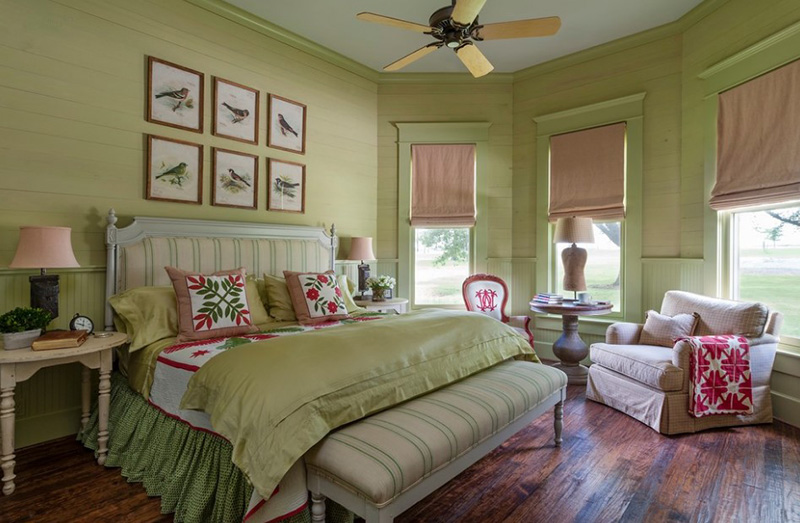 This one used green not just in its beddings but even for the walls. And you can see red accents on its fabric for the bed and the pillows.
16. Kensington, London, UK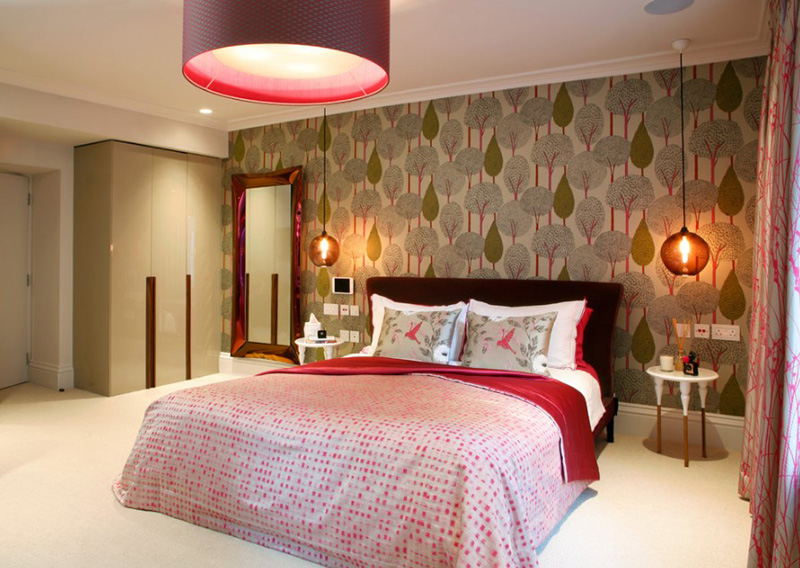 A warm bedroom brought by its light and its colors. The space has a cozy feel because of its colors and the patterns on the wall. Also notice that large ceiling light in red.
17. House Nerd – Master Bedroom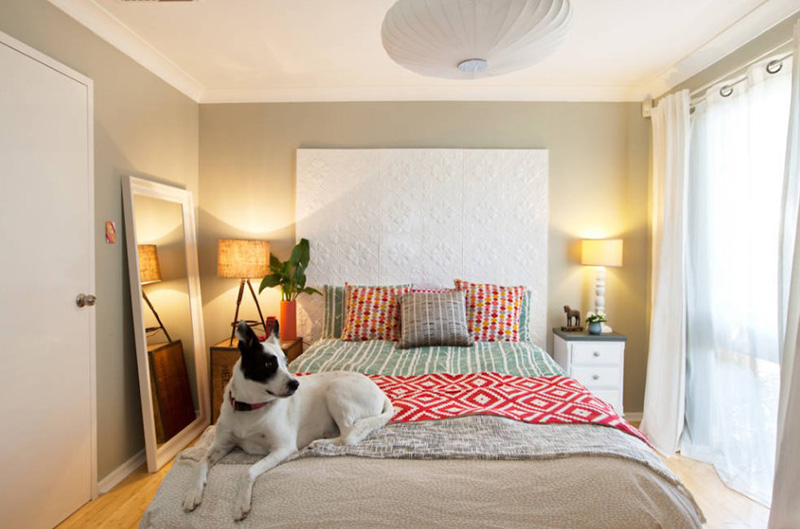 A mid-sized trendy master bedroom design with beige walls and medium tone hardwood floors. The colors and patterns seen here have a feminine feel.
18. Rick & Susan Hibbs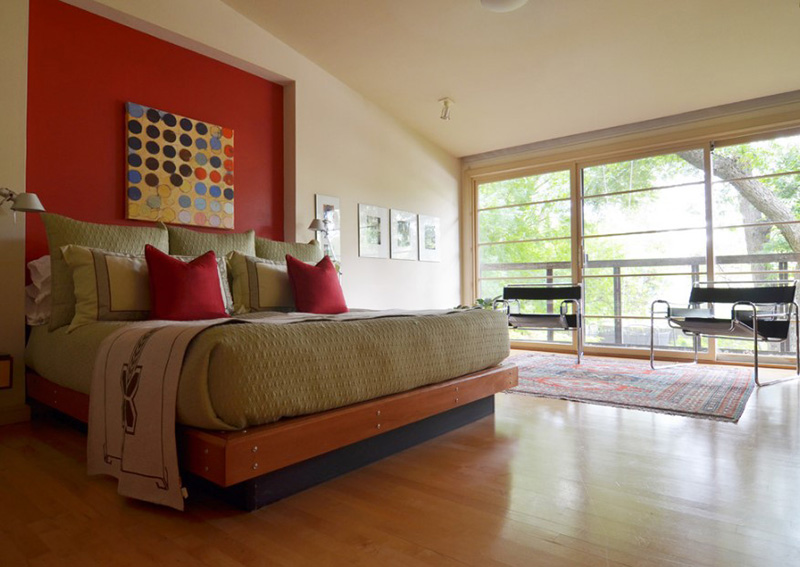 The red accent wall emphasized the bed area which has green bedding set. I think this will look nicer if it has a beautiful complex looking wall decor instead of a simple one.
19. Smart House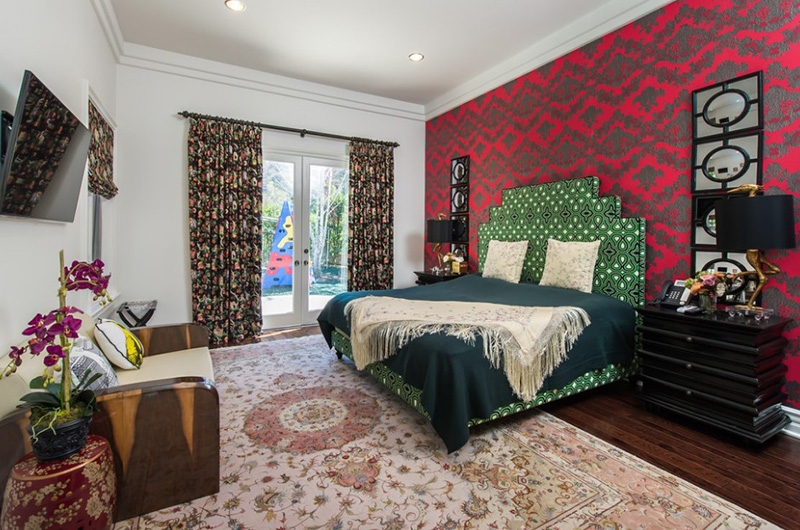 A large Mediterranean bedroom that has patterns all over the space with a red wall and green sheets.
20. Nebo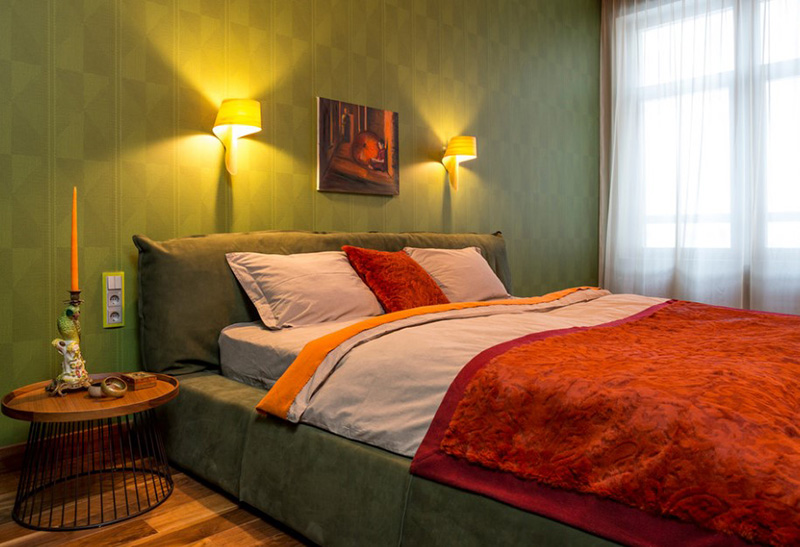 And last on the list is a contemporary master bedroom with green walls and medium tone hardwood floors. Red and green complementary colors are used in here. It looked warm because of the light from the unique wall sconces.
What can you say? Red and green does look good together, right? Yup, it sure does. It really just depends on how you would put them together. Also, it could be used in whatever type of space you have. Notice that the bedrooms above feature not just modern ones but even classic, midcentury and contemporary ones. In all those space, the bedrooms look great. Is your favorite color red and green? If it is, then you could definitely use the above spaces as inspiration for your own private space.