20 Fab Red Accent Walls in Dining Rooms
If you want a bold accent in the dining room, try a red wall.
I remembered that there was a phase when I have been writing a couple of lists about accent walls in different colors and in different spaces and then I have been wanting to compile spaces with red accent walls but then it was hard to collect them because most of the spaces that I see have their entire walls in red and not just accented; this made me sad of course, this is the most common accent wall color and then I can't complete one.
Finally, this list is finally here and I'm totally loving it! For today, we have a list of 20 Fab Red Accent Walls in Dining Rooms which I think are really lovely. The accented spaces differ in sizes and theme but then the red walls create a more sophisticated look and feel for the spaces below. Check out the list and tell us what you actually think of each of the spaces.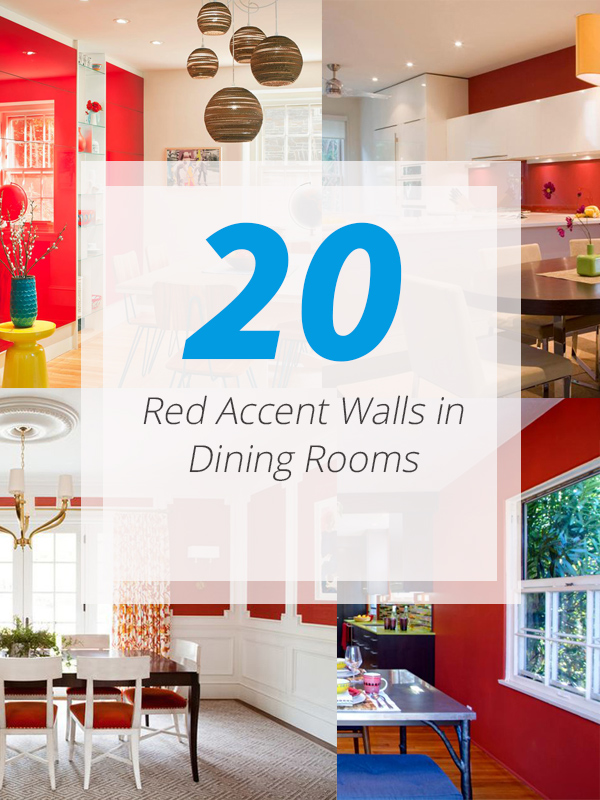 1. Orinda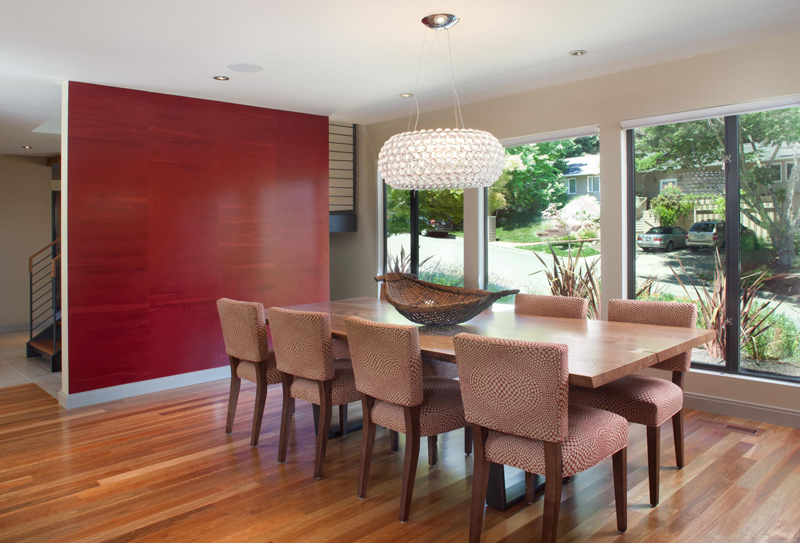 I'm not sure if this design crew is Asian because of the name but when I saw this dining room, I actually thought this home has a hint of Asian in it. Maybe it's because most people associate red with Asian design. I admire the choice of dining table and chairs that they actually have here though.
2. Silver and Red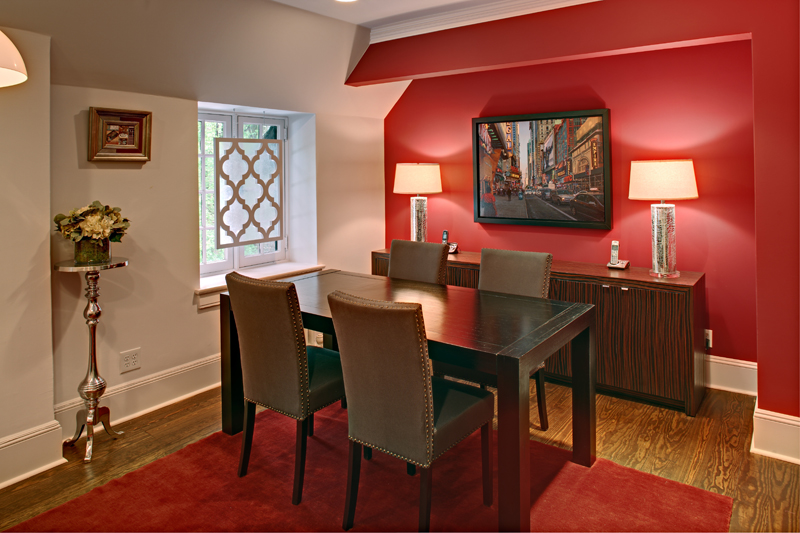 This lovely dining room has red written all over it! This dining room then makes the people living in here eat more because of the red wall.
3. South Slope Townhouse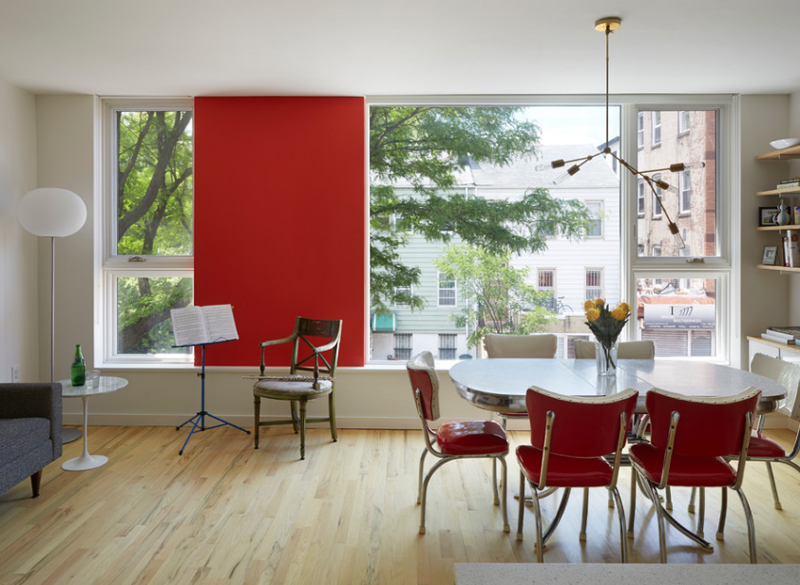 I like how they added the red wall in here.
4. Bisson Ranch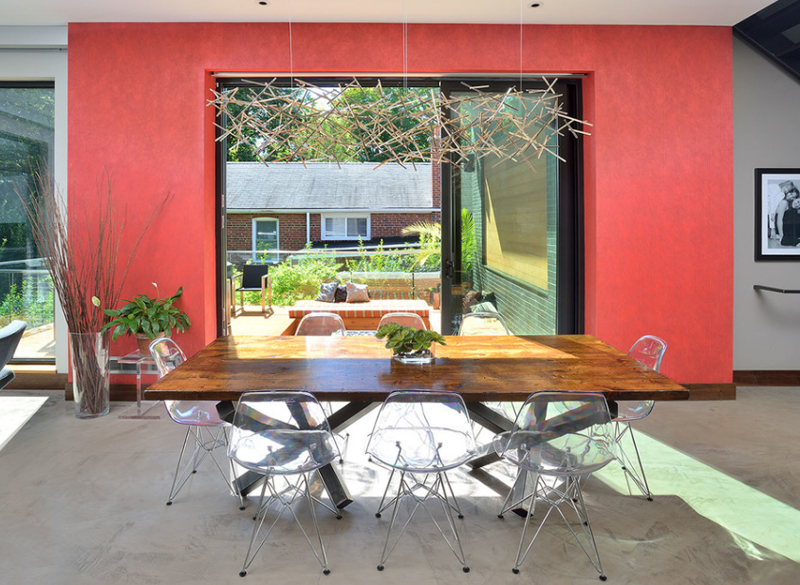 I don't know about you, but I think that the accent wall in this dining room is pretty interesting especially that it was placed by the door which allows people to actually notice it – all the time, every time!
5. Grandiose and Dramatic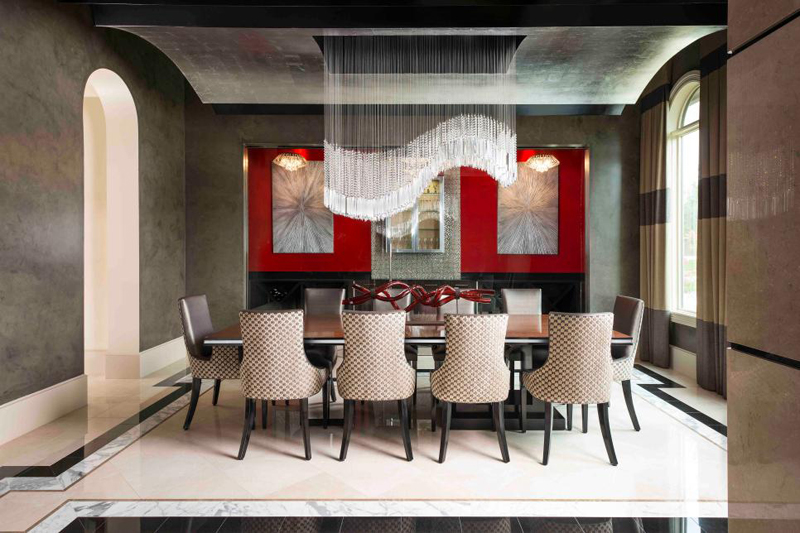 It may seem minimal and even farther in this photo, but I think that the accent wall in this dining room is the prettiest aside from the grandiose chandelier above the table!
6. Fisher Island Palazzo del Mare Residence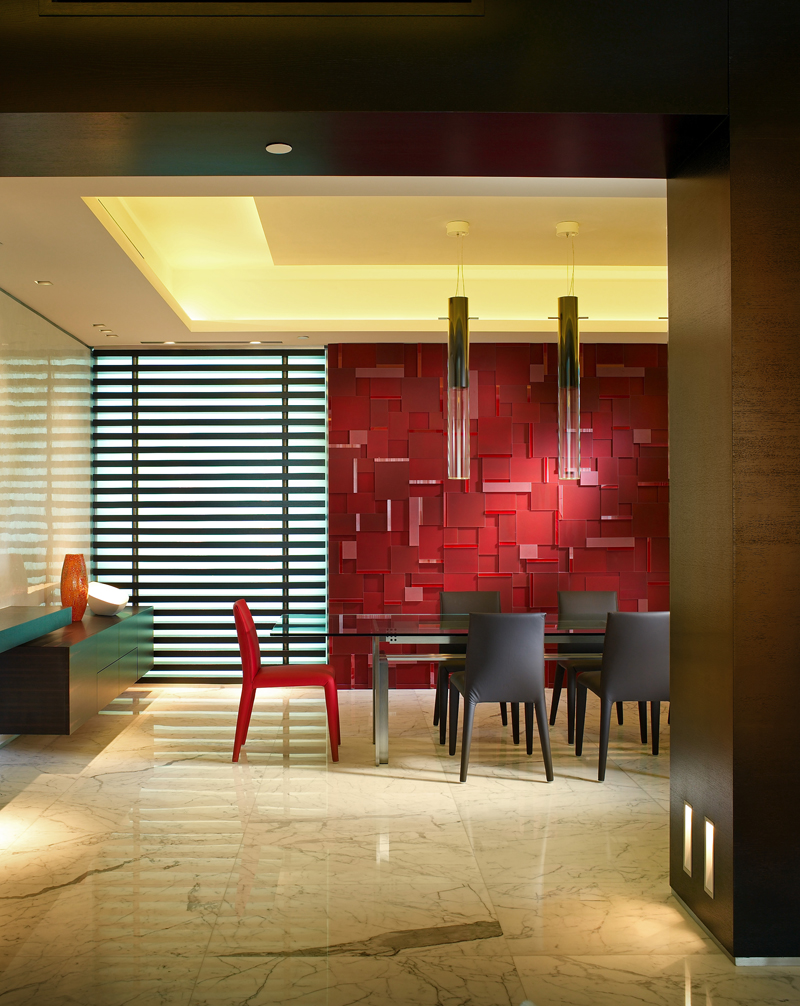 Talk about a unique accent wall! This is one beautiful piece of art and does not even tell me otherwise! Walls like this one might be one of my favorite things ever because if you can make your walls prettier, why not, right? I can't say that it's easy or hard to create, but you can always ask experts if they can make you awesome accent walls in every room of your house!
7. Funky Dining Room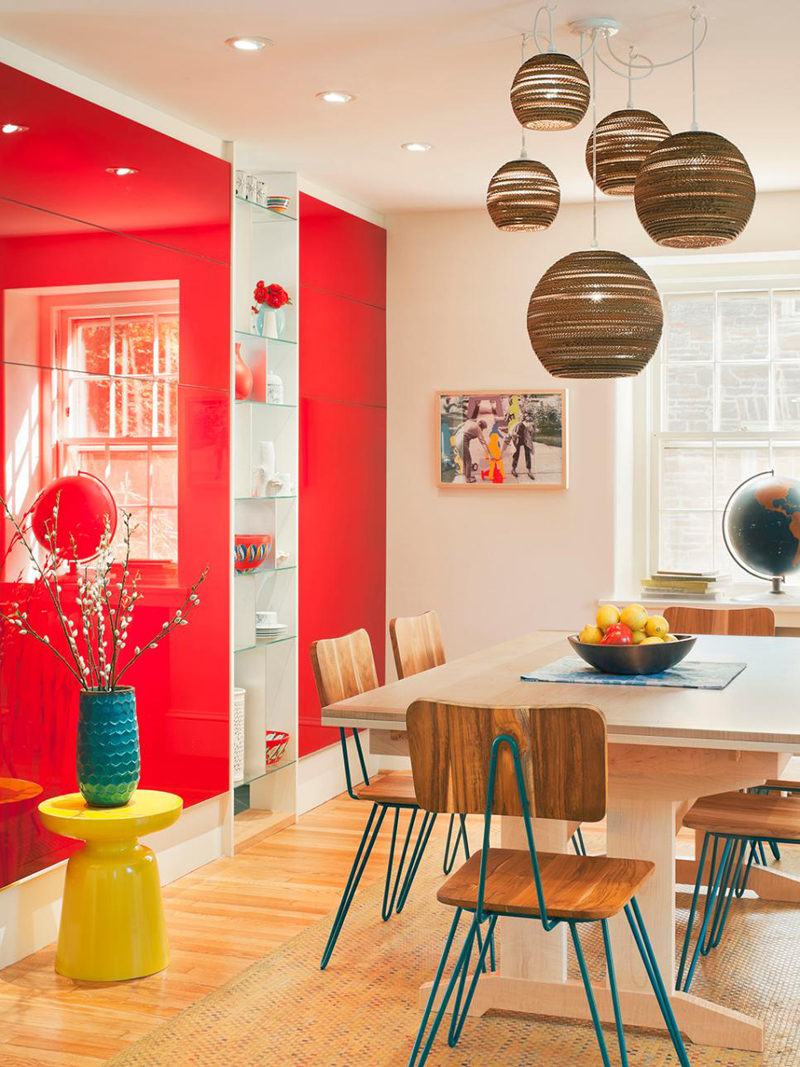 This is one is similar to the materials used with those modular kitchens with a high gloss finish. I think the red wall is just so fancy – I can't say if this one's expensive or something but it sure looks like it.
8. Hillsborough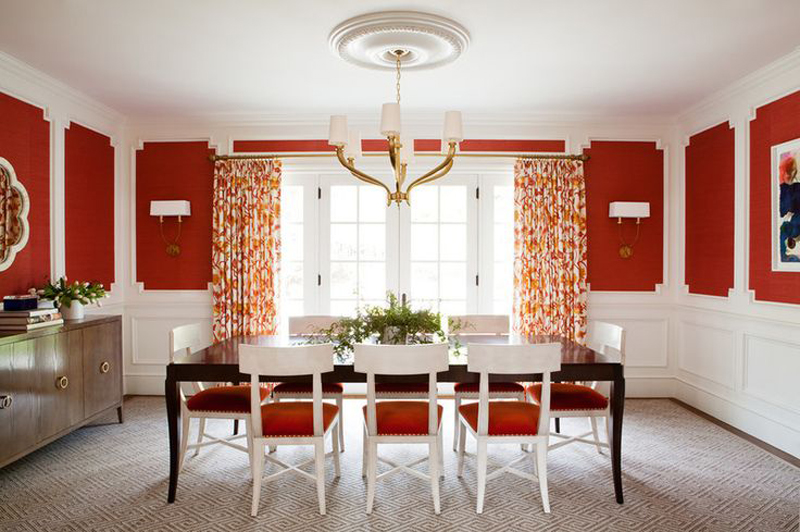 This white and red dining room is totally stunning! The way that the white and red actually match each other is just fascinating and wonderful. I think that the lighting fixture above the dining table is simple but it sure looks perfect for this space.
9. Puerto Vallarta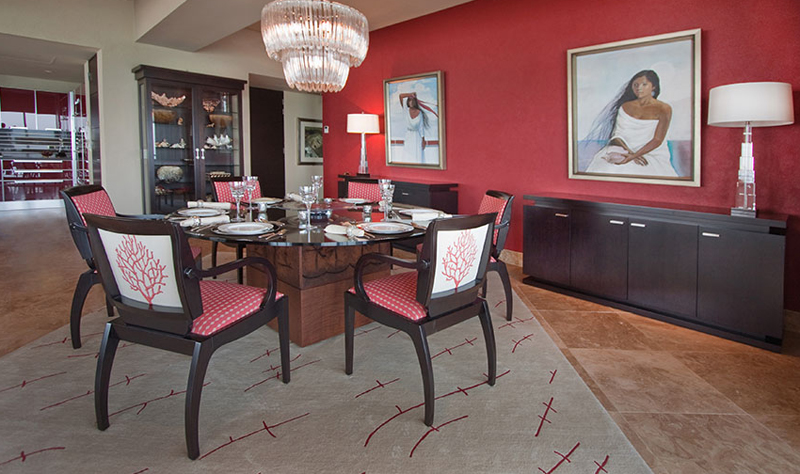 This dining room looks a bit Mexican or something; it might be because of the paintings on the wall or the matte finish of the red wall.
10. Outer Richmond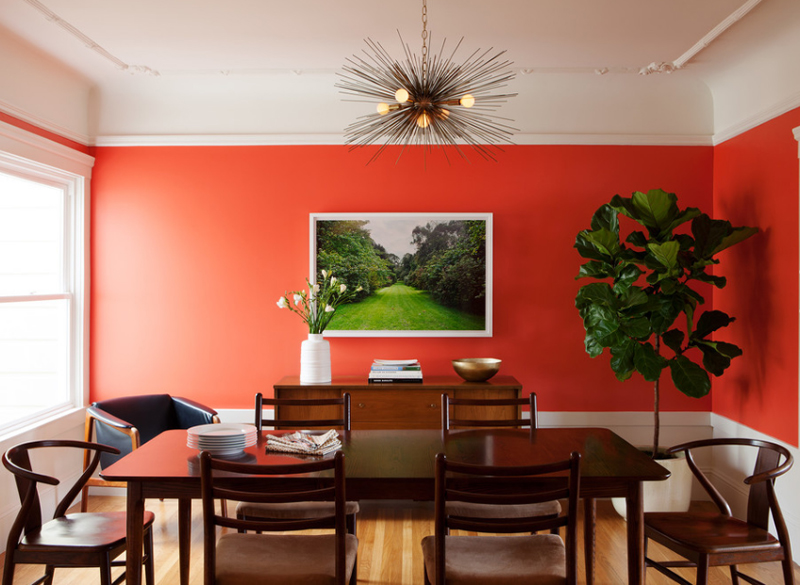 The walls in here kind of looks orange! Those colors seem easy not to interchange with other colors in the color wheel. What can you say about this living room though?
11. Asian-Inspired Dining Room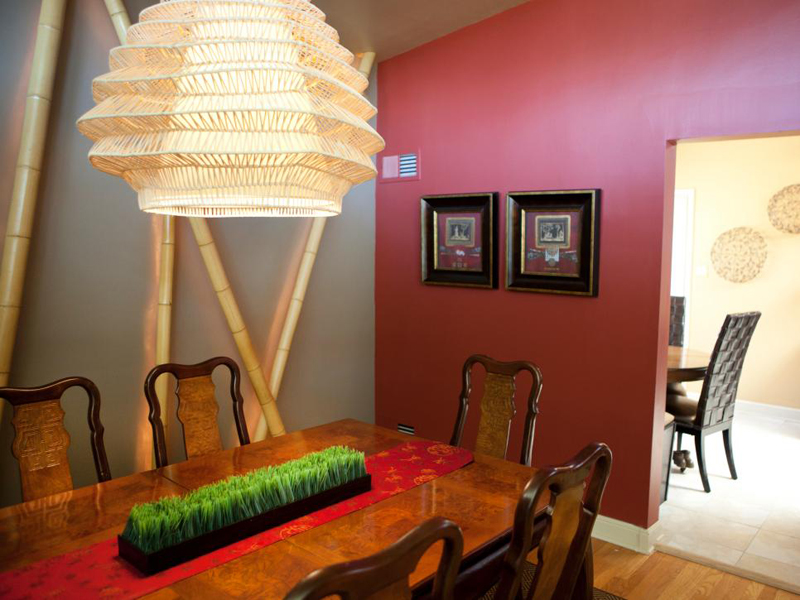 This one an Asian-inspired dining room – not just because it looks like it but because the name or tag of this space is in fact an Asian-inspired dining room! For all we know, this house is in fact in an Asian country. I love the bamboos on the wall and the large lantern above the table!
12. Bold Eclectic Dining Room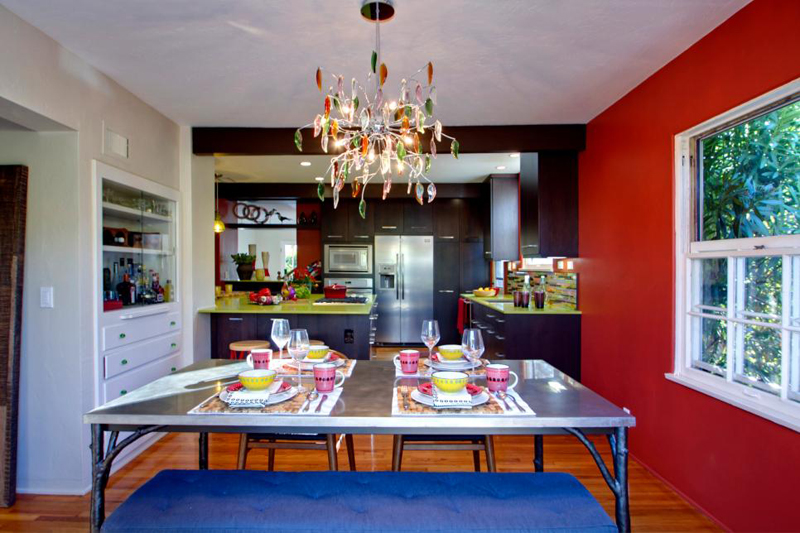 The lighting fixture above the dining table is in fact one gorgeous piece of lighting! I think that the colorful leaves in it is just fabulous and really wonderful! It does not necessarily blend with the other colors in this space but because of that, it actually stands out.
13. Chelsea Art Loft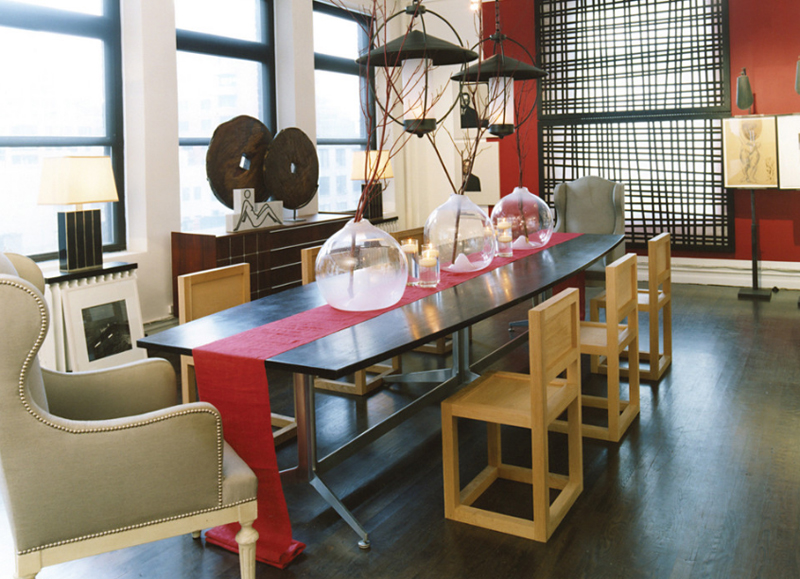 I would like to think that this space is basically staged for a photo shoot and not for everyday use. The large lanterns and bases it has and the decors on the buffet is quite large for my taste.
14. Contemporary New York Dining Room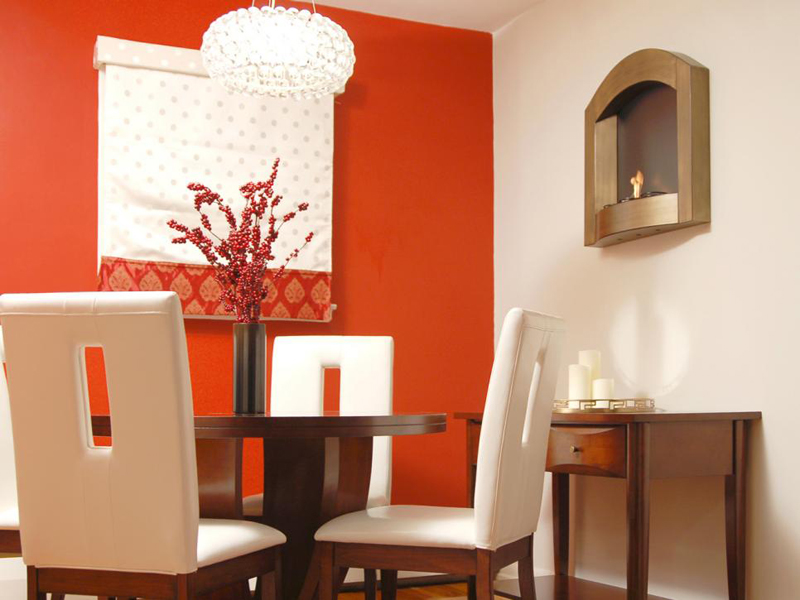 The red color of this wall sure is bright for me! I mean, the color is real fancy and bold and it's not everyday that you'd actually see accent walls this bright but I think it's real pretty and neat and that it actually makes this space interesting and fun.
15. Downtown Naples Contemporary Home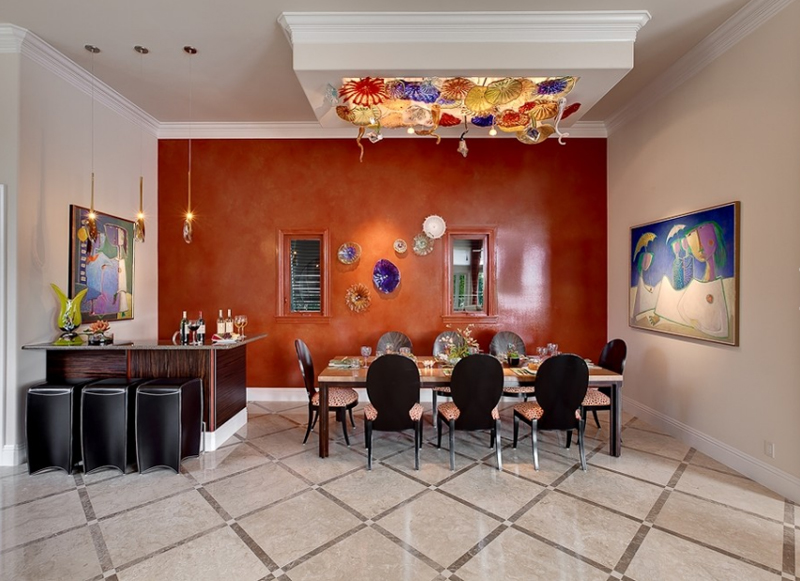 The deep colored accent wall in this dining room is the main reason that this space actually has color and life – of course aside from the colorful decorations above the dining table. I find that interesting because most of the time these things are placed on the wall and not on the ceiling.
16. Bridgid Coulter Dining Room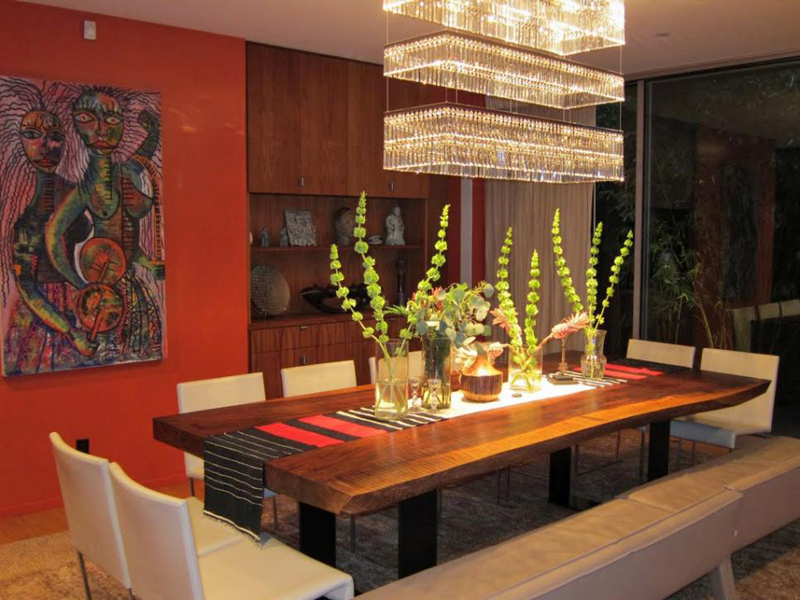 HGTV is one of my favorite sites that produce awesome space designs from cool artists and designers. Some of these designers actually have shows on the television that are more on home renovations and home improvement projects; this is something that incoming designers could actually showcase their talents and projects.
17. Open Plan Living and Dining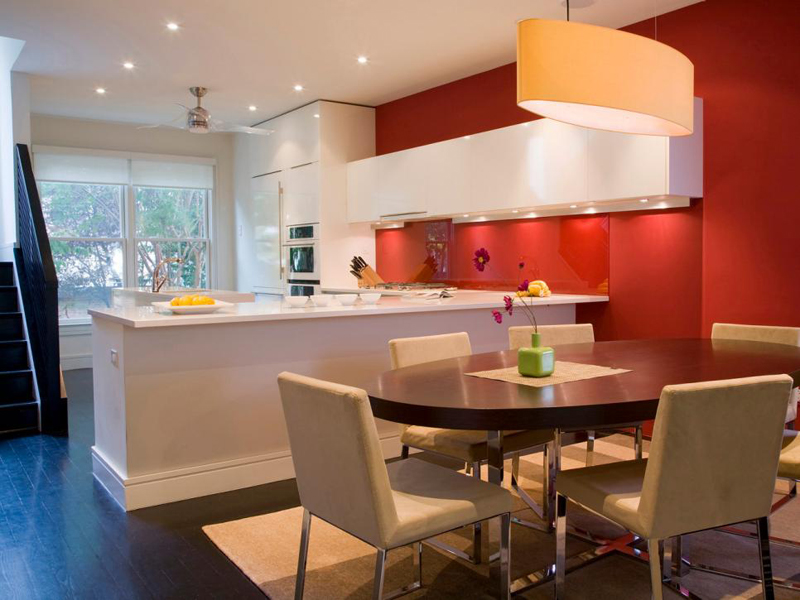 Open concepts for homes are something I actually adore. This red wall is basically shared amongst the dining and the kitchen and it looks real fabulous!
18. Bold Dining Room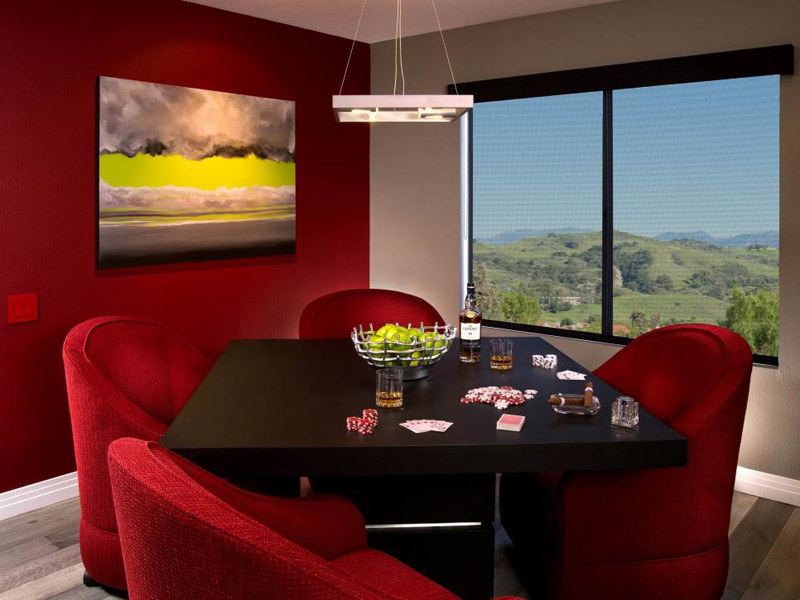 Red accent wall against red arm chairs! What do you think about that? I mean, I know there are no written rules about it but I think it would be better if the designer used another color for the chairs or a lighter shade of red so as to create contrast.
19. Warm Palette in the Dining Room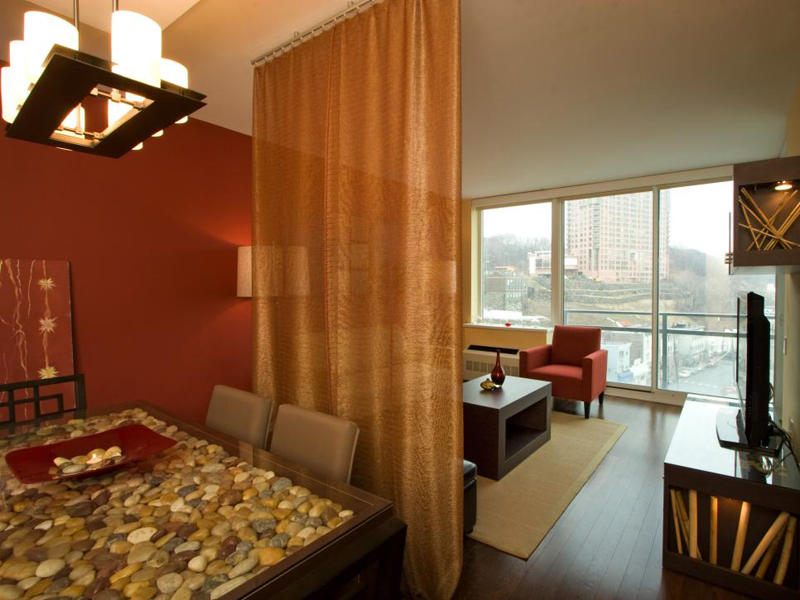 If you look closely at the entire space seen in here, you'll notice details on a lot of things in here. It's not that it has a lot of things going on in it but I think that it's the reason why I think this space is actually interesting. The drape that serves as a divider for the dining and living area is quite cute.
20. Simon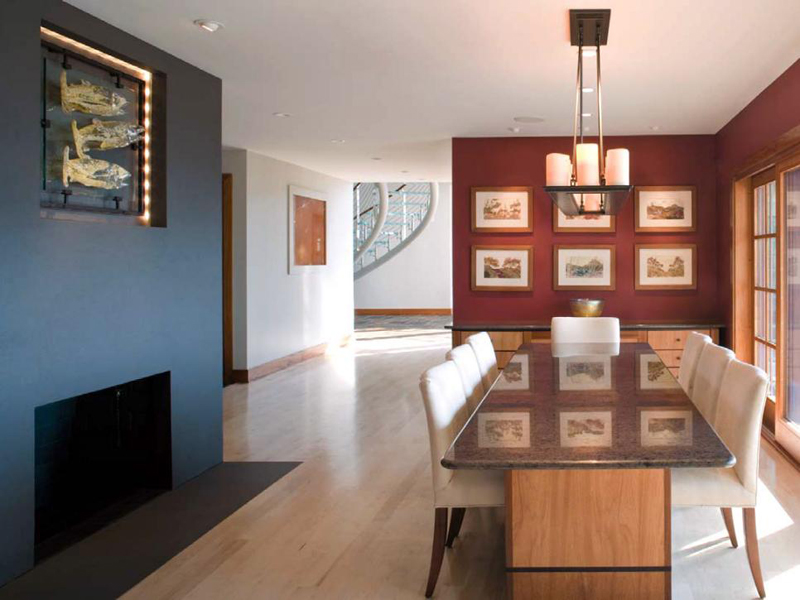 This dining room has this red and blue combination for its color palette and I think it actually looks great! I like how they added photos on the red wall to make sure that it is not too plain or something; because of the height ceiling and large walkways in here – this house actually looks like a gallery of some sort!
If you are in to the color red or just want to make your space stand out! This list of 20 Fab Red Accent Walls in Dining Rooms is actually for you! You should also check out the another post about red dining areas that is a great reference for red spaces! Talk to us and share our lists with your friends!