25 Dining Areas with Yellow Dining Chairs
Love yellow? Why not bring the color in your dining room?
Every item in the interior of a home is important and plays a certain role in it but it can also bring some aesthetics to the area as well. This is true for furniture decors and others. Even chairs aren't merely there for seating purposes but it can also add beauty to the interior since many of these chairs have beautiful designs and colors.
Today, we will be showing you dining areas that has yellow dining chairs. We all know how yellow brings brightness to a home and how it creates a light and joyful feel in a space. This is exactly what you will see in the images below but aside from that you can also see different chair designs that fit in the type of interiors below. Scroll down and enjoy 25 dining areas with yellow dining chairs.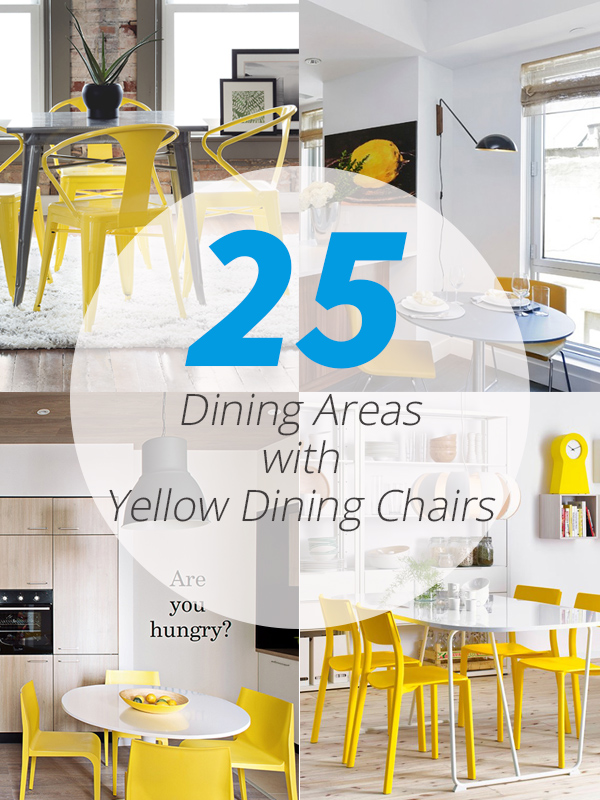 1. Palm Desert Guest Suite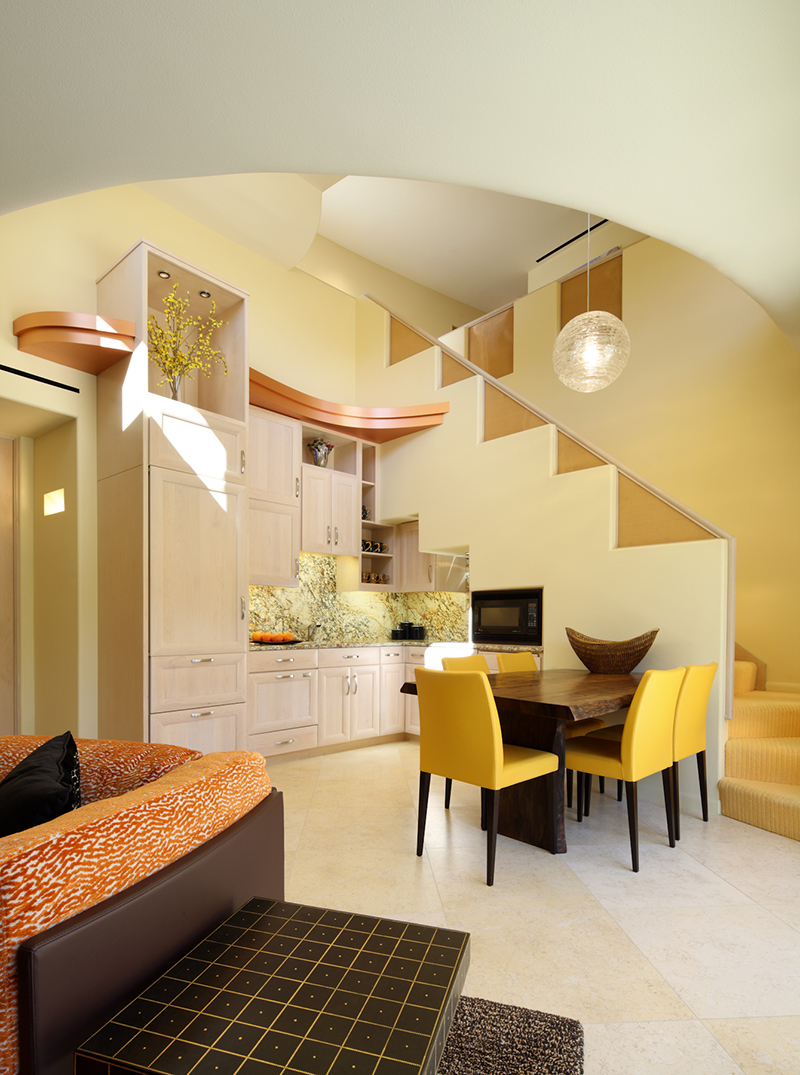 Although the space is small, this dining area is attractive because of the yellow dining chairs.
2. Drawing Dining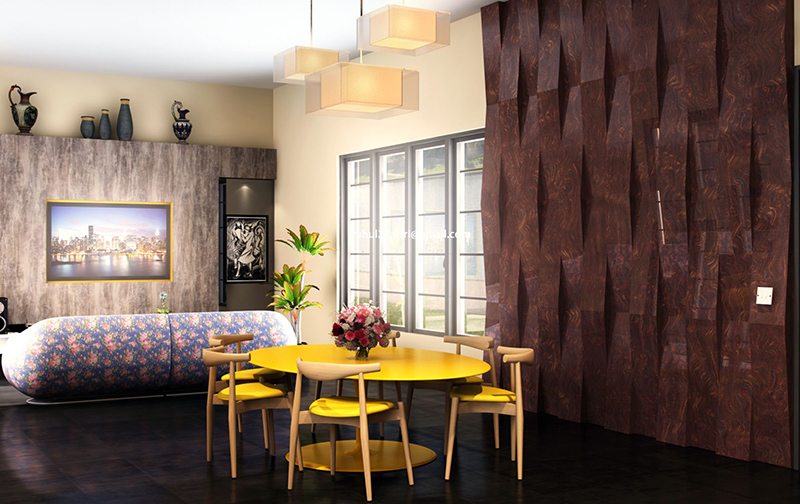 It isn't just the accent wall that will make you look at this dining space but also the colors of the dining set.
3. Darien Connecticut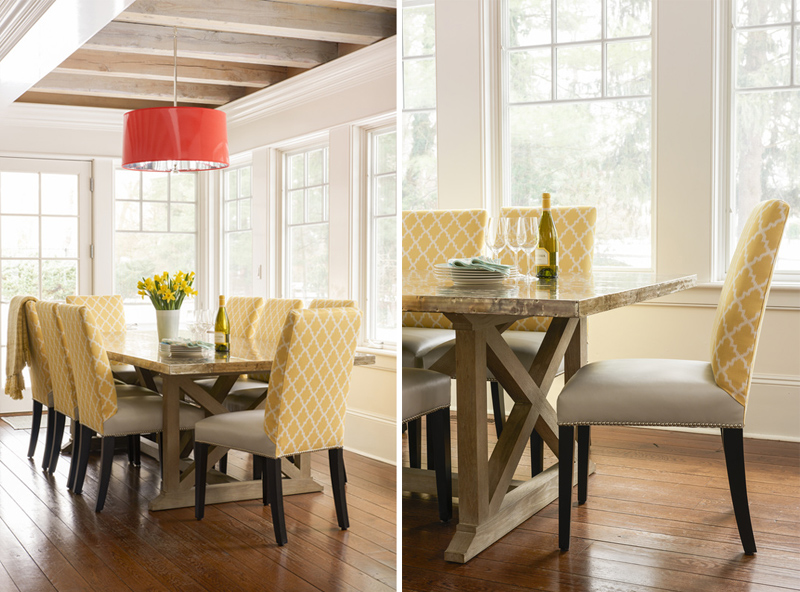 This one is a combination of gray and yellow which works really well in the motif of the space. I also like the patterns on the chairs too.
4. 96 Oakwood Court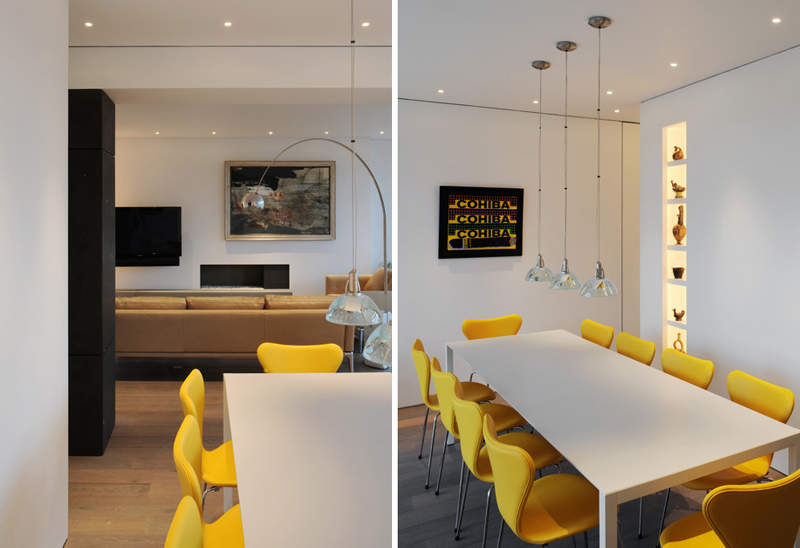 To bring an even greater appeal, the chairs were given upholstery using luxurious, understated leather in egg-yolk yellow making it look both elegant and playful.
5. Locust Hills Drive Residence 2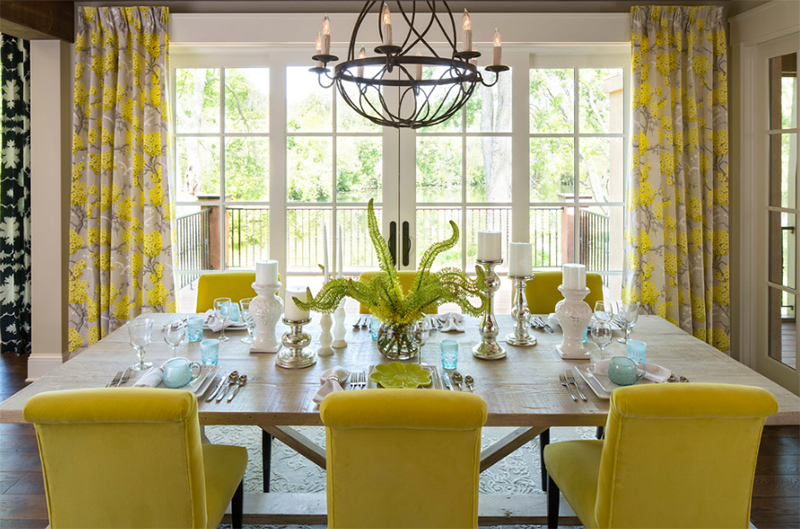 It isn't just the chairs that are yellow here but also the curtains as well and it matched well with the chairs. Don't you just love the way the table is set here? It looks really inviting!
6. Cadwell Dining Chairs in Yellow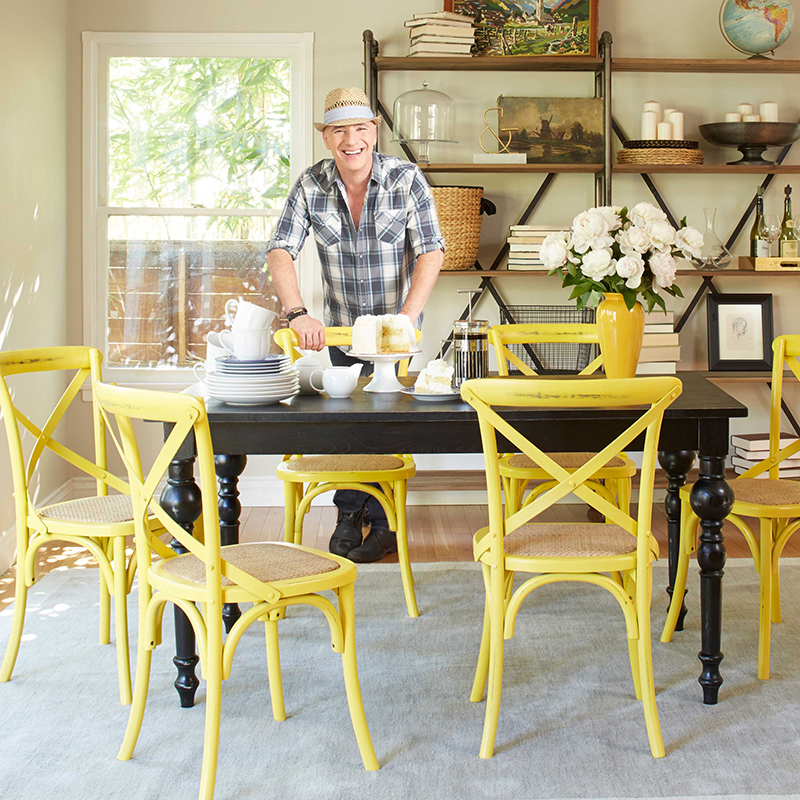 Armless dining chair set featuring a crisscross back design with an antique yellow distressed finish and a woven cane seat. I am sure this one will look beautiful whatever is the interior's theme, style and motif.
7. Bristol Mews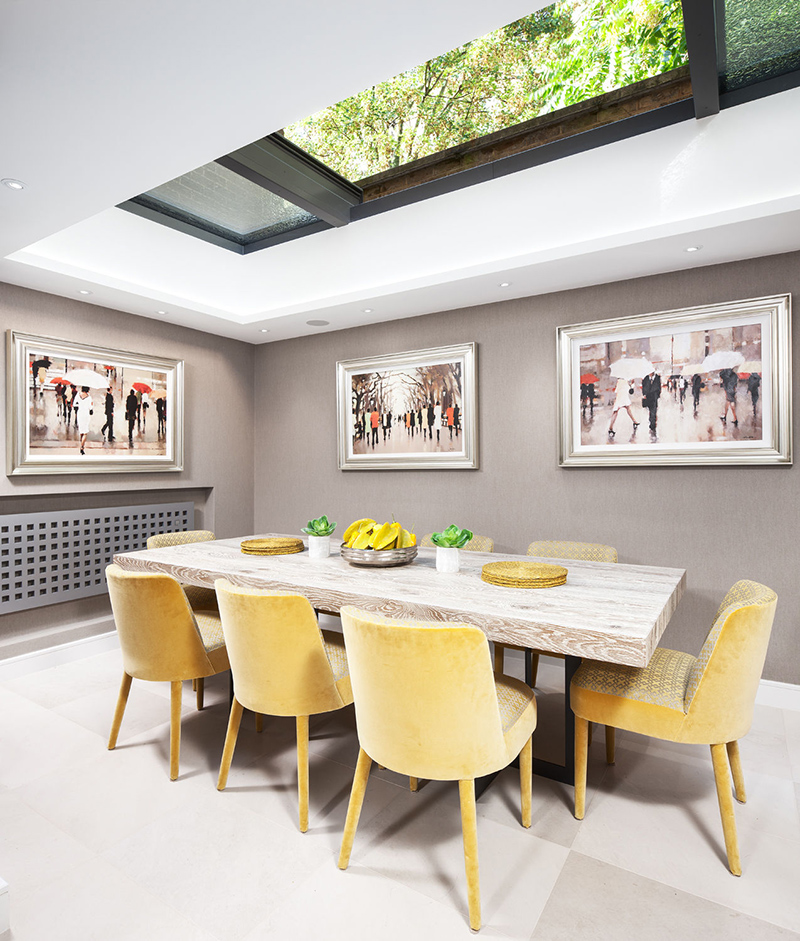 Aside from the velvet yellow chairs, what caught my attention here is the skylight just above the dining area. But with one look at this dining area, we know that the color of the chairs has a huge impact to it.
8. Island Dwelling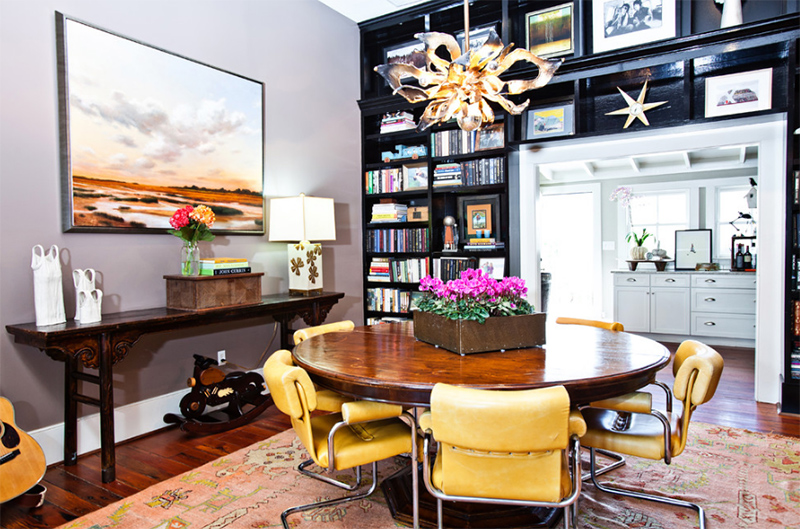 A dining space with a retro touch because of the color and design of the chairs in it that used a combination of leather and steel. That dining table sure looks heavy!
9. Trinity Hall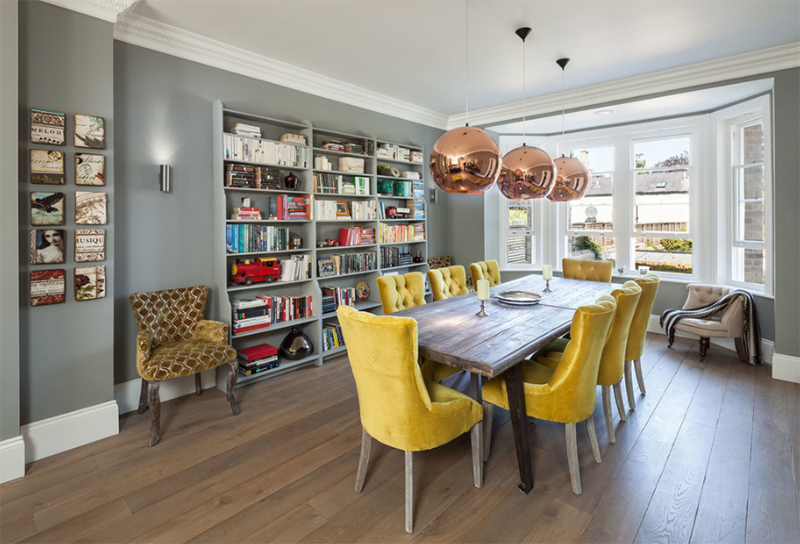 Isn't this gorgeous set of chairs? It sure is and it looks really comfortable and soft too! The orb bronze lights above it bring more luxurious appeal to the space.
10. Tabouret Lemon Metal Stacking Chairs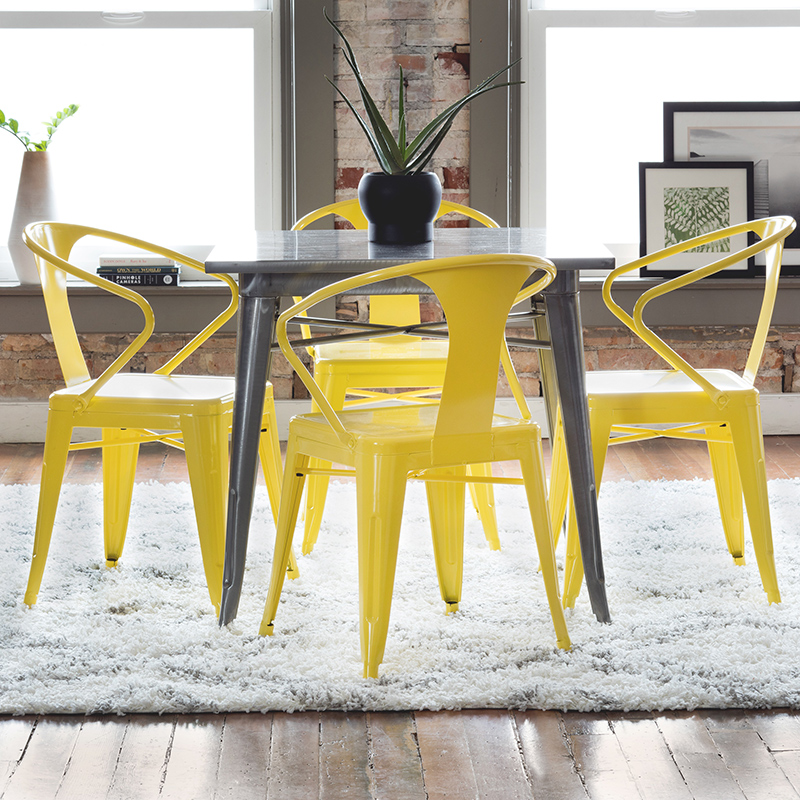 These chairs are made from 100 percent steel and it doesn't only handle large weights but also guarantee you durability. These bright yellow stacking chairs will liven up your dining room, and you can easily stack them when not in use.
11. Janinge Chair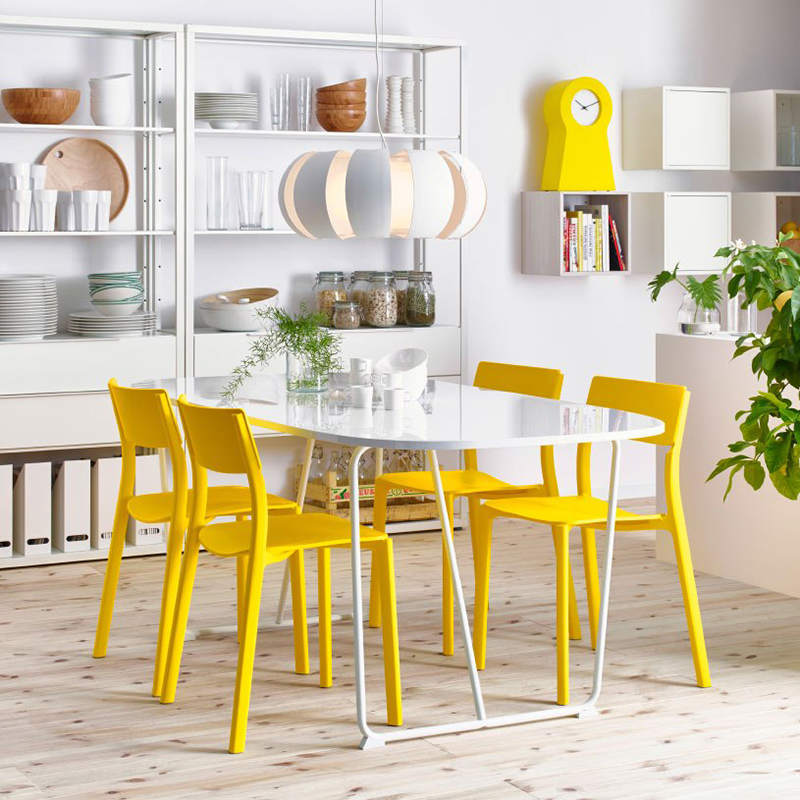 Bright yellow chairs that you can stack the chairs, so they take less space when you're not using them. I like it that the clock matched the color of the chairs.
12. Georgetown Square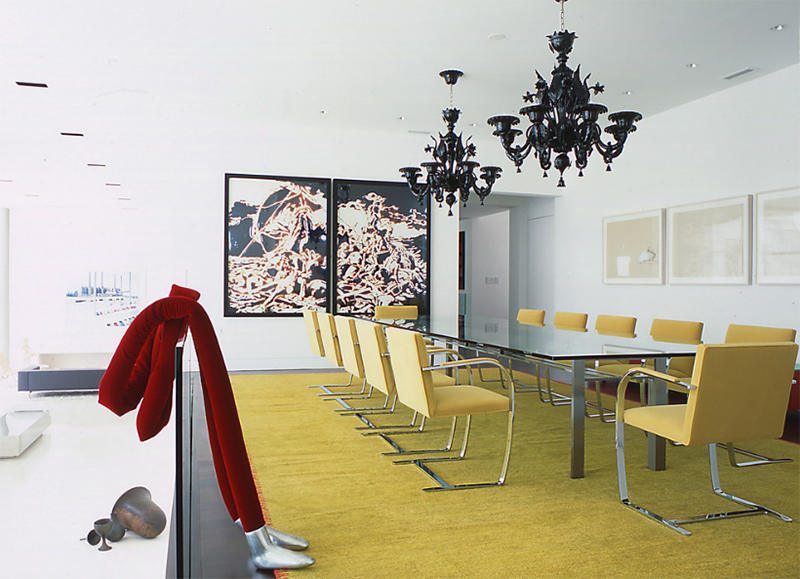 A formal dining space with contemporary art and domestic life that features chairs with muted colors. And for sure you will also notice the black chandeliers above it.
13. Cordoba Mini Loft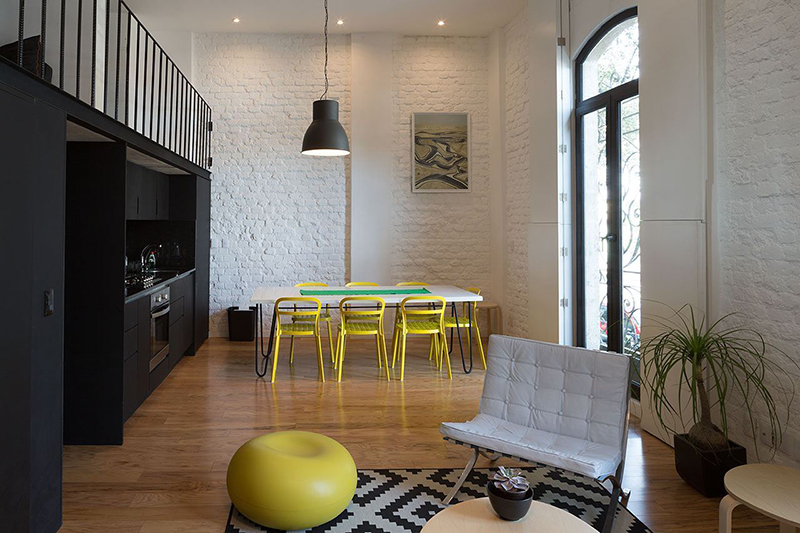 The dining area has Reidar Chairs that are made entirely of aluminum and which can also be used outdoors all year round.
14. Tailor Made Three Year New Build in Portland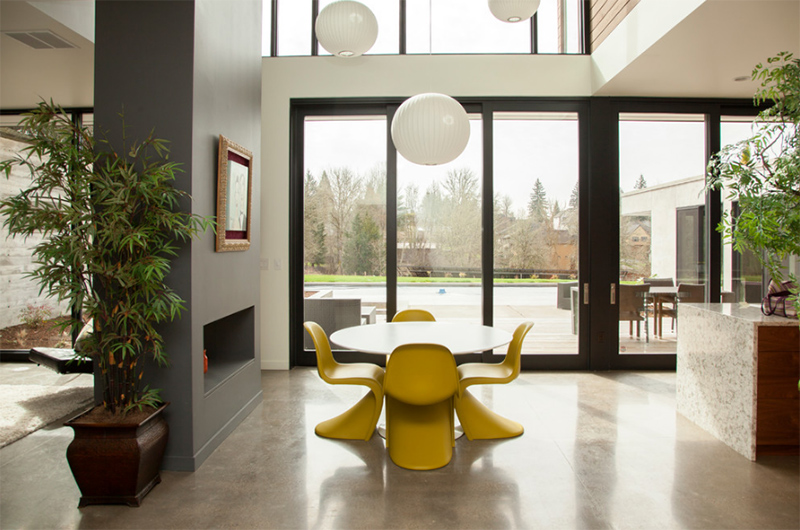 I know you are familiar with the look of this chairs but we never get tired of seeing them in interiors. It even looks lovely in a small dining area like this.
15. Safavieh Karna Antique Yellow Dining Chair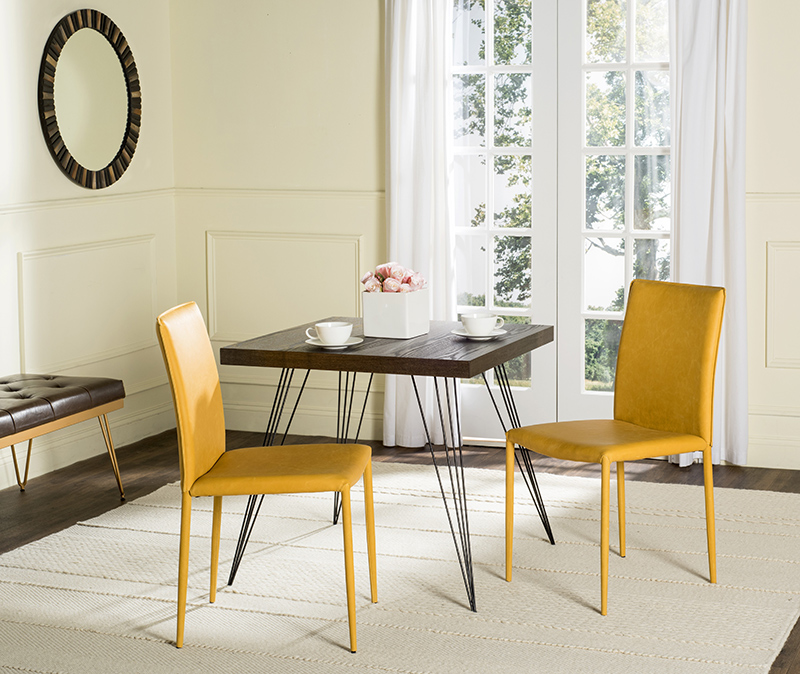 Dinner for two? No problem! It can be as fab as this dining set with a simple wooden square table. This is a good idea for a small dining space.
16. Lighthouse rd Bryon Bay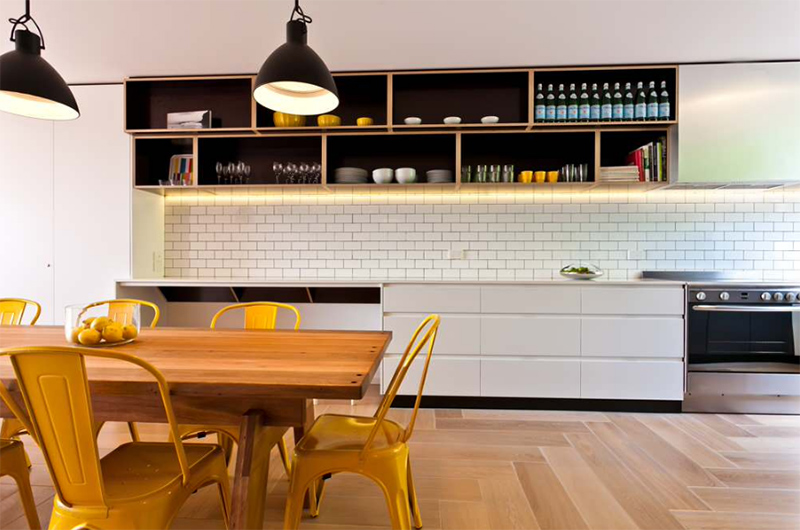 I like the look of this dining area with a subtle industrial feel from the pendant lights to the chairs.
17. Alper Residence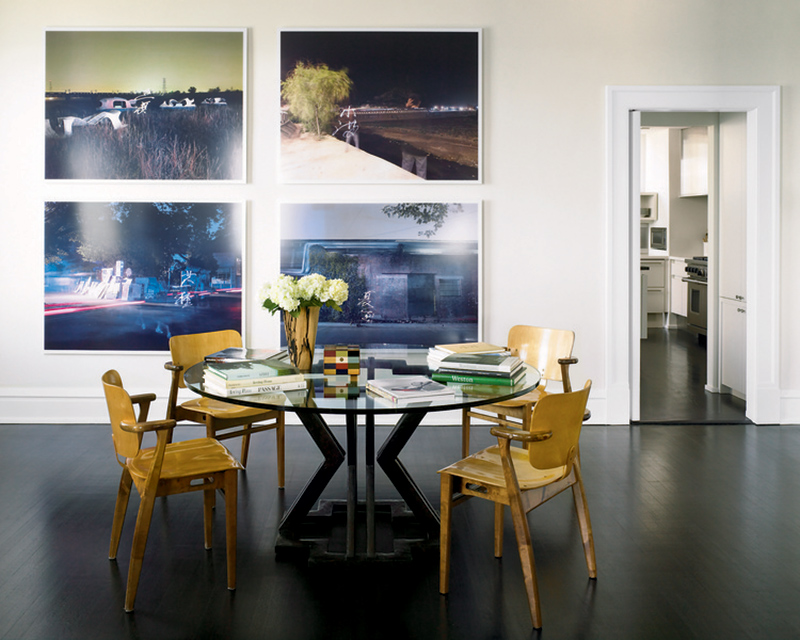 A gorgeous dining space with large sceneries as backdrop on the wall. It is nice to put together steel chairs and a glass dining table.
18. Kitchen Dining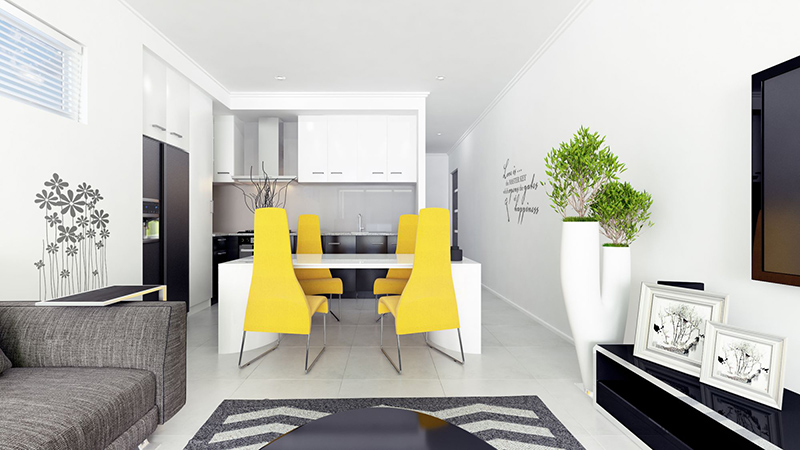 Unique modern chairs were used in the dining area which is located just near the living area with gray colors.
19. Interior Vienna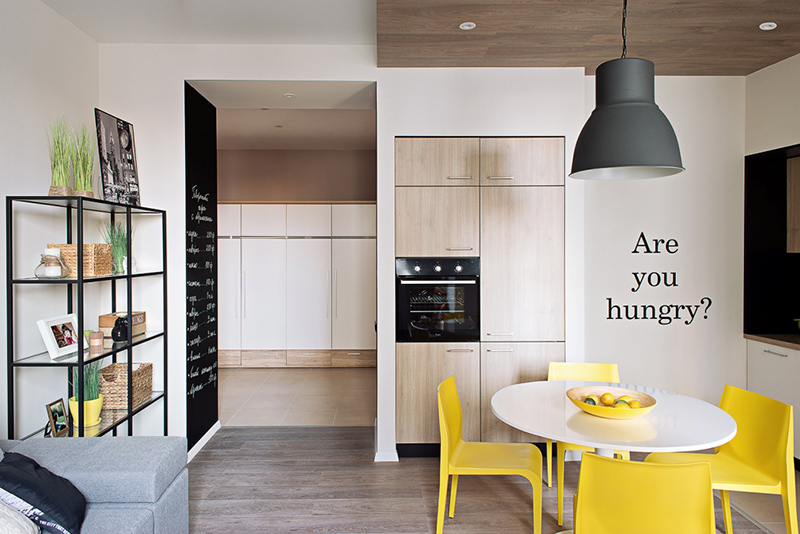 For sure that if your answer that question on the wall is yes, you would no doubt get the appetite to eat especially with a beautiful dining area like this.
20. Modway Curvy Dining Chairs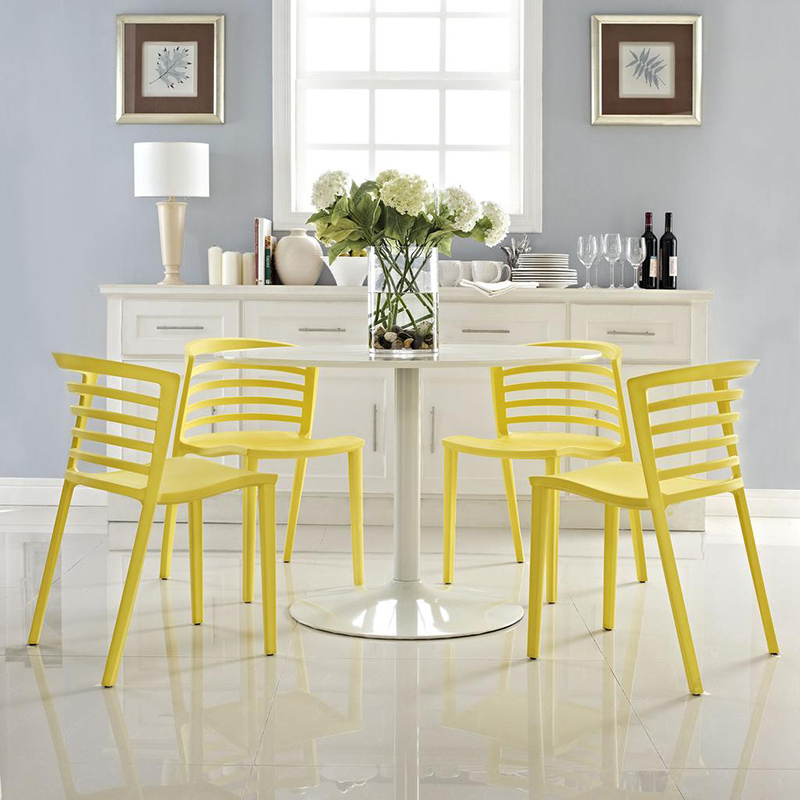 Lemon yellow and white put together never fails creating a bright dining area that is cool and relaxing for the eyes.
21. Aquarium Architecture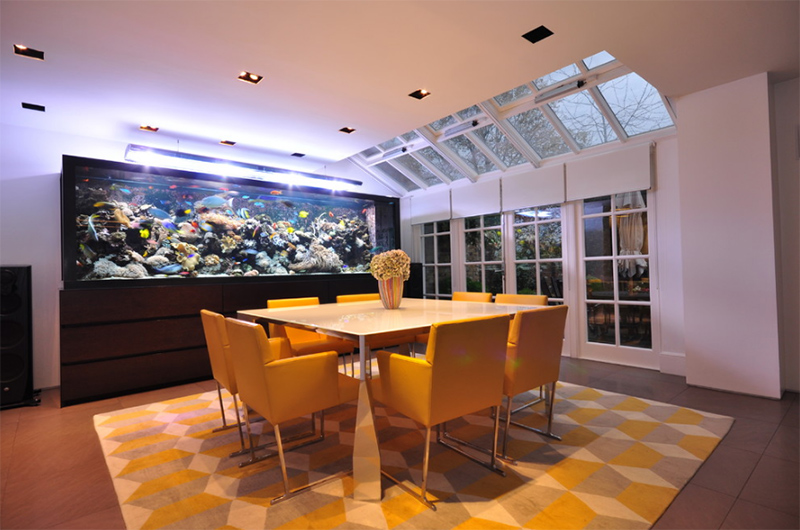 This dining room has many lovely features in it including the patterned area rug, aquarium and windows..
22. Broombank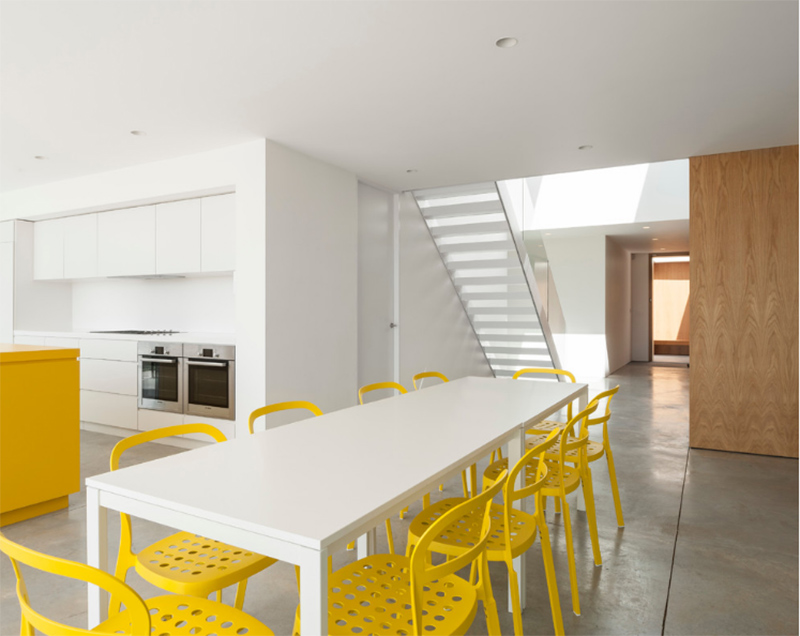 To break the monotony of white in this dining area, yellow colors were added not just for the chairs but also for the kitchen island too.
23. Two12 North 9th, Brooklyn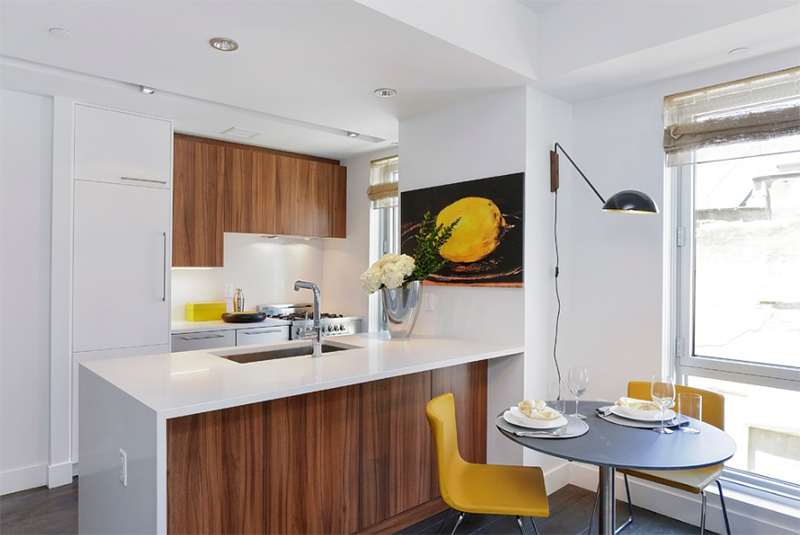 Although this space is small which appears to be a condo, it sure is beautiful with its white and wood combination and some yellow accents.
24. Union Square Loft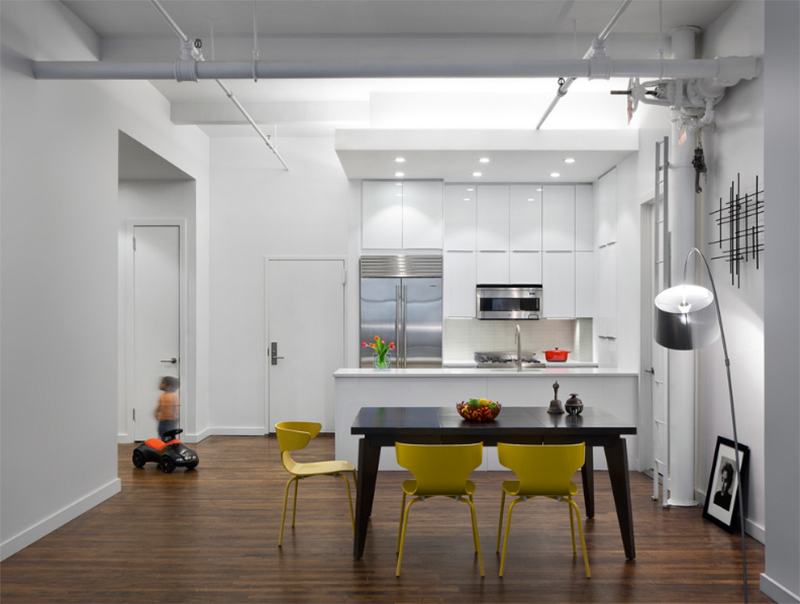 A simple white interior was brought to life by adding a black dining table and yellow dining chairs with a unique design.
25. Brighton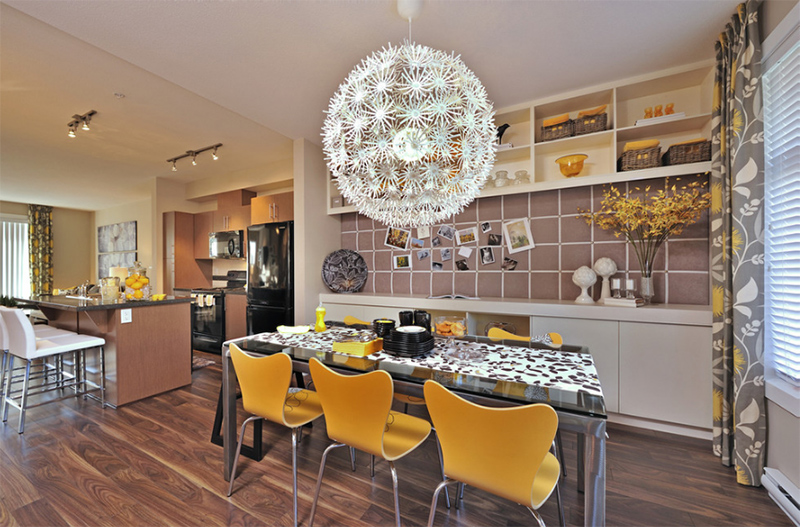 This dining area looks a bit busy because of the patterned table runner and the floral inspired pendant light but nevertheless, it looks nice as well.
I am sure that you agree with me that these dining areas are stunning especially with the yellow chairs in it that are indeed bright which brings a joyful aura to the spaces. The chairs are made in different materials and also come in various designs and colors. Whatever is the look of the chair, we cannot deny that it contributed a lot to make the dining rooms above beautiful and very presentable. Do you agree with me?