Velvet Dining Chairs in 20 Sophisticated Dining Rooms
When you add something velvet to a space, it looks luxurious and elegant. It would appear very special which velvet signifies. But velvet is a kind of fabric that is expensive because of its softness and the regal look it gives. Most of the time, velvet is used as upholstery to furniture. This time, we are going to show you dining spaces with velvet chairs.
We have collated 20 velvet dining chairs that are beautifully positioned in dining rooms. With the photos below, you will get ideas on how a dining room would look like when velvet dining chairs are added to it. After seeing the list, you might even think of getting one for your own home. Come and take a look!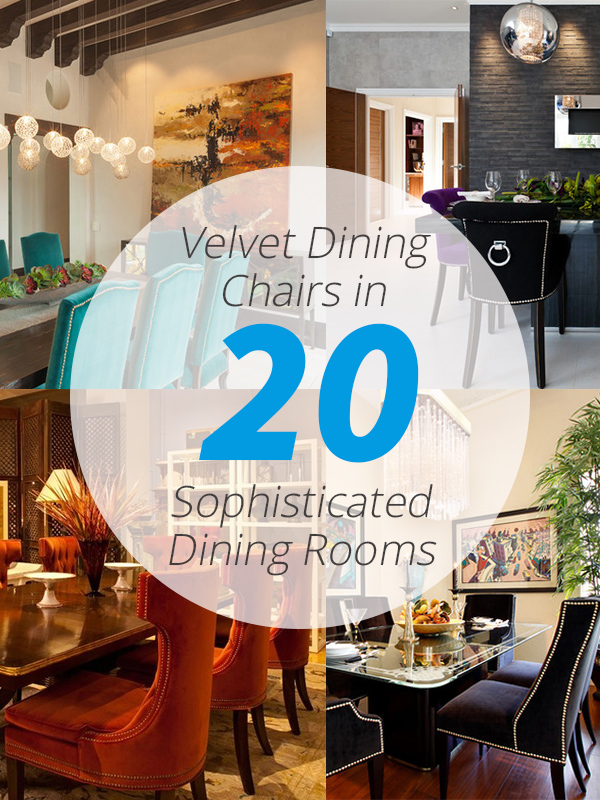 1. House of Joy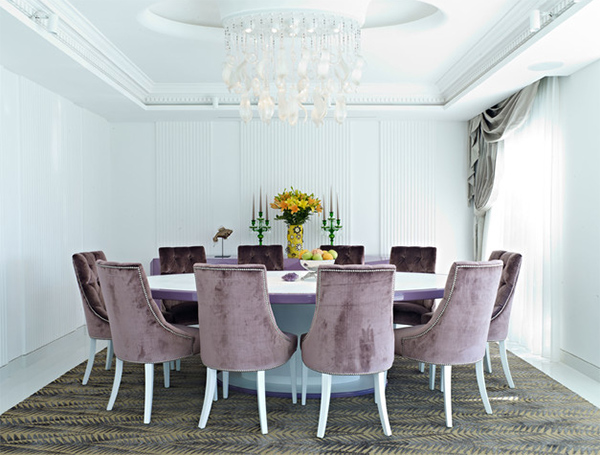 These purple velvet chairs are super cute that it looks lovely in this dining room.
2. Mulberry Suite, Bayview House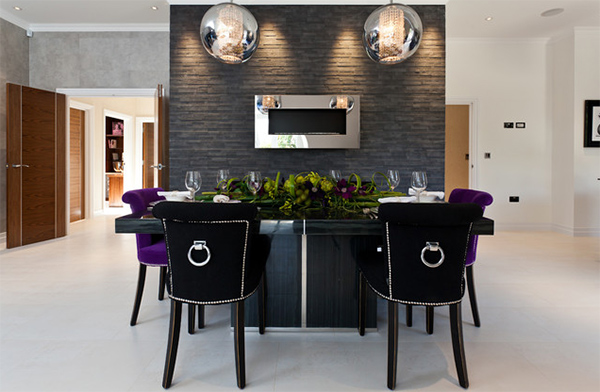 A combination of purple and black chairs with that pretty centerpiece- what more would you ask for?
3. Modern White Kitchen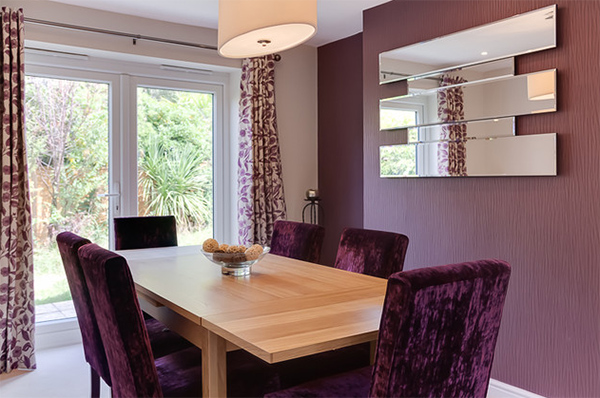 Another dining area with purple dining chairs. The rest of the room has matching colors to this one.
4. Elegant Dining Room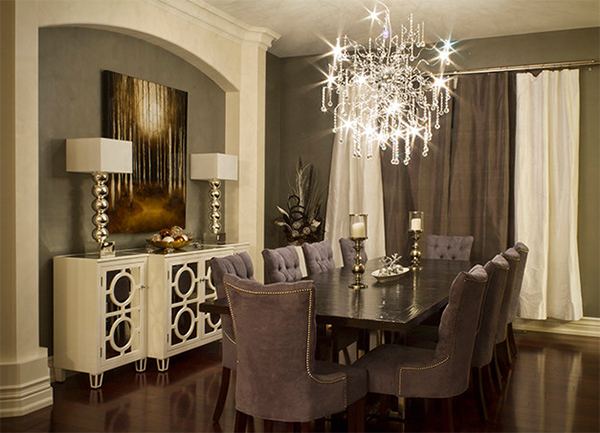 Aside from the chairs, I like the buffet lamps here and the lighting too.
5. Spring Parade of Homes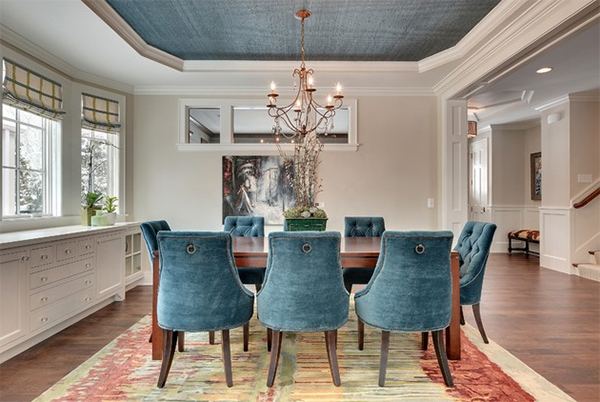 I find the rings at the back of the chairs interesting!
6. Atherton, CA New Home Construction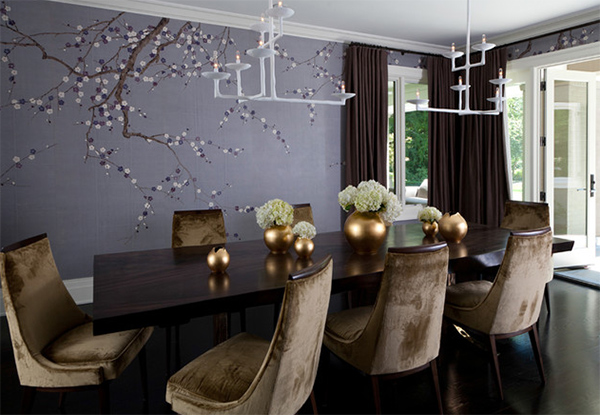 Gold chairs in a blue room, totally nailed it!
7. Gristmill Residence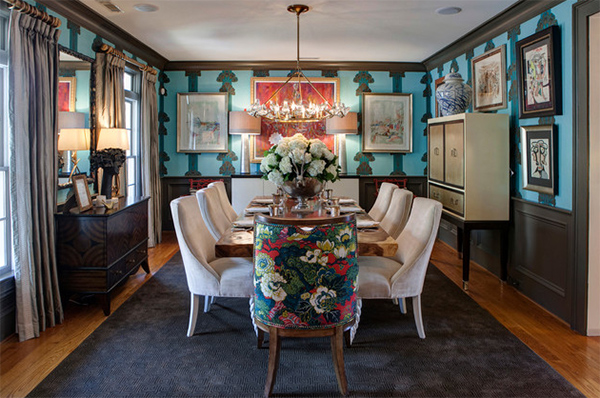 Adding a floral end chair to white velvet dining chairs gave some pop of creativity to the space.
8. Shakúff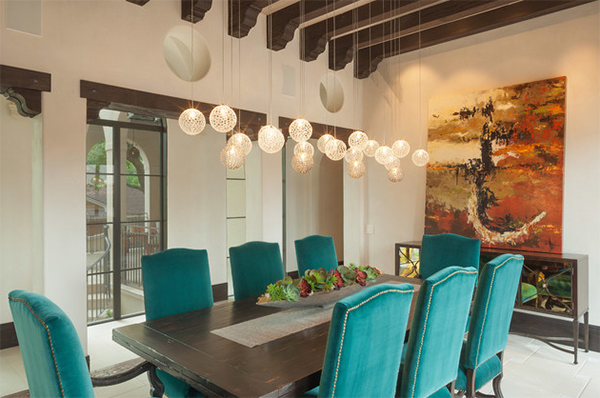 The chairs are lovely as well as the lighting ornaments. I know you'd agree with me!
9. Oakwood Court, Holland Park, London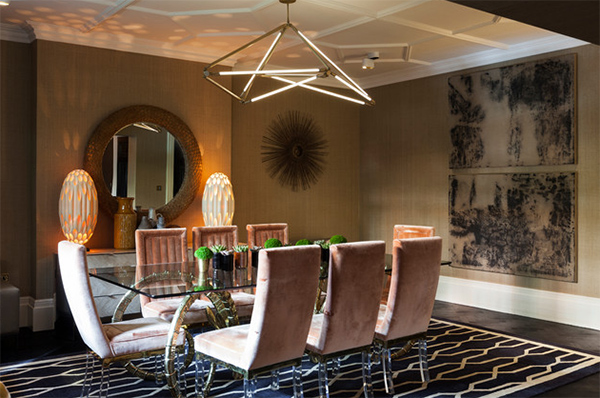 Note the transparent legs of the dining chairs with velvet upholstery, it sure added appeal to the dining room with a creative dining table base.
10. Other Spaces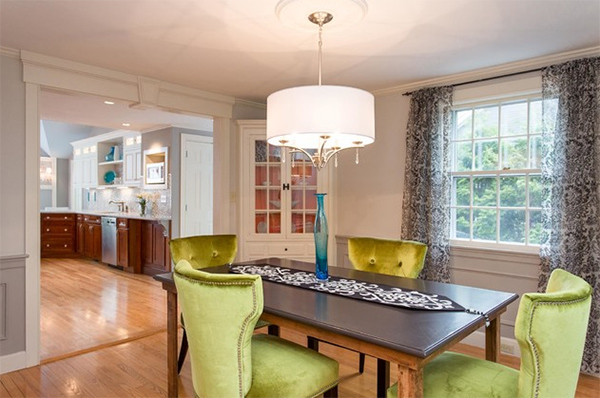 Avocado green chairs! Oh how stunning these are!
11. Elegantly Warm Montgomery County Home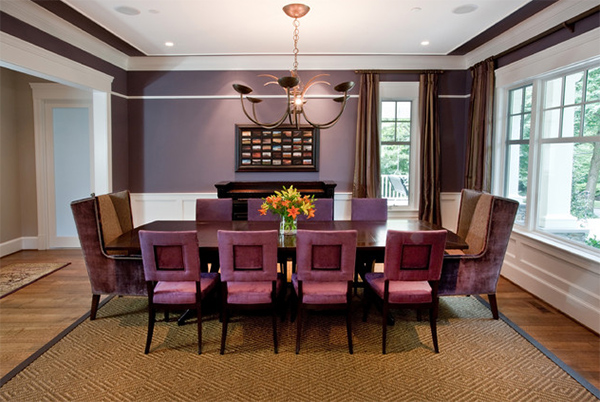 The squar-ish dining chairs are perfect for this contemporary dining room.
12. Wild side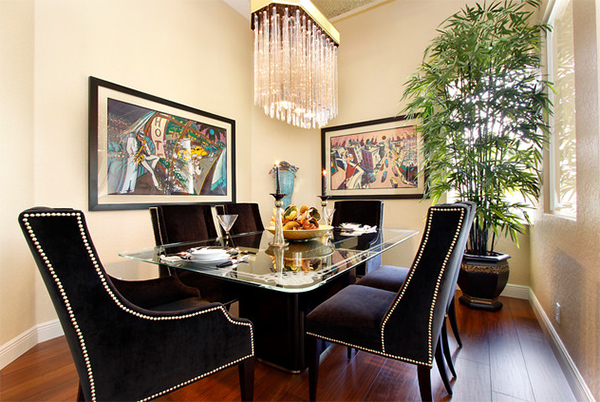 Obviously, it is the chairs that made this dining area look grand and stunning!
13. Park House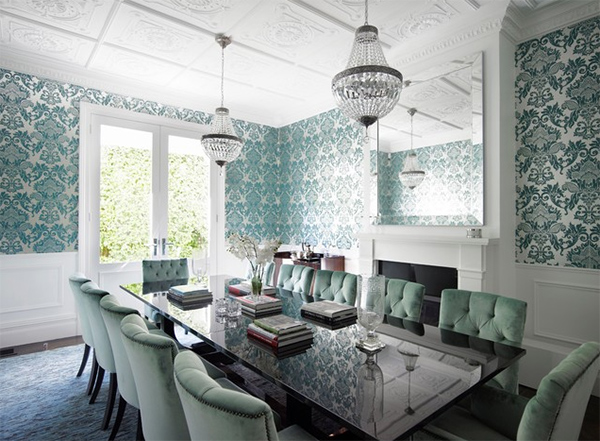 I do love the damask wallpapers especially that its color matched the dining chairs.
14. York Hill Home Calgary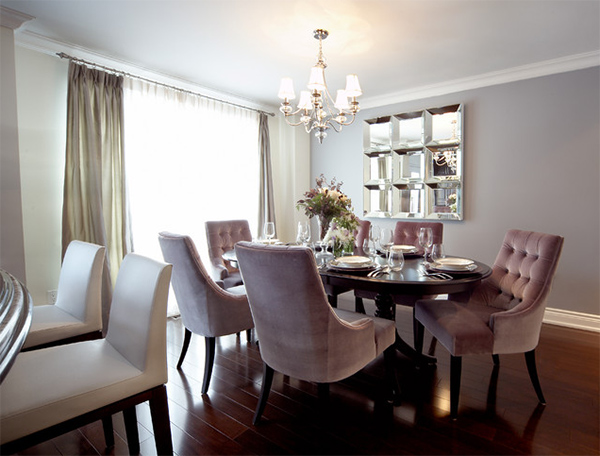 A transitional dining room with purple velvet tufted dining chairs around a circular table.
15. Decor NYC Weekly Design Discovery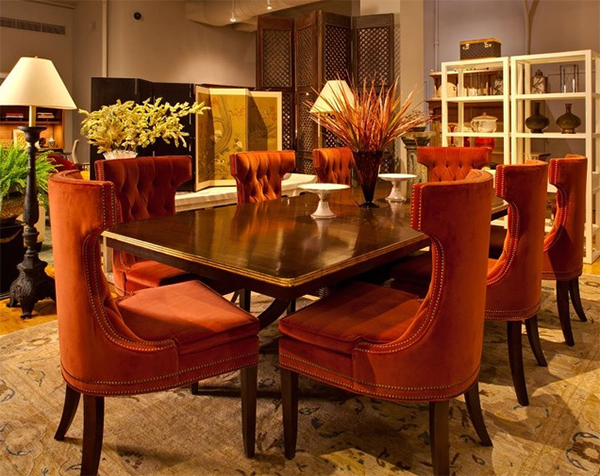 High seat backs with funky curved shapes grace this dining area.
16. Home in Dun Laoghaire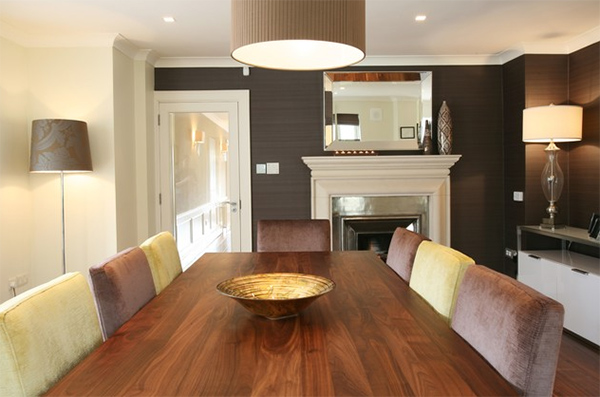 You can also use velvet chairs of two different colors for more creative vibe.
17. Bayside House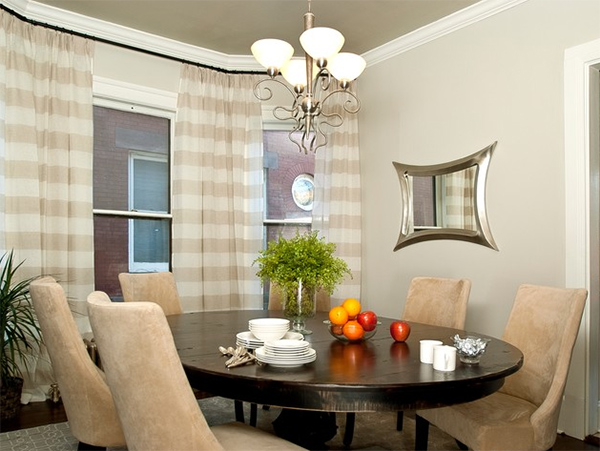 A dining space with simple colors but an inviting appeal.
18. Chelsea Townhouse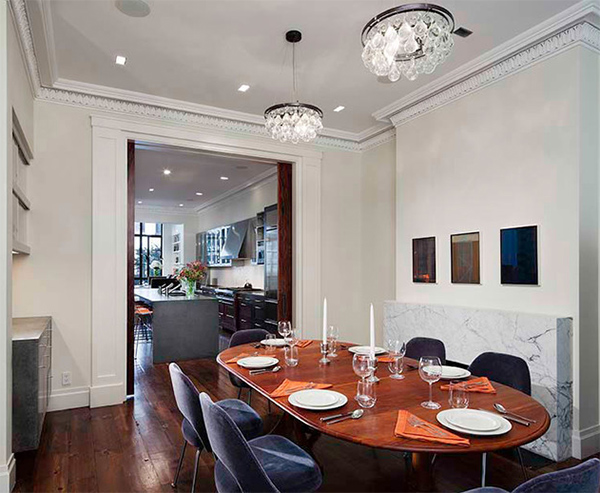 You can see a pretty fusion of modern and traditional furniture in this space.
19. Tamara Mack Design – Staging Projects
A traditional dining space with modern furniture design and upholstered dining chairs in velvet.
20. London apartment, Hampstead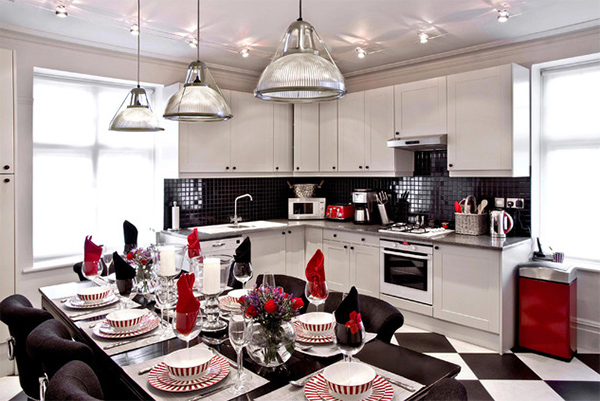 Isn't this dining room with black and white colors and pops of red astounding? Well, it sure is.
It sure is beautiful indeed! Aside from its regal appeal , the velvet chairs look amazing in whatever color it is used. And even without touching it, you can sense the softness of the fabric. I know you will agree with me because that is really the unique feature and characteristic of velvet! Wherever you add them, it will surely be given a touch of royalty!