15 Pictures of Dining Rooms
Do you love dining room designs? Do you find yourself looking for photos on the internet for your favorite style? Do you wish to create your own design one day and show it to the world? If you have an eye for color and fashion for dining room designs we got a treat for you.
For today's article we have 15 Pictures of Dining Rooms for you to see. We pick these photos for you to choose your own favorite and well enjoy yourself on these wonderfully designed dining rooms. We have dining room pictures in different colors, textures, patterns and styles all beautifully done to get your interest and maybe, get you inspired to create your own or renovate your dining area. Go ahead and take a look at our collection and let us know what you like best.
Modern Contemporary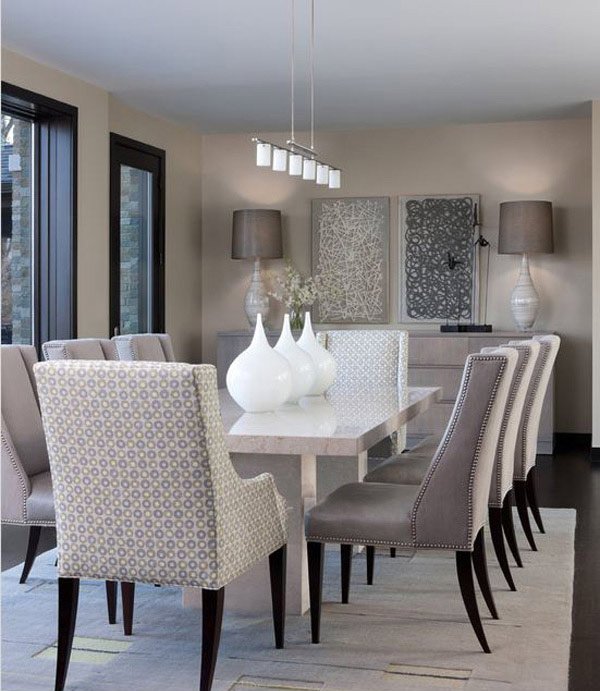 Create a contemporary scheme by using soothing neutral colors and pair it with modern elements to get clean, sleek lines and texture.
Industrial Dining Room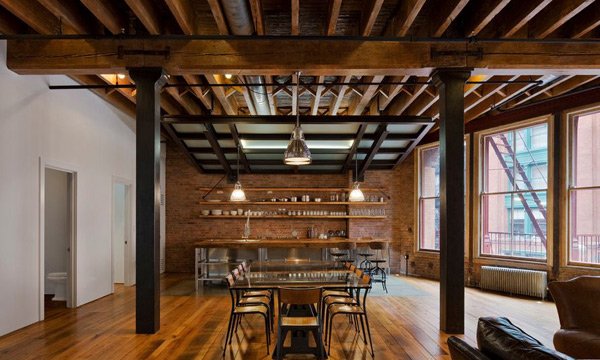 Exposed steel columns, wood beams and joists create an open space appeal in this industrial dining room photo. The glass canopy that hangs overhead makes it easy to identify the kitchen's space in this open floor plan.
Contemporary Dining Room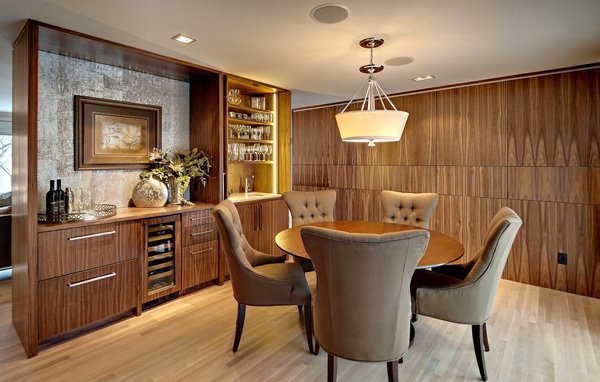 The warm walnut scheme in this contemporary dining room makes it wonderfully cozy and suited for any occasion you may have at home. May we suggest cocktails; it is great for this dining room setup-very convenient for you to get your glasses and drinks just beside your dining table and chairs.
Elegant Dining Room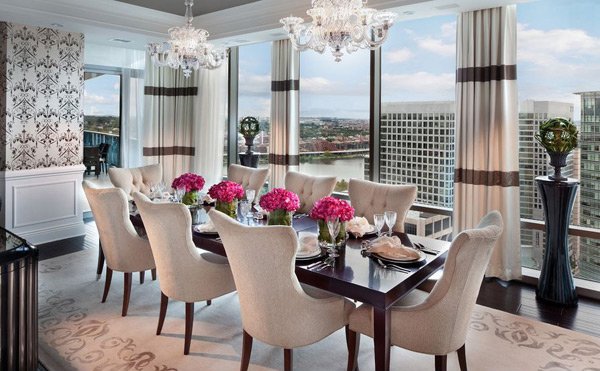 The patterns are delicate and are soften with the subtle color scheme. The pop of pink flowers in this elegant dining room makes it ultra-feminine.
Retro Dining Room
We love this bright and colorful retro-inspired kitchen-dining room photo that creates a cheery mood every time you dine.
Classic Dining Room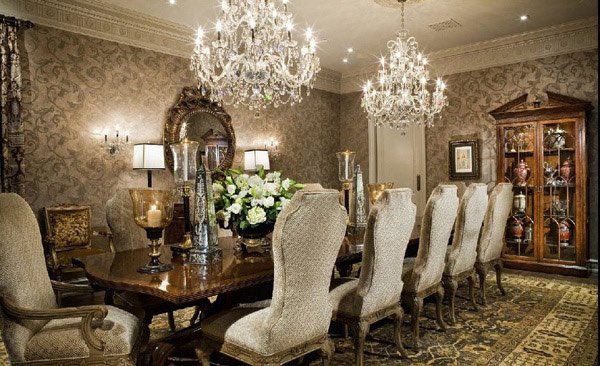 This classic dining room evokes a formal and traditional mood. This design is mostly done in huge homes where kitchen and dining room are two different spaces.
Condo Dining Room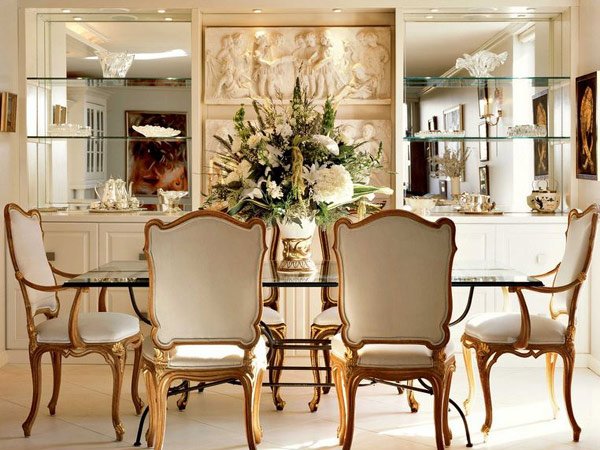 White cream and gold are fantastic colors to be used in a limited space because it can make a small space look bigger. Using gold for an accent will give you luxurious appeal. The mirrors on the wall reflects light making the room look brighter and giving the room depth as well.
Minimalist Dining Room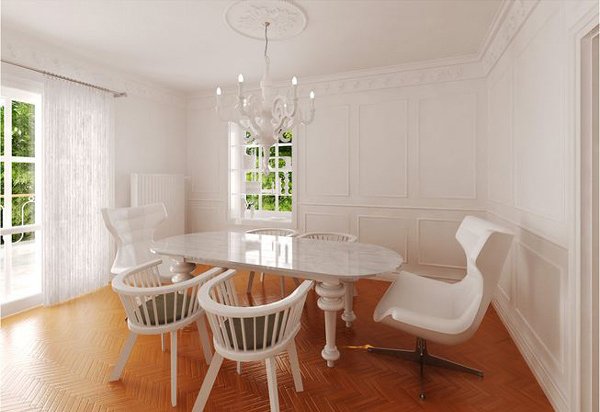 White walls and dining furniture teamed with wood brings light to the dining room. The sheer curtain softens the whole scheme and a traditional chandelier adds an unexpected element.
National Ethno Style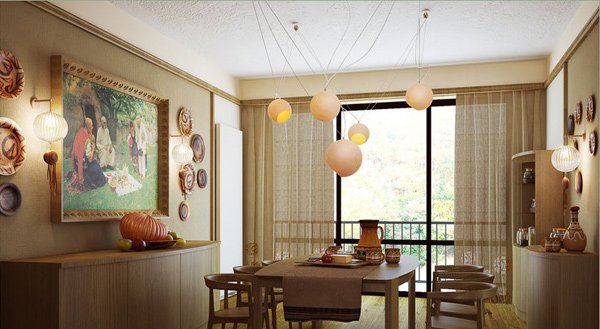 Have you ever seen a dining room inspired in National Ethno style? If not, then this is your lucky day! Above is one of the many beautiful interior designs inspired by different cultures.
Modern Glamour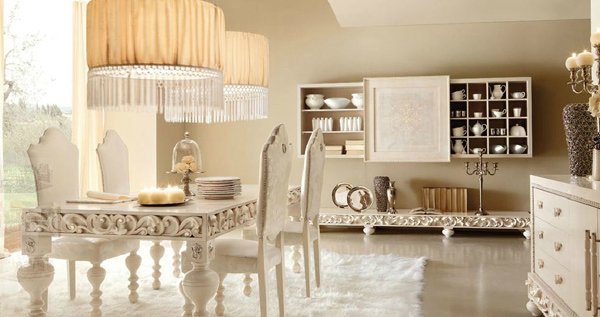 Satisfy your feminine side with this modern yet ultra feminine and glamorous dining room design!
Black and White Dining Room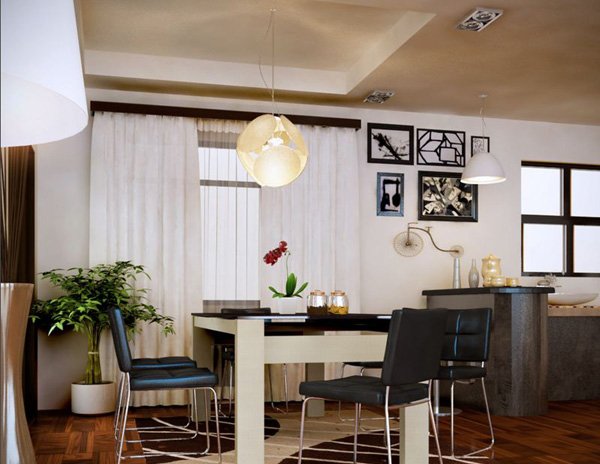 A contemporary scheme inspired by the neutral colors and materials of modern architecture. The combination of black accents, white interiors, steel and wood floor, all tied up together by the set of pictures framed on the wall and the area rug.
Colorful Dining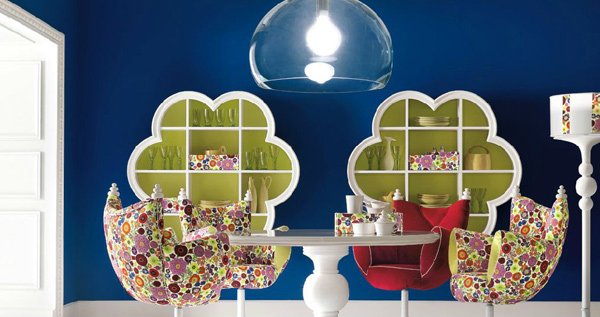 Eclectic dining room design with bold and bright playful colors that is floral inspired perfect for those who are looking for a unique, lively style.
Geometrical-Inspired Dining Room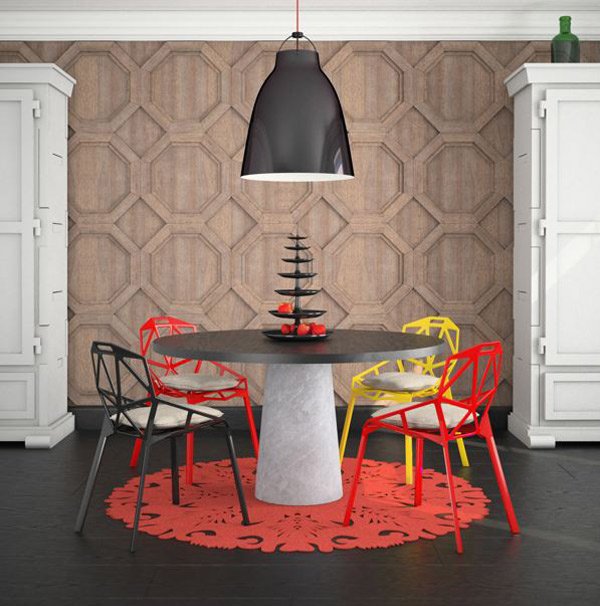 If you love to work with different shapes, this one-of-a-kind dining room design will definitely get your interest.
Romantic Dining Room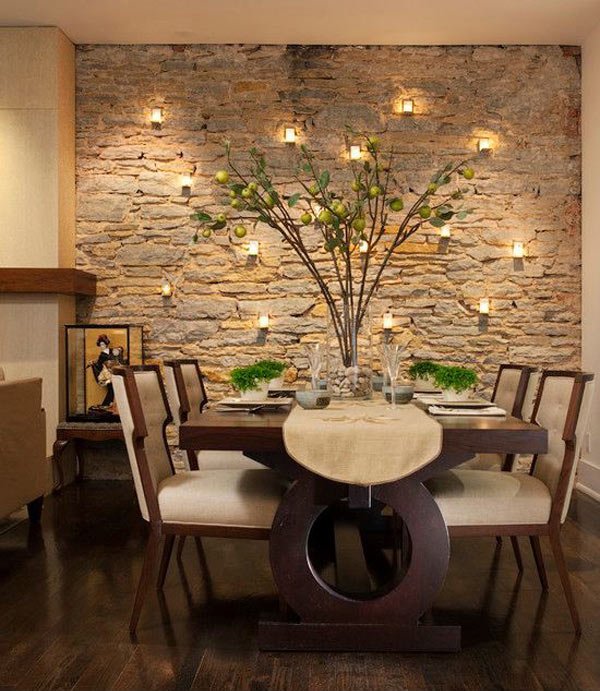 The stacked-stone accent wall was given an instant romantic vibes with the help of mini sconces strategically placed on it. This contemporary dining room design will give you that romantic ambiance you want whole year long.
Modern-Retro Dining Room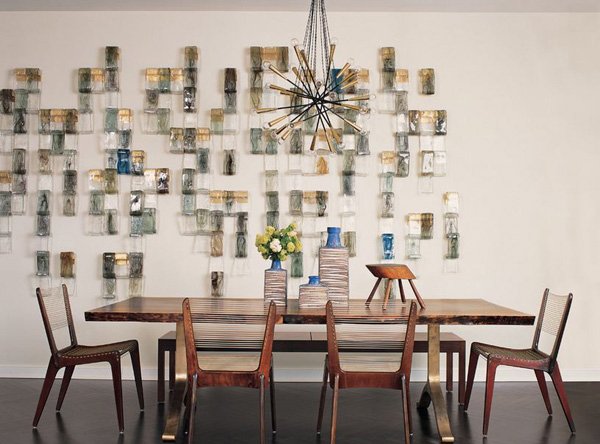 This modern-retro dining room is a very unique space. It is simple yet the burst of colors and the glass artwork on the wall tied up the whole scheme as it brings life to the room.
Did you enjoy our collection for today? There are certainly more gorgeous dining room designs that we are yet to showcase in our website. We are sure that we can feature more of it here soon. We are glad to have shown you the list of 15 Pictures of Dining Rooms. We hope you liked it!