15 Delightful Dining Rooms with Wooden Wall Panels
We are sure you have seen our collection of living rooms with wooden panels as well as bedrooms with wooden wall touches. For sure, you were captivated by the beauty wood can give to a space. Have you noticed how it can pacify the strong lines of concrete or even the dark shades from furniture? Wood can do wonders in your spaces and that does not exempt the dining room.
Since you have already seen living rooms and bedrooms with wooden panels, we will be giving you a collection of dining rooms with wooden walls. Like the other showcases, dining areas can use wood for the entire wall or merely as an accent wall. You will surely be surprised with what the designers did in the dining area below. Spell creativity! Now, check out the dining rooms we have gathered for your inspiration:
Hilltop House | Grand Vista Subdivision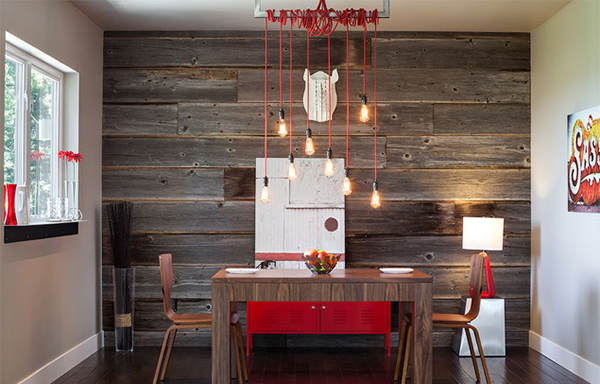 Reclaimed wood feature wall- such a beautiful choice to draw the guests' eyes! This dining area is no doubt a space that would make your guests feel envious.
Reclaimed Barn Wood Walls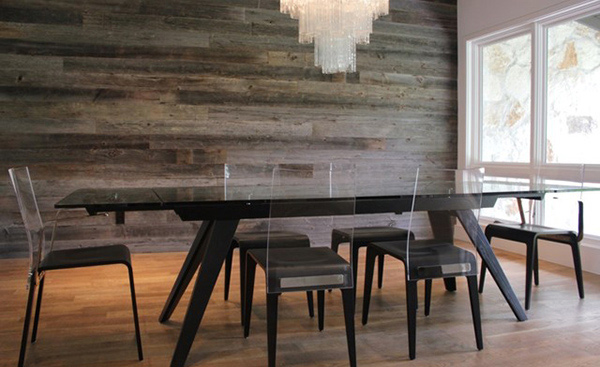 With wooden wall feature, this dining area got nature's touch and created a warm ambiance.
Tiny House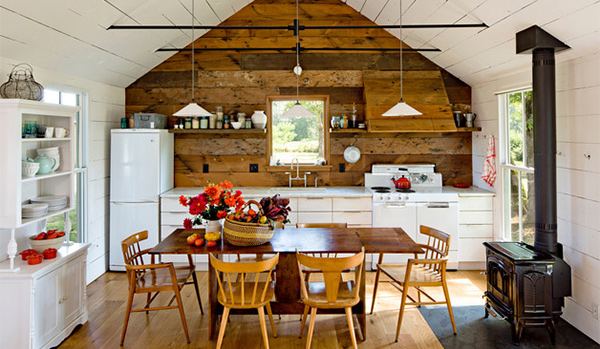 White kitchen cabinets in this dining-kitchen space looked perfect with the Oregon white oak flooring and reclaimed wood feature.
155 Jamaica St.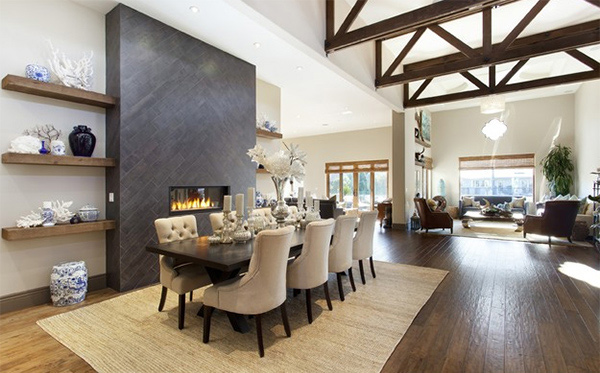 Exposed wooden trusses bring down the feel of the tall ceilings. The neat accent wall of gray wood matched well with the trusses.
Mountain Apartment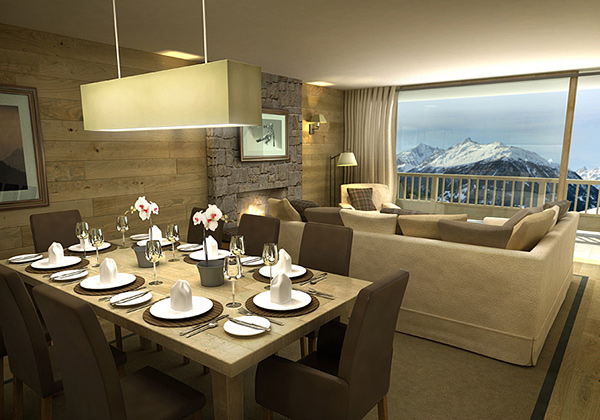 Great lighting from the wooden textures of the wall complete this dining area making it appear awe-inspiring.
Lovell Residence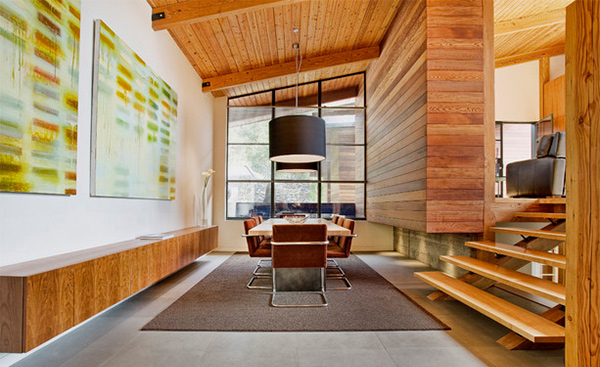 This stylish modern contemporary home is a total charmer! For sure the homeowners feel relaxed with wooden elements around them.
Prestige Dining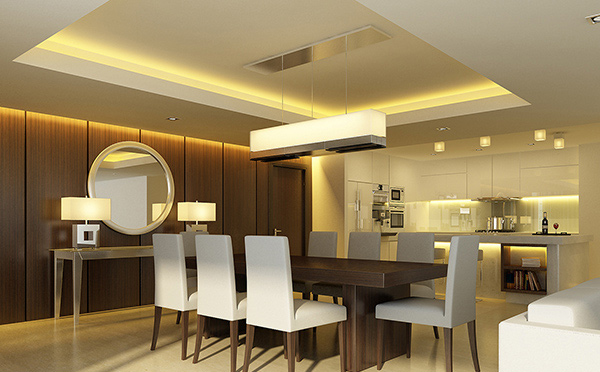 Aside from the good lighting and the perfect choice of colors for this dining area, the wooden vertical panels are a feature that made it look more marvelous.
Max Dining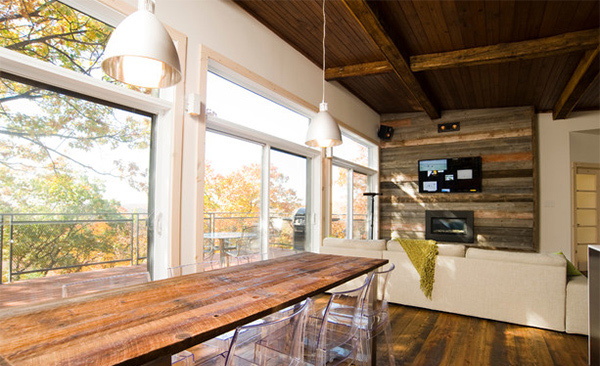 Wood elements for the ceiling, flooring, accent wall and even the table matched well for a nature-inspired interior.
Dining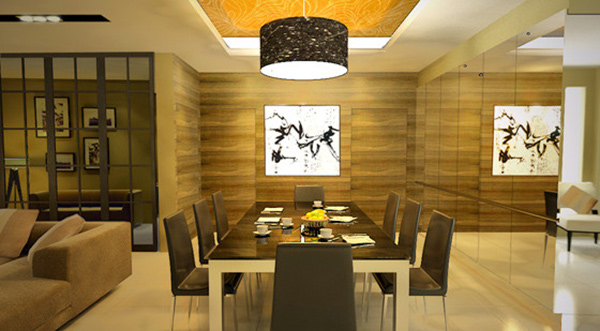 With a dining room like this, it would feel like every dinner is a romantic affair!
Waldfogel Residence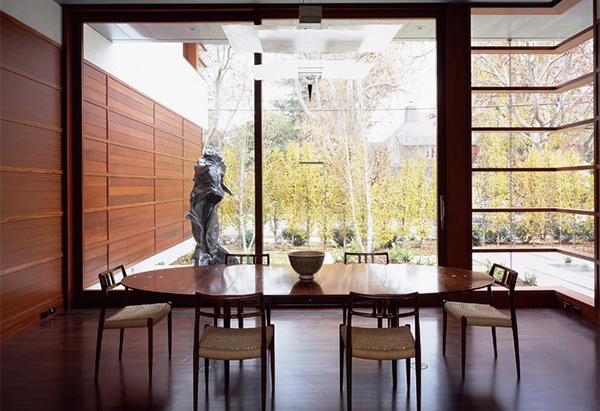 Walls from glass and wood- these are the highlights of this dining room. Given a view of the outdoor sculpture and of the backyard seeming enhances one's appetite.
Dining Room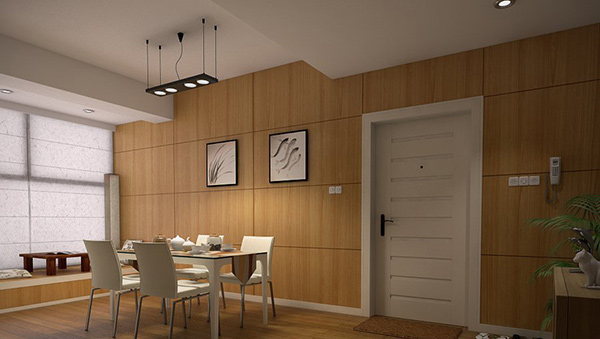 A dining room with touches of Japanese style. Notice the small area where you can also dine in a Japanese way. And of course, try to take a look at the neat wooden panels used for the walls.
View of a Dining Area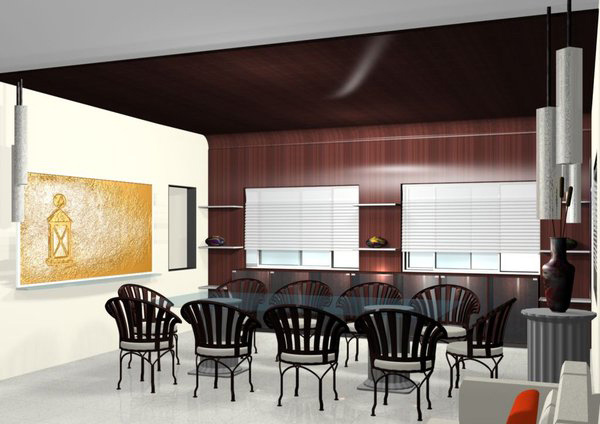 Look at this one! The wooden wall feature is like connected to the ceiling. Nice idea right?
Hamptons Style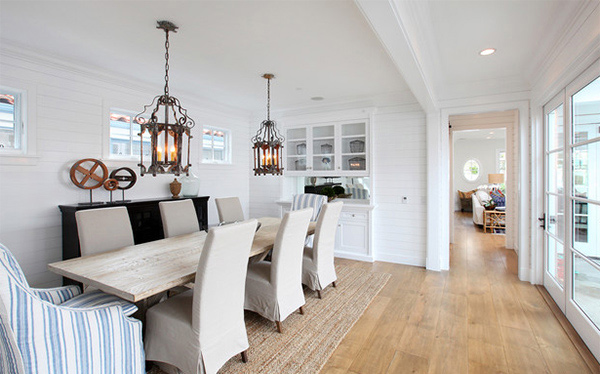 A house made of wood sure is lovely but it even looked more ravishing when painted in white. The white walls enhanced the look of this eclectic dining area.
Dining-Wine Cellar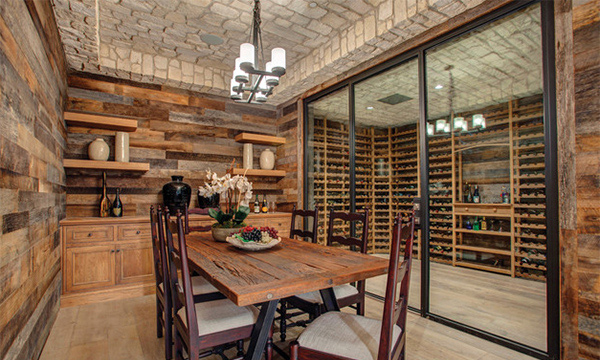 This dining area looks a bit busy with stones on the ceiling and wooden panels for the walls. But the glass walls trimmed with ultra-thin steel frames made it appear larger and visually lighter.
Just Dining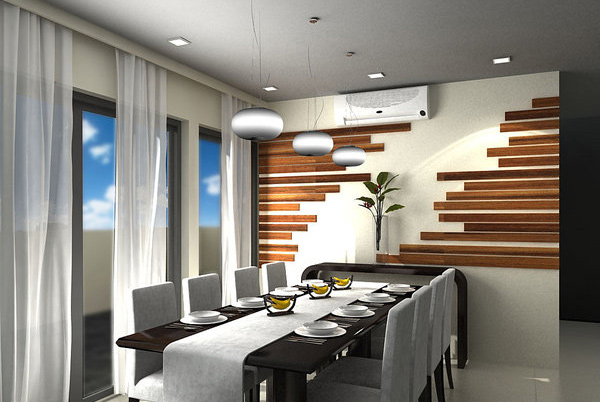 Wooden accent wall? Yes of course! But of all the designs we presented today, this is the most unique because instead of filling an entire wall with wood, it used various sizes of wood and left some spaces between each one. We would say wow to this!
Adding wood to your interior creates sophistication while adding a touch of nature and warmth to the space. It could also create a soft spot if used for accent walls. You can notice that modern designs always add some wooden elements no matter how small it could be. Even wooden furniture is a good way to make a space appear cozier. You can also check out wooden panel walls in living rooms for they also look as divine as it is in the dining room.