20 Fine Dining Table Setup
In today's world where people are so busy with everyday routine, preparing a fine dining table setup is the least of our priorities. After all, who will engage in a fine dining experience at home when you have a lot of errands to do and probably will just sit to eat for a couple of minutes. Unless you are living in luxurious life and you have help to do it for you, getting a fine dining setup on your table everyday seem impractical. Hence, a lot of people do not know how to properly set it up or use those fancy utensils laid on one.
Here is something classic to see yet refreshing for those who cannot remember how it was to have a fine dining setup on their tables. I have gathered 20 fine dining table setup to inspire you do it on your next special occasion. I am sure that if you master the proper way to setup your table in a fine dining style you will not only impress yourself, but also your family and guests. So go on and browse through the gallery for more tips and ideas for a fine dining table setup.
1. Robertson Lindsey Interiors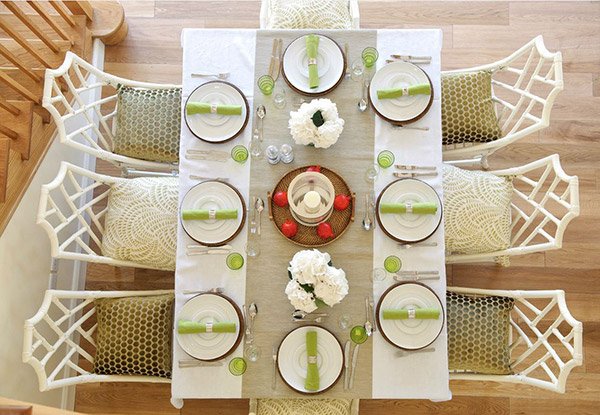 I love the refreshing, casual vibe of this fine dining table setup because of the green and white color scheme.
2. Laura Martin Bovard Interiors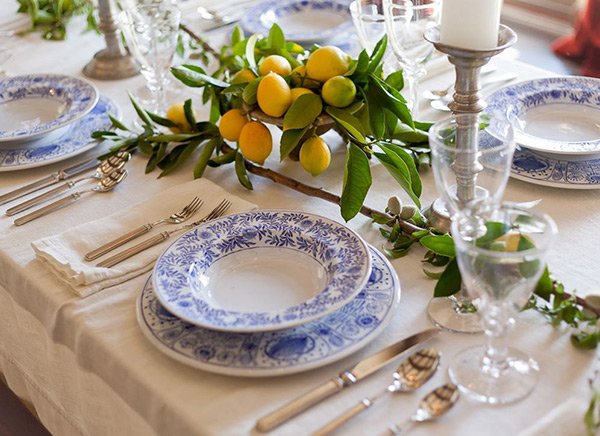 Add a unique and nature-inspired appeal by using lemons and branches as table decorations on your fine dining table setup.
3. Lux Design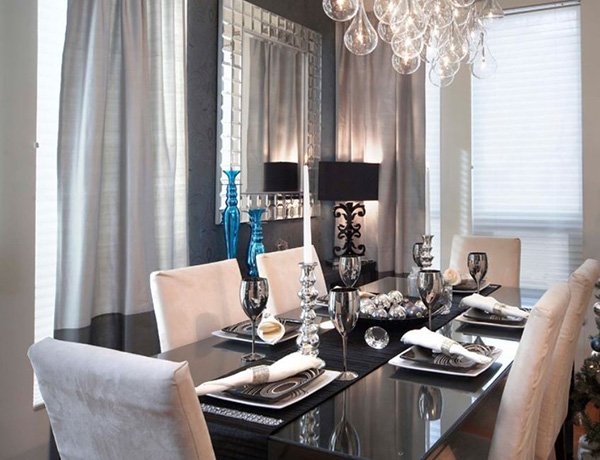 This one is an elegant and simple look for a fine dining table setup during Christmas. Get a cue from your centerpiece like the silver finish from those Christmas balls and create a cohesive look by using the same finish on your dinnerware.
4. CID Interieur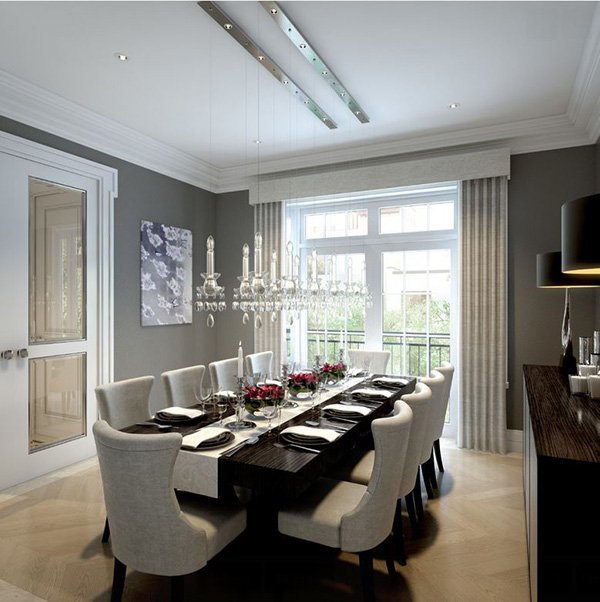 For small dining table with limited space, a straightforward approach is more appropriate. Instead of using a number of knives and forks, lay out one spoon and one fork beside the plate and arrange it neatly. Top it with a table napkin for a sophisticated finishing touch.
5. South Shore Decorating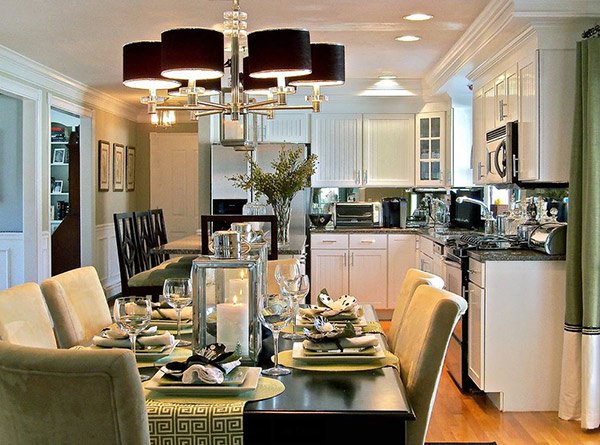 A fun and charming way to do in a fine dining table setup is to use whimsy holder for your spoon, fork and table napkin and put it on top of your dinner plate for an instant creative decor.
6. Swedish Interior Design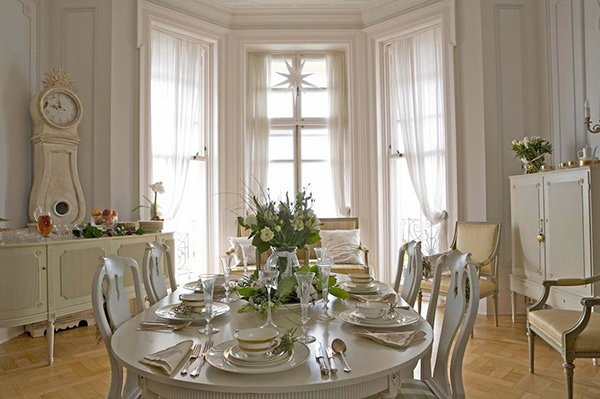 I love the clean, dreamy white that grace in the whole dining room with a pinch of gold and lots of greens that makes this table setup elegantly refreshing.
7. Kelley Flynn Interior Design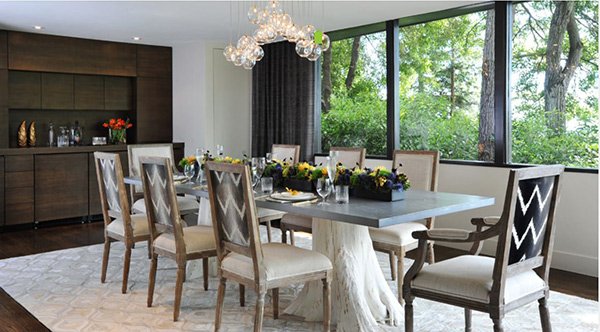 Properly arranging the glasses with different heights, adds sophistication and elegance in this rustic dining room design.
8. Holiday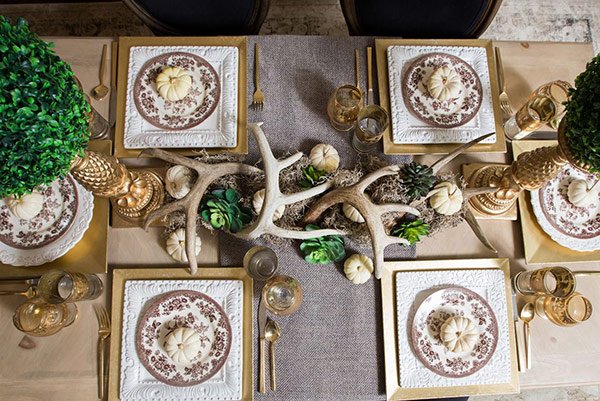 Setting your table in a fine dining manner that follows a theme is a great way to add to the atmosphere. It does not only make your dining room look appealing, the table itself becomes a decor and even a focal point.
9. Michael Rocha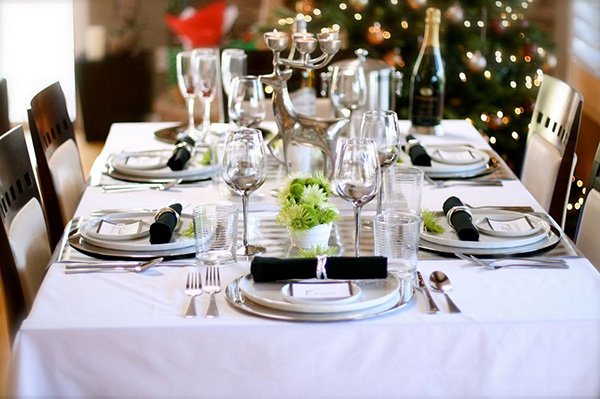 Simple and elegant table setting for the holidays. The black gives a punch to the white and silver base colors while the chartreuse and white flowers bring interest to the whole table setup.
10. Sutton Suzuki Architects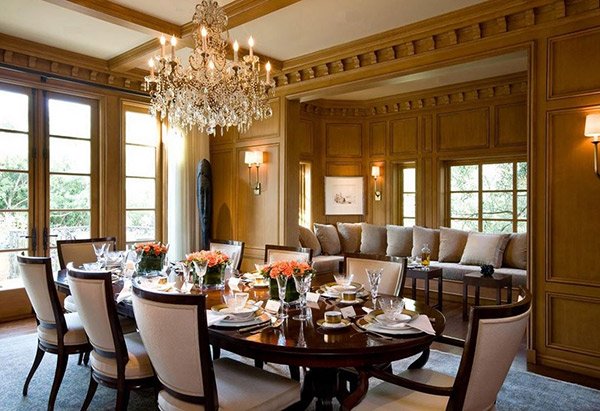 If you want to showcase your beautiful dining table, forget about pad, cloth or lace to cover it. Show it off by using it bare with your fancy dinnerware to get a formal yet homey appeal.
11. Charlie & Co. Design, Ltd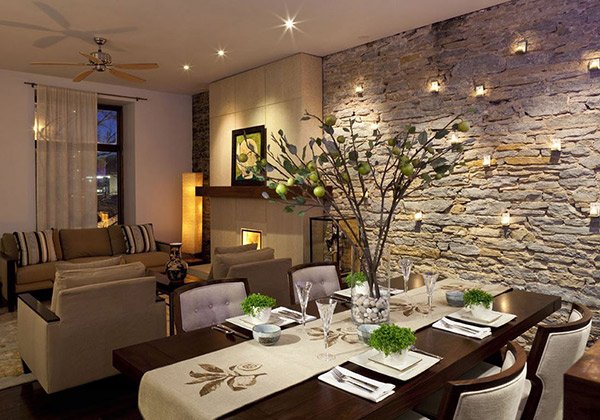 Add big statement to your fine dining table setup to bring interest and drama.
12. Jennifer – Rambling Renovators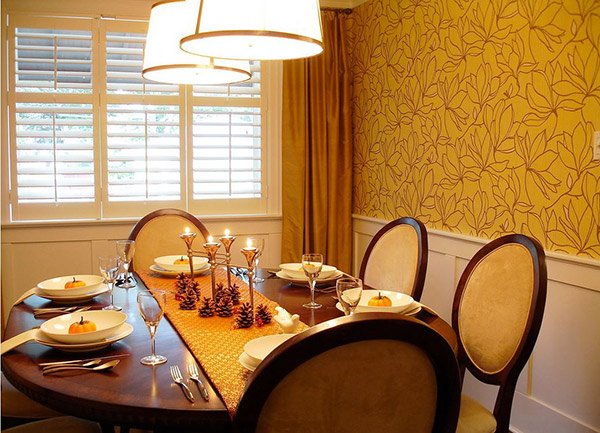 A cozy lighting for your fine dining table setup is sure to set the mood.
13. Garden Studio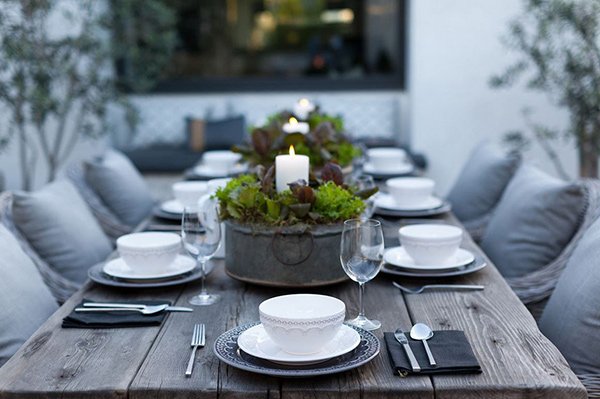 A casual yet refined table setting that includes an interesting centerpiece – pillar candles on a potted baby lettuce.
14. Smith Firestone Associates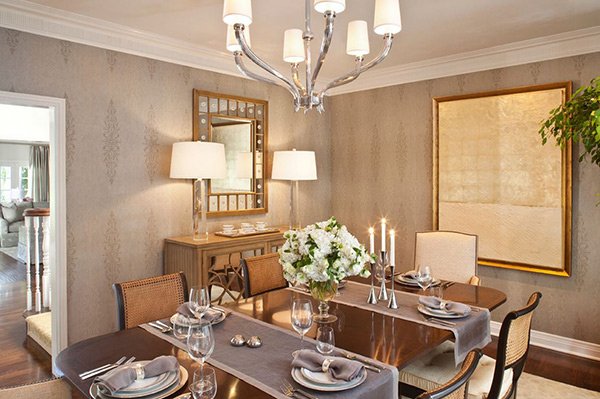 Instead of using one table runner for your dining table, why not use two instead? Create a balance to your formal dining space by using two table runners placed parallel to each other.
15. Shanon's Shanonigins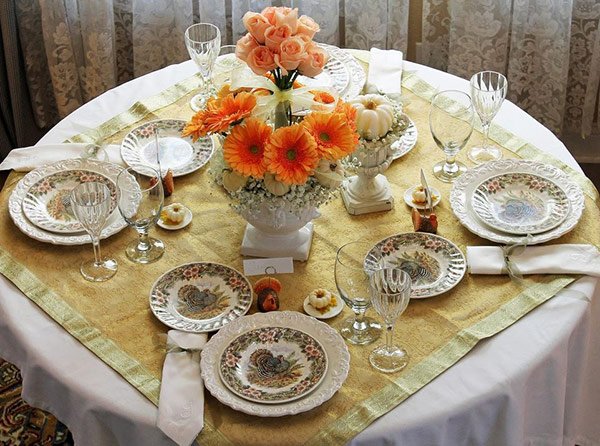 Add a touch of timeless elegance in your home with this fine dining table setup with a casual vibe.
16. LuxeSpecs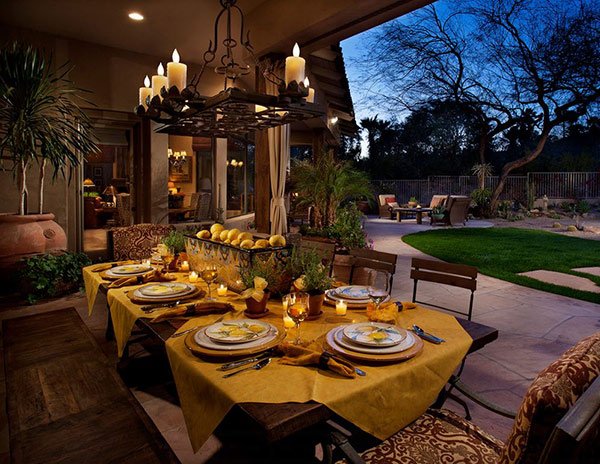 Another creative way to add fun in your fine dining table setting is to use three square tablecloth on one long table, placing it diagonally. This table setting gives off a romantic vibe.
17. Kohler Jones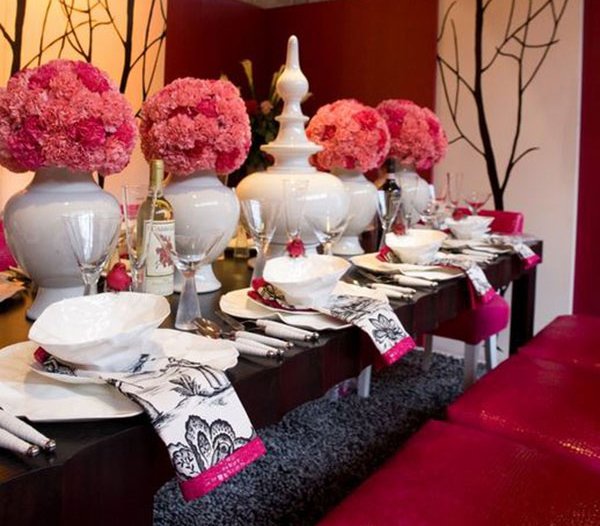 Make your fine dining table setup pop by choosing a bold color for your centerpiece like the beautiful flowers above.
18. LGB Interiors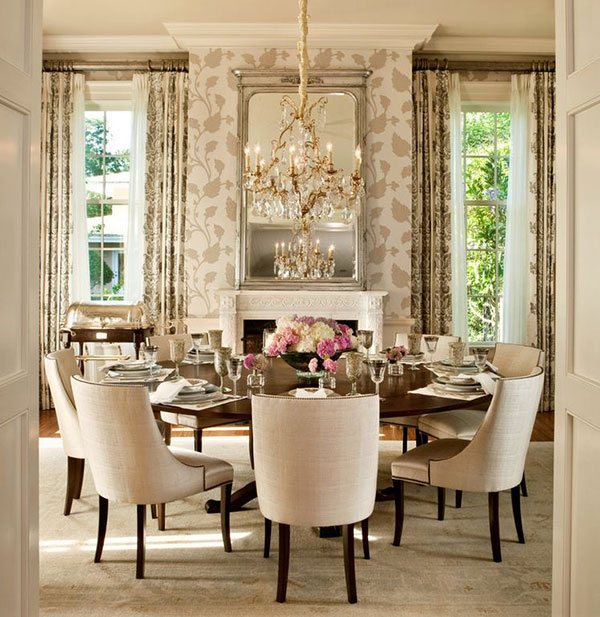 I love how this round dining table lend a luxurious flair to the glam-fine dining setup.
19. Raven Inside Interior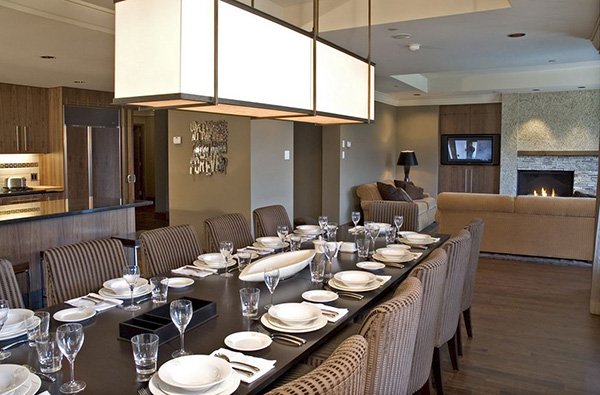 Get all formal with a masculine flair in this fine dining table setup.
20. Poss Architecture + Planning + Interior Design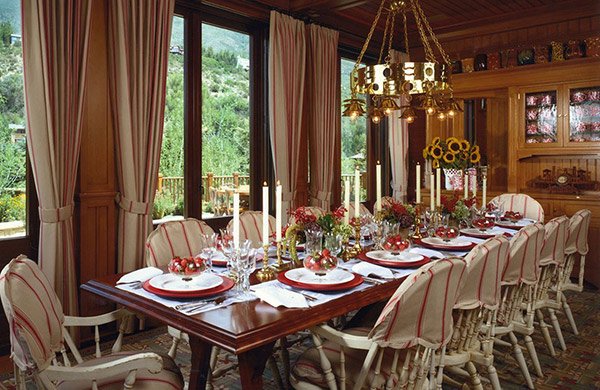 Feel the country-elegance of this fine dining table setup that uses festive colors giving it a fun and casual appeal.
A fine dining table setup is easy to do, if you have the time to spare. The trick is to neatly arrange your dinnerware. Rule of the thumb: always begin dining with the outside utensil and work your way in, that is how you are going to orderly arrange it too. Use tablecloth or table runners to add to the atmosphere that you want. Working on a motif is also a great way to get a cohesive look. Lastly, a cozy lighting is sure to set the mood for your fine dining table setup. Go on and try it, let us know how you impress your family and friends in getting your table set for a fine dining experience.