22 Minimalist Dining Rooms with White Dining Chairs
Want a neat and simple look for a dining area? Take a look at this list.
Some people doesn't want spaces with a lot of designs because they think it looks crowded and isn't pleasing to the eyes. Some feels comfortable when only a few things are around them. A minimalist interior would fit people like this. This can be done when it comes to furniture, decor and others. If you have seen minimalist interiors, you will realize that a space can actually look beautiful even if there are only a few stuff in it. Yes, there is beauty in simplicity like what we always hear.
In today's feature, we are going to show you some stunning designs of dining rooms which has a minimalist style. Like what I mentioned, when we say minimalist, it means that there are only few decorations in it and there isn't much furniture in it as well. But when you look at it, it is really nice. That is what happens for a minimalist interior. And most of them use white colors too to make it look simple. So, the minimalist dining areas that we will show you have white dining chairs in them. Let us take a look at the images below.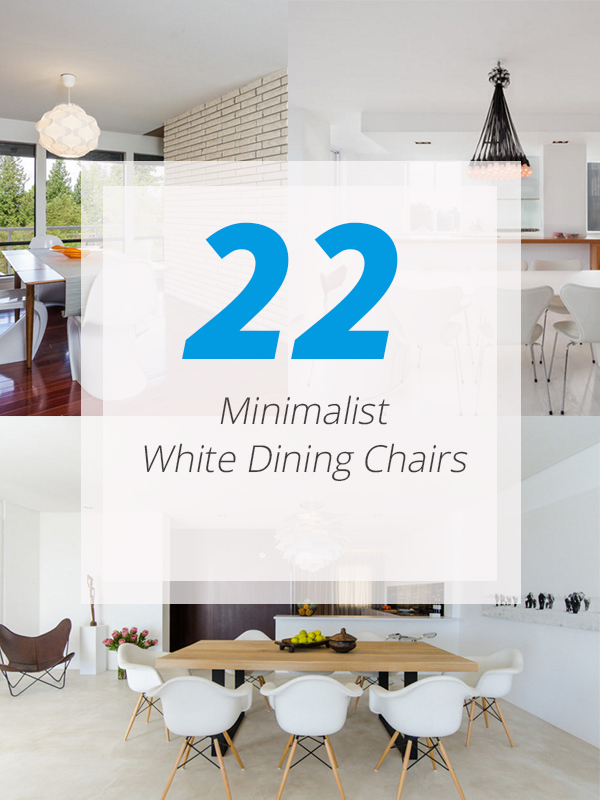 1. Modern Dining Room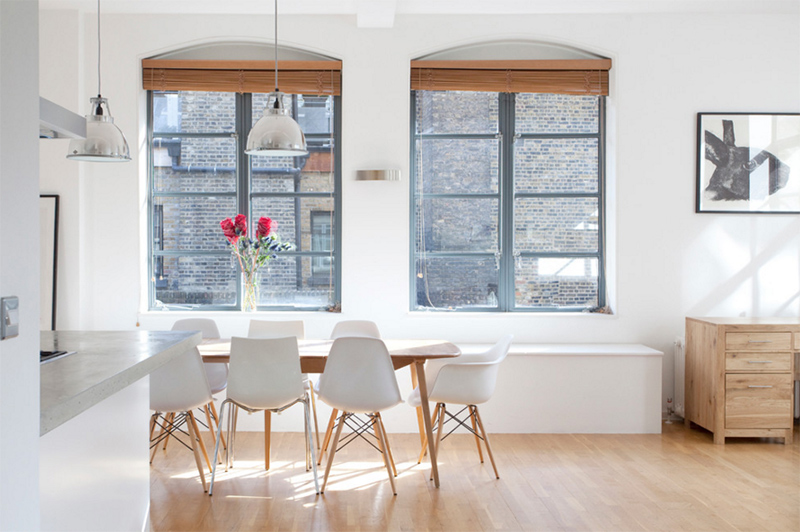 This lovely space used the famous Eames DSW Chair White which is usually used in modern, Scandinavian and minimalist spaces. Looks, nice, right?
2. University Place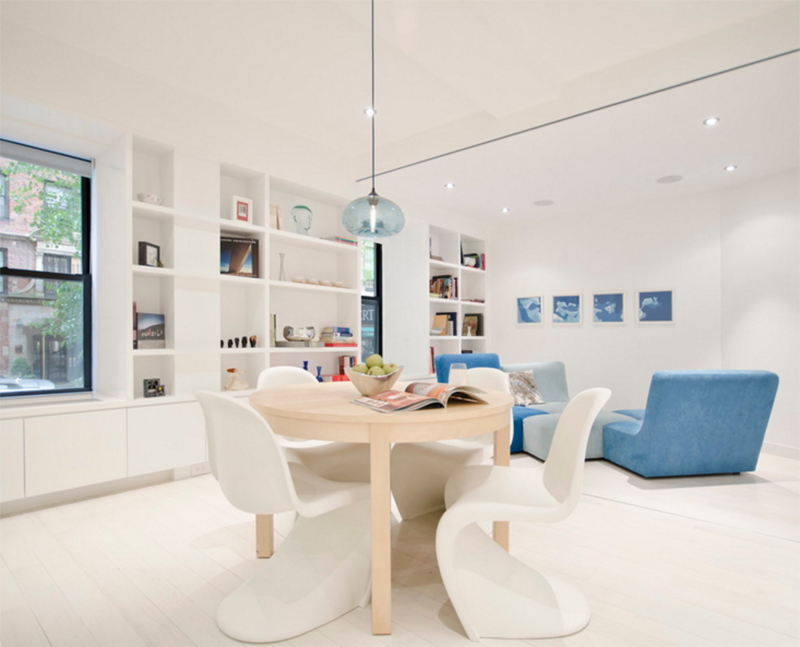 Another simple dining room but the Vitra New Panton Chair Chartreuse is around a wooden dining table.
3. East end Modern Kitchen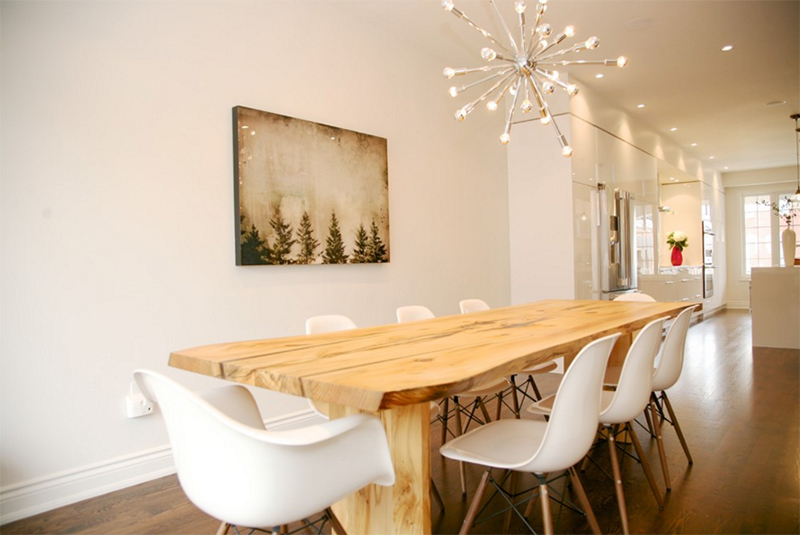 A long wooden natural-looking dining table has white chairs around it resulting into a heart-warming appeal.
4. Modern Dining Room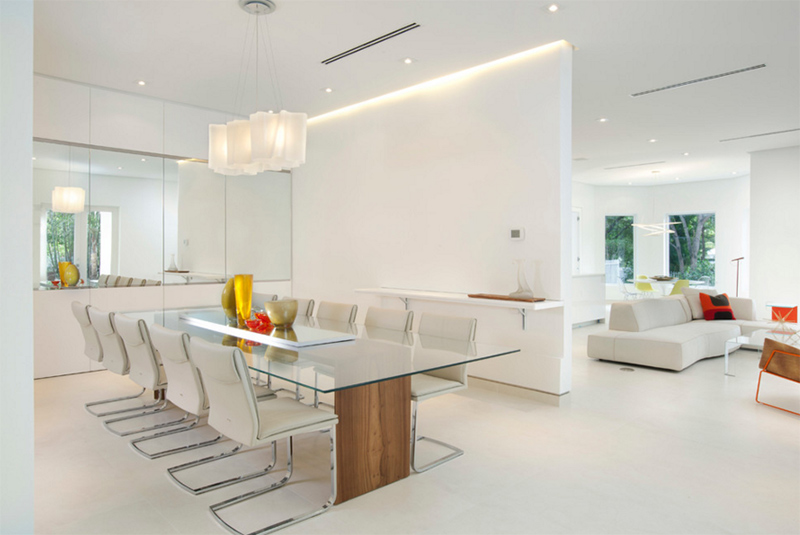 For a more minimalist modern feel, you can see the dining room here with pretty white chairs with simple design. A colorful centerpiece was added to bring color to the area.
5. Levin Residence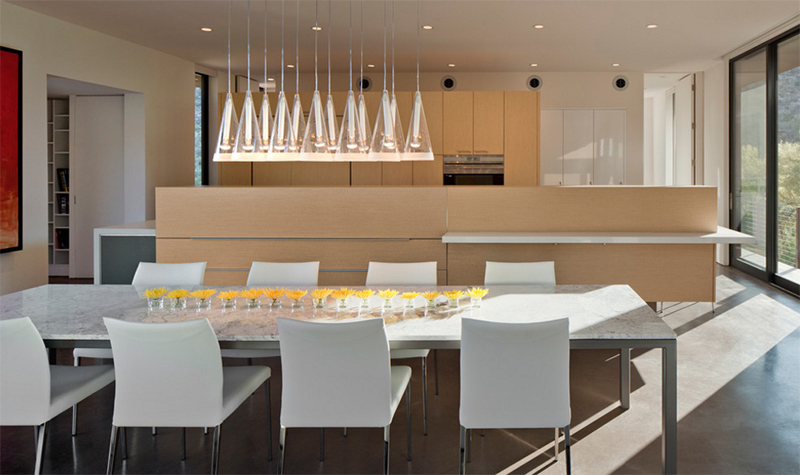 Cattelan White Leather Anna chairs were used for this dining area. Even the centerpiece looks simple too!
6. Madison Square Apartment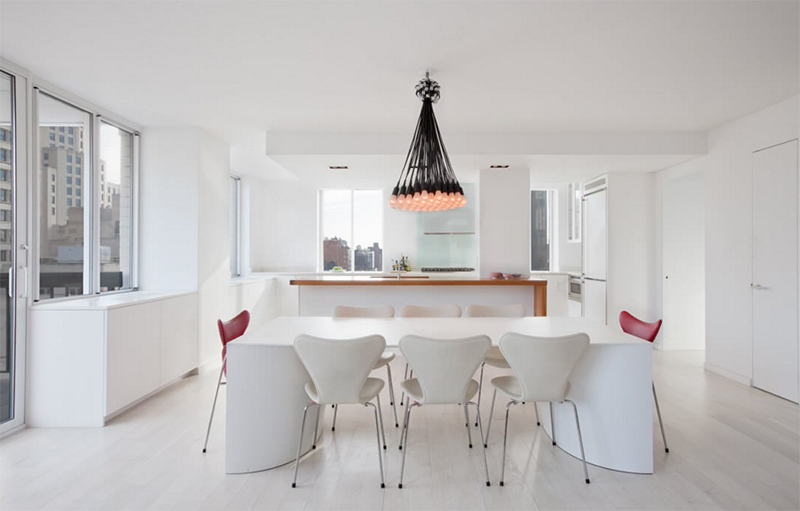 Aside from the white Series 7 Chair, two red ones were added for a simple pop of color. Good thing the red chairs weren't too bold! And that lighting looks really interesting as well.
7. 6515 Modern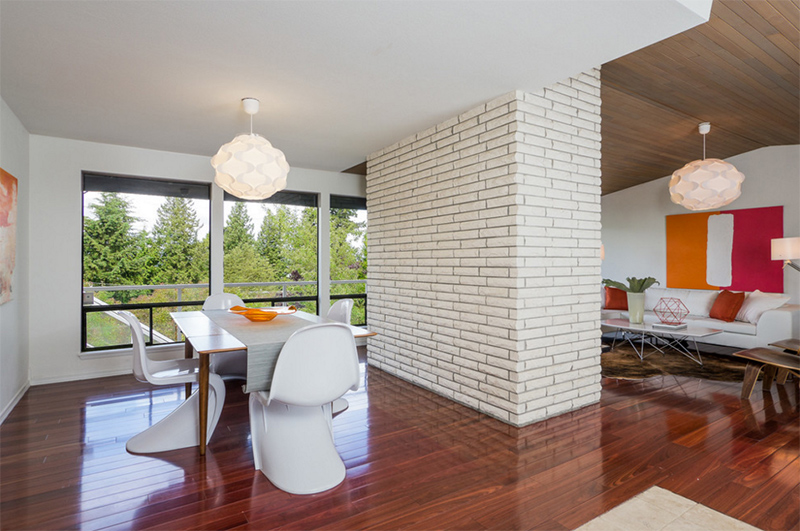 This lovely and simple dining space use Vitra New Panton Chairs in White. What I like here is that brick wall and the lovely pendant light.
8. Toronto House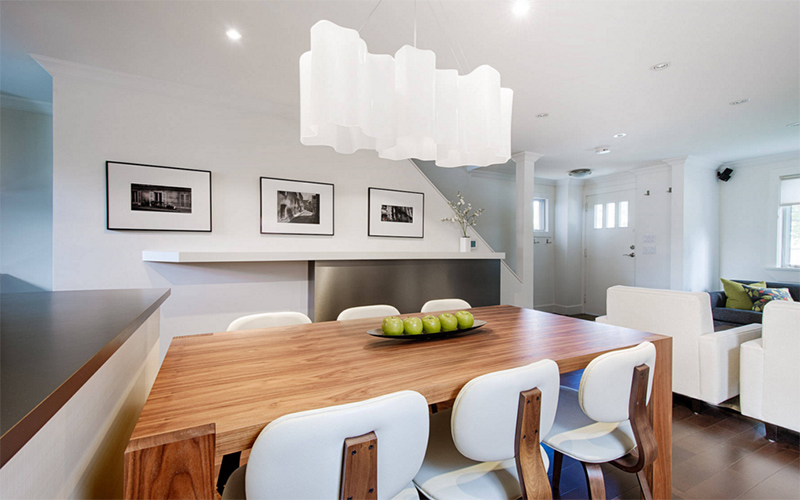 Gus Modern Thompson Chairs were placed around a wooden dining table. Looking good, right?
9. 45 Strathmore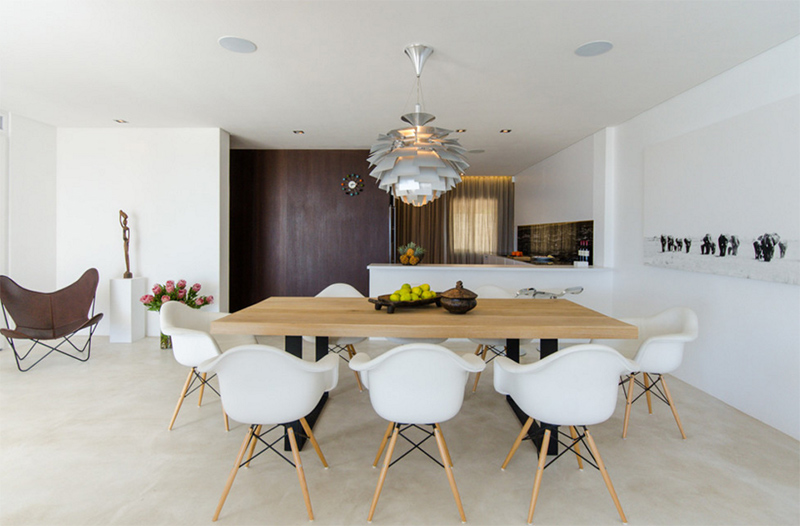 In this dining area, the lighting also added appeal to it. Look at the chairs in the space with wooden legs that match with the table.
10. Bloomberg Tower, NYC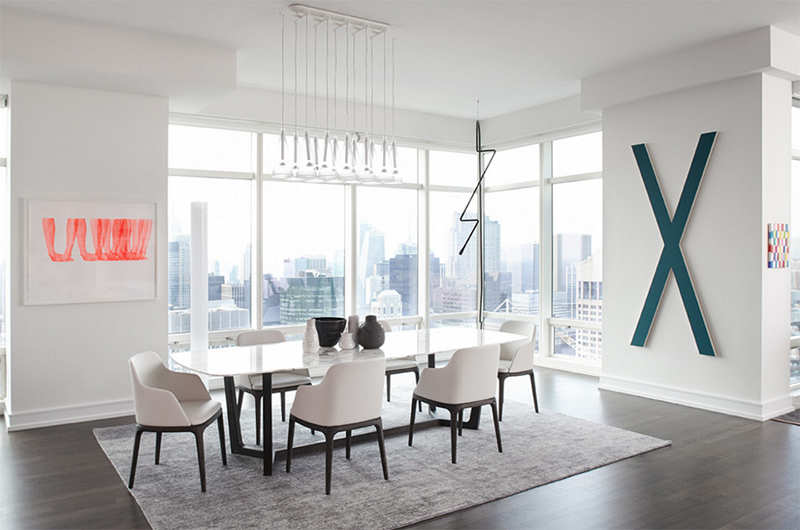 Aside from the dining set, the decors are also minimal in approach for this home. I love the look of this one especially that natural light gets into the area through the floor-to-ceiling windows.
11. Abramson Teiger Lima Residence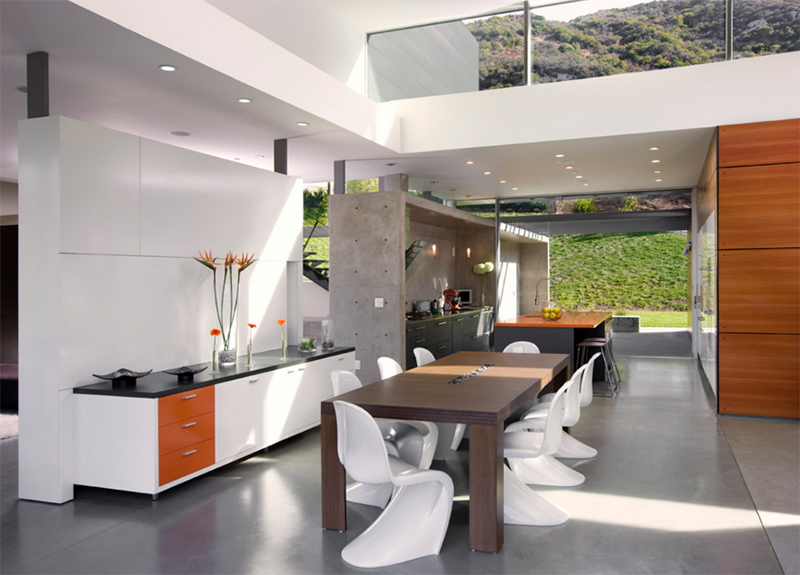 You can also use a brown dining table as well because it will look lovely with white chairs around it. And that buffet table added beauty to the space too.
12. Ocean Drive Condo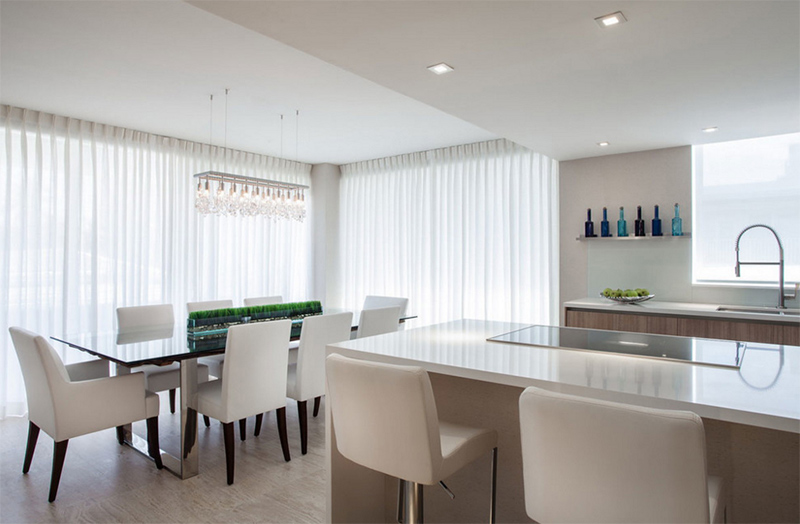 To make it look a lot neater, you can use glass as a table top and of course, white chairs.
13. Riverdale Renovation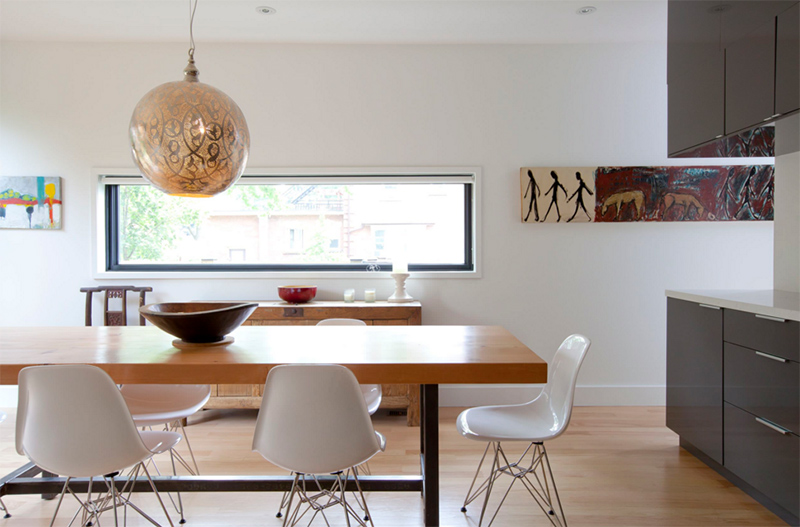 A set up for a dining area like this one works for whatever style, even for a contemporary space.
14. Joshua Nimmo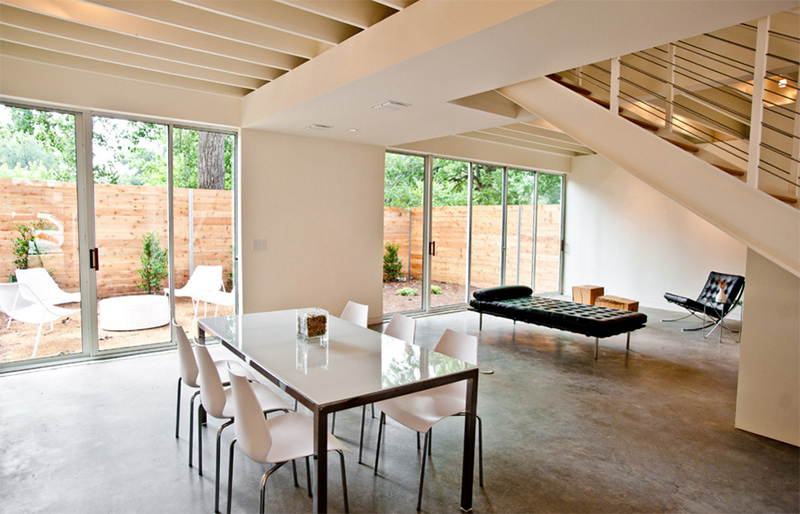 Very minimalist indeed! If you look around the dining area, there is nothing in there expect for a few chairs for the living space.
15. Chelsea Hill House
The white dining set looks beautiful as it is seated on a gray wooden flooring. Less is indeed nice.
16. Gatineau Hills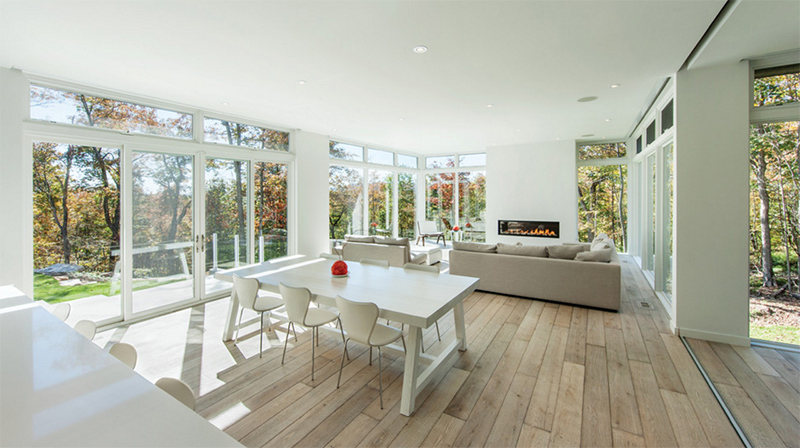 A lovely dining set in white colors that have a red centerpiece which would capture anyone's attention. Aside from being white, it looks a lot brighter because of the natural light that gets inside the area.
17. Bucktown Modern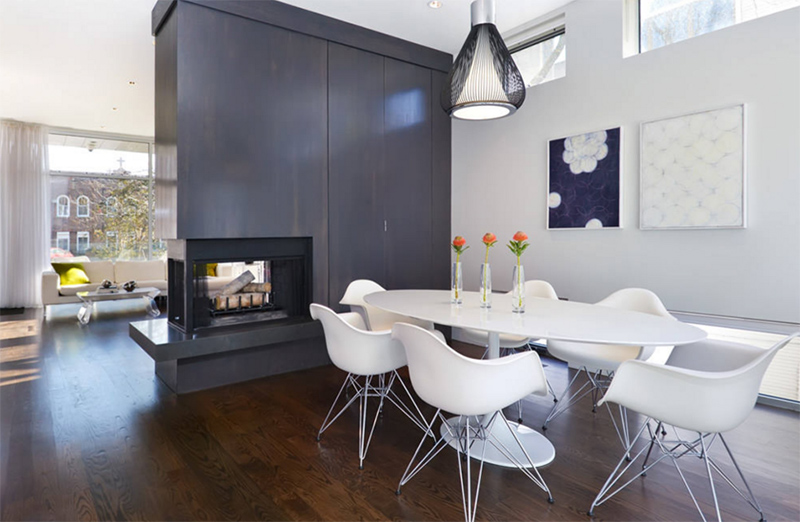 Eames Molded Plastic Armchair are used for this dining area that has a white oval dining table. The black fireplace is a nice background in here.
18. Poolside in Palm Springs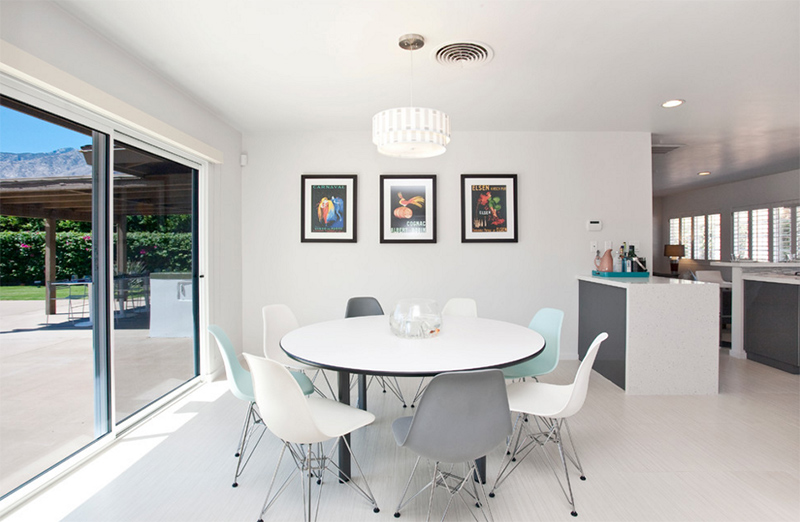 This one also used other colors for the chairs but with the same design. But the colors aren't bright which still appears simple along with the white ones.
19. El Camino Residence – Dining Room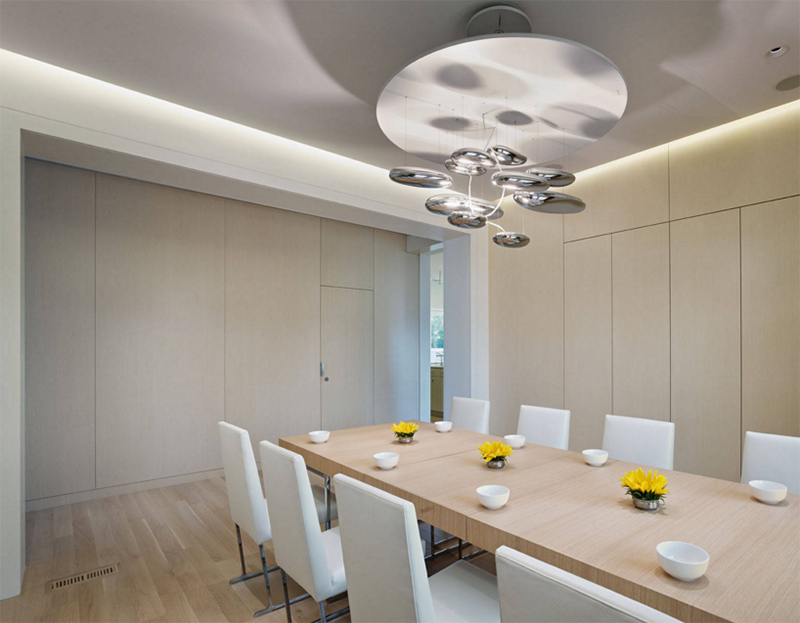 Those little yellow flowers are lovely! It is a nice way to add some creative touch to a simple dining area. The cabinets in here also have a minimalist design because it has a simple finish and plain doors. Yes, storage areas can also be minimal in design too.
20. Cole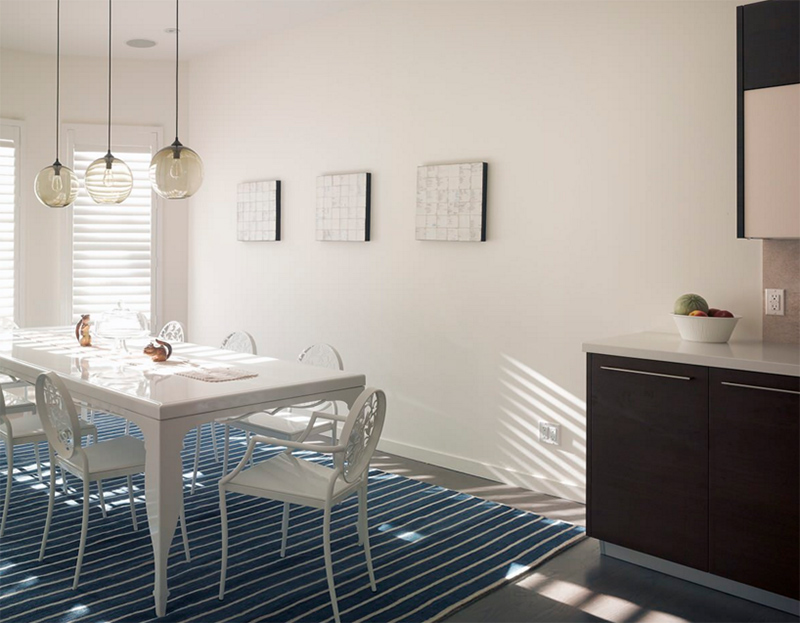 The design of the table and chairs here look nice because of the details on it. And it is a good idea to place the chairs on a striped blue and white area rug!
21. Green Greenberg Green House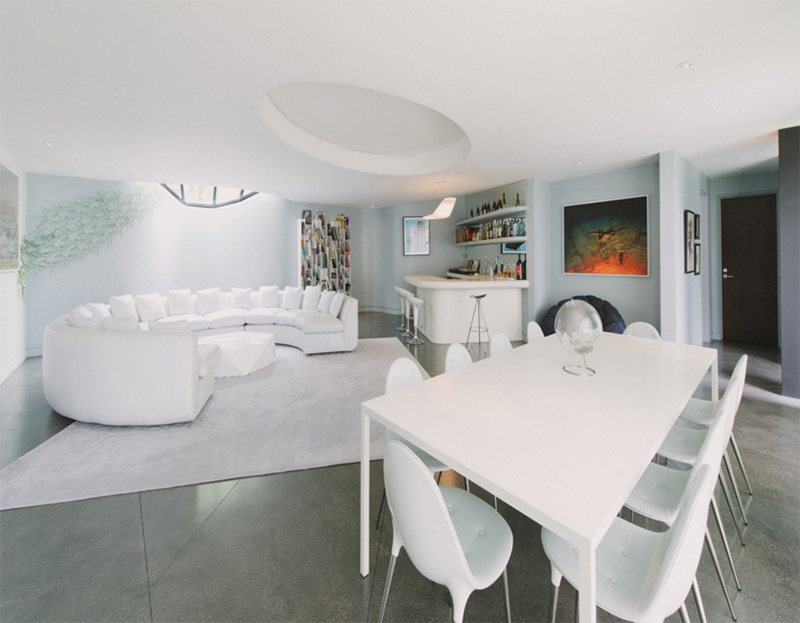 In this page, there is a lovely combination for sleek lines and curves creating a neat minimalist interior.
22. Abramson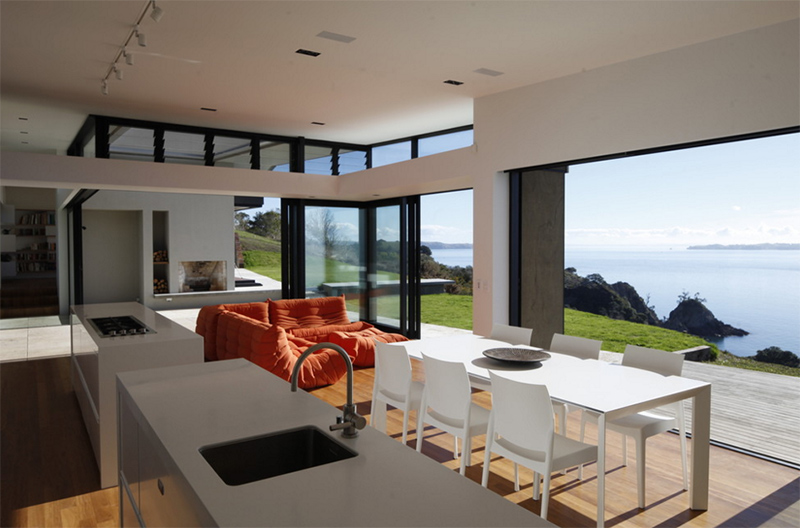 A simple dining area that faces the breathtaking view of the ocean! Would you love to stay in a place like this?
White really looks nice, right? Yes, wherever you use white it would definitely look amazing especially if it is for minimalist interior. So if you are the type who wants a home that has a neat look, a minimalist space with white furniture would be nice just like the ones above. But of course, you can also use other colors for the chairs too even if you still want to achieve a minimalist feel. Others use pastel colors so that it wouldn't be too bright and too bold, which is also a good idea. But then again, if you want to use merely white chairs, go ahead and be creative with your choice of table.