15 Mix and Match Eclectic Dining Rooms
While other people struggle to get uniformity for their interiors, there is actually nothing wrong if you go the different way by pulling together a variety of stuffs. One's interior can look lovely with the use of items that do not go together as sets or those that come in different colors and styles. Most of us might not get used to this but the more you look at it, the more you'll be able to appreciate it and fall in love with this kind of art.
The dining room is not an exception with this mix and match trend. That is why we will be showing you today dining rooms with chairs in different designs, colors and materials arranged on a unique table that does not originally go with the chairs. The designers of the interiors that you are about to see were certainly courageous enough to mix and match dining room furniture. Let us take a look at what they have done to their dining areas:
Remake Chairs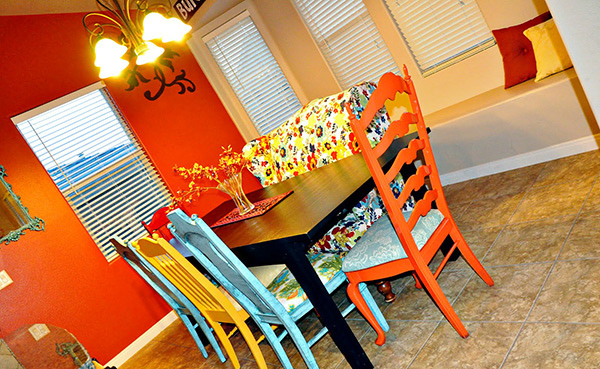 Different chairs painted in bold and lively colors were used in this dining room plus the addition of a sette with floral prints.
Mismatched Dining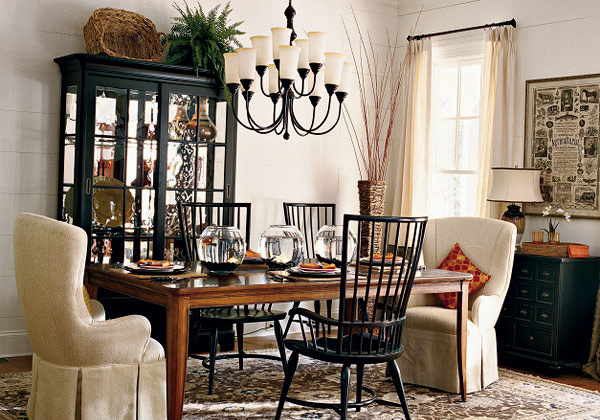 A dining area with traditional and classic fill was made even lovelier with the two variations of chairs that are both soft and hard.
Shabby Chic Dining
Shabby chic interior indeed is love! Just look at this dining area that seems to bring us to a whimsical world of flowers, whites and crystals with the touch of rustic loveliness in its chairs.
Play with Chairs
The chairs sure looked good in this dining area but the center pieces in various types also made a huge difference.
Dining Area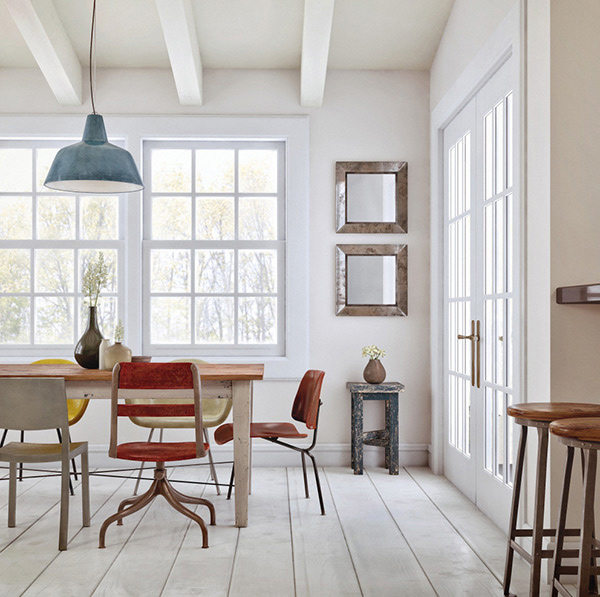 This one is comprised of a variety of chairs achieving a rustic and shabby look yet it remains inviting for the diners.
Hipster Loft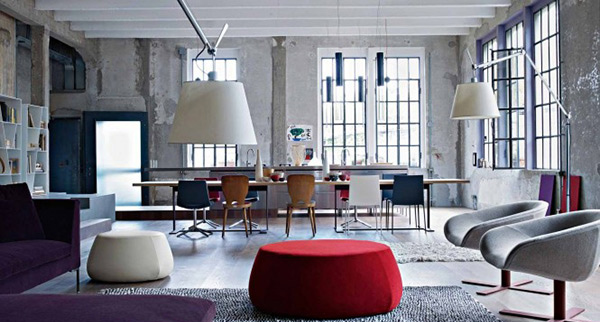 Check out this space that has an industrial feel with unfinished walls. The furniture and accessories still made it look cozy. For the dining area, the long table and the variation of chair designs did the work well.
Dining Room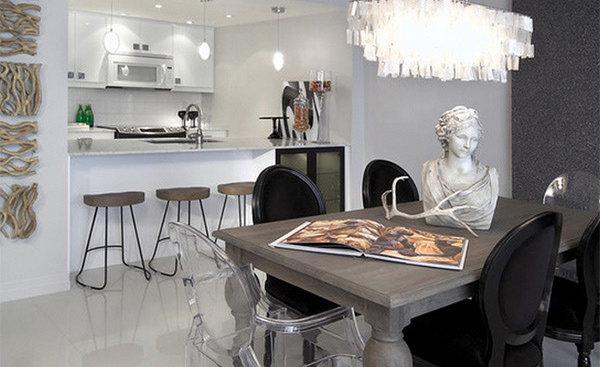 Gray, black and white were used for this dining area. The chairs were also in black and the transparent pieces added a different touch to this eclectic dining room.
Dining Interior 342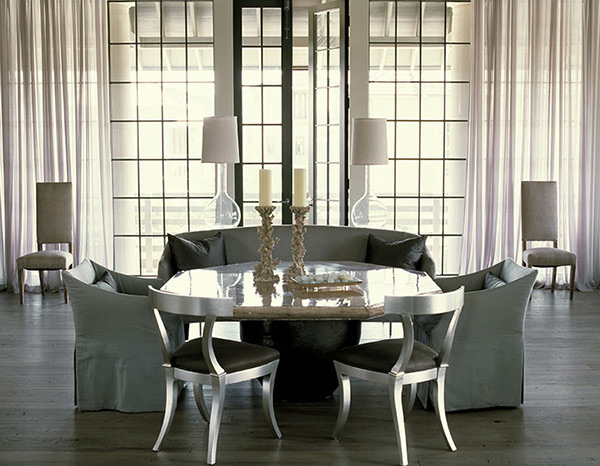 This dining area is a combination of classic and modern touches with chairs in gray making it look sophisticated.
Collins Apartment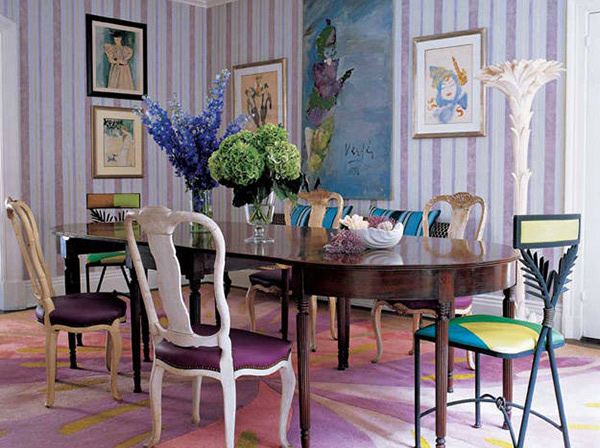 Purple is the color of this dining room but look at the other chairs that has yellows and greens on it. Well, it still looked good in the room though. Job well done for the decorator!
Jeffrey & Joseph's Sophisticated Sense of Humor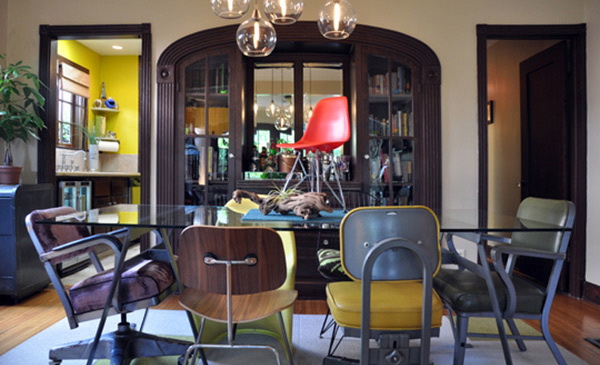 These are like office chairs turned into dining chairs! Kinda weird but the interior looked good. The designers did a good experiment with the chairs.
Dining Colors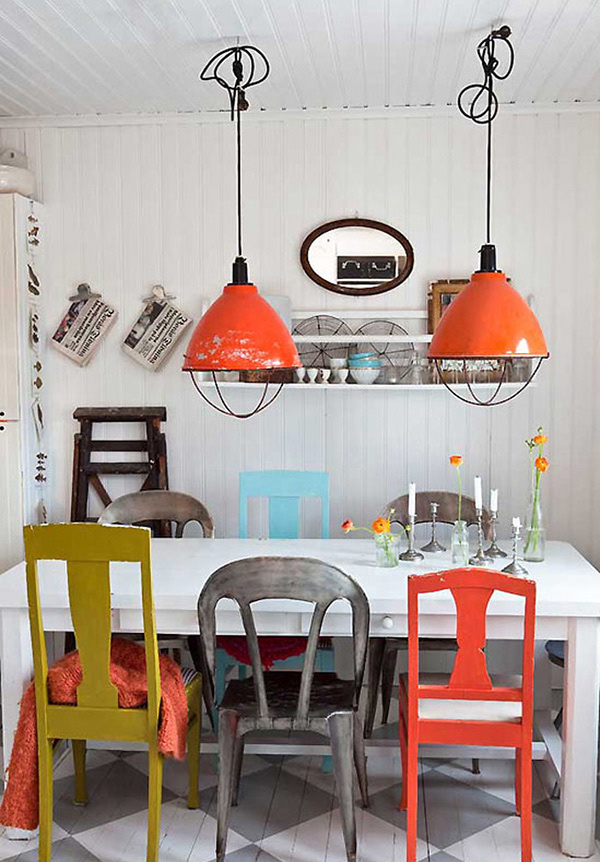 Just grab any kind of chair you see and bring it to your dining area to get a look like this. For sure, you'll agree with me that this space still looked lovely with its shabby and grungy look. The whites in this walls, flooring and table made it appear neat and welcoming.
Eclectic Dining Room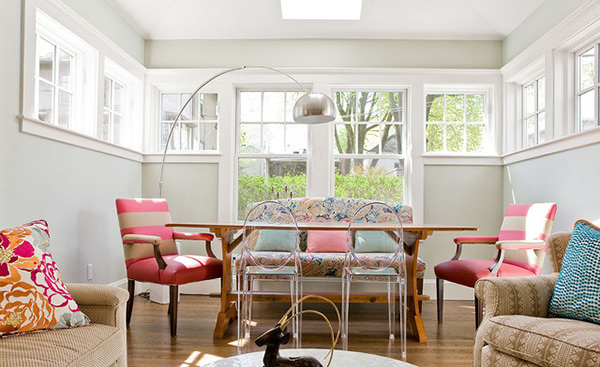 Striped chairs in pink, transparent chairs and a sette with floral prints arranged around a wooden dining table sure made a gorgeous dining area with a totally eclectic chic feel.
Naturally Beautiful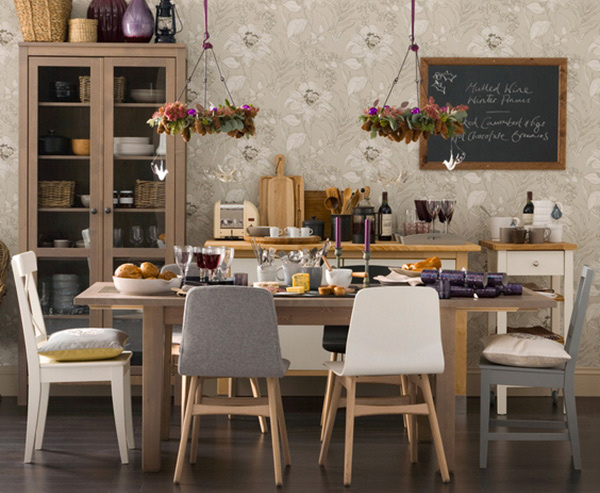 The use of mismatched chairs in neutral shades made this area look open and inviting. The floral muted wallpapers gave it a modern feel to create balance for the other elements in the dining area.
Yellow Spark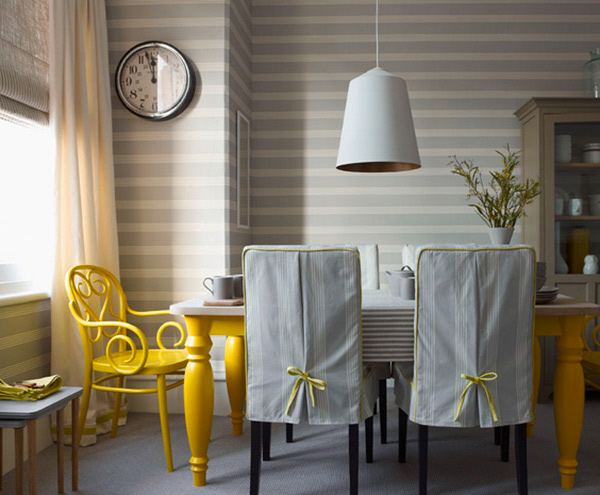 This dining area had a burst and spark of yellow making it bright despite the use of muted gray tunes.
Mix and Match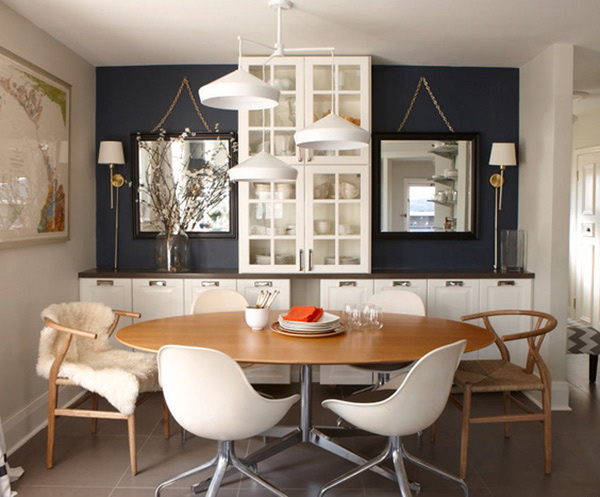 Mixing and matching materials is a good thing if you are able to achieve a look as elegant as the work of Sabrina Linn where she pulled together dark and light woods, gold and silver fixtures and wood and plastic chairs.
You will certainly agree with us that this mix and match trend is not bad at all! Notice how a dining area is given more life with the use of mismatched chairs. You can also see that even small dining spaces seemingly looked wide with those mismatched sets as focal point. Aside from different types of chairs, you can also use dining sets with multi-colored chairs to give it a similar impact only that the chairs are of the same type and style. Look forward for more design inspirations here at Home Design Lover.