20 Elegant and Tranquil Pink and Gray Bedroom Designs
The combination of pink and gray is indeed striking and appealing even for a bedroom.
There are quite few color schemes that can pull off a real inviting and tranquil look without getting too boring or dull. While there are some color schemes that are all loud and bold, which are good by the way, when you are going for some accent and emphasis. There are also those color combinations that are full of softness, quite feminine and romantic that can bring serenity and elegance to your interiors. Pink and gray color scheme is one of those.
Gray is getting more and more popular in modern homes because of its neutral, edgy and classy look. The darker the shade of gray is the more drama and masculine it becomes while the lighter the shade is, the softer and calmer it gets. On the other hand pink brings a lot of softness and feminine touch. The intense and brighter the shade is, the fun and striking it becomes while the muted it is the more delicate, inviting and soothing the effect is. To blend this two beautiful hues means a balance of sophistication and elegance. There are a lot of ideas and ways on how to incorporate this combination to your bedroom interiors without creating a huge makeover. The ways to bring this amazing colors in your bedroom interiors are numerous, but for now savor these 20 elegant and tranquil pink and gray bedroom designs to help you jazz up your own.
1. Liz Caan Interiors

The printed walls in silver gray gives off a whimsy charm. The pops of hot pink on the hanging bed, painting and poufs bring interest and fun accent vibe that is so feminine and classy.
2. Liz Carroll Interiors

This adorable and chic nursery is perfect for your little princess. The elegance of the soft tones create a soothing feel that will help her calm and have a happy disposition. The Cole and Sons, Lily wallpaper accent wall in gray is paired with peony pink walls paint color. The lightness of gray in this nursery is balanced with the intense and bold punch of pink.
3. Smith Firestone Associates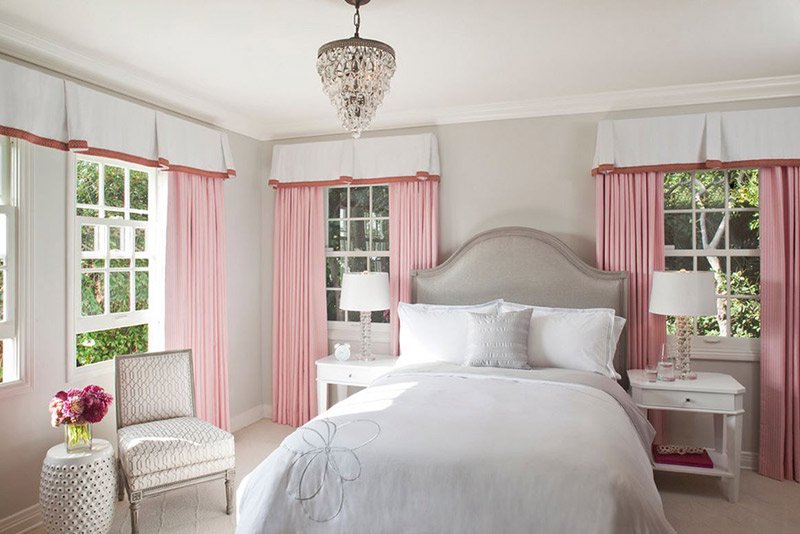 In this transitional bedroom design, the gray on the walls has almost the same effect as what white brings. It gives off an airy and refreshing atmosphere while the muted pink on the window treatment and the different shades of it on the flowers make a striking yet delicate accent.
4. VSP Interiors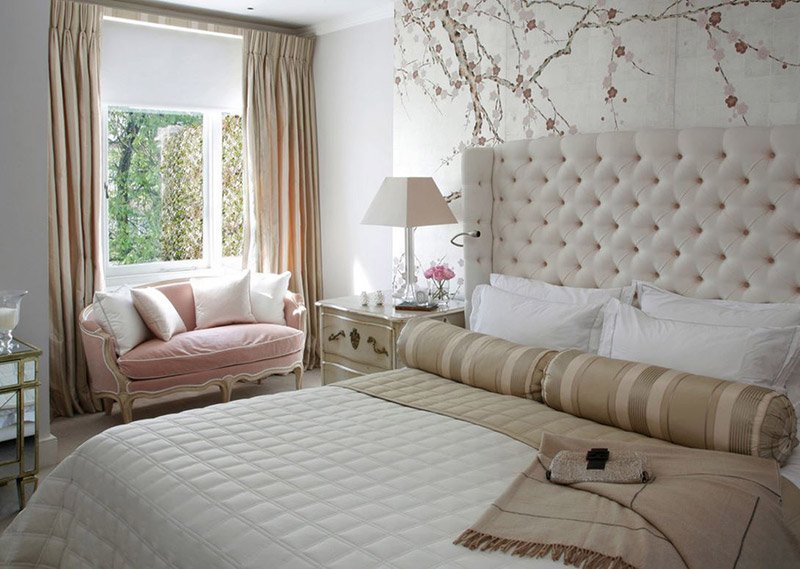 A sophisticated way to add pink to your bedroom aside from hanging those pink drapes as window treatment is by bringing a chic pink love seat. It adds fun and modern touch while keeping the whole scheme feminine and dainty. The wallpaper framed the bed, giving it interest and drama while the dusky-gray-pink color on the other walls create a gorgeous, soothing touch.
5. G1880T- Panel Bed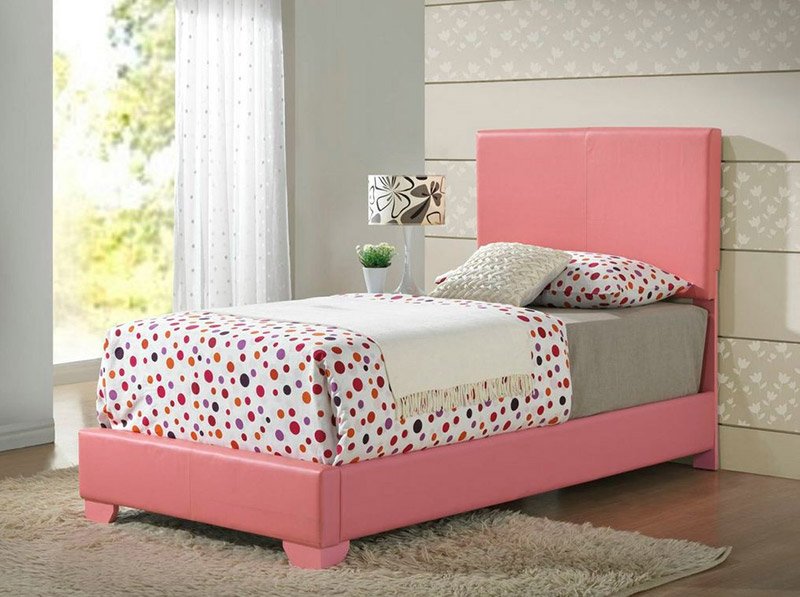 I love the strong feminine atmosphere in this room! The lightness of gray on the walls, lamp and on the area rug brings just about right amount of pattern and texture that make this room appealing. The pink panel bed creates an invigorating vibe that is youthful and fun.
6. Suzanne Lovell Inc.

I love this bedroom design! It is full of life and amazing patterns- geometric patterns that is, and the colors are just popping everywhere you look. The gray wallpaper in geometric patterns cover the whole room, giving it a retro and modern vibe altogether. The pink felt upholstered bed with blue piping brings a chic statement taking a center stage; it matches the built-in window seat flanked by built-in end tables and of course the pink roman shades with white trim. The multi-colored polka dot carpet ties up the whole pop of vibrant colors in the room giving harmony in the whole scheme. Indeed, this is one lovely and chic bedroom design for your little darling.
7. Kid's Room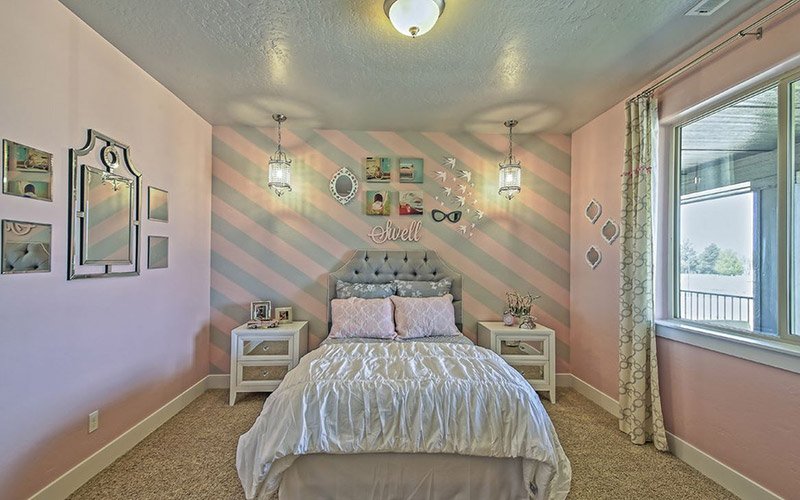 This is a stylish way to create a focal wall using the pink and gray color scheme. Using the same soft and lighter shade of both hues, create a pattern that you like, alternating the colors. For this bedroom design, they created a striped wall in pink and gray that makes a striking yet delicate and feminine accent wall that holds the whole color scheme used in the space.
8. Ana Donohue Interiors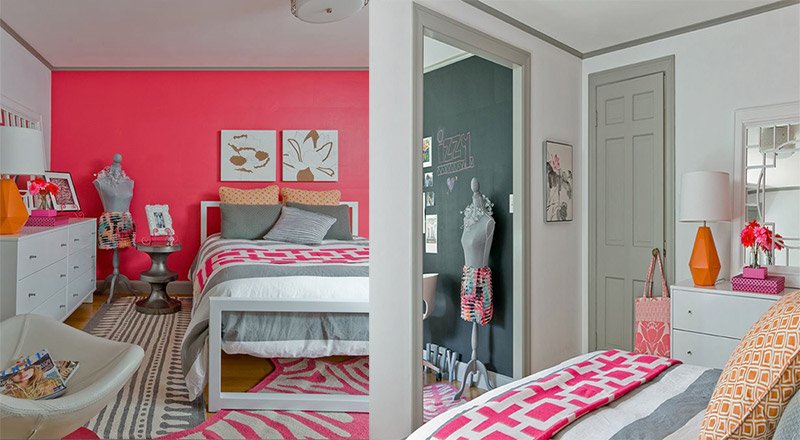 This funky teen bedroom design is stylish and fun! The pink focal wall is Eros pink from Sherwin Williams, perfect for a cheery accent. The gray trim accentuate the colors further while the patterns on the bed spread, area rugs and pillow cases bring a bold and edgy feel.
9. Allen Edwin Homes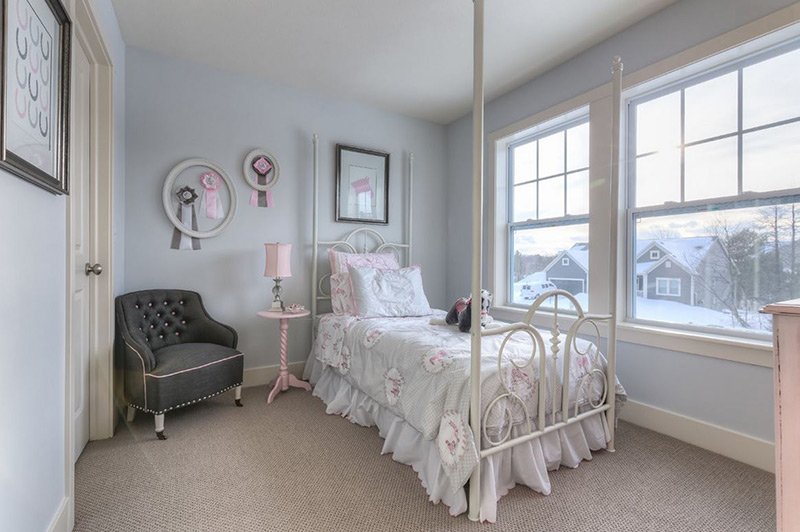 The bluish-gray walls create a cold and inviting ambiance while the pops of pink on the night stand, trim on the gray seat and decor bring a feminine and romantic flair.
10. Soft and Elegant Gray And Pink Nursery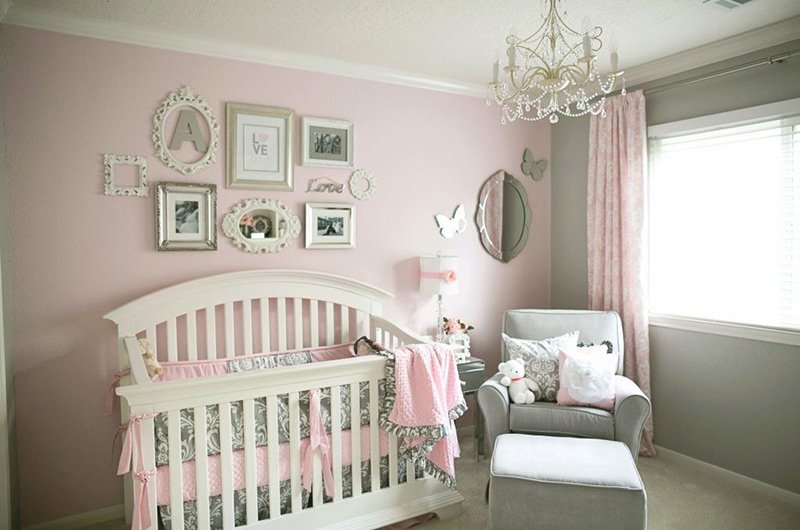 So classy and elegant! The use of soft and light pink and gray on this nursery is so calming and give off a romantic flair that is suited for your little angel. The whole space just seems so peaceful and pretty!
11. M/I Homes Of Orlando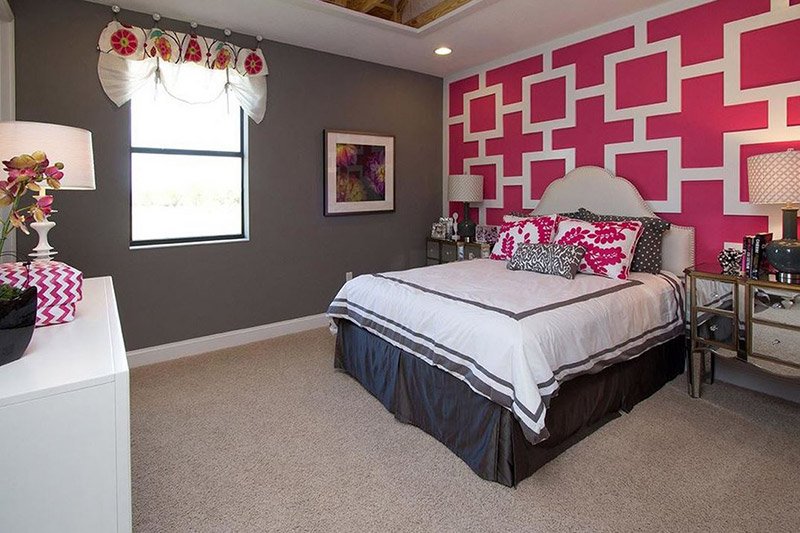 The intense versions of gray and pink bring in more sophistication and drama to the interiors like this bedroom design. The white that breaks the hot pink wall into a decorative geometric accent makes it more interesting and stylish.
12. Draw Me A Sheep, Inc.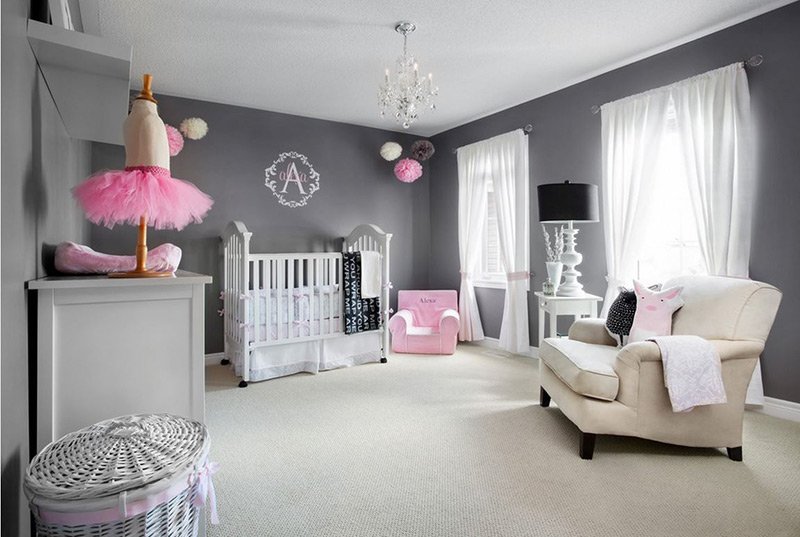 This almost all-gray room is filled with different layers of gray in different shades looking so stunning and gorgeous. The hint of pink in pastel shade on the decor and seat brings in fun and girly appeal that is dainty and charming.
13. Spanish Oaks Residence Bedroom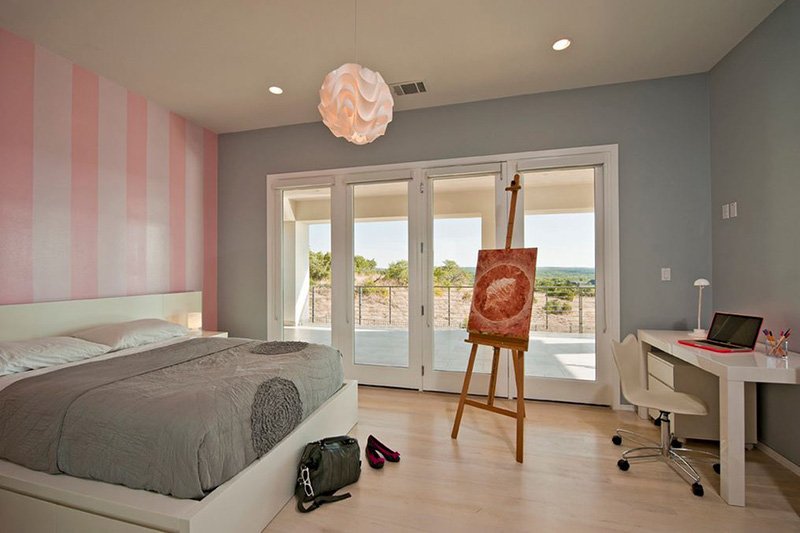 Another way to jazz up your pink and gray bedroom interiors is to create an accent wall with one color in two shades creating vertical stripes with it, like on this design. The rest of the walls are on teal-gray hue that brings in a cooler vibe than plain gray.
14. Rural Calgary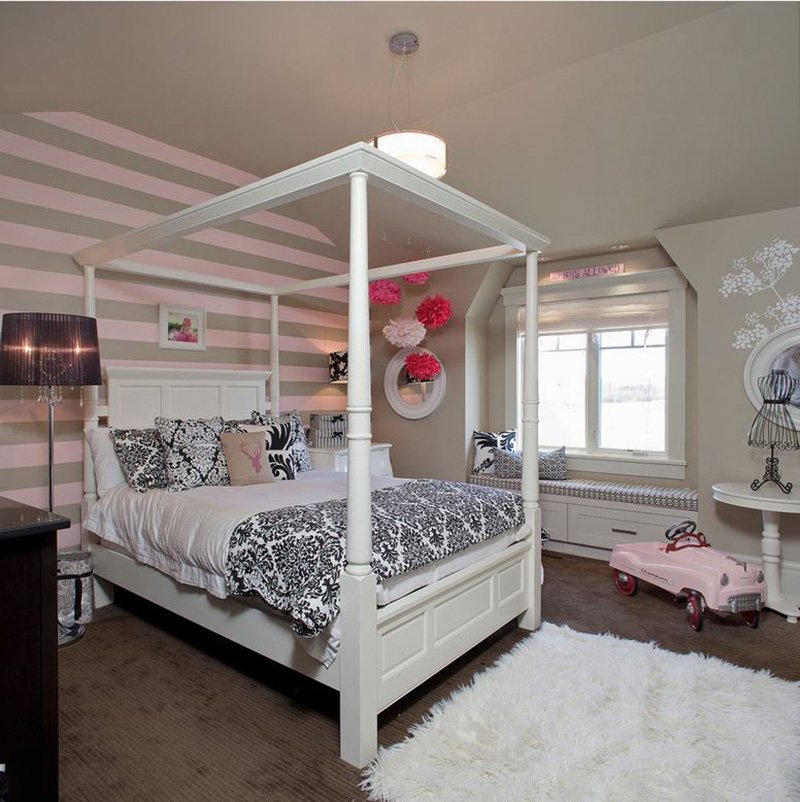 Here is another pink and gray stripe focal wall that will bring whimsy and fun to your bedroom interiors. Hanging pompoms in hot pink, pastel pink, and white brings happy mood in!
15. Masterpiece Design Group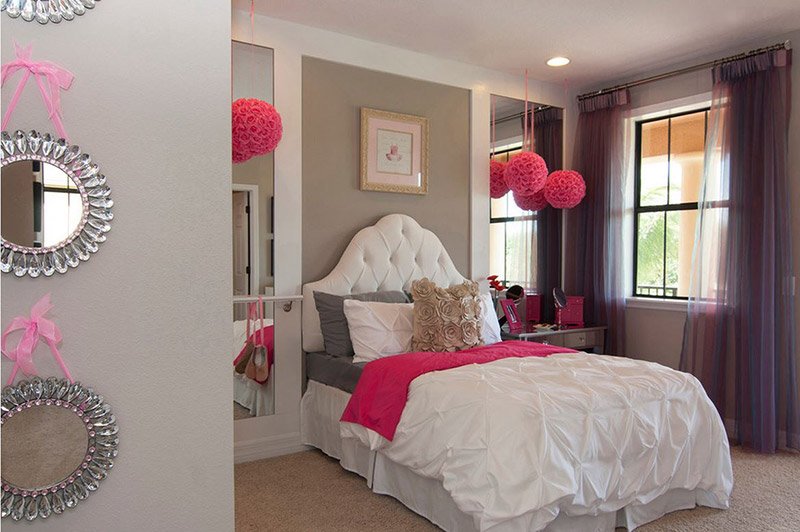 The gray focal wall is accentuated by the pops of pink from the hanging pompoms on each mirrors on either side of the accent wall. The textured duvet cover breaks the softness in the space, and the curtains in purple and blue add some charming whimsy.
16. Dublin Custom Upholstered Kid Bed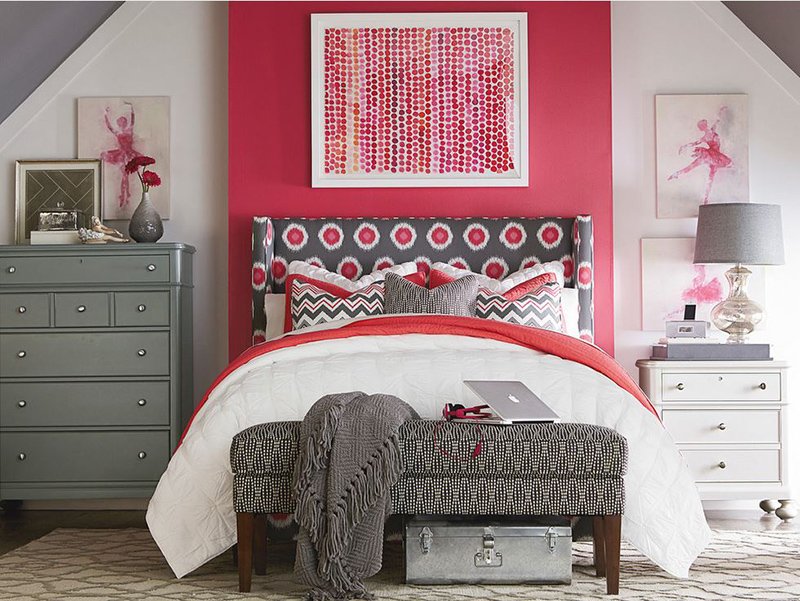 I love the eclectic vibe in this bedroom design. The pops of hot pink on the hanging on the headboard create afun and coordinated look with the frame hanging above it. The gray accent on the dresser, lamp, throw and the bold, exciting prints on the pillowcases, area rug and the bench bring balance and calming tone that is elegant and classy.
17. Fiddlehead Design Group, LLC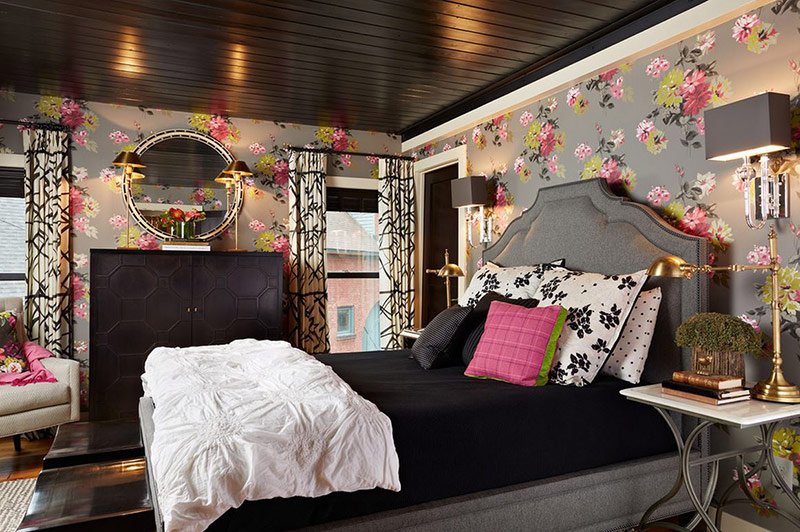 I love how the vintage floral wallpaper grace in this bedroom interiors! The beautiful contrast of gray and pink on the walls was made more dramatic and edgy with the black accents on the ceiling and beddings.
18. Country Club Project Remodel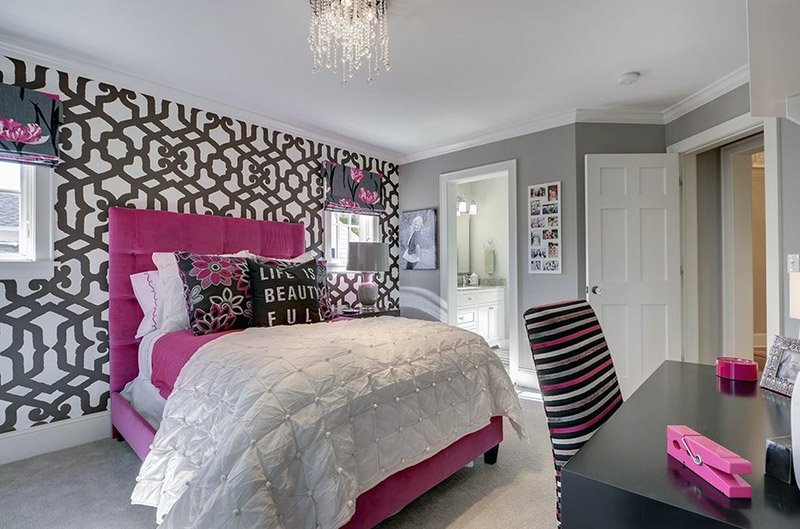 Fun, bold patterns in geometric and floral make this bedroom standout and glamorous. The light gray wall ties all the different patterns and pops of colors together creating a unified look.
19. Clean Design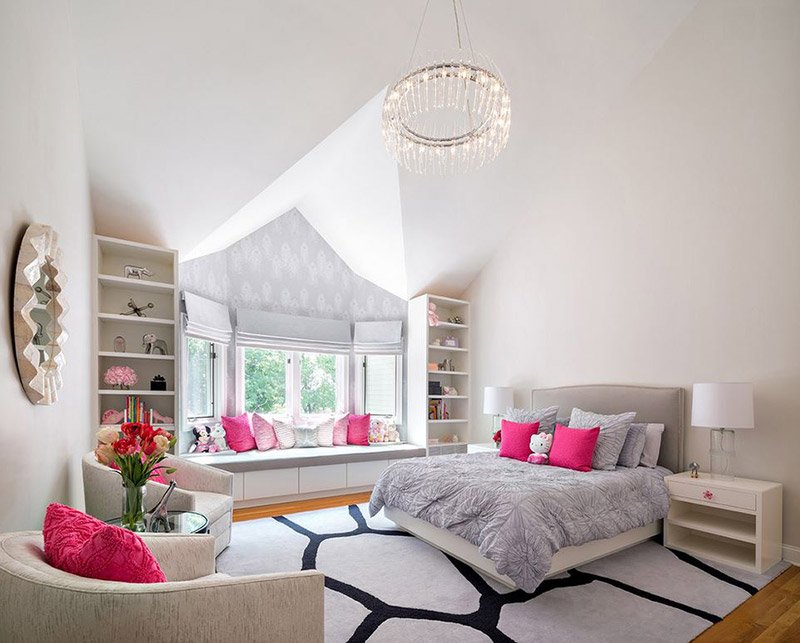 This high vaulted ceiling bedroom looks so airy and relaxing. The walls are on neutral color creating a beautiful backdrop for the pink and gray color scheme elegantly gracing in this space.
20. Rayna Marz Interiors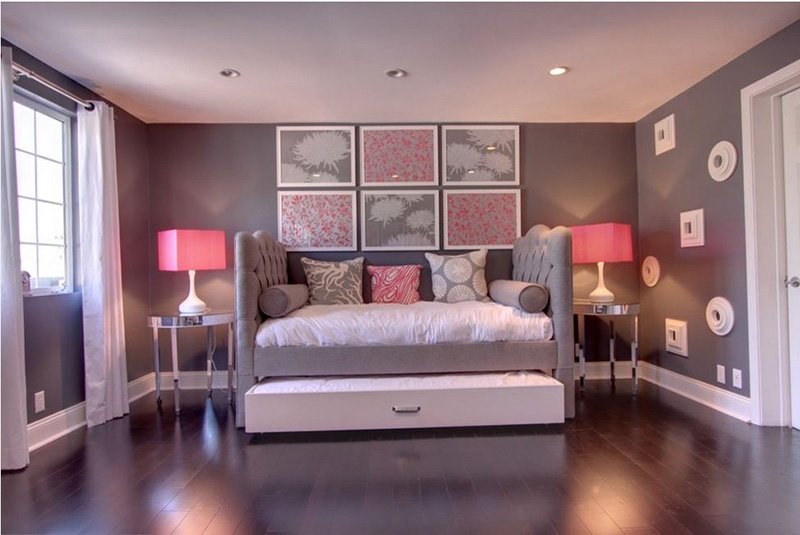 So chic and glam!The gray walls create a sophisticated ambiance while the witty vibe of pink on the lamps and wall decor lend a youthful and modern vibe.
There you have it, our list of amazing pink and gray bedroom designs! You see, there are so many ways to update your room with this beautiful color combination. You can paint your walls with it, create an accent wall with different patterns that can be striking and stunning or just use wallpapers or wall decals. Any of those things will still result in an exquisite outcome. You can keep it simple by choosing one color for all of your walls and add accents using the other.