20 Stunning Parquet Flooring in the Bedroom
For sure you have seen many spaces with a parquet flooring but you'd appreciate it more after seeing this.
Like paisley, parquet is one word that I know what looks like but needed a dictionary to explain to me what it actually looks like. For most people, I would assume that we have the same dilemma and I think it's just fascinating that we always have somewhere to double check. Today, we have a list that would showcase how stunning parquetry actually is.
The word 'parquetry' was first used in 1842 and that is one amazing fact that you have to remember when you see this design because you know that even when this is something first used a long time ago, we still have it in today's design industry. Not everyone is amazed with parquetry, but I think this list could actually make you change your mind – take a look at how this beautiful patterns look in each bedroom and tell me you are not enthralled one bit.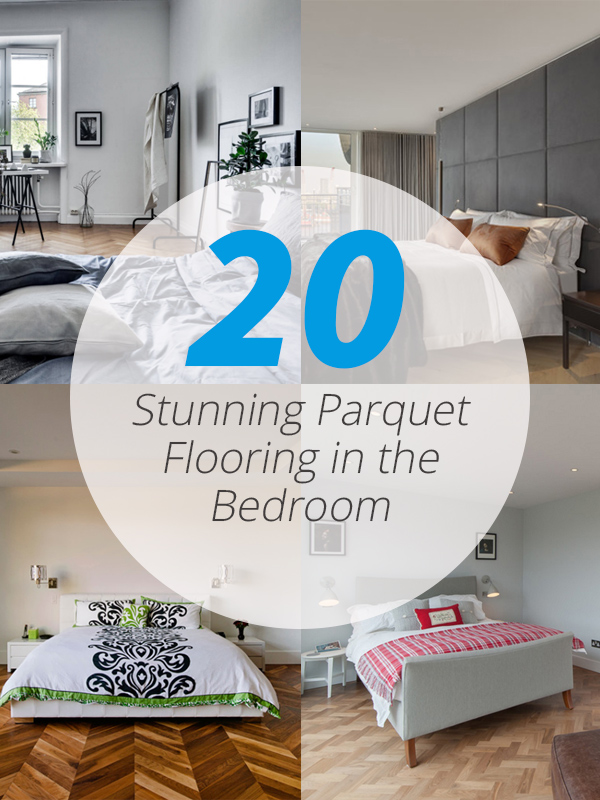 1. Bermondsey Wall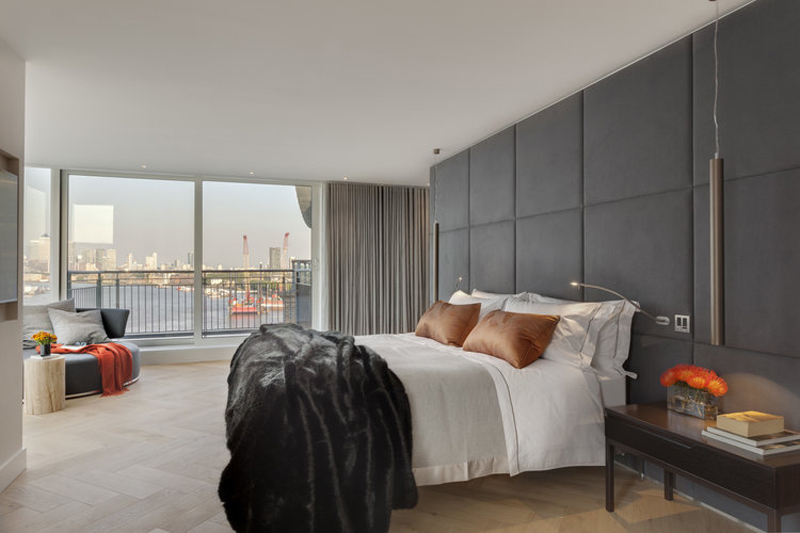 With treated walls like this one, I think whatever noise the other room has, this room won't hear, and vice versa. Stunning bedrooms like this one always deserves a view that this has. I can surely say that this home is pretty awesome to live in.
2. Bristol Circle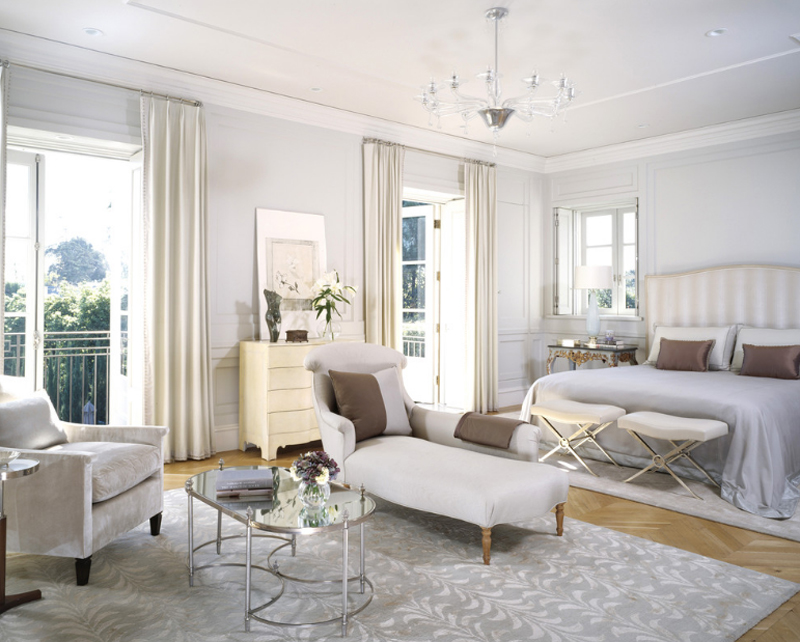 There might be minimal contrast on the colors with this bedroom, but there is even just a little bit that is why it is pretty cool. This bedroom shows us how sophistication can be seen in minimal details but with the right amount of class; and this is what this bedroom has.
3. Appartement Quatre Septembre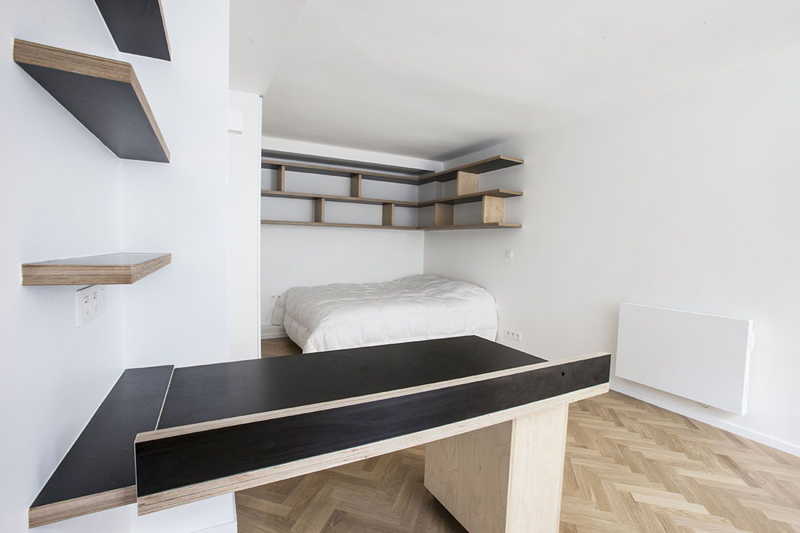 I know that this bedroom has nothing in it except the bed and the shelves, but you can definitely see the awesome pattern done with the flooring! The light colored parquet floors look really beautiful and without much inside this room, you can definitely say that it's the center of attention in here.
4. Holly Bush Lane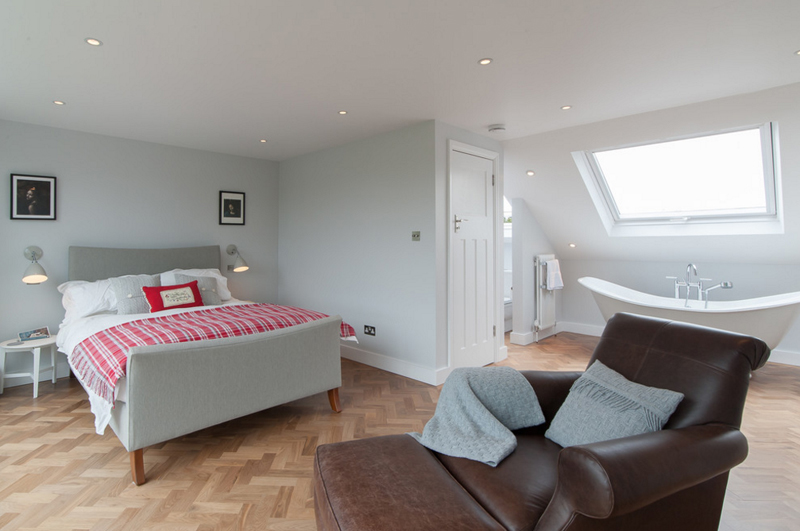 This project sure looks wonderful even when you think that it's quite simple. Looking at the interiors, we see plain walls and ceiling, but they made sure to pay attention to the flooring and the stuff they actually placed inside here. Even when this bedroom looks a bit masculine, adding the slender tub softened the theme of this space.
5. London Scandinavian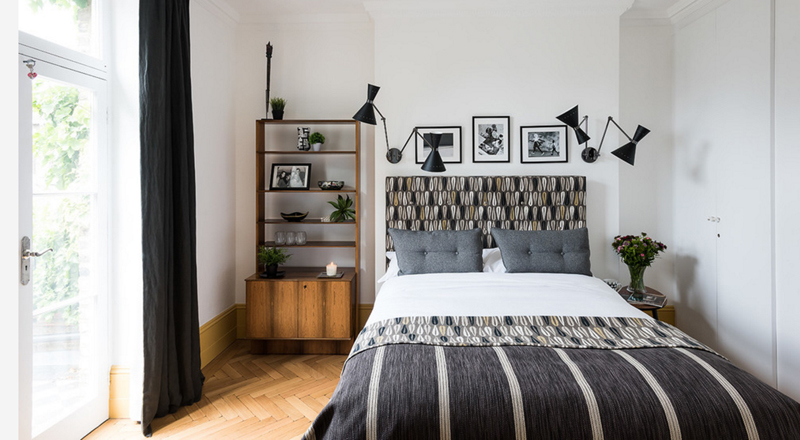 Look at the details on the headboards and on the bed sheet! They're the same, right? I mean, I think the owner of this bedroom might have multiple copies of this bed sheet because they have the same prints on the headboard! I mean, it does not have to be that way all the time, but it sure would look perfect if this bedroom has matching linens and headboard!
6. Penthouse Suite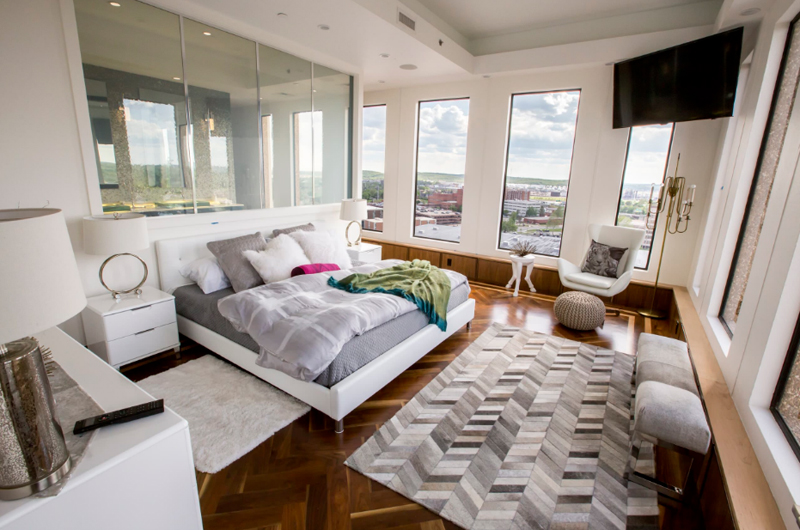 What do you think about having parquet flooring and parquet-inspired area rug? Pretty much overboard? It's a good thing that they have different colors and it seems like a bit of a theme in a way – and if you notice, it's just the flooring that is in brown, so in a way, it actually stands out too!
7. The Bradner Residence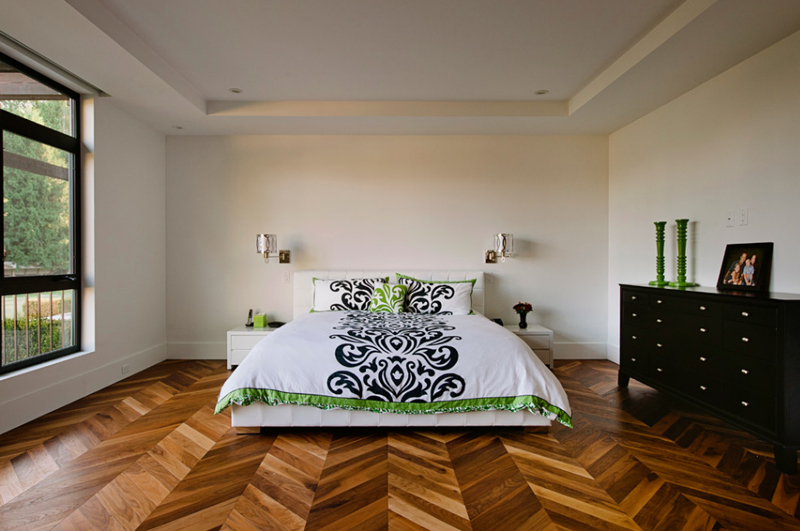 This bedroom looks incredible! Look at how large the bed and the fact that this space has almost nothing aside from it and the night stands and the drawers on the side! Colors used in here are simple and pretty much direct to the point – this is one bedroom we should actually aim for! If you notice, there is not even a chair – you come here and sleep, that's about it. I totally love this one!
8. Paris Bedroom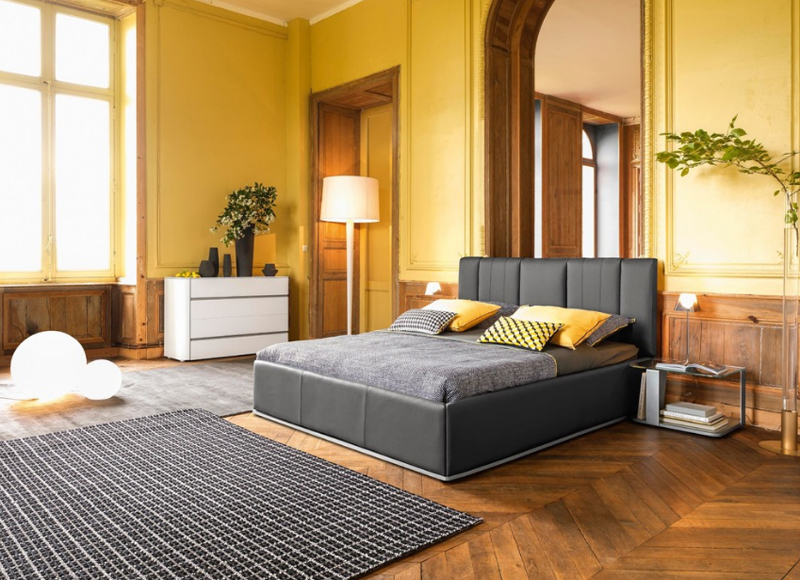 This Paris bedroom is definitely one stunning bedroom! Just from the height of the ceiling, you can tell how large this house is and how expensive it must be to live in this home – which sure looks like a mansion or something of that sort. Pretty wonderful!
9. Appartement Louvre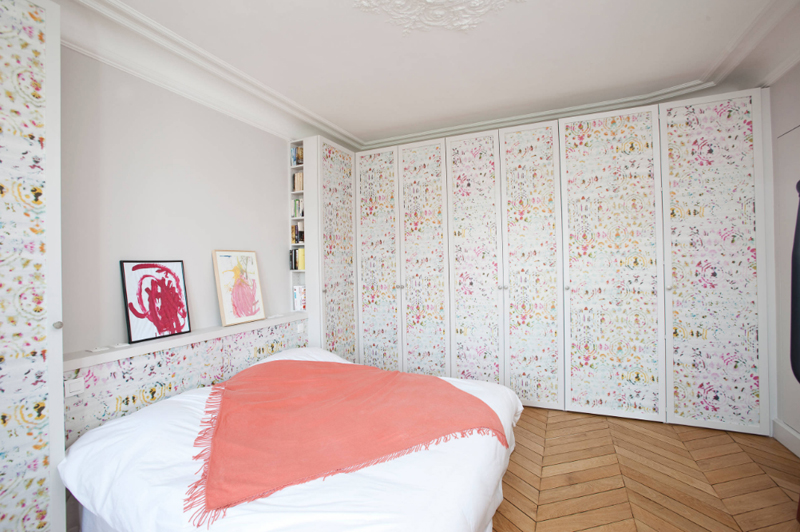 Without a doubt and any thought, we all know that this bedroom belongs to a woman – definitely because of the color! Okay, there is a slight chance this could actually belong to a fabulous person into arts and design – still, I think this bedroom looks incredible and out of this world beautiful!
10. Private Home Wicklow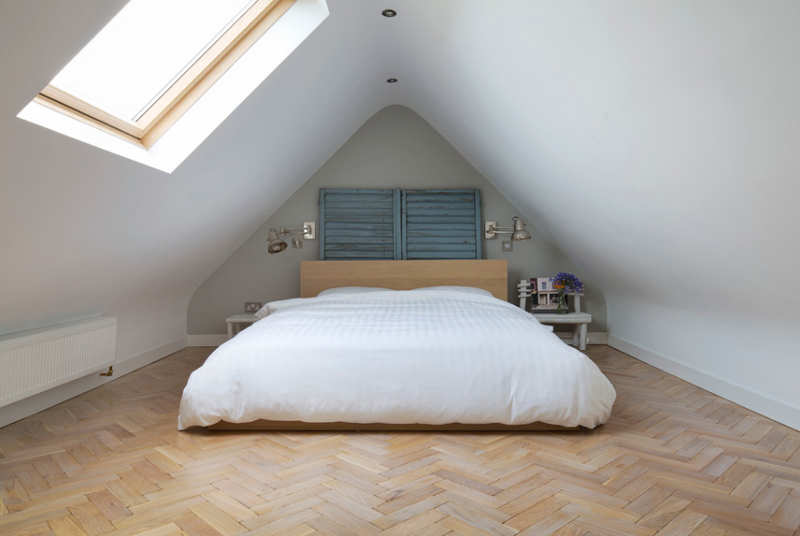 This might be one of the coolest bedrooms we have on this list. It's in an attic obviously but it looks a bit more hip than some of the common attic bedrooms we see on magazines of TV. I love the flooring and the skylight and the fact that this space is created for rest and that it has higher ceiling than normal attics too!
11. Chevron in Blonde Oak, Marylebone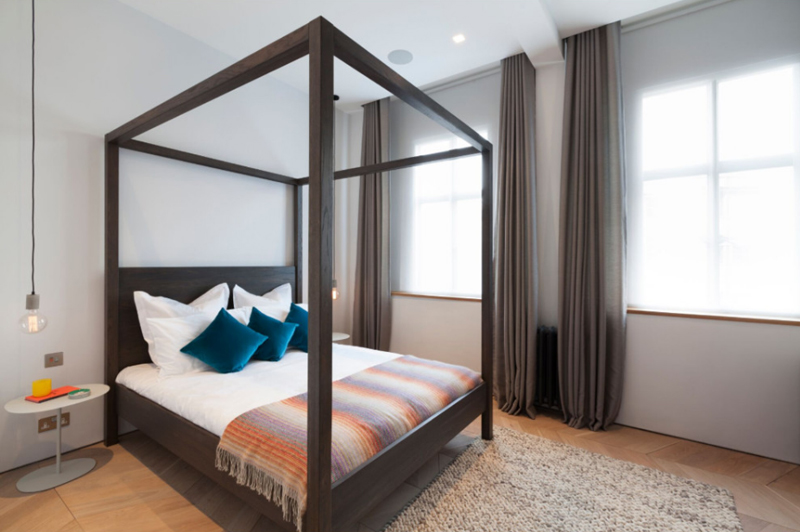 I feel like I haven't seen a four poster bed in a while; I meant this in a list kind of way – I have been writing a couple of lists about bedrooms and I can't quite recall when was the last four poster I have seen. Anyway, look at the flooring and just admire its beauty like everyone does!
12. Ambler Road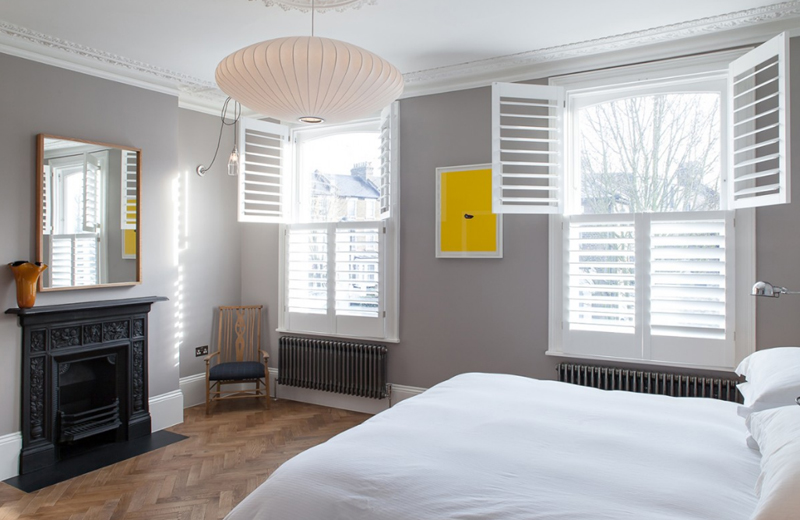 I was unable to capture the beautiful base of the pendant light in here; the color is just fascinating and pretty and the design is just something I would not actually get tired of. It is possible that this bedroom was not intended to be vintage, but because of the existing feats in it, the designer could have created it into one – totally amazing bedroom!
13. Longchamp Street Apartment in Paris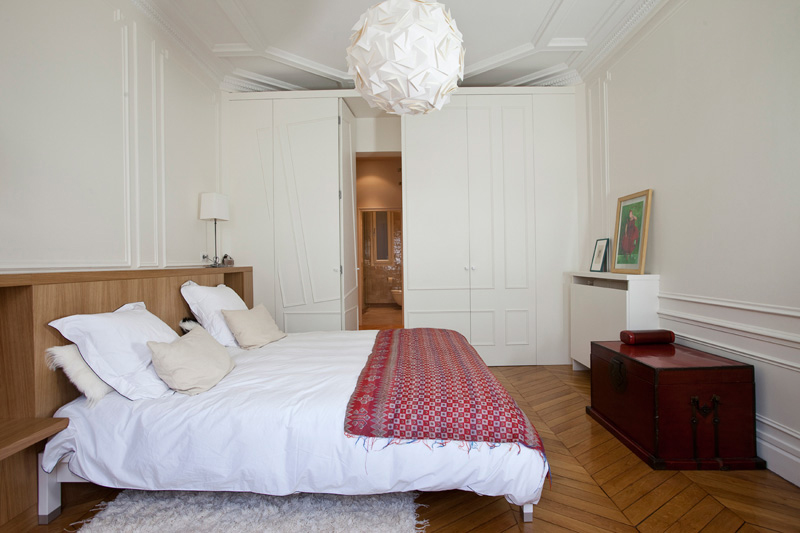 The way the pattern on the flooring was done is exquisite! Because it's a bit darker, the white walls and the beddings look incredible against it! The decor (I am not quite sure if it's a pendant of just a decorative lantern) on the ceiling in the middle of the room is quite lovely – perfect for the space, really.
14. Rockwell on Sunset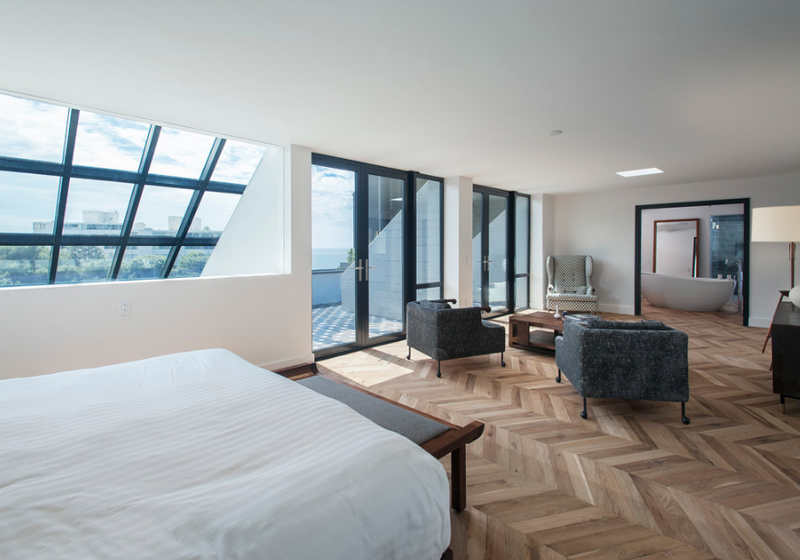 The color of the parquet flooring in here is quite amazing for me! Notice the contrast on the colors? Pretty lovely right? With this flooring and the awesome furniture, I think this bedroom is something worth the stare for this list!
15. Sunset Pacifica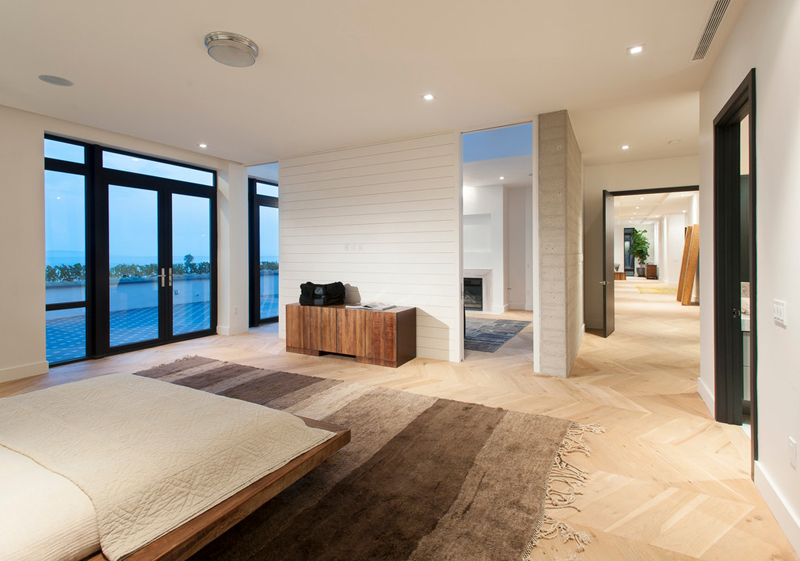 When I saw this bedroom, I thought to myself that this space might belong to a really large home – and well, check out that hallway that leads outside of the bedroom! It sure looks long and wide, right? Anyways, what do you think about large spaces that practice minimalism?
16. Rough Hollow Master Suite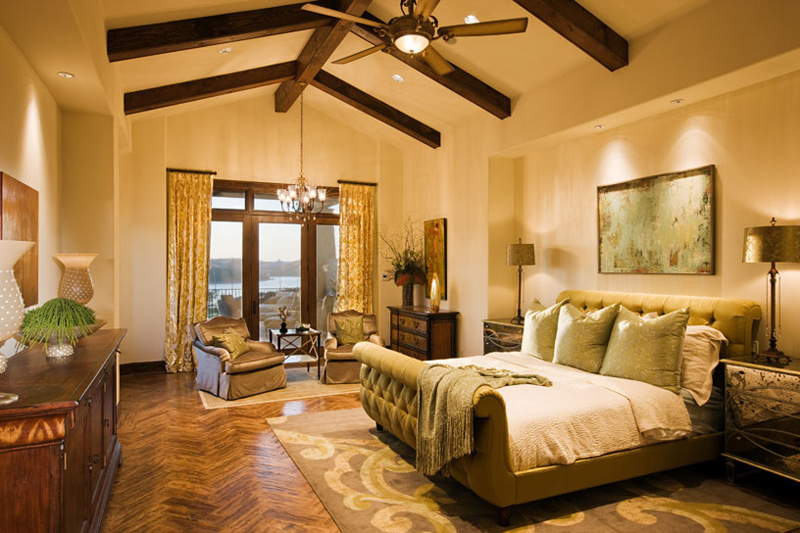 It might be just how this photo was actually take, and not because it is in fact the color of the lighting in here, but I think that this bedroom feels almost too comfortable! The ambient lighting is just too scary because it's quite possible that the owner of this bedroom finds it hard to actually wake up in the morning to actually go to work or something.
17. Bermondsey in London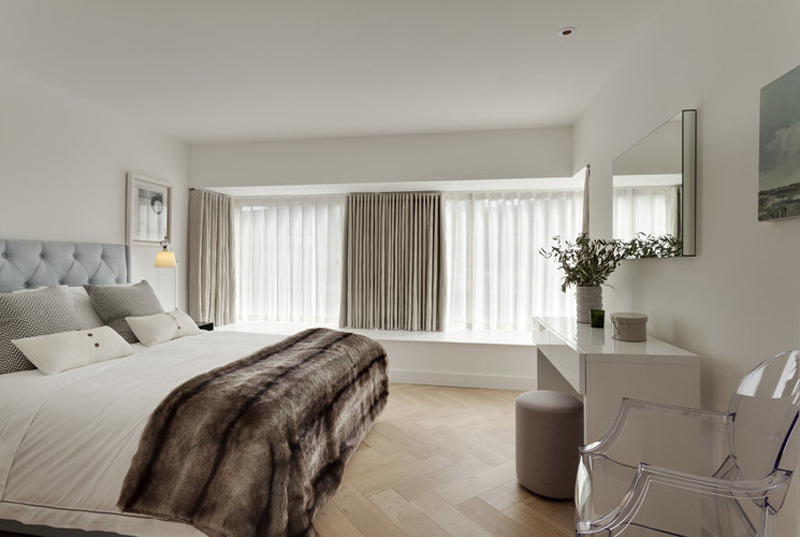 If you ask me, yes, this bedroom looks like something a decent hotel room would look like – and this is a house, so this could pretty much be heaven for me, I mean, don't you think so too? Pretty stunning place for a bedroom and the aura of this one is just out of this world.
18. Vanadisvägen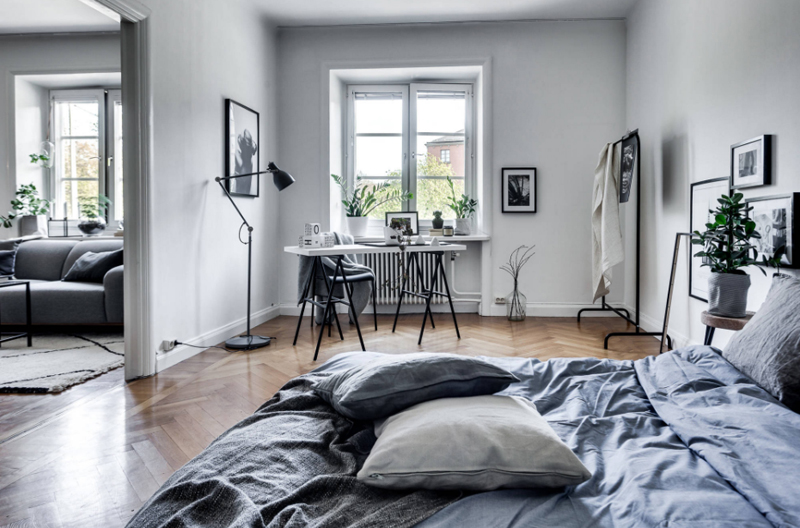 I have always been a fan of loft-type spaces and this one sure looks like one of them. The overall theme is quite interesting and amusing for me because of the color palette which reminds me of black and white television – this sure is not black and white but could really pass as one! The flooring is definitely a stunning choice as well as the metallic choices for furniture and decor!
19. Solano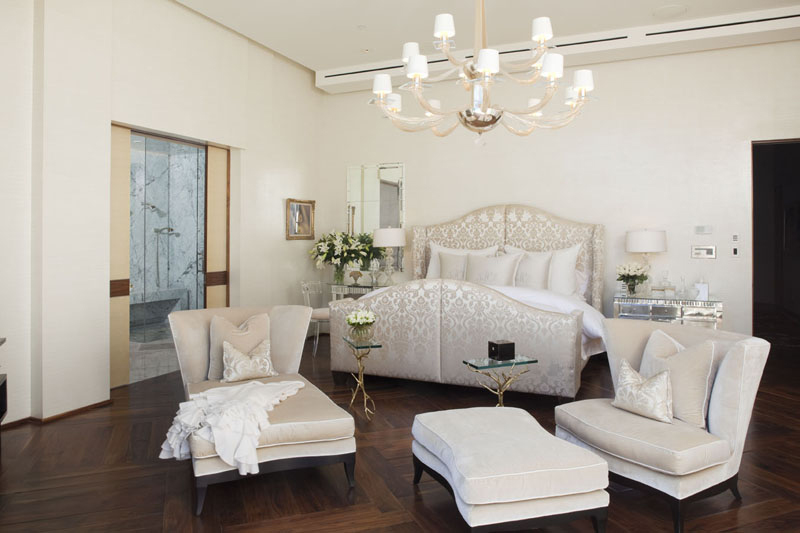 The dark floors make the off white furniture all stand out! If you notice, this entire bedroom is in dirty or off white and the theme is quite old world – somehow romantic; using the parquet flooring made the entire thing really come together.
20. Peter Hassler Bedroom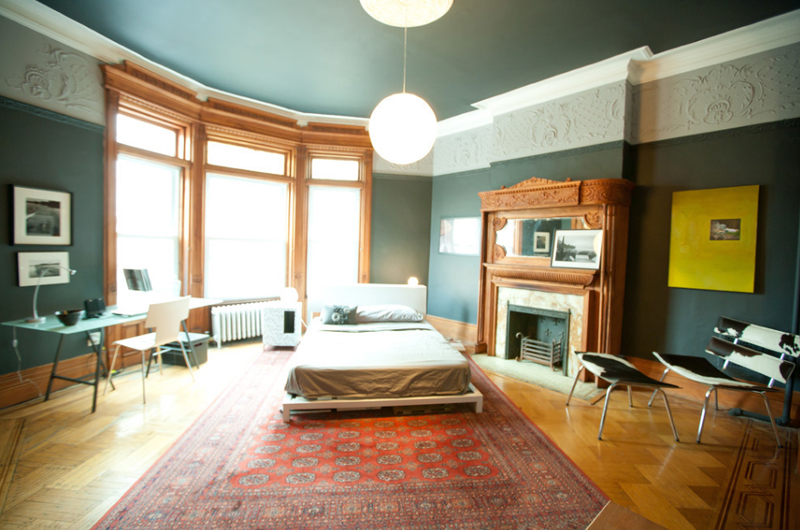 This bedroom is one large space to begin with and the use of old generation things make it all work – the old type of heater by the window, the relief below the moldings and the parquet flooring, I think this is one awesome bedroom to brag to your friends!
There you have it ladies and gentlemen, an amazing list of 20 Stunning Parquet Flooring in the Bedroom which I think is just too wonderful to ignore. The patterned flooring sure made quite a lot of difference in making each bedroom amusing, amazing and just perfect! The list above is something quite simple when you think about it but it is just as interesting as one might think; if you were a fan of this list, you should also take a look at the 20 Square Wooden Coffee Table in the Living Room list that we had, not too related, but I think the use of wood in your home spaces is just as fascinating as using concrete steel.