20 Bedroom Paint Ideas For Teenage Girls
As your little princess grows to a young adult she may no longer need the sweet fairy decals on her walls or that little bunny theme gracing in her childish room. She may ask some help from you in changing the mood in her room and be more like what she wanted it to be. She may want a more sophisticated look rather than being too girly or a minimal one. These wonderful changes are absolutely understandable. Your sweet little darling has grown to a young adult and although it breaks your heart a little, you are more than willing to help her.
That being said, you might wonder what are your options for a more grown-up look in your teen's bedroom? Your teen will tell you what color scheme she wants. Let her layout all the things she wanted to happen in her room. The decor she wanted to use, theme she desires and the mood she wanted to evoke in her space. These ideas are all nice and it will be your pleasure as parents to be able to give it to her. However, if you are working on a budget, the easiest and cheapest way to update her room is to repaint it. And we have here 20 Bedroom Paint Ideas For Teenage Girls that might fit for your young lady.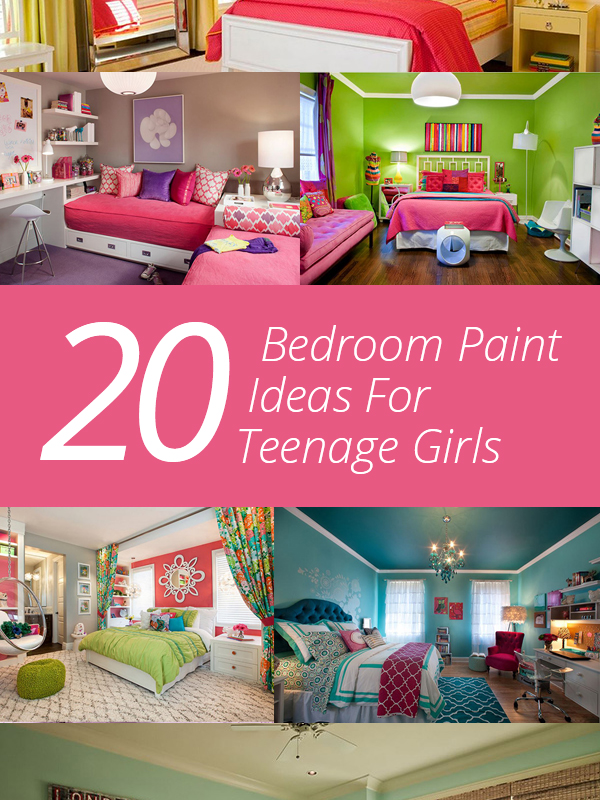 1. Turquoise And White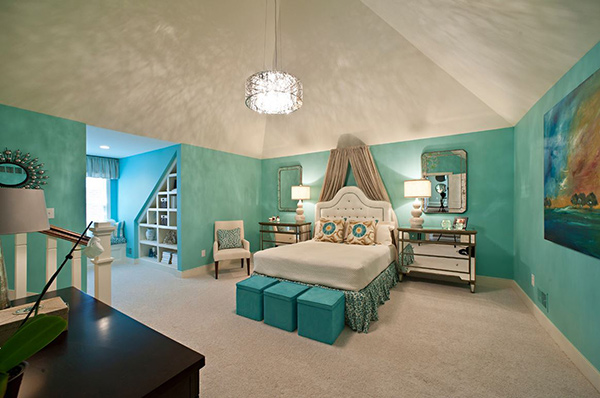 Turquoise walls enliven this room and when paired with pure white it creates a well-balanced, yet fun space for your teen.
2. Lavender And Gray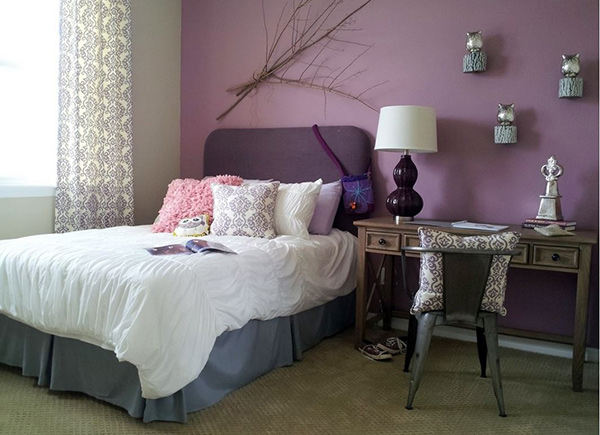 If your teenage daughter loves lavender, then you may consider getting a lavender and gray color scheme like this bedroom design. It gives a soothing and inviting atmosphere while keeping its feminine flair. The use of metallic surfaces or decor creates an industrial vibe that is sure to bring interest to the room.
3. Neutrals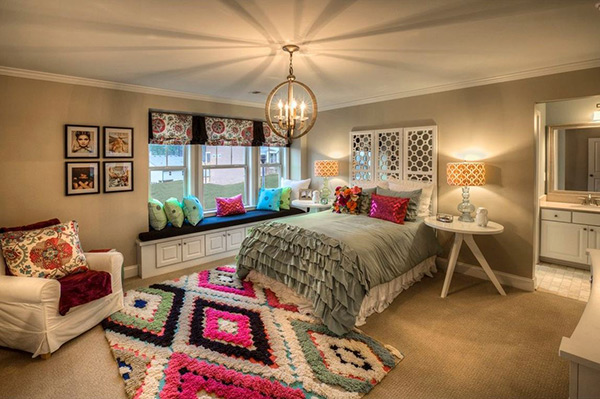 Muted neutrals of grays and browns are great canvas for a mix of vivid colors in bedroom accessories. Any teen girls will love to have this room!
4. Coral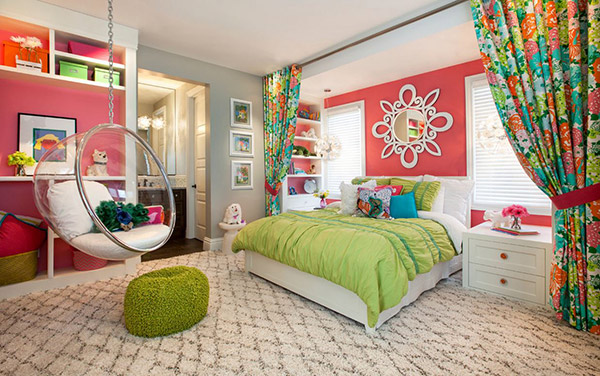 The vibrant coral walls create an exciting backdrop for the pops of other bold colors in this room. It accentuates the appealing patterns, striking colors and textures, perfect for a young, spirited teen.
5. Aqua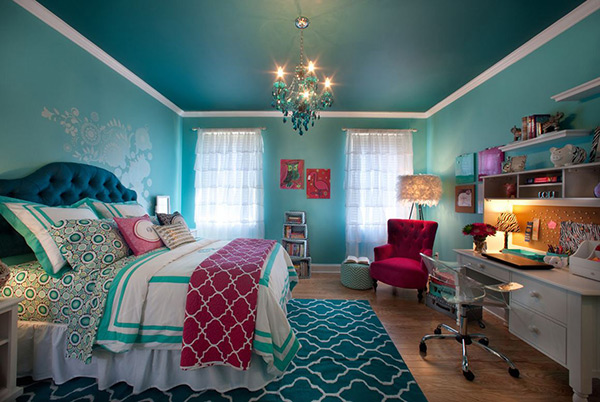 The aqua walls gracing in this bedroom highlights the glamorous furnishings in this teen's bedroom. It gives a sophisticated touch and contemporary feel in the space.
6. Soft Raspberries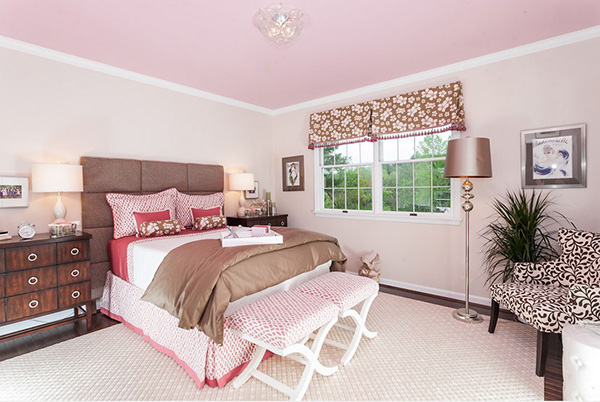 I love the softness that is going on in this bedroom design! The combination of warm browns and soft raspberries make this room tranquil and feminine.
7. Muted Teal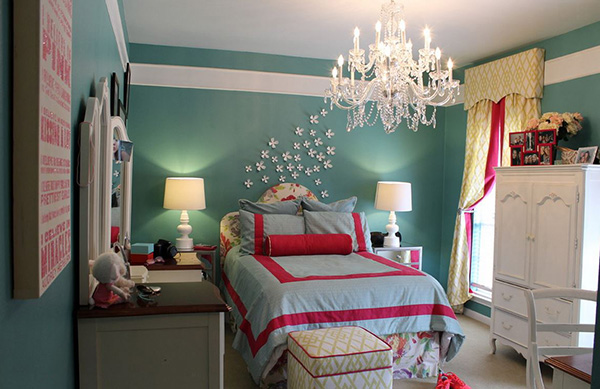 This Hollywood Regency bedroom with a touch of classic style is made glam and sophisticated with the muted teal and white palette.
8. Eclectic Lime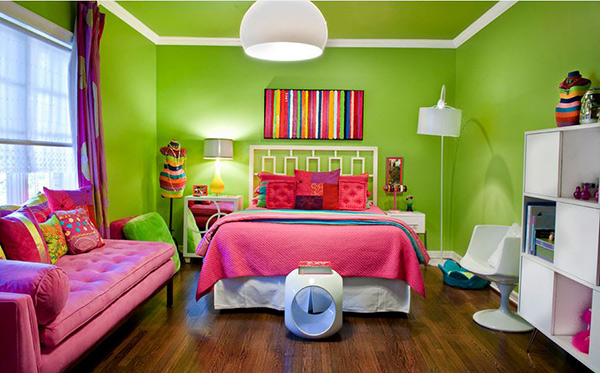 Lime walls make a stunning background for fun, vivid colors, rich textures and patterns. This bedroom design is full of positive energy that is refreshing and the bold colors are not overpowering which is suited for your free-spirited teen.
9. Pinkish White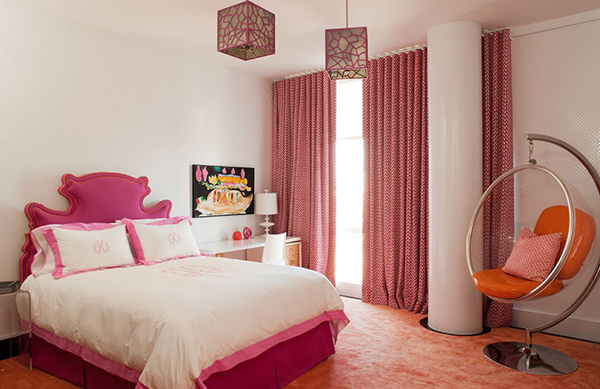 If your teenage girl gets overwhelmed with bold colors easily, then you might want to consider a wall color that mixes with white. Any bright color when mixed with white gives a soft and soothing appeal like this pinkish white walls in this bedroom design. It paves the way to feature vivid-colored-furnishings and still get an inviting and relaxing feel.
10. Powder Blue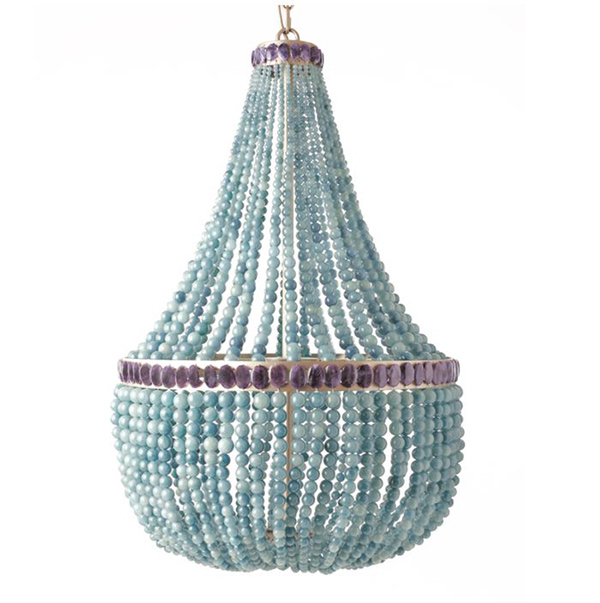 The powder blue walls made even more beautiful with the pops of green, purple and pink from the bedroom accessories. This fabulous traditional bedroom design is sure to bring whimsy and charm to your teenage girl.
11. White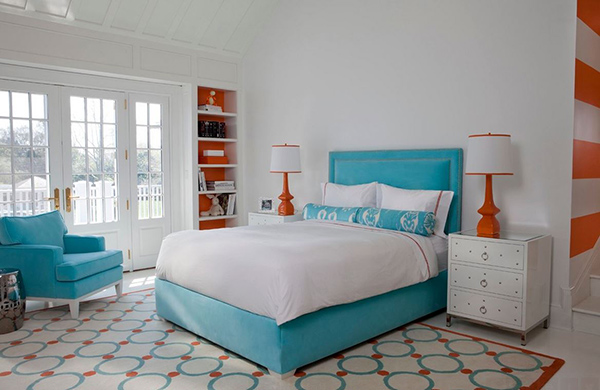 The crisp, white walls brings a contemporary feel to this room. The contrasts of bold hues- orange and blue and geometric-patterns against the white scheme gives interest and cohesive look to this bedroom design.
12. Hot Lips
Hot pink makes a fabulous accent wall. Highlighted by Benjamin Moore's Cloud White, this hot pink featured wall grab the center stage framing the glam, turquoise bed and the reflective chrome dresser giving the entire space a fascinating and elegant look.
13. Navy Blue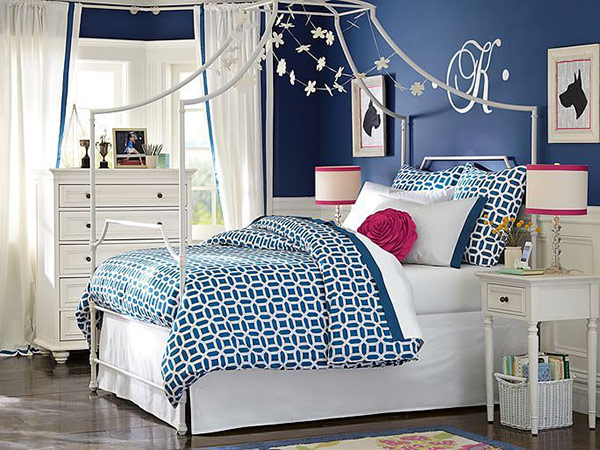 Lend some drama and interest to your teen's bedroom interiors by using a deep, navy blue palette. Create nice and soothing contrast with the help of white hues on the furnishings and accent items.
14. Mint Green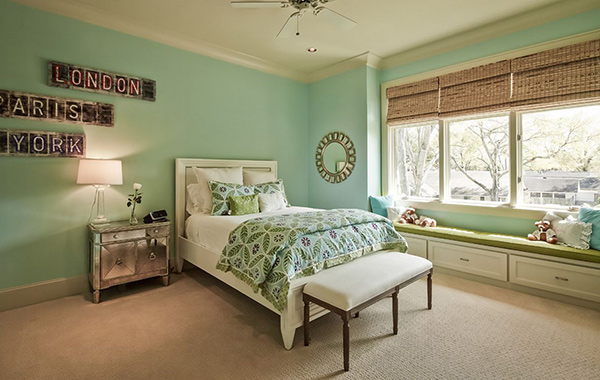 For a more calming and refreshing look match white with muted mint green palette. It will definitely give your teen's bedroom a dainty and serene atmosphere.
15. Coral And White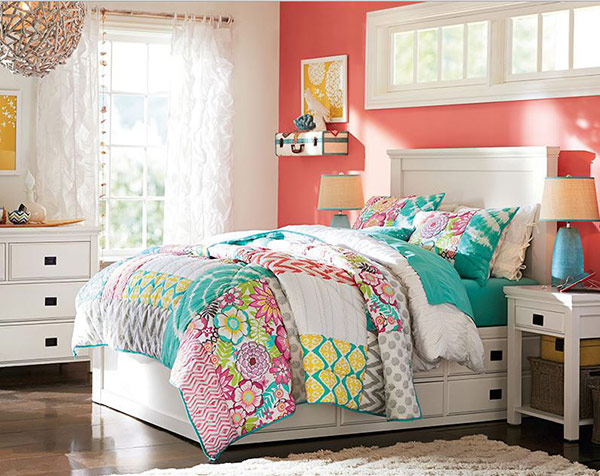 The bright coral wall accent creates a bold focal point, and to keep an easing effect and not overpowering pair it with white and neutrals for the interiors. Add interest and fun mood with the help of colorful patterns and stunning textures on beddings and other accessories.
16. Tiffany Blue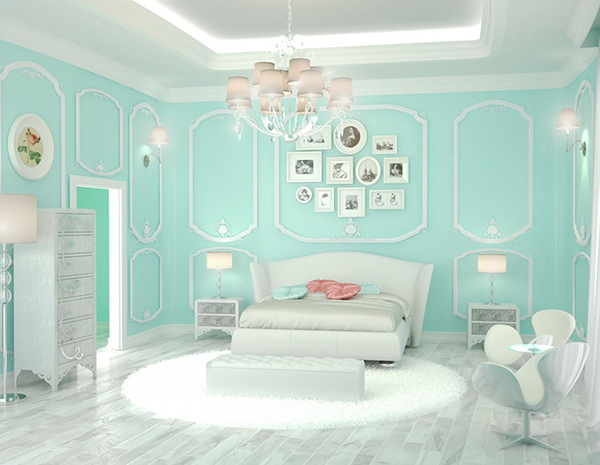 Tiffany blue is a refreshing hue that is cool and comforting. It brings class and elegance in your teen's bedroom design with a feminine touch.
17. Brown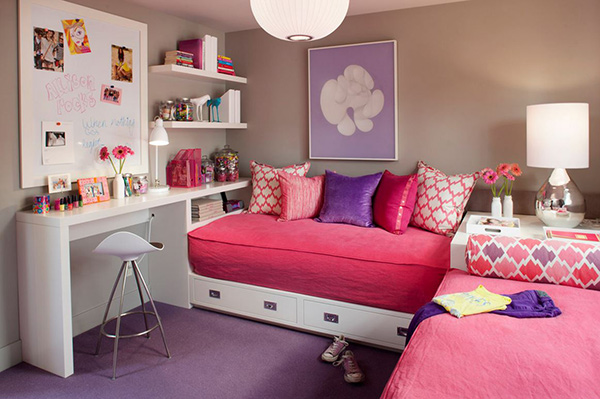 The warmth of brown makes a space restful and inviting. Use bright pink and purple on accessories with bold patterns to create interest and style.
18. Pink And Purple
Pink is popular among girls kids and teens alike, even grown-ups like pink! This almost-all-pink bedroom design is perfect for your teenage girl who loves this hue. It gives a playful and feminine flair while exuding drama and sophistication. The pops of purple and red bring glam and the mix of bold patterns and textures give interest.
19. Sweet Teal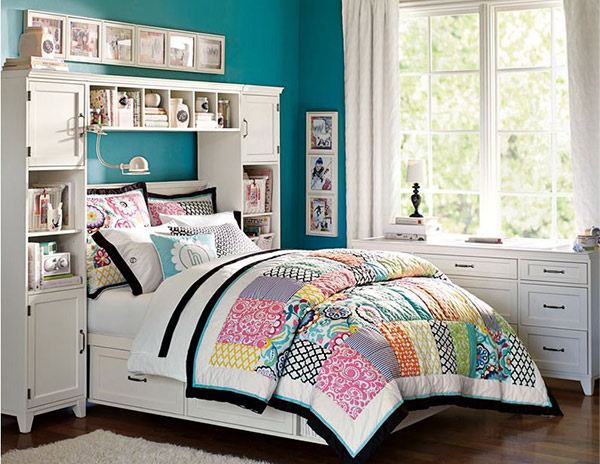 Teal for an accent wall is perfect to frame the off-white centerpiece furniture. It create a chic look and brings a modern touch to the space.
20. Buttery Yellow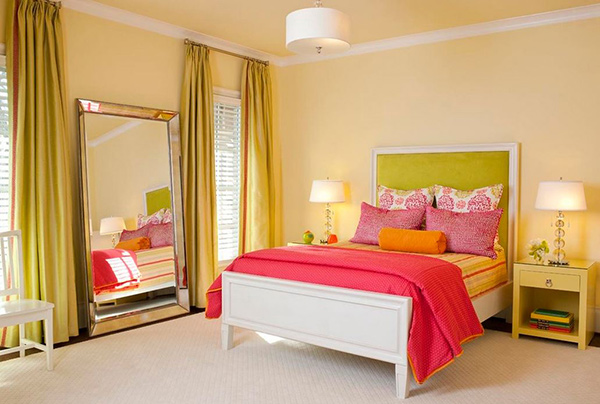 The muted yellow enveloping the entire space makes a dainty and calming retreat for your young lady. This simple yet appealing bedroom design has absolutely no trace of childish imagery. The full-length mirror is a must-have for all teenage girls in their room.
There you have it, our 20 bedroom paint ideas for teenage girls. I hope you were able to get ideas on what color to use for your teenage girl's bedroom. It easy if they know what color they want, but if they are unsure I suggest you stick with neutrals. It is the safest and relaxing palette that can grow with your teen to adulthood. Time flies so fast, so take every chance you get to do meaningful things with your children.