20 Yellow Duvet Sets for a Happy and Gaiety Bedroom
What adds more color and beauty to our bedroom is the duvet set. These would come in different colors and prints that will bring excitement to a bedroom. I love to see lovely duvet sets and bedding sets because it could change the look of our bedroom in an instant. If we want to update our bedrooms, a new duvet set could easily give it the kind of look you want.
So, today, we will give you a list of yellow duvet sets that will make you feel happy and gaiety because of its bright color. Yellow is the color of the sunshine, lemons, egg yolk, and could add a lively feel to wherever we add them. It is even associated with joy, happiness, intellect, and energy and it gives a warming effect that tends to arouse cheerfulness and stimulates mental activity. Most of the duvet sets have other colors as accents to yellow and it just added to the beauty of the bedding set. If yellow is your favorite color, I am sure that you will fall in love with these duvet sets that we are going to feature today. Come take a look!
1. Selina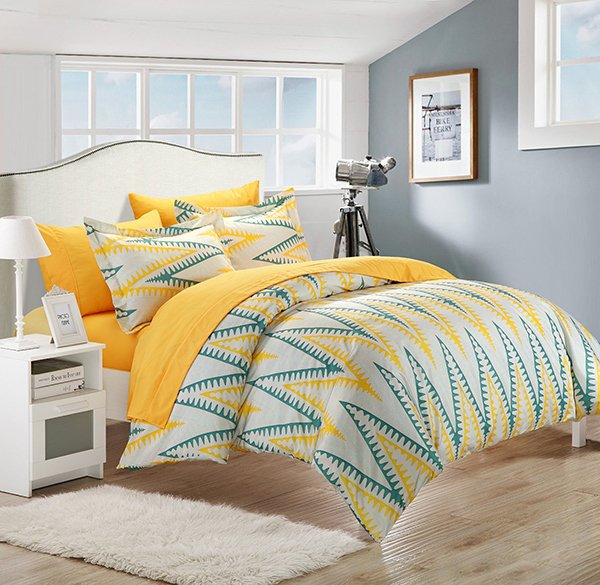 Look at the combination of yellow and green in this geometric duvet set!
2. Dandelion Mobile Duvet Cover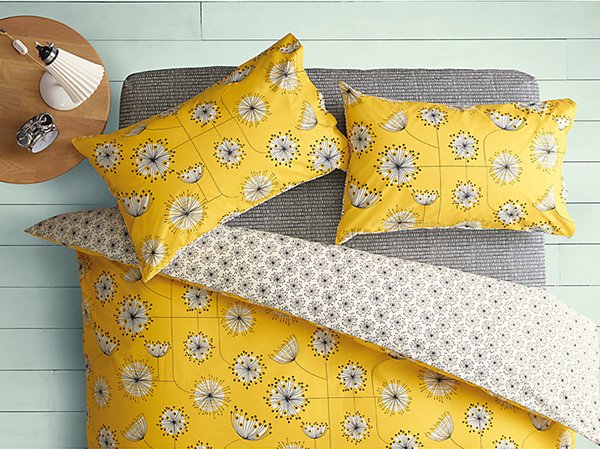 Sketchy dandelions are printed on this one for a charming bedroom bedding set.
3. Christy Okame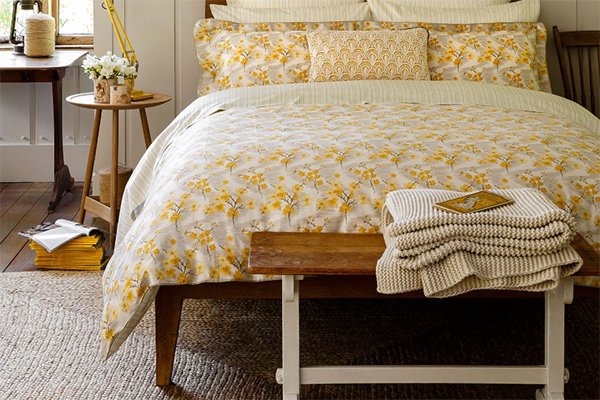 You can also add some fresh feel in your bedroom with this floral fabrics.
4. Copleyn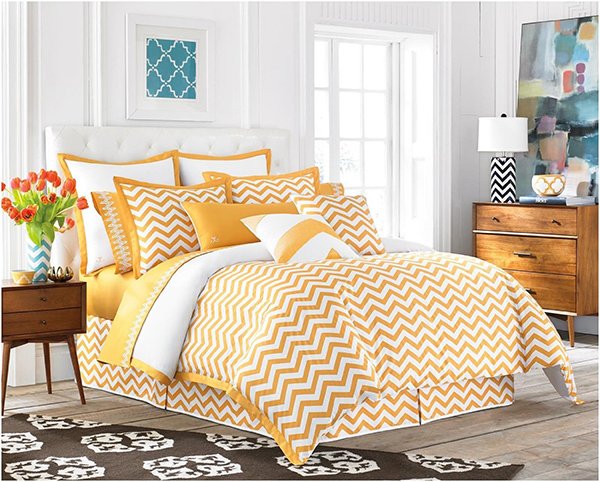 Oh you chevron is love love love especially when they are yellow!
5. Polka Dot Duvet Cover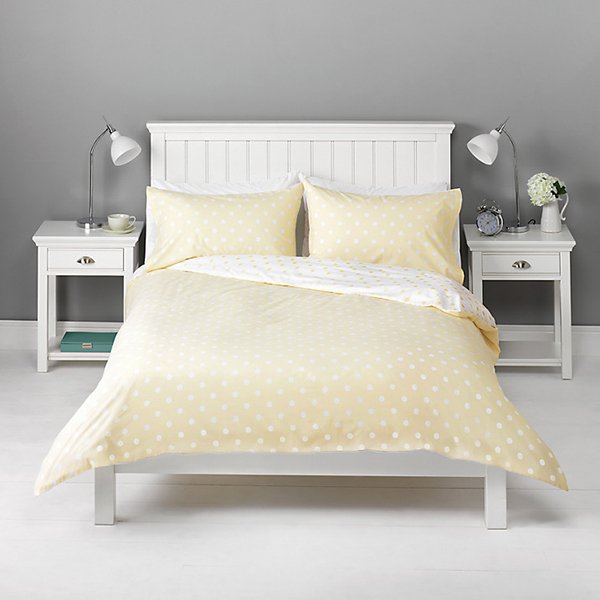 A light yellow polka dot cover would send you to dream land!
6. Traditional Yellow Duvet Set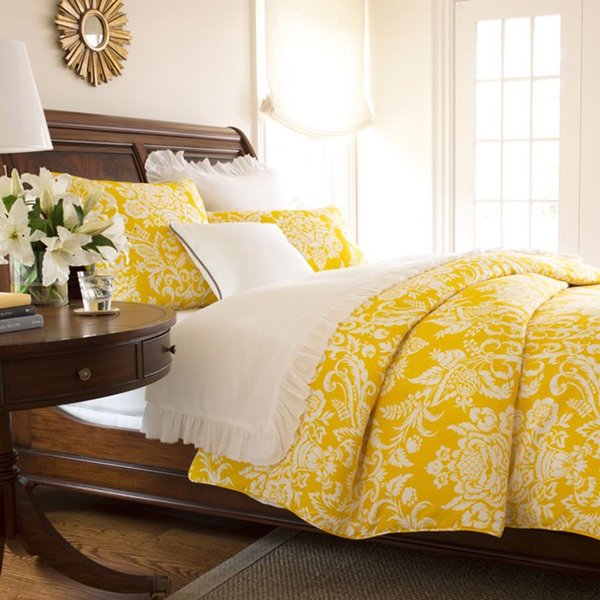 Intricate white floral swirls on yellow would definitely be stunning.
7. Happy Chic by Jonathan Adler Lola Comforter Set & Accessories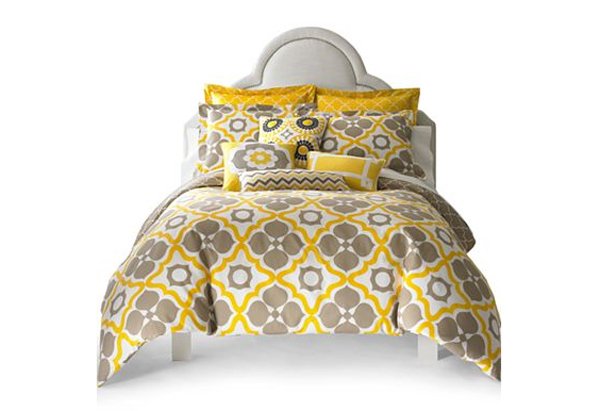 This has a modern take on flowers and geometry in yellow and gray.
8. Dot Dash Duvet Cover and Pillowcase Set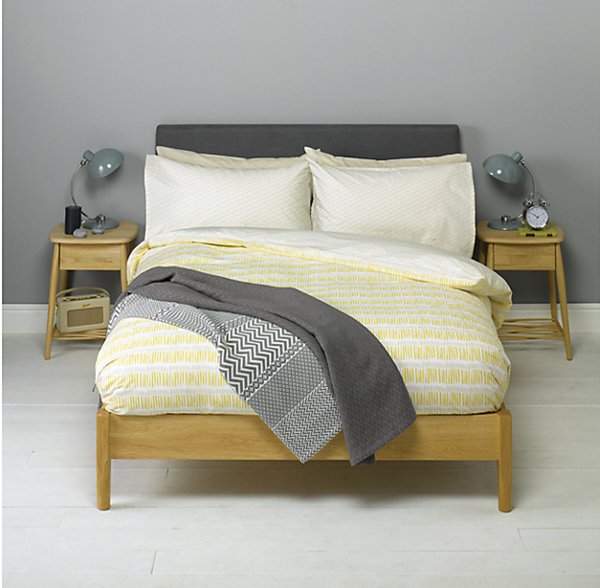 This is a nice look for a duvet set combining dash, dots and other lines.
9. Mizone Allison Twin Coverlet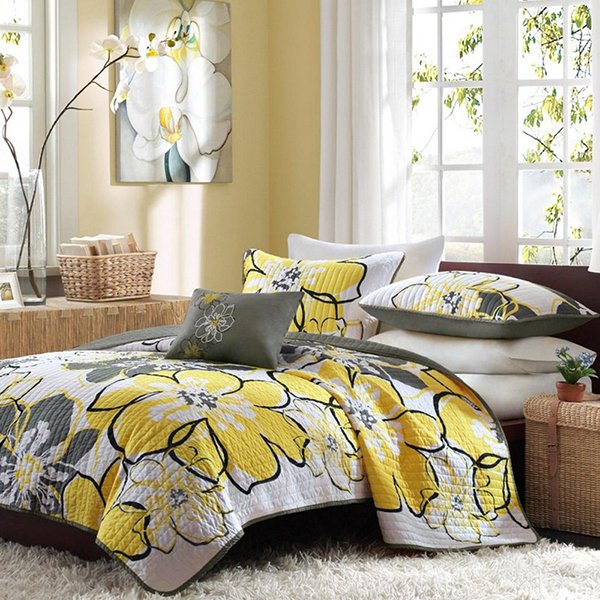 Huge yellow flowers with gray and white accents will make your bedroom pretty in bloom!
10. Amapola Duvet Cover Set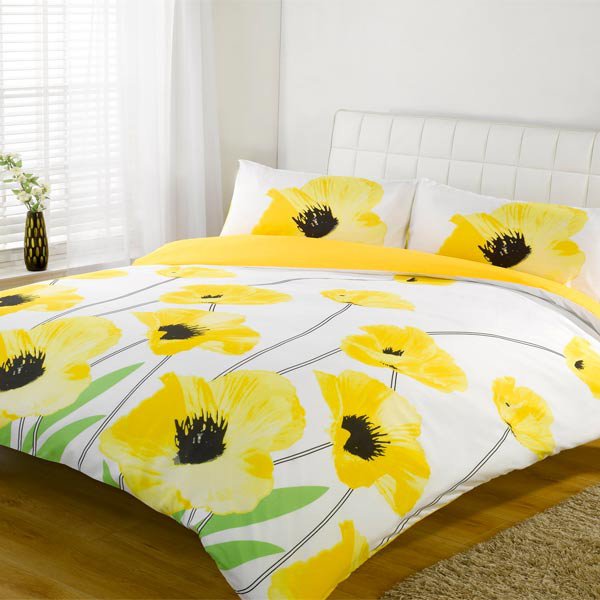 Talk about flowers and this large yellow flowers would make you feel like you are sleeping on freshness!
11. Yellow Curtains And Duvet Sets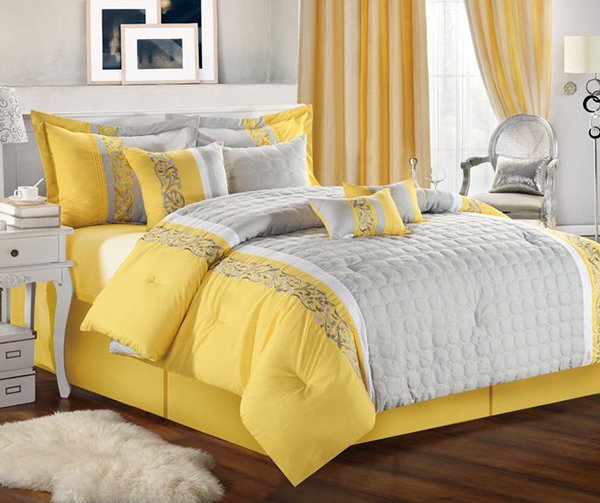 You'd feel inspired and yes, well-rested in a beautiful and comfy set like this one!
12. Marley Yellow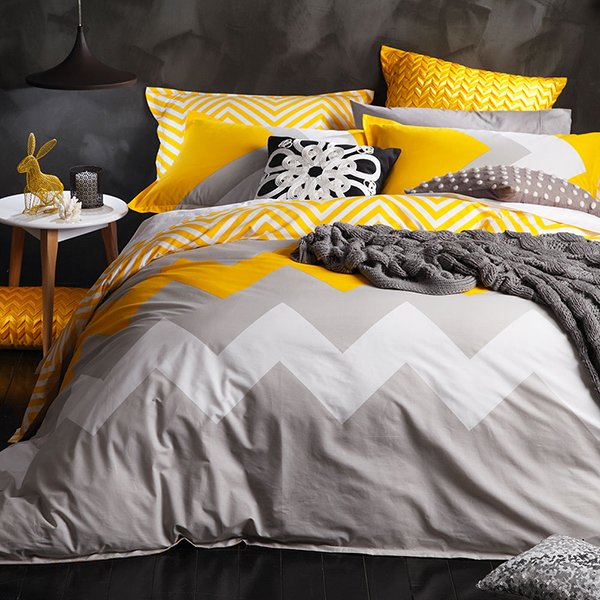 More chevron and yellows and grays! I so love this set. It looks so modern and stunning.
13. Rhodes Yellow Bed Linen
This one seem to have fractals or florals in yellow and black. What a combination!
14. Dreamtime Floral Duvet Set By Essenza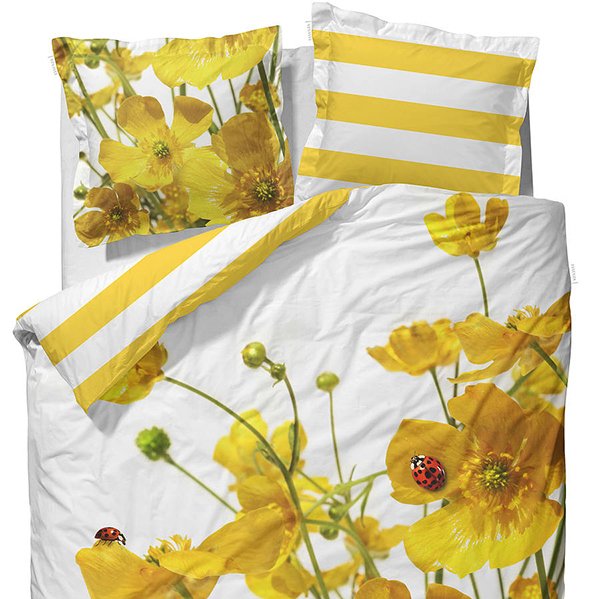 See those lady bugs? Don't they look real? Yes, they do because this set is a 3D floral duvet that is reversible.
15. Evergreen Yellow Duvet Cover Set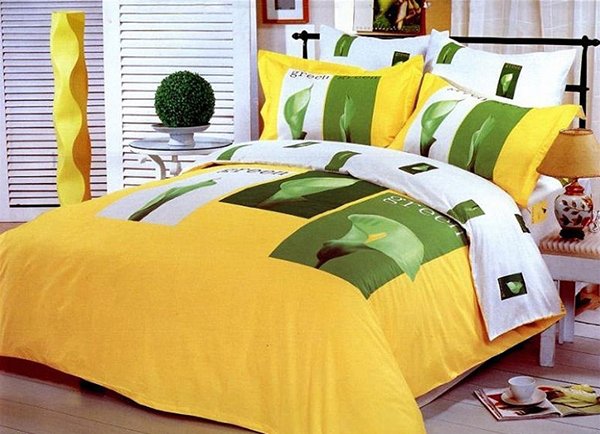 Brighten up your room with a cover with evergreen printed on yellow fabric.
16. Springtime Posey Duvet
Isn't this sweet? You can give your bedroom a cottage-y feel with this one!
17. Sun Flowers Floral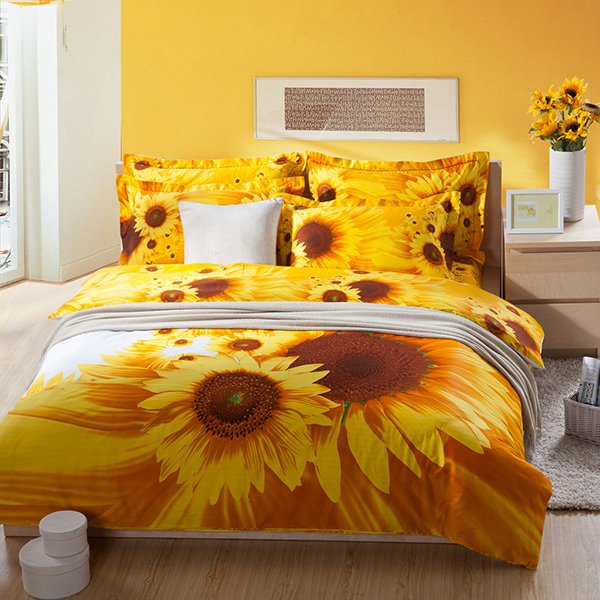 Sunflowers sure are yellow and when they are printed all over your sheet, you'd definitely feel mellow!
18. Saffron Yellow Quilt Cover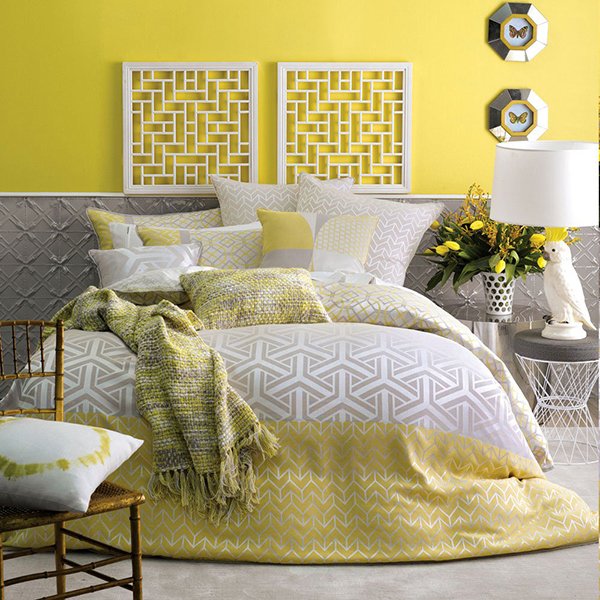 Catch a happy combination of retro shapes, sunny yellow and soft neutrals in this stunning set!
19. Chic Home Dorchester 8-Piece Comforter Set, Queen, Yellow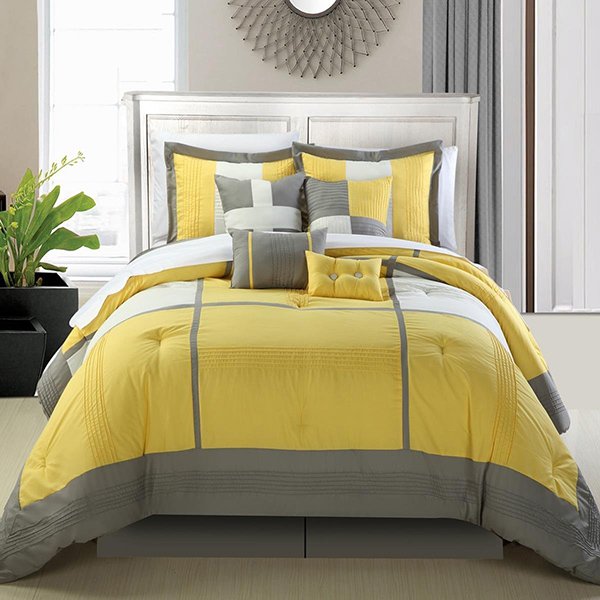 You can go simple with lines, yellow and gray with a duvet set like this.
20. Iris Reversible Comforter Set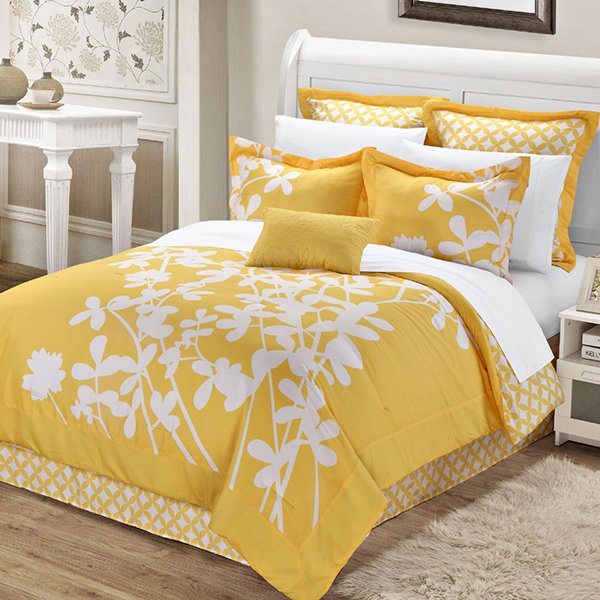 Wonderfully made floral silhouettes on yellow would be a pretty piece for the bedroom.
These yellow duvet sets are really pretty and charming! I know you agree with me especially if you love the color yellow. We have featured other duvets before too that are equally gorgeous and comfortable to use. We all know that aside from the color and design, it is important that the duvet set is comfy. So, before you get one, you have to check how it feels or if you are buying online, read the reviews of other buyers so you will know if it is the duvet set you are looking for.