20 Beautiful Make-up Table with Mirror in the Bedroom
Make-up tables or vanity tables sometimes is one girls' dream – maybe because she has one small space that owning one is somehow out of the picture; maybe she already has one in the bathroom that getting another one is just not practical or sometimes, having one is plain expensive – whatever the main reason why one woman does have her own make-up or vanity table is just saddening – of course, this problem is pretty much applicable to women who can afford one.
This is one great day to shop around or look for an inspiration for that dream vanity table you've always had – the list we have today is about 20 Beautiful Make-up Table with Mirror in the Bedroom that will surely cheer you up because of the wonderful choices available out there. Of course some of these are specially-made while others are bought ready-made, however you want your vanity tables at home, I'm sure you'd want to see this one!
1. Aliso Viejo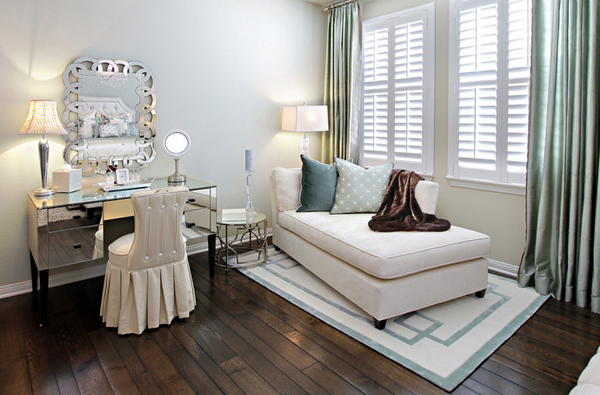 This Orange County bedroom used neutrals to make the space look more spacious – love the mirror on this vanity and the chaise on the side too!
2. Brandi Powers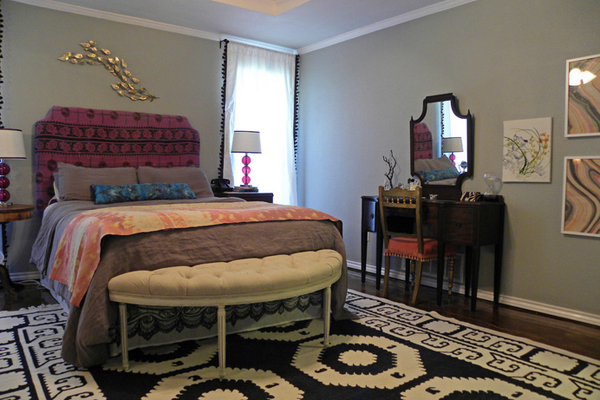 A careful mix of pattern sits against a backdrop of cool gray walls. Brandi covered the headboard with a Bengali Kantha cloth that's similar in weight and texture to the one draped at the end of the bed.
3. Country Club Remodel
Wish I could find a bed like that. Could really use the storage.
4. Metropolitan Chic in Boston's Tony Back Bay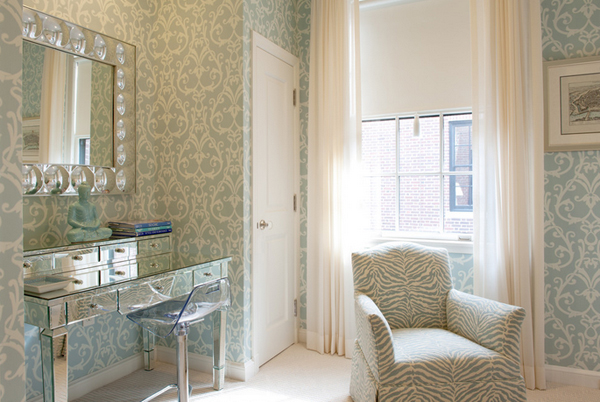 Mirrored surfaces make the space feel larger, while an upholstered club chair provides a cozy reading spot.
5. Mississauga Condo: Bristol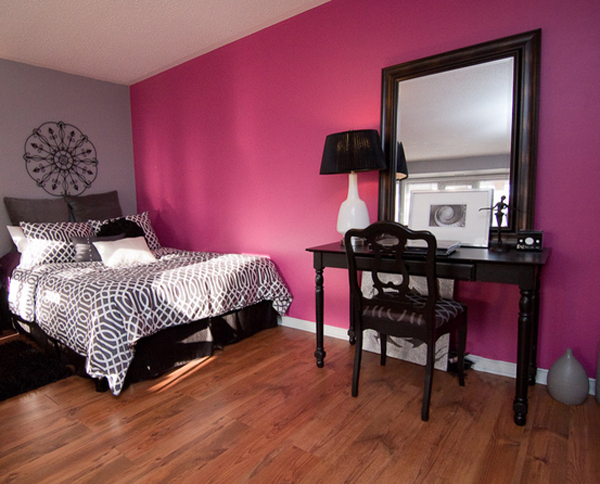 This particular shade of pink has violet undertones so it has a regal quality to it. Fuchsia paired with black and white is a very modern color combination, and adding grey to the palette creates a look that is on trend.
6. No. 10 Edwardian Villa London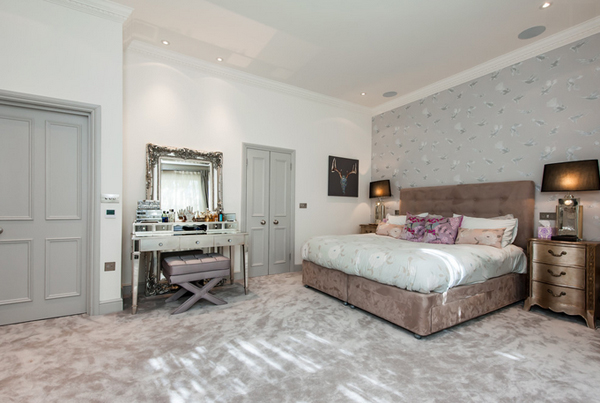 A Charlie Kingham authentically true bespoke design using traditional cabinetry and joinery methods.
7. Turtle Creek High-Rise Condo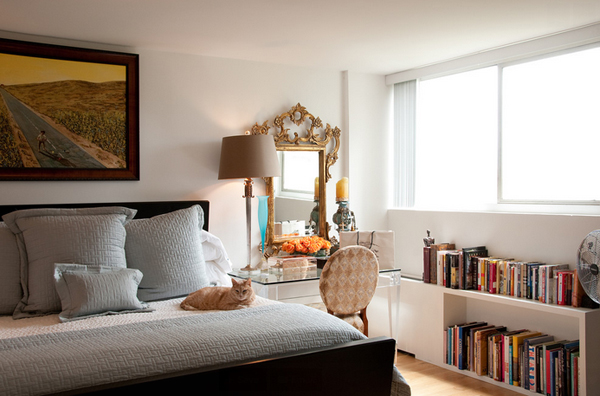 A gorgeous blend of traditional and modern. The hand carved, solid wood mirror works beautifully over an acrylic writing table posing as a nightstand to the clean-line bed.
8. United States Transitional Bedroom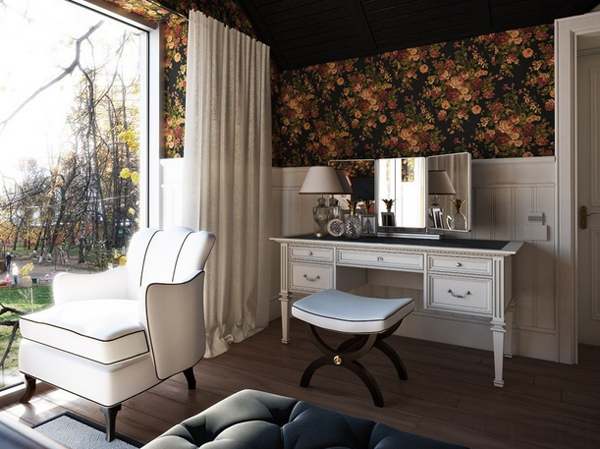 The warmer color scheme of the bedrooms is clear in this room. The rich browns, yellows, and reds echo the natural tones on the exterior landscape, but stay grounded with the traditionally styled black-and-white furniture.
9. Berkshires Estate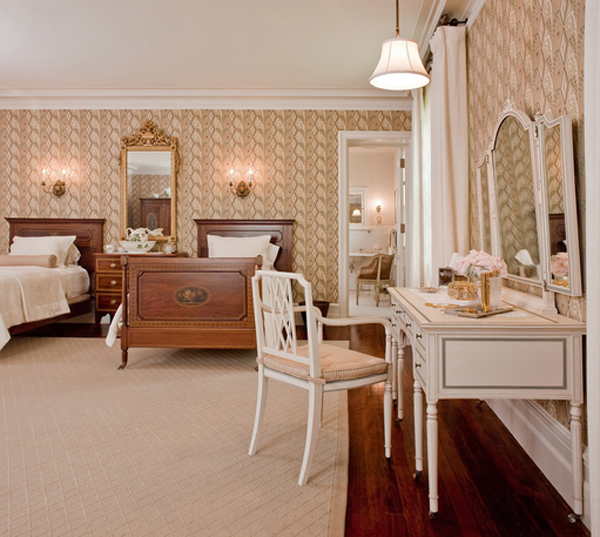 This bedroom with twin beds are made more beautiful by the simple white vanity we see closest to you.
10. House in Glasthule, Dublin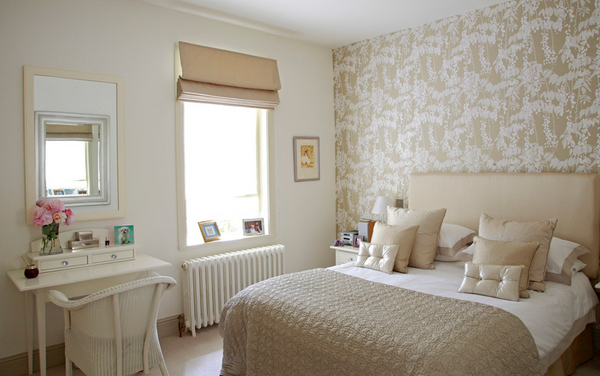 This guest bedroom has been designed with neutral tones, adding a lot of texture and luxurious fabrics.
11. Holiday House Hamptons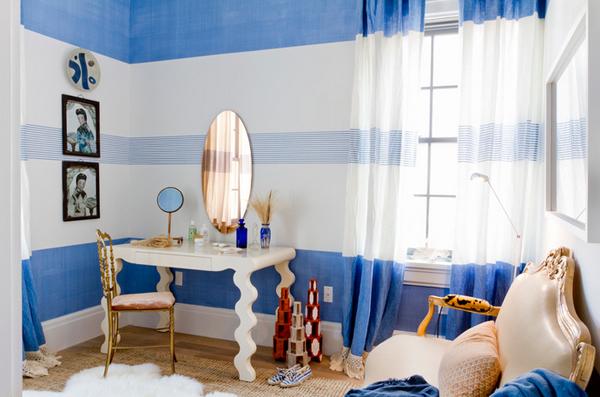 Soothing blue and white textiles and wall coverings with custom drapery trimmings come together to create this relaxed atmosphere.
12. Lelekovice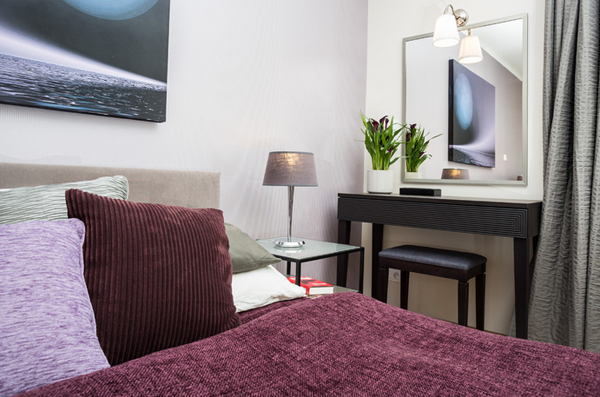 This traditional bedroom is pretty much equipped with contemporary decors that are just stunning.
13. Morden Road Mews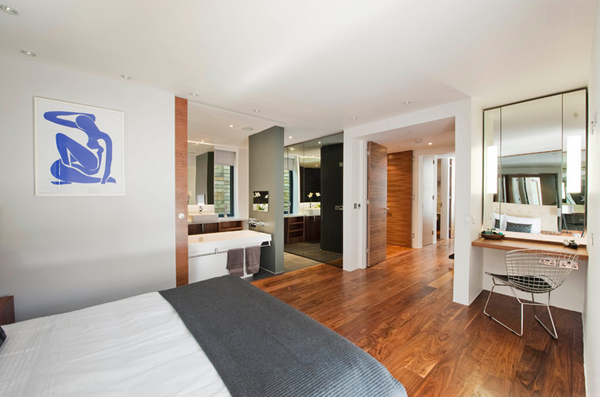 The lovely flooring is made more stunning because of the white walls and ceiling – note the vanity area on the side too.
14. Richmond Park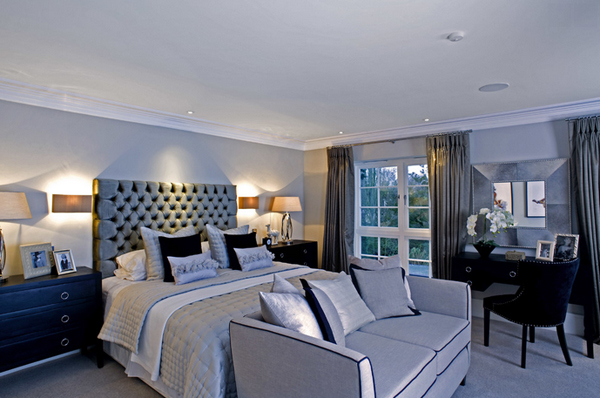 Media shouldn't just be for the living areas – the bedroom is the perfect place to kick back and relax with surround sound and perfect visuals. Smart homes can program your blinds to open, the radio to come on or your favorite piece of Mozart, all for an easy morning wake-up call.
15. North Yorkshire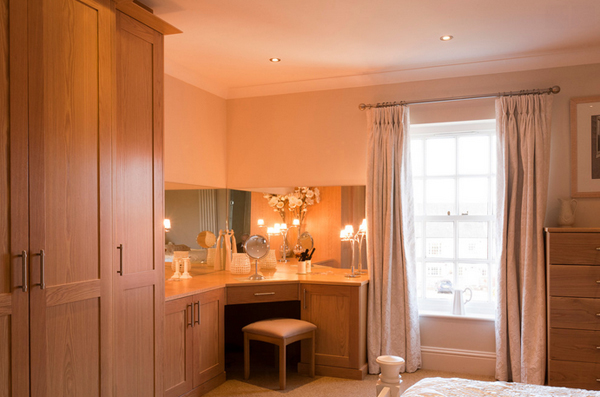 The thought of having a larger mirror will always make girls happy – both young and old.
16. Oakland Hills Master Suite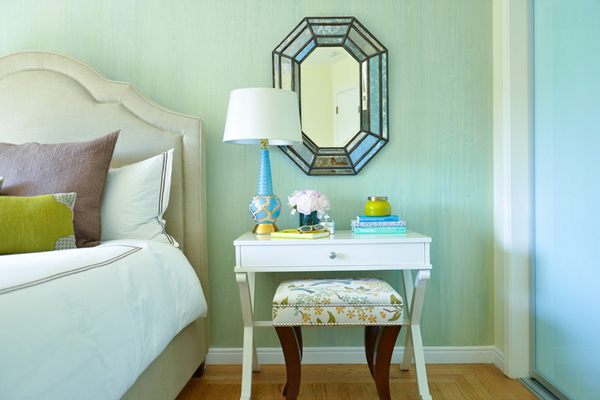 Casual elegant bedroom with upholstered headboard, decorative wall treatment, dressing table and 1960's vintage turquoise lamp. Custom bookshelf and window seat and tailored linen roman shade.
17. Sackville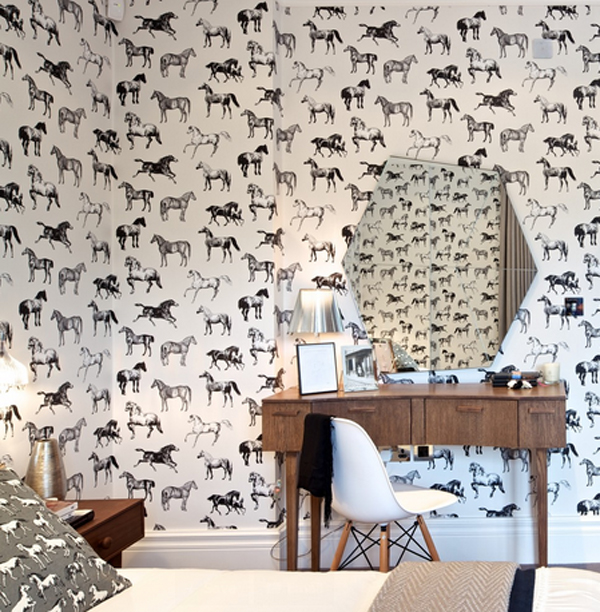 An irregular hexagon mirror blends in with the wallpaper.
18. South Kensington Apartment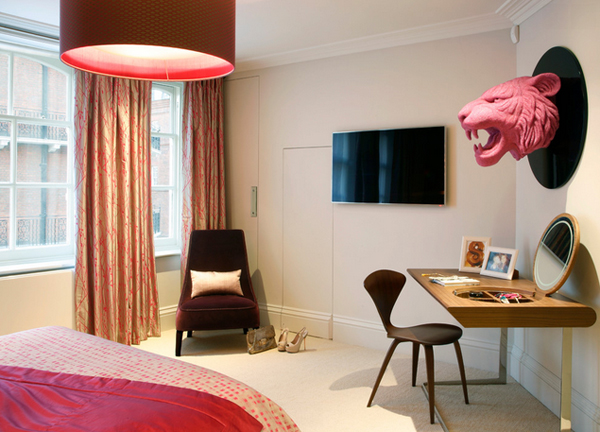 I totally love the Chenen chair that is paired with the modern vanity just below the awesome pink tiger head.
19. UK Modern Living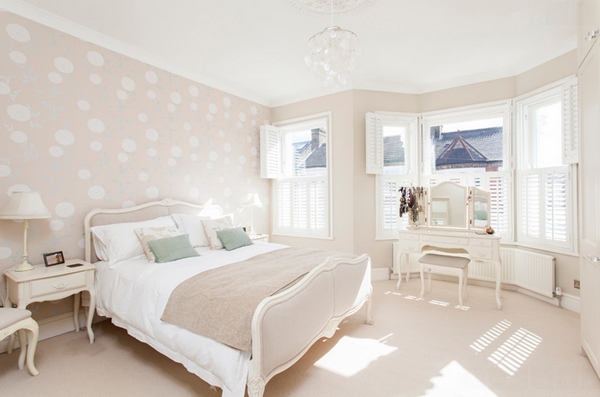 The color palette of this bedroom is just heavenly – seriously, how can one bedroom look this divine?
20. Westfield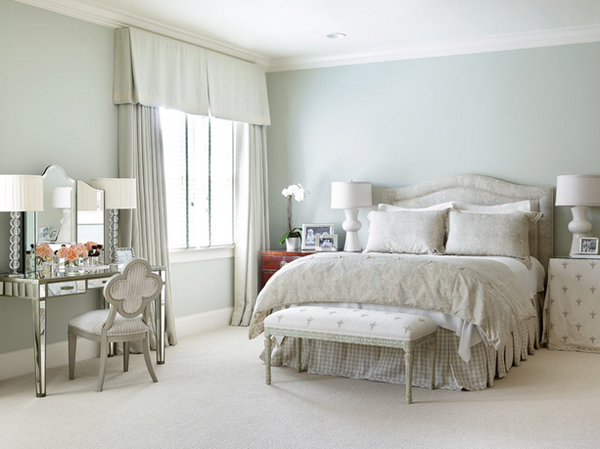 The lovely vanity set with an Alexandra chair and the large comfy bed – what more can one girl ask for? Of course one large closet to match!
I personally have my own vanity table in my bedroom – it was something my mother used to own and decided to hand it down to me and my sister – it's kind of shabby but I thought repainting it would give more life to it – I hope that I'd be able to share it with you guys in the future. If you liked this list, I am pretty stoked to show the other list we posted a few days back, about the vanity like this one in the bathroom! Pretty awesome right?