15 Orange Bedroom Designs
We are going to give you a one of a kind experience today. This featured color is rarely used in bedroom designs, yet, we still want to give it a shot and show you how adorable this color is. We are certain that there are people who love this color and may actually love this article but for those who will find this hue bothersome, we dare you to see our gallery before you tell all your friends that this color cannot really work with your bedroom interiors.
Orange is said to be a color of playfulness and creativity. Since it is the beautiful combination of the warm yet energetic red and fun and happy yellow, it is truly a color of joy, warmth and passion. It is stimulating and exciting yet can be soothing and pleasant too. This color is bold making people hesitant to choose it for their interiors, that is why we have collected 15 Orange Bedroom Designs. This is for those people who wanted to use this interesting hue but have never gotten the courage to. See for yourself and let us know what you think.
Orange Bedroom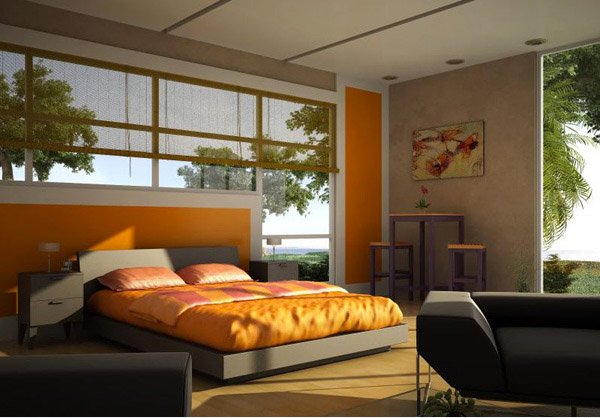 The soft orange hue creates a calming effect in this airy and open bedroom design.
Red And Orange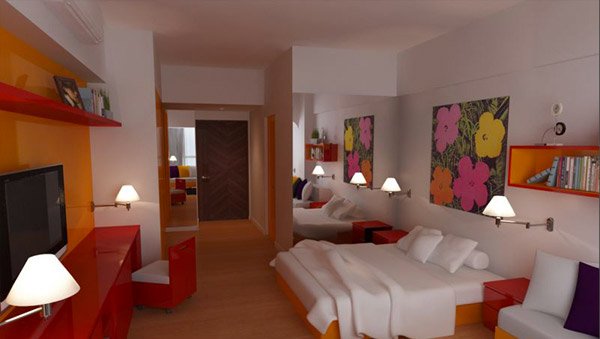 Pops of orange and red in furniture create a fun and vivacious atmosphere in this otherwise-white bedroom.
FlashDecor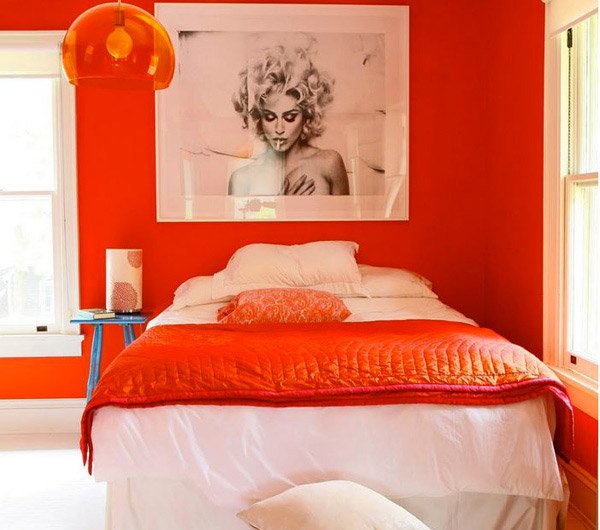 The wall in a reddish orange hue is a bold statement on its own yet its warmth is soothing. It looks good against the white accents in this room.
Astoria Guest Retreat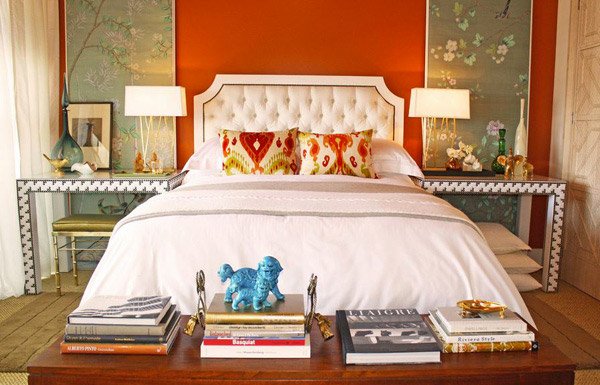 Different colors, patterns and textures are used here against the orange wall and look how it turned out? It turned out dreamy with a sense of flamboyant and exotic feel.
Hillside Sanctuary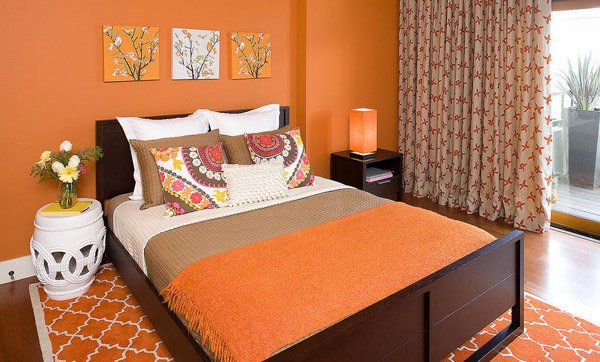 Tangerine blends nicely with the darker shade of the bed and is not overpowering. The addition of colorful pillows against the neutral bedding creates equilibrium to the whole scheme.
Icon Residence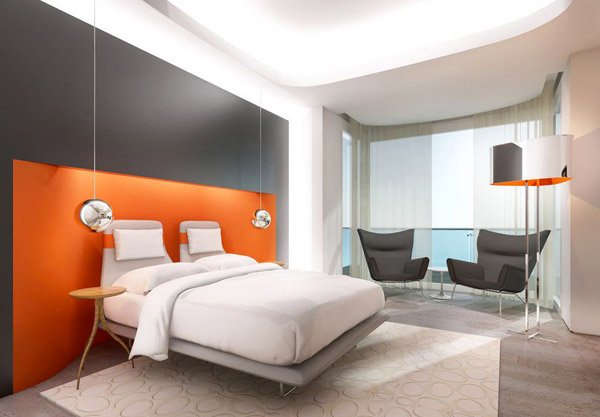 This stylish modern bedroom keeps everything neutral as it features a daring shade of orange. It makes the headboard niche glows beautifully drawing the eye toward the wall accent.
Forest House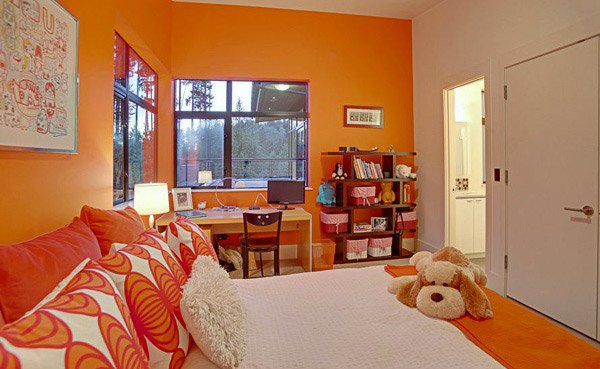 Orange can also be a great color for your kids' bedroom. It does not only evoke playfulness but it has also been found to relax muscles, so your young ones can fall asleep quickly.
Go To Your Room – Orange Bedroom Idea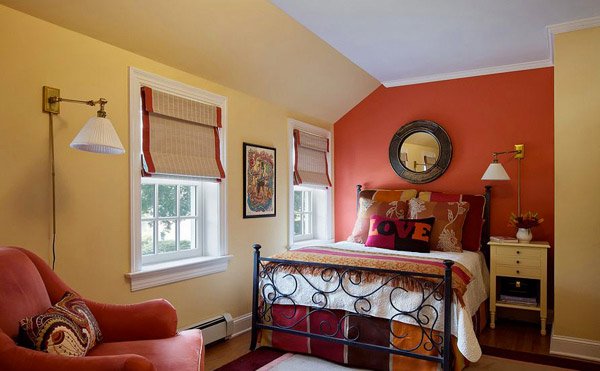 Blocks of orange in this bedroom makes a warm and welcoming note. The soft yellow wall totally complements the orange accent wall.
Mountain View Master Bedroom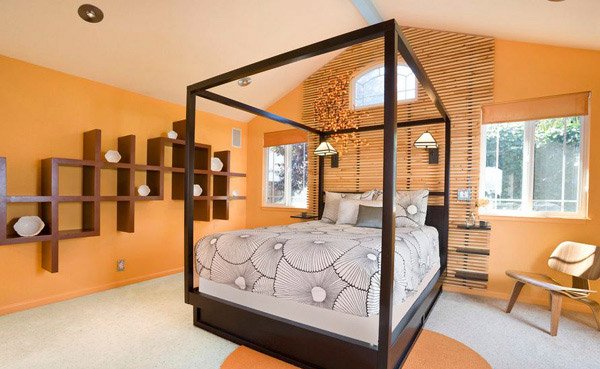 The soft orange in this tropical bedroom gives out its sunny and fun mood.
Gallery Loft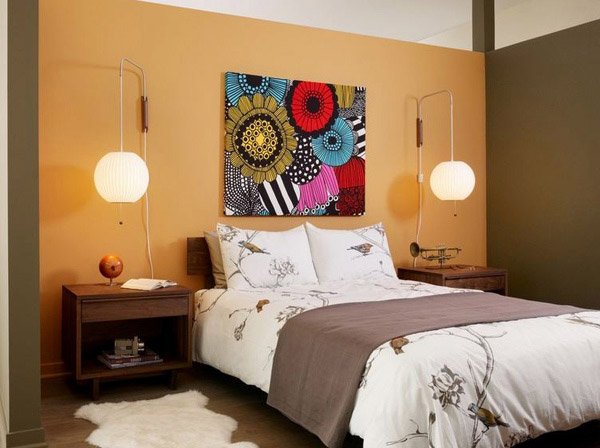 This Asian-modern bedroom design used muted colors to showcase the wall art. The soft orange allows the piece to shine while blending well with sage giving a tranquil ambiance.
Alan Design Studio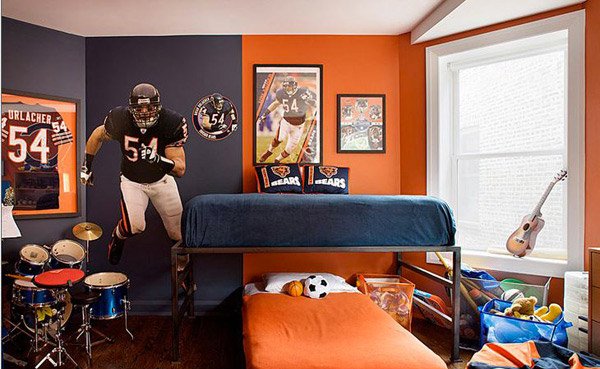 Orange paired with blue creates a room that is perfect for a boy. The combination is a perfect match since blue is calming and inviting while orange is fun and playful.
Organic Contemporary with Whimsical Pops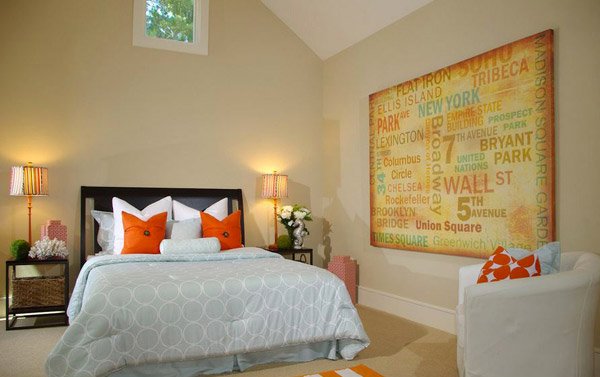 The oversized wall art is a great way to fill plain wall space. The splash of orange on this graphic piece of art and on the rug creates a visual balance against the beige wall that is sure calming and refreshing at the same time.
MisuraEmme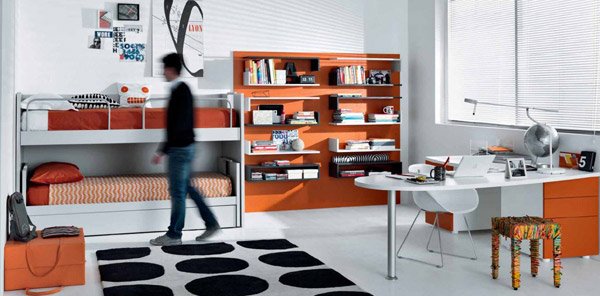 Even in modern minimalist style of a bedroom this bold hue can be used and still managed to be an eye-catcher without making visual clutter.
The Camden Orange Bedroom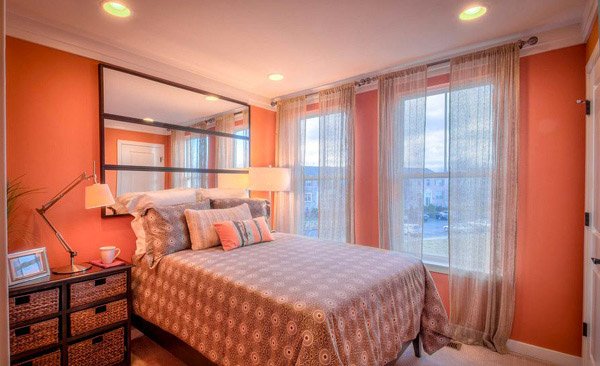 Peach or coral is a feminine version of orange and if you want to have a feminine touch on your orange interiors, may we suggest you go for those colors. It will sure to bring calmness and tranquility while maintaining a youthful, feminine flair.
Pueblo St Master Bedroom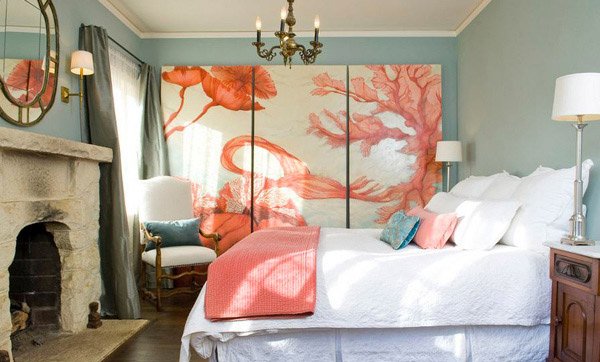 Pale blue and coral makes a lovely combination creating an instant coastal-chic look.
Orange is such a lovely, versatile color that can be paired with any other colors. May it be vivid or pale or muted, everything can go well with it! We hope you liked our 15 Orange Bedroom Designs! If you got the love for this daring color, go on and try those amazing designs in your own bedroom and see for yourself. Results can be just stunning! You guys have a wonderful day!