20 Gorgeous Bedrooms with Wonderful Rattan Chairs
Rattan chairs in the bedroom? Why not? Check how these bedrooms look with rattan chairs.
Rattan might be something that you do not see every day, but when you do, you know that they sure look fabulous! Whether they are created into chairs, tables, bed and even decorations for the house – they will definitely amaze you. This material is so versatile and Earth-friendly; you'd want this one for your own house.
The pictures below that you will be seeing may seem ordinary for you, but when you take a look closer and see how much they work well for the entire bedroom, you'd realize that their simplicity is their best weapon to charm all the people who would be looking at them. Take a quick look at the bedroom pictures below and tell us what you think about the rattan furniture present in all the spaces.
1. Block Island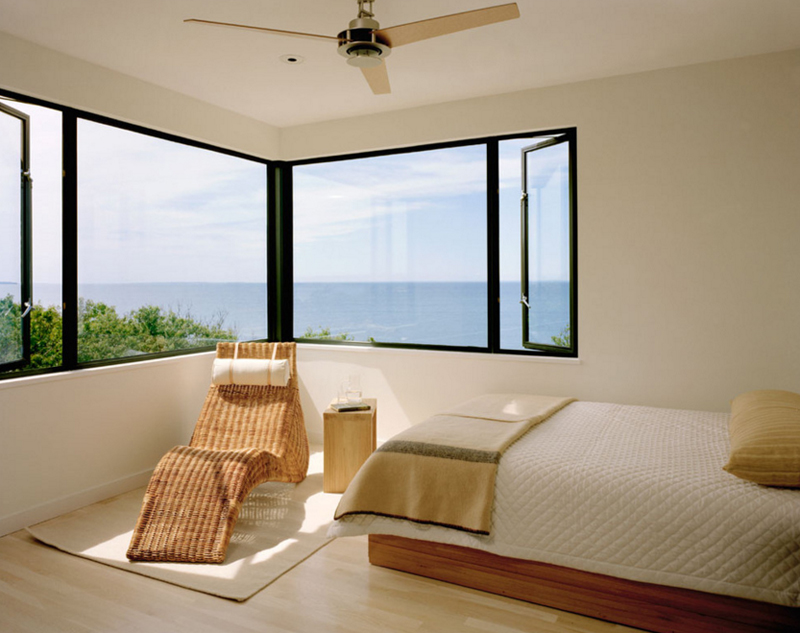 This small bedroom with the view of the sea sure has a cute rattan lounge chair that can be used in sun bathing. It looks like this bedroom received enough sun for the person who sleeps in this bedroom to actually sun bathe in the morning.
2. Bridgeport Master Bedroom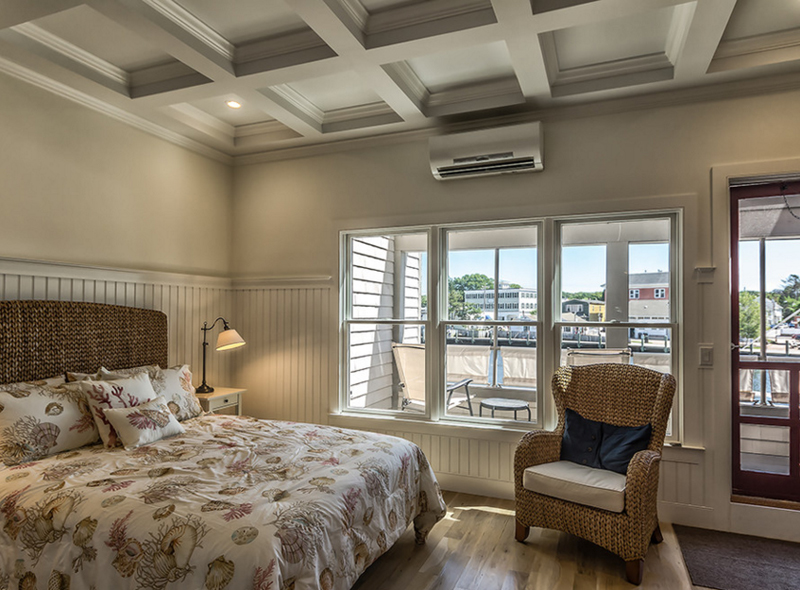 This master bedroom has a simple yet large armchair that matches with the bed. Although the bedroom contains very little decoration, it's okay because the main purpose of the bedroom is for sleeping and it looks like this bedroom already achieved that purpose.
3. Brisbane Beach House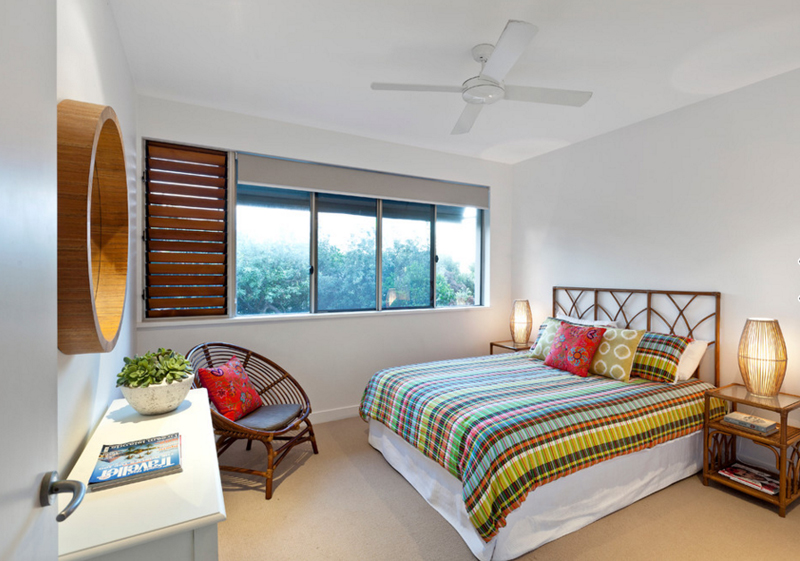 This is one fun-looking bedroom – not only because of the colorful fabrics on the beddings and the pillow cases but also in the playful use of wooden furniture and decor that look unique and uncommon nowadays.
4. Chicago Contemporary Bedroom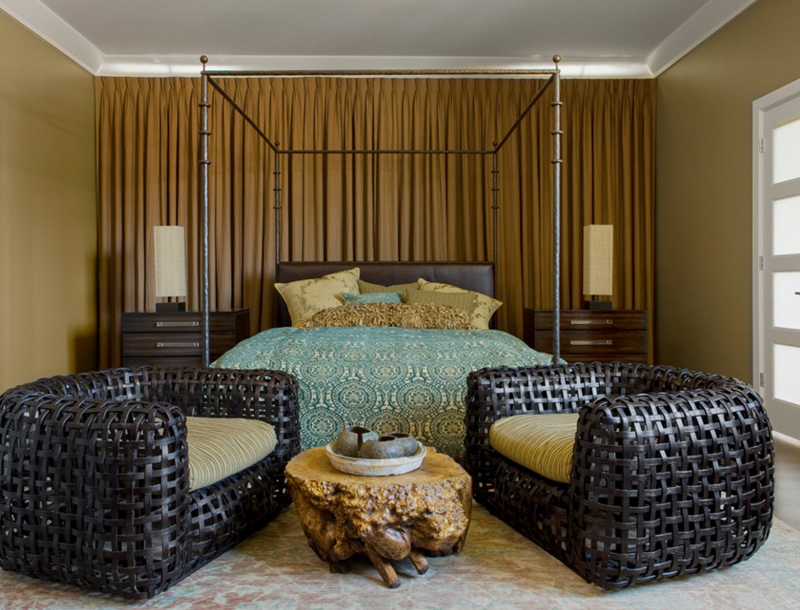 This mini seating area just below the bed sure welcomes the home owners to chat and drink some wine or milk before going to bed. Take a look at how rattan was used in these chairs – they're bulky and black but definitely pretty and interesting, that's for sure.
5. Devlin Baldassari Residence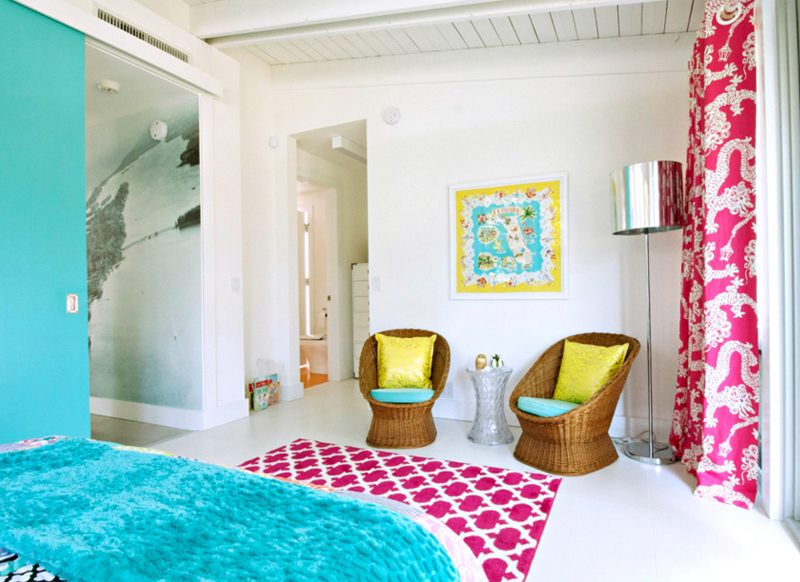 Look at the beautiful chairs in here that is accented with yellow pillows and baby blue cushions, a cute table and a silver stand lamp – the color combination in this bedroom is fun, fresh and really refreshing. Do you agree?
6. Philadelphia Guest Bedroom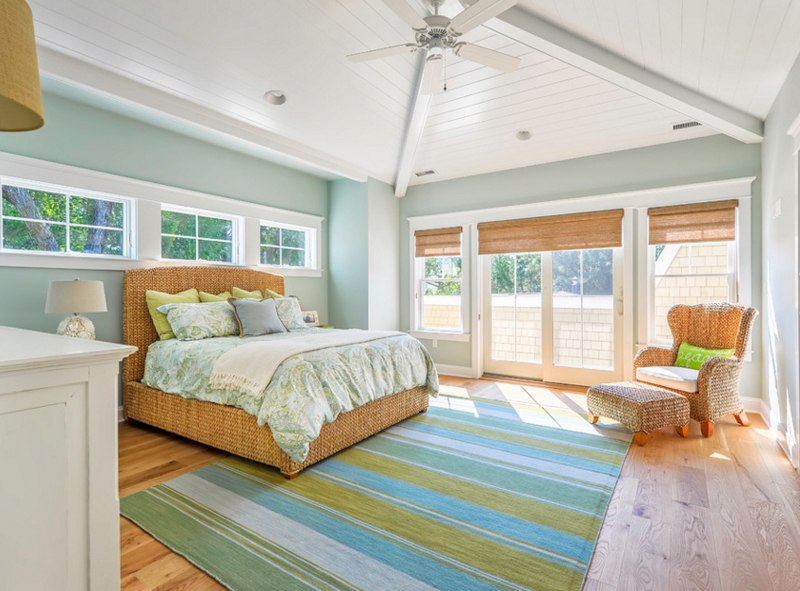 Another colorful bedroom that really match with the rattan chair and ottoman and the large bed. The fun carpet sure makes this bedroom even lighter even when it has tons of windows that welcome the light in.
7. Maison Conteneur Container House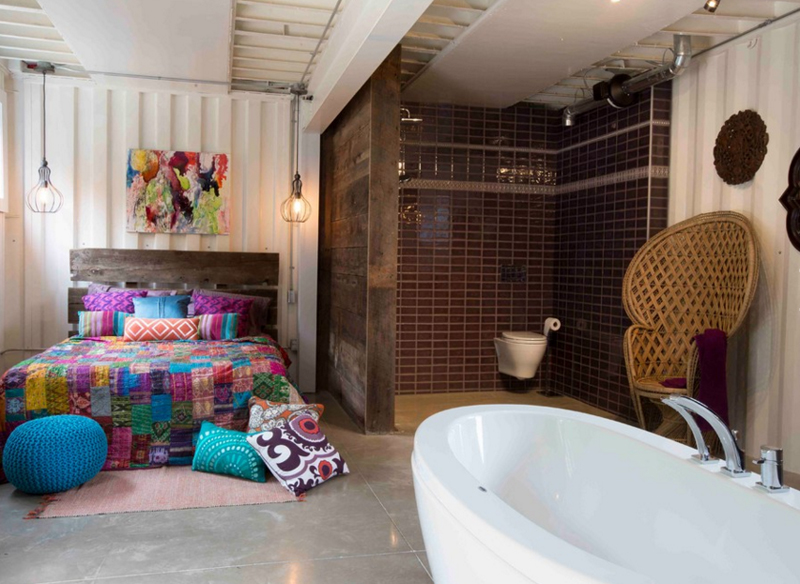 Look at this picture and tell me that this space isn't awesome? A container home that looks like this? What a great way of creating more houses and making it as pretty as this to accommodate more housing for new home owners.
8. San Francisco Master Bedroom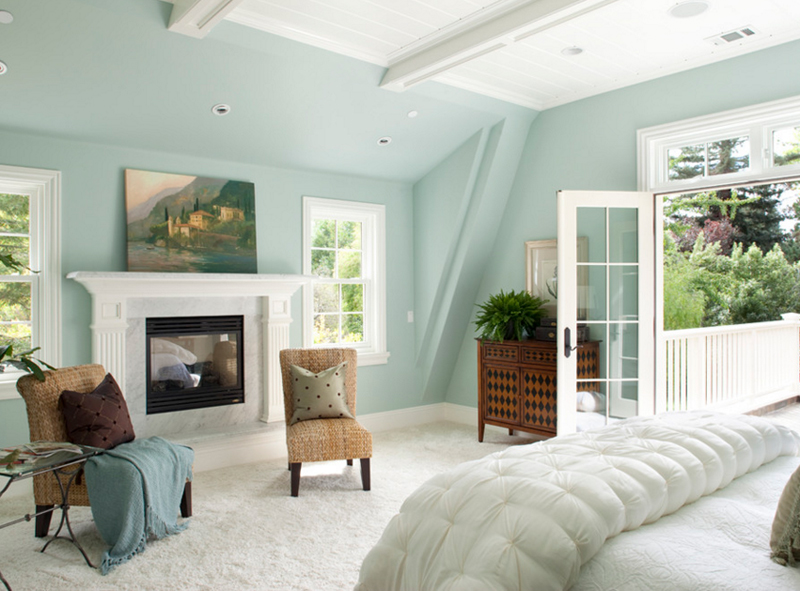 I always wanted my bedroom to be fully-carpeted like this and feel like walking in clouds, but of course cleaning and maintenance is regularly needed; I might not be able to do that. Haha! Take a look at the rattan chairs though and see how much prettier this bedroom is because of them.
9. Newport Beach Vacation Home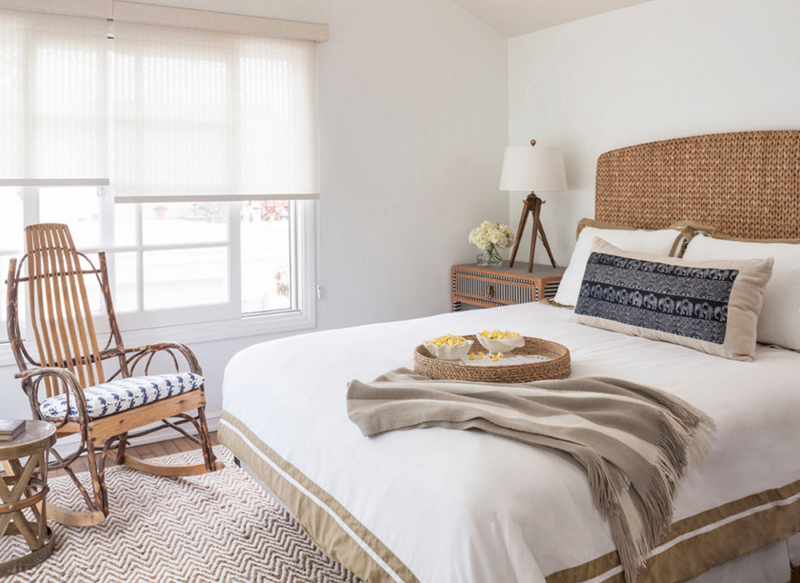 A large rattan bed looks great with the rocking chair on the side. This wooden-inspired bedroom is something I think anyone would love to have because of the homey feel it has to it – all day, every day.
10. Peter Island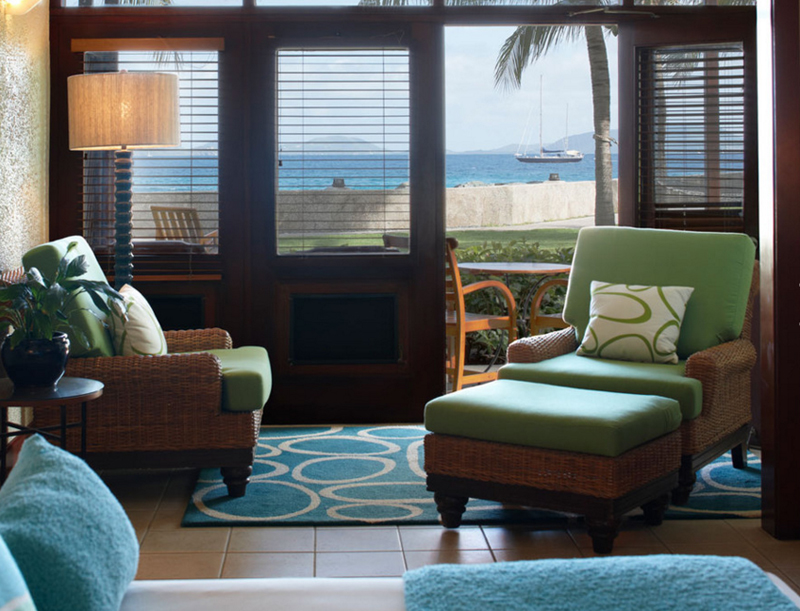 We all know that when we talk about earth colors – green and brown are the first colors we think of; this is simply because when we think Earth, we imagine a tree. This beautiful rattan furniture sure will make your days and nights better especially those times that you need to stay away from your bed and still need to relax.
11. Scandinavian Bedroom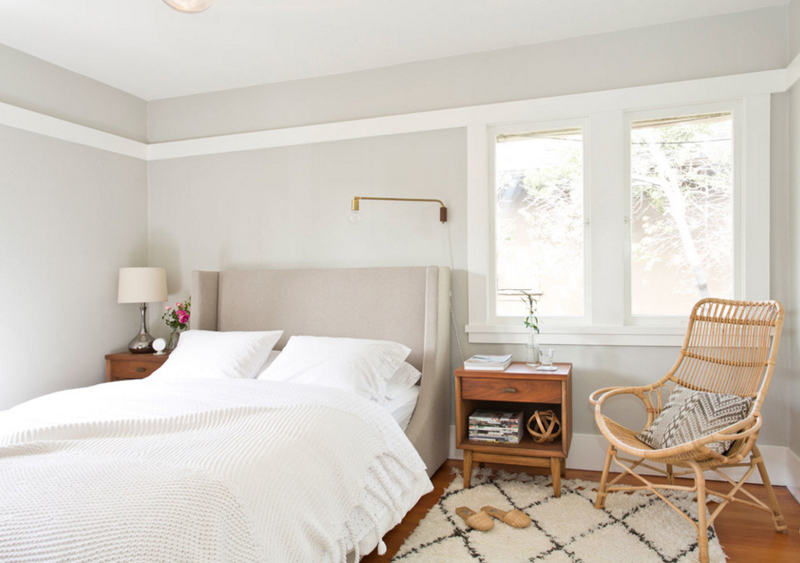 This picture should have been the first picture on this list because I think that this is one fabulous space! Simple, minimal but very up to date! The simple rattan accent chair adds color and charm to this bedroom because of all the white and grey seen here.
12. St. Kitts Luxury Villa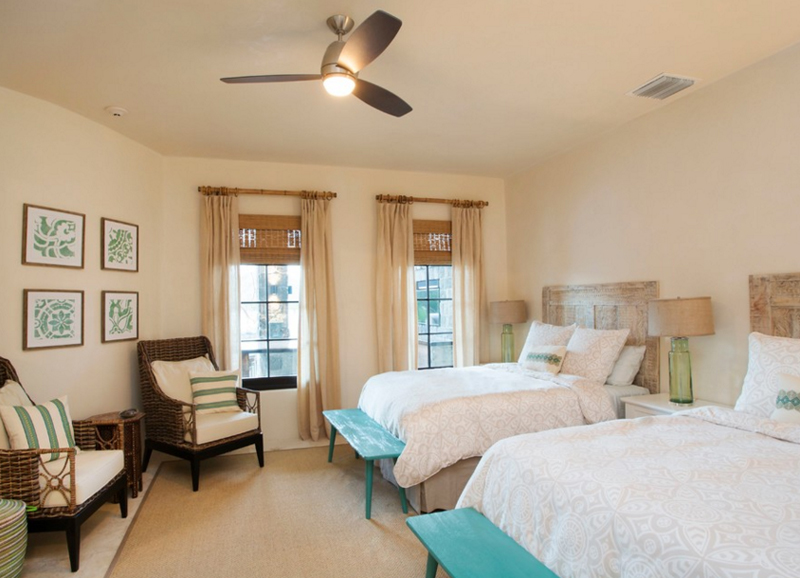 Look at this beautiful villa – from what we can see in this picture, it looks like everything in here is expensive or well-designed. From the rattan chairs, to the cute pictures on the wall, and the beds – they are all neat and pretty.
13. The Cliffs Vineyards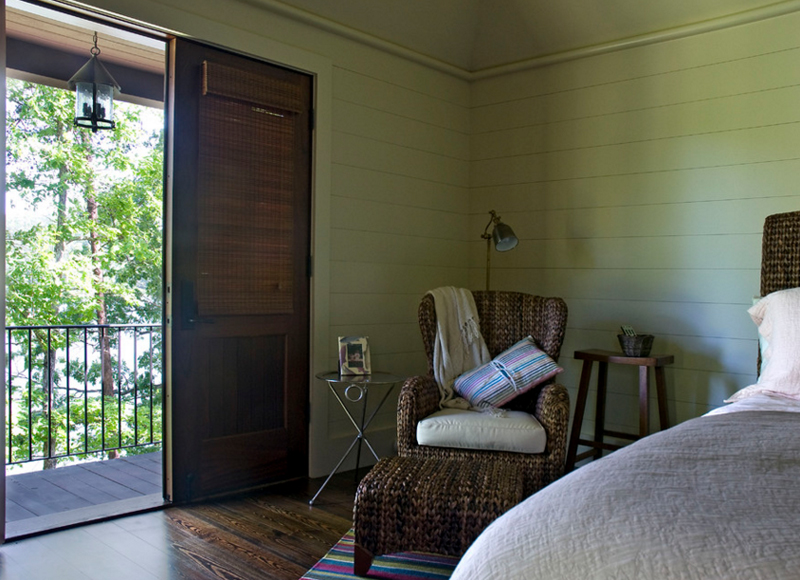 A rattan armchair and ottoman combination is seen in this bedroom and even if we only see a bit of the bed, you know that it's made from rattan too. I like sliding doors and the one in this picture has great color and contrasts with the wall color and sure looks good.
14. Beach Getaway
A cute armchair duo is seen in this beach getaway; note how similar the fabric on the bed is with the one on the chairs. The colors of the fabrics and the wall somehow blend with each other and the use of dark-colored rattan and brown windows, the contrasts created a more beachy appeal.
15. Beautiful Bedroom in New York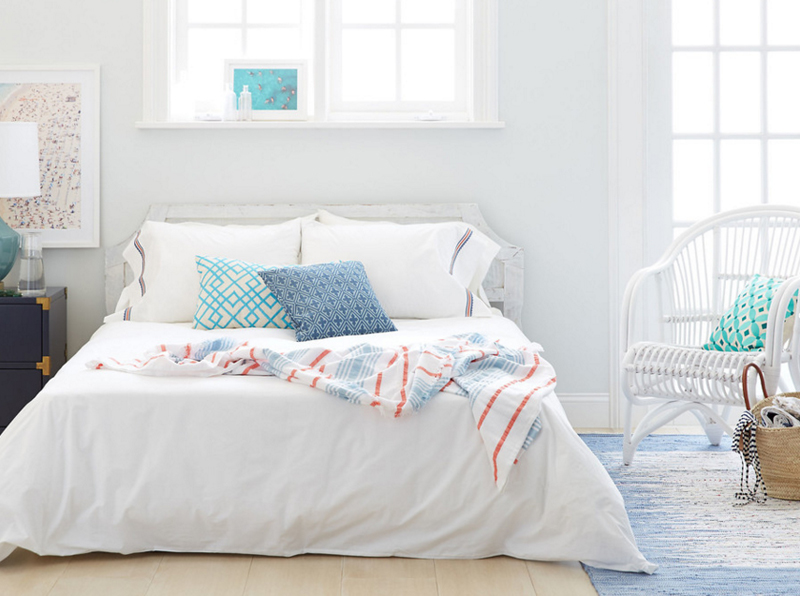 What a heavenly looking bedroom! A simple yet great combination is done here with the greens and blues used in it. The rattan chair and bed is a fresh touch to contemporary bedrooms since it is not so usual for most contemporary-designed bedroom to have rattan in them – so, kudos to the designers of this beautiful bedroom!
16. Casa Punta Mita Mexico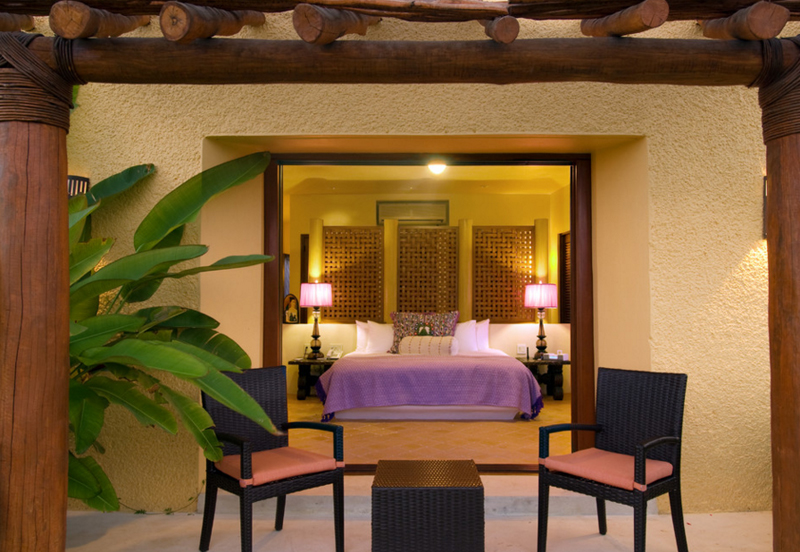 The rattan chairs and coffee table may be outside the bedroom but it still surely adds a refreshing aura to this space. The color combination of the fabrics, decors and wall colors makes this room feel more luxurious and regal.
17. Dream Room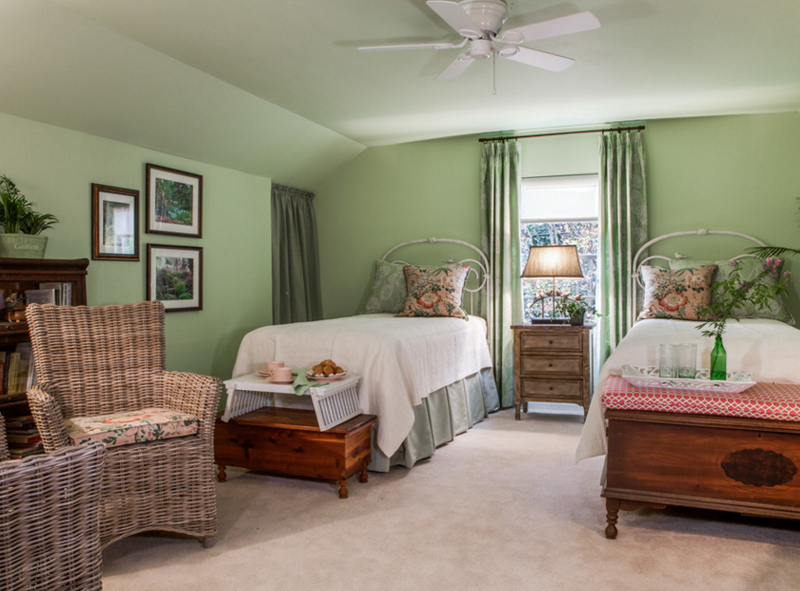 A double bed with a vintage feel and inspiration, adding the rattan chairs to this bedroom added a hint of earth to this space. Even the night stand and chests at the bottom of each bed helps with the earthy touch too.
18. House on Lake Wequaquet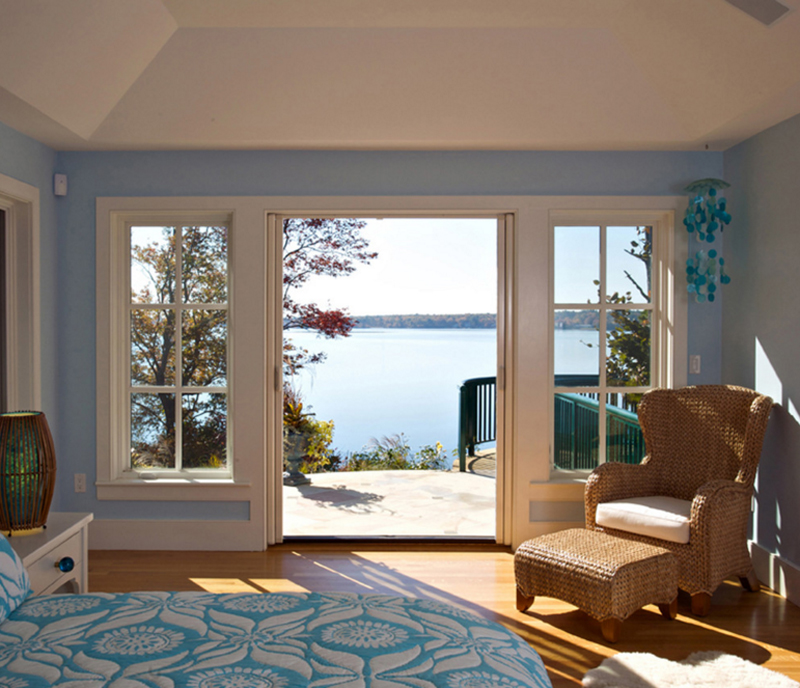 Wherever Lake Wequaquet is, I think this bedroom has the best view of the lake! This may seem like a small bedroom but with a view like that, I can live in a tent and still be happy about it. Although of course, looking at this bedroom, we see only little of it – we can see the cute rattan armchair and ottoman that completes the look of the space.
19. Modern Hawaii Beach Cottage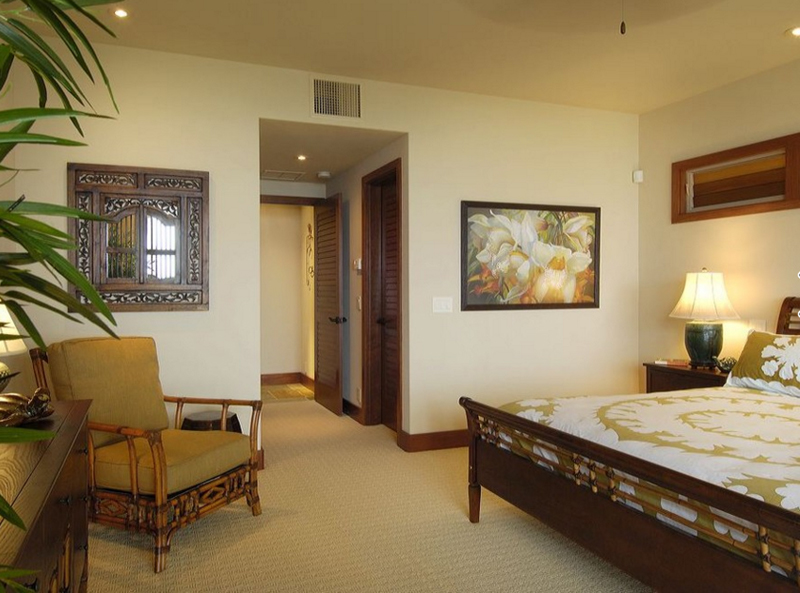 This Hawaii cottage sure looks like something you'd see in a hotel resort. Everything you need is in here – at least the basic ones; a bed, a night stand and lamp, a console both for the television and the clothes, a comfy chair and a toilet. The beach theme of this space sure is summer ready!
20. Tampa Master Bedroom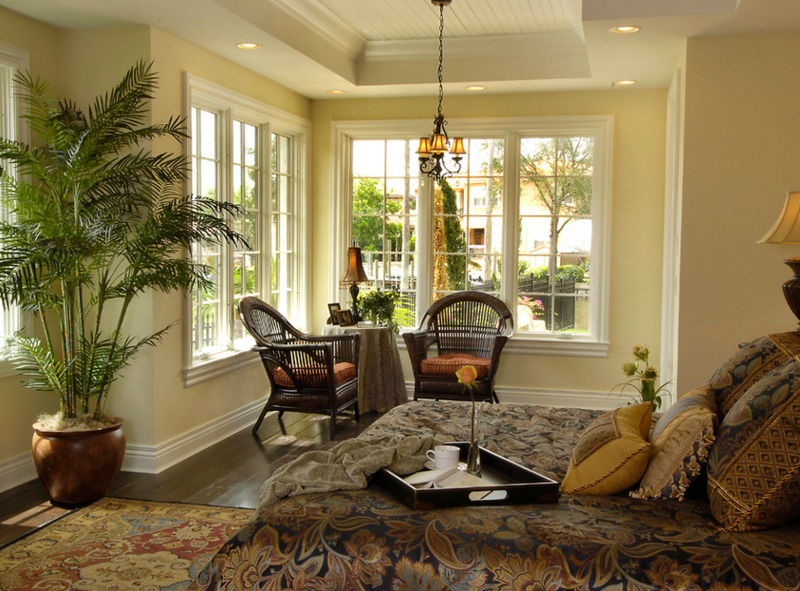 The contrasting effect of the walls and the fabrics in this bedroom sure played off well. The color and design of the fabric is not for the youth really – but still the material used in it sure is fancy enough for everyone's use. The rattan chairs by the windows is a nice addition to this space for reading or drinking coffee in the morning.
Whether or not you like furniture made from rattan, I still think that this list would have changed your mind. Haha! Just kidding. Still, I wish that you liked rattan more than you did before because of how wonderful the bedrooms were. If you also have the time, I think you should check out the 23 Awesome Living Rooms with Rattan Chairs and be more in love with rattan furniture.