25 Inviting Tropical Bathroom Design Ideas
You'd get a relaxing feel in a tropical bathroom with plants and other natural elements.
If we talk about bathrooms, most of us would prefer to have a modern bathroom because aside from being a trend, it is also neat and organized since it use sleek lines and focuses more on function. But aside from modern and contemporary bathrooms, there are also other types of bathrooms that include tropical ones. A tropical theme for a home usually feature plants and some elements that are sometimes nearly Asian or beach-y in style.
Tropical decor is vibrant but not loud. It doesn't make use of colors that are bold and too bright. Details of a tropical home may vary between countries and continents, but commonly it would have a laid-back approach with an emphasis to nature and the outdoors. Fibers of the tropics like bamboo, rattan and others are one common feature as well tropical wood like rosewood, mahogany and teak. Yes, we can use these wood and fibers in the bathroom. Another notable feature of a tropical space is its being light and airy with plenty of plants. Wondering how you can do that to your bathroom? Here are some images for inspiration: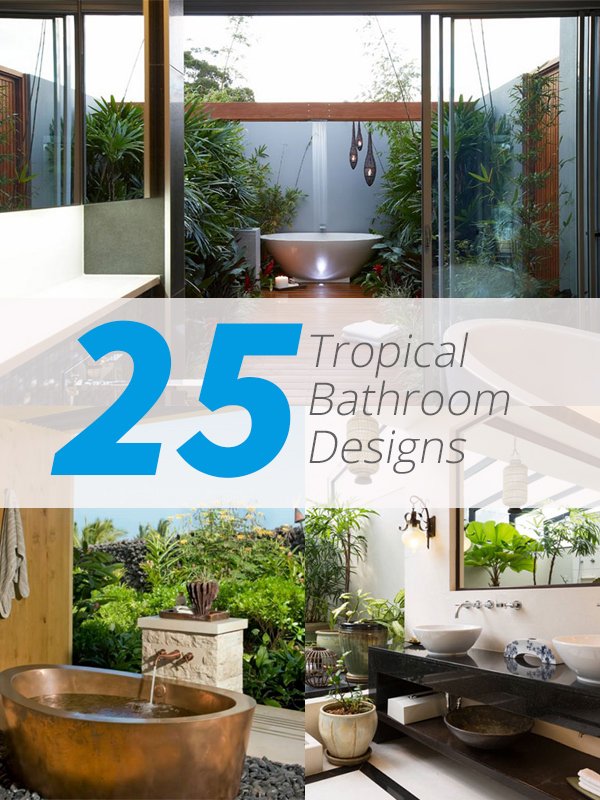 1. Buderim Renovation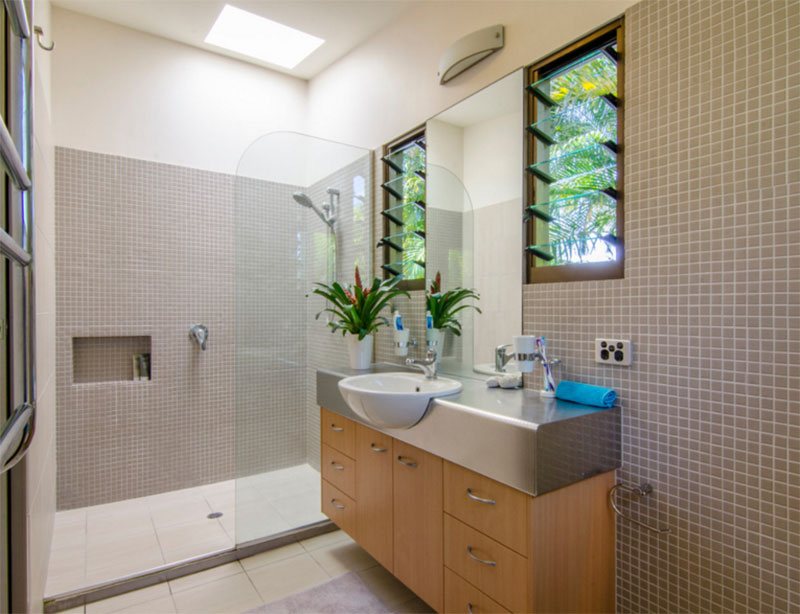 This might appear like a simple bathroom but with the use of wood for the vanity as well as the added plants on it, it got the tropical look that you may want.
2. Master Bath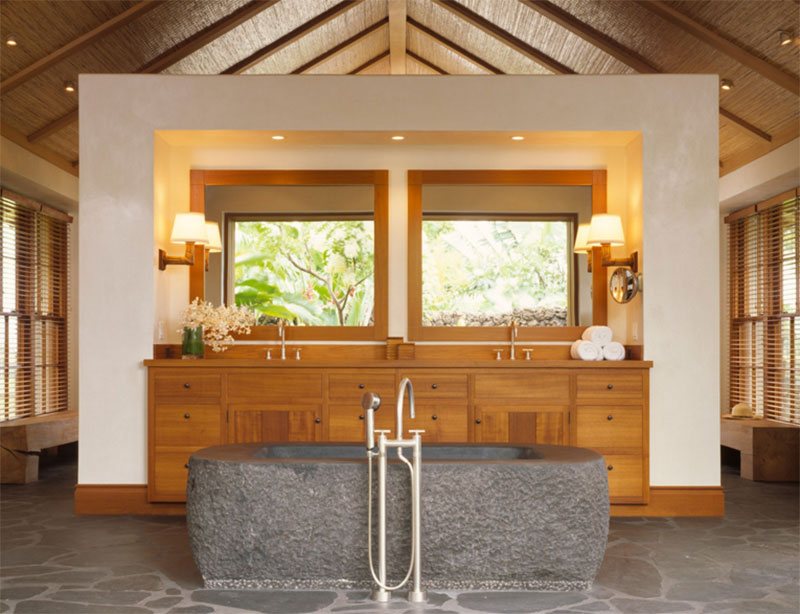 Compared to the first image, this one looks even more tropical because of the wood used not just for the vanity but even for the ceiling. And it has a stone bath tub too!
3. Zen Bathroom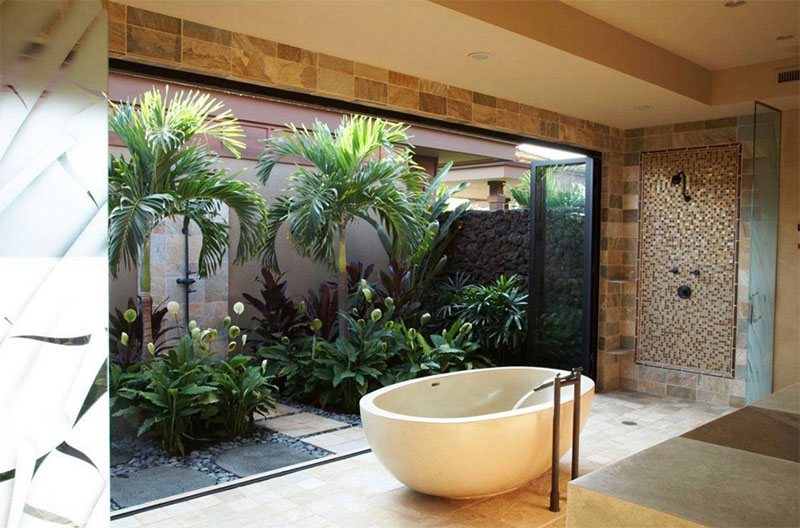 This bathroom combines artisan touches and stylish contemporary detail. When put together, it looks fresh and gratifying just the way the owners want it to be! It would be nice to have a garden outside the bathroom.
4. Master Bath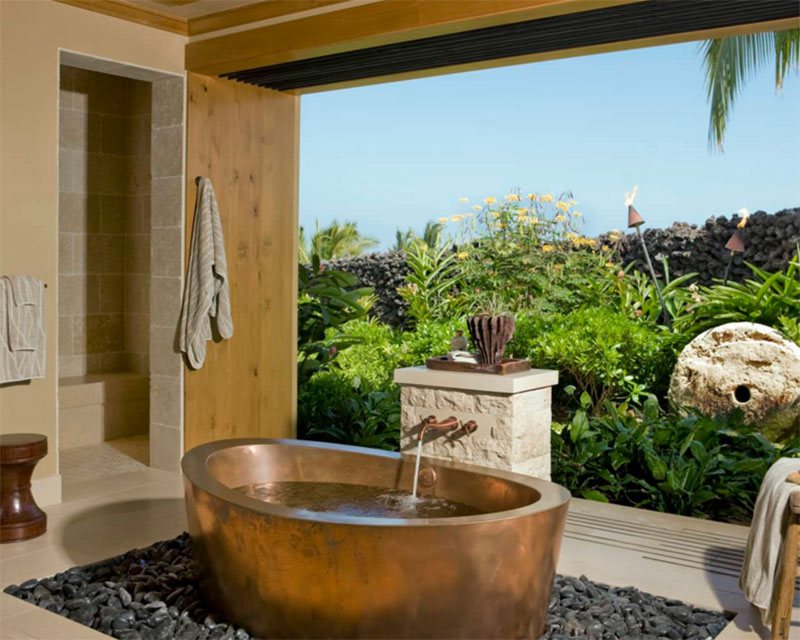 With the glass walls of this exotic bath, it brings the lush gardens in to the soaking tub area. It would really be nice to dip in the water while getting a view of the garden.
5. Master Bath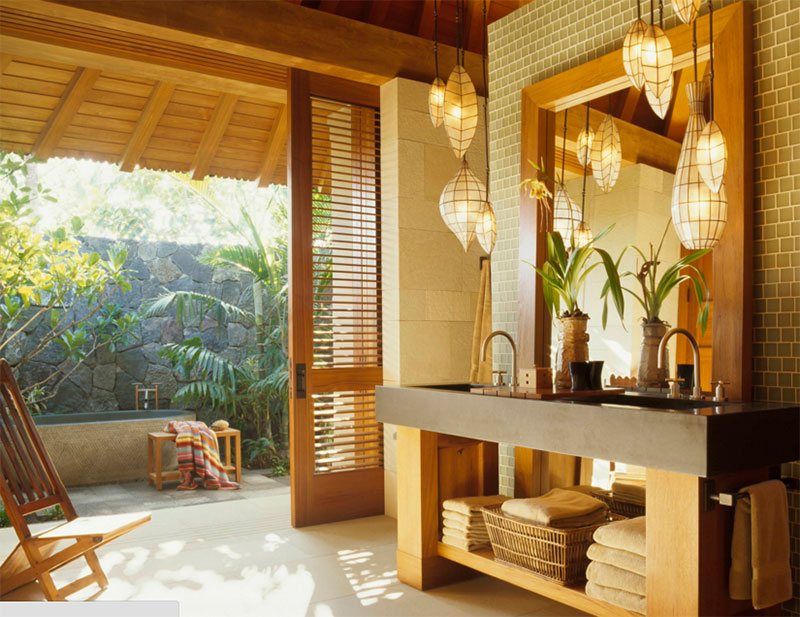 Wood is a major material used in the bathroom. Capiz shell lightings are added in the area that seems to complement with the tiles on the wall. The bathroom is extended outdoors too.
6. Contemporary Tropical Bath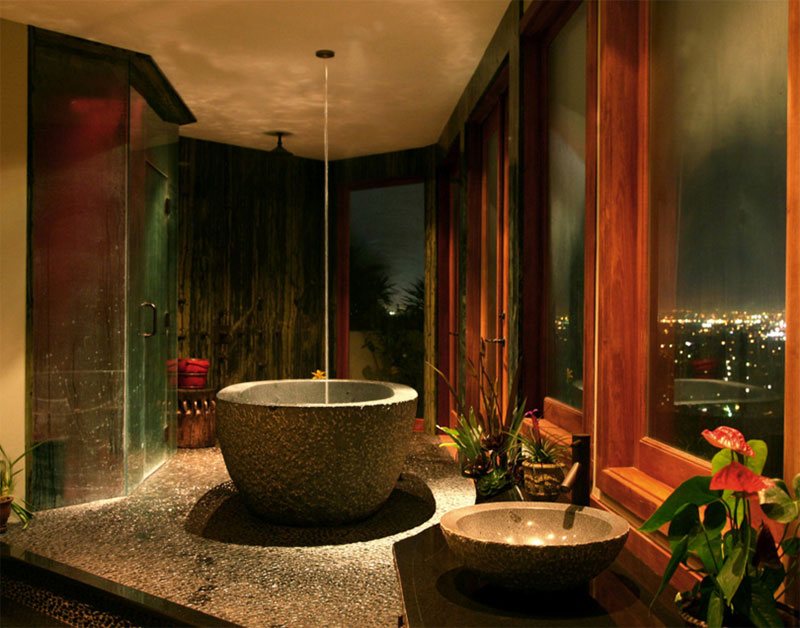 What I noticed here is the use of bamboo for the walls as well as stones. And take a look at that water coming from the ceiling!
7. Hallman Master Bath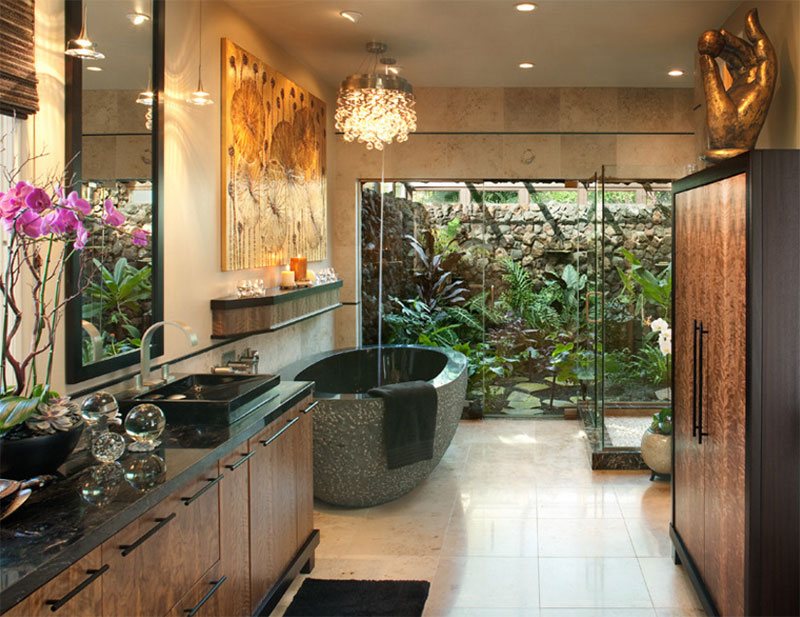 The designer said that this bathroom features "tiny tree frogs and colorful lizards frolic along a lava rock wall; lush tropical foliage reaches toward the sun."
8. Koh Samui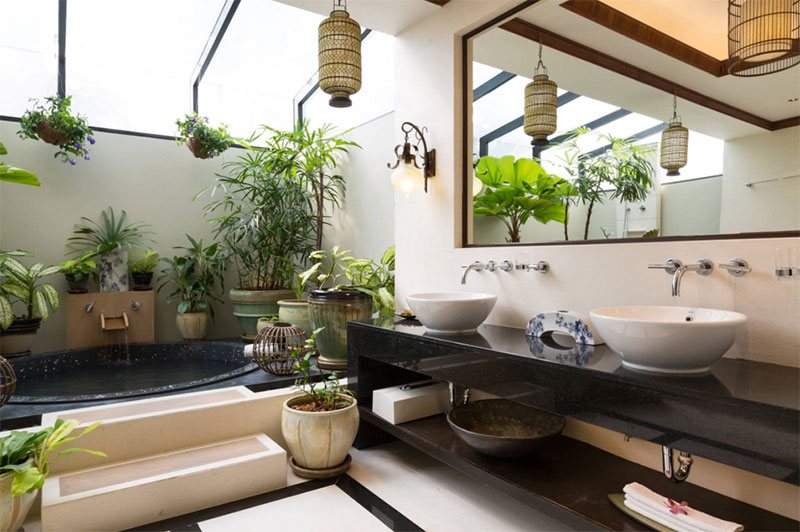 This bathroom also has a subtle Asian touch to it because of the lightings and decors.
9. Bathroom With Its Own Veranda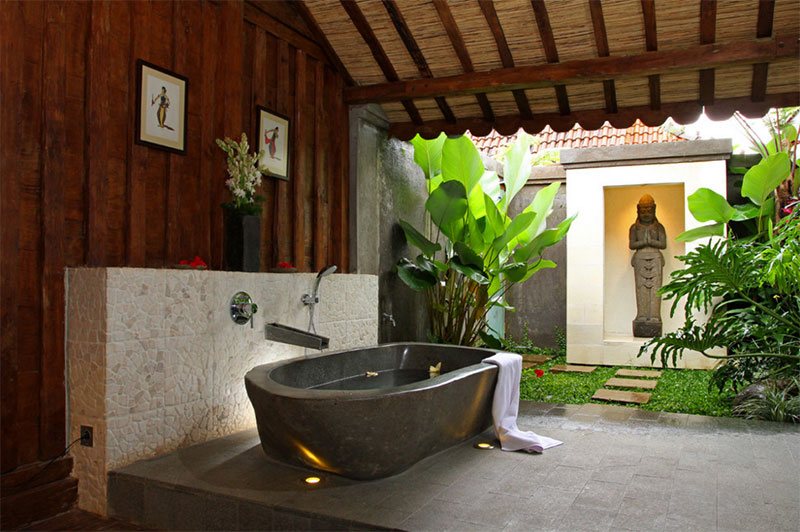 Now this one is indeed an Asian bathroom that is set outside the house. Would you take a bath here?
10. Bathroom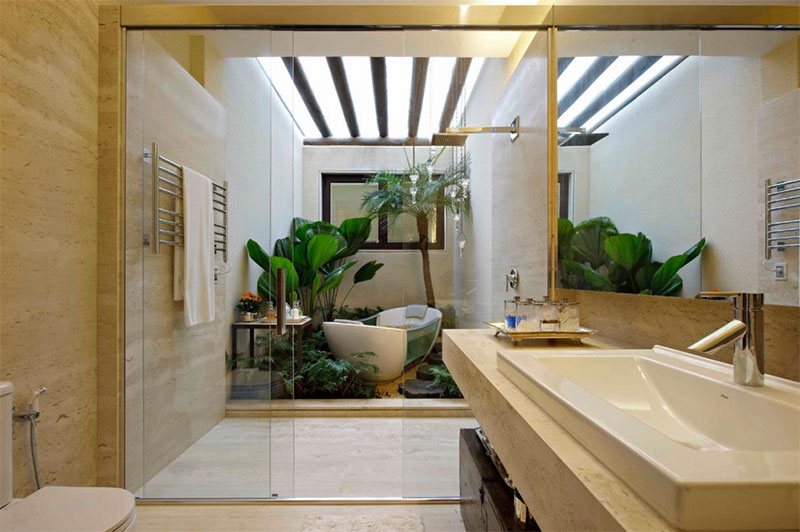 A spacious bathroom with wooden features and modern fixtures. In between the toilet and bath tub is a shower area.
11. Portfolio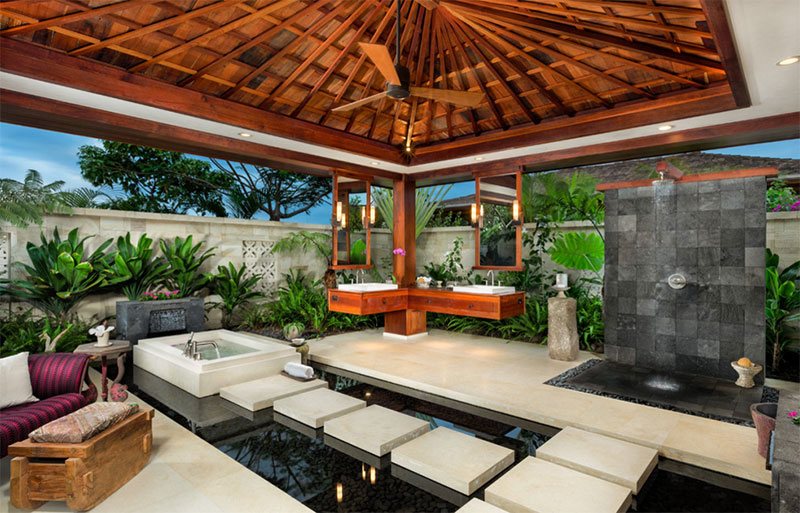 If you want more drama for a tropical bathroom, now this one has it all! Just take a look at the waters with concrete steps. With the design and materials of the roof, it sure is tropical indeed.
12. Hawaii 1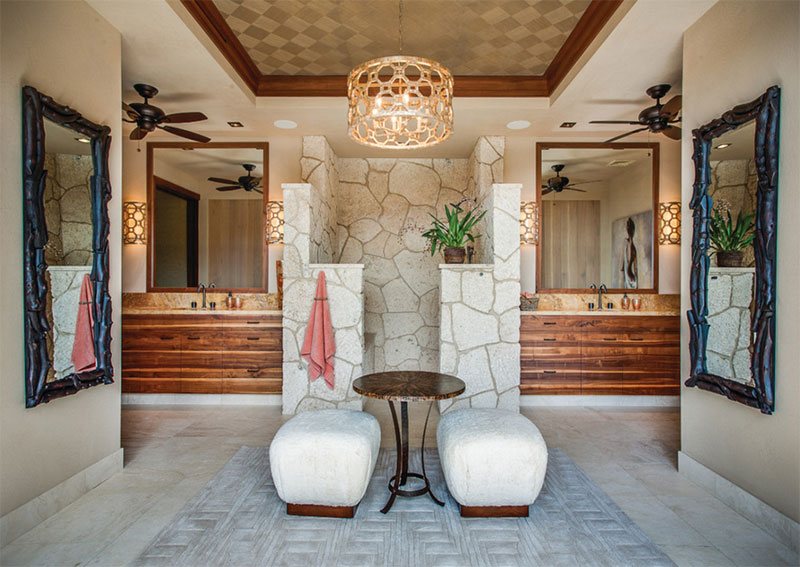 You can also add a seating area in the bathroom too. This one has a wooden vanity and added modern lightings for a more dramatic feel. It also has a shower area in the middle of the bathroom.
13. Hawaii Residence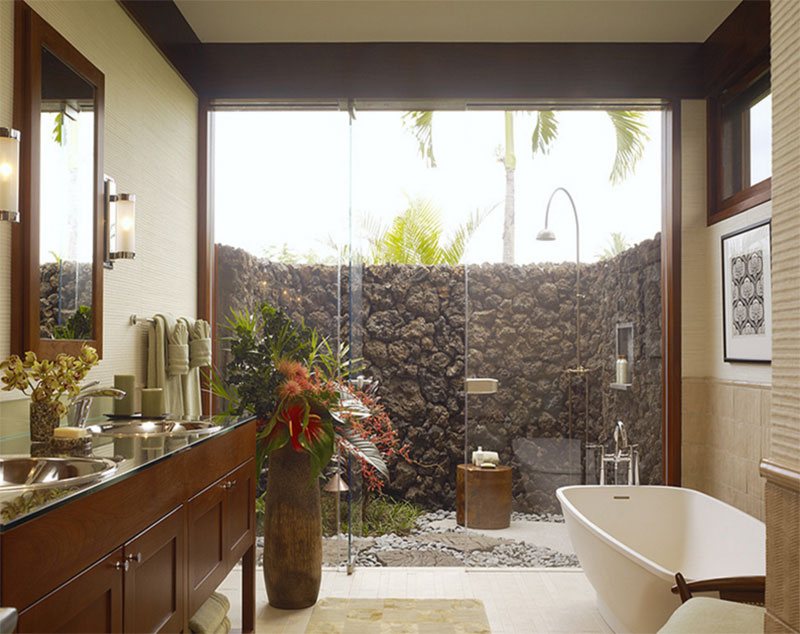 Apart from a bath tub inside the bathroom, there is also an outdoor shower area which is another option for you to bath.
14. Boardwalk Bathing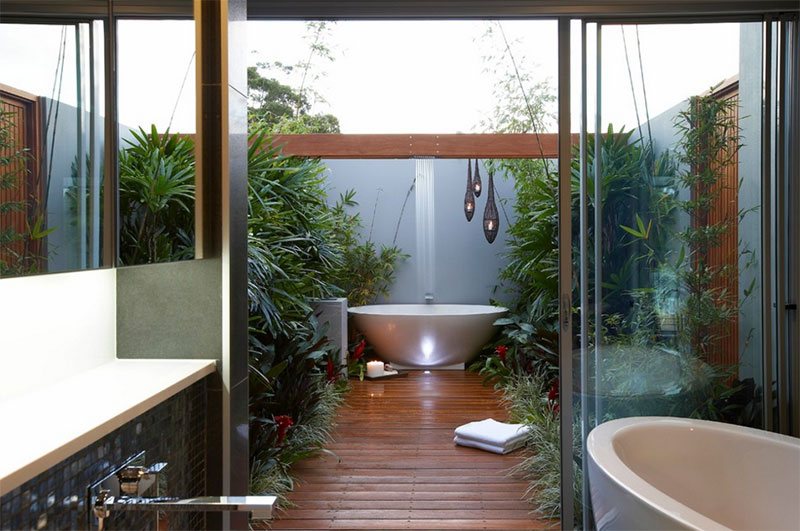 Wooden flooring is used for this one and I like the look of it especially that there are plants around the path that leads to the bath tub. Very romantic!
15. Bathroom Cabinetry – Tropical Bath
For this bathroom, it has blue walls and wooden features seen on the cabinet and vanity. Yes, you can play with colors for a tropical bathroom too.
16. Summit House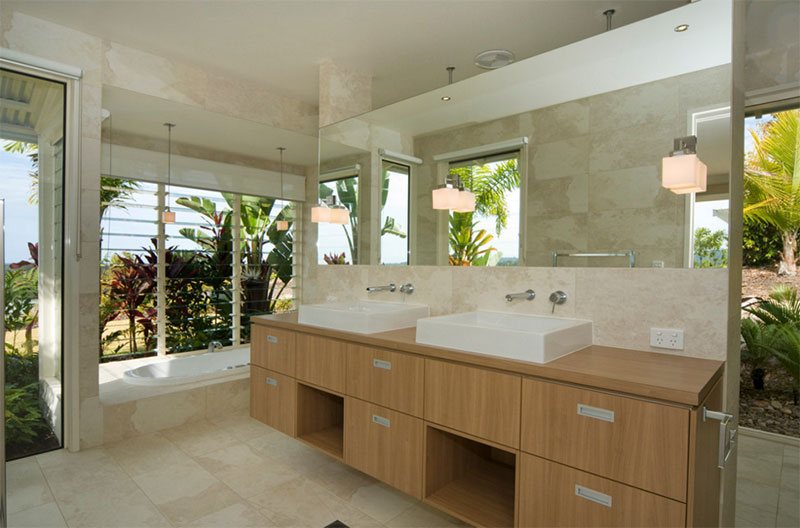 Wooden vanity and sand-like texture of the tiles are featured here. Of course, let us not forget about the plants as well.
17. Eric Cohler Design: Hawaii Interior Design Project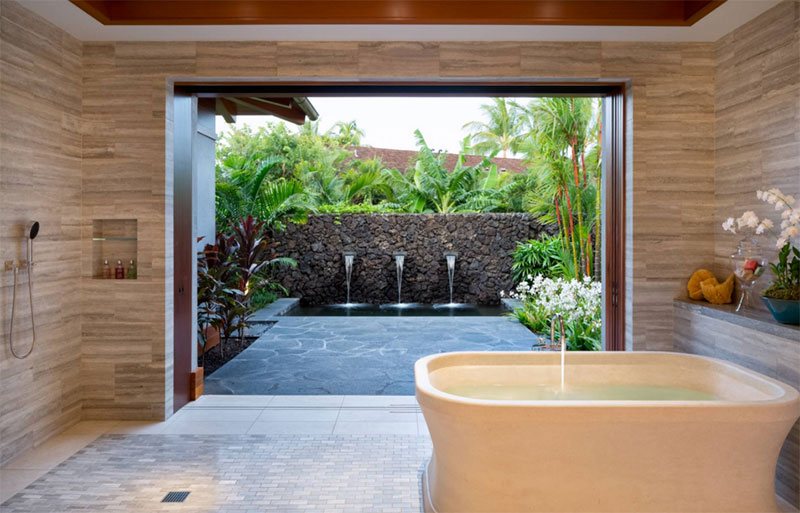 The bathroom has a lot of space around it and it connects to an outdoor garden which will make you feel even more refreshed while bathing.
18. Lake Forest Park Renovation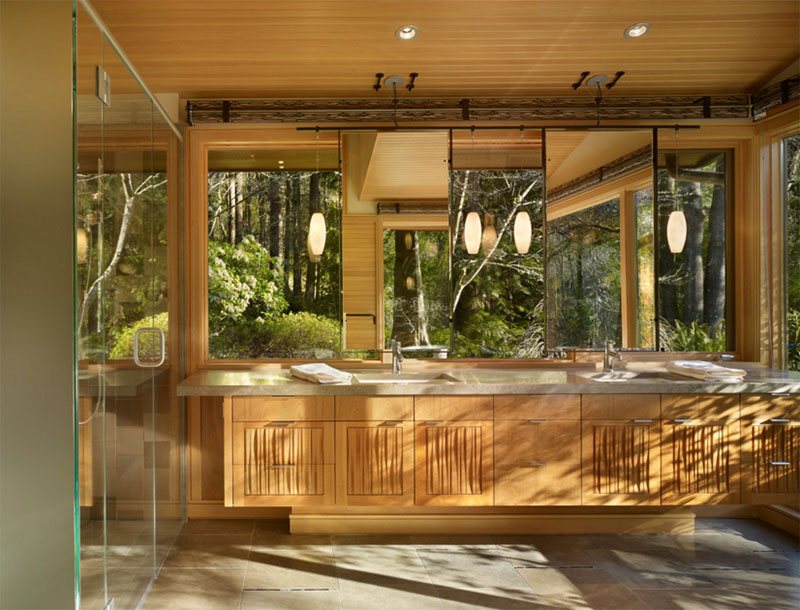 Even if we cannot see the other parts of this bathroom, it is obvious that it maximized the use of wood. Meanwhile, the garden can be reflected from the mirrors.
19. Kitchens and Baths for Interior Intuitions, Inc.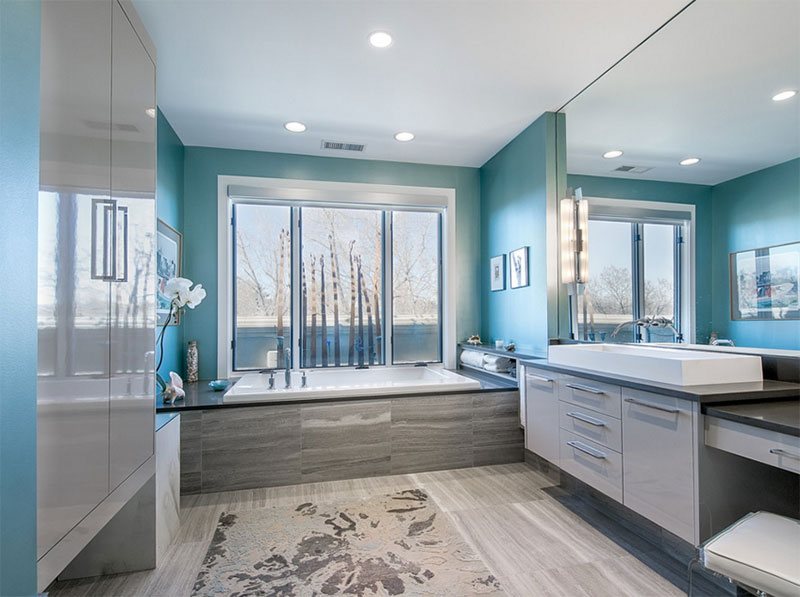 Another bathroom with blue colors as well as gray accents. A bath tub is inserted on an elevated area just near the window. It has a vanity with gray color too.
20. Fashion Showhouse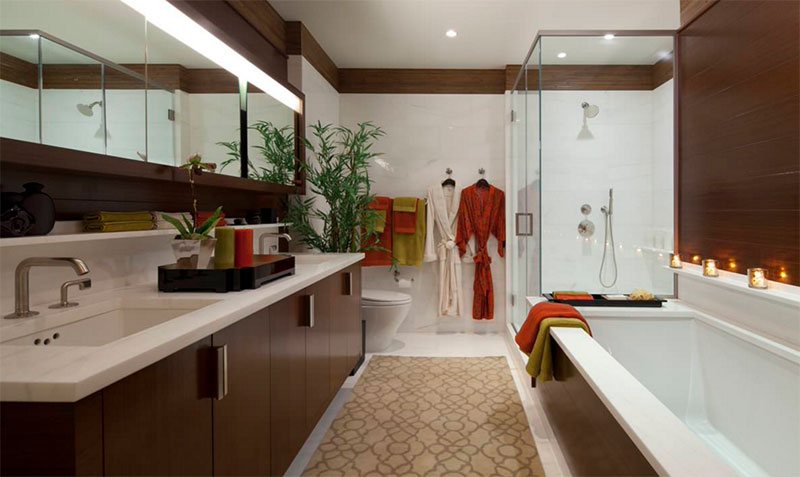 Maximize a storage not just through the vanity but also with hooks and rods. For this bathroom, it added a plant inside it and some candles for more drama.
21. Wolfrey Ave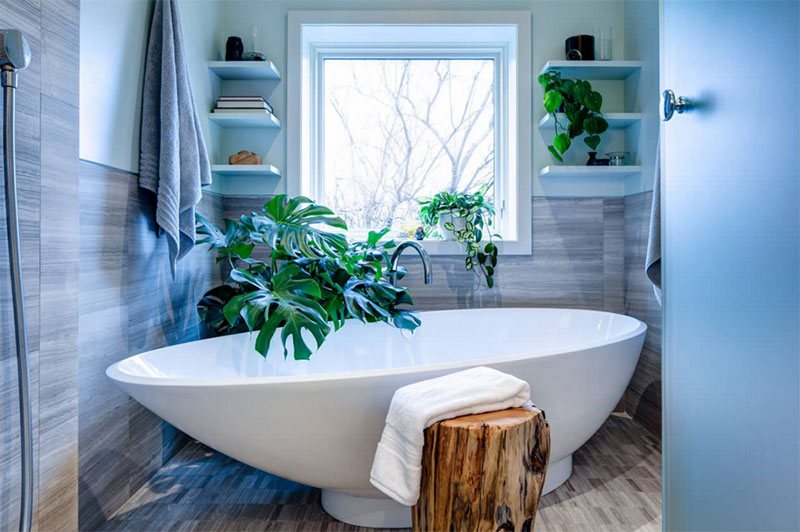 This may be a small bathroom but with the touch of nature, it looks incredibly lovely and stunning!
22. Waterfront House – Pelican Waters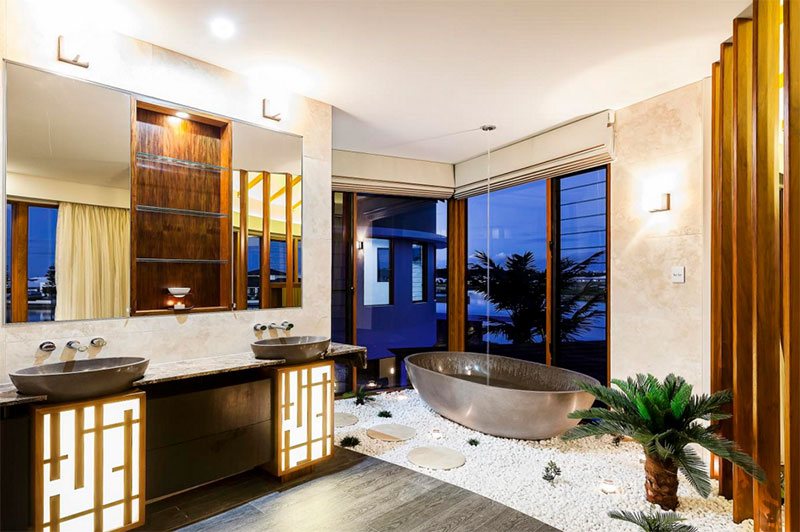 A very good idea for a bathroom that has a tropical feel. It is sophisticated with the use of lights and I like the idea of adding stones on the part of the tub.
23. Lotus on Orange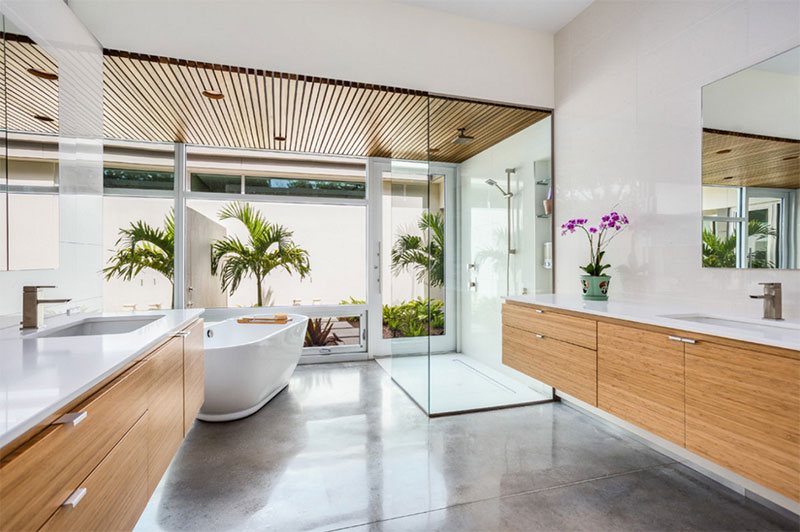 A simple sleek bathroom that used wood, white and glass. Of course, there are added plants and flowers too.
24. Bathroom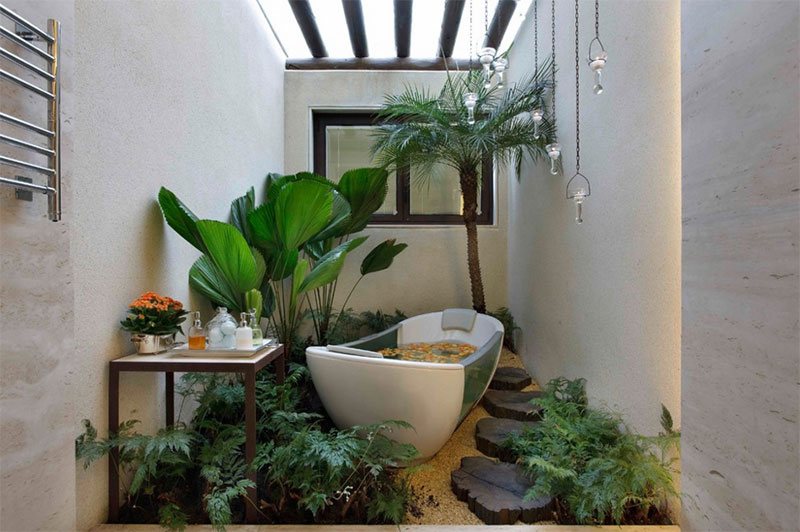 This bathroom seems to appear like an outdoor space but it is actually indoors with skylights on the ceiling.
25. Tropical Spa Master Bath Suite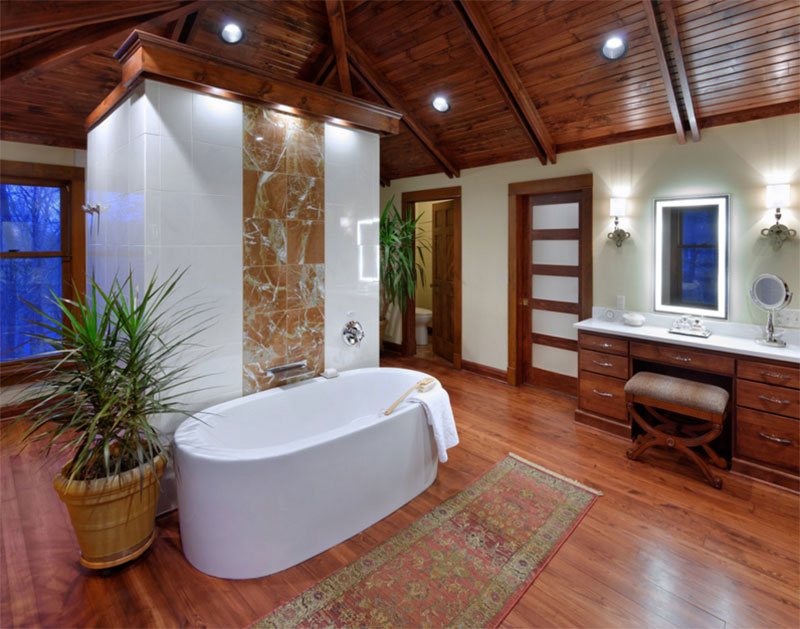 A tropical bathroom that is spacious featuring a bath tub on the wall of an enclosed shower area.
What can you say about the tropical bathrooms above? They all look nice because of the natural touches added to them. I can say that it is a good combination of contemporary look and Zen look. And of course, the bathroom's function is all there while considering style and design. There are also wooden elements as well as stones in the bathrooms interior too. You can also notice decorations not just on the walls but even on countertops. If you are planning to have a tropical bathroom, this list will surely be a good source of ideas and inspiration! Which of the above bathrooms do you like the most?