20 Neat Bamboo-Themed Bathrooms
Bamboo materials that make up furniture and design in today's Architecture and design industry is actually booming; not only because there are a lot of locations wherein we can actually get them but also mainly because, simply adding a few Chinese bamboos in any room in the house, you can pretty much create a more Asian feel to that space; that is of course if you want that for your space.
Below are 20 Neat Bamboo-Themed Bathrooms designs that were created to maximize an Asian look and feel to the spaces. You will notice subtle to obvious bamboos or materials or decors made from or inspired from bamboos which I think you will like because they are really pretty and artful. Take a look.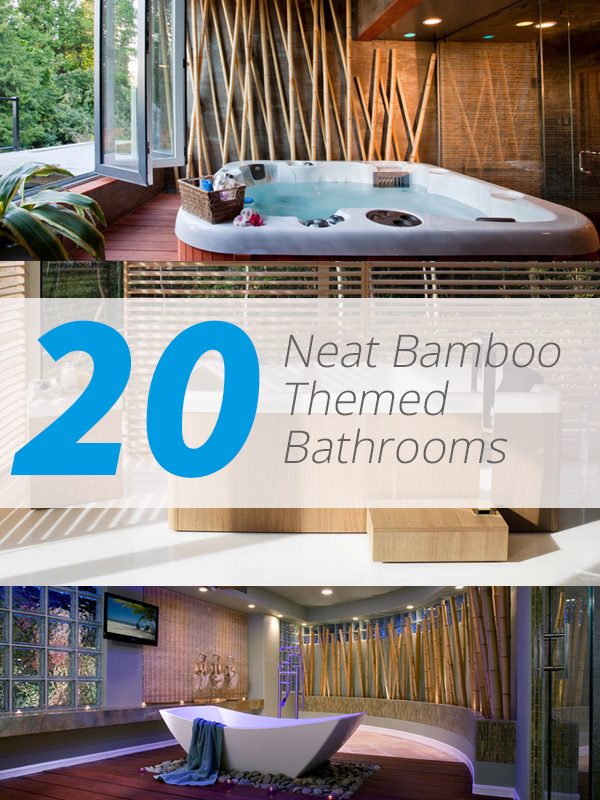 1. Alameda Remodel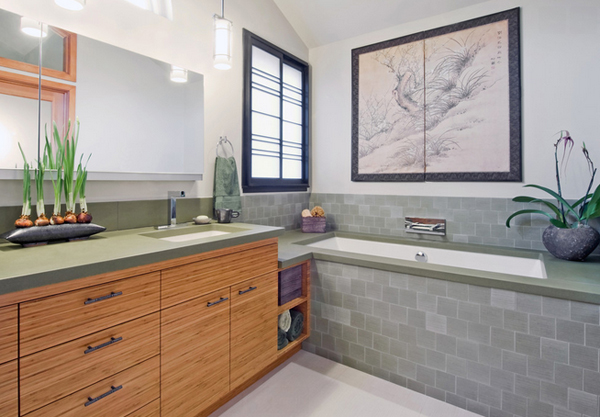 Cabinets made from bamboo and an additional Asian-themed picture by the tub sure made this bathroom very cozy.
2. Asian Bathroom with Intuitive Lighting Control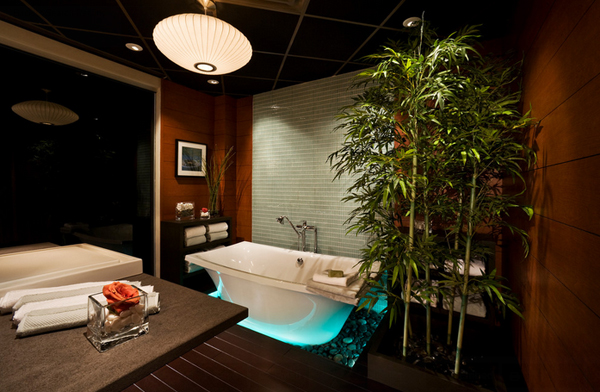 What did I say about adding a couple of Chinese bamboos in a space and it immediately looks and feels Asian.
3. Australian Tropical Bathroom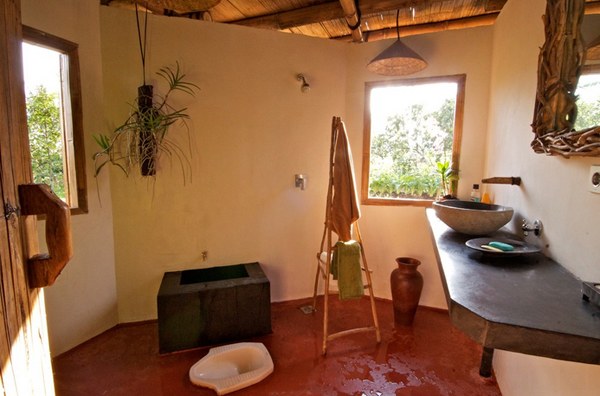 This is an unconventional bathroom if you ask me – you might actually seem amazed with this one since you don't normally see a low toilet in usual bathrooms right?
4. Bamboo Themed Bathroom Idea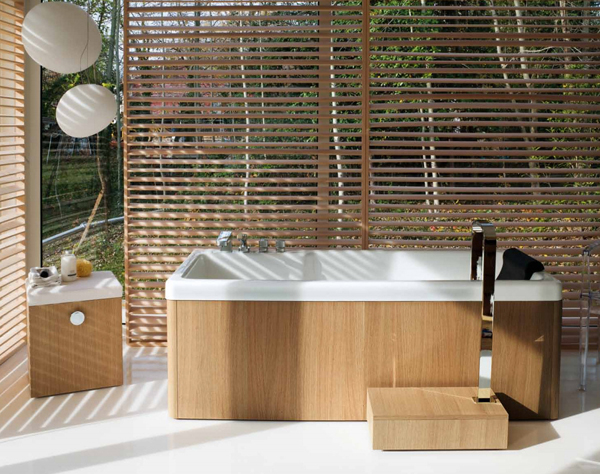 This is one cozy bathroom space. A cute tub with a great view of the outdoors sure says something about how much nature-involved the owners are.
5. Bath 5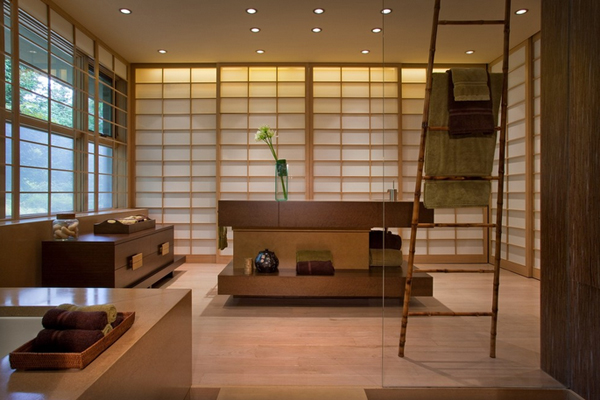 I know that when you see screened doors like this one, you immediate think "Japanese", I mean, I do too. The additional bamboo stairs serve as a decor but also functional since you can use it to hang your towels.
6. Bathroom Design with Brazilian Rainforest Wall Mural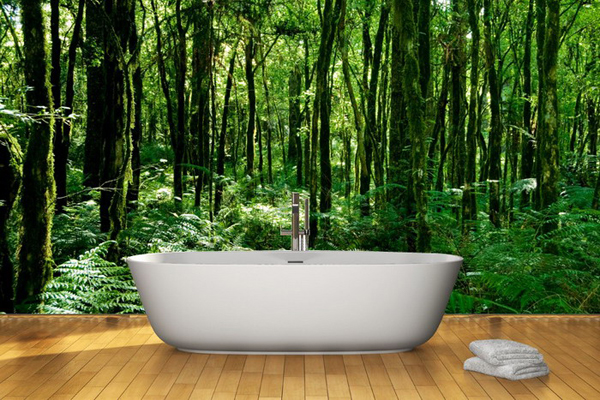 Using wallpapers such as this creates a far more interesting scheme and feel to your space; note that the bamboo tiles sure makes a great flooring.
7. Boffi Bathtub Design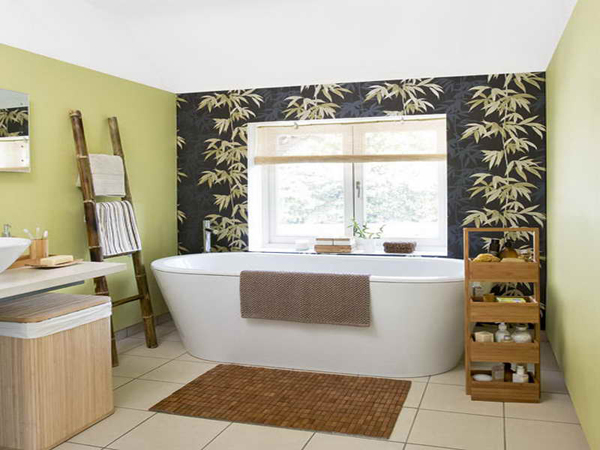 Bamboo-themed wallpaper and a bamboo stair/hanger sure looks fascinating against the large tub!
8. Brazil Bathroom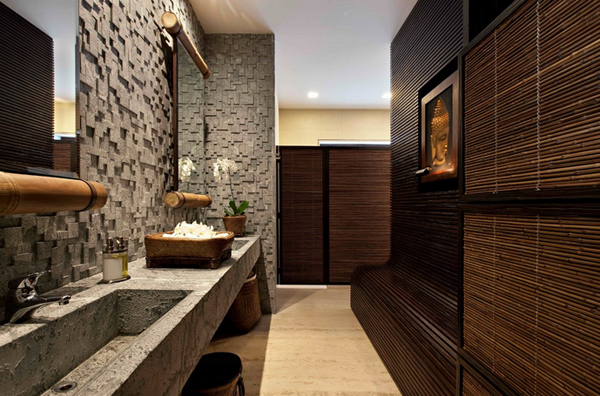 The color scheme and the texture of this bathroom are pretty interesting and lovely, do you agree?
9. California Sustainable Home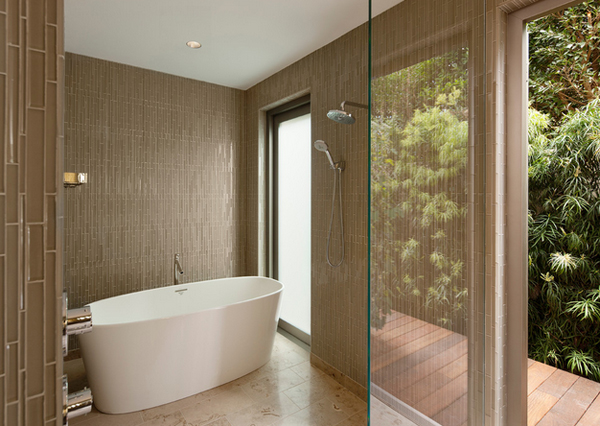 See the tiles and how it works well with the outdoor plants?
10. Clifside Residence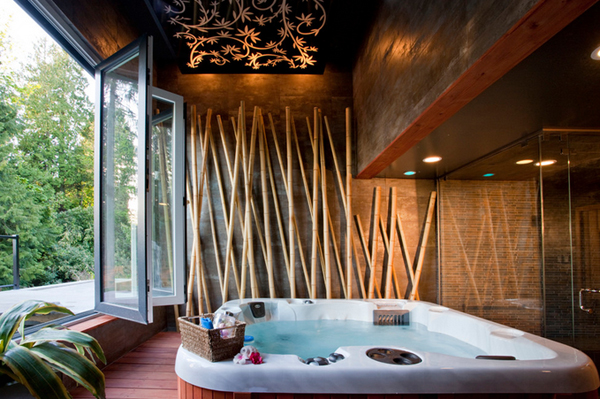 Maienza – Wilson sure added a wonderful feeling and look to this large bathroom with the Jacuzzi and those bamboo sticks!
11. Hearts on Fire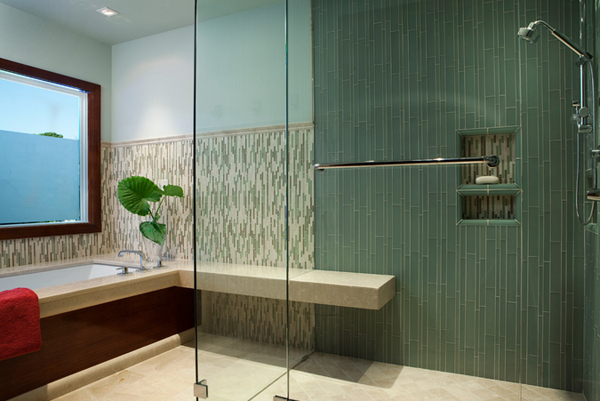 This is the first time that I saw rectangular tiles that actually look bamboo-like; with the color of this tiles, you can actually see how much better it looks in this particular shade of green.
12. Hollywood Regency, Montecito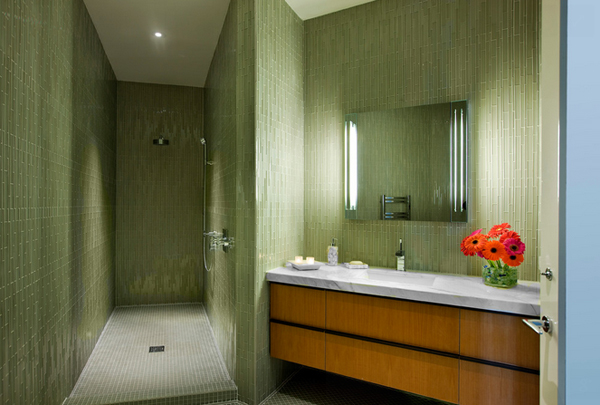 Here is another example of the bamboo-like tiles in a different shade but sure still works.
13. Indian Valley Road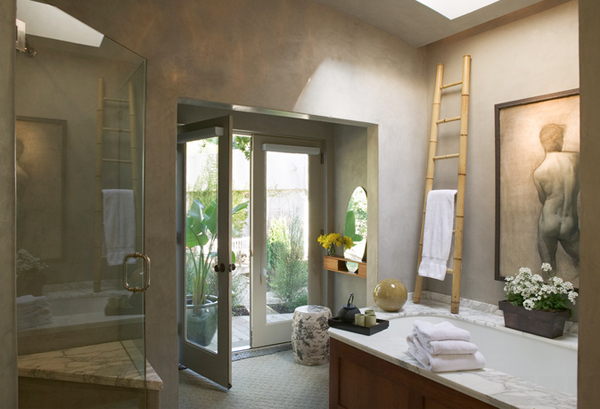 A bit Asian because of the bamboo stairs and the large Chinese-y vase by the door.
14. Japanese Soaking Bathroom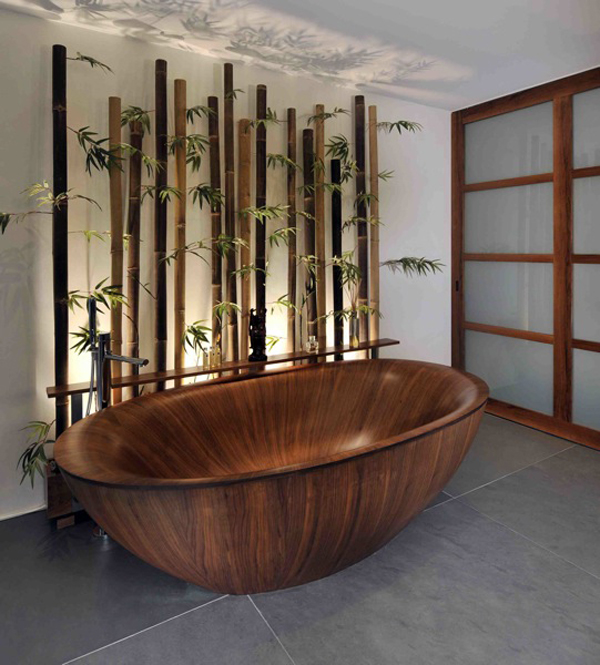 Love the tub? I know I do.
15. Lemon Heights, Ca. Guest Bath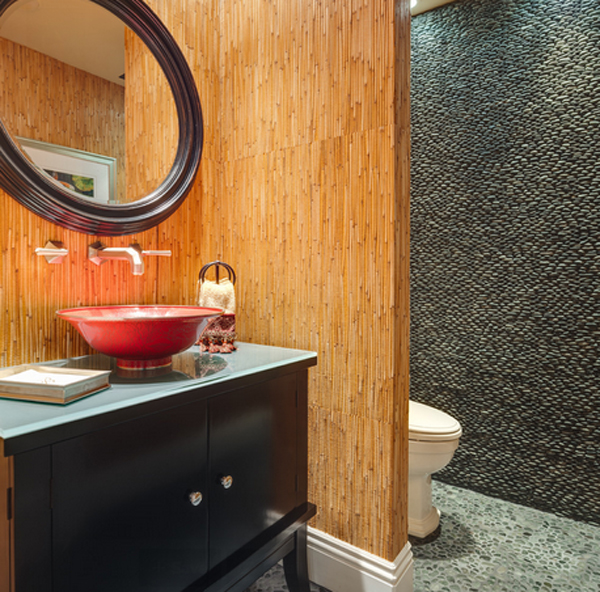 I am just sad that we were not able to get another picture of this cute bathroom. I like the bamboo wall dividing the toilet from the vanity.
16. Modern Spa-like Bathroom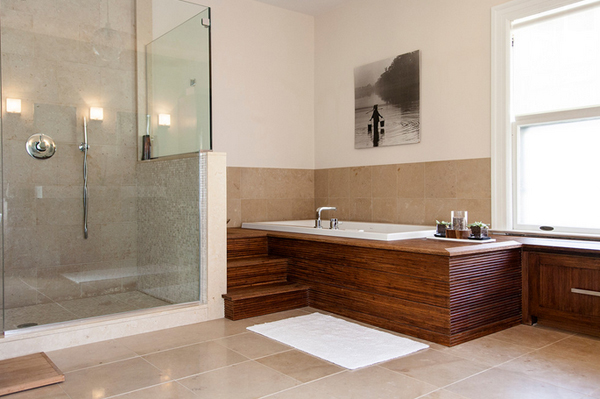 Covering the tub with bamboo sure made this modern spa-like bathroom more natural.
17. Oriole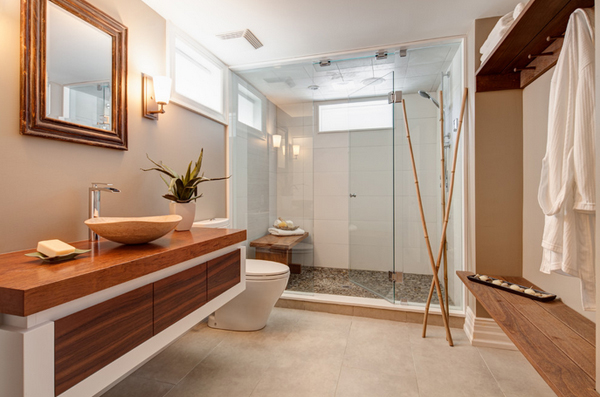 Wooden cabinets, seating and hangers sure makes it look great with all the beige-colored items inside the bathroom.
18. Spa Retreat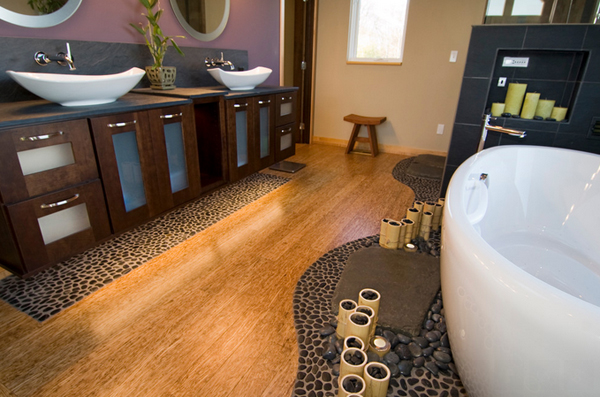 See the small candle-holder things on the floor and the cabinet? Yes, they are cut-out bamboos.
19. Tropical Oasis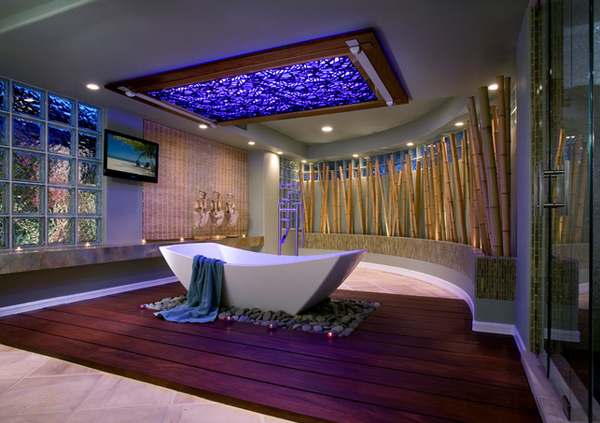 Need I say more about this wonderful oasis? Even with just the lighting – everything just seems prettier and cozier!
20. Zen Bathroom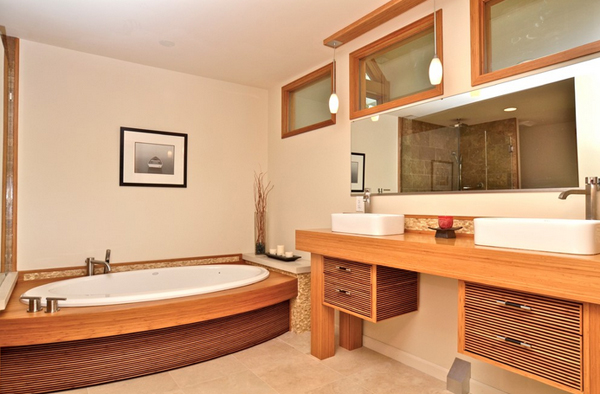 Nassau Design Build sure created a wonderful space to stay when you just want to relax and bathe.
Every space in this list of 20 Neat Bamboo-Themed Bathrooms is indeed pretty, cozy and a bit Asian when you look at it closely – but of course, adding the bamboos or bamboo-decor does not necessarily mean that you want to create an Asian bathroom but just one comfortable space to cater to our needs. There are also beds made of bamboo which is another example you can check for more interesting bed you can put in your bedroom.