22 Beige Contemporary Bathroom Vanity Designs to Inspire You
Want the color beige for your bathroom? Use it in the vanity and you'll get a pretty space
A bathroom wouldn't be complete without a vanity. If you look into a bathroom and it lacks this element, you would certainly feel that it looks empty and has a very important feature that is not present. A vanity bears the sink, the mirror and serves as a countertop where you can do some activities like checking yourself in the mirror while adding facial cream, shaving, putting makeup, brushing your teeth and others. In terms of design, a vanity has varying looks. Some would have intricate moldings while others are just simple, sleek and neat. Most vanity that are used for contemporary spaces have a sleek design but there are still others that has some details on them that add to its appeal.
So today, we are going to gather some bathroom vanity designs with varying contemporary styles that come with beige finishes. Beige itself comes in various tones and shades and may appear different when lighter or darker. It is defined by our good friend "Wikipedia" that the color beige is "used for a range of pale brownish or yellows colors." Aside from that, it is "variously described as a pale sandy fawn color, a grayish tan, a light-grayish yellowish brown, or a pale to grayish yellow." Before you look into the bathrooms below, here is a glimpse of beige colors that you will see in the contemporary vanities featured in this post.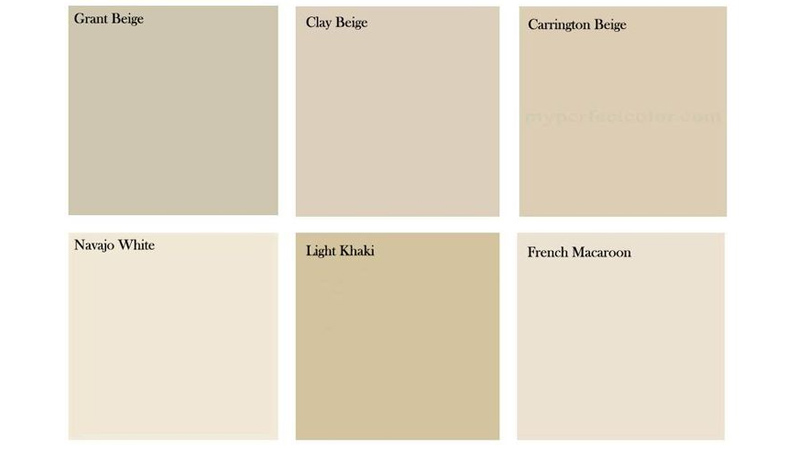 Some are confused when it comes to beige because they think that when the tone differs, it becomes a different color. But in truth, it just a lighter or a darker version. Now that you have seen this, you will no longer doubt if what you will below is beige or not. Oh well, all of the bathrooms has beige vanity, after all.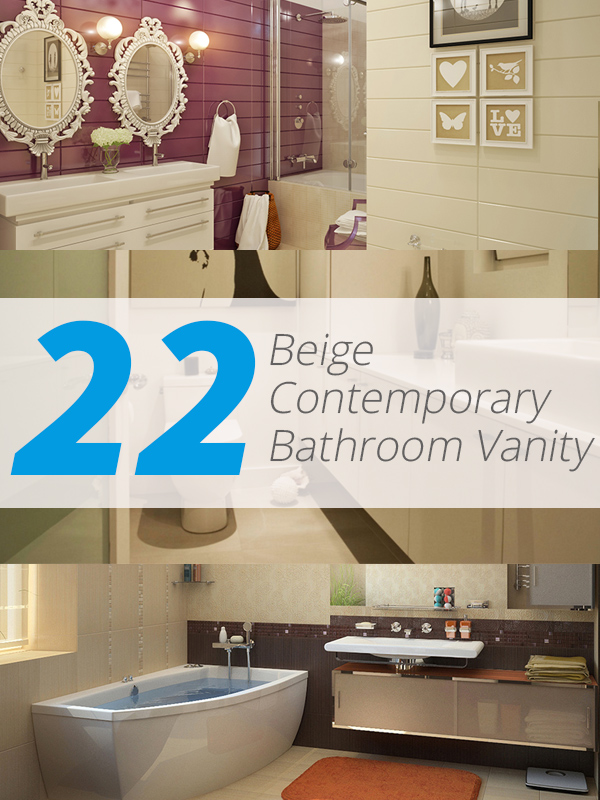 1. La Jolla Gallery House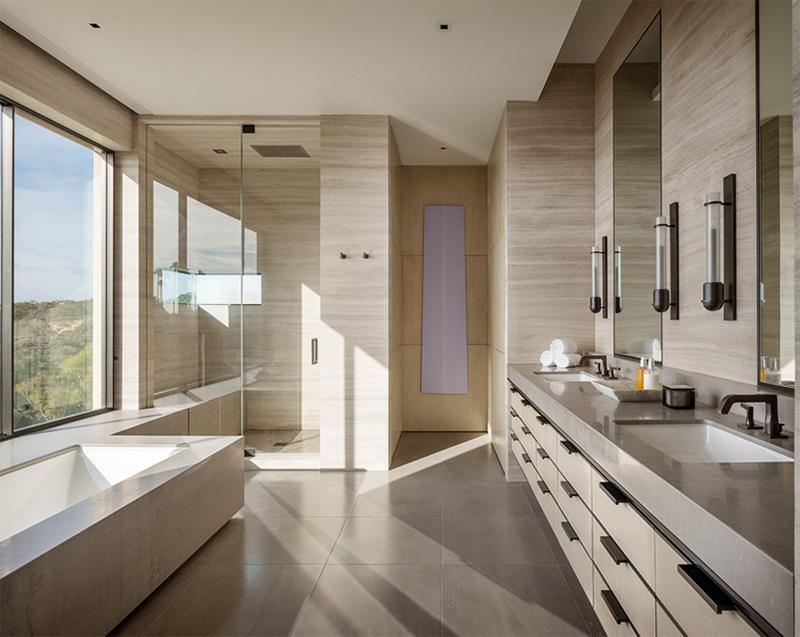 Neat right? It sure is. Aside from the vanity with beautiful drawer handles, the sandy texture of the wall brings a natural appeal to the entire space.
2. Hucker Residence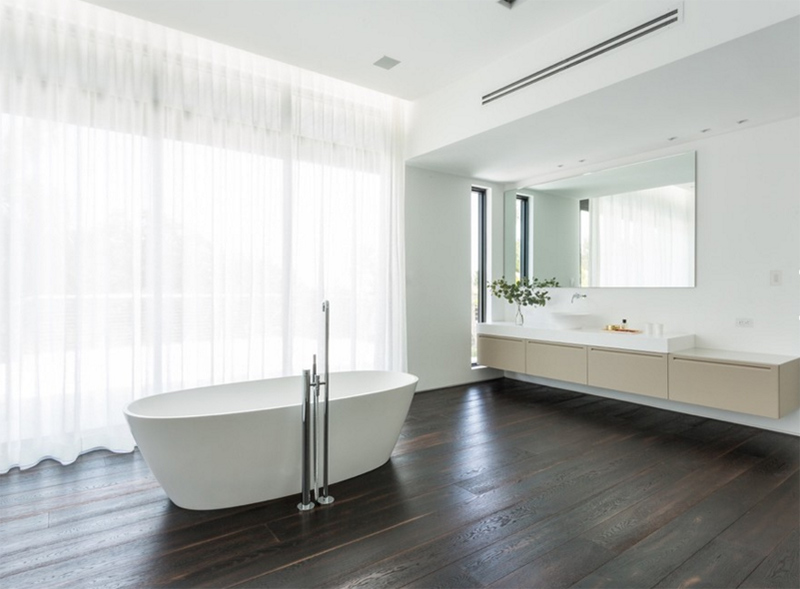 Yes, if you have a spacious bathroom, you can just do it this way- add minimal items. Instead of crowding it with furniture, only this beautiful white freestanding bath tub took center stage. Even the design of the vanity is very simple too. What add to its appeal are the plants in it.
3. Bathrooms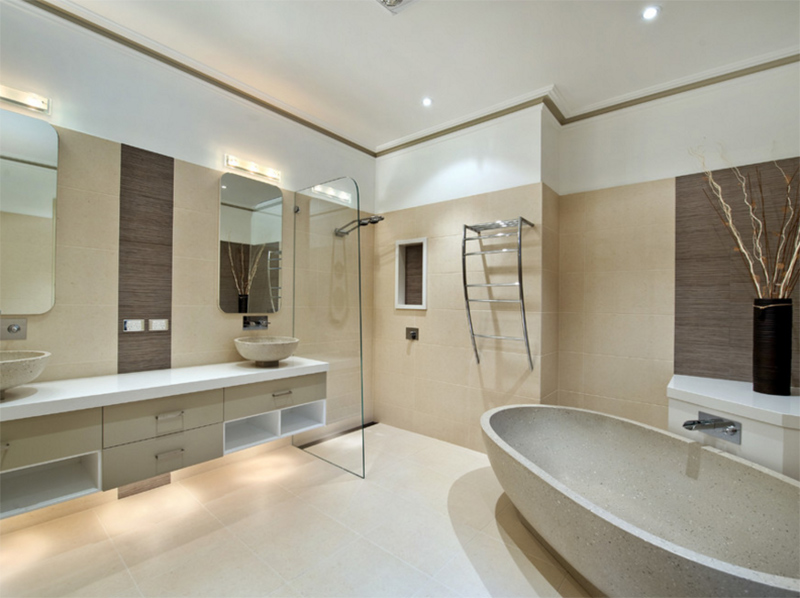 The shower area here is just small and is being defined with a glass wall. Aside from the beige vanity, it also has beige walls too. Even the moldings on the ceiling are painted on the same color with a darker tone.
4. Cube House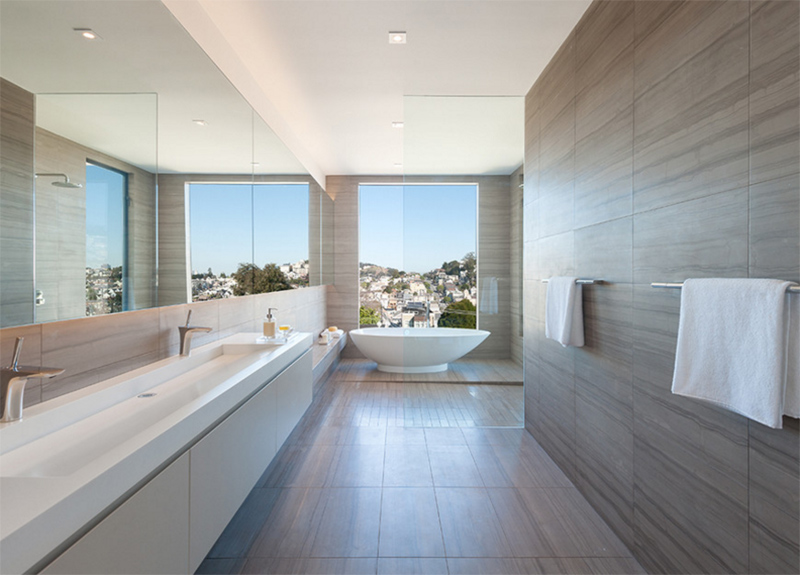 If you have a spacious bathroom, you can use this idea. Add long vanity into it and do not hesitate to use textures for both the walls and the flooring. Adding mirrors will add to its airy appeal. What I like here is the view from the bath tub. I just hope that those outside cannot view you while you are bathing here.
5. Rollingwood Remodel Bathroom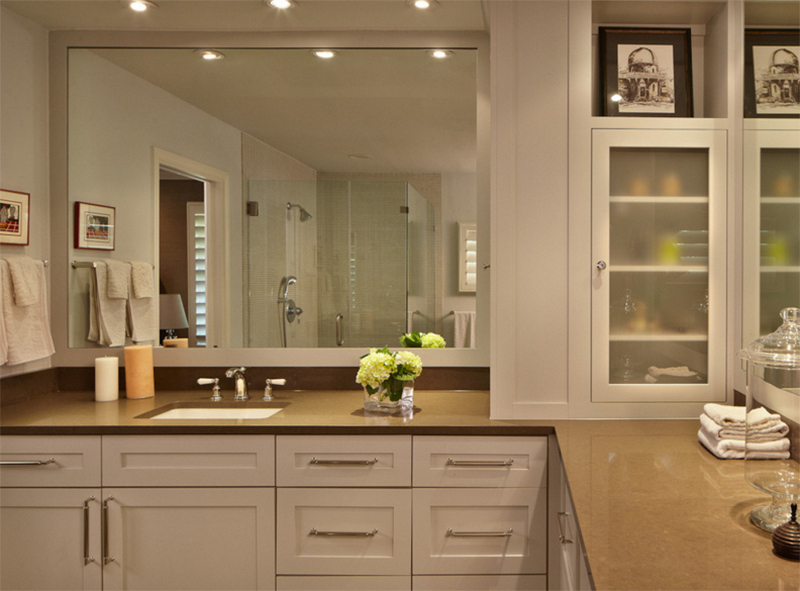 This one looks a little classic but it is actually a contemporary space with an L-shaped vanity.
6. Hooked on You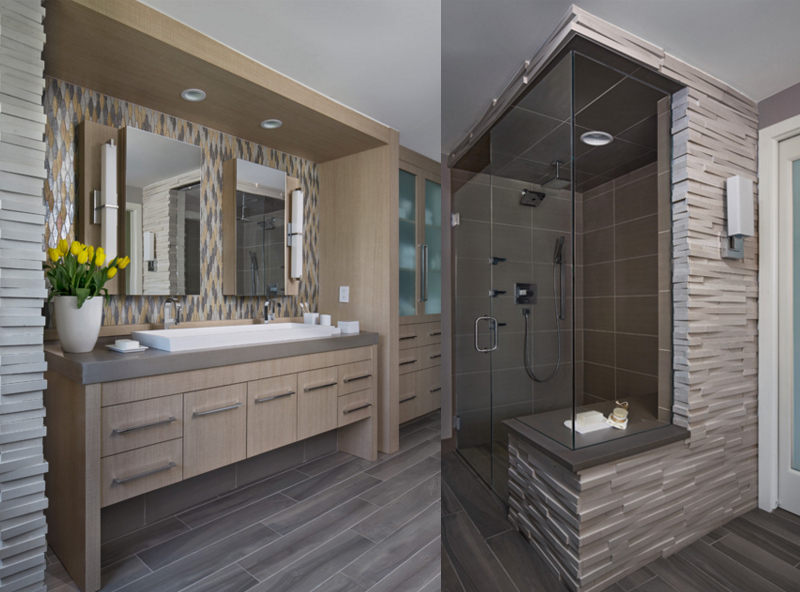 I know you are also loving the stones used here because it doesn't bring the design to a different level. Apparently, this is a costly move but it does add more beauty to the space. The vanity here has a similar design as the cabinet on its side.
7. Bathroom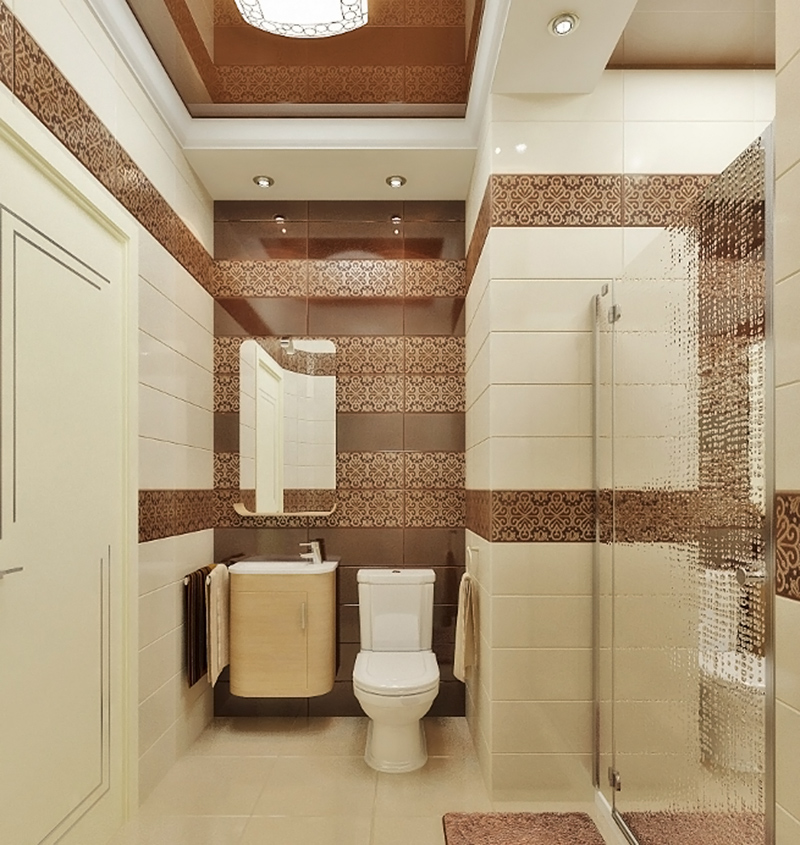 Yes, you don't need a big vanity if you don't want to and if your bathroom is this small. But you can still make it appear really stunning with a design like this one.
8. Bathroom 2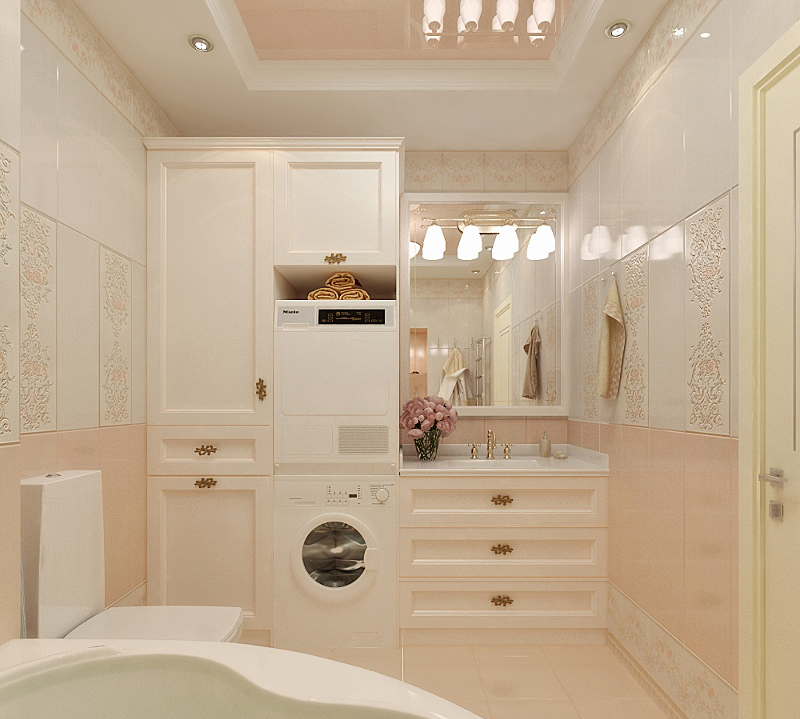 Your drawers for the vanity may look simple but adding an intricate handle will surely upgrade its look.
9. Home Design – The Pagoda
I like the idea of separating the bath tub from the vanity with a sliding door. One will be given privacy while in the tub for sure. And I also like the design of the vanity because it doesn't have handles on it.
10. Sioux Falls Residence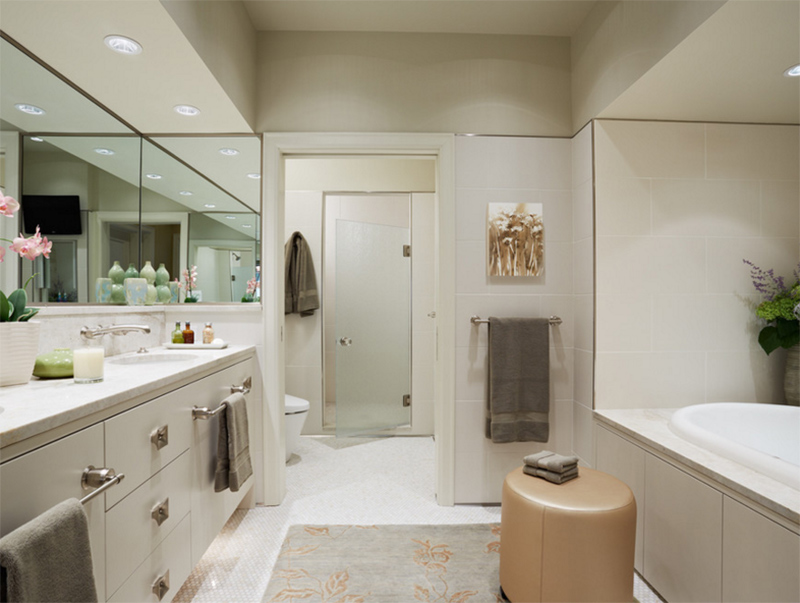 When I first saw this bathroom, all I can see where gray towels everywhere. Lol! But yes, it does look nice for a not-so-large bathroom space.
11. Guest Bathroom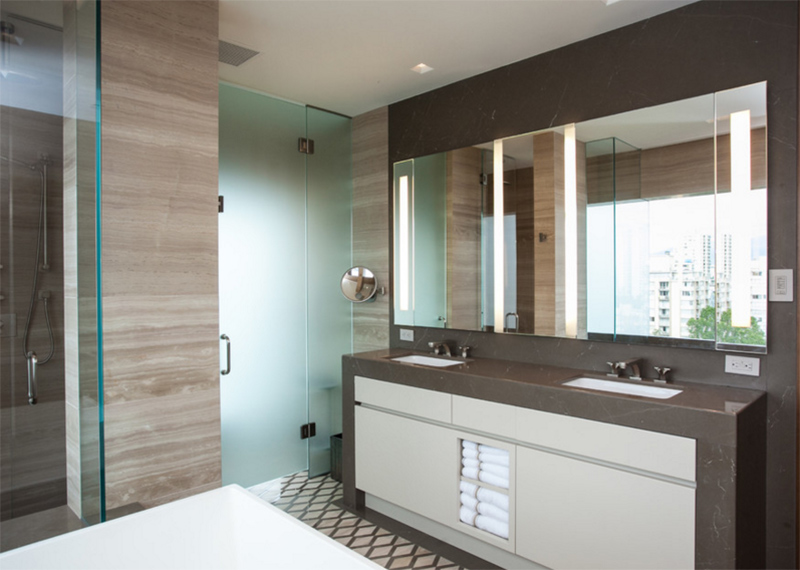 Beige combined with dark gray looks good too because beige also has some grayish tones in it. Notice here that the flooring has some patterns on it.
12. 014_037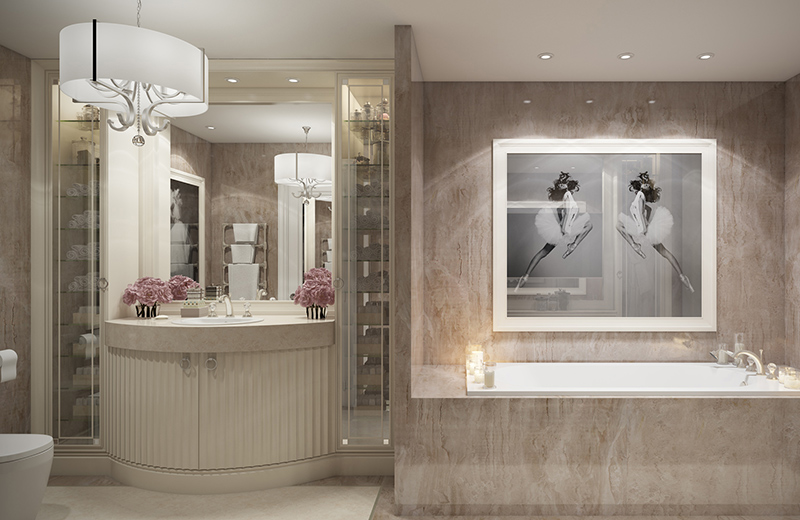 An elegant and sophisticated contemporary space with some Art Deco feel using a curved vanity with beautiful finish. On its side are tall yet small shelves that could serve its function.
13. West Mountain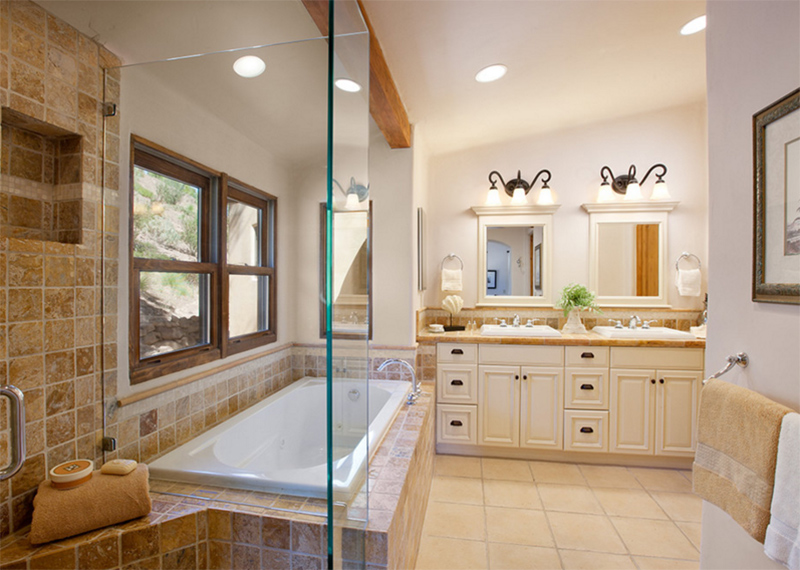 I know this looks a bit classic but this is a contemporary space. What made it appear traditional is because of its choice of tiles which I am not digging.
14. Seaside Living: Corona del Mar, California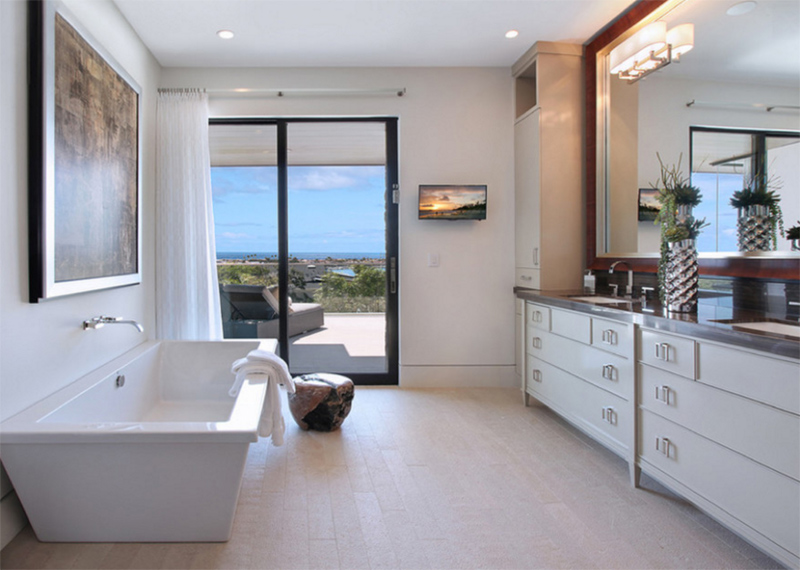 From the bathroom, one has access to deck where the beautiful panoramic view of the outdoor area can be seen. As for the bathroom, it features a long vanity with varying drawer sizes and a dark countertop.
15. 014_48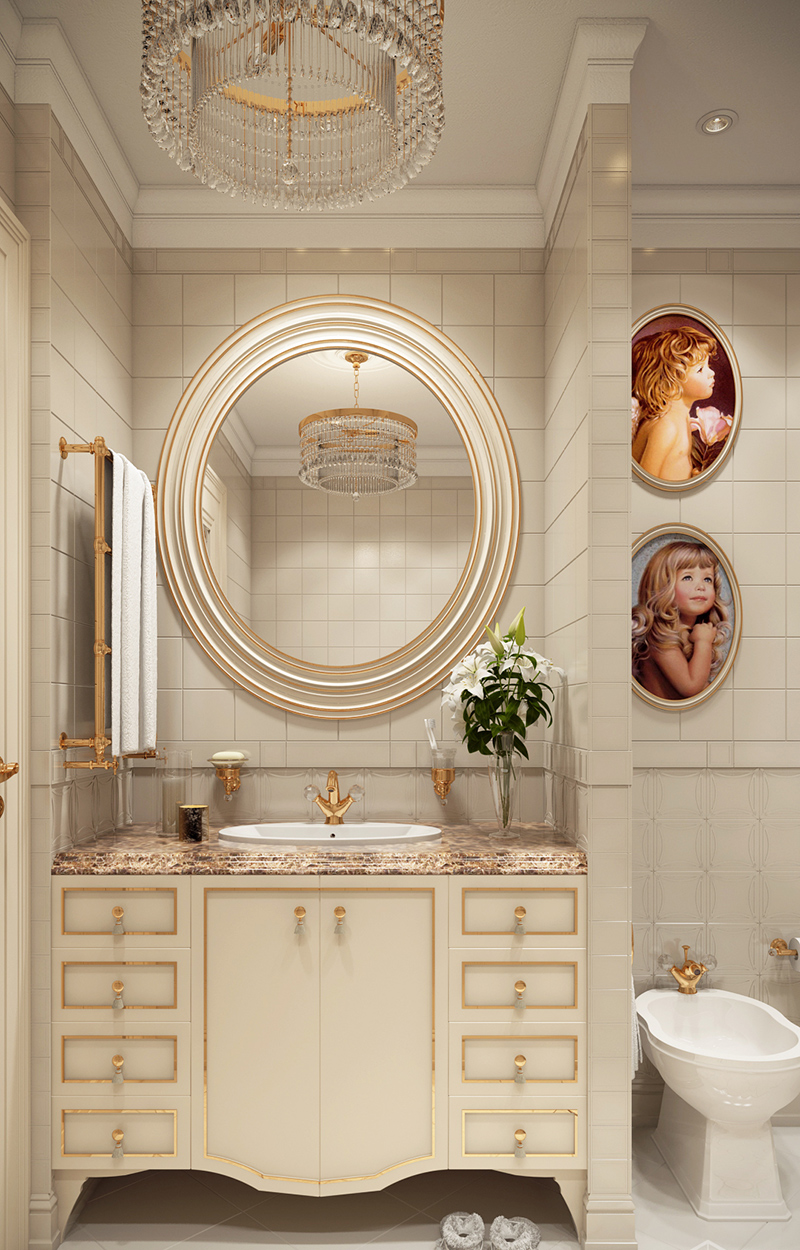 How cute are those photos on the wall! Apart from that, the gold detailing and fixtures used here is what I like the most. Gold looks elegant when paired with beige.
16. For Happiness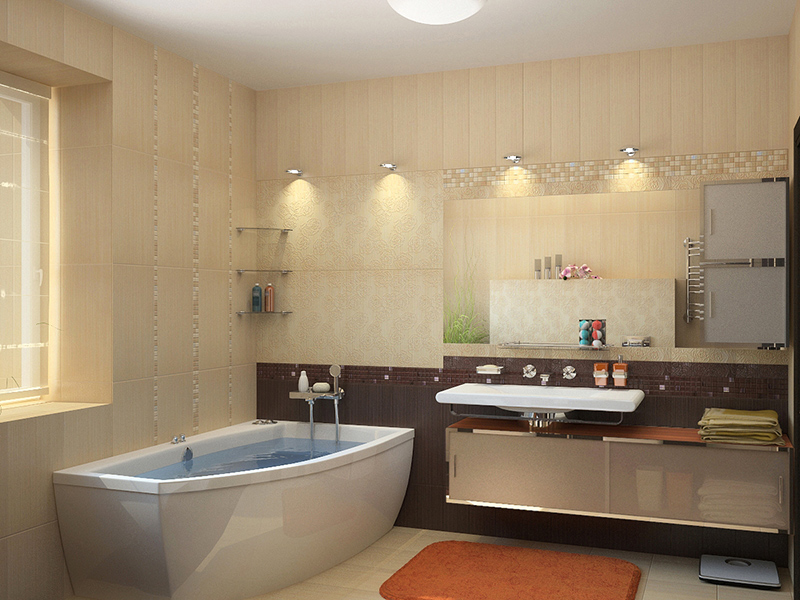 A sleek looking contemporary modern space wherein the vanity has sliding doors to reveal its storage area. Note the different tile designs used for the wall.
17. NY Apartment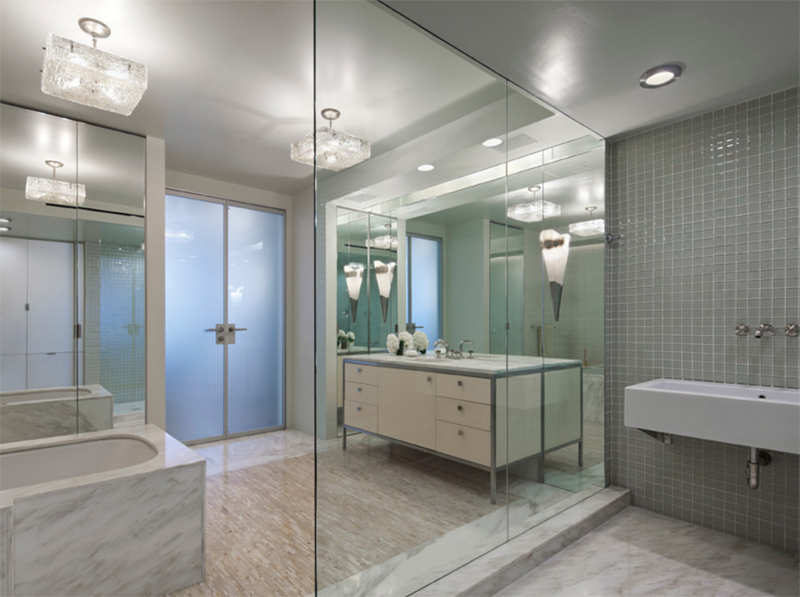 A beautiful spacious bathroom has a combination of beige and gray colors. Its vanity has a furniture style because it was given legs.
18. Love Bathroom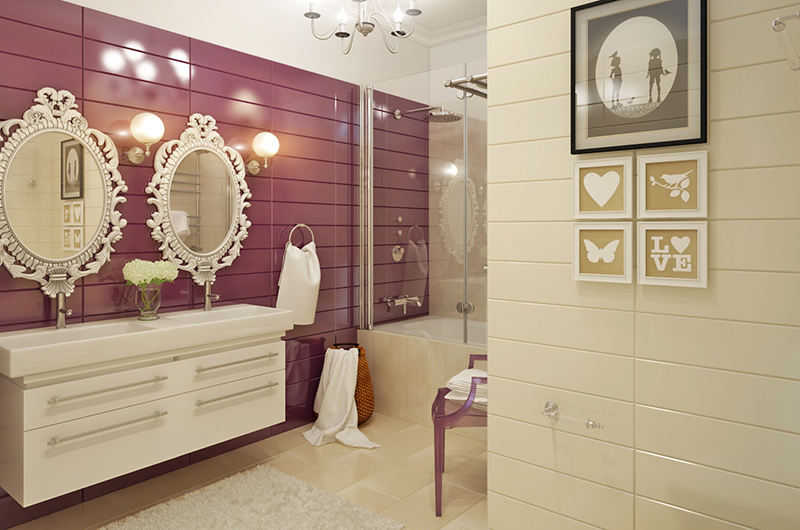 Those intricate mirrors give this bathroom a sophisticated look with purple colors on the wall and on a transparent chair. It has a floating beige vanity with stainless steel handle. What else I like here? Of course those wall decors!
19. Bathroom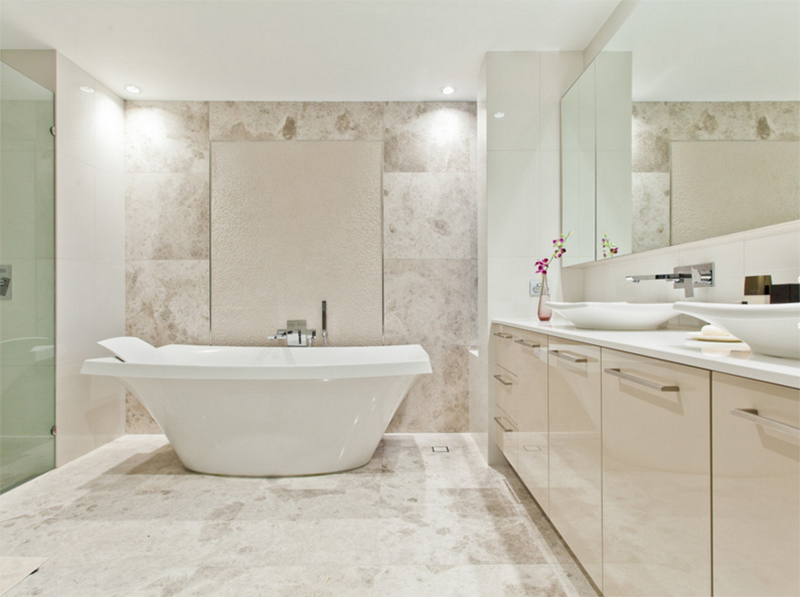 A simple bathroom with plenty of storage spaces on the vanity. Notice also that the tiles used here has different textures.
20. Bath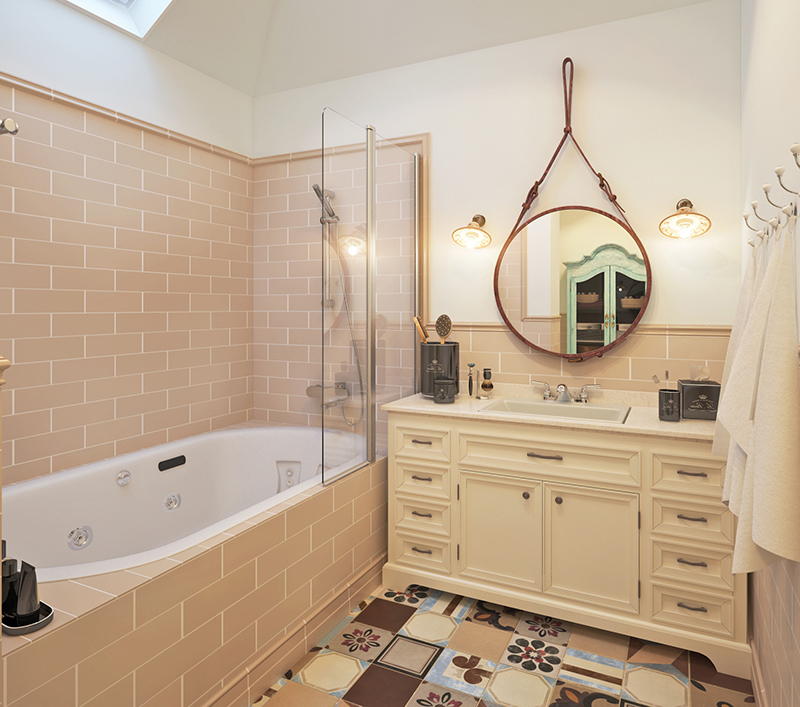 The vanity used for the space is like a cabinet because of its base. It looks good with the beige subway tiles and the different patterns and prints of ceramic tiles on the flooring.
21. Minimal and Modern in West Vancouver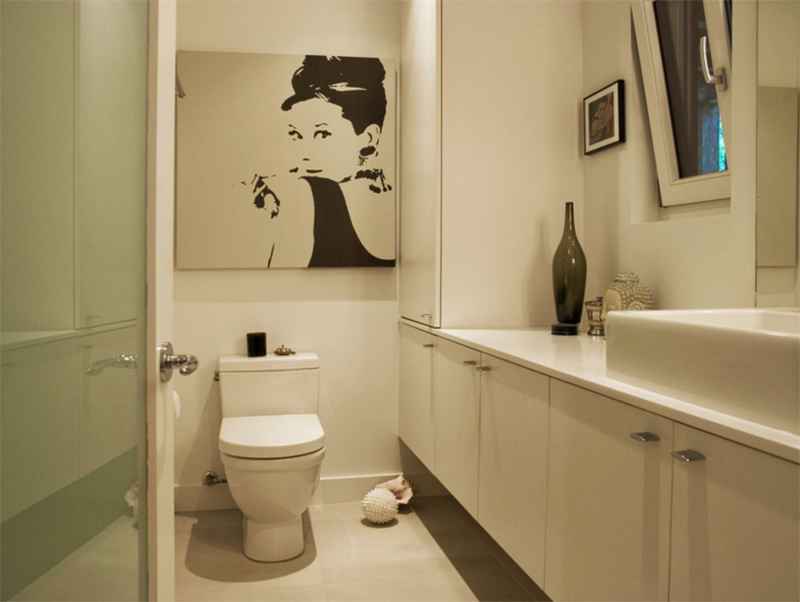 Just a simple bathroom which is being charmed by an Audrey Hepburn artwork on the wall.
22. Domus Homes Gallery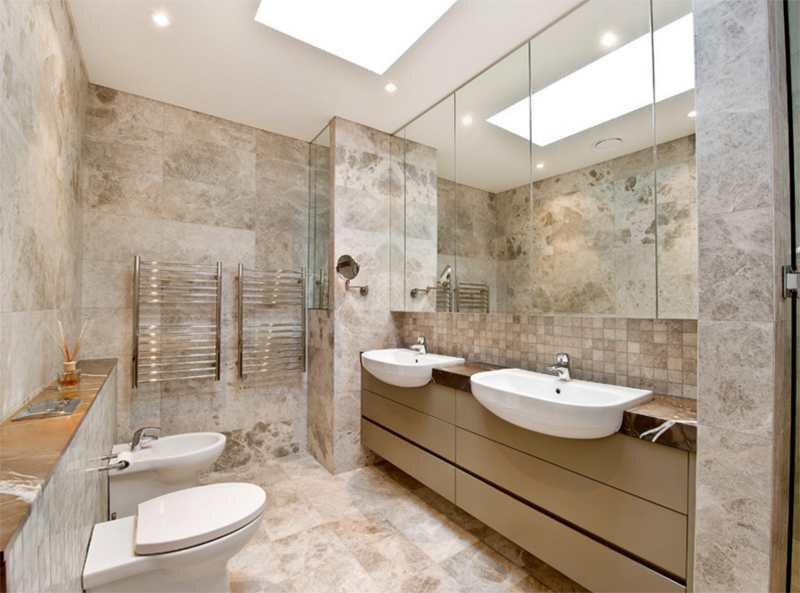 The walls of this bathroom may look busy but using a plain beige vanity pacified the look!
Seen above are examples of bathrooms that has beige bathroom vanity. We can see that each one has a different design depending on the kind of style of the bathroom as well as on the needs of the homeowner. Others merely want a small vanity while still others want one where they can store more items and serve more functions. It actually depends on your needs as well as your design preference. Want a beige vanity? If so, you will be able to get some ideas from the bathroom spaces featured here. Is your dream bathroom vanity design in the list? If not, look forward to more roundups that we will feature here on Home Design Lover.