20 Modern Bathrooms With Wall-Mounted Toilets
Give your bathroom a modern neat appeal with the wall mount toilet.
One trend that is becoming popular in bathroom designs is the use of wall-mounted toilets. For sure you have seen it in many modern bathrooms and renders and I know you will agree with me that it really looks nice and neat. Having one could alleviate the appeal of your bathroom especially if you are really aiming to achieve a modern minimalist look. A wall mount toilet is also ideal for small spaces since it doesn't use floor space. But before you buy one, make sure that you look into different stores to check various models. Try to test if the toilet will look good in your bathroom, feel good when used and works really well.
We have to take note that it isn't just the looks that matter when choosing a bathroom feature. Its function and usability are even more important. We have to make sure that it will work in the bathroom. To help you decide, we have here the pros and cons of using a wall mounted toilet.
Pros
1. Looks beautiful. Because of its clean lines, it provides the bathroom an appealing look. It turns your space into a stylish room that could complement with the modern design of the rest of your home.
2. Clean appeal. Aside from its neat lines, it looks really clean because the water outlets and other aspects of the toilet are concealed. So if you think that a floor-mounted toilet is an eyesore, you won't have that problem with a wall mounted toilet. Also, it is easier to clean when the toilet is elevated from the floor.
3. Takes minimal space. Since it is mounted to the wall, it will only need a minimal amount of space. It doesn't take up a floor space like the usual toilets that most homes have. This will also allow you to install your toilet in any space as long as it is near a water source.
Cons
1. Cost. One major downside of this type of toilet is its cost. It is indeed more expensive than the conventional toilet. Aside from spending much for the toilet, you also need to pay for its installation since not everyone is knowledgeable on how to install a wall mounted toilet.
2. Repairs. There is a possibility that the toilet will become loose over time because of the pressure exerted on it. Because of this, you would need the services of a qualified plumber who can fix it.
3. Leakage. Although we are not saying that the wall mount toilet will leak, there is more possibility for leaking in this type of toilet compared to the floor mounted ones. And if this happens, you would need to spend for repairs again.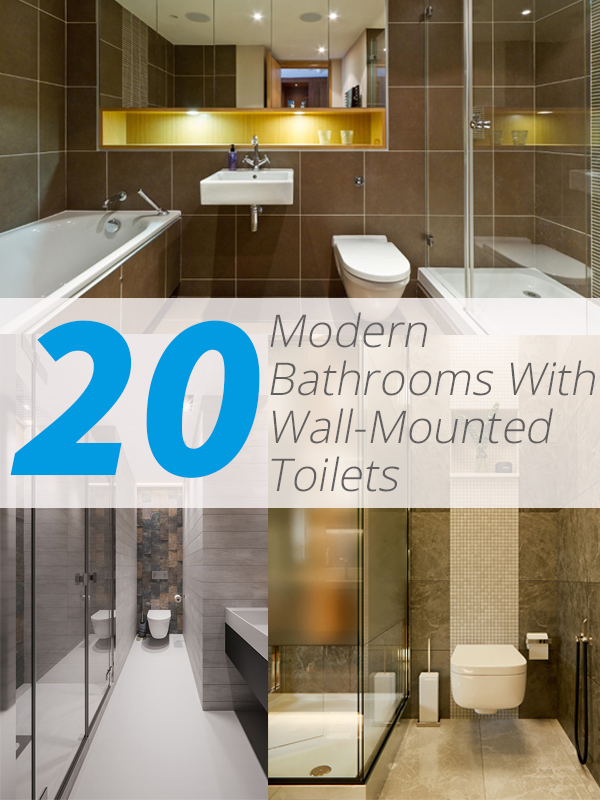 Now that you are already aware of the pros and cons of a wall-mounted toilet, you can decide if you will use one for your bathroom or not. And if you are looking for inspirations, here are some modern bathroom interiors with wall-mounted toilets:
1. 321 Portobello Road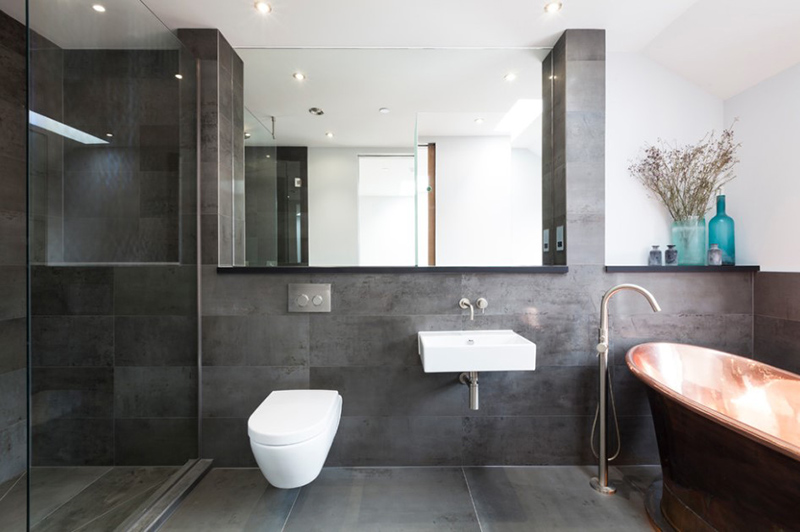 This lovely toilet is from Villeroy & Boch. which looks really nice in this trendy modern bathroom with a wall-mount sink, a freestanding tub, and an alcove shower. I also love that bath tub too!
2. 701 Broadway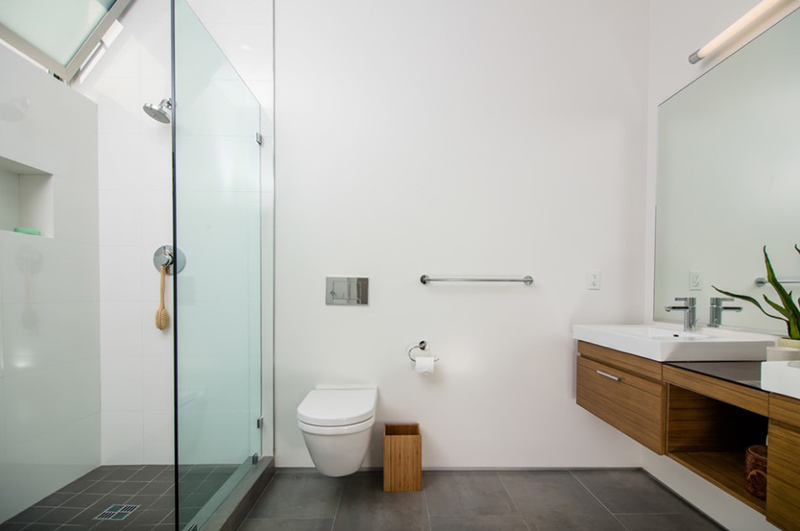 Want something that is neat and minimalist? This modern master bathroom idea with a wall-mount toilet is perfect for you. It also used a combination of gray and white tiles that looks great with the porcelain floors.
3. Penthouse Refurbishment in London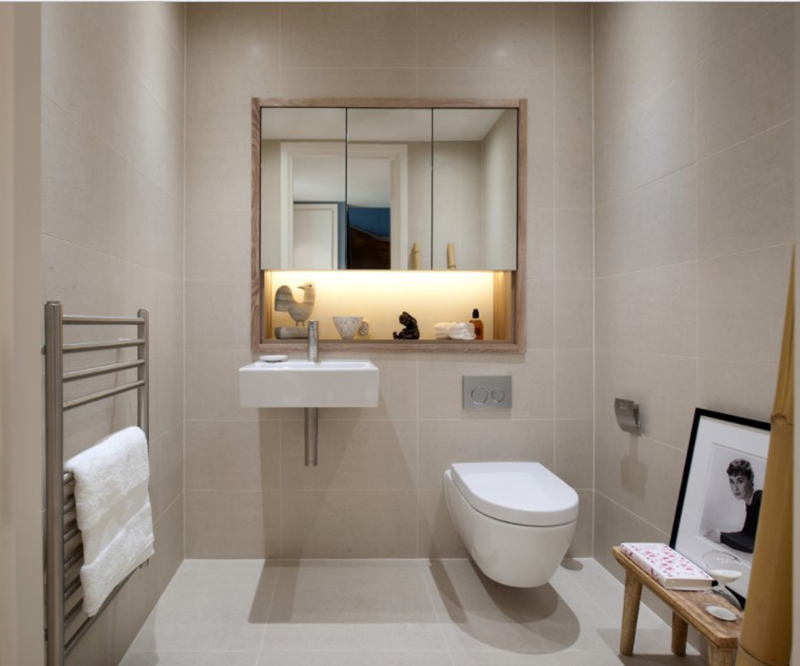 If you want a clean and modern style, wall-mounted toilets are the ultimate choice especially if you will use it in a small bathroom like this one.
4. Green Oak Writer's Studio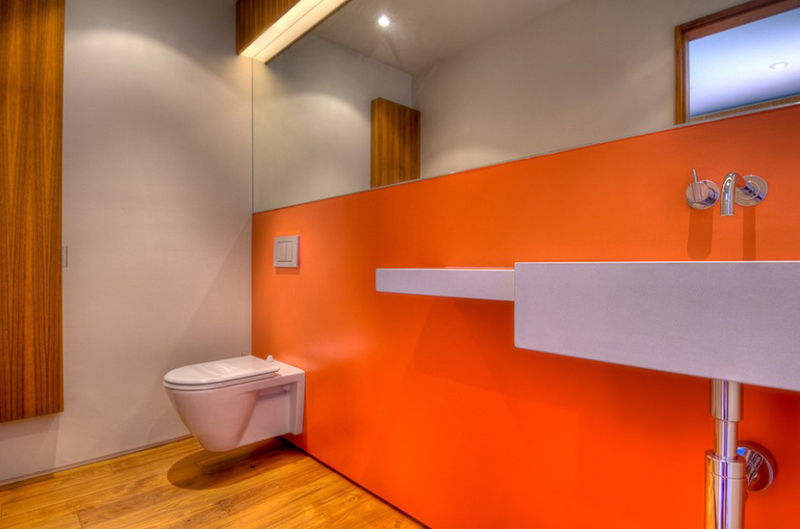 A very modern half-bath with striking orange walls that livens up the bathroom. It is also nice that they used wood for some portions of the bathroom.
5. West Village Apartment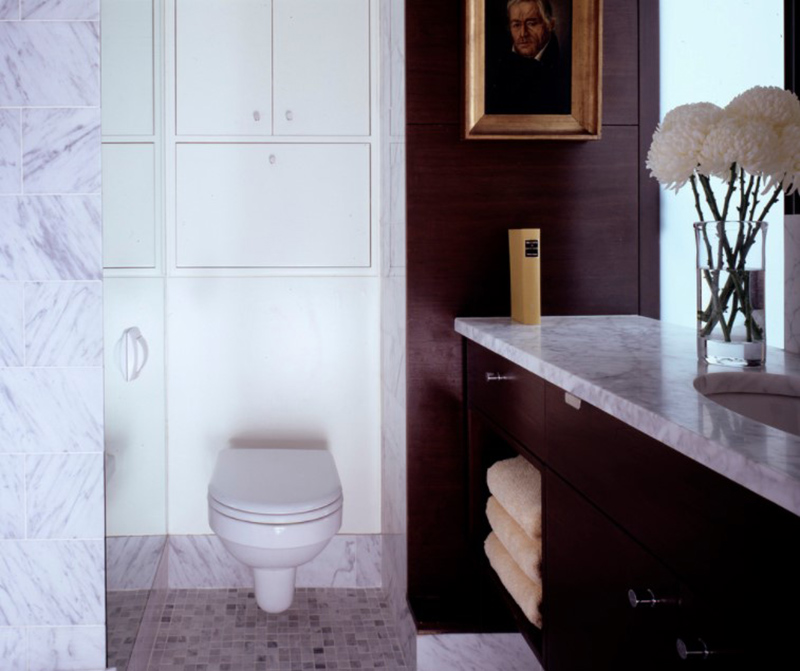 One advantage of a wall-mount toilet is that you can just install it in any convenient space you want just like what they did in this bathroom.
6. New Design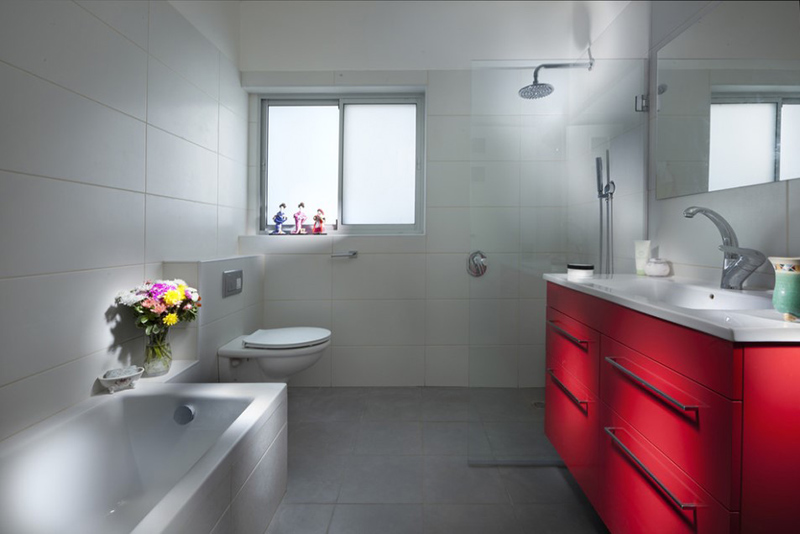 A simple brown bathroom which looks bright not just because of its light but due to the large mirror above the sink.
7. Grosvenor Riverside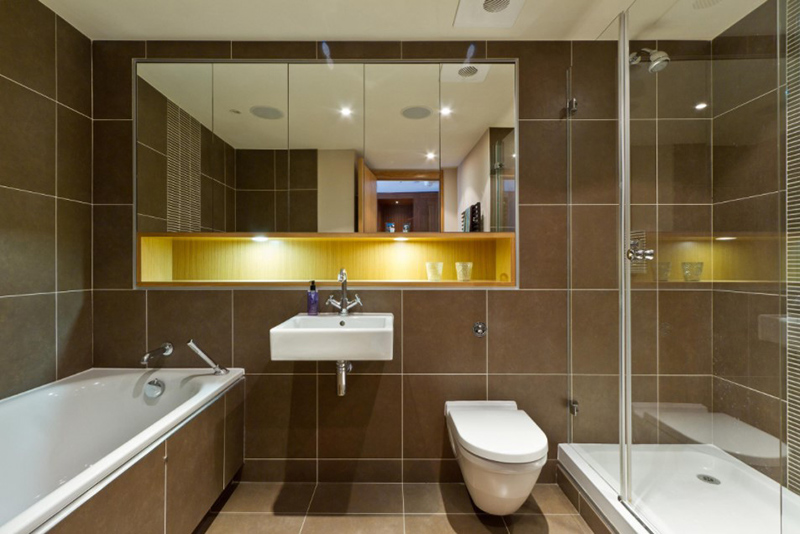 When you hang everything up from the toilet to the sink, you will save some space and it will be easier to clean the area too.
8. Misty Haven Villa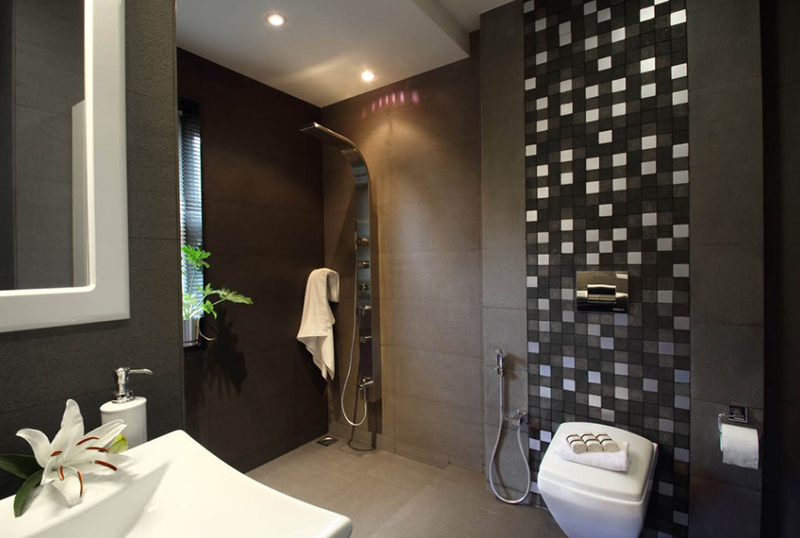 This bathroom has the distinct stamp of grandeur, class and luxury with a black and white theme. The wall tiles for the wall above the toilet looks really nice.
9. Beechwood Manor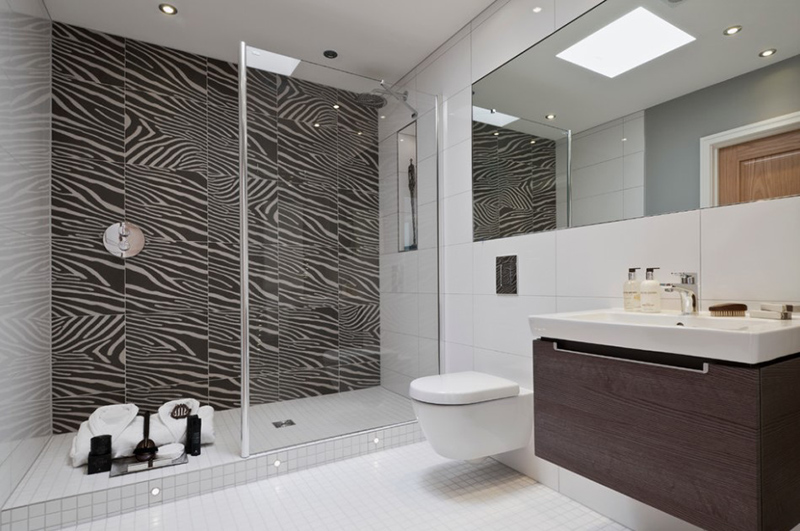 Who said you cannot use bold patterns in the bathroom? You certainly can just like how zebra wall print is used here.
10. Residential Complex A.R.T.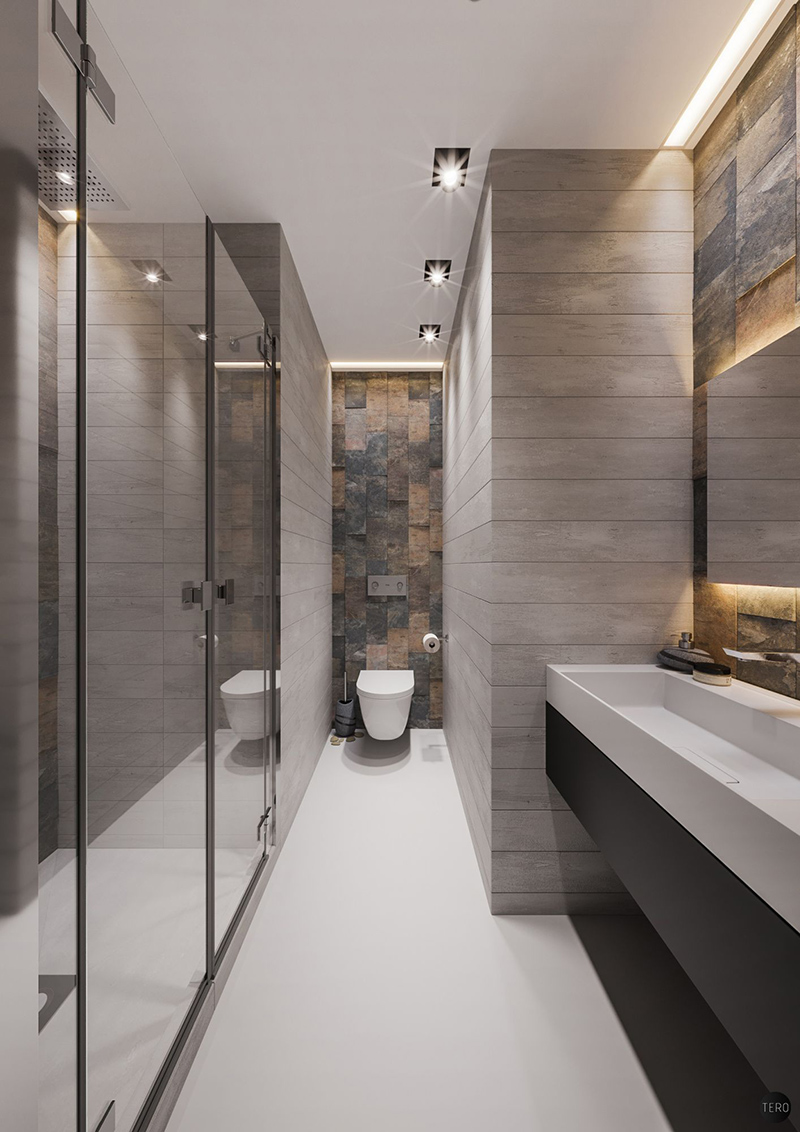 This bathroom has a long and narrow layout but that doesn't stop the designer to arrive to a beautiful design with the toilet at the end of the space.
11. Berkeley Modernism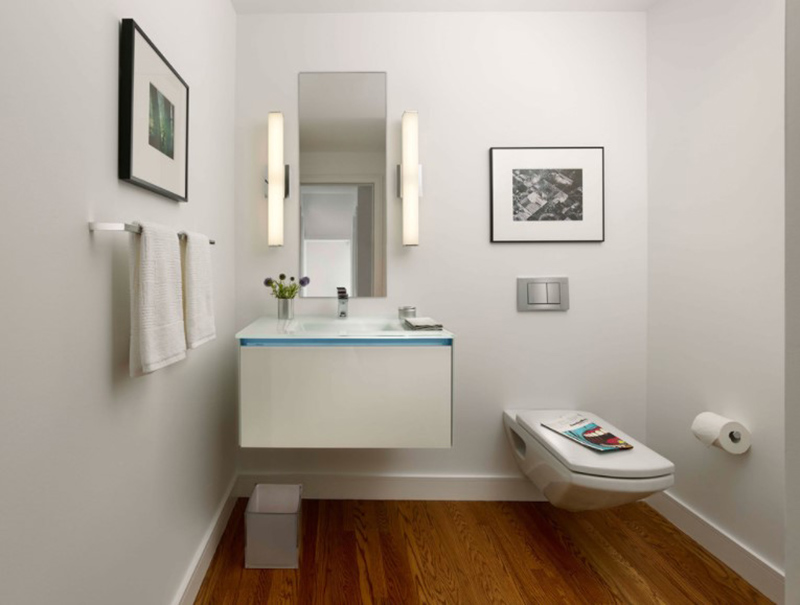 Seen here is a small minimalist 3/4 bathroom design located in San Francisco. It features flat-panel cabinets, white cabinets, medium tone hardwood floors, a wall-mount toilet, white walls, an integrated sink and glass countertops.
12. Victor Wharf – Private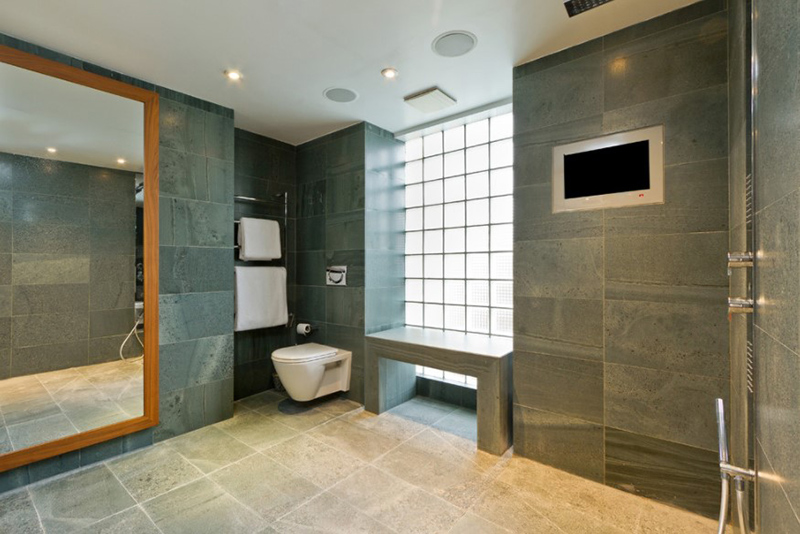 A spacious bathroom with a wall mounted toilet featuring glass blocks on one side of the wall. Using this material gives the space the privacy it needed while it acts as an eye-catching statement wall and diffuses light for an appealing glow.
13. The Frayant Arc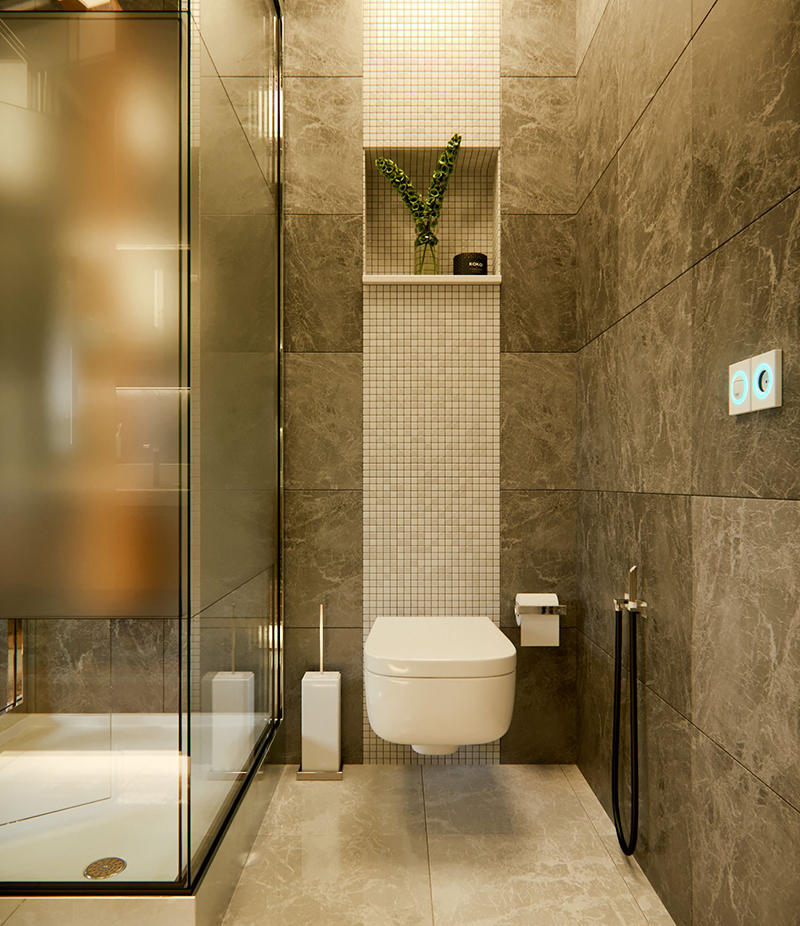 If you have a small space for a bathroom, this would be a good idea for the layout. Using glass for the shower enclosure will save space and will also add beauty to your bathroom.
14. Richmond, 1930's Refurbishment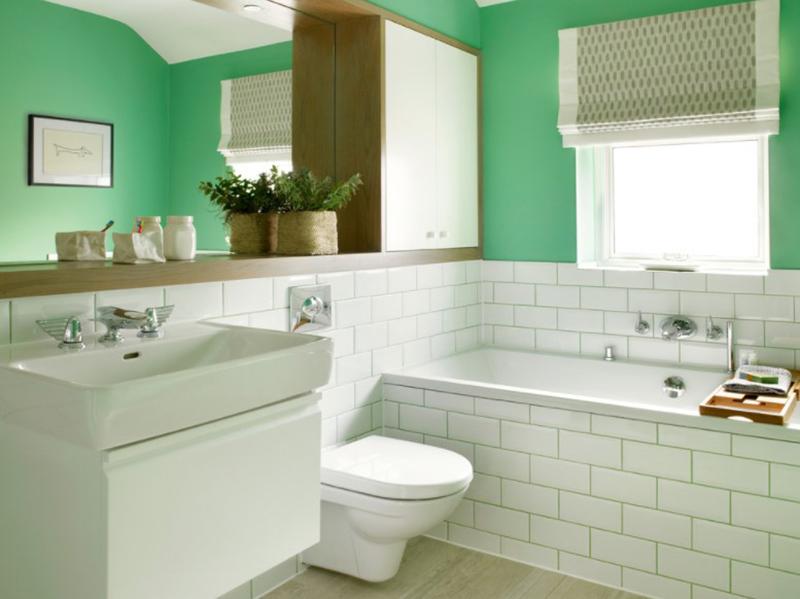 This contemporary bathroom has a subtle classic touch to it as it used subway white tiles. But what make it really unique are the green walls. Note also how the toilet is tucked between the bath tub and the lavatory in order to conceal it.
15. Boca Raton, Florida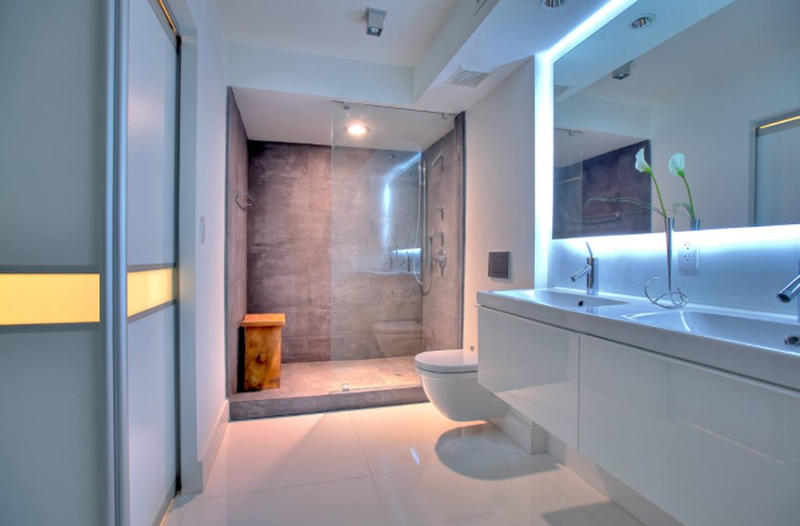 A bathroom with three walls and one piece is made of glass. The flooring of the bathroom is made from porcelain glass. Another thing that looks really nice in here is the lighting.
16. Bathroom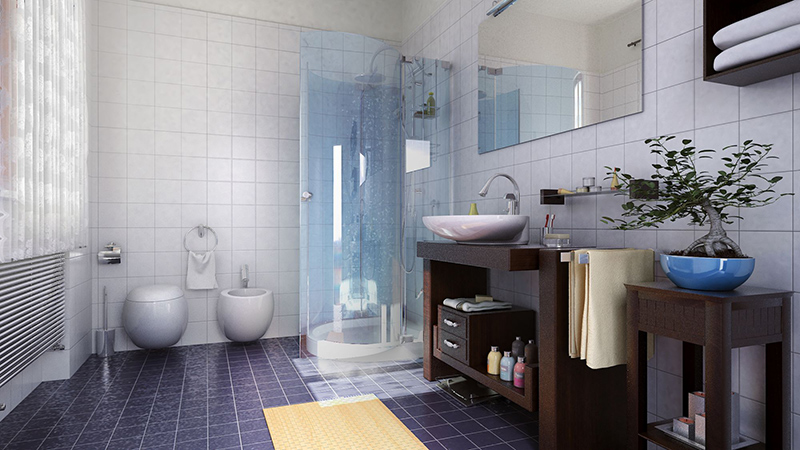 Italian designer worked on the render of this modern bathroom which has smooth curves in the toilet and even in the shower.
17. Fairmile Lane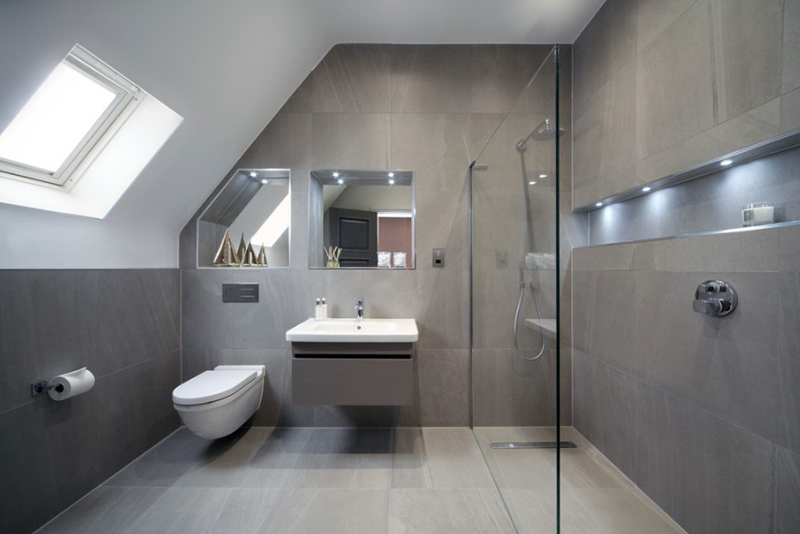 A 3/4 bathroom idea in London with a wall-mounted toilet and a wall-mounted sink. It features a curbless shower that used a stationary glass divider.
18. Bathroom with New Light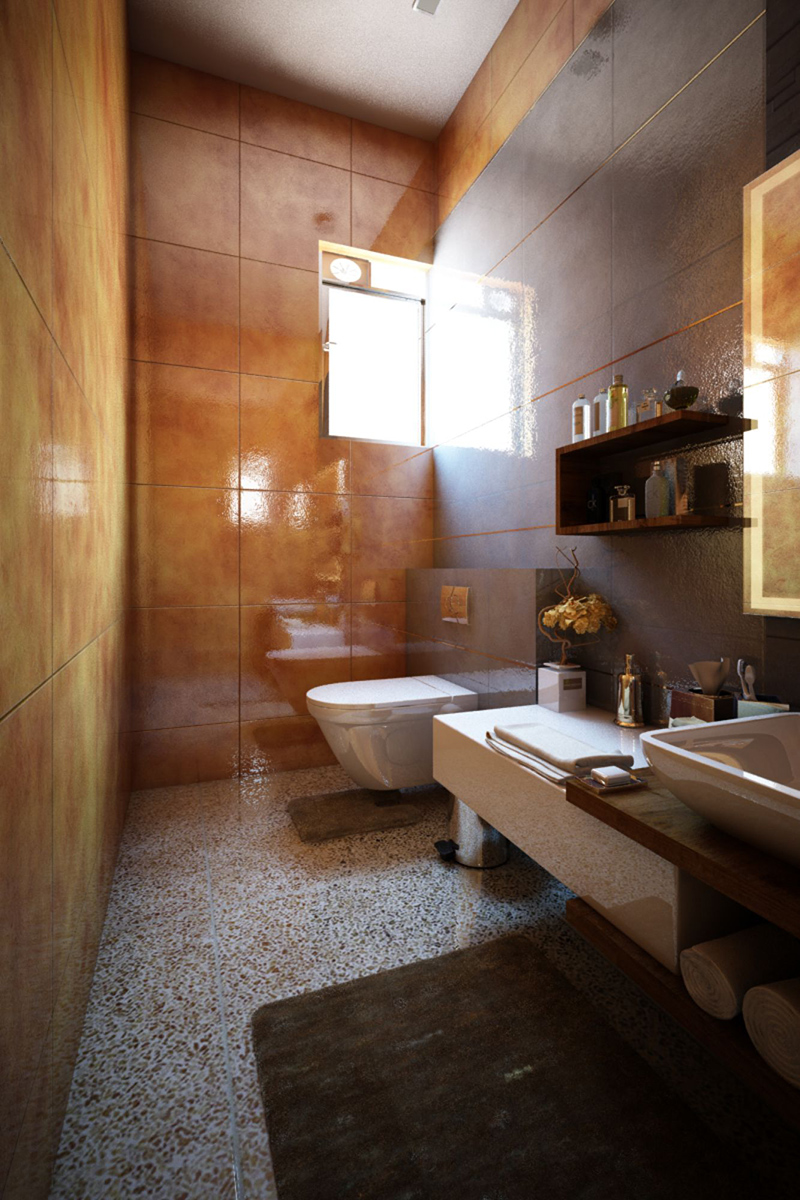 Another long and narrow bathroom design with brown tiles for the walls. This design shows us that you can use other colors aside from white for small spaces.
19. South Perth Foreshore, Western Australia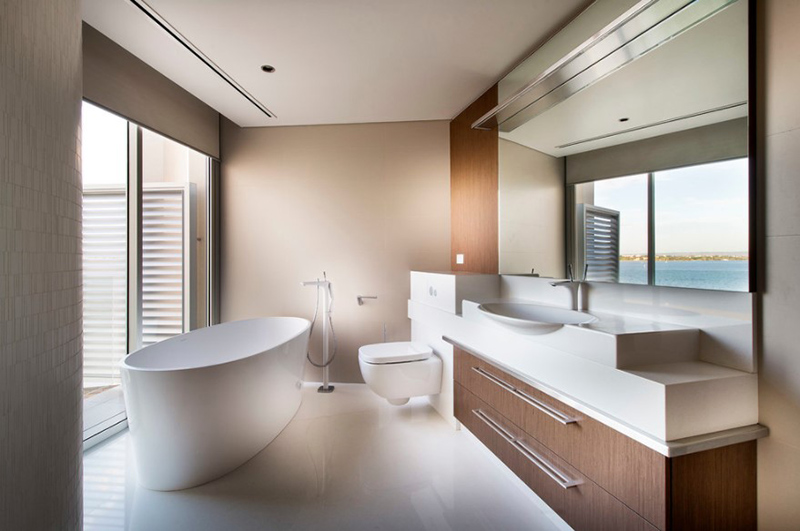 You'd definitely love the flat-panel cabinets here as well as the freestanding tub and a wall-mount toilet that are contained in the beige colored walls of the space.
20. Niraant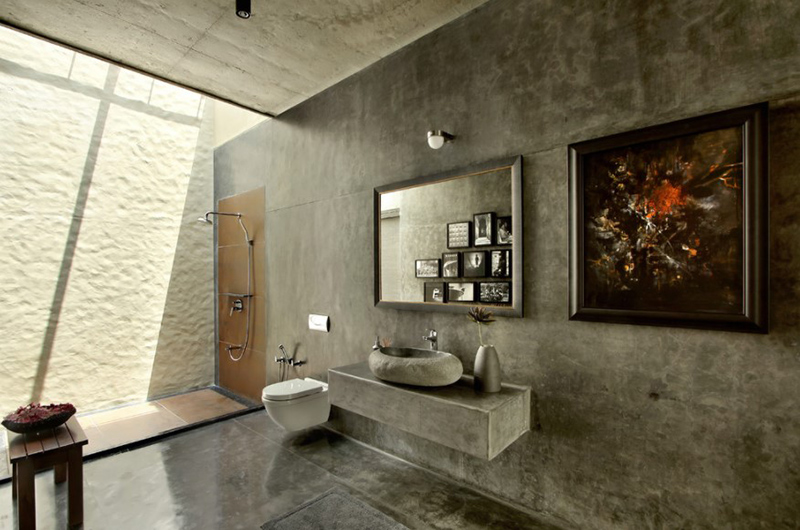 The raw cement counter top of this beautiful unique bathroom adds to the rustic yet rich feel of the unit. It is also nice that it has a skylight that brings natural light to the area.
If you want to have a modern bathroom design, you can use the wall-mounted toilet but that doesn't mean that you cannot use the free-standing toilet. Whatever suits to your taste will do and of course, you have to look into a few considerations before deciding to get the kind of toilet you want. But if you base it on the above interiors, you might be inspired to use it because of how nice it looks like. It is simple and it occupies a small amount of space which makes it ideal for small bathrooms. Would you use this type of toilet for your home?