Tips to Avoid a Cramped Feel for a Small Bathroom
It is everyone's fear to have a cramped bathroom area especially when you do not have a choice but settle for a small space for it. But you don't have to worry because there are ways to make it appear visually larger. I know that when you see a small bathroom, you feel like you won't fit in it but that only happens if the bathroom is not designed well. The designer must have missed some tricks to give it an expansive feel.
But we don't want you to miss those tricks. That is why we are going to give some tips for you today on how you can design a small bathroom. But aside from making it appear larger, comfortable and functional, never forget to ensure safety in the bathroom. Also, always consider its users especially if there are kids and senior citizens. And now for the tips:
1. Mind the colors.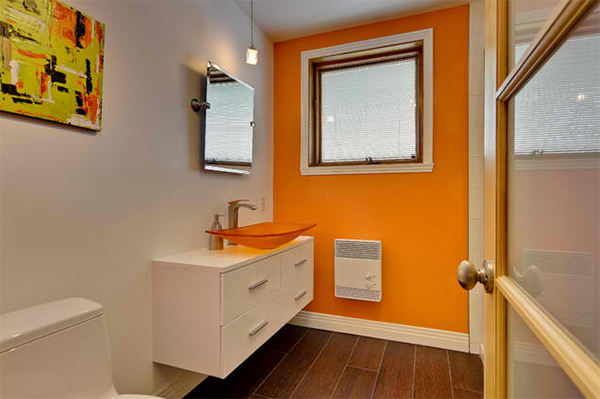 If your bathroom is really small, you can opt for a single tone for the entire space to make it appear larger. But you can add some contrasts too on cabinets and other items. Paint the ceiling and the walls in the same color which cuts down the transitions in the space. You can also blend the colors of your walls and tiles to give them coherence. But it doesn't hurt to add an accent wall too.
2. Have fewer visual transitions.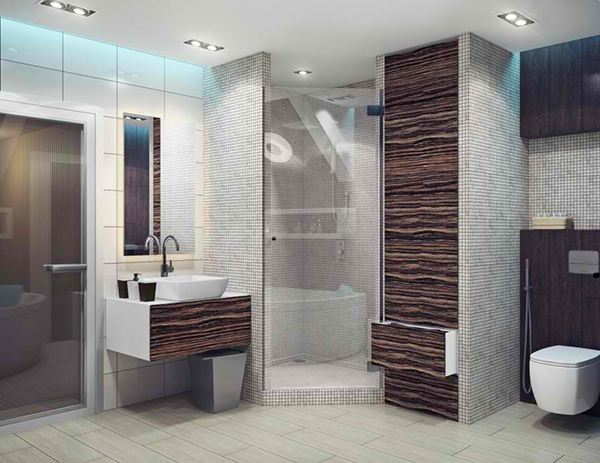 We have mentioned above that once you use a single tone for the bathroom, it will expand the space. The same is true in adding some design shifts in the bathroom like using various tile patterns or colors. Once you establish continuity it will look larger. For instance, use the same patterns on the walls. Same is true with your flooring too.
3. Install a mirror and use glass.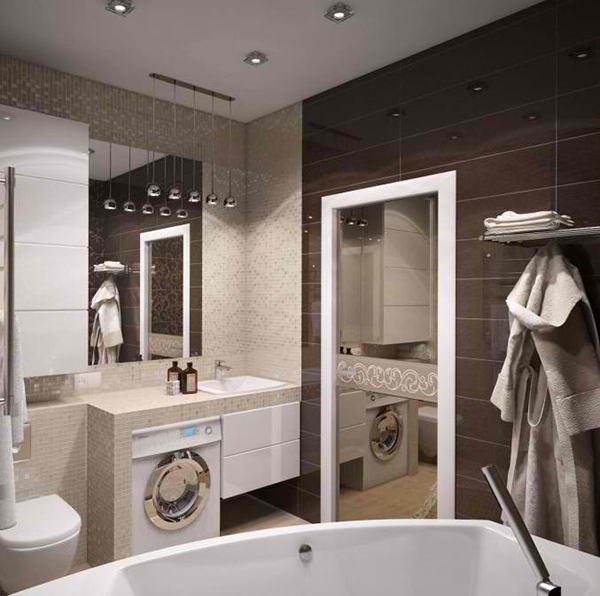 We all know what miracle a mirror can give a space no matter how small it is. Aside from a mirror, you can also use more glass elements in the bathroom. Glass and mirrors allow light to bounce around the space making it appear larger. It can also contribute in adding brightness to the entire area.
4. Have good lighting.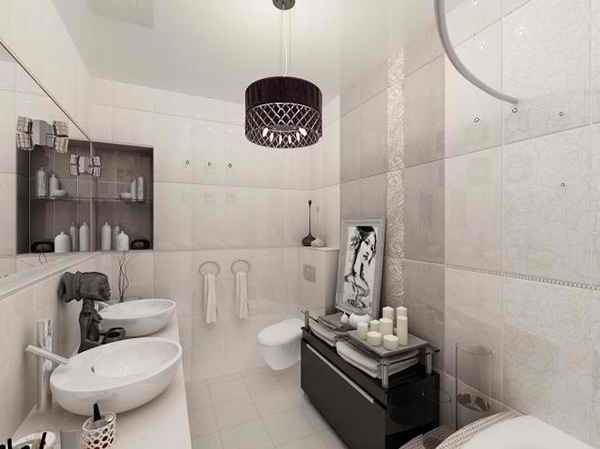 If your bathroom is not well lighted, then it will surely give its users a boxy feel and you will not let that happen. So, make sure that it has ample lighting. Consider putting ceiling lights as well as wall sconces on the vanity too. But never forget about natural light because this is important for any space in the house. When you let natural light come to your bathroom, it becomes brighter and you will feel a lot better when you walk into it with the sunshine.
5. Use patterns.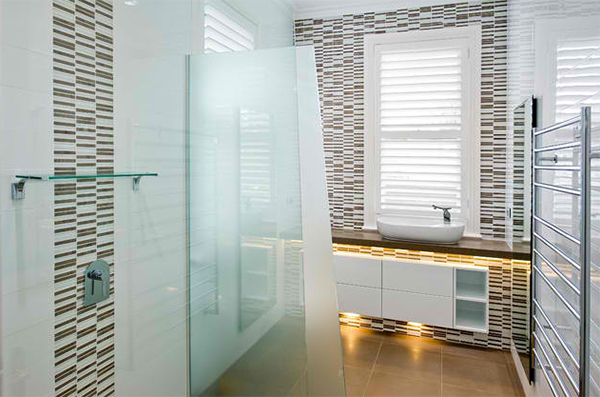 When not overused, patterns are good for small bathrooms because it will allow the eyes to move around the area giving it an expansive feel. Just like the small bathroom above, you can notice the effect of patterns which is also adds appeal to the area. It may break the transition a bit but using the same patterns on the walls still gives that coherent look.
6. Use clear glass for the shower.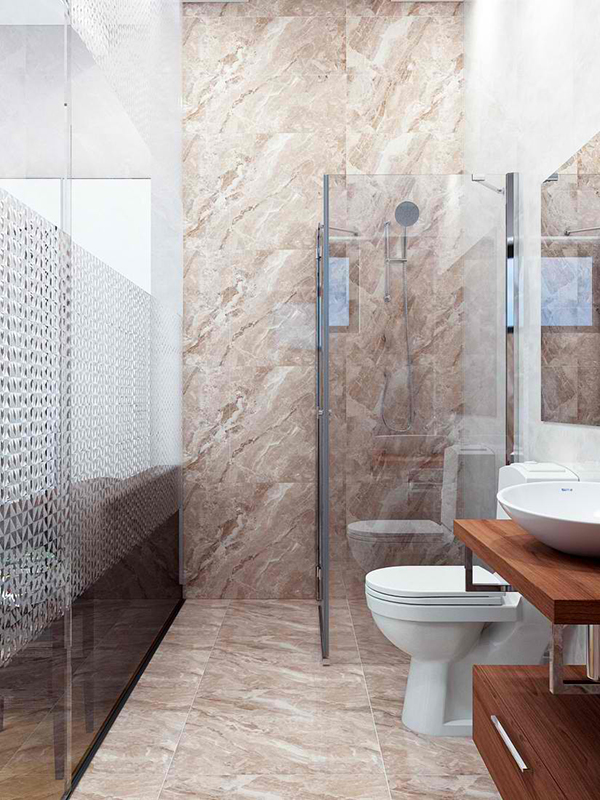 Well, it would be more expensive if you use clear glass for the shower but it will definitely be worth it. Using textured glass could also be good to divide the space and give you some privacy. But if you prefer to use shower curtains, it can also work well too because it saves space. So, skip that shower door to give more space in your bathroom.
7. Choose vanity well.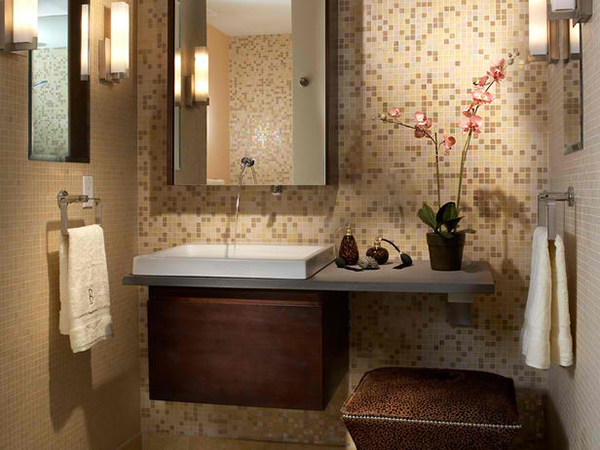 When you use a floating vanity, it takes up less space but still remains stylish. With that, you can still use the space below it. You can also try using round vanity too. And for small bathrooms, opt for a single vanity unless you need a double vanity that can still fit in. But a single vanity is recommended.
8. Opt for a corner sink.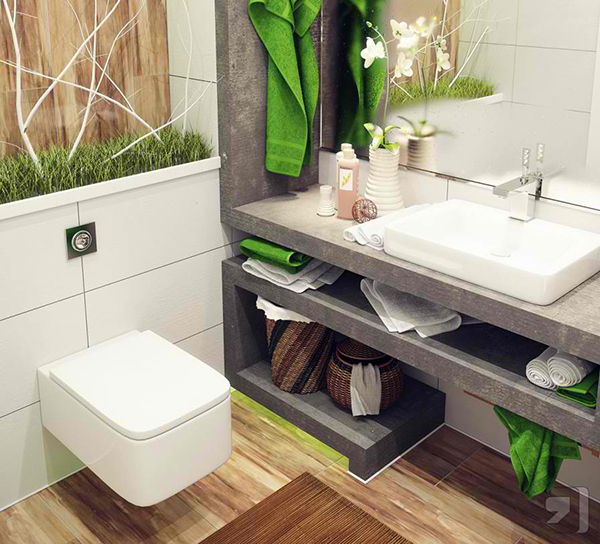 Using the corner for your sink will be a good way to provide more area to move in the bathroom. Get a smaller sink or a pedestal sink or a wall-mounted sink. These work best in small areas. Do not get those with bulky designs. Sleek and slender ones will suit the space well.
9. Downsize the toilet.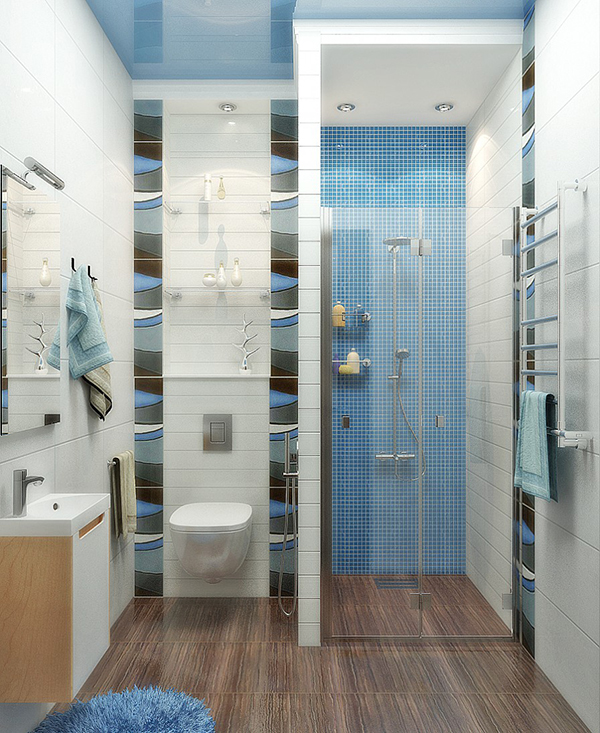 There are already smaller toilets that we can find in the market like compact elongated ones. Some of them even use less water which is perfect for the environment. There are also floating toilets that are mounted on the walls too. Modern bathrooms usually use this type. Try to look for the toilet that will look good in your space and of good quality.
10. Recess shelves and cabinets.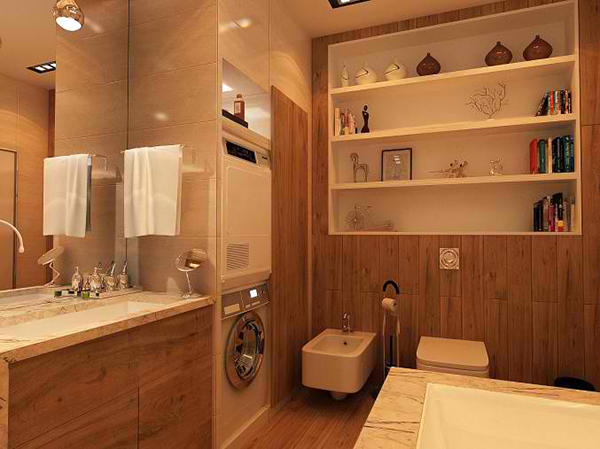 Instead of protruding the cabinets and shelves, bury them into the wall. Recessed storage spaces look better and is space saving too. Also, don't forget to always declutter your counter tops and keep everything clean and organized from your under-sink storage to towel bars.
See? You really don't have to frown when you have a small space for your bathroom. After all, you won't be playing soccer inside it. You will merely clean yourself and have some private comfortable moment. So, you really don't need a very spacious bathroom especially if you are the only one using it. Need more inspiration for small bathrooms? We have more on our list of small bathroom designs. There you can see different approaches in designing and decorating small bathrooms.
Bonus Video: Epic Small Bathroom Makerover