20 Beautiful Bathrooms with Vessel Sinks
Most people would think that choosing a sink isn't really a big deal especially that we are usually after its function and not its look.
But there are some homeowners who are very particular about the design of the sink which has a huge impact to the look of the bathroom.
That is why one needs to know how to choose the right bathroom sink.
Did you know that sinks have different types and designs?
Today, we are going to show you bathrooms that used vessel sinks for its vanity. Do you know what a vessel sink is?
Vessel sinks can add style and value to any bath space. As a matter of fact, it can be the most striking feature of your bathroom.
It is defined as a free-standing sink basin that sits on top of sink consoles or countertops. Vessel sinks are available in a wide range of materials, colors, and prices.
Take a look at how these bathrooms used vessel sinks:
1. St Mary`s Place, Weybridge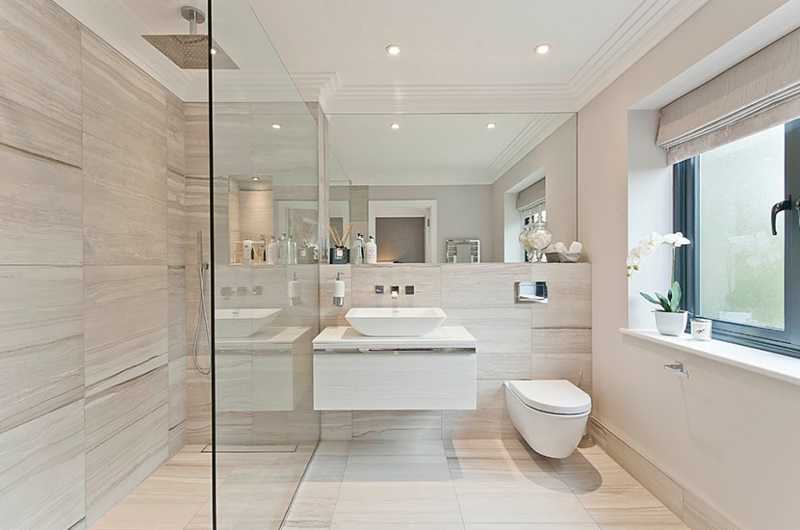 This beautiful bathroom used tone on tone to make space look bigger. Notice also that it has a vessel sink on top of the floating vanity.
2. Eclectic Gable Bath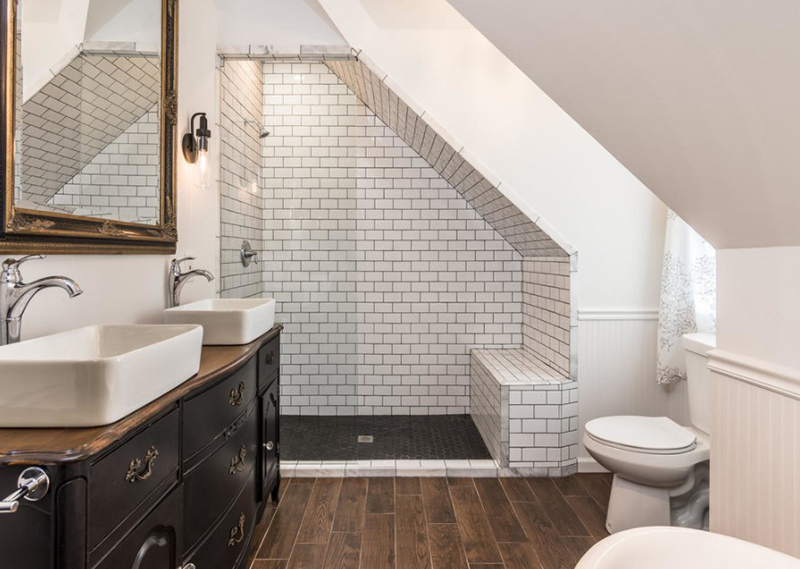 The homeowner found the dresser on Craigslist and refinished it for a shabby-chic vanity. Added on it are sleek modern vessel sinks. The beadboard wainscoting dresses up the walls and lends the space a shabby-chic feel.
3. Moonee Ponds Home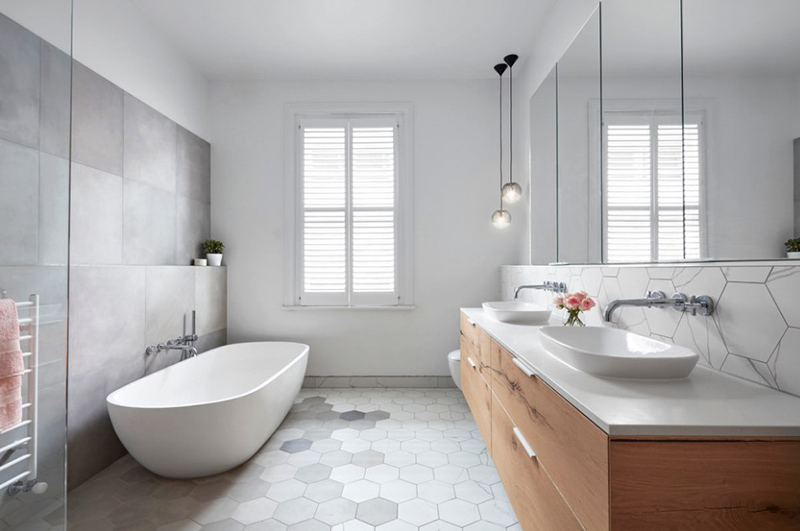 A stone freestanding bath framed by natural light that falls softly across the hand-selected tiles is the hero in this project. This is actually a transformation of a bedroom to a bathroom in a Victorian home.
4. Contemporary Spa Inspired Bath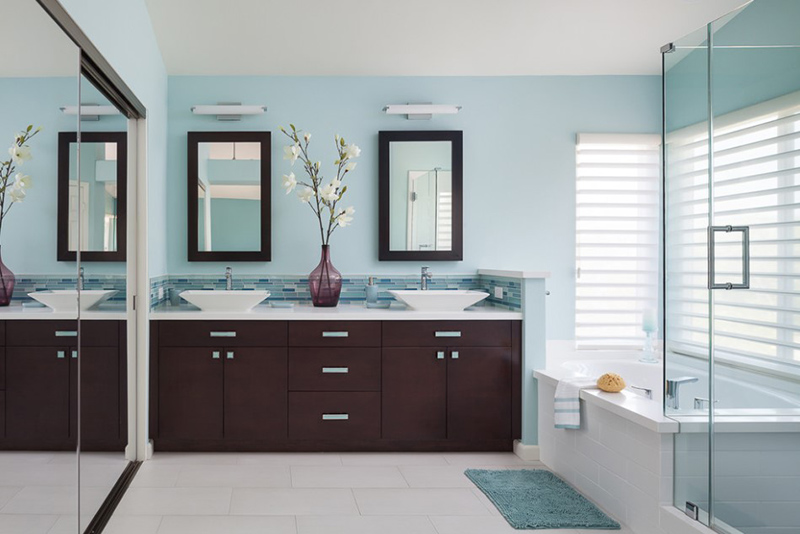 An original overhead soffit, tile countertops, fluorescent lights and oak cabinets were all removed in order to create a modern, spa-inspired master bathroom. The color inspiration came from the nearby ocean and was juxtaposed with a custom vanity and white quartz countertops.
5. Modern Bathroom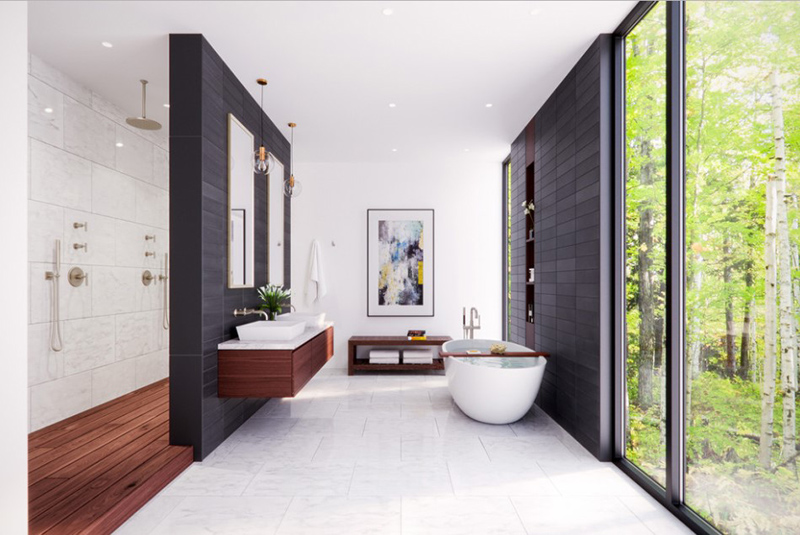 Expansive trendy master bathroom with flat-panel cabinets and vessel sinks on top of it. Also seen here is a freestanding tub on white ceramic floors.
6. Mr Mitchell Portsea House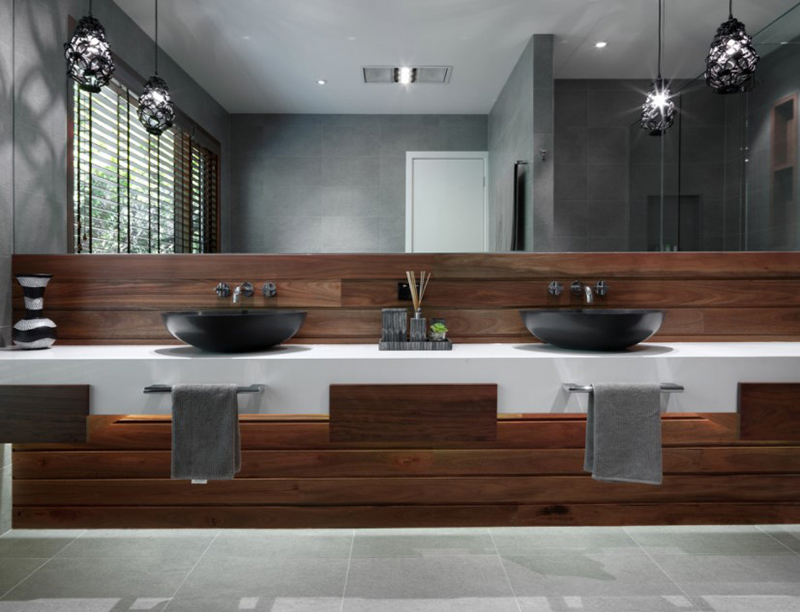 This bathroom features polished concrete floors and architectural stone walls. I love the black vessel sink that looks great with the wooden vanity.
7. Penthouse Waschtisch Betonoptik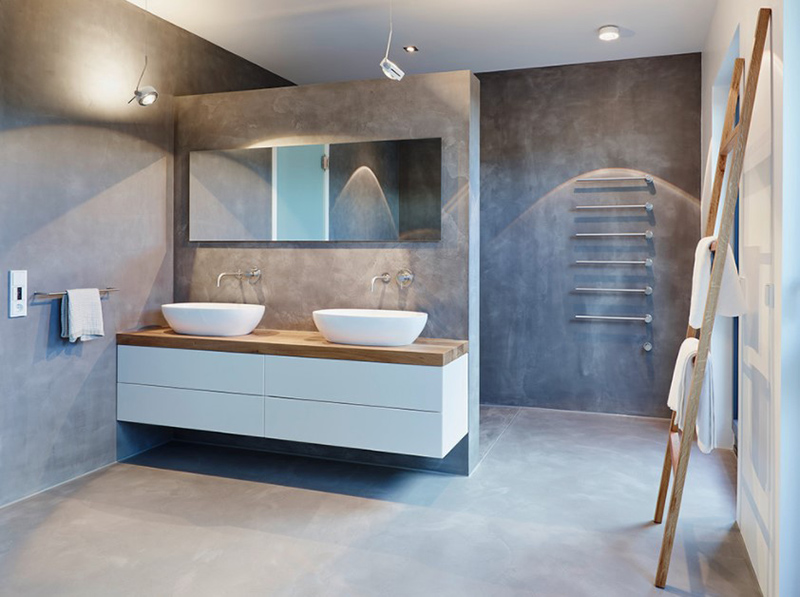 Large contemporary master walk-in shower with flat-panel cabinets, a vessel sink and wood countertops. It looks good with the concrete flooring and walls.
8. Issaquah Highlands Residence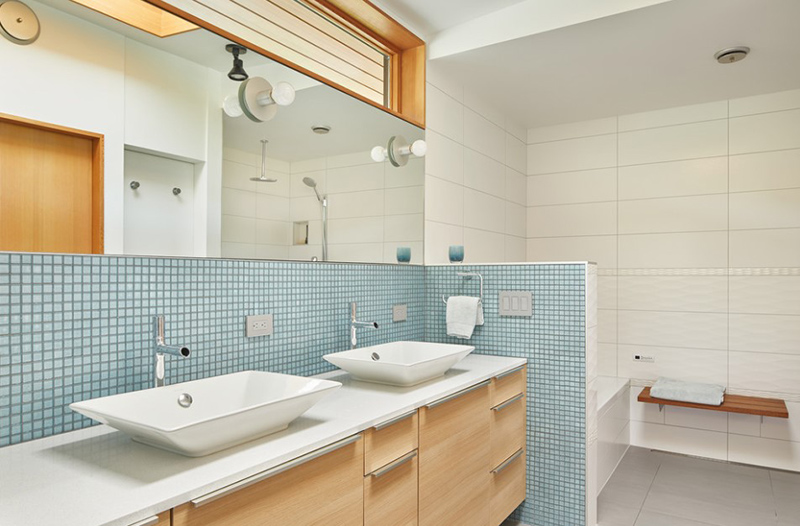 A contemporary 3/4 open shower with flat-panel cabinets in light wood cabinets. The blue ceramic tiles on the wall looks great in the space.
9. Andrew Place, Lennox Heads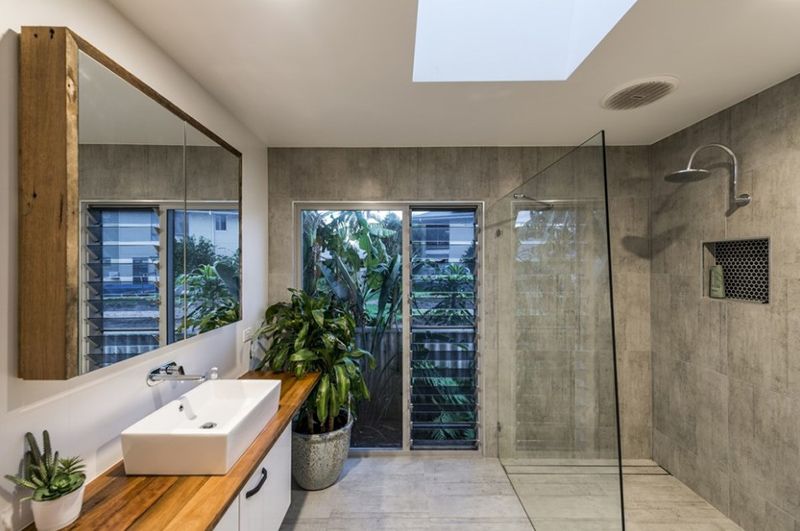 Many would love the sink here but the design of the bathroom is even more beautiful especially that wooden countertop with flat panel cabinets and the diagonal cut of the glass shower enclosure.
10. Bathrooms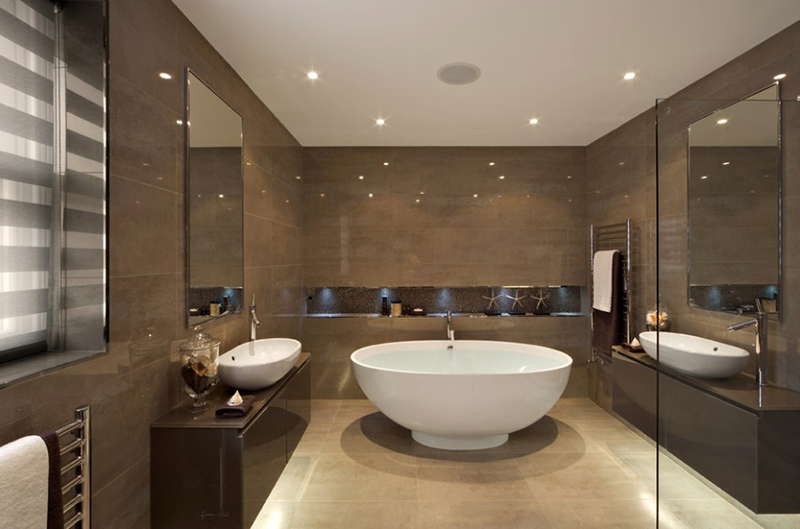 This large bathroom is a modern luxury with a stand-alone bathtub and frameless glass shower. Notice that the shape of the sink is similar to that of the tub.
11. Annandale Warehouse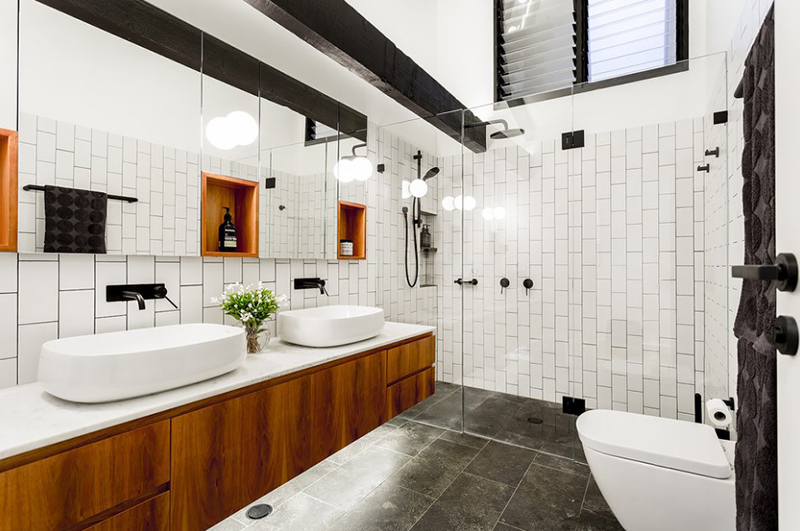 This is a beautiful bathroom with white walls and gray floors. It looks really neat with the white vessel sink and countertop.
12. Calm Contemporary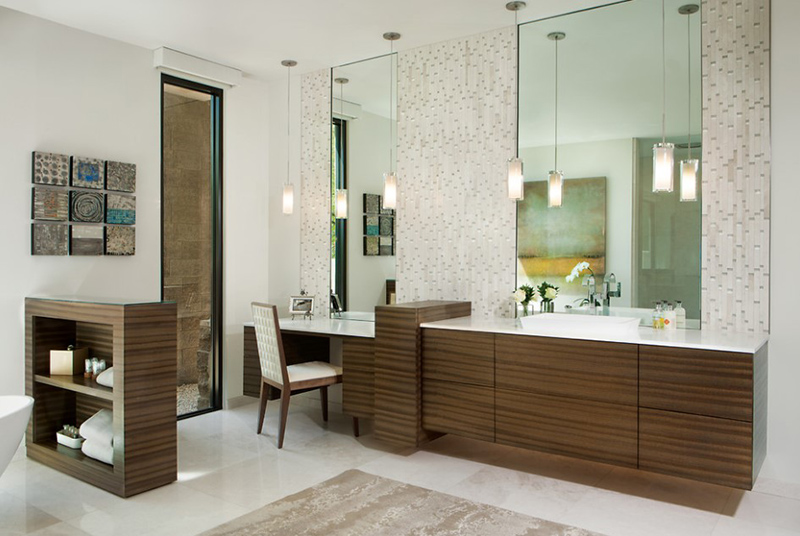 The white vessel sink look good with the engineered quartz countertops. Isn't it nice that this bathroom also has a space for a makeup vanity? It sure is one spacious bathroom!
13. Sinclair Ave – 100 South Broad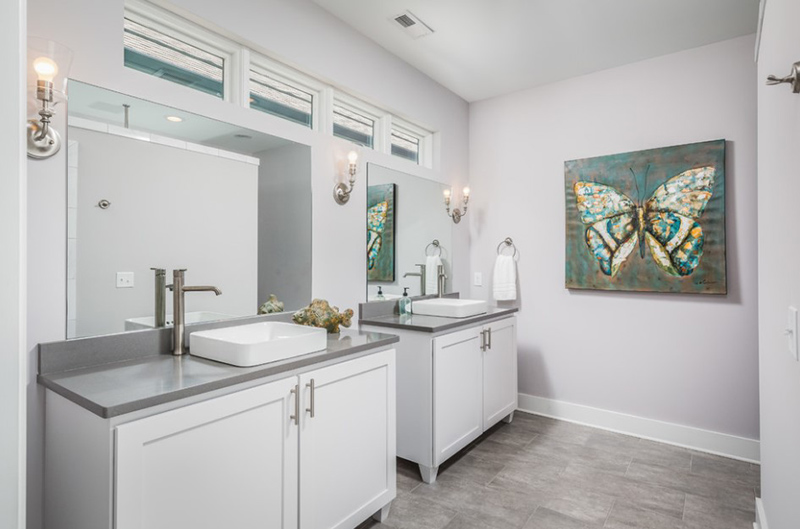 This bathroom features shaker cabinets, gray walls, a vessel sink and gray floors. That butterfly wall decor added to the bathroom's appeal.
14. Denmark Avenue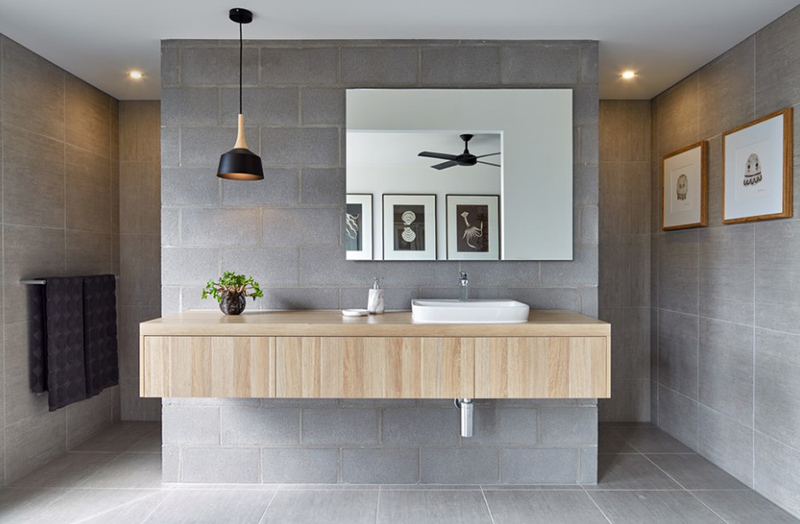 The wooden floating cabinet looks really beautiful in this bathroom with gray walls. Of course, the vessel sink is one feature that completed the bathroom's look and function.
15. Full Home Renovation in Carlton Woods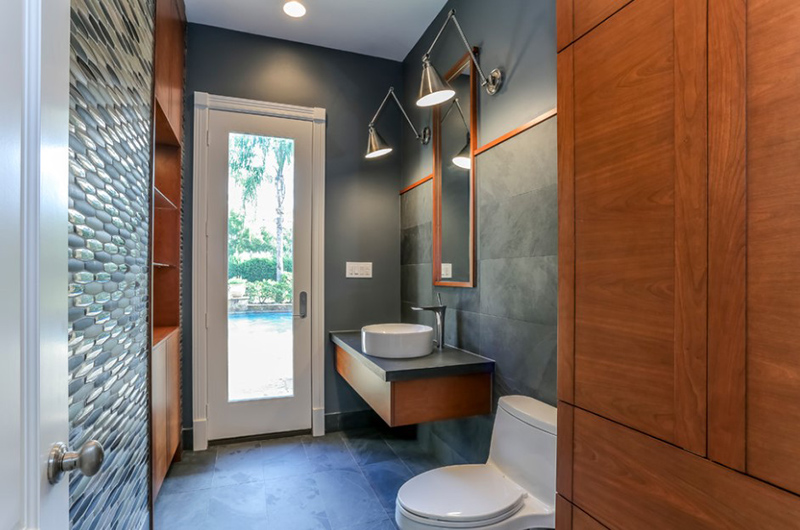 This contemporary bathroom has medium tone wood cabinets with one-piece toilet and a vessel sink. But what makes it beautiful is the gray walls and black slate floors.
16. Lookbook: High Street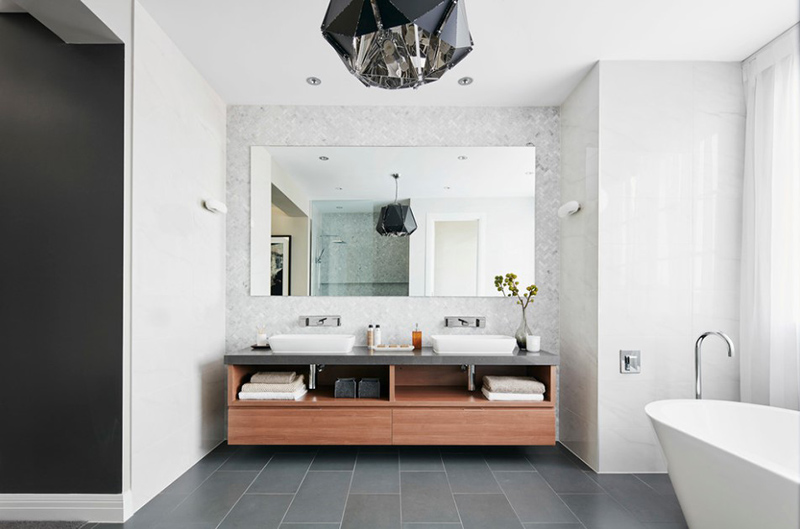 The combination of architectural charcoal tiles, classical white marble, and rich timbers amplifies the beauty of this bathroom and affirms its classic approach.
17. 9th and Hudson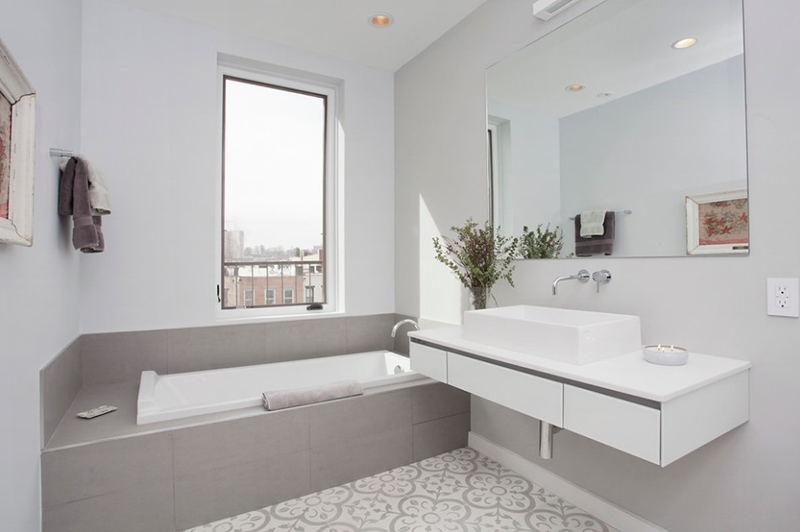 A Scandinavian bathroom with a Mexican cement tile on the floor and lots of white everywhere. It has a picture window where one can see the view outside.
18. Master Bathroom Jade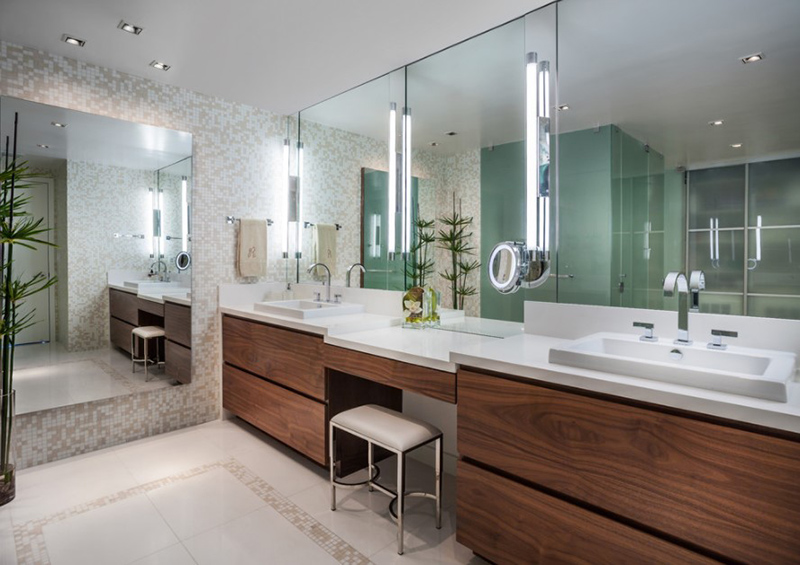 This design is ideal for a bathroom ensuite. Its vanity style and the color is beautiful. There is also a makeup area in the middle- between the two vessel sinks.
19. Open Living Spaces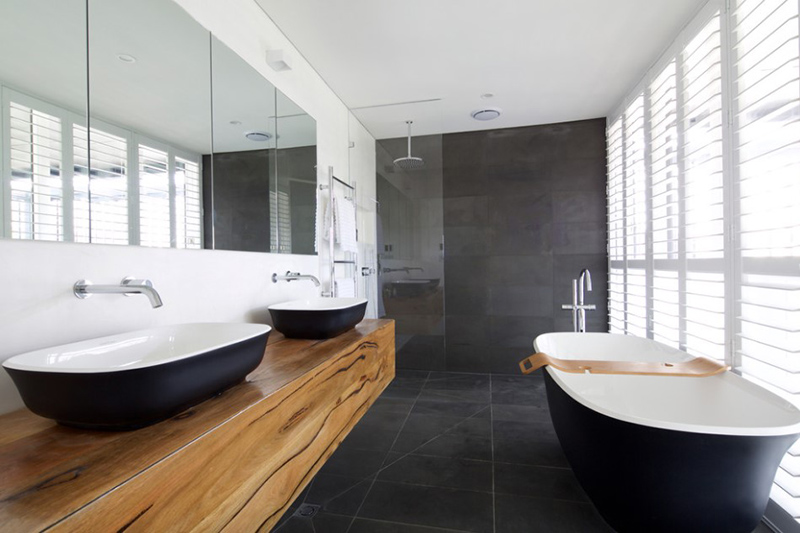 The key to a modern bathroom is a refined palette coupled with contemporary shapes just like what you can see in this space.
20. Glengowrie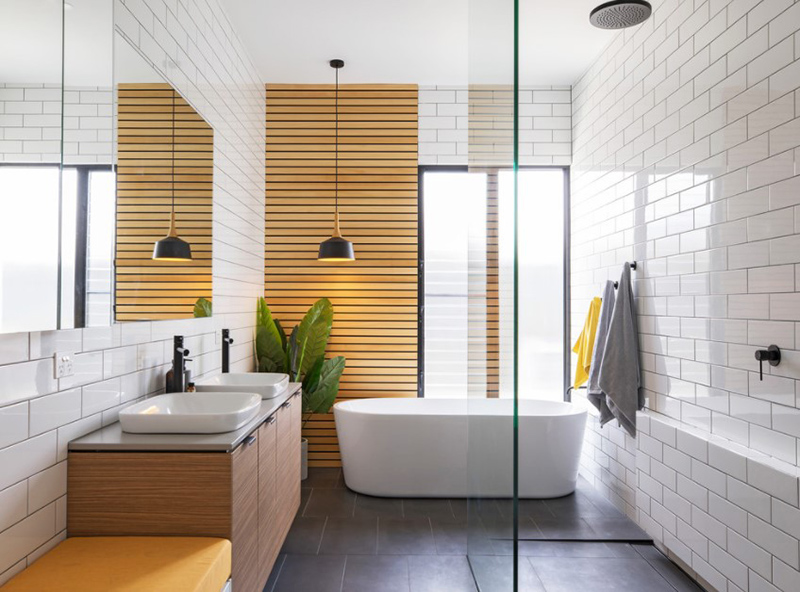 This contemporary bathroom used a combination of natural oak, wood and raw concrete. The walls are covered with white tiles which look perfect with the rest of the materials used here.
For sure you have seen the vessel sinks in the bathrooms above. And you would agree with me that this kind of sink looks really striking. It added appeal to the bathroom especially if they are colored or textured. But of course, the overall look of the bathroom still depends on how it is designed as well as the designer's choice of materials, colors and others. Are you currently working on your bathroom? Which of the above designs do you like the most?