15 Bathroom Designs with Flat-Panel Cabinets
The modern trend these days encourage the use of simpler design and that doesn't exempt our cabinets. That is why, even the cabinets for our bathroom's vanity are getting that sleek look minus all the moldings and carvings. In fairness to this style, it looks neater for a bathroom especially that we all want our bathrooms to look clean and organized.
We have gathered some images of bathrooms that made use of flat-panel cabinets. When we say flat panel, it merely looks plain but still retain that sophistication in it. Most of them have countertops like marble, quartz and others that contribute a lot to its overall appeal. The cabinets are made from wood but vary in finishes. Now, take a look at the list below.
Urban Loft Residence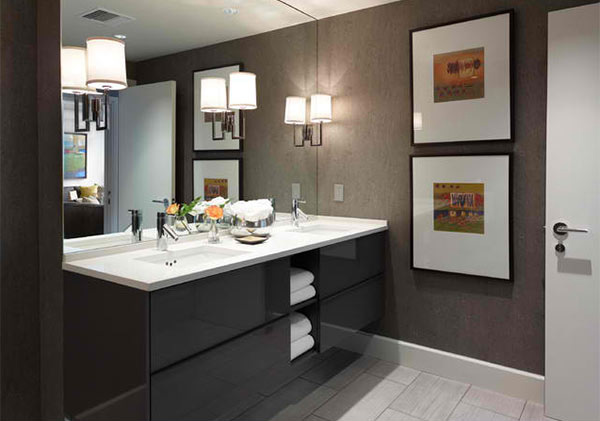 Black paired with white is always a stunner just like this cabinet of this bathroom. The wall sconce and wall art are an added accent to it.
Rivers End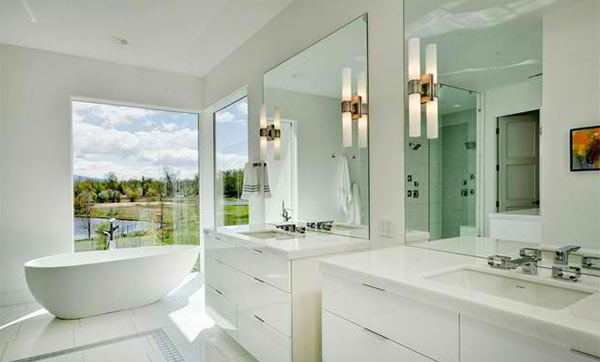 The cabinets are custom white high gloss acrylic which gave some sheen to this bathroom and we know that anyone that looks at it will absolutely love it!
Pasadena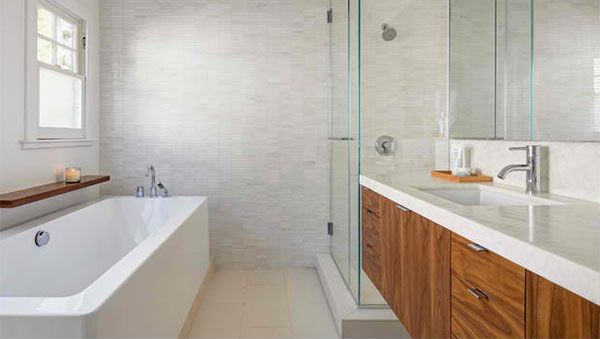 Marble tops this wooden cabinet that has lovely pulls from Atlas Homewares. The Signature Aire's Montague freestanding rectangular tub is also a head turner!
Contemporary Bathroom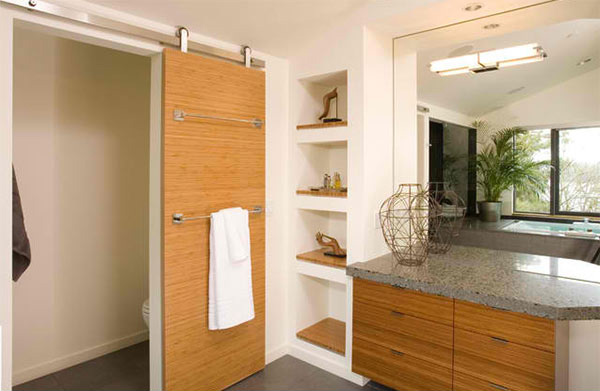 The cabinet here used wood with a marble top. It looked good in this white bathroom. Also, the sliding barn door is a good idea to separate the vanity and the toilet.
Newport Green Home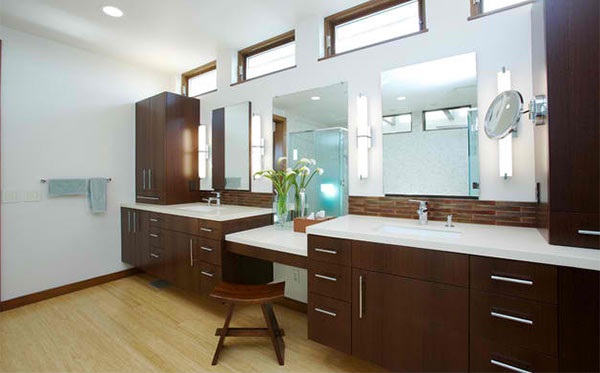 The styles of the cabinets are lovely. The upper cabinet is placed in the middle area making it easier to reach it.
Mid Century Modern in Lincoln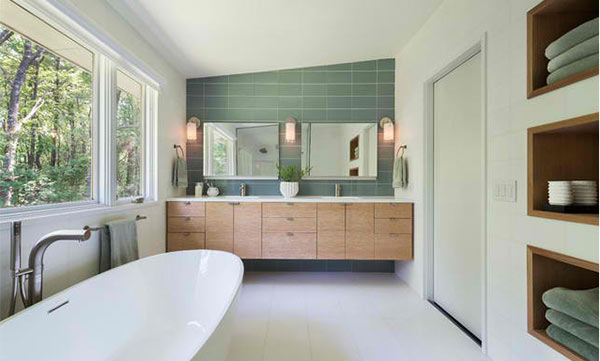 Vanity is a custom made cabinet in White Oak, vertical grain with light grey ceruse finish. The drawers have 2″ edge pulls with a satin stainless steel finish by Gracious Home.
Hillside Modern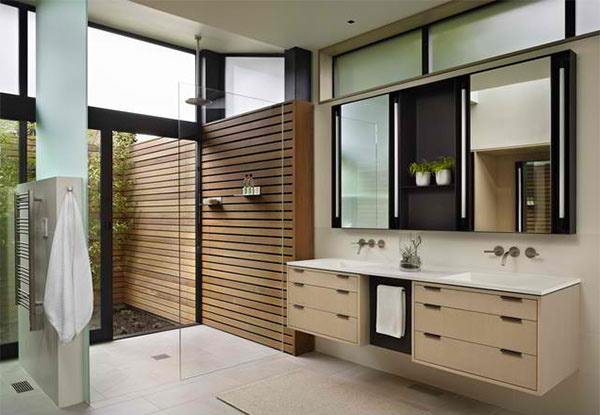 Quartz composite are used for the countertop of these flat-panel cabinets with tab drawer pulls from Doug Mockett + Co.
Modern Classic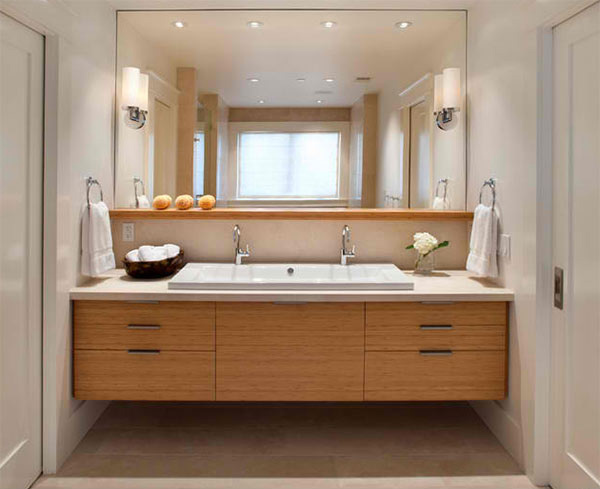 The floating vanity looks to be Bamboo with a very simple design. We totally love the design of this one!
Modernist House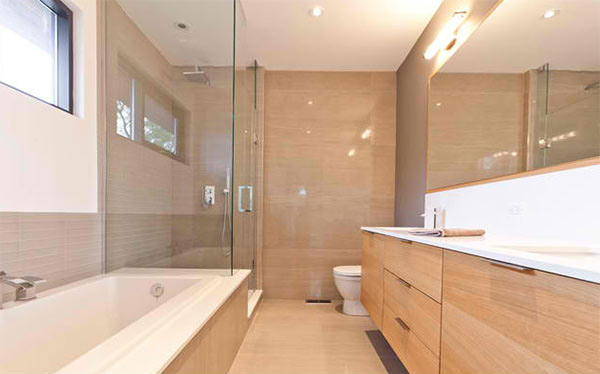 The cabinets of this bathroom are from Kitchen & Company Toronto made from quarter sewn white oak with a natural finish. It used Bravo pulls for the drawers.
Bathrooms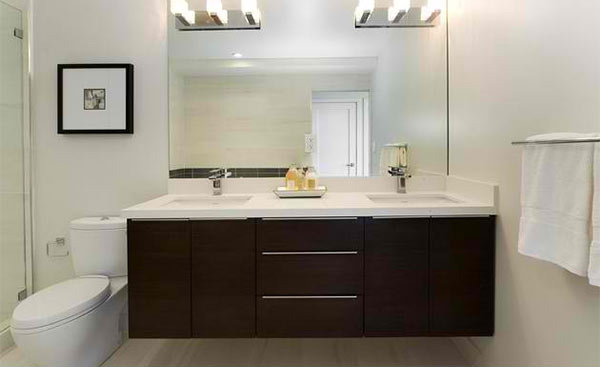 This is one stunning vanity that sure interests lots of people. It is raised 10″ from the floor and is 36″ in height. Quite high but we think this worked well for the homeowners.
Silvertip Ridge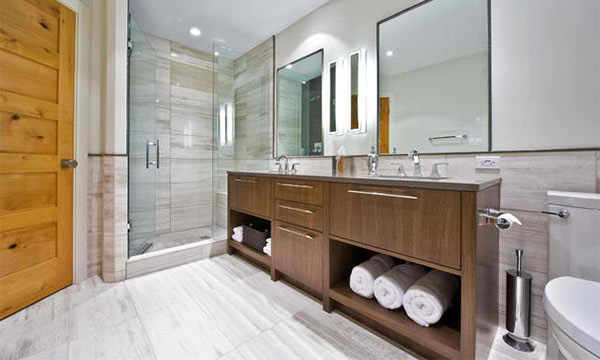 Walnut veneer is used for this cabinet that looks just perfect in this contemporary bathroom.
Zenbath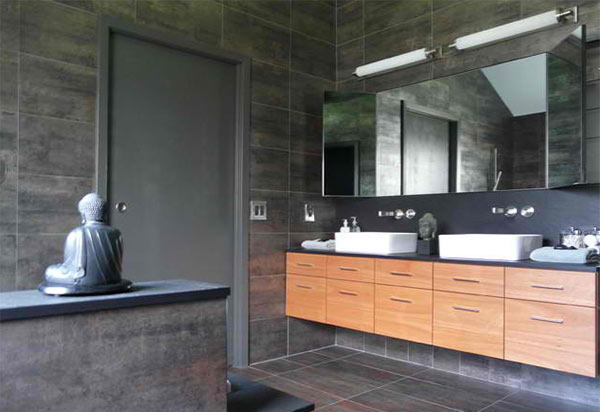 The wood used on these cabinets is a lightly stained Lyptus wood veneer, from Crystal Cabinets. The bathroom has a Zen style and even uses only the lights above the mirror for it opt to utilize natural light. The fluorescent fixtures above the vanity area are bright enough for task lighting at the mirrors and at night illuminate the entire room.
Parkside Residences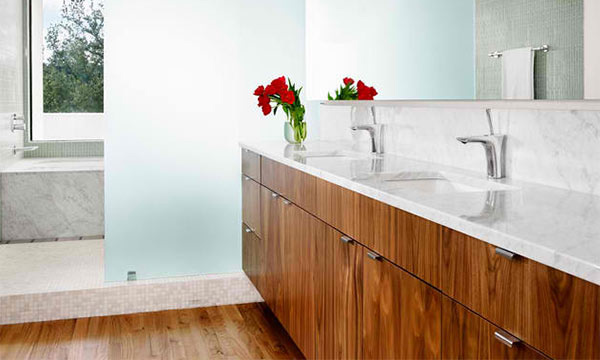 This frame-less and veneered cabinet is very beautiful especially paired with the white colors in this bathroom.
Bekker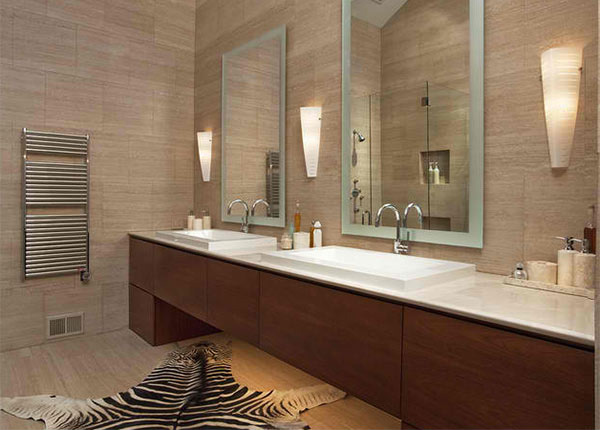 This custom cabinet is 12ft long with Mahogany veneer. The bottom end cabinets 'push-open' while all others with beveled edge on top allows you to pull them out and are self-closing. The center draws functional with recessed area for plumbing and has double drawers inside.
Master Bathroom Jade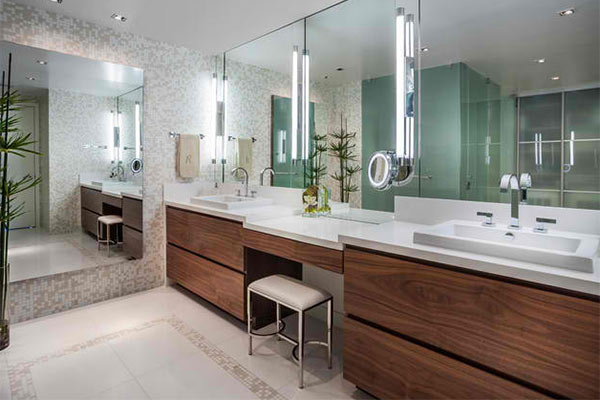 A modern sleek vanity designed for this bathroom. We like the smooth and clean look of the cabinets!
Neat, right? Yes, we know you have read this word over and over again in this article. Well, you cannot blame us because the flat-panel cabinets in the bathrooms above really looked neat! Would you like to get this look for your own bathroom? Inform your designer that you want this style and we'd guess that they will even be pleased as this will mean lesser work for them because these cabinets are indeed simple. Here are some modern and contemporary tall cabinet ideas for you. This might also help you for your bathroom's cabinet design.